Fish tag revenge on Lex Veldhuis
They say revenge is best served cold. In this case--one involving fish--it might be best served with white wine. Oh, and also served live on one of the strangest poker streams in recent memory.
When PokerStars qualifiers show up for a live poker event, it's not uncommon to find an invitation to a "Meet & Greet" event. It offers the chance for online qualifiers to come and collect a special goodie bag while enjoying free drinks and finger food with other qualifiers, Team Pros, and PokerStars staff.
THE ENCOUNTER
The Meet & Greet works both ways, especially for Team PokerStars Online Pros such as Ben "Spraggy" Spragg and Lex (why are we not calling him Lexie yet?) Veldhuis. They get the chance to interact with the community members from their very popular Twitch streams. The latter of these online stars got a little more than he bargained for. They say nobody expects the Spanish Inquisition. No one ever said a thing about the Finnish Inquisition. Make note of the photo below.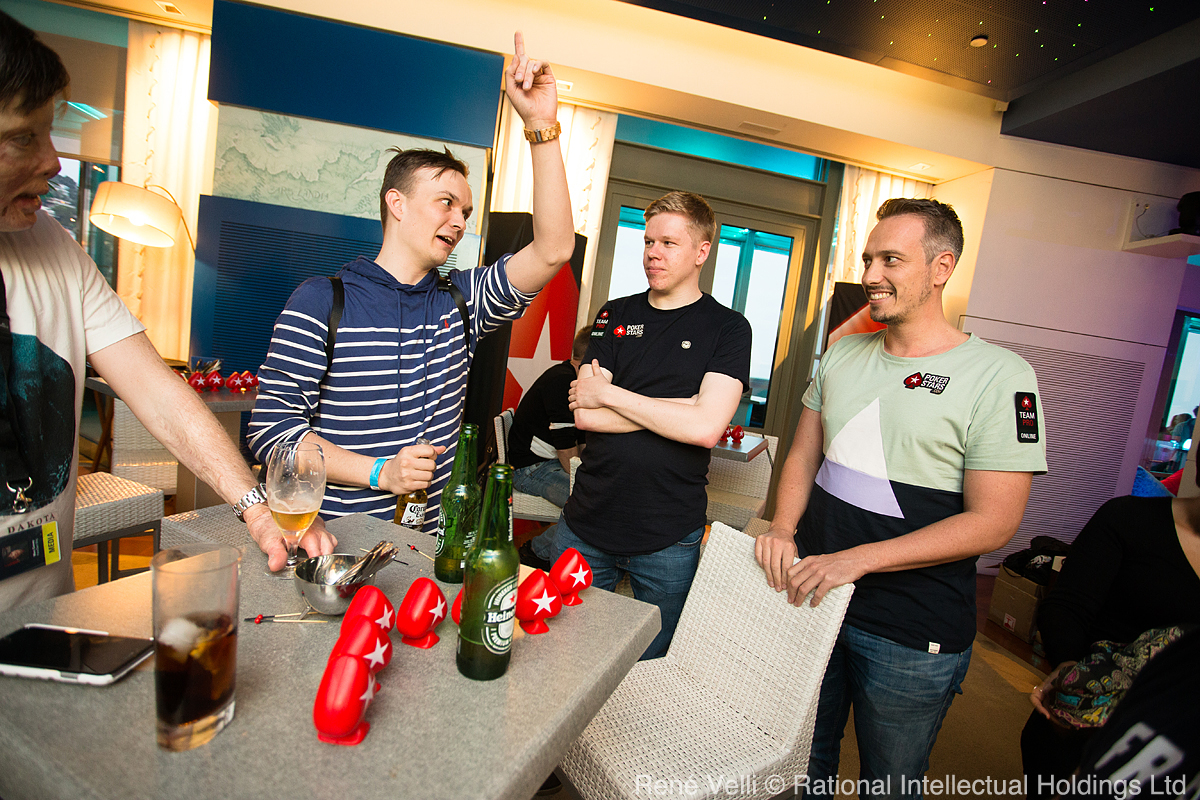 Tuomo Niskanen & Lex Velhuis mid-Inquisition
Veldhuis entered the Blue Gin bar in the Monte Carlo Bay Hotel filled with optimism at the chance of meeting members of his community whose support make his career choice possible. So, you can imagine the shocked look upon his face when he just entered the bar to see PokerStars qualifier Tuomo Niskanen point at him and shout, "I hate him!"
Niskanen streams online himself (in his native Finnish tongue under the handle pokerisivut) and regularly tunes into Veldhuis' stream for entertainment, knowledge gathering and especially to see how the Dutchman plays when they're on the same table.
"You have me with a fish tag!" Niskanen continued when he was then face to face with Velduis.
Velduis went red-faced and tried to talk his way out of being trolled. "Fun tag! I play for fun, too!"
He went on to explain that he tags everyone this way to start with and then re-catorgorizes them when he knows they are regs. Beer in hand, the Finn was not going to let this go.
"I have played with you a lot of times and you haven't changed it!"
Veldhuis managed to take a break from this funny trolling as he grabbed a beer himself and was then whisked outside for an interview. It gave Niskanen the chance to tell us a little bit more about his Twitch stream in which he recorded the session where he won his package to this event.
"I like to stream for the Finnish market sometimes. First I played a €109 satellite and I managed to win a a ticket for the €590 satellite. I was drunk and when I looked back at it I played pretty badly, but you have to be lucky to win sometimes!" he said. "It's cold and a bit rainy still at home, but it's nice and warm here. I'm enjoying it and I got to drive a Ferrari - something I only ever dreamed about!"
Check out the Twitch clip below to watch the final stages of Niskanen's package victory. Be warned, he's a bit, his word, "wasted" and admitted he didn't even realize he'd won the last hand at the time. (For the record, we suggest you do not mix alcohol and poker at any point, and especially when you're live on the internet. It's bad for the bankroll and potentially a lot of other things. Play smart!
THE PLOT
When Velhuis returned from his filming duties, the mood between him and Niskanen was much more relaxed and the trolling had stopped. But what Veldhuis didn't realize was that, while he was outside, a plan was hatched for Niskanen to get revenge on the Dutch pro, in a very public way.
We'd explain more, but the video tells the story itself. This is the craziest fish tale you'll hear this week, no doubt.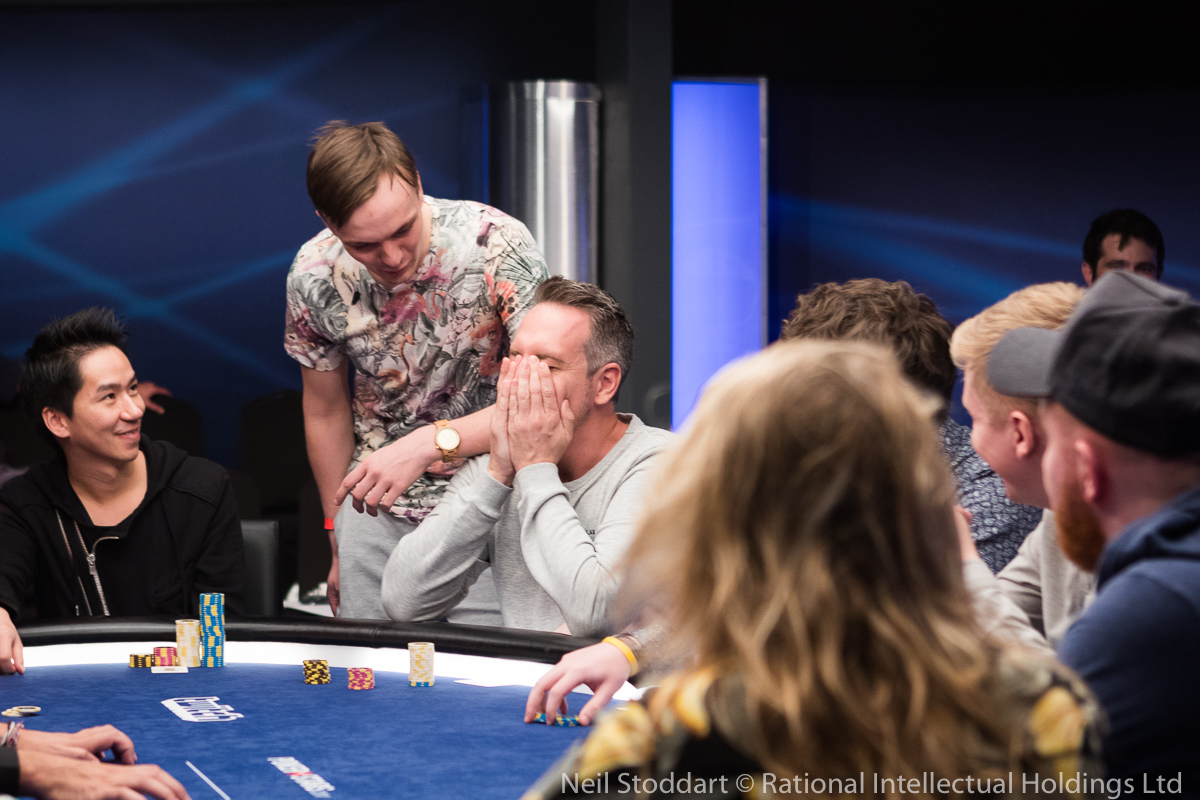 Tuomo Niskanen & Lex Veldhuis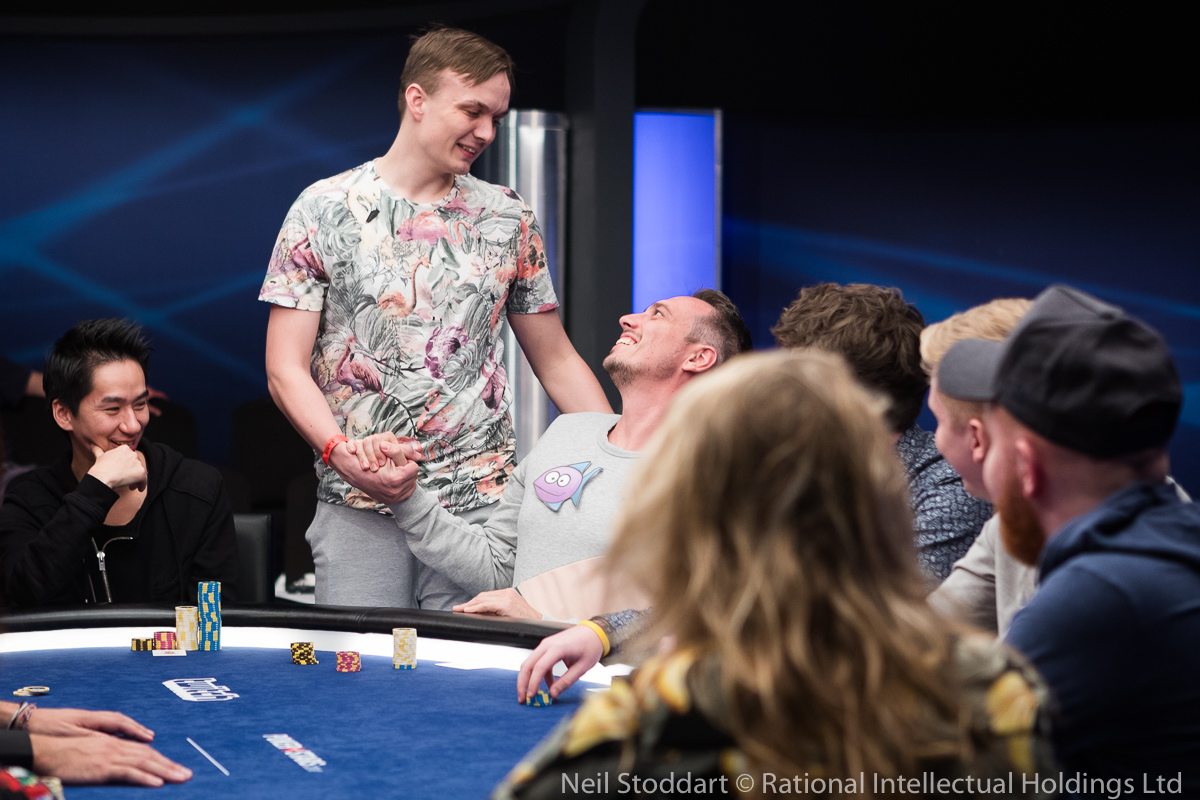 ---
Want to win a package to an EPT like Tuomo Niskanen did? Start by downloading the clientClick here to get started.
---