Fatima Moreira de Melo talks to Right To Play about International Women's Day
As well as being a Team PokerStars Pro Fatima Moreira de Melo is a prominant advocate for the work of Right To Play, which has a partnership with Helping Hands, the PokerStars corporate giving programme.
On what is today International Womens Day, we're publishing her interview with Right To Play on the significance of the day. It covers her experience as an Olympic gold medal winning hockey player, but also of the poker world, and her experience visiting parts of Africa as a Right TO Play Ambassador.
Moreira de Melo speaks openly and honestly about her experiences in each of those worlds, and in her frank and entertaining way. It's a long interview, but worthy of your time.
You can watch a clip of Fatima on this subject here, with the full interview below.

Right To Play: Your career has been full of major titles and achievements, what characteristics do you have that enable you to achieve the level you have in sport, law, education, Poker and business?
Fatima Moreira de Melo: I'm very enthusiastic, sometimes it feels like I was a dog in my former life because I get very excited whenever a ball comes into play, whether it's a hockey ball, golf ball, basketball, volleyball, I just love it. I love to chase. I like being able to master a skill with anything in life but with a ball I get really excited and I really want to control it. It's like my prey.
My intrinsic drive and motivation comes from wanting to become better at something and being able to translate information and direction into actions, either in movements, but also in Law school in translating that information into something I could use and apply. So, I guess learning is the biggest skill, I'm a quick learner and I love to learn.

RTP: Do you think playing sports has helped you develop certain life skills?
FMdM: Definitely. I'm an only child, so by playing team sports I always had to put the team in front of my own needs, get some perspective and not be self-centred. It has helped me socialise a lot, which is very handy in life in general.
I think it's also learning that life in sports, especially for athletes, you can't just quit something when it becomes not all fun. Nothing in life is all about fun, even though it starts out as fun, it's not always going to be fun. You are going to have to go through some tough times and confront things you can't do, can't solve or don't like, that you will still have to deal with in life, but then still see the joy in things and find the energy to keep going and see the beauty in it too.
When you get injured for example, it's not all fun, and when the coach doesn't put you on the field to play, or when you lose the finals in the Olympics against Germany, it's not so much fun. It's about finding the motivation and energy to keep going and deal with stuff.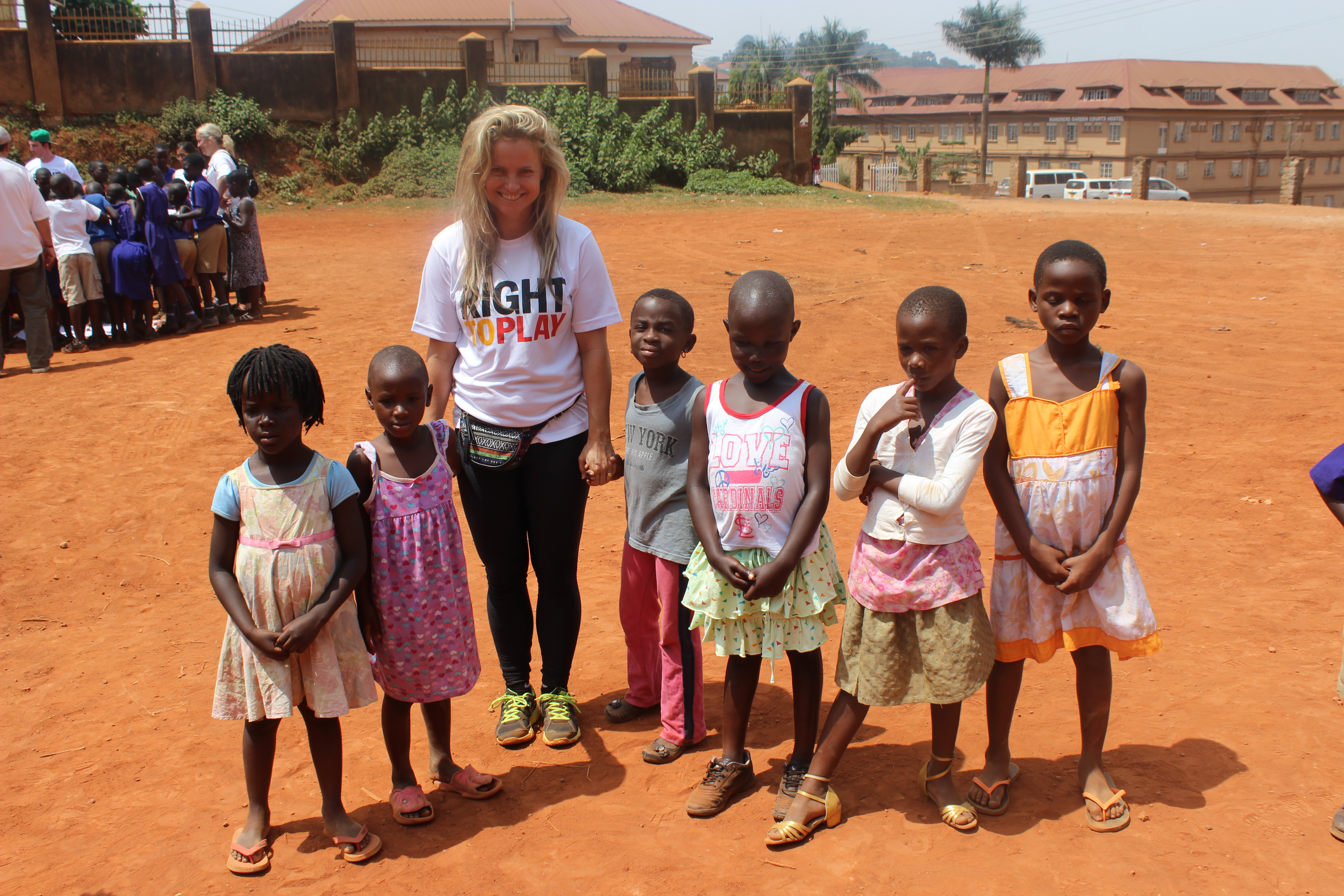 Fatima Moreira de Melo with Right To Play in Africa
RTP: What have you found has been the biggest challenge moving from the world of sport to Poker?
FMdM: The biggest challenge is the freedom I have now. I was really looking forward to having all that freedom, not knowing exactly what my life was going to bring me any day, because my schedule used to be pretty tight. I always knew where I'd be the next week, month and year because we were always prepping for a tournament.
But with Poker, I'm an individual gamer basically, so I am the one who decides everything and finds my path. To find my path was very liberating but also very different, I found myself in Barcelona for my first tournament alone, without any roommate, friends, or comfort from my team and leader. My schedule was all up to me, I loved it but it was also very daunting.
RTP: Have there been challenges in what is a predominately male dominated environment with Poker?
FMdM: I've always seen Poker itself as a challenge, rather than the environment which is very much dominated by men. The men who play Poker are usually pretty developed, of course there are different men everywhere so we can't generalise, but most of them are smart guys that just have the same passion for Poker, they want to play and do well.
Of course, they have a different perception of women who play because they are usually seen as more defensive or not bluffing as much as men for example, which for me is actually an advantage because I know how they view me which is very important to know. It's important to know how your opponent views you, so it has actually helped me.
I really enjoy being around people, whether they're men or women, I'm a very positive person and I look for the niceness in any situation. I'm pretty blunt and extroverted, so with men especially at the table, we always have a lot of fun even though we're trying to kick each other off the table.

RTP: Have you had any past experiences where you were disadvantaged because of your gender?
FMdM: I think in general I've never really felt that way. In sports when you play, you notice that even younger guys are just stronger and faster than us, but because we were older and more experienced, we knew how to solve situations and work together better.
But physically, we are different to men and most women in general won't be as fast or strong. I would've liked to have more testosterone to develop more strength and speed, but that's just nature. I think recognising that women are different than men is fine, for me in life it's always about seeing the beauty in whatever the situation, sport or person brings, it's not about comparing. I never compare myself to another woman's success or beauty and I would never do that with a man either.
At the end, it's about accepting who you are. I know I'm not as fast or strong as a man, but I have my own qualities. Women can also do a lot of things men can't, for example bear children. I'm lucky enough to live in Holland where of course there are always discussions about equal pay for equal work, but I have a different kind of life where I don't have to deal with that a lot and I'm good at negotiating.
Women in general should try to find ways of getting what they want. Life is not about complaining about what you don't or can't have.

RTP: What is your reaction to the fact that according to the WEF's most recent gender gap report, equality for women is more than 200 years away?
FMdM: Men can be and should be sensitive to that, but I think that it's the women who have the biggest job, to support and teach other women, help each other climb up the ladder instead of seeing each other as competition.
Don't complain about what you don't have, don't compare yourself to anyone else, just go for what you want and find a solution. Find the positive energy to confront the obstacles that are there. I always see it as: if you want something, go for it. As girls I think we are brought up to be more timid, gentile, nice, when you try to negotiate or go for what you want you are more quickly seen as a bitch.
For example, I was on survivor, where I played very tactically with two guys, we managed to eliminate this very huge strong man, and I was seen as the bitch because I played tactically. That was mean because I wasn't as strong as him, so how was I going to climb ropes and go as fast as him in challenges. So I had to use my brain, that was my solution to winning. In society, as a woman, if you fuck around you're considered a slut, but when a guy does it, it's like cool dude. It's more about how we view the world, our perceptions of one another, and we have to be aware of that.
RTP: What does this year's UN theme for International Women's Day #PressForProgess mean to you?
FMdM: I would like to see it as: be aware of the fact that there are still a lot of steps we have to take ourselves amongst women. In order to make a better world, we need women to be better educated, better at making decisions for themselves and better at raising children.
For the entire development, men should be aware as well as women, that in order to take a step forward, we need everyone's energy and qualities to develop that. It's like a team sport, everyone is different and we need each other to win.

RTP: Why do you think it's so important that women and girls achieve equality in all aspects of public and private life?
FMdM: The more developed and equal chances we have, the better the future will be for the entire world. The more self-esteem and confidence girls have, the better the decision-making they can make for both their lives and their children. It's also about feeling happy and free in your life.
I want everyone to feel as free and happy as possible in their own situation. I've seen it myself, the more kids learn, the better they speak up for themselves, and the happier and healthier they'll be in the end. There are so many aspects in life that make that so important.

RTP: What advice do you have women and girls pushing for equality in their personal and professional lives?
FMdM: Help each other out, learn from each other. Don't' compare yourselves, don't bring each other down out of jealousy. Use each other's qualities, like in team sports, we had all these different girls in our team, one was good at attacking, one at defending, the other at creating and another at coaching, so we used each other and that's how we became champions. It's like a mini society, we helped develop each other, and we saw each other as equal even though we were all very different.

RTP: As an Ambassador for Right To Play, what was it that the charity is doing to advance women and girls that excites, impresses or energises you?
FMdM: What I love most is that obviously I know what sports and games can bring into someone's life. I'm in a very lucky position since I live in Holland, it makes me very aware that I was lucky to be born here.

Sports and games have done so much for me, I never thought I'd be a professional athlete or a professional gamer, but I am and it's brought me happiness. It has also given me the opportunity to get in touch with people from different cultures, and learn and get a broader perspective in life. What Right To Play does is that they start at the root, they start with the schools where they have programmes. They teach kids through a catalyzation process, sports and games make everything go faster. They make kids take on the information way faster and more organically, because they play games which make it easy to understand what the message is. It also brings some fun and joy at the same time.
The way the system works is that the coaches are involved in it as well, plus they're all local coaches. At the same time that the kids are learning, the adults are learning too. They're learning to coach, and learning about themselves as well. So it's actually a very broad educational process, it's not just kids, it's the whole society.

RTP: When you visited the programme in Uganda, what was it that struck you about the way that boys are included in the conversation about equality for girls?
FMdM: I don't think I looked at it that way, I just noticed that all the kids were playing together and that the girls were just as mouthy as the boys, and I loved that it seemed integrated. All the kids were just playing and learning together.
RTP: Given your role as a Right To Play Ambassador, what is your vision for girls in Right To Play programmes around the world?
FMdM: To be honest, I found it pretty hard when I was in Uganda because I talked to the kids, there was this girl aged 11-12 years old, who was taller than me, and she said she loved to run and would run around the school all the time. So I thought well there are a lot of great athletes who come from Africa, who run marathons and even compete in the Olympics, but she didn't know what either were. She didn't know what a marathon or the Olympics were.
So I think it's about giving perspective to life, they're still so far away from that which makes me sad. I'm glad that they're learning more and that they have a better role in their own society, but I think it's also very important that they start learning what else they can do in life and that they could actually go and do what they want.
The first step obviously is to get a better role within your own society, but what I would want is to see those girls going out there running marathons, and going to the Olympics and that they can live their lives to the fullest.
You can see kids with so much potential, I saw an 8-year-old girl going to school with her baby sister on her back, and she had to participate in all the games while carrying her sister. I want to see girls go to school freely, without having to take care of their sister, and just living their life to the fullest potential without worrying about hygiene, rape, lack of food, teacher abuse, AIDS.
I would love for all that to be eliminated from their communities. I'm glad that they're learning more, and that they can speak up for themselves and be empowered, but I would love for them to be able to live their lives the way I can, to their fullest potential, because I hate the fact that all their potential is not being used.
For more information click here for the Right To Play homepage.