How one German player turned a $2.50 spin into a record breaking payout on Stars
It's possible businesses in the Lower Saxony region of Germany, noticed some surprise activity last week.
The Champagne dealers for instance might have noticed a modest surge in demand.
So too dealers of expensive watches, and smart upmarket family cars.
It might have been the same for travel agents too, with one or two more enquiries than they'd usually expect this time of year.
If so, it's likely they were down to the celebrations of one man. The winner of the biggest single cash prize in Stars history, and all thanks to a $2.50 bet.
That prize was $4 million.
---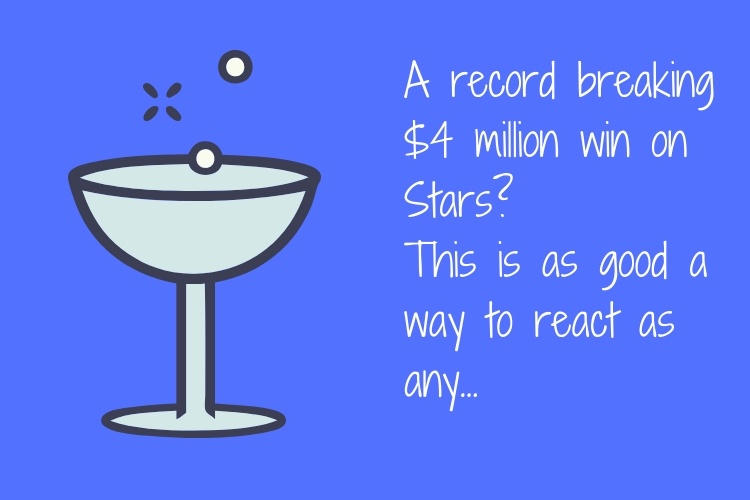 One player from Lower Saxony in Germany won the biggest ever payout on Stars Casino - $4 million
---
We can't name him, but we can tell you that when he came home late from work last week, he put a pizza in the oven and decided to play his favourite slots game on Stars Casino while he waited.
He spun the wheels. The wheel kept spinning. Then they landed on the jackpot.
At this point confusion set in, which, from experience, we can say is normal.
Then after a few minutes of that there followed the first moment of clear thinking. He'd better tell his wife, he thought. She was already in bed, having spent the day looking after the kids. So, he went upstairs to wake her.
No one likes to be woken up in the middle of the night. But he was about to learn there are always exceptions. This was one of them.
At first she didn't believe him.
Again, let us step in here and say this is also completely normal. It's why we have VIP managers who get in touch to make sure you're okay, and (quite important this) that you believe us.
But when morning came the reality of this life changing news began to sink in.
What do you do with $4 million?
Well, as he told us, some it will go to his family. And there's relief in knowing that he doesn't have to worry about paying his children through University any more.
And maybe the car could use an upgrade?
The renovations planned for their existing house will now move along much faster than the original long term plan suggested.
And that dream of a holiday home might just have come true.
And who knows, he said, maybe a little more poker. After all, $4 million gives you time to practice a little.
Check out games like Jack Hammer or Mega Fortune (the game that turned his life upside down) on Stars Casino if you're curious.
Or, if you're in the business of selling luxuries, pack a bag and head to Lower Saxony.
Follow the trail of champagne corks.