NFL Week 9: Saints Hand Rams First Loss and Busting Bookies
The New Orleans Saints and Los Angeles Rams shootout lived up to its hype as a potential preview of the NFC Championship. The two high-octane teams combined for 80 points and the Saints prevailed 45-35. Drew Brees threw four touchdowns and the Rams were unable to stop Michael Thomas, who put on a dazzling performance and a touchdown celebration with an archaic flip phone that paid homage to a Saints legend Joe Horn.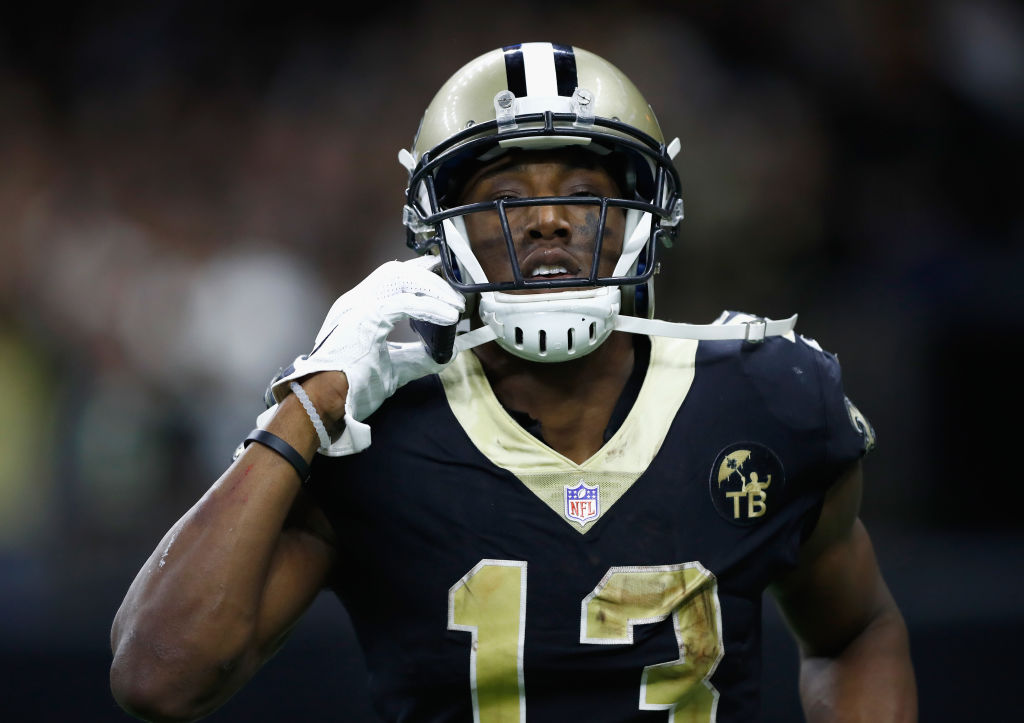 The sportsbooks in Las Vegas took a pounding on Sunday in what is being reported by ESPN as one of the top ten worst NFL betting weekends in the history of Las Vegas. A significant number of favorites won in a chalk-heavy week, while both pros and the public heavily profited from a couple of soft lines and totals. Several big favorites covered outright (Chiefs, Bears, Panthers, Vikings and Pats) along with overs in the Saints/Rams and Falcons/Bucs that didn't even have a chance of losing.


SAY IT TO ME SANTOS
New Orleans Saints 45, L.A. Rams 35... The Saints (7-1) knocked off the last undefeated team. Marcus Peters and the rest of the Aqib Talib-less Rams secondary were shredded by Drew Brees (346 yards and 4 TDs). Michael Thomas finished with 211 yards and one score. For his celebration dance after a 72-yard lightning strike, Thomas whipped out an old-school flip phone as a nod to Joe Horn, who originally pulled the cell phone trick in 2003. RB Alvin Kamara scored three times. The Saints and Rams (8-1) combined for 52 points by halftime. The over busted early in the 3Q and the total covered by 3 touchdowns. Cannot wait to see this rematch in the playoffs.
Brees finds Michael Thomas for the dagger! #LARvsNO pic.twitter.com/yhayoE2tEz

— New Orleans Saints (@Saints) November 5, 2018
PURPLE LION EATERS
Minnesota Vikings 24, Detroit Lions 9... The Vikings (5-3-1) defense made Matt Stafford eat dirt ten times and the Lions (3-5) slipped to the bottom of the NFC North. The only saving grace for the Lions is that Calvin Johnson's record is still intact, albeit in a tie with the Vikes' Adam Thielen. For the first time this season, Thielen failed to catch 100+ yards in a game with the Lions limiting him to only 4 catches and 22 yards. Even without Stefon Diggs (ribs) and Thielen clamped down, the Vikes relied on Dalvin Cook and Latavius Murray to generate offense. A hyper-efficient Cook rushed for 89 yards on only 10 carries. Murray added a touchdown and 47 yards from scrimmage.
THE BRADY RODGERS BOWL
New England Patriots 31, Green Bay Packers 17... Tom Brady won this hyped SNF match up against Aaron Rodgers, but it really wasn't even close. This game was tied 17-17 in the 3Q before the wheels fell off the bus for the Packers (3-4-1) the rest of the game. James White scored twice and Josh Gordon added a touchdown. The Pats (7-2) scored 14 points in the 4Q to lock up the win.
MAHOMES GLUE IN A MAGNET
Kansas City Chiefs 37, Cleveland Browns 21... Even with an interim head coach, the Browns (2-6-1) still looked like the Browns. Patrick Mahomes lit up the Browns for a season-high 375 passing yards for the Chiefs (8-1). Mahomes threw a bullet to Travis Kelce for one of two scores. Speedster Kareem Hunt scored three times including two rushing TDs. Another game that busted bookies on Sunday. Then again, what were they thinking hanging a line under ten points?
😮 Accuracy level 💯#MondayMotivation pic.twitter.com/FwTODeQ36Q

— Kansas City Chiefs (@Chiefs) November 5, 2018
FACEPLANT INTO ROCK
Pittsburgh Steelers 23, Baltimore Ravens 16... The Steelers (5-2-1) keep rolling in the AFC North. Big Ben and company effectively moved the chains against the best D in the league. Big Ben rushed for a touchdown and threw two more to James Conner and Antonio Brown. Conner finished with 163 total yards as Le'Veon Bell becomes a distant memory. Joey Flacco and the Ravens struggled to score points once again. The Ravens (4-5) dropped a third straight game.
STRAY DOG
L.A. Chargers 25, Seattle Seahawks 17... Russell Wilson's one-man show could not keep up with the Big 3 of the Chargers: Phil Rivers (2 TD), Keenan Allen (124 yards), and Melvin Gordon (113 yards and 1 TD). The Chargers mixed up the run and pass game, but Desmond King's key pick six in the 4Q finally sunk the Seahawks. Another kicker is going to lose their job this week. Caleb Sturgis missed two extra points and a FG. Phil Rivers was so angry at one of the shanks, he almost fired the kicker on the spot. The Seahawks choreographed the best touchdown dance this week (once again).
Seahawks stay winning on TD celebrations 😂

📺: FOX #LACvsSEApic.twitter.com/KIqGSJjD2E

— ESPN (@espn) November 4, 2018
COOL AMBER AND MERCURY
Atlanta Falcons 38, Washington Redskins 14... Matty Ice (350 yards and 4 TDs) and Julio Jones (121 yards and 1 TD) looked like their old selves. Five Falcons posted 40+ more receiving yards in a rout of the Skins. The Falcons have a porous secondary, but their run D stonewalled Adrian Peterson, who had almost as many receiving yards (16) as rushing yards (17 on 9 carries).
CAM SNUFFS FITZMAGIC
Carolina Panthers 42, Tampa Bay Bucs 28... Cam Newton and the Panthers jumped out to a 35-7 lead at halftime. FitzMagic put on a good show in the second half with three scores, but the Bucs D couldn't stop the Panthers. Christian McCaffrey padded his highlight reel with an open-field leap. CMC OMG.
JUMP CMC 😱 pic.twitter.com/YYfz5zepu8

— Carolina Panthers (@Panthers) November 4, 2018
DEATH DON'T HURT VERY LONG
Chicago Bears 41, Buffalo Bills 9... The Bears (5-3) scored four times in the second quarter and the Bills (2-7) were dunzo before they even took the field. Beleaguered QB Nathan Peterman got the start and he threw three more interceptions in another horrendous blowout. The anemic Bills offense sputtered out 7.7 points per game over their last 6 games. A friend from Buffalo mentioned a stat that sums up the season: The Bills scored 2 touchdowns in their last 71 possessions dating back to Week 3 (shocking win over Vikes) and have thrown more pick-sixes (3) than total touchdowns scored. The one score from the Bills this week was in garbage time, too late in the 4Q.
TURTLE IN THE CLOUDS
San Francisco Niners 34, Oakland Raiders 3... The Niners (2-7) snapped a 6-game losing streak because the modern game has passed by Jon Gruden while he occupied the Monday Night Football booth. Meanwhile, rookie QB Nick Mullen had one heck of a debut as the starter. The QB from Southern Miss (same school as Brett Favre) threw three TDs during a near-flawless first game, one which he didn't know he'd play until game day. Then again, Mullens didn't have much competition against the listless Raiders (1-7), which is why he posted the best debut game for any QB since the NFL started keeping track of nerd stats like that.
POST-MUD MALAISE
Miami Dolphins 13, New York Jets 6... Rough day for Jets (3-6) rookie QB Sam Darnold who threw four INTs and took over the league lead in interceptions. Arnold got outplayed by Brock Osweiler and threw the game's only touchdown via a pick six. The Miami Hurricanes played a rainy game the night before against Duke, which muddied the field and the line plummeted four points by the time the game ended on Saturday. In Vegas, bettors could not get to the betting window fast enough. With only 19 combined points for the Jets and Dolphins (5-4), the under hit by almost 3 touchdowns in this low-scoring snoozer.
THIS IS WHAT SPACE SMELLS LIKE
Houston Texans 19, Denver Broncos 17... The Texans (6-3) barely beat the Broncos (3-6) due to kicking woes. Brandon McManus missed two field goals including the game winner as time expired. DeShaun Watson tossed two touchdowns for his 36th career score in only 16 games, which put him in the same company as the likes of Dan Marino and Kurt Warner. Only days after he was shipped out of Denver in a trade, WR Demaryius Thomas faced his old squad. DT got the win in his first game in a Texans uniform.
GOTTA GET UNSTUCK GAME OF THE WEEK
Tennessee Titans 28, Dallas Cowboys 14... The Titans offense finally woke up from its coma. Marcus Mariota threw two scores and rushed for another in a Monday Night Football win. Amari Cooper played his first game since his trade from the Oakland Raiders. Cooper scored a touchdown and led the Cowboys in receptions, but the rest of the offense struggled. The Titans sacked Dak Prescott four times and forced an interception.
---
Pauly McGuire is a writer specializing in sports betting. He's covered the NFL, NBA, college basketball, MLB, and the Olympics for numerous outlets. He's the former co-host of the Everything Is Bettable podcast with Jesse May. You also might remember Pauly as the creator of the Tao of Poker blog. He was a partner in one of the first daily fantasy sports sites, Fantasy Sports Live.