So you're thinking about streaming poker?
Starting out on Twitch is daunting, and unless you're used to sitting in your bedroom with hundreds of people watching your every move, it's going to feel a little strange too.
However, streaming is one of the coolest experiences the internet has to offer - and the good news? Setting up and going live can happen within an hour, all from the comfort of your own home.
As a relatively new poker streamer I've picked up a heap of tips and advice for starting out streaming, so if exhibitionism is your thing, feel free to start here.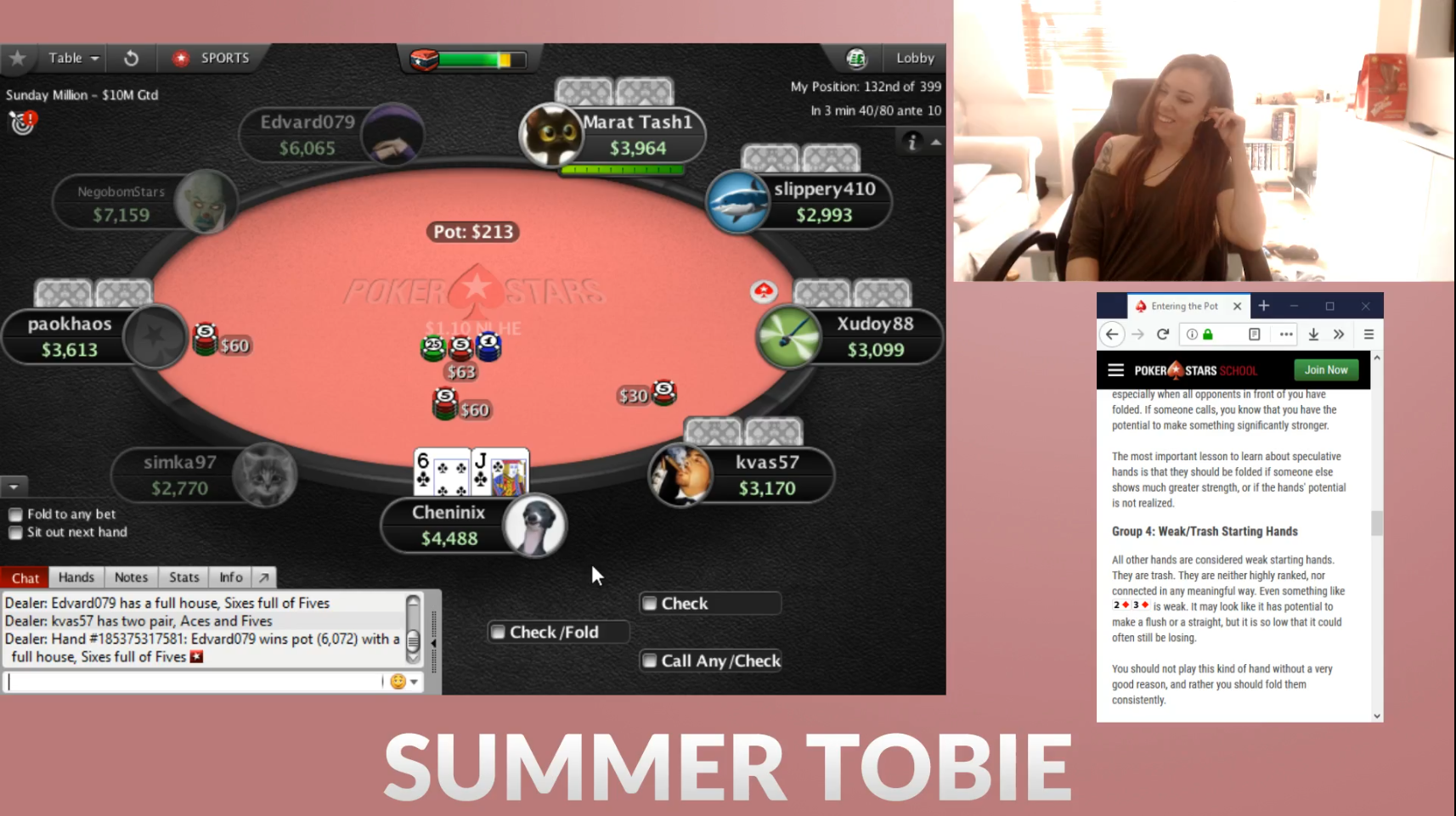 Thinking about streaming: Summer Tobie has some advice for anyone thinking about starting (hint: it's easier than you think)
How Do I Start?
One of the biggest mistakes novice streamers make is thinking that they don't have the right gear for streaming. Whether it be the best computer components or a flashing LED headset, the internet is littered with potential Twitch-ers panicking about their set up.
The reality?
None of your viewers are going to know whether you have a GTX 1080 graphics card water cooled by filtered Fiji water. It just doesn't matter that much.
Streaming software now is so advanced that it can hide a multitude of sins, and your viewers will be there for something money can't buy - your personality.
The most important thing you can do at this point is simply choose which software to use.
The two titans of streaming are OBS and XSplit, however there are others available and new companies popping up all the time, the majority of which are free to use.
As far as gear goes, you just need a stable internet connection (minimum 10mbps upload speed) and to meet the minimum system requirements.
Set up guides and minimum system requirements can be found for both HERE and HERE.
Once you've downloaded your streaming software, you need a Twitch account. These are incredibly easy to set up, and can even be linked with Facebook. Twitch offer a free 2-factor authentication system, and I'd suggest always taking advantage of it.
What's in a name? Branding your personality
Now you're all set up and ready to create your Twitch account, you need to choose a name.
Your name will become your brand. It's helpful to use the same name across all social media platforms, so it's easier for your viewers to find you!
When I first started streaming, as a lover of Greek mythology my first username attempt was "Nymph"... Something that hastily changed after my first streams! It was a tough lesson in awareness and self image.
Twitch names can be changed, but it's damaging to have to change it further down the line. Your personality is a massive part of your brand, so bonus points if you can integrate something you love that sets you apart from the herd.
The Big Entrance
When I did my first stream, I pictured myself as the pinnacle of poker, probably coming first or at least final tabling in a minimum buy-in tournament and definitely having more than one viewer. Turns out, I'm an idiot.
Your first stream, or streams, will really be a case of you ironing out any technical issues, adding things like extensions, widgets and counters (sites such as streamlabs are a great help here) and figuring out how to smoothly transition between tables.
Don't worry if your first streams are not incredible, you'll figure it out, just don't be afraid to be yourself (unless you're an a**hole, then feel free to be somebody else).
Within poker, you can choose to stick to one format, or play them all, both will have different appeals to different audiences. Love playing Zoom? You'll attract the hardcore grinders. Prefer to play mid-stakes tournaments? You'll find yourself mingling with the thrill seeking crowd.
I personally prefer tournaments and streamed them because it's what I found the most fun, but have found myself leaning more into cash games the more I learn. Your stream will evolve with you and your playstyle. Don't be afraid to try new things and experiment.
Streaming Into The Abyss
Sometimes you are going to have no viewers. Absolutely none. Zero. Not even your Mother.
So what do you do?
Honestly, I'd suggest making yourself the most interesting lonely person ever. You should be streaming the same content to one viewer as you would stream to 1,000 viewers - every viewer deserves the same effort and respect.
Some streams, especially after breaks, you'll see a massive drop in viewership which can be discouraging - don't let it get you down, it happens to everyone. Keep talking through what you're doing, play your favourite music or if you're really struggling drop into a Discord call with a friend - anything to keep it going.
You're playing a numbers game, the more you stream, the more opportunities people have to find you, and the more opportunities you have to retain viewers.
This is also a great time to trial viewer building stream tactics, such as 24 hour streams (in the case of the insane ArlieShaban, 36+ hours) or coming up with charitable and fun ideas that draw people into your channel.
Any streamer worth their chips will tell you about the hours they had to put in to make an impact. Be realistic, most streamers don't make it past 5-10 concurrent viewers - set small goals and build from there.
There are some great resources out there that demonstrate average growth, such as SullyGnome but they all show the same thing - time and patience really pay off.
How to make friends and host people
On Twitch, it's important to find your tribe. Small streamers are incredibly supportive of each other, so during your downtime it's worth finding other streamers who play your format and get chatting in their stream. They'll appreciate the interaction, and friends are one of your greatest assets - you'll get to celebrate in each other's successes, and support each other during the pitfalls.
Hosting each other is also great exposure for you both and can easily be done via your Twitch dashboard. It's also great to bring an audience in from outside of Twitch, even if it's just a few mates or your long-suffering parents. It's a big boost to begin with your own little audience and start to build your community.
Leash your bankroll - Poker streaming
Lastly, when playing Poker on Twitch, you do need to be mindful of your bankroll, and I'd suggest keeping a small spreadsheet of wins and losses. Streaming is stressful and distracting, so don't expect to be winning EPT amounts, but keeping track will help you to play responsibly. You can integrate this into your stream, with fun events like bankroll challenges to keep yourself on track and keep your mind on your money.