Sunday Million: Adam4_Condor soars to victory, collecting $117,195.36
Creating memorable nights for poker players is what the Sunday Million is all about.
Last night's Sunday Million will live long in the mind of newly-minted champion Adam4_Condor, following an evening that saw three players rack up six figure scores.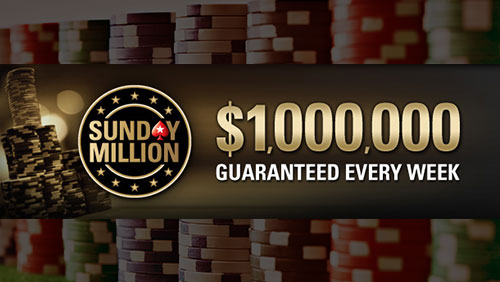 The 6,382 entrants combined for a $1,276,400 prize pool, whittled down to the last nine that produced a compelling final table.
Romanian player florilos was the first faller. Short stacked and in late position, A♠9♥ looked like his ticket to redemption. He understandably shoved - only for Austrian PIatzhirsch to pick him off with pocket queens. A board of 6♥8♦8♣K♥9♣ confirmed florilos' ninth place finish, for $10,135.38.
Now third in chips, PIatzhirsch's hopes of victory had ratcheted up significantly.
Then disaster struck.
In a seismic blind versus blind hand, the big-stacked Rohlik2 moved all-in with A♦5♦ and PIatzhirsch called off his 5 million-plus chips with A♣T♣. Everything was in place to catapult PIatzhirsch into a strong position. That was until fate stepped in.
Rohlik2 spiked a pair on the 9♣5♥3♥J♦Q♣ board, ending the Austrian's run in eighth spot for $14,442.59.
Dutchman nielssie88 began his own ascent up the leader board, delivering two knockouts in quick succession.
First he cleaned up WS Lynx in seventh ($20,580.29), with his dominating ace. Then he flipped with his tens versus Fran-Dutch's A♥Q♠, leaving his compatriot eliminated in sixth for $29,326.31.
nielssie88's star was waxing - up to second with five left.
With the lion's share of the chips divided amongst nielssie88 and Rohlik, the shorter stacks began scrapping for parity.
Czech player Adam4_Condor vaulted into a double-up by delivering his first KO of the evening.
Fifth place ($41,789.08) fell to flauschi16. His final act was shoving with A♣6♥. Adam4_Condor isolated with A♥J♦, claiming the pot over the exciting T♣7♣4♦6♠J♠ run out.
Four-handed, the remaining players cut a deal to flatten the structure and battle continued.
As chip leader, Rohlik2 had taken the largest fraction of the deal. But that didn't stop him from being the next player eliminated.
Adam4_Condor did most of the damage - winning a classic coinflip with queens versus Rohlik2's big slick. A huge chunk of Rohlik's stack was pushed across the table to the Czech, as his overcards bricked.
He was unable to reverse the decline. Adam4_Condor took the last of his chips with a dominating ace to leave him collecting $121,844.39 for fourth place.
Romanian vidi.pkr navigated his way through the final with great aplomb but he too joined the rail, finishing in third place ($89,558.47) - his J♣9♣ shove capitulating to nielssie88's suited ace.
This left nielssie88 and Adam4_Condor heads-up for the title - the latter holding a slim lead that he wouldn't relinquish.
A cooler saw off nielssie88's challenge in second place ($109,027.22). His pocket jacks looked strong right up to the point Adam4_Condor turned over pocket queens. There were no demons on the 8♦4♦4♣T♣3♣ board, and a new Sunday Million champion was crowned.
Congratulations to Adam4_Condor for a great performance. The Sunday Million will be back next week in its usual slot at 19:00 WET, 6 May.
Book your place - you might end the night with some golden memories of your own.

FINAL TABLE RESULTS
| Position | Player | Nationality | Prize | |
| --- | --- | --- | --- | --- |
| 1 | Adam4_Condor | Czech Republic | $117,195.36 | * |
| 2 | nielssie88 | Netherlands | $109,027.22 | * |
| 3 | vidi.pkr | Romania | $89,558.47 | * |
| 4 | Rohlik2 | Czech Republic | $121,844.39 | * |
| 5 | flauschi16 | Austria | $41,789.08 | |
| 6 | Fran-Dutch | Netherlands | $29,326.31 | |
| 7 | WS Lynx | Russia | $20,580.29 | |
| 8 | Platzhirsch | Austria | $14,442.59 | |
| 9 | florilos | Romania | $10,135.38 | |
* Asterisks denote payout in accordance with deal done four-handed.