Tale of Two Kickers - NFL Week 5
Any washed-up soccer players from Europe looking for a new job? NFL franchises are seeking kickers. Multiple job openings.
Kickers were the story once again for Week 5 in the NFL. Two kickers. Two opposite fates. One set a record. The other missed 5 kicks in a disastrous loss.
Graham Gano drilled a 63-yarder for the Panthers. Game winner? No problemo.
Mason Crosby? Couldn't buy a kick. Worst day of his 11-year career. The Packers kicker missed 4 FG's plus an extra point.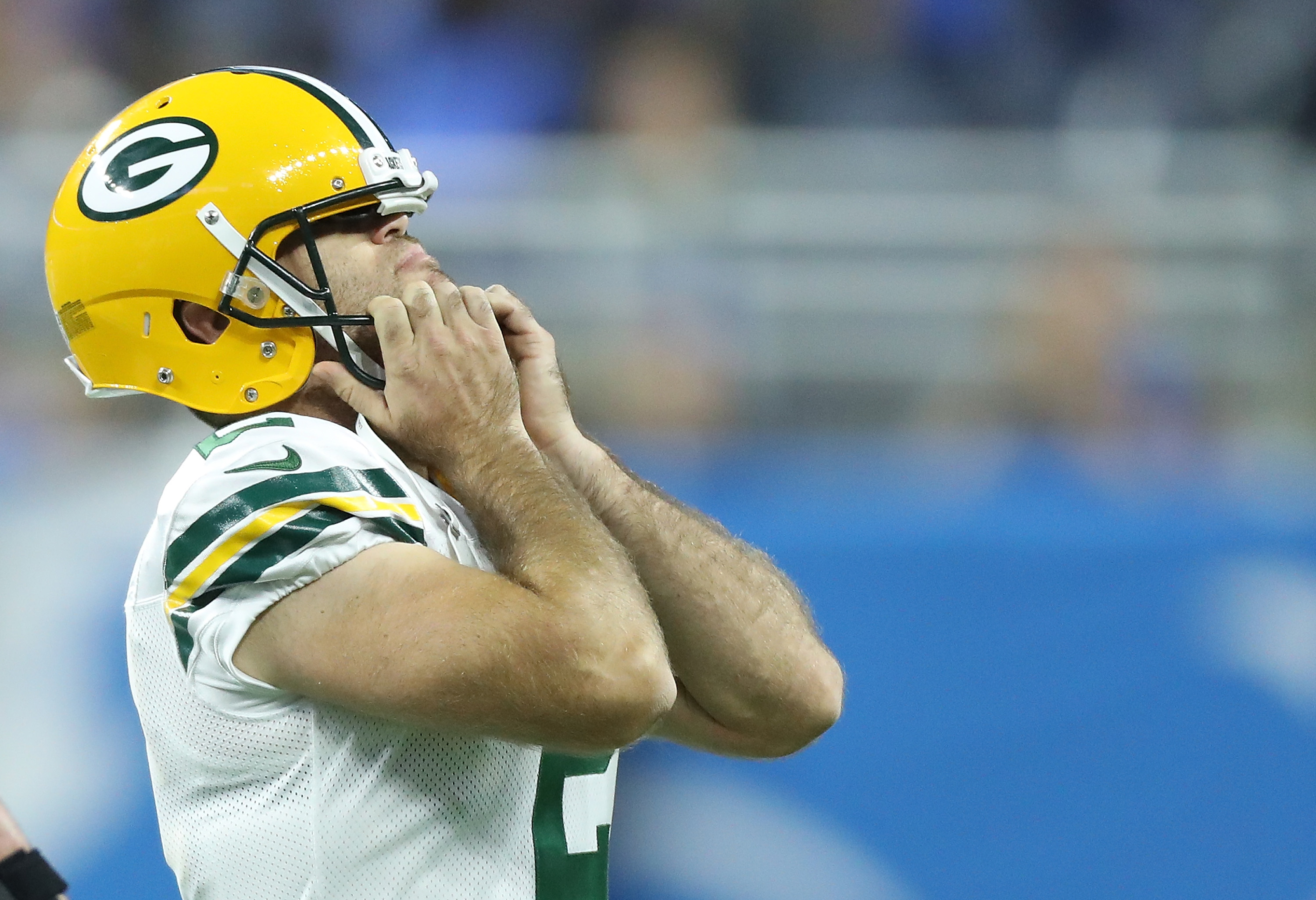 Running bad, Mason?
Other big stories in Week 5 included Tom Brady and Drew Brees setting milestones and the two best teams in the league - the Rams and Chiefs - improving to 5-0.
500 TD CLUB
New England Patriots 38, Indianapolis Colts 24... Tom Brady joined the 500 TD club with a TD to Josh Gordon. It's impressive that all 500 scores were with the Pats. Brady tossed TDs to 71 different receivers. Maybe the Brazilian witch doctor works?
YOU THOUGHT YOU WERE HAVING A BAD DAY?
Detroit Lions 31, Green Bay Packers 23... Mason Crosby. Sheesh. 5 missed kicks. 4 missed FGs. 80.3% career FG and 98.3% XP. Variance reared its ugly head. In Crosby's defense, if Aaron Rodgers and the offense did a better job on third downs, they would not have put Crosby in a situation where they were dependent upon a guy having the worst day of his life.
GANO LO GANOOOOOOOOOOOOOOOOOOOOOOOO!!!!
Carolina Panthers 33, New York Giants 31... Panthers kicker Graham Gano drilled a 63-yard game-winning field goal to beat the Giants. Gano set an NFL record with the longest game winner. Loved the Spanish language radio broadcast of the winning kick.
5-0
L.A. Rams 33, Seattle 31... The Seahawks could not stop the Todd Gurley Show (117 combined yards and 3 TD). The Crunch Time Play of the Day was Sean McVay going for it late in 4Q instead of punting on 4th and 1 from his own 42. Jared Goff perfectly executed a QB sneak to seal the victory.
Kansas City Chiefs 34, Jacksonville Jaguars 14... The Chiefs held their own in a rain game against the best D in the league. The Jags picked off Pat Mahomes twice, but the NFL's new Golden Boy threw for 313 yards and rushed for a touchdown. KC improved to 5-0 as the only other undefeated not named the Rams. KC's future comes down to this: how will Andy Reid screw this up?
BIG EASY BREES
New Orleans Saints 43, Washington Redskins 19... In the "Gotta-Get-Unstuck" Game of the Week, the Saints were almost a touchdown favorite over the Redskins, who are historically horrible on MNF. Drew Brees passed Peyton Manning for all-time passing yards in the 2Q with a 62-yard bomb to a wide-open Tre'Quan Smith. Brees finished the game with 72,103 career yards, but he'll have to wait one more week to join the 500 TD Club.
With this 62-yard touchdown pass...@drewbrees is the NFL's all-time leading passer! 🙌 #GoSaints pic.twitter.com/K6vTQVwfOe

— NFL (@NFL) October 9, 2018
THEY'RE STILL PARTYING IN BUFFALO
Buffalo Bills 13, Tennessee Titans 12... Just when you thought the Titans were a good team, they lost to the Bills. Maybe I was totally wrong about Josh Allen? The rookie QB from Wyoming found a way to lead the Bills in a 4th quarter comeback. The tailgating scene at a Bills home game is like St. Patrick's Day, Mardi Gras, and New Year's Eve combined. And that's if they lose. You can only imagine what went down last night after the win. Can't wait to see #BillsMafia table slamming videos surface later in the week.
SCATTERED, SMOTHERED, AND COVERED FALCONS
Pittsburgh Steelers 41, Atlanta Falcons 17... Antonio Brown caught 2 TDs and James Conner had a career day with 185 all-purpose yards and 2 TDs. The Steelers are back on track, while the Falcons went off the rails. Matty Ice is squandering his peak years with an inept OC and a Swiss cheese O-line that allowed 6 sacks.
SKOL!
Minnesota 23, Philadelphia 21... The Super Bowl Hangover continues for 2-3 Philly. The Vikes pulled off road win thanks to Linval Joseph who rumbled 64-yards for a touchdown after a fumble recovery.
Linval Joseph has to be the fastest 330-pound man in the galaxy pic.twitter.com/6nboP0hmZm

— Drew Mahowald (@DrewMahowald) October 7, 2018
DOWNTOWN EXPRESS
New York Jets 34, Denver Broncos 16... The LOLJets got the last laugh and set a franchise record with 323 rushing yards with their lightning/thunder RB duo. Isaiah Crowell unleashed 219 yards and Bilal Powell added 99 yards. The ground attack overshadowed Sam Darnold's best games as a rookie with 3 TDs including two heat-seeking missiles to Robbie Anderson (123 yards on 3 catches).
BAKERMANIA IN BELIEVELAND
Cleveland Browns 12, Baltimore Ravens 9... Another OT affair for the Browns, except the downtrodden Browns did not end the game with a heartbreaking loss. The Browns pulled off their second win of the year thanks to a winning FG from Greg Joseph. Who cares that LeBron left? Cleveland has Baker Mayfield.
NO GAMBLE, NO CHICKEN DINNER
Houston Texans 19, Dallas Cowboys 16... Cowboys uber-conservative head coach Jason Garret punted on 4th and 1 in overtime much to the dismay of... everyone... especially team owner Jerry Jones. This is 2018 and not 1978. Going for it on fourth down is cool. It's hip. It's the right thing to do math wise. The Cowboys played it safe and lost to the Texans.
4-1 GINJA
Cincinnati Bengals 27, Miami Dolphins 17... The Bengals are 4-1 with QB Andy Dalton playing his best football in years. The Dolphins are coming back down to Earth after a paper-thin 3-0 start.
1-4 CHUCKY
L.A. Chargers 26, Oakland Raiders 10... Phil Rivers and the Chargers (3-2) won this AFC West QB battle against Derek Carr and the Oakland Grudens (1-4).
DEGEN GAME OF THE WEEK
Arizona Cardinals 28, San Francisco Niners 18... Arizona (1-4) got their first win! Only degens were watching this game. I saw all of it.
---
Pauly McGuire is a writer specializing in sports betting. He's covered the NFL, NBA, college basketball, MLB, and the Olympics for numerous outlets. He's the former co-host of the Everything Is Bettable podcast with Jesse May. You also might remember Pauly as the creator of the Tao of Poker blog. He was a partner in one of the first daily fantasy sports sites, Fantasy Sports Live.