This Sunday spend $2 in The Big Race to win a $3,000 Marbella Festival package (and more)
How do you boost your poker bankroll, and your BetStars account at the same time? Seems like a tough one, but there's a PokerStars promotion, back for a second year, which does just that.
It's called The Big Race. Despite the name it's a poker tournament. It costs only a couple of dollars to play, and there are big prizes to be won.
SIGN UP TO PLAY THE BIG RACE TOURNAMENT FOR JUST $2
When you think about it poker and horse racing go well together.
See if this sounds familiar.
You already know as a poker player that few things ever interrupt a poker game.
Players have been known to pay their blinds and antes amid robberies, natural disasters, even the death of a player at the table. Put simply, the game must go on.
But there's one thing you can rely on to stop a game. Even if only for a few minutes. Something which, like a hand of poker, involves a few minutes of drama, with a potential big payoff at the end.
That thing is a horse race.
Especially a big horse race.
And there are none bigger than the Cheltenham Gold Cup.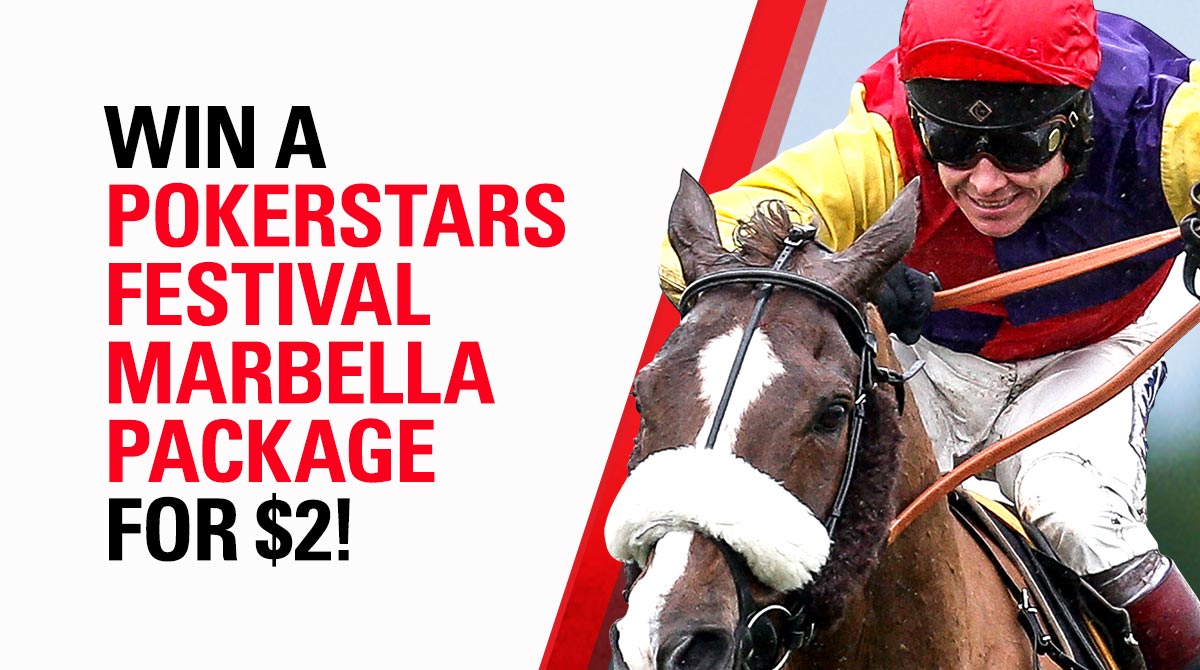 For a buy-in of $2 The Big Race tournament this Sunday gives players a chance to win a PokerStars Festival Marbella package worth $3,000, plus a whole load of free bets on BetStars
The race is so famous that it brings everyday life to a complete halt. Even those without the slightest interest in horse racing will stop what they're doing and watch the best National Hunt horses jump 22 fences, over more than three miles, to win one of the sport's biggest prizes.
Jumping the fences with them, at least in their minds, are the racing public. You probably count yourself among them.
Some will have studied the form before making their pick, others pick the nicest colours, or a name that reminds them of the pet rabbit they had as a child.
Then there are those who have found a new way to pick a runner. Or more accurately have one picked for them.
When the flag drops on this year's race on Friday 16 Match, a handful of PokerStars players will wait to see if The Big Race sends them to the PokerStars Festival Marbella, or earns them hundreds of dollars in free bets.
So how does this work?
And how can you win a Marbella package worth $3,000 for just $2?
You start by registering for The Big Race tournament on PokerStars this Sunday 4 March at 17:00 UK. It costs just $2 to play.
It's open to everyone in UK and Ireland (including Channel Islands and IoM), especially those who want to increase their poker bank roll and their BetStars account (does anyone NOT want that?)
Then use your 3,000 starting chips the way you usually do, with cash prizes just like any other PokerStars tournament, to the top finishers.
If you finish in the top 110 you'll win free bets on BetStars, ranging from $5 to $50. That'll come in useful with a busy summer of sport ahead. Or it might give you a little extra to spend on the Cheltenham Gold Cup.
But there's more.
Finish among the leaders and you'll be randomly allocated a horse in the Cheltenham Gold Cup (the number determined by how many horses will be entered for the race). If the horse assigned to you finishes in the top three, you stand to win one of three prizes.
• First place: A PokerStars Festival Marbella package worth $3,000, including a Main Event seat, accommodation and $600 to spend.
• Second place: $500 worth of free BetStars bets
• Third place: $250 worth of free BetStars bets
Thinking about it, those prizes can each be won for less than the price of a minimum bet at Cheltenham.

The effect can be exhilarating. Just ask Tony Rogers, who won a similar promotion last year to the Lille Festival...
"The race was one of the most exciting horse races I've ever watched! Knowing I could be off to a PokerStars Festival if my horse came first was thrilling! I had a great time when I won the trip to Lille and really enjoyed the whole experience, making some good poker contacts. This year the festival package is for Marbella and is worth $3,000 so there is even more at stake!"
To have a chance to win one of these prizes, register for the event now through the PokerStars Tournament Lobby. Select the Tourney tab, and you'll find "The Big Race" listed for Sunday 4 March at 17:00 UK. Or simply type "Big Race" into the search option.
That's $2 to win, place or show, plus that trip to PokerStars Festival Marbella. Sign up to play HERE.