WANTED: 5,000 Play Money players for 5 Billion GTD Right To Play charity event to help disadvantaged children
Did you know that there's a way to turn one million play money chips into life-changing education for children?
It's all part of a record-breaking $5 Billion play money tournament we're hosting next month for Right To Play. It's set to be the biggest event of its kind.
And with your help it could also change the lives of 1,500 disadvantaged children around the world.
But we need 5,000 of you. Here's how you can help
The Cadillac of Play Money tournaments
First that five billion number. That makes this a little different to standard play money events we host on our play money site.
Here's how it works:
The tournament takes place on the International Day of Sport for Development and Peace on April 6 at 20:00 EST.
The buy-in is one million play money chips, with as many re-entries as you like, and a single add-on.
PokerStars will be making a $10 donation on behalf of the first 5,000 players to sign up.
That makes our target: $50,000.
But we need your help to reach that target. Click HERE to register.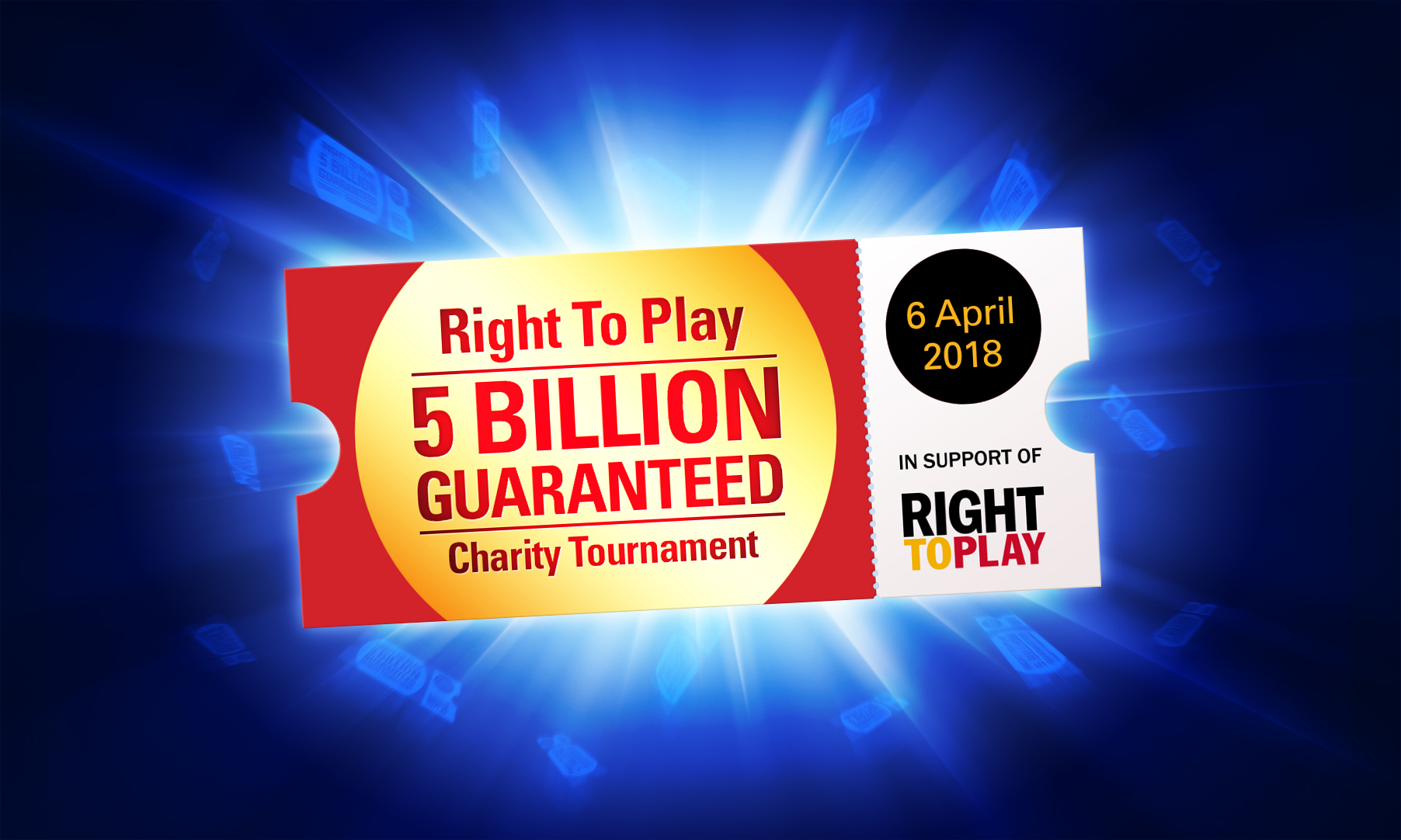 there are 5 Billion chips guaranteed in this special charity tournament. For every player who signs up to play, PokerStars will donate $10 to Right to Play (on behalf of the first 5,000 players)
Good results guaranteed with every buy-in
We can't guarantee you'll walk away with more play money chips in your account than can fit on screen beneath your PokerStars avatar. But when you consider what each $10 donation can accomplish, it's easy to see how that might not matter.
That $10 is enough to provide one child with four months of life-changing education through Right To Play programmes.
You can imagine the kind of effect $50,000 could have on children's lives.
The value of one million play money chips
You get an idea of how valuable each $10 donation is from staff at Right To Play, but also its ambassadors, including Team PokerStars Pros.
They'll be among the field for this one, the likes of Chris Moneymaker, Celina Lin, Barry Greenstein, Jake Cody, Aditya Agarwal and Fintan Hand. But also, Fatima Moreira de Melo, who has seen the value of this money up close.
"Right To Play is a charity close to my heart and I have seen first-hand the life-changing difference the educational programmes can make to children," said Moreira de Melo.
"This tournament is such a great opportunity for players to be part of a landmark moment in play money history, with this tournament being the first ever multi-table tournament in aid of Right To Play, raising money for a well deserving cause."
You'll want to take these pros on when you can. Each will have a 5 million play chip bounty on their heads.
Taking part is easy
If you want to help, then playing is easy.
The event is on dot net, or our play money site. You can go straight to the registration page by Clicking HERE .
No need to bother the lawmakers for this one, you can play from across the United States. In fact, you can play from anywhere.
It starts at 5pm Pacific Time (that's 8pm ET and midnight in the UK) on Friday April 6, 2018. That's perfect for players in the US.
That's plenty of time to win your buy in on Dot Net, or buy yourself some play money chips. If you need to boost your bank roll one million play money chips costs $4.99. Call it the fast-track to High Roller status.
PokerStars Ambassadors will be playing, each with a 5 Billion Play Money chip bounty. It may well be a play money event but that doesn't make it easy. And if you think these guys take it easy remember that Barry Greenstein has a play money title.
As he himself once said: "You'd be surprised how serious some people take play-money games. They might not be as good as real-money players, but they are good."
So, you get to play free poker, against some of the world's best players, from anywhere in the world (including the US) for numbers so big they'll barely fit on your screen.
And remember, PokerStars will make a $10 donation on behalf of the first 5,000 players. We want to get to $50,000. Come help us out.
"We hope you'll show your support"
"This huge tournament will raise vital funds for our global charity partner Right To Play, which has made such a positive impact on so many children around the world," said Sue Hammett, Head of Corporate Giving for PokerStars.
"We are aiming to have up to 5,000 players take part which is enough to educate over 1,500 disadvantaged children for a year. So please sign up and invite your friends."
Right To Play uses sport and play to educate and empower children in some of the world's poorest communities. They reach nearly two million children every week across Africa, Asia and the Middle East.
"We're very grateful to our global partner, PokerStars, for delivering this exciting tournament to mark the International Day of Sport for Development and Peace. It will help raise vital funds to help children in our programmes," said Nikki Skipper, National Director for Right To Play UK.
"It's a fantastic initiative by PokerStars and will have a big impact on the lives of disadvantaged children around the world. We hope you will show your support for this tournament."
Here are the details once more:
When: Friday 6 April 2018
Time: 5pm Pacific Time (8pm ET, midnight UK)
Buy-in: One million play money chips (plus re-entries and single add on)
Prize pool: five billion guaranteed
Bonus: PokerStars to donate $10 on behalf of every one of the first 5,000 players to register.
How to register: Clicking HERE to go directly to the buy-in page. Alternatively you can find the tournament on the PokerStars Dot Net client, or under the play money tab. Tournament ID: 2243852571