Week 3 of Truth or Bluff #PlatinumPass
As you'll know by now there's more than one way to win a Platinum Pass. And they don't all require your victory in a PokerStars High Roller event.
There's plenty of opportunity for low stakes players as well, including the special freeroll we're hosting as part of the Truth or Bluff promotion on Social Media.
Reckon you can crack @RealKidPoker's poker face? 🕵️‍♀️ Show us! All entrants play for a $30K #PlatinumPass in a #PSPC Freeroll while 20 correct guesses win a #SundayStorm ticket 🌧🎟 Watch the video and give it a go. Info: https://t.co/PslNVUn3fo T&Cs: https://t.co/cAFvjzzqPT pic.twitter.com/jK8P2H37GI

— PokerStars (@PokerStars) February 13, 2018

We're now into week three of the promotion, so you'll be familiar with the format. But just in case you're coming to this late, here's how it works.
Each Tuesday we'll be posting a video on the @PokerStars Twitter stream. All you have to do, when the video pauses, is guess whether the Pro involves if telling the truth, or bluffing. You can do that by tweeting your guess, along with your Stars ID and the hashtag #PlatinumPass.
The format is easy. Each week we'll be posting a clip on each of the channels above. Part way through the video the action will pause. At that point you decide whether the Pro is bluffing or telling the truth.
The next video is out today, with the answer (concluding part of the video) revealed this coming Thursday.
So what do you get with a correct answer?
For taking part we'll invite you to enter a special freeroll on Sunday, March 4.
But there's an advantage to those players who got the correct answer to each video. If you get more than two correct answer you'll get extra chips added to your freeroll stack, and also the chance to win one of the 20 tickets for the Sunday Storm ($11) each week.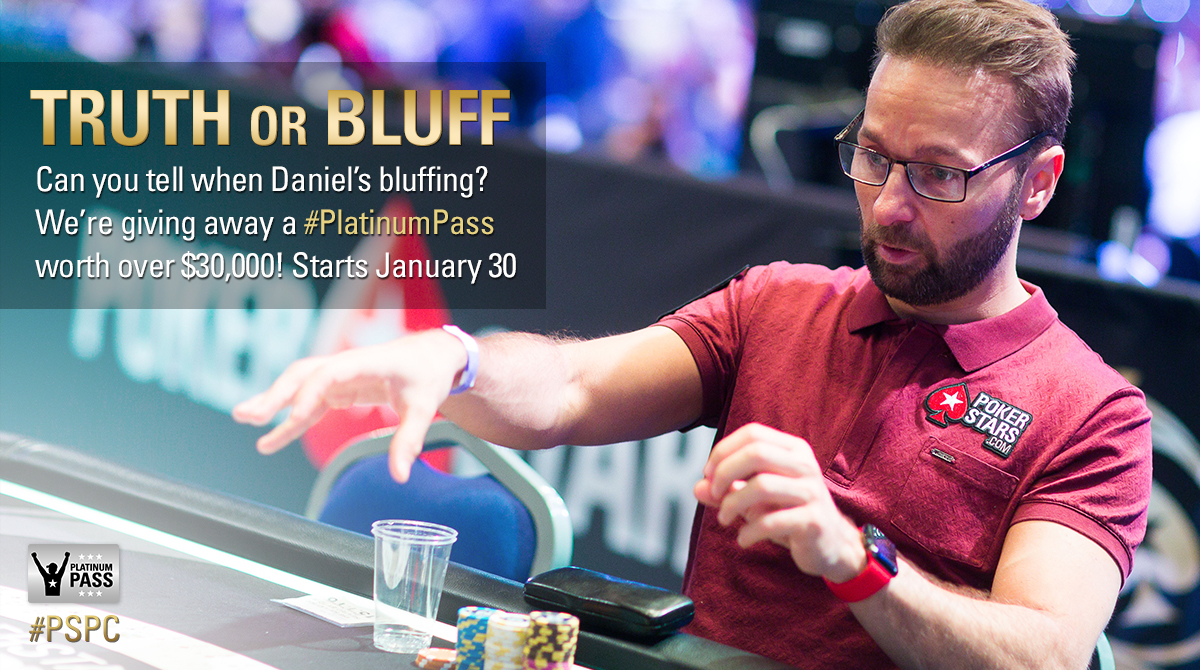 The winner of the freeroll is then awarded a Platinum Pass worth $30,000 to the PokerStars Players Championship in the Bahamas in January 2019. They'll also be other prizes available of Sunday tournament tickets worth around $5,000.
On Facebook, you can enter this contest by commenting with your answer, with goodie bags and merch up for grabs.
So for now, start guessing. As we've said before, check out the videos and make your choice. You could find yourself on the way to the Bahamas, armed with a Platinum Pass, a bag of PokerStars merch, and a dream of winning big.