Weekend Review: 12u55 wins the Sunday Million as Macau Poker Cup concludes with three new Platinum Pass winners
A brief round-up of the results on PokerStars this past weekend...
Weekend highlights on PokerStars
• 12u55 wins the Sunday Million
• Macau Poker Cup concludes, with more Platinum Passes awarded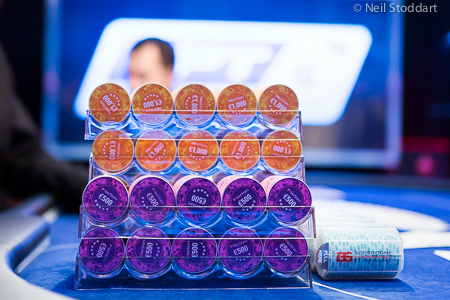 12u55 wins the Sunday Million
We start this week in the usual fashion, a story of triumph in the Sunday Million. This week is was Canadian 12u55, who having played for ten years without a win of more than $4,000 online, found himself victor of the Sunday Million this weekend to the tune of $129,761 after a three-way deal.
As Jason Kirk reported, it was hardly by accident. A career best, and a great story to tell, which you can read about here.
Here's the result in full.
Sunday Million ($215 NL Hold'em) results
Entries: 6,369 (5,149 entries, 1,220 re-entries)
Prize pool: $1,273,800
Places paid: 1,160
1. 12u55 (Canada) $129,761.58*
2. grigorq (Poland) $92,764.08*
3. vladik32 (Greece) $107,226.52*
4. olehaswonit (United Kingdom) $106,983.53*
5. Luis Gustavo "gkamei09" Kamei (Brazil) $41,703.95
6. Mr. Poh (Russia) $29,266.57
7. bananero17 (Uruguay) $20,538.36
8. PikkuHUMPPA (Finland) $14,413.17
9. Smertin (Switzerland) $10,114.73
* denotes results of a four-way deal leaving $25,476 for the winner
Weekend winners
Here's a look at the top ten results from the weekend on PokerStars.
| TOURNAMENT | WINNER | COUNTRY | PRIZE MONEY |
| --- | --- | --- | --- |
| $215 SUNDAY MILLION - PSPC Sunday Tournament | 12u55 | Canada | $129,761.58 |
| $2,100 Sunday High Roller | vojta555cz | Czech Republic | $53,516.23 |
| $215 Sunday Warm-Up - PSPC Sunday Tournament | Fishunter666 | United Kingdom | $44,815.78 |
| Sunday 500 | 1_conor_b_1 | Netherlands | $35,521.01 |
| $22 Mini Sunday Million - PSPC Sunday Tournament | CannaGrower1 | Brazil | $25,483.55 |
| $11 Sunday Storm - PSPC Sunday Tournament | plokkarn | Norway | $23,510.63 |
| FRESH-50: €100 Sunday Supersonic Fresh Edition | Namkabom | Spain | €22,074.62 |
| $215 Sunday Supersonic [6-Max, Hyper-Turbo] | Bhrine | Canada | $22,033.86 |
| $55 Sunday Marathon | blackwawks | Czech Republic | $19,017.42 |
| $109 Sunday Cooldown [Turbo] | BUYNI | Armenia | $18,853.59 |
Click here to pick out some of the other big winners from the weekend of February 10 to 11, 2018 on PokerStars.
Winners in Macau
Arguably the highest profile winner in Macau this weekend was its most high rolling of high rollers, Mikita Badziakouski. Perhaps one sign of Badziakouski's prominence in the game is that I can now type is name without having to look up how to spell it*. Another is his remarkable record, with more than $6 million in tournament earnings.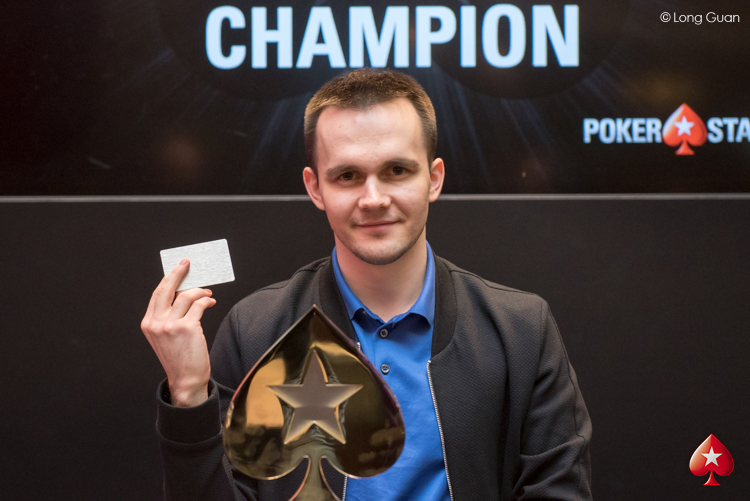 Mikita Badziakouski wins MPC28 High Roller, and a Platinum Pass to the PokerStars Players Championship
This latest result, winning the MPC high Roller event, was worth HK$2,324,000 to the Belorussian, who also won a coveted Platinum Pass.
A man of few words, or at least few English words, the significance was not lost on him.
"It's a very smart idea. It's going to be huge!"
Read about Badziakouski's win in the high roller event here, with an interview about that Platinum Pass win featuring in video format here.
There were other winners in Macau.
Alvan Zheng won the MPC Red Dragon Main Event for HK$3,055,000, ahead of a field of 1,122 players. Zheng, from China, defeated countryman Junhao Hong heads-up, and collected a seat to the 2018 ACOP Main Event (worth HK$100,000) as well as the coveted Platinum Pass to the PokerStars Players Championship in the Bahamas next January.
Read about his win in the Main Event here.
Meanwhile watching the interview with Zheng about that Platinum Pass by clicking here.
There was one more Platinum Pass won, claimed by Sandhy Rafael who took down the HK$25,000 NLHE event for HK$1.2 million.
Rafael, from Indonesia, talked to the Blog about his win, and that trip to the Bahamas, shortly after his win. You can See that here.
That's just the winners, you can find all the other stories from the past week or so in Macau on the front page of the blog.
That's it for this weekend. Send us your stories at @PokerStarsBlog.
*Okay, so I was wrong about this. I had to look up Badziakouski's surname several times while writing this. But he's still a great player.