Weekend Review: Brazilians go Platinum, but fall short of Germans in the Million
You could be forgiven if you thought this was the Brazilian PokerStars Blog this weekend. Those kids tore it up down there in South America.
If for some reason you missed it, the Brazilians were winning Platinum Passes like it was their job (okay, for some people, it is their job...). What's more, one of them almost messed around and won a Sunday Million.
Here's a quick recap of the weekend.
VAMOS BRAZIL!
Alt hed: How do you say Platinum in Portuguese?
The Brasil Series of Poker was running this weekend, and it started making sure the PokerStars Players No-Limit Championship would have a good South American representation. Over the past few days, we've seen Brazil start stacking up its Platinum Passes like it was trying to build a house of cards.
You have Pedro Padilha, the guy who actually had to say sorry about winning a Platinum Pass. You have Thiago Crema, the dude who almost skipped his chance to win so he could go to some wedding. And you have Murilo Figueredo, the Brazilian who cries when he's happy...and let me tell you...that kid was happy this weekend. Hell, he thought he'd been hacked!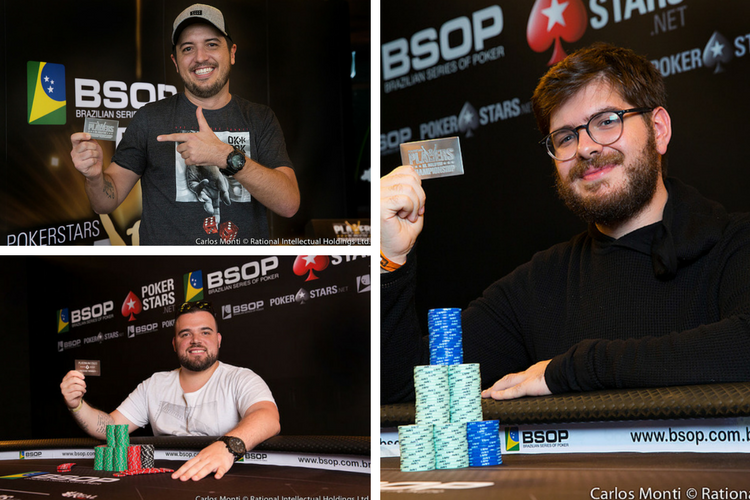 Vamos Brazil!
VAMOS...GERMANY?
Alt hed: How do your say vamos in German?
Jason Kirk was back from Macau and covering the Sunday Million for us this weekend. He pointed out, a lot of the folks at the final table were playing for some of the biggest paydays of their lives. One of those players, however, had been there before. That guy? Yep, he was Brazilian. Your man peterwhooo got heads up with Germany's Kenu V and made a deal. The German came out on top. You can read the whole report here: Sunday Million: Kenu V takes the title, $134K after heads-up chop with peterwhooo.
Here are the full final table results.
4-8-18 Sunday Million ($215 NL Hold'em) results
Entrants: 5,455 (4,385 entries, 1,070 re-entries)
Total prize pool: $1,091,000
Places paid: 998
1. Kenu V (Germany) $136,284.78*
2. peterwhooo (Brazil) $114,464.78*
3. 54kgPozitiva (Russia) $72,563.39
4. Nebelwald (Germany) $50,922.86
5. Onew4214 (Russia) $35,736.14
6. Cechi86 (Czech Republic) $25,078.48
7. UKPokerNinja (United Kingdom) $17,599.35
8. master beto (Costa Rica) $12,350.77
9. SU1990 (Germany) $8,667.44
* - reflects results of a heads-up deal leaving $21,820 for the winner
If you'd like to take a look at all the big tourney weekend results from the past couple of days, check out our April 7-8, 2018 PokerStars weekend results page.
Good luck to everyone in the coming week!