Why the $2 Big Race (top prize an EPT Prague package) is the best value tournament anywhere this weekend
Free bets, prize money, and a full EPT Prague package to be won. Does that make The Big Race (buy-in $2) the single best value tournament online this weekend?
Without question, we think it does.
The Big Race: This Sunday 23 September. 14:00 ET/ 7PM BST
Which for just $2 could earn you prize money, free bets, and get this: A full package worth €7,200 to play EPT Prague this December.
There were no typos in that last paragraph, we did say $2.
And by package we mean the full works: A seat in the €5,300 main event, €1,400 for accommodation, and €500 for expenses.
Now, when you've finished reading those details a second time just to be sure (you were right the first time), you might notice the picture below.
This is the bit that adds the drama to The Big Race.
---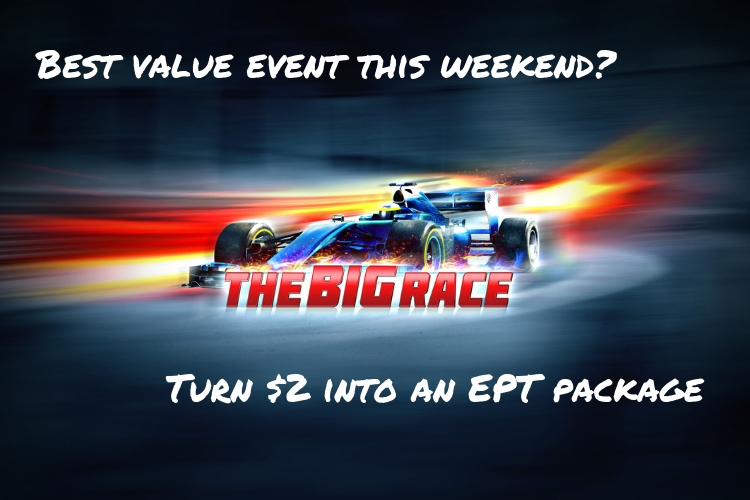 For $2 you could win prize money, free bets on BetStars and a package to EPT Prague this December
---
Because The Big Race has a distinctive Formula 1 theme. And it's this part that could also send you to Prague.
How The Big Race works
The top 20 finishers in The Big Race tournament will win the usual prize money, and also BetStars bets that increase in value the deeper you go.
But they are also entered into a unique Formula 1 sweepstake.
Each will be randomly assigned a driver in the Russian Grand Prix, which takes place in Sochi on 30 September.
The player with the winning driver will win the package, and be on the way to Prague this December.
Remember, it's a random draw. So, while you could get assigned one of the favourites, like Lewis Hamilton, there's always the chance you'll find yourself cheering the outsider Sergey Sirotkin.
But you're as likely to get one of the favourites if you finish 19th as much as if you finish first. So, get into that top 20 and see what happens.
No Formula 1 knowledge required. Just two bucks
You don't need any F1 knowledge to take part (which if you're assigned Sirotkin is probably a good thing).
All you need is $2.
And with the top 500 players earning free bets, you could easily finish with a profit, even if you don't reach the money. In fact you might even break even just by registering.
And there's always the Sochi Grand Prix itself to use those bets on.
Prize money. Free bets. An EPT Package. All for $2.
That's why we think it's the best value tournament anywhere this weekend.
How to play
To play you'll need to register.
You can do that by opening the PokerStars Lobby, selecting the TOURNEY tab, then searching the term "Big Race". You can't miss it.
Alternatively, click here to go to The Big Race lobby.
It starts this Sunday, 23 September, at 14:00 ET. That's 7pm BST or 8pm CEST.
To find more details, including details of the free bets on offer, go to The Big Race homepage.