WCOOP 2018: Romania's Catalin 'jah1923' Moraru on his dream $193K Sunday Million score
The Sunday Million is the weekly event everyone wants to win. Add a World Championship of Online Poker title to it, and it becomes even more prestigious.
So when Romania's Catalin 'jah1923' Moraru took it down on the opening day of WCOOP (well, actually it was the second day, as it was a two-day event), he not only defeated a 6,794-strong field to win it outright for $193,055.14 and his largest career score to date; he also became a first-time WCOOP champion.
The victory has had a huge impact on Moraru, and we caught up with him once the win had settled in to discuss what it means to him, and how it will impact his future.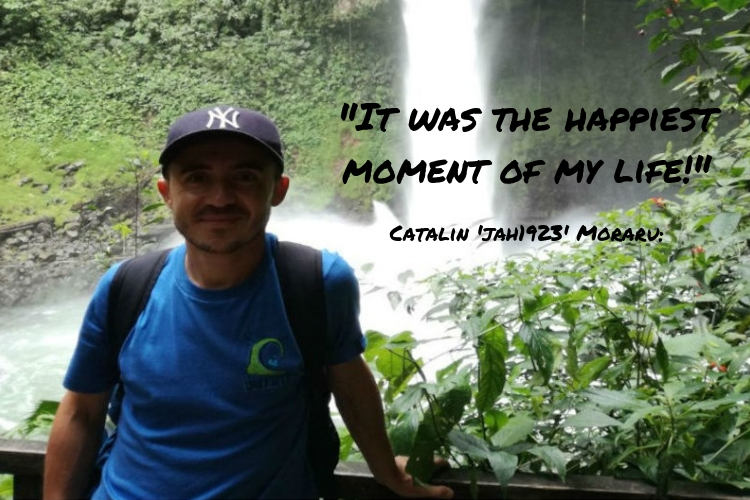 Catalin 'jah1923' Moraru
---
PokerStars Blog: How does it feel to be a WCOOP champion? Is it something you've been working towards?
jah1923: "It is a wonderful feeling and it was the happiest moment of my life. I don't know if it's something I've worked towards but I can say for sure that I dreamt of this moment many times."
PS Blog: Not only did you win a WCOOP, you also won the Sunday Million at the same time. Do you play that event regularly?
jah1923: "In 2018 I can say I played it quite regularly, but before that only occasionally. I had a few cashes in it and some semi-deep runs. I remember one of the last ones recently where I went out with Kings vs Aces with a large stack and felt so unlucky at that moment."
PS Blog: You won the event outright. Did you have any feelings towards doing a deal?
jah1923: "Yes, I think I was the first one checking the deal button and asked the guys if we should see the numbers. They all did at a certain moment, except one person so we kept playing. When he also agreed to see the numbers I had a large stack comparing it to the others so I wanted a better deal but again, the same player didn't agree so starting at that point I just focused on the game and tried to get the most out of it without any deal. That being said I had a similar case before where a player didn't agree to a deal heads-up but I won the tournament anyway. I'm telling you it makes the victory even sweeter."
PS Blog: Are you a professional player, or do you have another career?
jah1923: "I don't know if I consider myself a professional poker since I also have a career of almost 10 years in an IT company. But after this result I am thinking seriously to become a full time professional player.
"As for my poker career, I have played quite a lot over the past few years, playing more than 50,000 tournaments on PokerStars only, so I would say I am also quite an experienced poker player. I also had some good results in the past with decent wins, but in tournaments with huge prizes I always busted in the late stages. I would always remember a hand where I went out 11th in Sunday Storm two or three years ago with Aces vs AQ for a chip-leader pot. Back then I felt so unlucky. But luck is part of this game and this time it was on my side so I feel really grateful."
PS Blog: What is your life like away from the tables?
jah1923: "Well lately I kind of neglected my personal life since I dedicated so much time to poker and my job, but I am trying to change that. If I choose to continue with my poker career I will have some more time also for myself. I live in Bucharest, Romania. I like to travel, hang out with friends, watch documentaries and listening to podcasts. But my biggest passion remains poker."
PS Blog: Do you have any strategy advice for people playing their first Sunday Million/WCOOP events?
jah1923: "First of all, try to get into the money. ITM is very important and after this you can play more relaxed. Use your time bank and try to take advantage of each situation. If you have a big stack be aggressive, as Brazilians like to say in football: "the best defence is the attack". Most important of all, have fun and don't feel bad if it doesn't work out the first time!"
PS Blog: Were there any key hands that you remember on your way to the win?
jah1923: "Well I believe the luckiest hand was the one where in semi-late, when I defeated Aces with my pocket sevens, with a gorgeous seven on the turn. Another key hand was at the last two tables where after an open and a three-bet all-in I decided to go all-in with my AK off. I found myself in a flip--AK vs JJ--and the ace on the river had me screaming for joy!"

PS Blog: What does this win mean for you going forward?
jah1923: "I am definitely going to continue my poker career, as this game has brought me so much joy. This wonderful win also gives me the confidence for the future. I might start choosing some bigger buy-ins, and I'll play more live tournaments as well. Last but not least I hope my result will inspire more people to start playing this great game!"
---
Congratulations Catalin 'jah1923' Moraru on your first WCOOP title.
---
Want to take a shot at becoming a WCOOP champ? Opening a PokerStars account is easy. Click here to get an account in minutes.
---