Brazil's Hulk9950 smashes 12th Anniversary Sunday Million for $960,000
Twelve years ago this week PokerStars changed the landscape of online poker by introducing the Sunday Million to its weekly schedule. A dozen years and hundreds of millions of dollars in prize money have established this tournament as the place where online poker dreams come true on a weekly basis.
In that regard, this week's 12th Anniversary edition was truly special. Everyone who makes the final table in a tournament with a $215 buy-in and a $10,000,000 prize pool can fairly be called a winner, especially when each of them eclipses their previous best cash by at least $77,000. But in the end only one player can walk away with the title. Today it was Hulk9950, a small-stakes player from Brazil who took over the chip lead while popping the final table bubble and rarely looked back on the way to a career-defining $960,000 Sunday Million victory.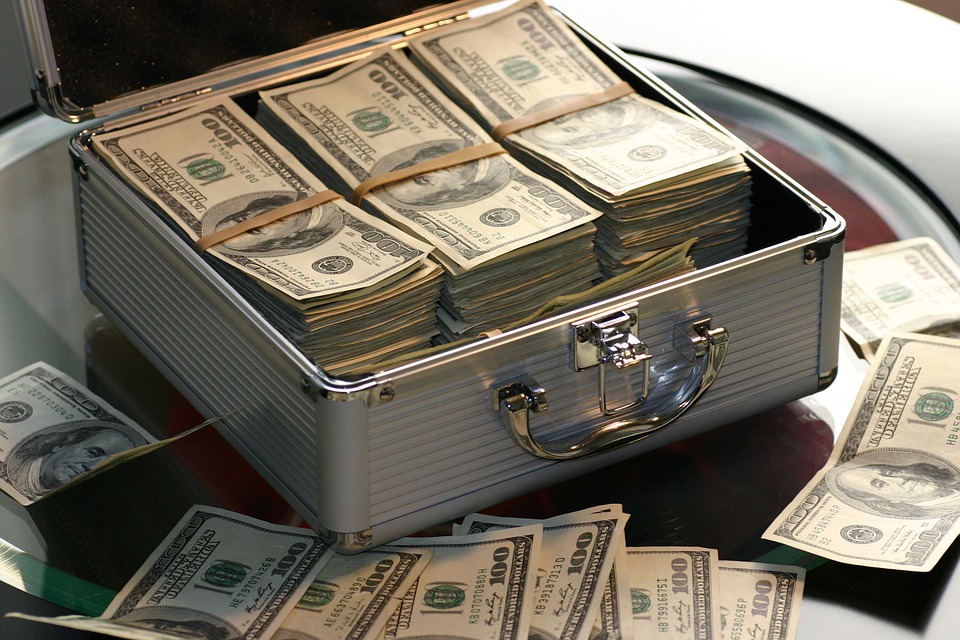 Sunday Million = Big money
This was a Sunday Million big enough that finishing required most of Monday as well. Three hours of registration topped the field out at 43,975, putting more than 1.1 billion chips in play and setting the scheduled top prize at $1.02 million. Just 535 of those players survived the first day, led by Latvia's LV_Arturs with 7.86 million chips.
Hulk9950 was in excellent shape as Day 2 kicked off at 2 p.m. ET, sitting in 21st place with a bit more than 60 big blinds. In the absence of any big wins that was enough to allow the Brazilian to survive about five hours with an average-sized stack until there were two tables left. Then Hulk9950 was dealt A♥Q♣ in the small blind and moved in for 74.2 million chips after kapchin min-raised to 7 million on the button. kapchin ended up folding because FrCnnctn1960 re-shoved from the big blind with K♦K♠, and Hulk9950 took down the pot with three of a kind when one ace hit the flop and another fell on the river.
Winning there moved Hulk9950 into the chip lead briefly. Sasuke234 took over a few minutes later, knocking out SandraJoeJay in 13th with pocket queens against pocket sevens. Hulk9950 didn't sustain any major losses, though, and a few blind steals were enough to reclaim the lead on the bubble. Then Hulk9950 picked up T♦T♠ on the button and cleared out the field with a re-raise after jeffzhang888 open-shoved under the gun for 52.3 million chips. jeffzhang888's A♦J♥ missed the board completely to send the Chinese player out in 10th and set up the final table.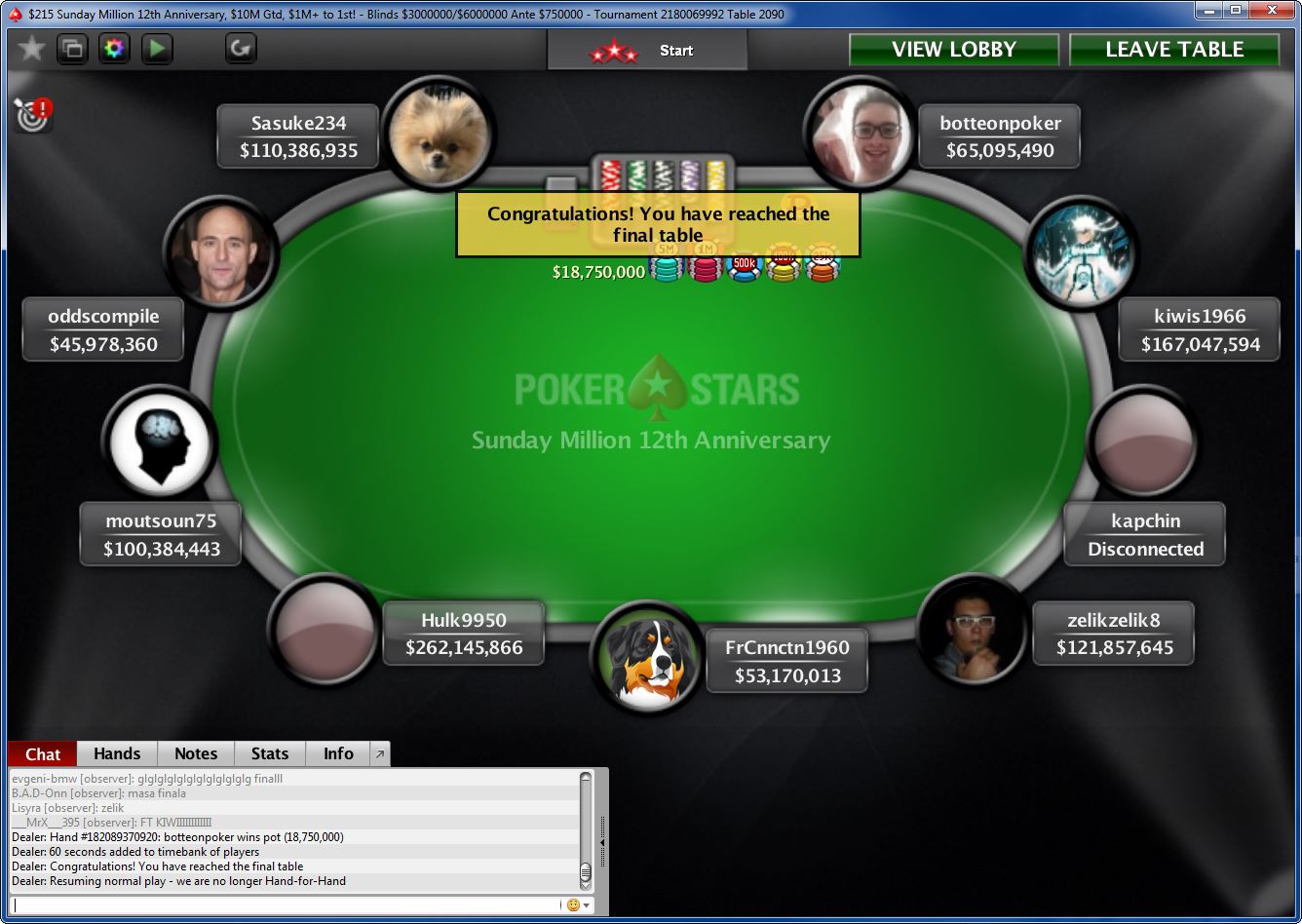 Nine players, $3.5 million in prize money waiting to be distributed
Seat 1: botteonpoker (65,095,490 in chips) past Sunday Million finalist
Seat 2: kiwis1966 (167,047,594 in chips)
Seat 3: kapchin (173,308,654 in chips)
Seat 4: zelikzelik8 (12,185,7645 in chips)
Seat 5: FrCnnctn1960 (53,170,013 in chips) SCOOP 2017 Limit O/8 finalist
Seat 6: Hulk9950 (262,145,866 in chips)
Seat 7: moutsoun75 (100,384,443 in chips)
Seat 8: oddscompile (45,978,360 in chips)
Seat 9: Sasuke234 (110,386,935 in chips) past SCOOP runner-up & Sunday Million finalist
There wasn't much room for maneuver with the blinds and antes at 3,000,000/6,000,000/750,000. Hulk9950 used that as leverage from the second hand of the final. The chip leader defended the big blind against a kiwis1966 raise to 1.3 million and checked the 2♠T♦2♦ flop only to have kiwis1966 check behind. The latter bet 14.6 million when Hulk9950 checked the K♥ turn and then bet another 22.9 million after Hulk9950 checked the Q♦ on the river. This time Hulk9950 moved all-in, putting kiwis1966 to the test for another 101 million chips. Eventually kiwis1966 folded K♠Q♥ face-up and Hulk9950 earned the 111-million-chip pot.
The first casualty fell six hands later after moutsoun75 opened the betting for 13.2 million chips with A♣4♣ in middle position. Priced in, moutsoun75 called as the underdog after oddscompile jammed for another 17 million in the hijack seat with A♦ J♣ and then made the nuts on the 7♣9♣2♣ flop. Only running cards to a straight flush could have saved oddscompile; they didn't appear and the Romanian player settled for ninth.
kiwis1966 doubled up with A-Q against moutsoun75's K-Q on the following orbit. Then Hulk9950 expanded the lead further on the next hand. After min-raising to 12.1 million with A♥Q♣, the leader was the lone caller when botteonpoker jammed for 96.7 million on the button with A♦J♥. botteonpoker caught no help from the K♠K♥5♣3♠2♦ board and left in eighth.
Sasuke234, the most accomplished player at the table, got in on the action a few hands later after moving in for 51.5 million K♠K♥ over the top of FrCnnctn1960's 38.4-million-chip opener with A♥J♥. Then zelikzelik8 called with A♦Q♦ in the big blind, swelling the pot to more than 151 million chips, and Sasuke234 made a set of kings on the K♣8♣J♣ flop. zelikzelik8 survived the loss with 106 million chips but FrCnnctn1960 exited in seventh.
"There wasn't much room for maneuver thanks to the large blinds and antes. Chip leader Hulk9950 used that as leverage throughout the final table."

Hulk9950 picked up four small pots in a row shortly after FrCnnctn1960's departure. The last of which saw the Brazilian call twice on the button with A♣8♠, first after zelikzelik8 raised nearly all-in before the 4♠2♦2♠ flop and then again after zelikzelik8 shoved after the flop with K♠T♦. The A♠ on the turn locked up the pot for Hulk9950 and sent zelikzelik8 to the rail in sixth.
In less than half an hour Hulk9950 had picked up more than 30 big blinds and taken out three opponents. The only other player to score a knockout, Sasuke234, scored another after opening all-in on the button with A♣9♣. kiwis1966 called for 96.7 million chips with Q♣Q♠ in the small blind and was poised to double up before the flop came J♥4♦A♦. Neither the turn nor the river was a queen, and kiwis1966's stay at the final ended in fifth.
Three hands later the action opened with moutsoun75 raising all-in for 69.9 million chips on the button. Sasuke234 flat-called in the small blind with 8♦8♥ but folded face-up after kapchin moved all-in for 274 million in the big blind. That turned out to be a very good fold indeed - kapchin's 9♦9♥ made nines full on the T♣K♦T♠5♣9♠ board to send moutsoun75 to the rail in fourth.
The three remaining players took less than 10 minutes to cut a deal, which left $200,000 on the table and guaranteed them all at least $640,000 apiece. On the fourth hand back in action Sasuke234 picked up pocket eights once again, this time in the big blind, and raised to 24 million after Hulk9950 limped in for 8 million in the small blind with A♠2♣. Hulk9950 responded by moving all-in, Sasuke234 called for 202 million chips as a 69.7-percent favorite, and the board ran out A♣6♣9♥J♥5♣ to give Hulk9950 the pot with a pair of aces. With that, Sasuke234 bowed out in third place.
The first 45 minutes of the final table reduced the field to just two players: Hulk9950 with 710 million chips and kapchin with 389 million. kapchin would make a genuine fight out of the 50 minutes that followed, but Hulk9950 dominated the proceedings almost the entire way.
kapchin's best stretch of heads-up play came very early in the match. After taking down one 110-million-chip pot without ever seeing a flop, kapchin defended the big blind with A♦3♦ on the following hand and flopped a pair of aces. Calling down to the river yielded two pair, beating Hulk9950's pure bluff for 211 million chips.
That win pulled kapchin to within four big blinds of the lead. Four hands later, kapchin moved ahead by 20 big blinds after turning a straight with 6♦5♥. And four hands after that, kapchin began the long slide toward second place.
Hulk9950 reclaimed the lead by defending the big blind with A♠ 6♥, making bottom pair, and calling as kapchin semi-bluffed with a gutshot draw. Five hands after that the Brazilian got kapchin to fold to an all-in bet on the river, on a 7♠8♥5♦A♦9♣ board. That left 343 million chips on the table and gave Hulk9950 a 2-to-1 advantage. That became the point of equilibrium for the next half-hour until kapchin finally limped with 8♣7♥ on the button, Hulk9950 re-raised with K♣K♥ in the big blind, and kapchin called to make a pair of eights on the J♣2♥8♠ flop. kapchin jammed for 178 million after hulk9950 led out, holding just 11.4-percent equity after Hulk9950 called and the 3♥ came on the turn. But the 7♦ river gave kapchin two pair and kept the game alive.
Hulk9950 responded by winning 17 of the next 22 pots, including one worth 219 million chips, after defending the big blind with Q♦6♦ and check-calling three streets' worth of kapchin bets with A♣K♣. That was good to win the pot with queens and sixes. In the end kapchin open-shoved for about ten big blinds with Q♥T♣ and Hulk9950 called with A♠3♣. The board ran out 8♣K♣3♦7♥8♦ and Hulk9950 won with a pair of treys to close out a truly momentous victory.
Congratulations to Hulk9950 on the big win and to all of our finalists for surviving an enormous field and turning their $215 buy-ins into life-changing money in the 12th Anniversary Sunday Million!
12th Anniversary Sunday Million ($215 NL Hold'em) results
Entrants: 43,975 (34,274 entries, 9,701 re-entries)
Total prize pool: $10,000,000
Places paid: 7,334
1. Hulk9950 (Brazil) $960,000*
2. kapchin (Bulgaria) $707,574*
3. Sasuke234 (Sweden) $640,000*
4. moutsoun75 (Greece) $391,554
5. kiwis1966 (Romania) $284,150
6. zelikzelik8 (Russia) $206,207
7. FrCnnctn1960 (Malta) $149,644
8. botteonpoker (Brazil) $108,596
9. oddscompile (Romania) $78,808
* - denotes results of a three-way deal leaving $200,000 for the winner
---
Year 13 begins with next week's Sunday Million. Click here to open your PokerStars account today.
---