Sunday Million: AchoBogdanov walks with $218K after one-hour final table domination
This July 15 was a Sunday to remember.

American John Cynn won WSOP Main Event, after the longest final table in history.
France won the World Cup in the highest-scoring final in 42 years.
And in just an hour and three minutes, Bulgaria's AchoBogdanov made winning the Sunday Million (the biggest in recent memory) look like the easiest thing in the world.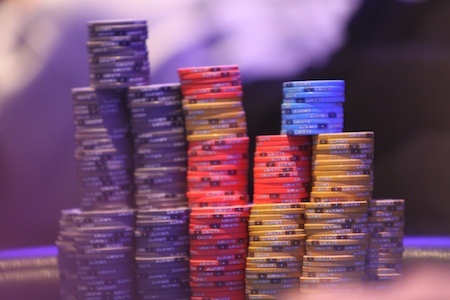 Perhaps those two major world events had enough players at their computers to boost enrollment. Maybe the cause was something else entirely. Whatever the cause, this week's Sunday Million drew a whopping 7,806 entries, up thousands from just a few weeks ago and easily the largest regular installment of the tournament in some time. That provided for a much later final table than usual and also for a juicy $214K+ to the winner.
AchoBogdanov, who finished seventh in this tournament last December, played much of today with an average-sized stack before beginning to rise with six tables remaining. The Bulgarian was closing in on the lead with the final table bubble looming. Then zemachess picked up A♣A♥ on the button and min-raised, getting Argentina's Conglomo222 to come along with K♠J♥ in the big blind. A jack on the flop was enough for Conglomo222 to commit, but catching up to the aces proved a task too large. Conglomo222 fell short in 10th and set up this final table lineup: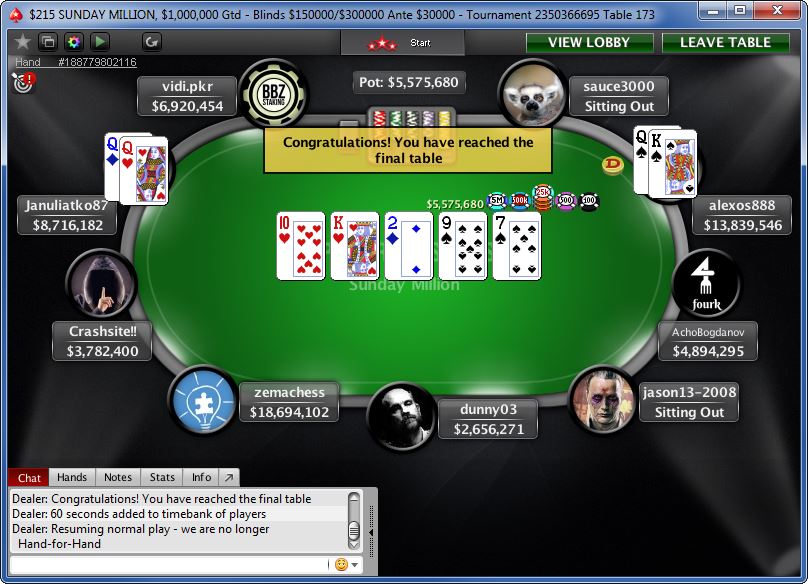 Seat 1: sauce3000 (9,963,607 in chips) past TCOOP & Sunday Warm-Up finalist
Seat 2: alexos888 (13,809,546 in chips)
Seat 3: AchoBogdanov (4,864,295 in chips) past Sunday Million finalist
Seat 4: jason13-2008 (6,533,143 in chips) two-time Sunday Warm-Up finalist
Seat 5: dunny03 (2,476,271 in chips)
Seat 6: zemachess (19,054,102 in chips) past MicroMillions champ
Seat 7: Crashsite!! (3,752,400 in chips) past Sunday Warm-Up & SCOOP finalist
Seat 8: Januliatko87 (8,686,182 in chips)
Seat 9: vidi.pkr (6,890,454 in chips) previous third- and seventh-place finishes in the Sunday Million
zemachess came in with the chip lead thanks to that bubble pot and drove the early action on the 150,000/300,000/30,000 level. The Russian lost to short-stacked dunny03 on the first hand with A♦J♥ against A♥Q♥. Seven hands later zemachess made all that back and then some after opening under the gun with A♥Q♠. jason13-2008 called from the big blind with K♣Q♥ and both players made top pair on the 3♦5♥Q♦ flop. The last of jason13-2008's chips went in after the 6♦ turn and 7♥ river, sending the Brazilian to the rail in ninth.
zemachess took another stab at knocking out a short stack a few minutes later, calling with A♦6♥ in the big blind when AchoBogdanov jammed for 4.11 million on the button with 4♦4♣. A pair of sevens on the board changed nothing and AchoBogdanov earned a crucial 8.68-million-chip pot.
They went on break after that hand and then the same two clashed again eight minutes later. This time AchoBogdanov opened for 735,000 and four-bet all-in for 7.8 million after zemachess re-raised to 1.92 million. It was another coin flip -- AchoBogdanov with A♦K♥, zemachess with T♠T♥ -- and the result was the same. AchoBogdanov flopped an ace and doubled to 16.42 million to take the lead, which would not change hands for the rest of the final.
Januliatko87 survived a similar flip minutes later with A♦T♦ against dunny03's 7♦7♣ before zemachess stepped up for another shot at a knockout. This time the Russian held A♦K♦ and called after opening the action for 800,000 and seeing sauce3000 jam for 6.51 million with Q♥Q♣. The K♣ on the flop was all it took to send sauce3000 home in eighth. vidi.pkr followed two hands later after jamming for five bigs with A♦J♠ and getting a call from AchoBogdanov on the button with A♥T♠; the T♥ on the flop eliminated vidi.pkr in seventh.
AchoBogdanov runs away with the tournament
zemachess was still looking strong at that point, sitting just a few big blinds back from chip leader AchoBogdanov. Then the Russian jammed with 3♥3♦ in the big blind over the top of Januliatko87's min-raise to 1 million, and Januliatko87 called with T♣T♠. No treys on the board gave Januliatko87 the 19.7-million-chip pot and dropped zemachess back into the middle of the pack.
zemachess fell further after losing with 8♠8♣ against short-stacked Crashsite!!'s A♣A♠. And then two hands later came the abrupt end. zemachess opened all-in for 6.76 million with A♥J♥ and AchoBogdanov joined the pot from the small blind with A♣K♥. The ten-high board was devoid of help, AchoBogdanov chipped up to more than 34 million, and zemachess bowed out in sixth.
alexos888 was next to run into the Bulgarian buzzsaw. The Canadian lost a flip with K♠Q♠ against fellow short-stack dunny03's 7♦7♠, then jammed for 11 bigs with 8♦8♥ under the gun. AchoBogdanov called with A♥K♣ and flopped an ace to take the pot and end alexos888's run in fifth.
AchoBogdanov now had 57 percent of the chip in play with four players left, not to mention all the momentum from knocking out three of the last four players. The Bulgarian ramped up the aggression from there and everything went exactly according to plan.
The next victim was Crashsite!!, who open-shoved for 6.4 million with A♦4♥ on the button. AchoBogdanov called with A♥K♣ and won on kickers to oust Crashsite!! in fourth. Minutes later AchoBogdanov opened with K♣K♦ and then called with Januliatko87 jammed in the big blind with 7♥7♠. The K♠ on the flop was all it took to send Januliatko87 to the rail in third.
AchoBogdanov's stack was nearly 10 times as large as dunny03's as heads-up play began. The latter fought for five minutes to stay alive before finally picking up 6♥6♣ and calling all-in when AchoBogdanov open-shoved with T♣9♥. The 9♠ was the first card on the flop and AchoBogdanov's pair of nines held the rest of the way to wrap up a very breezy final table.
This was about as close to a flawless run as you're ever likely to see. AchoBogdanov came out ahead in nearly every crucial spot and set a new personal best cash by $190,000 in the process. Congratulations to the Bulgarian on making the most of a second chance at the Sunday Million final!
7-15-18 Sunday Million ($215 NL Hold'em) results
Entrants: 7,603 (5,729 entries, 1,874 re-entries)
Total prize pool: $1,520,600
Places paid: 1,259
1. AchoBogdanov (Bulgaria) $214,893.79
2. dunny03 (Canada) $149,728.46
3. Januliatko87 (Slovakia) $104,326.69
4. Cashsite!! (Netherlands) $72,691.82
5. alexos888 (Canada) $50,649.66
6. zemachess (Russia) $35,291.14
7. vidi.pkr (Romania) $24,589.92
8. sauce3000 (Canada) $17,133.66
9. jason13-2008 (Brazil) $11,938.23
---
Get in on next week's Sunday Million. Click here to open your PokerStars account today.
---