Sunday Million: After three-way deal, F.mca777's unlikely comeback denies pradgen the title
Things were going great for pradgen.
The Swiss player entered the final table of this week's Sunday Million with a middling stack, spun a few big hands into the lead, and then cracked a pair of aces with small suited connectors to take two-thirds of all the chips in play into three-handed play. Now, with a deal for a career-first six-figure score already locked in place and only one opponent left, pradgen was the one holding the aces.
Unfortunately for pradgen, on the other side of the table Germany's F.mca777 was already holding a ten-high straight with just one card to come -- the aces were drawing dead. Winning that hand brought pradgen's march to victory to a screeching halt and provided the path for F.mca777 to slip past pradgen six minutes later and claim the title.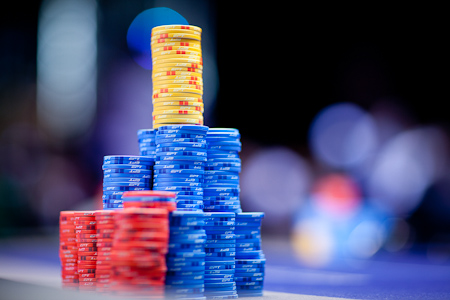 There was drama about from the early going today, with an overlay -- the field was 85 entries short of 5,000 -- and some streaming action from Team Online. Fintan "easywithaces" Hand gave his Twitch viewers something worth watching in tonight's Million when he held the chip lead for several hours deep into the money. He remained near the top of the counts well after that and was still in the hunt with two tables left -- and then he picked up J♣J♠ in the UTG+1 seat. A min-raise, a re-raise from pradgen in the cutoff, a 1.85-million-chip shove, and a call from pradgen with Q♣Q♦ put Hand at risk. The board fell ten-high and Hand's tournament ended in 17th place ($3,917.70).
The bubble popped an hour later after two short stacks met in the blinds. A desperate psfsin open-shoved with K♠5♠ in the small and an even more desperate CupiRulez called all-in for four big blinds with 8♥6♥ in the big. A gutshot draw on the flop never came home and that sent CupiRulez to the rail as the other nine players moved on to the final table.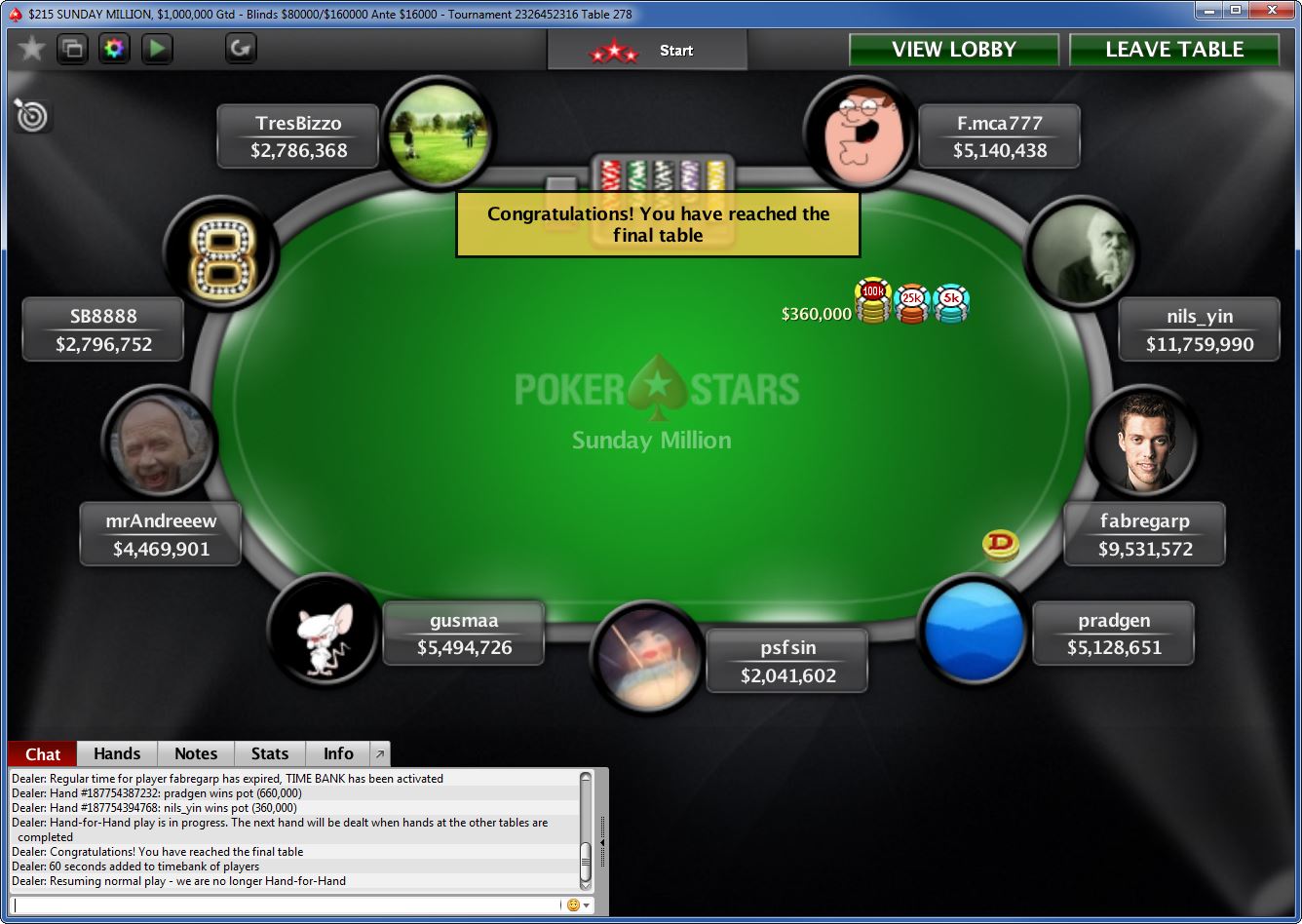 Seat 1: F.mca777 (4,964,438 in chips)
Seat 2: nils_yin (12,095,990 in chips) past $109 Sunday Wrap-Up finalist
Seat 3: fabregarp (9,515,572 in chips) past Sunday Warm-Up finalist
Seat 4: pradgen (5,112,651 in chips)
Seat 5: psfsin (2,025,602 in chips)
Seat 6: gusmaa (5,478,726 in chips) past $1,050 Thursday Thrill runner-up
Seat 7: Andreas "mrAndreeew" Berggren (4,469,901 in chips) second Sunday Million final in a row
Seat 8: SB8888 (2,796,752 in chips)
Seat 9: TresBizzo (2,690,368 in chips)
Nobody had to put all their chips on the line with a showdown for the first 15 minutes. Then pradgen jammed with A♦K♦ over the top of fabregarp's raise with Q♠Q♦ and flopped a king for a double to 4.59 million chips. Three hands later psfsin got in with 9♦9♣ against nils_yin's A♥K♥ and flopped a set for the second double-up of the final table. TresBizzo tried to do the same two hands later with A♣K♥, re-raising to 2.07 million on the button after SB8888 opened with A♦J♥ in the cutoff. But SB8888 called and turned the J♦ to take down the pot and eliminate TresBizzo in ninth.
Three hands later Andreas "mrAndreeew" Berggren's second consecutive Sunday Million final table appearance would come to an early end. This time he ran J♦J♠ into fabregarp's K♦K♥ to fall in eighth. Add his cash from today to last week's third-place finish and that makes more than $84K in winnings in this tournament in a seven-day span -- not bad!
fabregarp took on another pair of jacks 10 minutes later. The Swede min-raised to 500,000 with A♣K♦ in the cutoff and then called all-in for 6.07 million after gusmaa jammed in the big blind with J♦J♠. The A♦ on the flop was all it took to boost fabregarp to 13.4 million, about one big blind ahead of nils_yin for the lead. nils_yin reclaimed the lead on the next hand after raising with A♣6♥ in the lojack and getting heads-up with gusmaa, who called all-in for two BB with T♦8♠ in the small blind. Three queens on the board left both players' cards playing as kickers and gusmaa hit the rail in seventh.
With 10 minutes left before the first break nils_yin and fabregarp were jostling for the lead. Then pradgen picked up a few big hands and changed the table's momentum. K♣K♥ in the small blind was good for 10 million against fabregarp's 9♥9♠ on the button just before the break. Then, on the second hand back, pradgen called for 900,000 on the button with A♣9♣ after nils_yin opened in the hijack. pradgen called 900,000 more with nines on the [kd[]9d]T♣ flop, 1.8 million with aces and nines on the A♠ turn, and then all-in for 3.6 million more when nils_yin jammed on the 5♥ river. Two pair was good for the 15.1-million-chip pot -- nils_yin had fired three bullets with nothing more than 6♣2♦.
The same two players clashed again just three hands later when pradgen min-raised to 600,000 under the gun with Q♦J♣. nils_yin called in the big blind with 6♣5♣, check-called 900,000 with sixes on the 6♦Q♠9♣ flop, and then check-raised to 1.5 million on the 8♠ turn. That didn't shake pradgen's pair of queens and neither did another 3.2 million after the 3♠ river. pradgen dragged another 12.9 million with a pair of queens and nils_yin was left hurting with only four big blinds' worth of chips.
pradgen kept the party going a few hands later when he flopped a set of treys in the big blind. That made a full house by the river to beat psfsin and boost the Swiss player to 25.4 million chips -- about 55 percent of all the chips in play.
nils_yin made a set of treys to survive all-in four hands after that, then won with K♦K♠ against psfsin's Q♦Q♠ to begin climbing back in to contention. But the next two hands in a row saw the Swede's fortunes flag. First 9♠9♥ fell when the all-in SB8888's A♠7♣ caught an ace on the flop; then a flopped pair of fours with 5♣4♣ in the small blind lost out when the all-in fabregarp's qd]7♦ caught a queen on the river. nils_yin managed to triple up on the hand after that, making a pair of kings with K♦Q♥, before finally losing with A♣7♣ against pradgen's A♠T♠ on the following hand to leave the tournament in sixth.
fabregarp continued to clean house four hands later and did it in similar fashion, calling with A♥T♥ in the big blind when fabregarp jammed in the small with A♠7♠. No sevens and fabregarp left in fifth. The two shortest players clashed immediately after that and psfsin came out the winner despite getting in with J♥T♦ against SB8888's K♠Q♠, thanks to a Broadway straight to beat SB8888's kings and queens. Two hands later SB8888 ran K♥6♣ into pradgen's T♥T♦ and departed in fourth.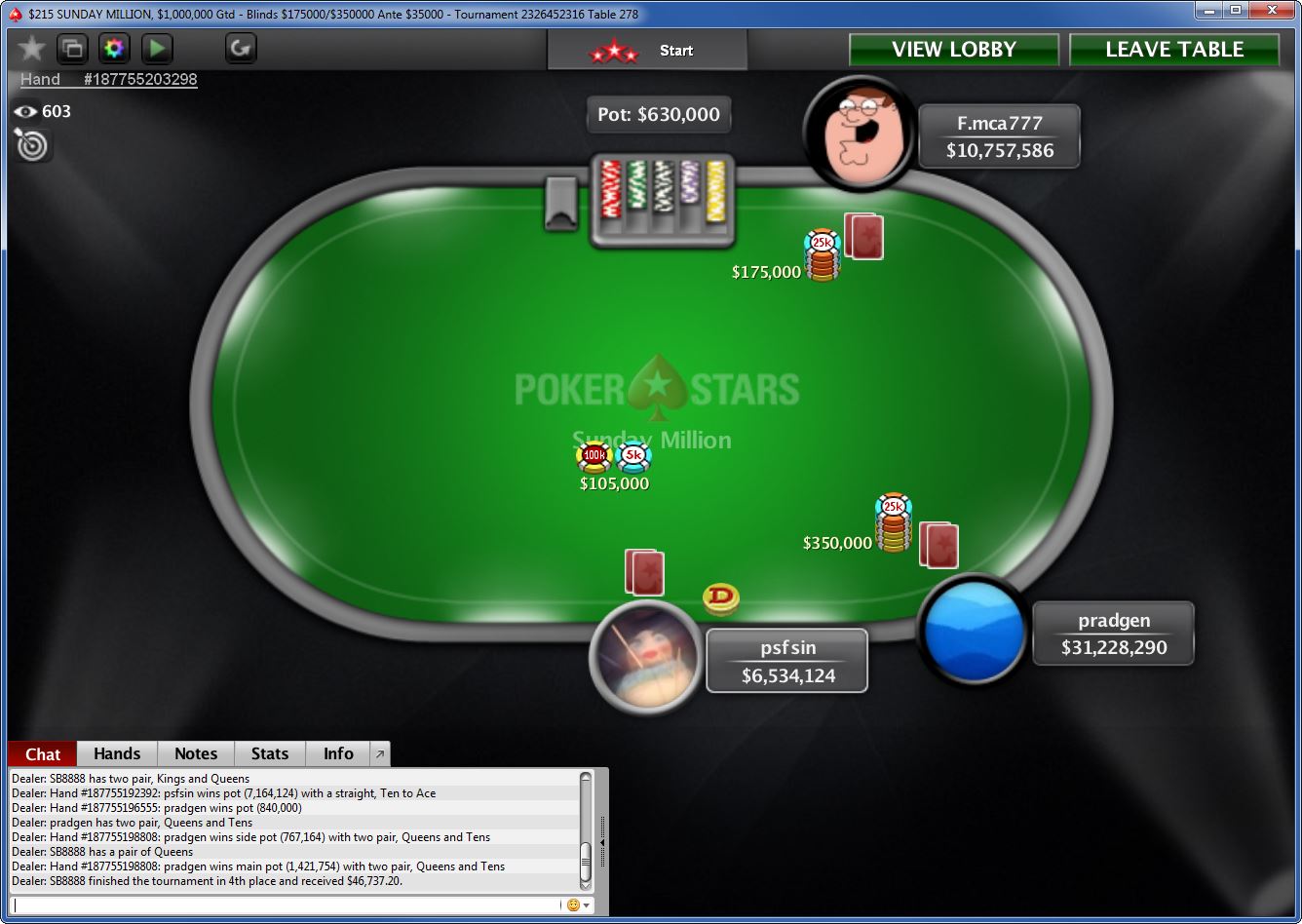 pradgen, before things went south
pradgen had all the leverage now with nearly two-thirds of all the chips in play. That advantage was cut to just half of all the chips when psfsin's A♥8♥ made trip eights to double through pradgen's A♣7♦ just three hands in, but it was still enough for a big edge in the ICM numbers when they cut a deal immediately afterward. It also kept the dealing short -- cards were dealt again just six minutes later.
Once the deal was locked in, pradgen couldn't buy a win. psfsin and F.mca777 both slowly chipped away at the leader, with psfsin winning the bigger pots to eventually move ahead of pradgen. When the two of them finally clashed in another big pot psfsin had A♠A♥ in the hole -- but it wasn't enough. pradgen raised on the button with 4♦3♦, called psfsin's re-raise from the small blind, and then called a small bet on the J♦T♥Q♦ flop with a flush draw that came home on the turn. psfsin jammed, pradgen called, and the flush held to put pradgen back in the lead with half the chips in play.
Five minutes later psfsin took another swing at the leader and it proved to be the last. psfsin shoved for 16 bigs with Q♠J♦ in the small blind over pradgen's button raise and the latter called with A♦9♣. Top two pair on the 6♣A♥9♥ meant the end of the line for psfsin in third.
After four quiet hands to start, the heads-up duel blew up after F.mca777 limped on the button with T♣8♥ and called pradgen's raise to 1.2 million to make an open-ended draw on the 7♠5♦9♠ flop. F.mca777 called a pot-sized 2.4 million there and then raised all-in for 11.8 million after catching the straight with the 6♣ on the turn. pradgen called and showed A♥A♦, which was already drawing dead, and F.mca777 earned the double to 30.8 million with the 6♣ on the river.
From there F.mca777 kept control of the match and slowly whittled pradgen down to about 15 big blinds. Then pradgen shoved on the button with 3♠3♦ and F.mca777 called with 4♠4♣. No set of treys this time around and that was the end of the line for this week's Sunday Million.
It was a tough break at the end for pradgen, but the Swiss player can soothe the wounds with a career-best, six-figure score. As for F.mca777, the comeback just added more money -- and a Sunday Million title -- on top of what was already a career-best score by many tens of thousands of dollars. And third-place finisher psfsin also earned a new career-best cash after sharing in the three-way deal. Congratulations to them all on a very profitable tournament!
6-17-18 Sunday Million ($215 NL Hold'em) results
Entrants: 4,915 (4,021 entries, 894 re-entries)
Total prize pool: $1,000,000
Places paid: 872
1. F.mca777 (Germany) $110,171.59*
2. pradgen (Switzerland) $100,380.99*
3. psfsin (Greece) $86,180.22*
4. SB8888 (Ukraine) $46,737.20
5. fabregarp (Sweden) $32,798.70
6. nils_yin (Sweden) $23,017.20
7. gusmaa (Brazil) $16,152.80
8. Andreas "mrAndreeew" Berggren (Sweden) $11,335.60
9. TresBizzo (Untied Kingdom) $7,955
* - denotes results of a three-way deal leaving $20,000 for the winner
---
Six-figure scores await you in the Sunday Million. Click here to open your PokerStars account today.
---