Sunday Million: Aftret's late rally earns $168K, long-awaited title
Things can change quickly in no-limit hold'em. Just ask Aftret.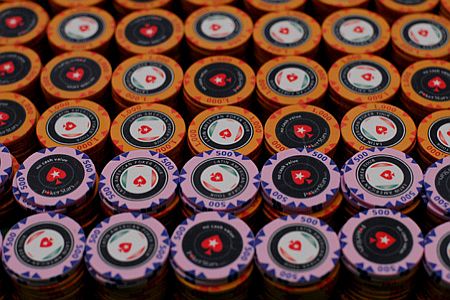 For a long time Aftret didn't have many chips. Then, suddenly, Aftret had them all.
At the same time as earning more than $2.1 million in PokerStars cashes, the Norwegian came close to winning the Sunday Million twice. The first time came back in 2008 and ended with a third-place finish. The second came on New Year's Day 2017, and ended in sixth. Tonight was opportunity number three.
Aftret spent much of the journey to this week's final table with average stack, or worse. One big boost came along with 14 players left when Aftret's A♥T♦ cracked nailuj90's pocket kings with an ace on the flop. A second came on the bubble after raising with K♠3♥ on the button, betting with bottom pair on the J♦7♥3♠ flop, and then turning trips with the 3♦. Aftret called SWE_NIXON's river bluff and stacked up in mid-pack when SWE_NIXON's A♦A♥ topped nailuj90's A♠K♥ a few hands later. nailuj90, crippled by the loss, busted on the next hand to set up these nine players for a shot at the title: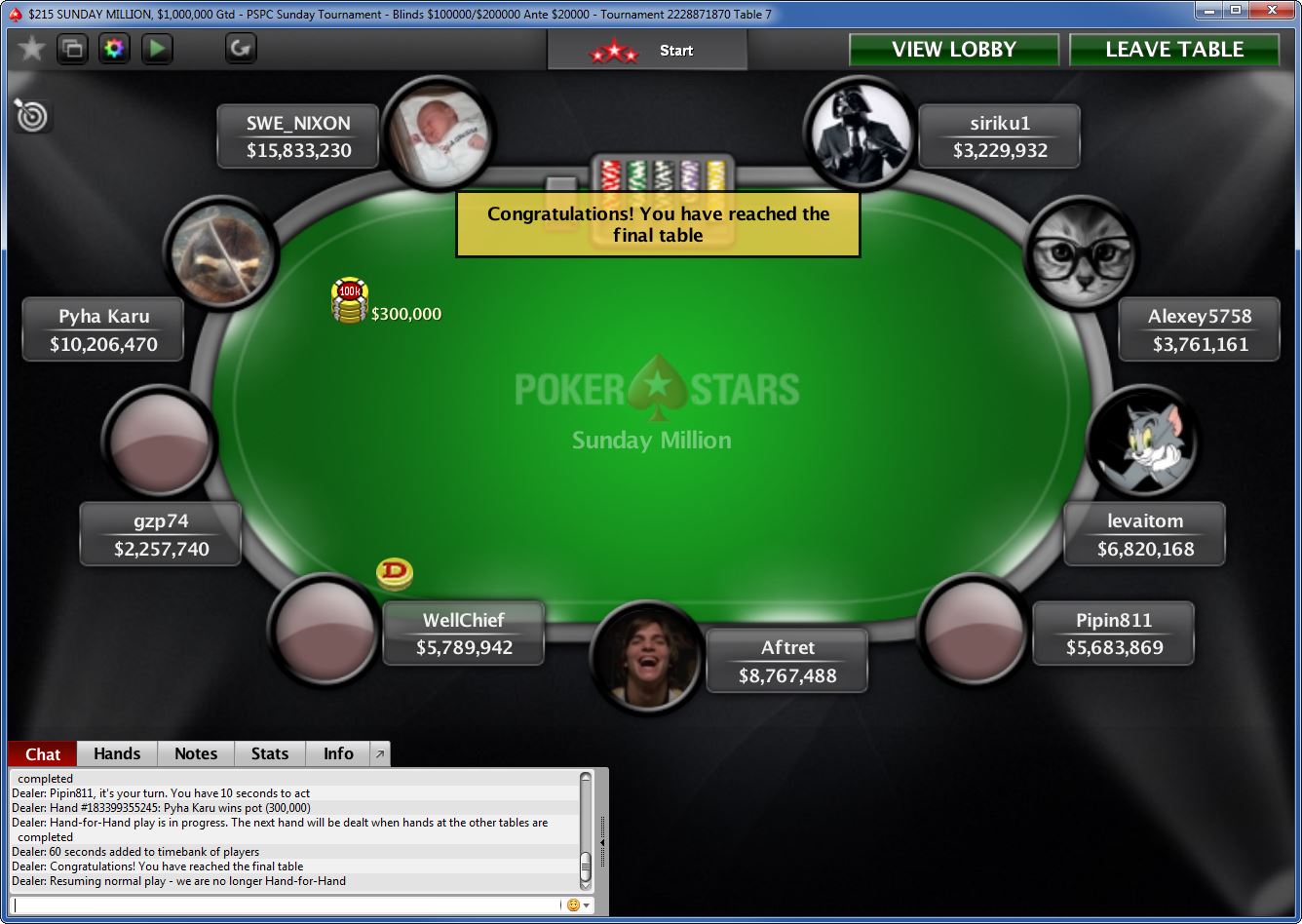 Three past Sunday Million finalists made this week's final
Seat 1: siriku1 (3,229,932 in chips) took third in a Turbo Series event this weekend
Seat 2: Alexey5758 (3,761,161 in chips) finished fourth in the 12/3/17 Sunday Million
Seat 3: levaitom (6,820,168 in chips)
Seat 4: Pipin811 (5,683,869 in chips) took fourth in a WCOOP 2016 Sunday Million SE
Seat 5: Aftret (8,767,488 in chips) two-time Sunday Million finalist
Seat 6: WellChief (5,789,942 in chips)
Seat 7: gzp74 (2,257,740 in chips) won an Ultra Deep 8-Max TCOOP 2017 title
Seat 8: Pyha Karu (10,206,470 in chips)
Seat 9: SWE_NIXON (15,833,230 in chips) past $215 Sunday Supersonic winner
It would take one hour to knock out the first five players, and the fast pace was clear from the third hand. gzp74 opened the action all-in from the hijack seat with J♣9♣ but left in ninth after Pyha Karu came along with Q♦Q♣ in the cut-off and the board came all blanks.
SWE_NIXON spent the next 15 minutes quietly, but won several big pots to pick up about 15 big blinds' worth of chips. The Swede was then dealt Q♦Q♥ in the small blind, on the same hand that gave siriku1 A♣K♣ in the big. The Lithuanian player picked up a flush draw on the flop but departed in eighth when the board ran out 9♣J♣3♥4♦9♥.
That win moved SWE_NIXON up to 22 million chips, good for a table-leading 87 big blinds. But Pyha Karu peeled about a third of that total off a few hands later. The player Estonian limped from the small blind with J♠T♥ and called SWE_NIXON's raise to 867,000 chips, then check-called bets on every street as the board came down 8♥J♦7♥A♥K♠ to end up all-in with a pair of jacks. That beat SWE_NIXON's 5♣5♠ and moved Pyra Kahu into second place with 13.4 million chips.
WellChief was the next casualty. The British player had the misfortune to be dealt Q♣Q♦ in early position on the same hand that gave Alexey5758 A♦A♠ in the cut-off. A Broadway draw emerged on the turn but didn't come through on the river, ending WellChief's day in seventh.
SWE_NIXON got back on the horse a few hands later. levaitom opened the action all-in for just five million chips, holding A♦Q♣, and SWE_NIXON called from the big blind with A♥K♦. The 7♠5♣J♠J♦6♣ board changed nothing, boosting SWE_NIXON's stack back to 23.2 million and busting levaitom in sixth.
Pipin811 was languishing with just ten big blinds by this point but managed to avoid elimination twice in a four-hand stretch. First pocket sixes became sixes full of queens on a flop against SWE_NIXON's A♣9♥. Then K♥J♥ became a flush on the river of a 7♥A♠T♥9♦A♥ board to top Alexey5758's trip aces in a 15-million-chip pot.
Losing there left Alexey5758 with about five big blinds' worth of chips. The player from Belarus won with A♠K♦ and K♥4♠ to move up to 5.1 million chips and into a tie with Aftret at the bottom of the leader board, then picked up A♠Q♥ in the cutoff and opened all-in. Pipin811 called with K♥J♥ on the button and flopped a king, and Alexey5758 final table stay ended in fifth.
Aftret had been treading water for an hour. That changed on the first hand back from the break.

Aftret had been mostly treading water over the first hour of play, but that changed on the first hand back from the break.
Pyha Karu opened the action on the button with a min-raise to 800,000 chips. Aftret, holding 8♠6♠ in the big blind, called to see the T♦9♣3♠ flop. Both players checked and Aftret made a ten-high straight when the 7♣ hit the flop. Aftret check-raised to 2.6 million and then opened all-in for another 4.2 million after Pyha Karu called the first bet. The A♦ came on the river. Pyha Karu called showed 9♥7♥ for nines and sevens, and Aftret doubled up to 15.6 million.
The next 15 minutes were a back-and-forth affair. All four players had stacks worth between 20 and 40 big blinds each, and nobody could get too far ahead. SWE_NIXON remained ahead of them all until a 14.5-million-chip pot against Aftret.
The Norwegian defended the small blind with Q♠J♠ against a SWE_NIXON cut-off raise. Then check-called a small bet on the Q♦7♠T♣ flop, and checked after turning two pair with the J♥. SWE_NIXON checked behind and then called 3.9 million after the J♦, only to muck when Aftret showed down jacks full of queens. Aftret then expanded his lead with two wins - one at showdown (turning a ten-high straight with 6♠6♦) and one without. That proved to be the foundation for victory.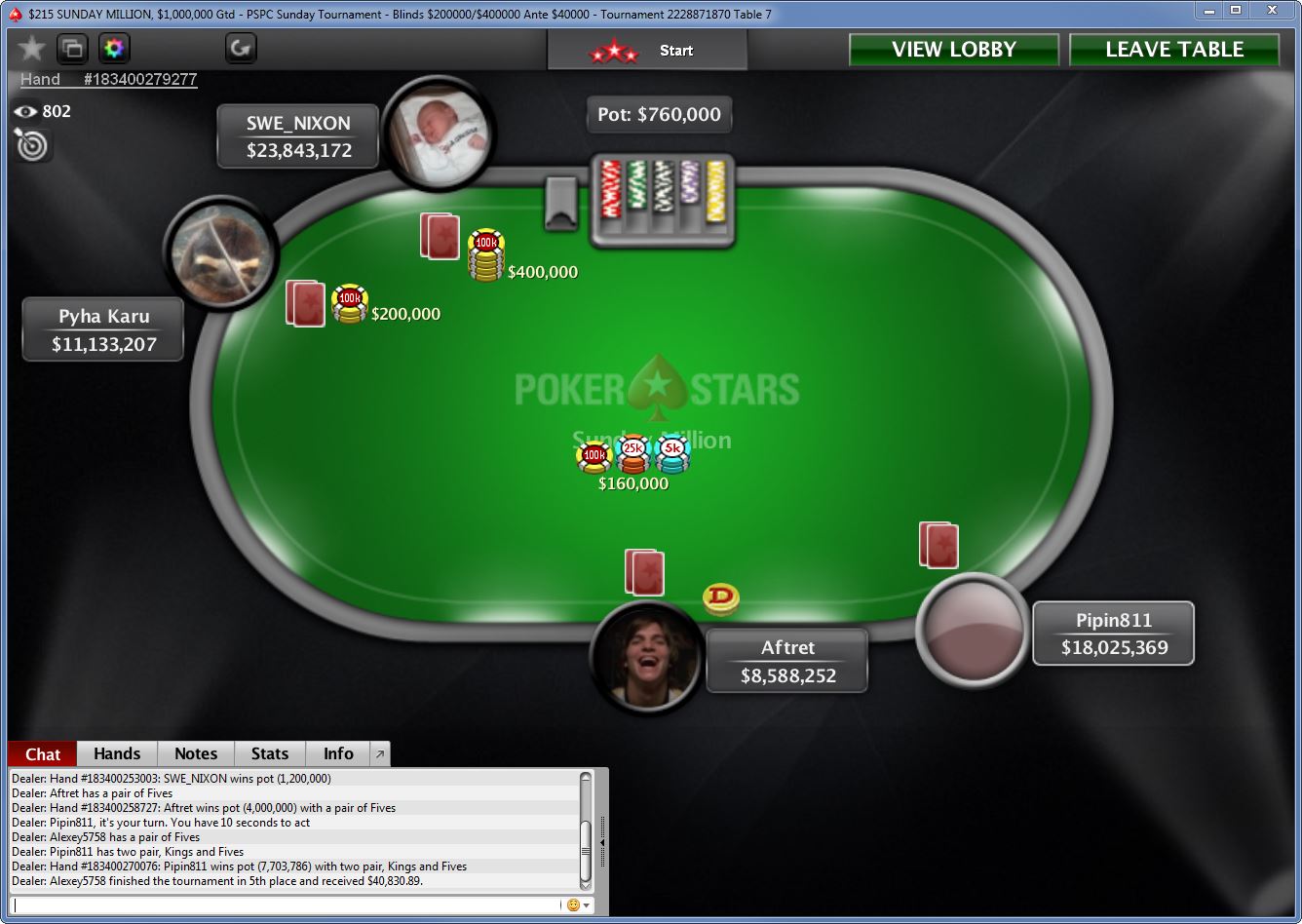 The turning point came when Pyha Karu, locked in a tie for shortest stack with SWE_NIXON, opened all-in with A♠3♦ on the button. Pipin811 called with 8♥8♠ in the big blind and flopped a set to end Pyha Karu's tournament in fourth.
The other three players briefly discussed a deal but SWE_NIXON scuttled it. Aftret opened all-in with A♦J♥ on the first hand back and SWE_NIXON called with K♥T♣. The board teased a heart flush to keep the short stack alive but eventually ran out 2♠8♥5♥Q♥A♣ to knock out SWE_NIXON in third place.
Aftret started heads-up play with 39.7 million chips to Pipin811's 21.9 million. The Norwegian stole the next two pots and then opened for 1.28 million on the button with A♠6♠. Pipin811 re-raised to 3.6 million and Aftret called, bringing a T♥3♠A♣ flop. Pipin811 led for 3 million there, 6.6 million after the 2♦ turn, and all-in for 7.3 million more after the 8♦ river. Aftret called every time and showed down a pair of aces, topping Pipin811's pair of fours with 4♦4♣ and wrapping up a very fast-paced tournament.
Congratulations to Aftret on staying patient throughout the day and finally walking away with a hard-earned Sunday Million title!
3-4-18 Sunday Million ($215 NL Hold'em) results
Entrants: 6,235 (4,983 entries, 1,252 re-entries)
Total prize pool: $1,247,000
Places paid: 1,106
1. Aftret (Norway) $168,357.79
2. Pipin811 (Argentina) $118,142.52
3. SWE_NIXON (Sweden) $82,908.79
4. Pyha Karu (Estonia) $58,182.77
5. Alexey5758 (Belarus) $40,830.89
6. levaitom (Hungary) $28,653.81
7. WellChief (United Kingdom) $20,108.37
8. siriku1 (Lithuania) $14,111.55
9. gzp74 (Hungary) $9,903.05
---
Life-changing money is up for grabs every week in the Sunday Million. Click here to open your PokerStars account today.
---