Sunday Million: Big pairs propel 88pro88 to title, $131K share of three-way deal
Six players came to this week's Sunday Million final table with more chips than 88pro88, but nobody left with more cash.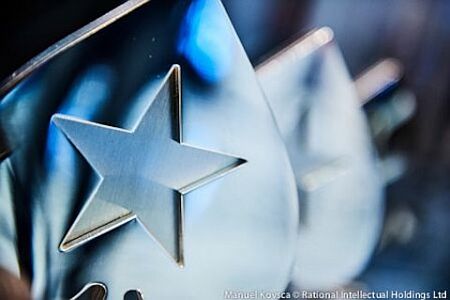 A couple of big pocket pairs boosted 88pro88's outlook considerably. Taking the chip lead at that early stage allowed the British player to earn the largest share of a three-way deal. Another big pair helped trim the field to two players, and 25 minutes later pocket eights sealed the deal. It was by far the biggest moment in 88pro88's PokerStars career.
The last Sunday Million before the Take 2 anniversary promotion next weekend hadn't looked like it would go the way of 88pro88. The Brit toiled for more than ten hours with an average stack (or worse) before catching a rush at the start of the final. He used chips he earned then to lock up a first major title.
The unlucky player to bubble this final was Canada's ntvg93, who got in with 8♣8♠ against Bigfish112392's J♣J♥. ntvg93 jumped into the lead with a set on the flop but fell in tenth when the J♠ river made a better set for Bigfish112392. That gave us this final line-up: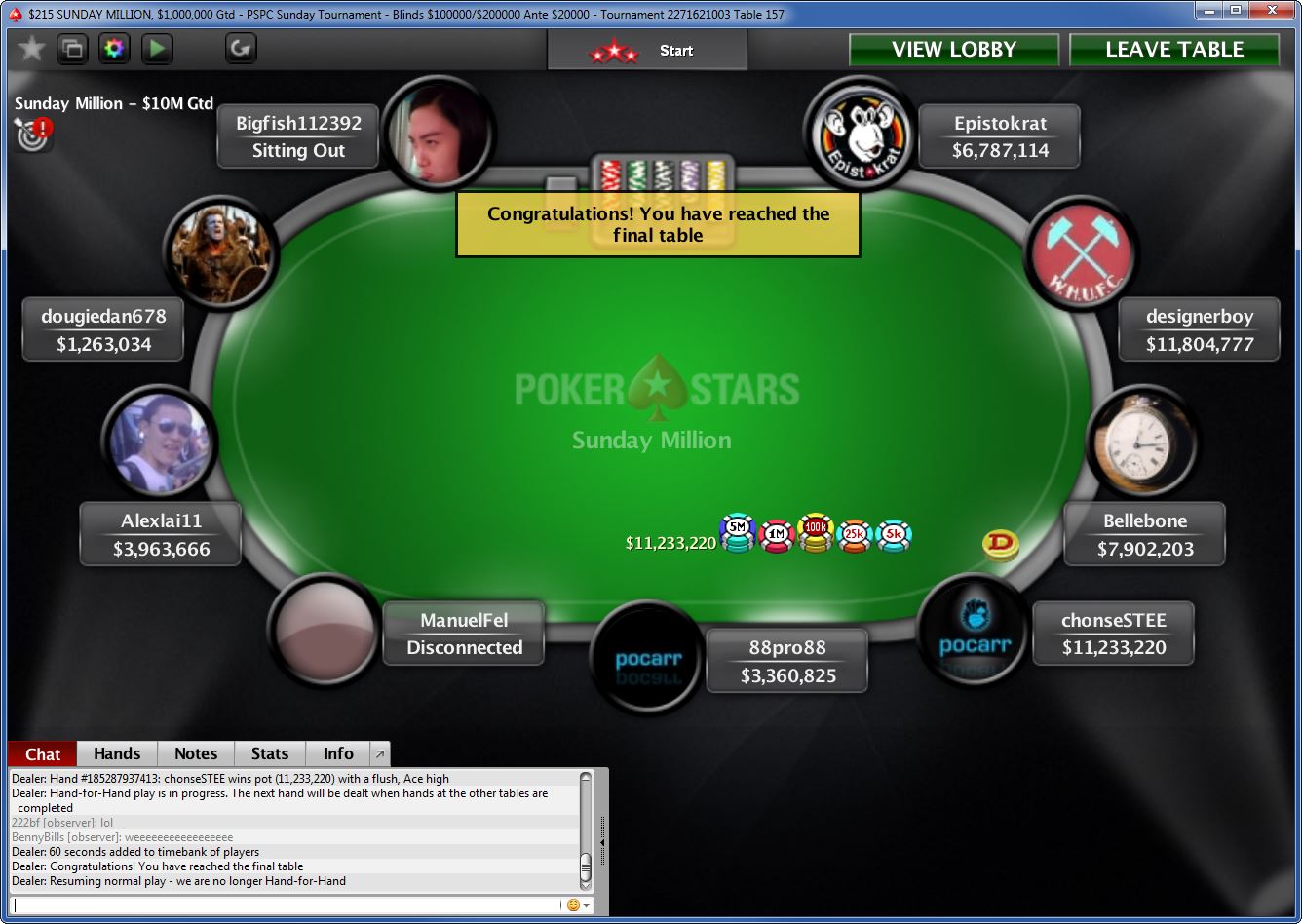 88pro88 had a lot of ground to make up as the final table began
Seat 1: Epistokrat (6,787,114 in chips)
Seat 2: designerboy (11,804,777 in chips)
Seat 3: Bellebone (7,902,203 in chips) Turbo Series runner-up in February and Sunday Storm runner-up last year
Seat 4: chonseSTEE (11,233,220 in chips) past TCOOP finalist
Seat 5: 88pro88 (3,360,825 in chips) $198K in previous PokerStars MTT cashes
Seat 6: ManuelFel (1,571,632 in chips)
Seat 7: Alexlai11 (3,963,666 in chips)
Seat 8: Daniel "dougiedan678" McAulay (1,263,034 in chips) SCOOP 2016 Heads-Up High Roller runner-up
Seat 9: Bigfish112392 (8,093,529 in chips) $109 Sunday Wrap-Up finalist last week
One of the most experienced players at the final table fell on the second hand. Daniel "dougiedan678" McAulay called all-in for a little less than six big blinds with 6♥6♠ but wasn't able to beat original raiser ManuelFel's A♠A♣ and left in ninth.
The next two players to move all-in won with their pocket pairs. Alexlai11 with 6♦6♥ on the button against big-blind-defending Epistokrat's A♣9♠. And then 88pro88 with Q♣Q♦ in the small blind against button raiser chonseSTEE's T♦3♦.
Then Bellebone had the misfortune to pick up 9♥9♠ in the lo-jack when 88pro88 had A♣A♦ in the cut-off. The board ran out J♥J♦7♣K♥T♥. Bellebone left in eighth, and the once-desperate 88pro88 rocketed into the lead with 15 million chips.
Play resumed after a break, and it was back to short stacks staking their tournament lives on pocket pairs. ManuelFel busted in seventh with pocket fives against Epistokrat's 8♣8♦. Alexlai11's 2♦2♠ held up against chonseSTEE's A♣J♣. But Bigfish112392 -- who, amazingly enough, won the $2,100 Sunday High Roller this evening while simultaneously playing the Milly -- busted in sixth when J♣J♦ couldn't hold against 88pro88's A♠6♠.
With five players left 88pro88 had about 40 percent of the chips in play. The question at that point was whether anybody could catch the former short stack before reaching heads-up play.
designerboy, the other British player at the final, made strides in that department a few minutes later, calling with J♦J♣ in the big blind after Epistokrat jammed for 5.6 million chips in the small with K♥9♦. The ten-high board was no help to Epistokrat, who left in fifth. designerboy moved into second position.
chonseSTEE was next up. After defending the big blind with T♥4♥ against button raiser Alexlai11, chonseSTEE made second pair on the flop and called down three streets' worth of bluffs -- including all-in on the river of the 6♠T♦A♠2♥J♣ board -- to move up to 15.2 million chips and ahead of designerboy into second place.
Two orbits later Alexlai11 picked up K♥9♣. It was the same hand the Irish player had bluffed with on the hand against chonseSTEE. He moved in on the button and designerboy called with A♠J♠ in the small blind. That led to designerboy catching a jack on the flop, which was enough to end Alexlai11's tournament in fourth.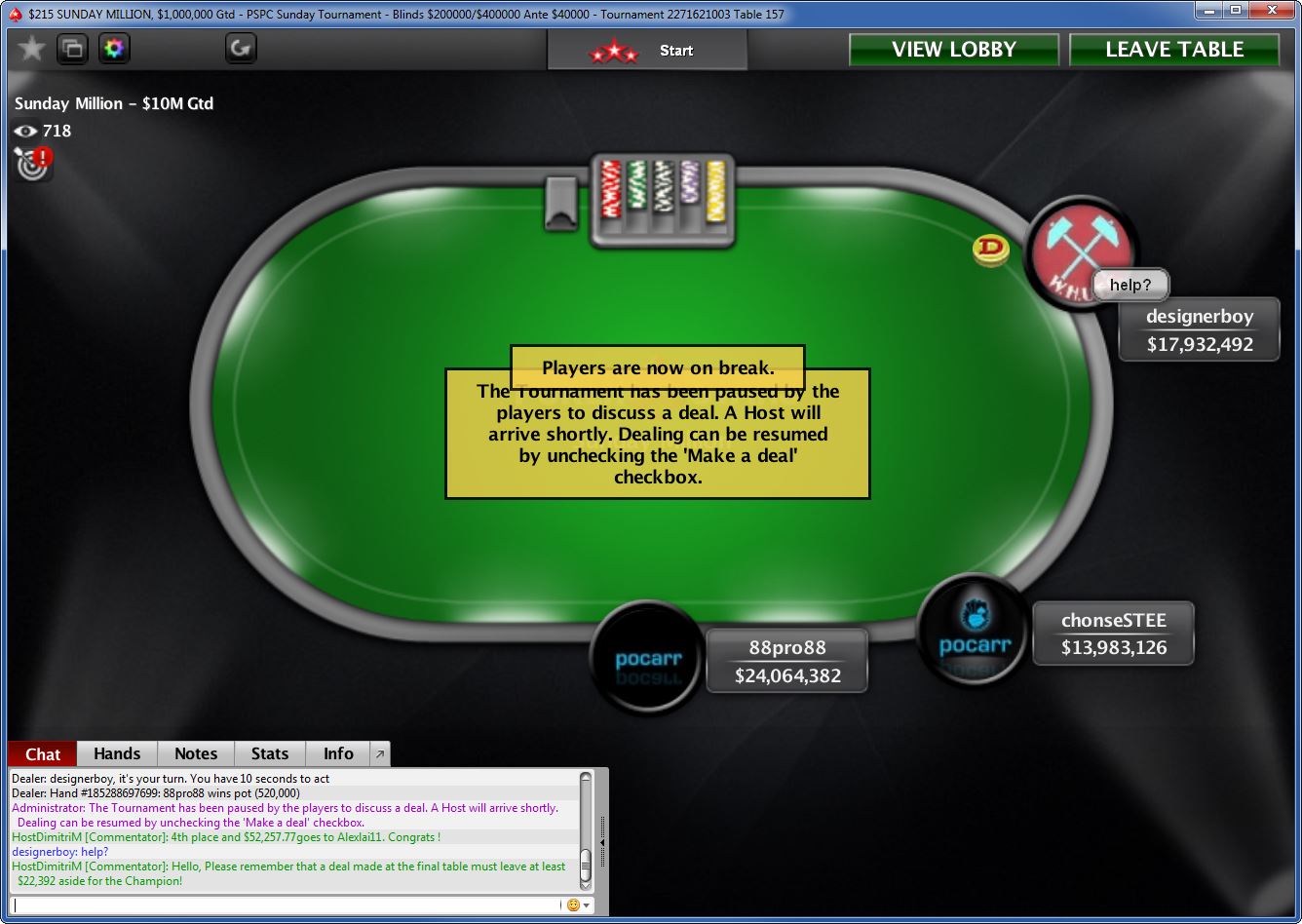 Three players cashing for the biggest money of their PokerStars careers
That left just three competitors: 88pro88 (23.7 million chips), designerboy (17.9 million), and chonseSTEE (14.2 million). They soon began discussing a deal. After some convincing 88pro88 dropped demands for more money and agreed on ICM numbers. That left $22,392 on the table for the eventual champion.
chonseSTEE lost a big pot early against 88pro88 but swung two big wins soon after - one against each opponent -- to take over the chip lead. Then 88po88 picked up Q♦Q♣ on the button, raised, and then shoved all-in over the top of designerboy's re-raise. designerboy called with T♦T♥, got no help from the board, and left in third with $102K - ten times more than the U.K. player's previous best PokerStars cash.
88pro88 started with a 14-big-blind edge over chonseSTEE but their match was anything but static. An early loss with A♦7♣ against Q♦J♦ when the Q♠ hit the river allowed chonseSTEE to stay in the game. 88pro88 quickly began chipping away but then chonseSTEE picked up A♣A♥ and they held up for a 19.9-million-chip pot. More wins moved 88pro88 back into the lead before a loss with A♥5♥ against A♠8♠ gave chonseSTEE nearly a 2-to-1 edge.
The turning point came when 88pro88 defended the big blind with K♦9♦ and flopped a flush draw. chonseSTEE checked behind, the 8♥ came on the turn, and 88pro88 semi-bluffed for three-and-a-half big blinds. chonseSTEE called there and then once more after 88pro88 jammed on the K♠ river, but a pair of fives with J♦5♣ was no good and 88pro88 was back in front once again. Three hands later both player picked up pairs and all the money went in. 88pro88's 8♦8♠ flopped a set and never looked back, beating chonseSTEE's 3♦3♠ to lock up the title and the extra cash.
It was a banner day for almost everyone at this final table, none more so than the three players who shared in the deal. Congratulations to all of them for collecting the biggest cashes of their PokerStars careers, especially to 88pro88 for making the most of some big hands to walk away with the title and the winner's portion of the deal!
4-15-18 Sunday Million ($215 NL Hold'em) results
Entrants: 5,598 (4,511 entries, 1,087 re-entries)
Total prize pool: $1,119,600
Places paid: 998
1. 88pro88 (United Kingdom) $131,164.17*
2. chonseSTEE (Canada) $97,728.40*
3. designerboy (United Kingdom) $102,896.09*
4. Alexlai11 (Ireland) $52,257.77
5. Episokrat (Germany) $36,672.94
6. Bigfish112392 (Philippines) $25,735.90
7. ManuelFel (Austria) $18,060.71
8. Bellebone (Brazil) $12,674.54
9. Daniel "dougiedan678" McAulay (United Kingdom) $8,894.66
* - denotes results of a three-way deal leaving $22,392 for the winner
---
The Sunday Million Anniversary Take 2, with a $10 million guaranteed prize pool and $1 million guaranteed to first place, takes place next week! Click here to open your PokerStars account today.
---