Sunday Million: Caio "caiohey" Hey beats fellow Brazilian Pseudo Fruto heads-up for $165K
Caio "caiohey" Hey knows something about quick heads-up victories. He won his Brazilian Series of Poker Main Event title in 2014 after just eight hands of heads-up play. Tonight Hey pulled off a similar feat, taking less than 10 minutes to mount a comeback against fellow Brazilian Pseudo Fruto and earn this week's Sunday Million title.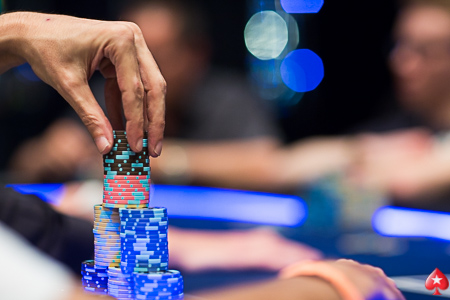 The two Brazilians dominated final table play this evening, both overtaking the incoming chip leader and bidding back and forth for the biggest stack the rest of the way. It was familiar territory for Pseudo Fruto, who had carried the chip lead for close to two hours earlier in the day and had already booked fourth- and fifth-place finishes in the Sunday Million earlier this year.
Sweden's Yeahbuuddy was this week's bubble finisher. Down to just a big blind and a half's worth of chips, Yeahbuuddy called all-in on the button and ended up facing two players. It was Stephen "woody1234321" Woodhead's T♠8♥ making a pair of eights that sent Yeahbuuddy's cards into the muck and the remaining nine players to our final table.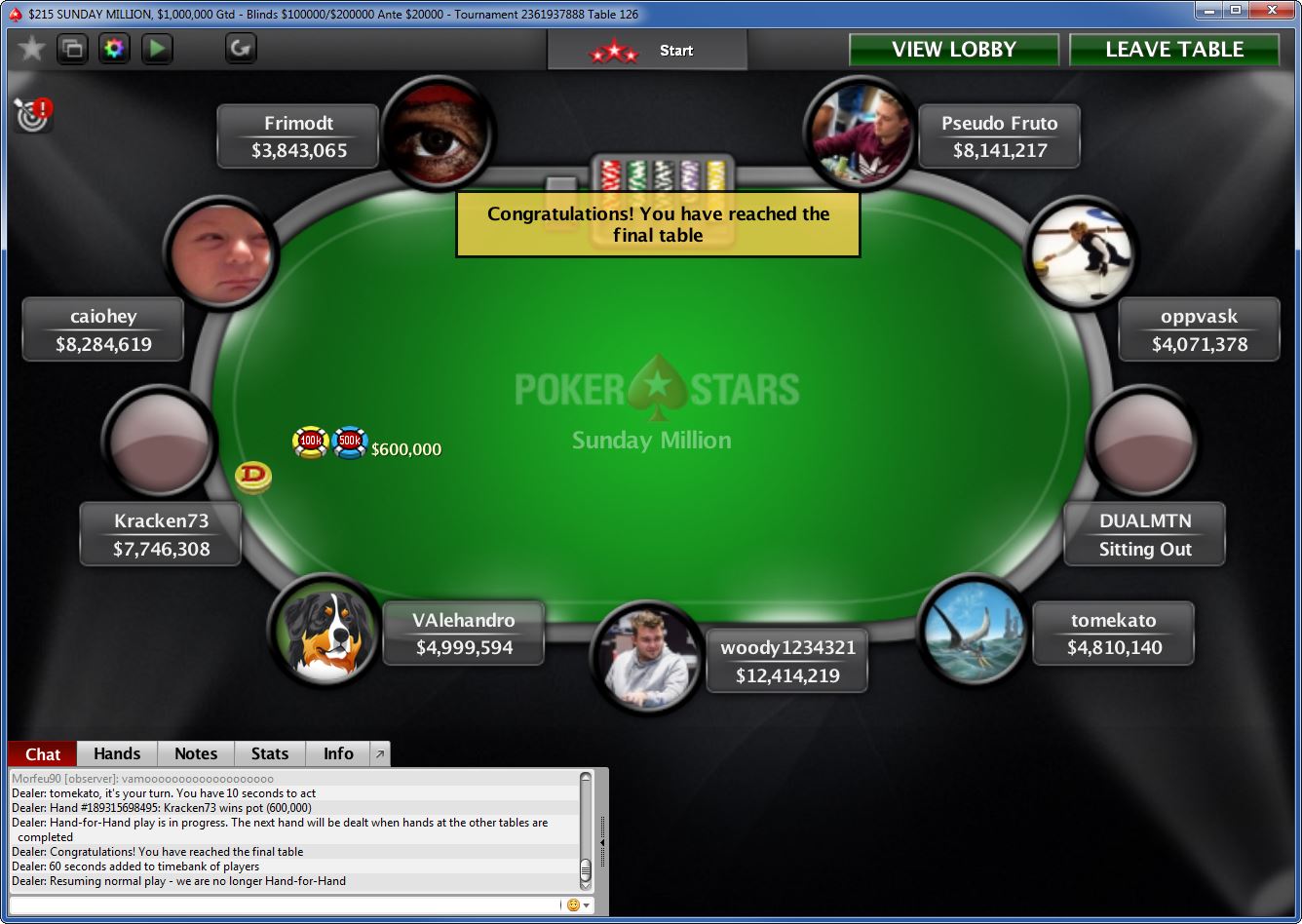 Seat 1: Pseudo Fruto (8,141,217 in chips)
Seat 2: oppvask (4,071,378 in chips)
Seat 3: DUALMTN (6,889,460 in chips) finished 3rd in 11-8-15 Sunday Million
Seat 4: tomekato (4,810,140 in chips) past $109 Sunday Kickoff champ
Seat 5: Stephen "woody1234321" Woodhead (12,414,219 in chips) two-time TCOOP champ
Seat 6: VAlehandro (4,999,594 in chips)
Seat 7: Kracken73 (7,746,308 in chips)
Seat 8: Caio "caiohey" Hey (8,284,619 in chips)
Seat 9: Frimodt (3,843,065 in chips)
It took half an hour of poker to find a knockout, but there was plenty of action in the meantime. First tomekato doubled through Pseudo Fruto with J♦J♥ against 6♠6♥, reducing the Brazilian to just 2.82 million chips on the 125,000/250,000/25,000 level. But Pseudo Fruto got Q♣Q♥ to hold against woody1234321's A♦J♥ minutes later and the table remained nine-handed.
When the first bustout finally came it was in the form of a race. Frimodt min-raised on the button with a pair of tens and called all-in for another 4.84 million after Pseudo Fruto jammed in the small blind. Pseudo Fruto's K♣Q♥ made two pair on the 5♠Q♠6♦K♠4♥ board to take over the chip lead, and Frimodt hit the rail in ninth.
Another 15 minutes passed before the next knockout, which featured nearly identical action to the previous KO. Kracken73 opened the action for 900,000 with A♦K♦ and called all-in for another 5.9 million after caiohey shoved with A♥Q♦ in the small blind. The board came 3♥5♦3♦7♣Q♣, delivering Hey a pair of queens on the river and eliminating Kracken73 in eighth. VAlehandro followed three hands later whne A♠9♣ couldn't top Psuedo Fruto's A♣T♥, trimming the field to six.
After that it was time for the short stacks to get involved. oppvask survived with 8♥8♠ against DUALMTN's A♦K♠, reducing the Canadian's stack to just six big blinds. Then DUALMTN got pocket treys to hold against caiohey's A♠T♣ to stay alive a bit longer. Finally oppvask picked up another pair -- 7♦7♠ -- and jammed on the button, drawing a call from tomekato in the big blind with A♠J♦. The board ran out T♦7♣6♥8♠9♦ to give oppvask a ten-high straight, but tomekato's jack-high straight took the 9.68-million-chip pot and eliminated oppvask in sixth.
DUALMTN got in ahead two hands later, moving in for 3.57 million with A♠T♣ in the cutoff after Pseudo Fruto min-raised to 800,000 under the gun. Pseudo Fruto called with A♦8♦ and made eights and fours on the river of the 4♣6♠4♦3♥8♣ board, ending DUALMTN's run in fifth.
Pseudo Fruto's dominant run continued minutes later when the Brazilian picked up K♠K♥ in the big blind and jammed over the top of under-the-gun raiser tomekato's 1.05-million-chip opener. tomekato called for another 8.75 million with 9♣9♦ but failed to hit either a flush or a set on the 8♣J♣5♣Q♥7♠ board, which sent the Argentine player home in fourth. On the following hand caiohey min-raised on the button; Pseudo Fruto called with K♠J♣ in the small blind and then again after woody1234321 jammed with 4♦4♣ in the big blind and caiohey folded. The K♥ on the flop was all it took to end woody1234321's tournament in third.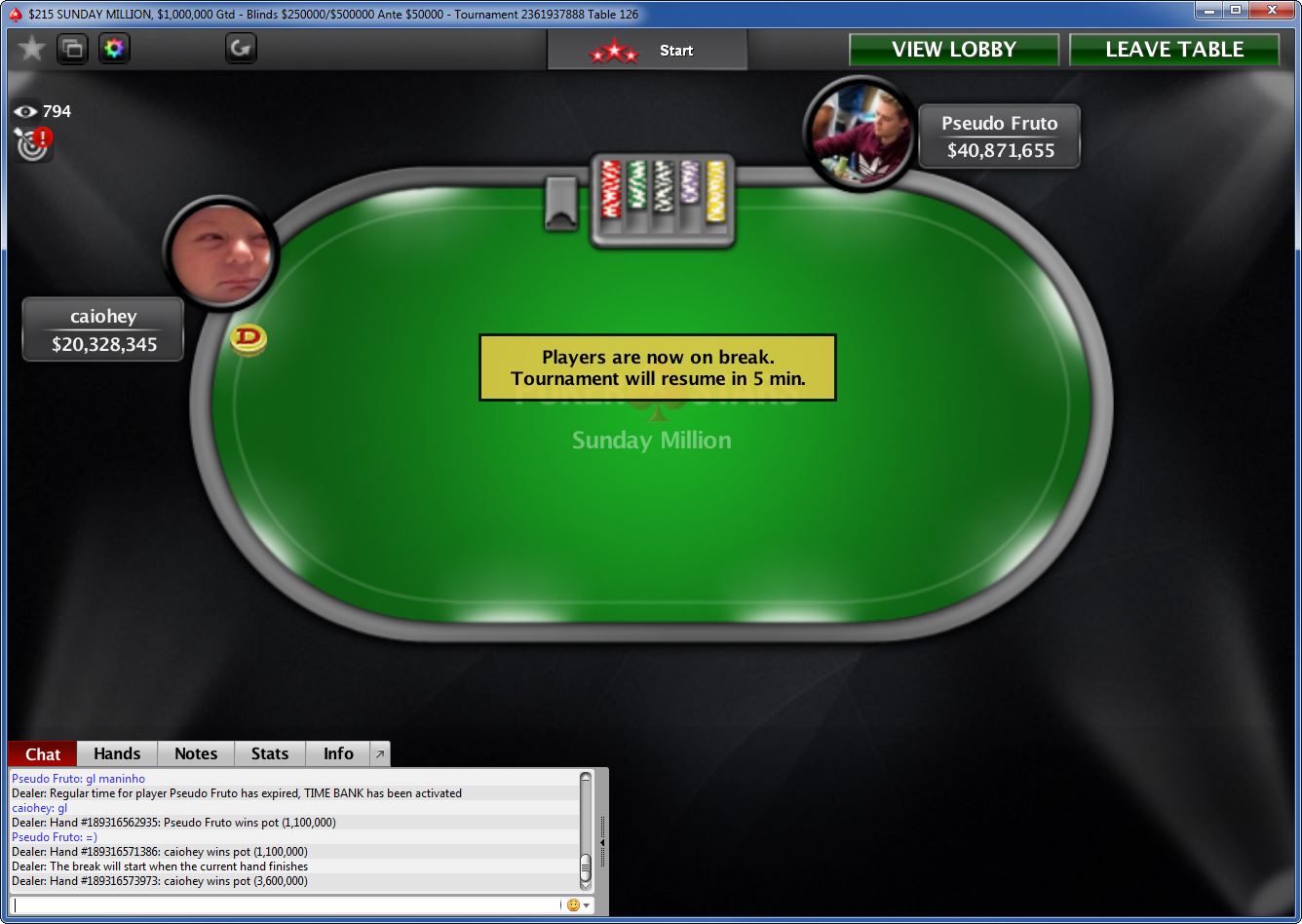 Two Brazilians, two new career-best scores
That set up what would prove to be a short heads-up match, one that caiohey would win despite starting with 35 big blinds to Pseudo Fruto's 87 bigs. The two split an early pot when both held 5-4 offsuit for an eight-high straight, but the other two key pots both went caiohey's way.
In the first, Pseudo Fruto limped on the button with Q♦9♦, giving caiohey a free flop with J♠8♦ in the big blind. That free J♣8♥2♦ flop produced two pair, jacks and eights, which let caiohey get in a check-raise. Pseudo Fruto called that bet and then jammed over the top of caiohey's lead on the 3♦ turn. Pseudo Fruto called with a flush draw but missed on the K♠ river, putting caiohey in the lead with 37 million chips.
Three minutes later caiohey did the button limping and Pseudo Fruto checked to see a 6♦K♦2♦ flop. Pseudo Fruto check-raised to 1.55 million and caiohey called, which brought the T♦ turn and checks from both players. The 2♣ river prompted a 2.5-million-chip bet from caiohey, then a shove after Pseudo Fruto made it 8 million to go. Pseudo Fruto called and showed K♥2♠ for deuces full of kings, but it wasn't enough -- caiohey's T♠T♥ made a better full house to close out the tournament.
Tonight's win is a new personal best online by more than $120,000 for Caio Hey, whose only bigger career score came for winning the BSOP Main Event back in 2014. And while a title remains elusive, Pseudo Fruto also tops two previous Sunday Million final table appearances earlier this year to set a new personal best with this runner-up finish. Congratulations to both players on their impressive finishes!
7-29-18 Sunday Million ($215 NL Hold'em) results
Entrants: 6,120 (4,933 entries, 1,187 re-entries)
Total prize pool: $1,224,000
Places paid: 1,106
1. Caio "caiohey" Hey (Brazil) $165,250.47
2. Pseudo Fruto (Brazil) $115,963.47
3. Stephen "woody1234321" Woodhead (Mexico) $81,379.59
4. tomekato (Argentina) $57,109.63
5. DUALMTN (Canada) $40,077.79
6. oppvask (Norway) $28,125.31
7. VAlehandro (F.Y.R.O.M.) $19,737.48
8. Kracken73 (United Kingdom) $13,851.27
9. Frimodt (Denmark) $9,720.39
---
Win big weekly in the Sunday Million. Click here to open your PokerStars account today.
---