Sunday Million: Determined pyszalek hangs tough for $158K victory
pyszalek didn't have one of the biggest stacks entering this week's Sunday Million final table, the second of the Polish player's career, but that didn't matter much. A knack for winning races and getting back up after being knocked down -- plus a little help from quad tens -- proved enough to propel pyszalek to a Sunday Million title.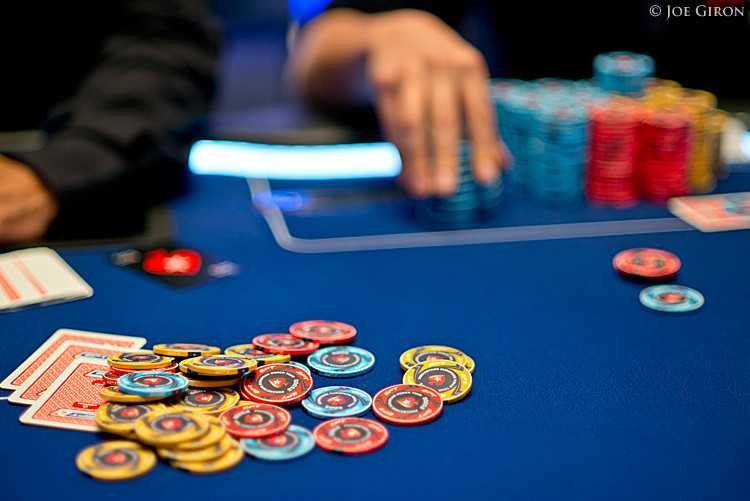 pyszalek's journey to the final table was underwritten for most of the day by an average-sized stack. With about four tables left the wins began to get bigger, though, and by the time two tables remained pyszalek was the chip leader. pyszalek held onto that position until the bubble of the final table.
The hand in question opened with Tinchoolp768 raising small to 445,000 on the button. Havana85 jammed for 4 million in the small blind, pyszalek re-shoved for 9.1 million, and Tinchoolp768 called for 3.69 million more to set up a three-way showdown:
Tinchoolp768: A♣A♥
Havana85: 8♥8♦
pyszalek: A♦J♦
Tinchoolp768's aces held up after the board came K♠5♦5♥6♥5♣, knocking out Havana85 on the bubble and setting up our final nine: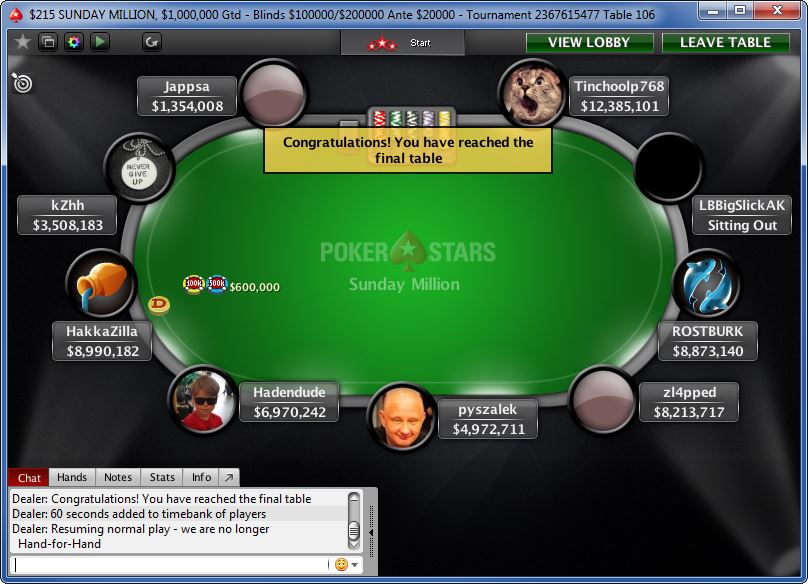 Seat 1: Tinchoolp768 (12,385,101 in chips)
Seat 2: LBBigSlickAK (3,482,716 in chips) past Super Tuesday finalist
Seat 3: ROSTBURK (8,873,140 in chips) past SCOOP-High winner
Seat 4: zl4pped (8,213,717 in chips)
Seat 5: pyszalek (4,972,711 in chips) past Sunday Million finalist & Super Tuesday runner-up
Seat 6: Hadendude (6,970,242 in chips)
Seat 7: HakkaZilla (8,990,182 in chips)
Seat 8: kZhh (3,508,183 in chips) past Sunday Million & TCOOP champ
Seat 9: Jappsa (1,354,008 in chips)
Short-stacked Jappsa doubled to 2.82 million chips through HakkaZilla's A♠J♠ with 9♥9♠ early on. That was still the last-place stack but at 11 big blinds it provided enough breathing room for Jappsa to see if someone else might bust first. That happened when kZhh three-bet-shoved with A♥Q♦ in the big blind over pyszalek's min-raise in the cutoff. pyszalek called with A♠K♦ and made the nut flush as the board came down 9♠7♠2♣K♠Q♠, eliminating the only previous Sunday Million winner at the table in ninth.
The next 45 minutes saw several players survive all-in moments, but Jappsa wasn't among them. The Norwegian hovered at about 2.5 million chips the whole time and finally opened all-in with K♣J♣ in second position on the 175,000/350,000/35,000 level. pyszalek isolated in the small blind with A♦Q♦ and made aces full of eights on the A♥8♣2♦A♣8♦ board to send Jappsa home in eighth.
Hadendude picked up 9♠9♥ five hands later and called when pyszalek min-raised under the gun. pyszalek check-raised all-in on the 6♦7♥4♥ and Hadendude quickly called with the overpair only to find that pyszalek's -- Q♣Q♥ -- had the edge. The 4♦ turn and 2♦ river changed nothing and Hadendude left in seventh.
The same matchup of pocket pairs eliminated zl4pped minutes later. zl4pped's 9♣9♠ actually flopped top set, but the Q♦ on the turn gave HakkaZilla a bigger set; the 2♣ river made it a full house and sent zl4pped packing in sixth. HakkaZilla won one more confrontation with queens against nines just before the hourly break, this time for a 15.5-million-chip pot with top set against pyszalek to take the chip lead into the break.
Short-stacked LBBigSlickAK got to work when play resumed, doubling to 10.2 million with A♦Q♠ against Tinchoolp768's 9♣9♥ thanks to the Q♦ on the turn. Things looked set to get even better three hands later when pyszalek open-shoved for 8.68 million chips with T♥T♦ and LBBigSlickAK called all-in for 6.1 million with J♥J♠ in the big blind. Then the T♠4♦T♣ flop left LBBigSlickAK drawing to running jacks to stay alive. The J♦ on the river wasn't enough on its own and LBBigSlickAK departed in fifth.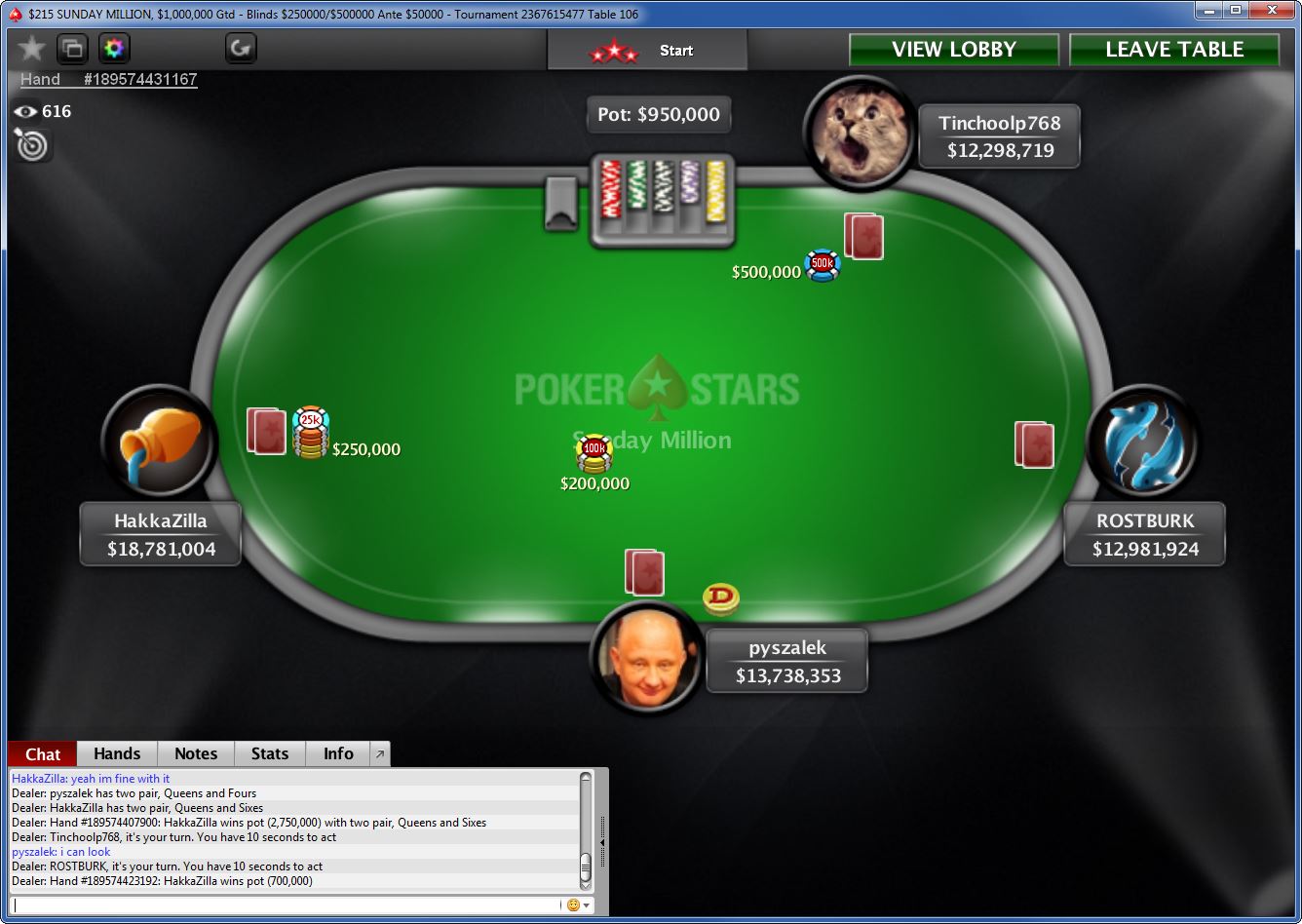 That left four players with an 11-big-blind spread from short stack to chip leader. Things were tense for the next 20 minutes. Eventually ROSTBURK began pulling away from the other players. Then pyszalek picked up T♠T♥ again, this time in the big blind, and called all-in for 12.3 million when ROSTBURK jammed in the small blind with J♣T♣. pyszalek's pair dodged ROSTBURK's gutshot draw and the Polish player reclaimed the chip lead with 24.9 million.
That lead expanded after one final confrontation with HakkaZilla, who open-shoved for 9.42 million with A♣T♣ under the gun. pyszalek called with 7♦7♠ in the big blind, flopped bottom set, and then dodged a royal flush draw en route to making sevens full of jacks on the J♣7♥K♣J♥A♠ board. With that, HakkaZilla bowed in fourth.
With two opponents left and a significant chip lead, pyszalek upped the aggression and took down 15 of the next 20 pots. The last of those started with pyszaelk open-shoving on the button with 8♣4♦. ROSTBURK called with K♦Q♠ but lost to eights and fours on the J♦6♥4♣6♣8♦ board to exit the tournament in third.
pyszalek had 54.5 million chips to Tinchoolp768's 4.1 million and nearly took the tournament down on their first heads-up hand. But Tinchoolp768's K♠J♥ rivered a pair of kings to top pyszalek's 7♦7♠ for the double to 8.34 million. Two hands later pyszalek open-shoved with 9♣6♣, Tinchoolp768 called with A♣J♥, and the J♦ on the flop took pyszaelk's lead down to 20 million chips.
Tinchoolp768 wouldn't get much closer than that, though, and eventually open-shoved with K♣J♦. pyszalek called with A♣J♠ in the big blind and won on kickers when the board fell 2♣3♥6♦T♠6♣, wrapping up the tournament.
Persistence and good fortune paid off big tonight. Every time it looked like the end was in sight, pyszalek found a way to get back in the game. Congratulations on the victory!
8-5-18 Sunday Million ($215 NL Hold'em) results
Entrants: 5,875 (4,758 entries, 1,117 re-entries)
Total prize pool: $1,175,000
Places paid: 1,052
1. pyszalek (Poland) $158,644.59
2. Tinchoolp768 (Argentina) $111,329.60
3. ROSTBURK (Sweden) $78,127.63
4. HakkaZilla (Morocco) $54,827.61
5. LBBigSlickAK (Mexico) $38,476.43
6. zl4pped (Sweden) $27,001.61
7. Hadendude (Sweden) $18,948.99
8. Jappsa (Norway) $13,297.94
9. kZhh (Hungary) $9,332.20
---
Make your mark in the Sunday Million. Click here to open your PokerStars account today.
---