Sunday Million: donykim999 tops three-way deal for $108K, first major title
For a player without a long track record of success in the spotlight, donykim999 made winning the Sunday Million look exceptionally easy.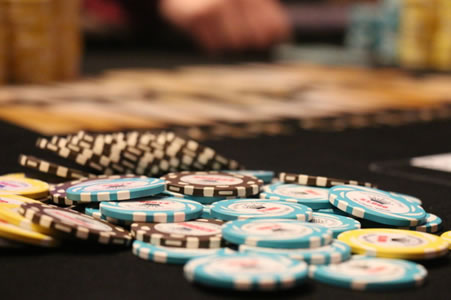 Hailing from Vietnam, donykim999's largest previous cash was for a little over $3,000. The rest of the lineup featured seven Europeans and a Canadian, several of whom had battled heads-up for COOP titles in the past. That asymmetry never really came into play, though. The player from Vietnam won a few key early pots, cruised to three-handed play and made a deal, and then crushed it from there to earn the win and an unprecedented $108,000 cash.
donykim999's journey to the final table was about as smooth as it ever gets in a tournament this large. During the later portions of the day donykim999 led the field for two stretches totaling about an hour and 20 minutes. A loss with 16 players remaining dented the Vietnamese player's stack, but donykim999 was back in third place by the time Galochina10's 7♦7♠ failed to crack arbaarba's K♥K♣ on the final table bubble. Galochina10 left in 10th and these players prepared to fight it out over this week's Sunday Million title: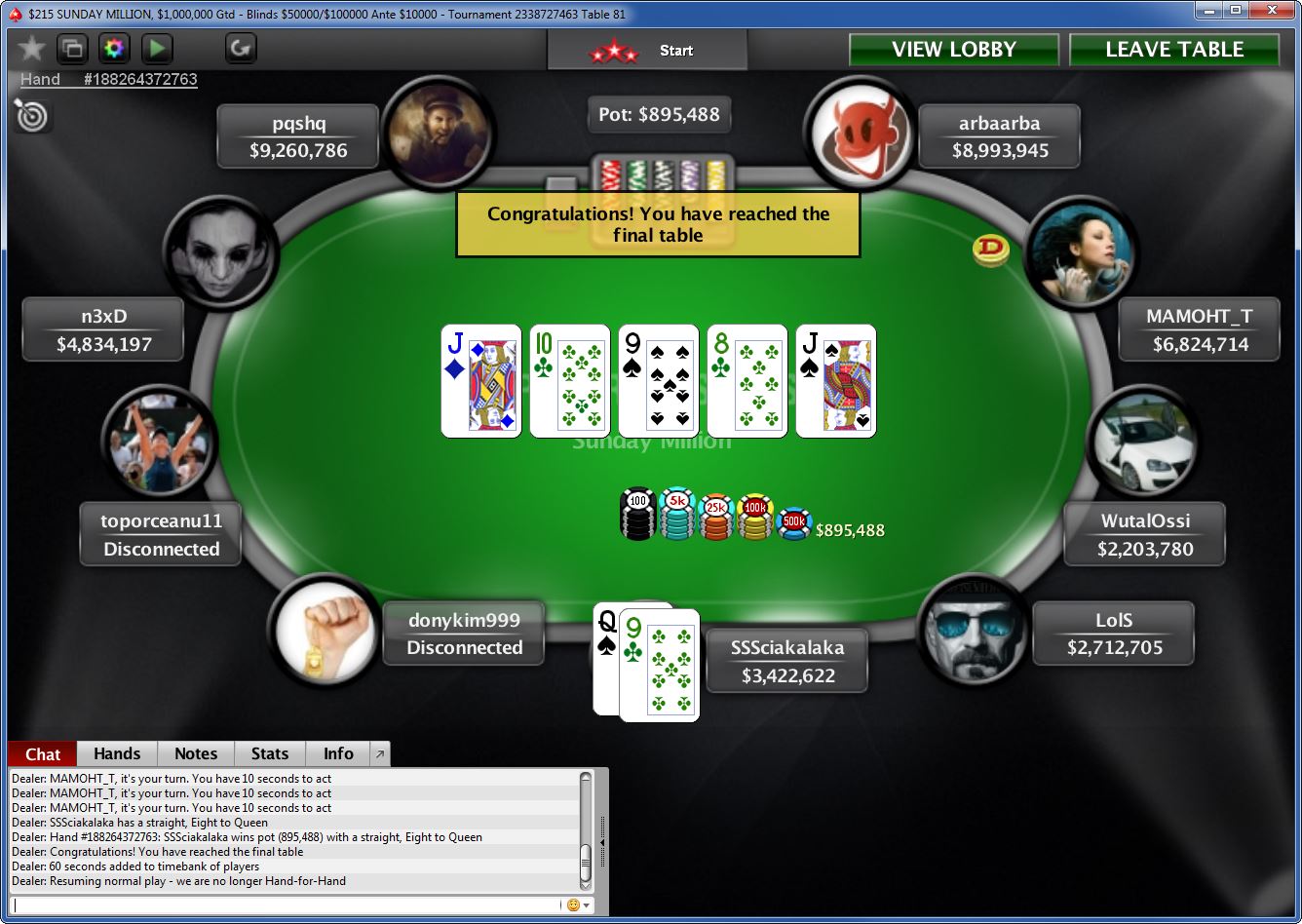 Seat 1: arbaarba (8,993,945 in chips)
Seat 2: MAMOHT_T (6,824,714 in chips) past WCOOP runner-up & SCOOP finalist
Seat 3: WutalOssi (2,203,780 in chips)
Seat 4: LolS (2,712,705 in chips) SCOOP-Medium runner-up in 2014
Seat 5: SSSciakalaka (3,422,622 in chips)
Seat 6: donykim999 (8,125,545 in chips)
Seat 7: toporceanu11 (4,251,706 in chips)
Seat 8: n3xD (4,834,197 in chips) SCOOP-Low winner in 2014
Seat 9: pqshq (9,260,786 in chips)
The lone Romanian at the table had a rough go of it despite only getting involved with premium hands. toporceanu11 waited until the 13th hand to play a hand, re-raising to 850,000 on the button with 8♣8♠ after LolS opened for 284,705 in the lojack. LolS jammed for 1.36 million more in response with Q♦Q♥ and turned a set to double to 3.57 million. That left toporceanu11 with 1.86 million, all of which went in with J♦J♠ two hands later from the hijack seat as the third bet after donykim999 min-raised to 240,000 in the lojack. donykim999 called with A♥Q♥, made a pair of aces with the A♠ on the flop, and eliminated toporceanu11 in ninth.
About 20 minutes passed before donykim999 called with A♥Q♦ in the hijack seat after SSSciakalaka min-raised to 320,000 in the lojack. SSSciakalaka opened for 315,855 on the K♠A♦2♦ flop, then three-bet overdonykim999's raise, and then called all-in for 2.62 million total after donykim999 shoved all-in. SSSciakalaka had the lead with A♠2♠ for aces and deuces, but donykim999 won on kickers when the 7♦ turn and K♥ river left both players with two pair, aces and kings. Counterfeited on the river, SSSciakalaka bowed out in eighth.
A relatively quiet 15 minutes of poker passed before WutalOssi and LolS, separated by just one big blind, tangled with one another. WutalOssi open-shoved for 2.89 million in the hijack and LolS moved in from the cutoff, holding a big edge with T♠T♥ to WutalOssi's A♦T♣. Things were looking good until the river of the Q♠6♣6♦9♦A♥ board delivered one of WutalOssi's three outs, saving the German's skin and leaving LolS with a single big blind's worth of chips. Even picking up A♥Q♠ on the following hand couldn't save LolS; pqshq's Q♣T♥ in the small blind made a queen-high straight and LolS was knocked out in seventh.
The rest of the hour passed without any major pots, but a coin-flip between the blinds a few hands after returning from the break resulted in the largest one so far. pqshq's A♥K♦ failed to improve after arbaarba's 7♣7♥ flopped sevens full of queens to earn the 14.9-million-chip pot and trim pqshq's stack to about 22 big blinds.
Five minutes later another medium pair earned a sizable win. n3xD's 9♣9♠ held up after opening for a small raise and then calling when MAMOHT_T jammed for 4.26 million in the big blind with A♥7♥. The ten-high board gave n3xD a set of nines and sent MAMOHT_T to the rail in sixth.
Then pqshq and arbaarba clashed again with similar hands -- and identical results -- to their previous encounter. pqshq open-shoved for about 15 big blinds with K♦Q♥ in the hijack seat, arbaarba called with 9♦9♣ in the cutoff, and the board ran out 2♠J♦4♠7♠3♦ to end pqshq's tournament in fifth.
arbaarba's hot streak continued five minutes later when the Lithuanian opened with A♥K♥ in the big blind and called WutalOssi's 4.69-million-chip shove in the big blind. WutalOssi held K♣T♣ and lost on kickers when the 7♠K♦6♦6♥9♠ boardgave both players two pair. WutalOssi left in fourth, setting a new personal best cash by more than $46,000, and arbaarba entered three-handed play with just over half of all the chips.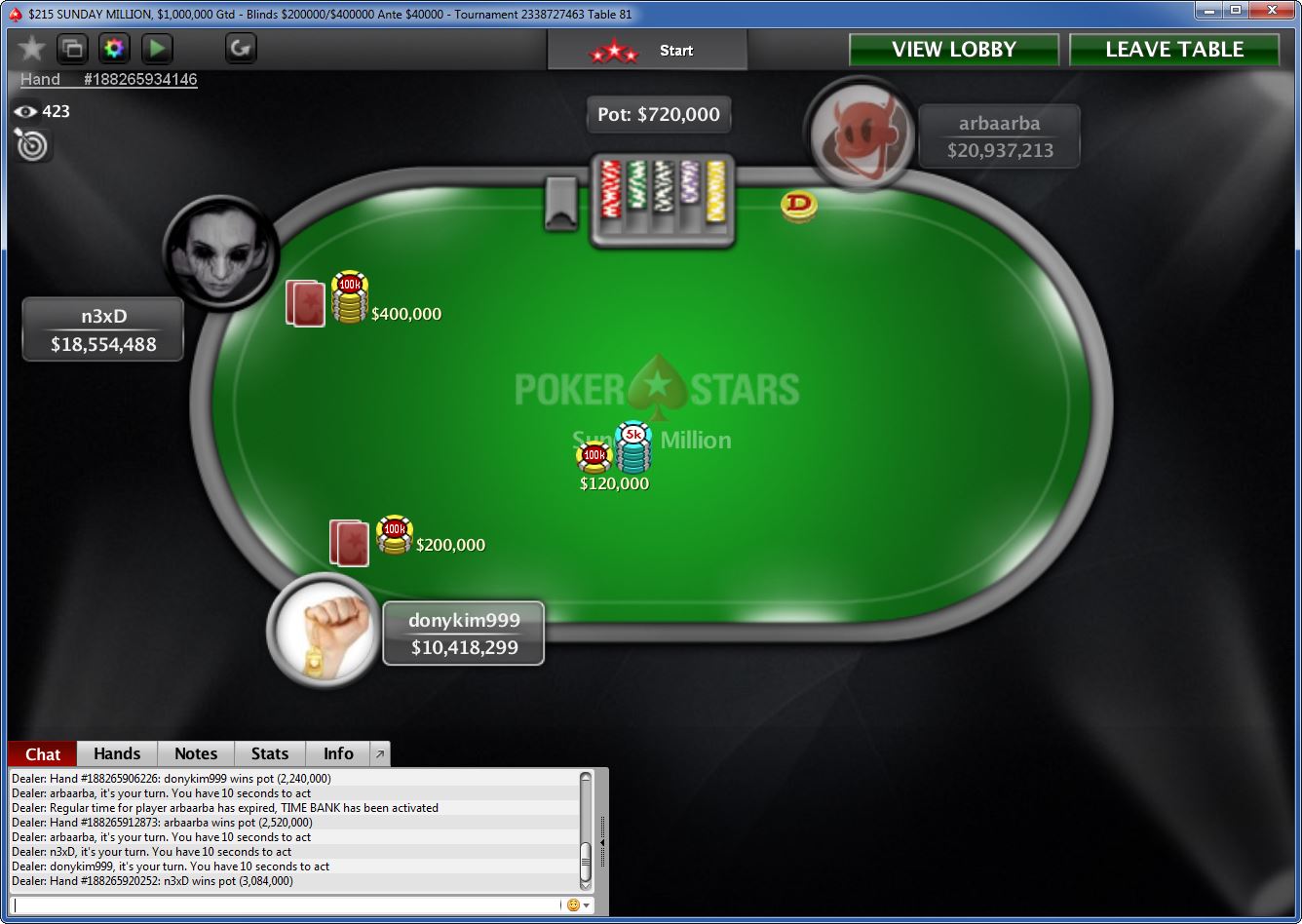 Soon the remaining players started negotiating a deal. It took about 20 minutes but the finally reached an agreement that left $20,000 for the winner. Then they played 10 minutes of unremarkable pots before arbaarba opened for 860,000 on the button and donykim999 re-raised to 2.11 million from the small blind. arbaarba called, both players checked the T♦4♠A♥ flop, and arbaarba called 1.2 million on the 6♠ turn. As it turned out, they were both sandbagging -- donykim999 shoved for 5.58 million on the 6♥ river and showed down 4♥4♦ for fours full after arbaarba called, beating arbaarba's aces and sixes for the 18.3-million-chip pot.
That win moved donykim999 into second place, just three big blinds back of n3xD. Three hands later they met head-on before the flop after donykim999 opened for a million in the small blind. n3xD re-raised to 2.8 million and snap-called when donykim999 shoved for 17.7 million. n3xD's Q♦Q♥ was a heavy favorite against donykim999's A♣8♥ even before the 3♠8♦J♦ flop and K♣ turn left donykim999 with just five outs, but the 8♣ river gave donykim999 the pot with three of a kind. n3xD lost with J♠T♠ to arbaarba's Q♦2♦ on the next hand and finished the tournament in third.
donykim999 had 35.6 million chips to arbaarba's 14.9 million as heads-up play began and though they battled for 20 minutes, donykim999's stack never dropped more than about 10 big blinds from that mark. On the final hand arbaarba was down to 8.86 million -- about 15 big blinds -- and moved all-in with Q♠J♥ after donykim999 limped on the button. donykim999 called with K♥J♦ and locked up the win when the board fell 8♥A♥T♣2♥8♣.
It was a big day for both of the heads-up finalists. The extra cash on the table gave donykim999 a win that topped a previous personal best by nearly $105,000, while arbaarba set a new personal best by just over $80,000. Congratulations to both of them, and also to n3xD for sharing in the three-way deal!
7-1-18 Sunday Million ($215 NL Hold'em) results
Entrants: 5,063 (3,852 entries, 1,211 re-entries)
Total prize pool: $1,012,600
Places paid: 908
1. donykim999 (Vietnam) $108,000*
2. arbaarba (Lithuania) $98,864.46*
3. n3xD (Canada) $93,457.54*
4. WutalOssi (Germany) $47,301.98
5. pqshq (United Kingdom) $33,195.05
6. MAMOHT_T (Russia) $23,295.26
7. LolS (United Kingdom) $16,347.92
8. SSSciakalaka (United Kingdom) $11,472.45
9. toporceanu11 (Romania) $8,050.98
* - denotes results of a three-way deal leaving $20,000 for the winner
---
Win big. Play the Sunday Million. Click here to open your PokerStars account today.
---