Sunday Million: Following four-way deal, late surge puts panda713 over for $108K (1-14-18)
At a final table where more than half of the players entered in a comfortable chip position, panda713 was just looking to survive. As a recreational player with less than $15,000 in career tournament cashes here at PokerStars, even surviving to seventh place would have been enough to double panda713's career winnings. That plan worked long enough to make through the first break, and one more elimination took panda713 across the line to strike a four-handed deal. Then, with the title on the line, the player from the United Kingdom hit the kind of hot streak players can wait their entire lives for. Two coin flips and two pair-over-pair hands later, panda713 had sealed the deal on a career-changing victory worth more than $108,000.
Aside from a short stretch as the chip leader when there were three tables left, most of panda713's tournament was played with an average-sized stack or worse. As the final table neared other players were climbing the leaderboard, including fellow U.K. player Dynamite321, who won the Sunday Million way back in 2007. Looking to return to the final table after 11 years with a massive stack, Dyanmite321 took a big chance on the bubble.
After defending the big blind with K♣ T♣ against Ewokwat's early position raise to 252,000 chips, Dynamite check-called another 132,000 on the 6♦ 3♠ J♣ flop - and then check-raised all-in for 7 million after the 9♣ came on the turn. Ewokwat went deep into the time bank and eventually called all-in for 4.8 million chips more, showing down 6♠ 6♥ for a set of sixes. The K♦ river sent the pot to Ewokwat and left Dynamite321 with a stack worth about 13 big blinds. Minutes later Dynamite321 lost a flip with 9♣ 9♦ against nic81411's J♠ T♦ and the final table lineup was set.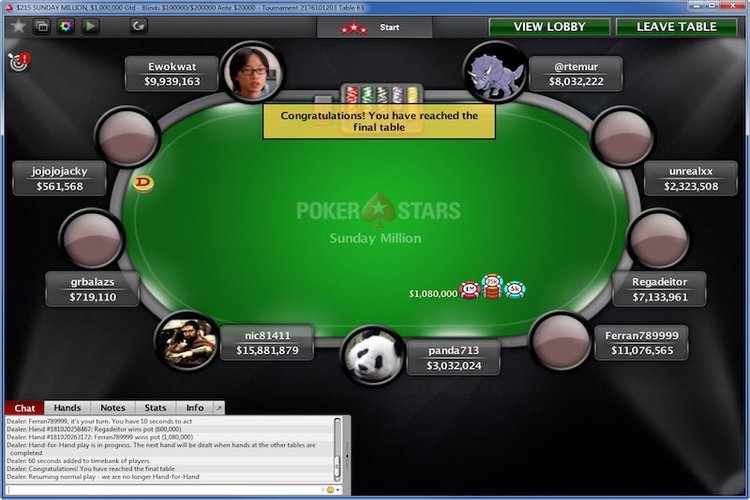 Seat 1: @rtemur (8,032,222 in chips) past MicroMillions winner with $1.4 million in PokerStars cashes
Seat 2: unrealxx (2,323,508 in chips)
Seat 3: Regadeitor (7,133,961 in chips) finished ninth in the 10/1/17 Sunday Million
Seat 4: Ferran789999 (11,076,565 in chips) 6-27-17 Super Tuesday champ
Seat 5: panda713 (3,032,024 in chips)
Seat 6: nic81411 (15,881,879 in chips)
Seat 7: grbalazs (719,110 in chips) past SCOOP-Medium finalist
Seat 8: jojojojacky (561,568 in chips)
Seat 9: Ewokwat (9,939,163 in chips)
There was plenty of action to go around in the first half-hour of play. Short-stacked German player jojojojacky called all-in with A♠ 9♦ in the big blind after @rtemur opened small with A♣ K♥ and left in ninth after a king fell on the flop. Hungary's grbalazs survived twice in a row right after that, first with A♥ 2♥ and then with A♣ J♦, to avoid the cut.
unrealxx wasn't as lucky as grbalazs. The Russian player opened for 780,000 with A♥ T♦ and then ended up all-in with a gutshot Broadway straight draw on the Q♦ J♣ Q♠ flop. Ferran789999, who had called before the flop and then raised after it, won unimproved with A♠ K♣ after the 7♦ turn and 4♣ river came down, sending unrealxx to the rail in eighth. A few hands later grbalazs's ran 8♦ 8♥ into Ferran789999's K♣ K♥ to take the field down to six. Regadeitor suffered a similar fate just before the end of the hour, finishing in sixth after 9♠ 9♥ couldn't find an out to beat Ewokwat's Q♣ Q♦.
That left five players when play resumed at 2 a.m. ET with one break in the rear-view. Only two of them would still be around an hour later. As the short stack @rtemur looked most likely to bust first, but the Russian player's A♠ 9♠ flopped a nine to outrun nic81411's A♥ J♦ for a 7.7-million-chip pot. nic81411 dropped another 2.1 million chips two hands later after re-raising in the big blind and then folding to @rtemur's four-bet shove.
Those losses combined to make nic81411 the new short stack with 33 big blinds, all of which the German player put on the line 10 minutes later. nic81411 opened the action all-in with 4♣ 4♥ and lost out when panda713 called with A♣ K♣, the board fell T♥ 2♥ 8♥ 8♣ T♠, and panda713's ace played as a kicker to the two pair on the board.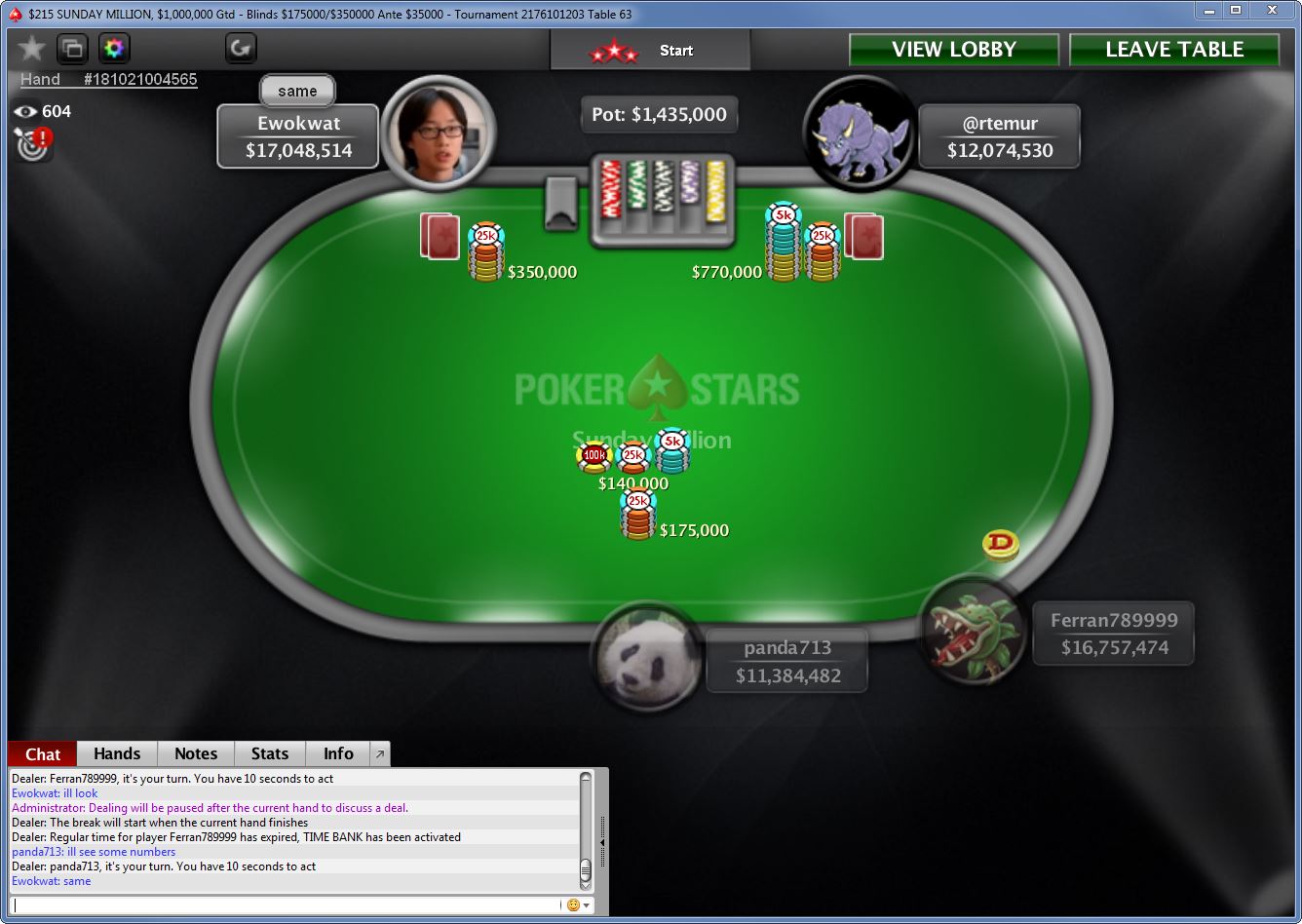 Splitting up the last $400K in the prize pool
Dropping that pot sent nic814111 packing in fifth and set up a situation where all four players had between 35 and 50 big blinds each. Soon enough talks for a four-handed deal were underway. Keeping with the pace of the final table so far, the deal took just seven minutes to negotiate. Then the average pot size dropped to a just a few big blinds for the next 30 minutes and there wasn't much notable action until Ewokwat doubled up with A♥ 3♠ against Ferran789999's K♥ 8♥.
The impasse finally broke when panda713 raised with K♣ K♠ on the button and called when Ewokwat jammed for 11.9 million chips in the small blind with T♦ T♣. The board ran out queen-high and Ewokwat was gone in fourth. panda713 won an even larger pot five hands later after being dealt A♣ A♠ in the small blind on the same hand that gave @rtemur J♥ J♣ in the big. No jacks meant panda713 claimed the 33.7 million chips in the middle and @rtemur was our third-place finisher.
Ferran789999 started heads-up play with 13.7 million chips to panda713's 45 million. An early win could have put the match on more equitable ground, but panda713 backed into a heart flush with T♣ 7♥ a few hands in and that left Ferran789999 fighting for survival the rest of the way. The Russian player put the tournament on the line minutes later with A♠ J♦ but couldn't crack panda713's 6♣ 6♠, bringing this week's Sunday Million to its conclusion.
Congratulations to panda713 on following a path to winning the Sunday Million that was anything but typical, and to the other three players who shared in the deal!
1-14-18 Sunday Million ($215 NL Hold'em) results
Entrants: 5,870 (4,722 entries, 1,148 re-entries)
Total prize pool: $1,174,000
Places paid: 1,052
1. panda713 (United Kingdom) $108,935.83*
2. Ferran789999 (Russia) $99,717.57*
3. @rtemur (Russia) $93,683.87*
4. Ewokwat (Canada) $100,200.67*
5. nic81411 (Germany) $38,443.68
6. Regadeitor (Mexico) $26,978.63
7. grbalazs (Hungary) $18,932.86
8. unrealxx (Russia) $13,286.62
9. jojojojacky (Germany) $9,324.86
* - denotes results of a four-way deal leaving $20,000 for the winner
---
Play next week's Sunday Million! Click here to open your PokerStars account today.
---
Jason Kirk is a Freelance Contributor to PokerStars Blog.