Sunday Million: Four years later, blackaces93 cuts another deal and rockets to $159K victory
Four years ago, blackaces93 made the final table of the Sunday Million. The Polish player got within two spots of the title and cut a deal, then moved in with a big ace and ran into the eventual champion's pocket queens to leave in third place. That payday remains blackaces93's biggest cash to date.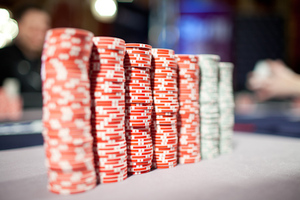 Tonight blackaces93 returned for a second chance at a Sunday Million title, with the incoming chip lead to boot. A few big pairs and nice flops over the next hour and a half helped get blackaces93 in position to cut a heads-up deal. Then a crucial win with A-K set the stage for blackaces93 to close out the tournament and earn another six-figure cash.
This week's bubble finisher was anna300m from Ukraine. After 11 and a half hours of poker anna300m got in ahead with Q♦Q♣, jamming for 1.27 million in the big blind over the top of STAS80AK's 400,000 min-raise on the button. STAS80AK called with A♠8♠ and spiked the A♥ on the river to win the pot and trim the field to its final nine players.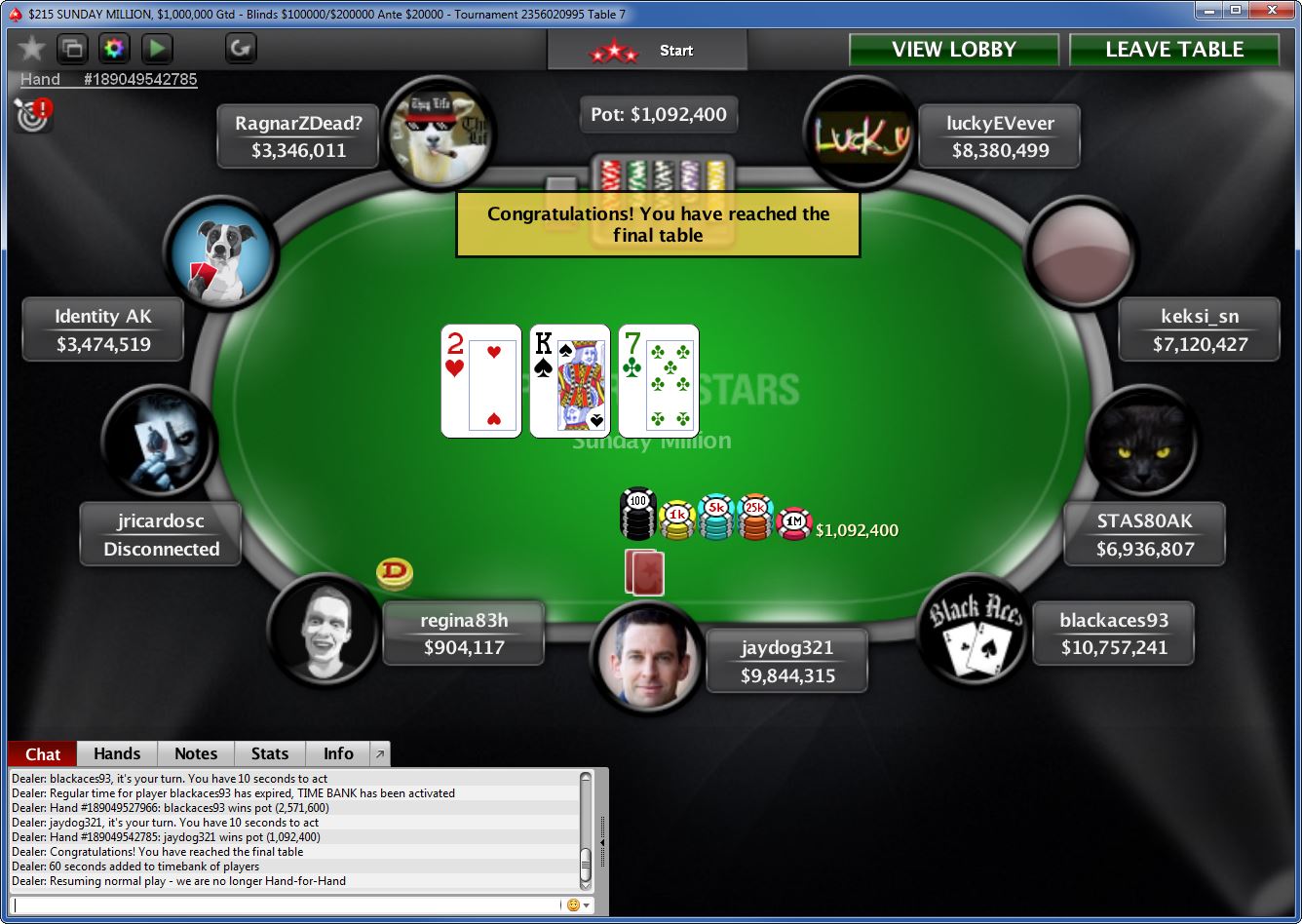 Seat 1: luckyEVever (8,380,499 in chips)
Seat 2: keksi_sn (7,120,427 in chips)
Seat 3: STAS80AK (6,936,807 in chips)
Seat 4: blackaces93 (10,757,241 in chips)
Seat 5: jaydog321 (9,844,315 in chips)
Seat 6: regina83h (904,117 in chips)
Seat 7: Joao "jricardosc" Fernandes (8,396,064 in chips) past Super Tuesday champ
Seat 8: Identity AK (3,474,519 in chips)
Seat 9: RagnarZDead? (3,346,011 in chips)
Another Ukrainian player, regina83h, tried to hang on with a five-big-blind stack but was finally put in from the big blind 10 minutes later with 7♣3♠. Button raiser blackaces93's K♥K♦ stood up on a queen-high board to knock regina83h out in ninth.
There was plenty of action over the next 15 minutes but the table went to break still eight-handed. That pattern for another 10 minutes after they returned until RagnarZDead? picked up A♦A♠ in the lojack seat and opened all-in for 1.94 million chips. keksi_sn called in the cutoff with 7♥7♦ and then caught a two-outer on the 7♣5♥3♦ flop to take the lead with two cards to come. RagnarZDead? couldn't do the same on the turn or river and left the tournament in eighth.
The following hand saw STAS80AK open all-in for 3.79 million from the cutoff seat with A♠6♦ and Joao "jricardosc" Fernandes call in the big blind with 7♠7♣. Making a pair of sixes on the river wasn't enough to save STAS80AK, who left in seventh.
jaydog321 looked likely to go next after moving in with 8♦8♠ a few minutes later and seeing jricardosc call with K♦K♠, but an eight on the flop saved the Canadian from the exit. jricardosc picked up Q♣Q♦ a few minutes after that and tried to set a trap with a min-raise to 700,000, but the plan backfired when blackaces93 called with 7♠5♥ in the big blind and made trips on the 5♦4♠5♠ flop. A check-raise got jricardosc to commit all-in with just 8.6-percent equity, and the 3♥ turn and 9♣ sent the Brazilian home in sixth.
The action cooled back down for 10 minutes after that, only to erupt again when another big pocket pair was in play. This time it belonged to keksi_sn, who called in the big blind with Q♣Q♥ after Identity AK jammed for 2.22 million on the button with K♣Q♦. No kings on the board and Identity AK fell in fifth. keksi_sn struck again six minutes later after raising the button with A♠J♣ and calling when jaydog321 shoved for 2.42 million in the big blind with Q♣J♦. An ace on the flop and a jack on the turn combined to sink jaydog321 in fourth.
That gave keksi_sn 19.6 million chips with blinds and antes at 200,000/400,000/40,000, just over half of blackaces93's 36.9 million, while luckyEVever was hanging on with just 2.61 million. The German player managed to double that once, cracking blackaces93's pocket queens with a button-jamming A♠3♥, before calling all-in from the big blind with A♣5♣ on a hand that blackaces93 opened with a small-blind shove. blackaces93's Q♥2♥ made a queen-high straight when the board fell 9♦8♦J♥T♥5♦ and luckyEVever departed in third.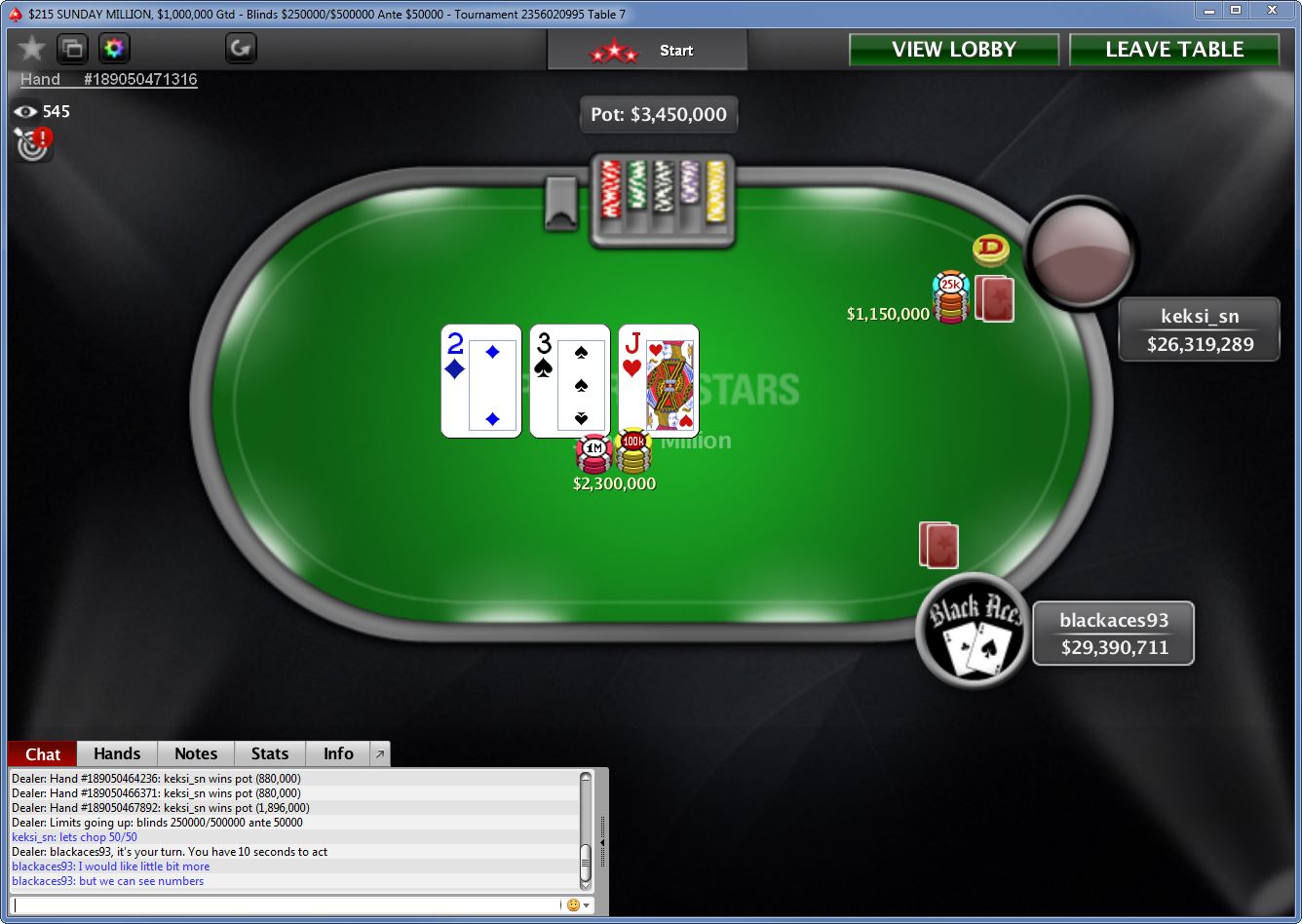 keksi_sn wanted to deal from the start but blackaces93 said, "let's play a couple hands first." So they did. keksi_sn first closed the gap between them and asked to deal again, this time wanting an even chop. "I would like a little bit more but we can see numbers," blackaces93 replied. "just tell me when you want to chop," keksi_sn said, and then took the lead with an uncalled bet on the turn of a 2♦3♠J♥Q♠ board.
That sent the two players on break to chop up the remaining money with keksi_sn holding the lead by about 12 big blinds. Everything changed three hands after they resumed play when keksi_sn picked up K♠K♦ in the big blind and blackaces93 was dealt A♦K♣ on the button. The fifth bet before the flop set blackaces93 all-in, and the A♥ on the flop moved the Polish player back into a 5-to-1 chip lead.
Backed into a corner, keksi_sn managed to double up with Q♥6♦ against A♥2♣ after flopping two pair and turning a full house. Minutes later the German player got in ahead, calling with K♥J♣ after blackaces93 opened all-in on the button with K♦6♣. keksi_sn had 81.8-percent equity with the board showing A♣Q♠Q♣9♠ after the turn, but the 6♦ river card gave blackaces93 two pair to win the pot and the tournament.
blackaces93 made the most of a rare opportunity tonight, turning a repeat final table performance into a title and the second largest cash of the Polish player's PokerStars career. Congratulations to blackaces93 on the victory, and to keksi_sn for sharing in the deal!
7-22-18 Sunday Million ($215 NL Hold'em) results
Entrants: 5,916 (4,803 entries, 1,113 re-entries)
Total prize pool: $1,183,200
Places paid: 1,052
1. blackaces93 $145,930.90*
2. keksi_sn (Germany) $125,930.91*
3. luckyEVever (Germany) $78,672.86
4. jaydog321 (Canada) $55,210.24
5. Identity AK (Sweden) $38,744.94
6. Joao "jricardosc" Fernandes(Brazil) $27,190.05
7. STAS80K (Germany) $19,081.22
8. RagnarZDead? (Serbia) $13,390.74
9. regina83h (Ukraine) $9,397.32
* - denotes results of a heads-up deal leaving $20,000 for the winner
---
Play the Sunday Million. Win big money. Click here to open your PokerStars account today.
---