Sunday Million: Kenu V takes the title, $134K after heads-up chop with peterwhooo
It was a Sunday Million final table half-filled with players cashing for many times their previous personal bests. But one player stood out from the rest.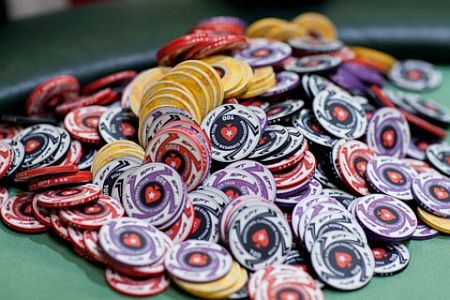 peterwhooo was the only return visitor, making a second appearance sincea fifth-place finish back in 2014. He trailed two players as the final table began. But he arrived in good enough shape to threaten another run at the title. The patience that comes from experience shined through. Maintaining position long enough, peterwhooo got to shorthanded play, then made the most of some big pots to take the lead heads-up.
Kenu V shared a similar route through the final table. Early double-ups and a few key wins paving the way to heads-up play. peterwhooo keep Kenu V at arm's length, and the longer heads-up dragged on, the more it ran in Kenu V's favor. The two struck a deal to chop the money evenly. Eventually Kenu V pulled off the heads-up comeback, walking away with this week's Sunday Million title.
Nebelwald and 54kgPozitiva had the edge over the other seven players when the final table began. The only thing that changed over the next half-hour was the number of opponents they dominated.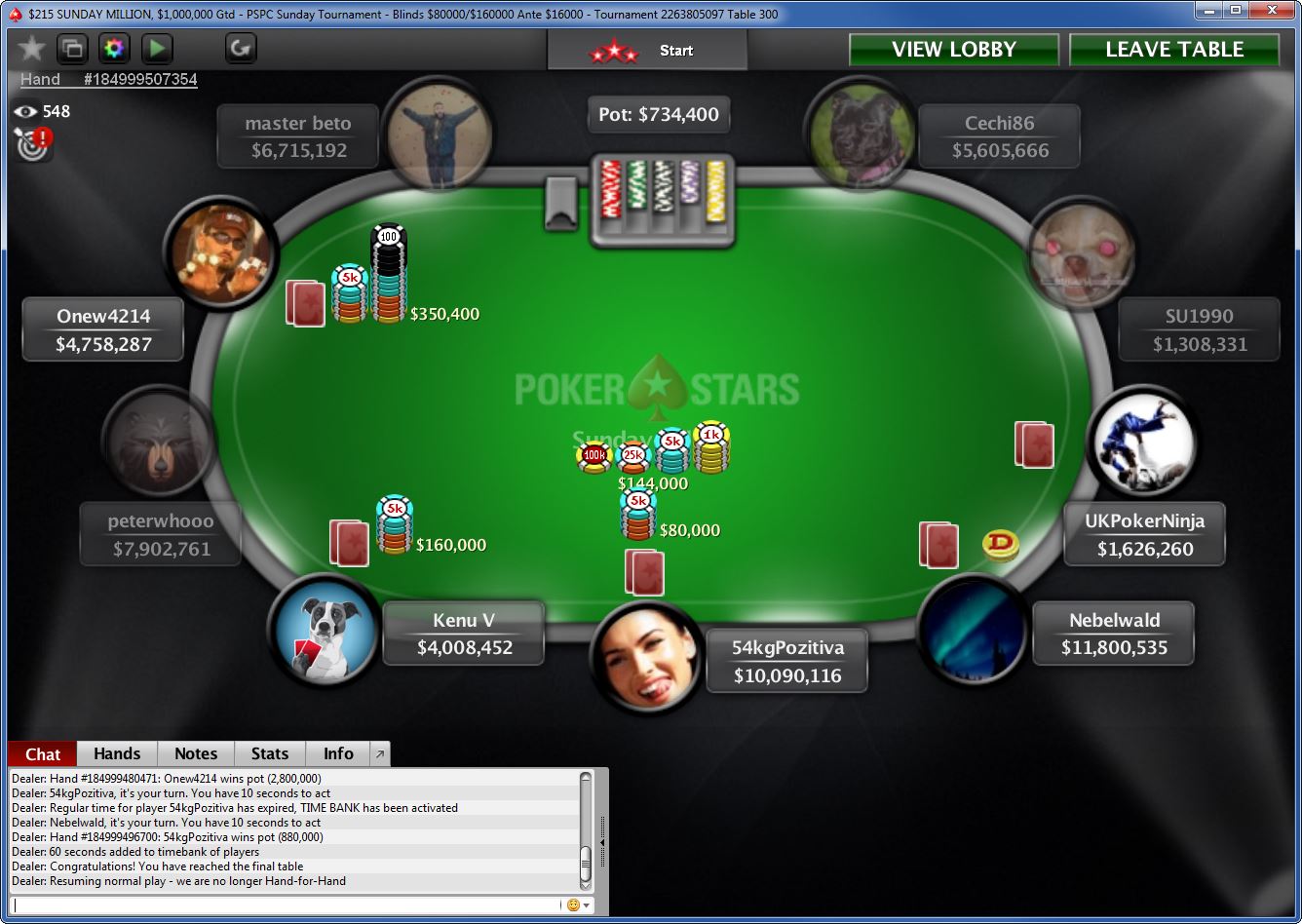 Lots of career-best cashes to go around this week
Seat 1: Cechi86 (5,621,666 in chips) previous best cash of $1,751 last week
Seat 2: SU1990 (1,324,331 in chips) MicroMillions finalist last summer
Seat 3: UKPokerNinja (1,642,260 in chips) previous best cash of $546
Seat 4: Nebelwald (11,816,535 in chips) Turbo Series finalist in February
Seat 5: 54kgPozitiva (10,186,116 in chips)
Seat 6: Kenu V (4,184,452 in chips) previous best cash of just over $5,000
Seat 7: peterwhooo (7,918,761 in chips) second career Sunday Million final table
Seat 8: Onew4214 (5,124,687 in chips) previous best cash of $496
Seat 9: master beto (6,731,192 in chips) past SCOOP & WCOOP finalist
Short-stacked German SU1990 was the first to go, getting in ahead with A♥J♦ but losing out in ninth when Onew4214's K♣Q♣ flopped a pair of kings. UKPokerNinja avoided the same fate by dominating peterwhooo's K♣Q♠ with A♥Q♣ for the double to eleven big blinds, leaving the eighth-place door open to the next unfortunate. That turned out to be master beto, who min-raised with 9♥9♣ UTG+1 and then jammed for 5.25 million when Nebelwald three-bet with A♦K♣. An ace on the flop was all it took to sink master beto.
Two hands later 54kgPozitiva did some heavy lifting with a double-KO.
The Russian called for 1.55 million chips in the hijack after UKPokerNinja opened all-in under the gun with A♠3♠. Cechi86 came along in the big blind for a 2♣Q♦8♦ flop. Cechi86 led out and then called for 6.15 million total, showing K♣K♠ when 54kgPozitiva raised all-in. 54kgPozitiva was drawing with A♦T♦ and got there on the 2♦ turn. That left Cechi86 drawing to the two kings left in the deck for a full house. The 2♦ came instead, giving 54kgPozitiva both the side and main pots for 17.2 million chips, busting UKPokerNinja in seventh and Cechi86 in sixth.
54kgPozitiva then went for one more knockout, but couldn't beat Kenu V. He had 9♣9♠ to Kenu V's A♥Q♠ which had flopped Broadway. Despite that loss the Russian was still second in chips with 16.4 million (to Nebelwald's 17.3 million) as the blinds increased to 125,000/250,000/25,000. Then things headed south in a hurry.
First 54kgPozitiva's 9♣9♠ was cracked after he open-shoved in the small blind. That was called by Kenu V for eleven big blinds, whose Q♥8♠ picked up a flush draw on the flop. That came home on the river.
Then 54kgPozitiva opened with K♦9♣ on the button and flopped top pair along with peterwhooo, who'd come along in the big blind with K♣4♣. Both players made trip kings on the K♠ turn but peterwhooo rivered kings full of fours to take down a pot worth nearly 11 million chips.
54kgPozitiva dropped to less than 25 big blinds after those losses, but the Russian made up for them. After limping in with 6♦6♠, 54kgPozitiva bet 483,250 when both blinds checked the 5♥4♥4♠ flop. Then he called Nebelwald's raise to 1.26 million and made sixes full of fours on the 6♣ turn. Nebelwald check-called 1.39 million this time and then led for 2.35 million after the K♥ came on the turn. Nebelwald called with 9♥6♥ for a flush when 54kgPozitiva jammed all-in, dropping to 6.2 million after the Russian showed down the turned winner.
About ten minutes later Onew4214 opened all-in for about seven big blinds under the gun, holding A♣Q♦, and looked to be in a good spot when Kenu V called with A♦T♣ in the big blind. Then the board came T♥J♥6♣4♣7♥, giving Kenu V a pair of tens and ending Onew4214's tournament in fifth.
Another win with 7♦7♥ against peterwhooo's 4♥4♠ brought kenu V up to 15 million, just two big blinds back of peterwhooo and one more back of 54kgPozitiva. Nebelwald was the odd player out. He couldn't find much to work with and eventually moved all-in under the gun for about seven big blinds with J♣9♥. peterwhooo called with A♣8♣ in the big blind and won unimproved to send Nebelwald to the rail in fourth.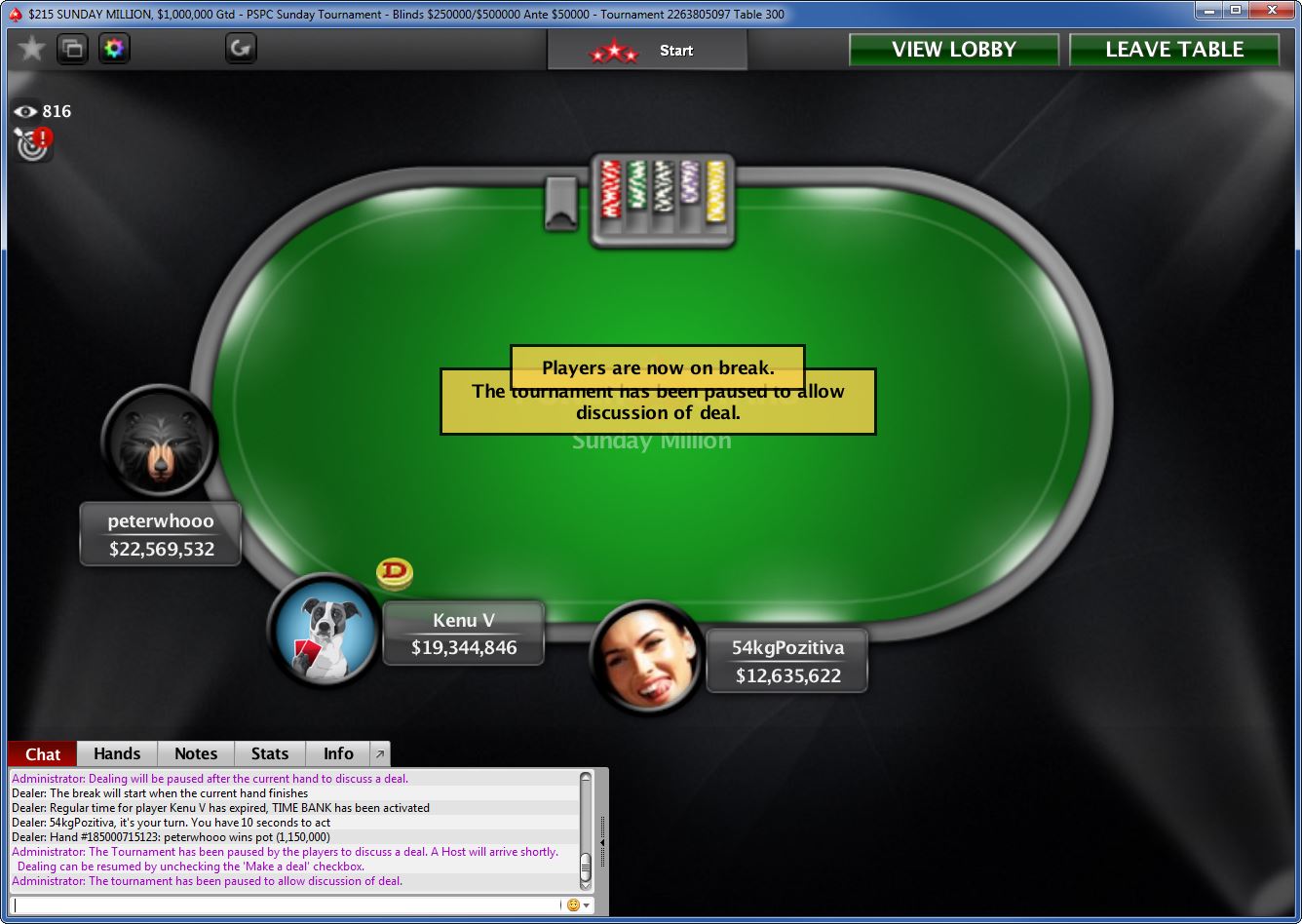 Deal: almost, but not quite
Almost immediately the topic of a deal came up. But 20 minutes of negotiations left peterwhooo, who led Kenu V by about five big blinds, wanting an additional $2,600 in the deal. Driving a hard bargain meant no bargain at all. The other two wouldn't give up any more money.
"Not one cent," said 54kgPozitiva, and the cards got back in the air with everyone's stacks between 25 and 45 big blinds.
54kgPozitiva looked to get the better of the busted deal. He bet for value with 7♠7♥ in the big blind before and after the flop, and then again after the turn. Then slowed down on the river of a 5♦5♥J♣J♠T♦ board. peterwhooo's A♠4♦ was no good and 54kgPozitiva took the 18-big-blind pot to move into the lead.
Minutes later the pendulum of peterwhooo's fortune swung back.
The Brazilian limped from the small blind, then called 54kgPozitiva's raise to 2 million. That brought the 4♠3♣7♠ flop. peterwhooo check-called 1.94 million. Both players checked the Q♠ turn, bringing the 8♠ on the river. peterwhooo checked one more time, then raised all-in after 54kgPozitiva bet 4.4 million into the 8-million-chip pot. 54kgPozitiva used up more than 30 seconds of time bank before finally folding with the K♠ face-up.
Folding the second-nuts left 54kgPozitiva with 10.5 million chips. That was still good for about 17 big blinds -- more than enough to start another good run with A♣A♠ a few minutes later.
Unfortunately for 54kgPozitiva, who min-raised to 1.2 million before the flop, peterwhooo called with T♥9♥ and made a flush on the K♥4♥8♥ flop. 54kfPozitiva snap-called peterwhooo's check-raise but needed a miracle from the turn and river. The miracle never arrived. 54kgPozitiva's run ended in third.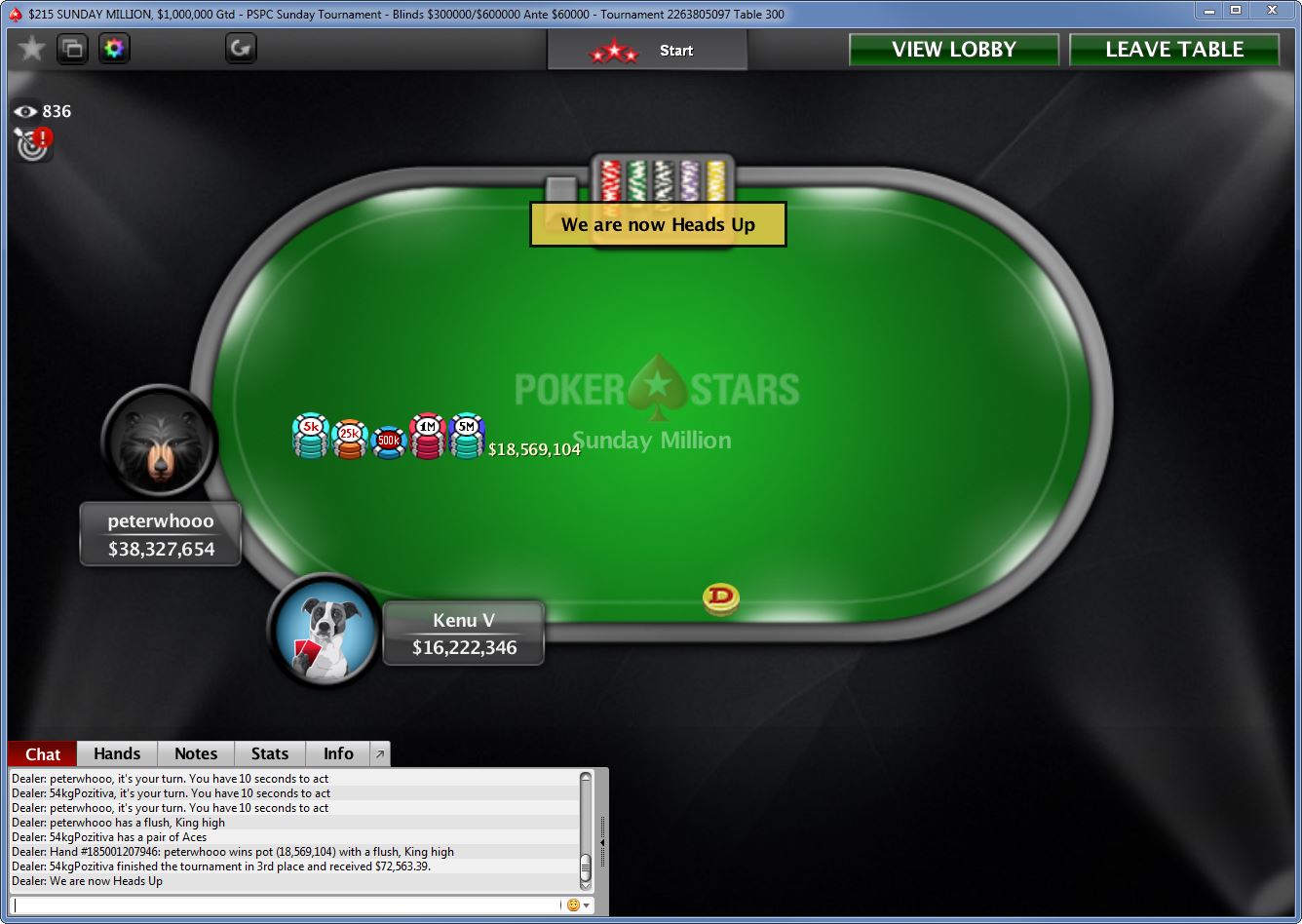 Two players, one more hour to go...
After two hours peterwhooo had 38.3 million chips to Kenu V's 16.2 million, an advantage of more than 36 big blinds. They ended up playing for an hour and eight minutes' total. The bulk of it before Kenu V won a hand with top pair to give the two players nearly even stacks, just as they began to talk over a deal. The two agreed to chop the remaining prize money, leaving almost $22,000 and the title for the winner.
peterwhooo then dictated play, pushing Kenu V down to dangerous territory. But Kenu V's A♥J♥ flopped two pair to double back to 26 million against peterwhooo's unimproved K♥5♥. peterwhooo quickly struck back and had another chance to put Kenu V away, only to see K♠K♦ cracked when Kenu V's 6♠6♥ made sixes full of aces with the tournament on the line.
They continued for another 15 minutes, the player in danger finding a way to stay alive. Finally, Kenu V raised on the button with K♥2♥ and then jammed all-in when peterwhooo reraised with Q♠6♠ in the big blind. peterwhooo called and made top pair on the 9♥Q♥7♠, but the K♦ turn moved Kenu V back into the lead. Then the 4♥ river closed the book on one very hard-fought final table.
Congratulations to peterwhooo and Kenu V for leaving everything on the table and sharing in the heads-up deal, and to Kenu V for outlasting the table to earn the title and the extra cash!
4-8-18 Sunday Million ($215 NL Hold'em) results
Entrants: 5,455 (4,385 entries, 1,070 re-entries)
Total prize pool: $1,091,000
Places paid: 998
1. Kenu V (Germany) $136,284.78*
2. peterwhooo (Brazil) $114,464.78*
3. 54kgPozitiva (Russia) $72,563.39
4. Nebelwald (Germany) $50,922.86
5. Onew4214 (Russia) $35,736.14
6. Cechi86 (Czech Republic) $25,078.48
7. UKPokerNinja (United Kingdom) $17,599.35
8. master beto (Costa Rica) $12,350.77
9. SU1990 (Germany) $8,667.44
* - reflects results of a heads-up deal leaving $21,820 for the winner
---
The Sunday Million Anniversary Take 2, with a $10 million guaranteed prize pool and $1 million guaranteed to first place, is just two weeks away! Click here to open your PokerStars account today.
---