Sunday Million: OMGRubCasco runs hot, takes out six finalists en route to $135K win
The only thing better than a big stack of chips is building it at precisely the right moment.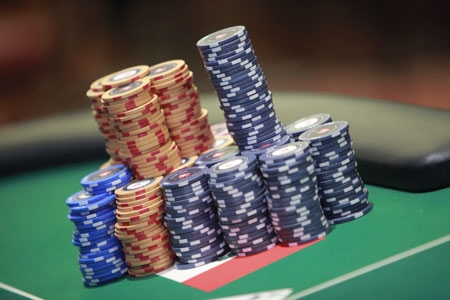 For the first nine hours of this week's Sunday Million, OMGRubCasco ran well enough to hang on to something around the average stack. Then the Uruguayan heated up at the best possible moment and knocked out six finalists, earning a second major PokerStars tournament title and a bankroll boost of more than $135,000.
The leader for a large portion of the day was past TCOOP and Super Tuesday champion Ryan "newguy89" McEathron. He held the largest stack in the field for close to two hours with under 130 players remaining and continued to climb even as others jumped ahead of him.
newguy89 reclaimed the lead on the verge of the final table when he picked up A♠A♣ against the J♠J♣ held by the Czech Republic's Vocaaas to knock the latter out in 11th. Then he defended the big blind with Q♥2♠ against small-blind raiser progre69 and called bets on all three streets before progre69 ended up all-in with the board reading T♣Q♦7♠A♣4♠. progre69 showed J♥8♥ for a busted gutshot draw and the final table lineup was set.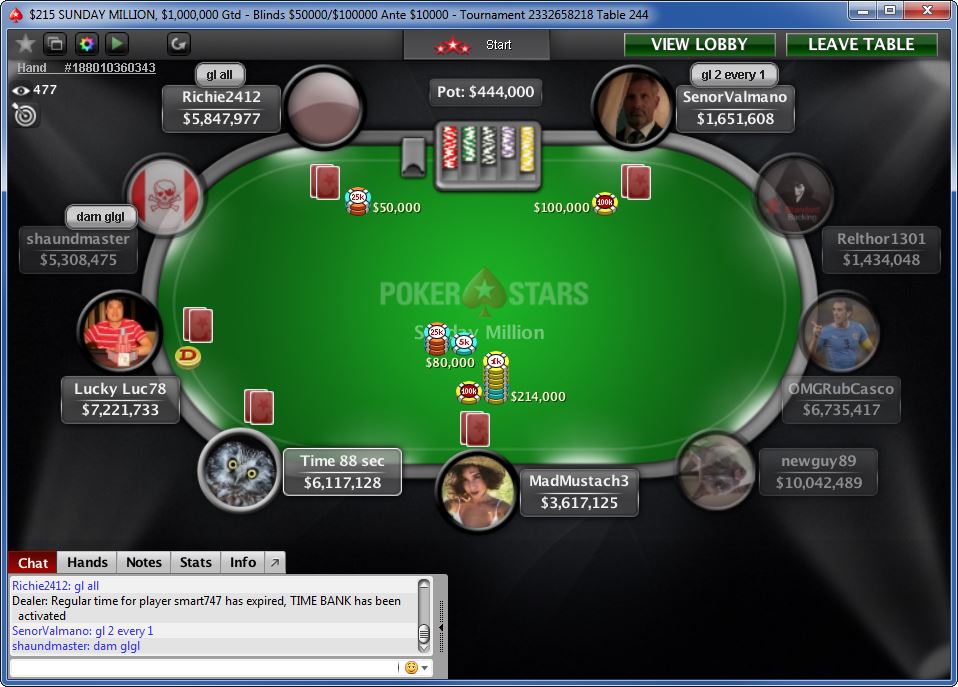 Seat 1: SenorValmano (1,761,608 in chips)
Seat 2: Relthor1301 (1,444,048 in chips)
Seat 3: OMGRubCasco (6,745,417 in chips) past TCOOP winner & Sunday Warm-Up finalist
Seat 4: Ryan "newguy89" McEathron (10,052,489 in chips) past TCOOP & Super Tuesday winner
Seat 5: MadMustach3 (3,841,125 in chips)
Seat 6: smart747 (6,127,128 in chips)
Seat 7: Lucky Luc78 (7,231,733 in chips)
Seat 8: shaundmaster (5,308,475 in chips)
Seat 9: Richie2412 (5,907,977 in chips)
There was plenty of action with blinds and antes at 50,000/100,000/10,000 but no early takers for the ninth-place prize. Lucky Luc78 was the first to survive an all-in confrontation, winning with pocket kings against Richie2412's pocket nines after four-betting before the flop and then moving all-in on a jack-high flop. Three hands later smart747 called chip leader Ryan "newguy89" McEathron's min-raise before the flop, made middle set with T♠T♣ on the Q♣T♥6♥ flop, and then called three barrels as the turn and river came 5♦J♠. newguy89 showed J♥8♥ for a rivered pair of jacks and surrendered the 13.2-million-chip pot (and overall lead) to smart747.
The impasse finally broke 40 minutes in when Relthor1301 moved in for about eight big blinds from the cutoff seat with A♦4♣. OMGRubCasco re-raised to 4.4 million with 8♦8♣, MadMustach3 called all-in for 1.3 million with A♣K♣; the 9♦6♠K♥3♣Q♥ board kept MadMustach3 in with 4.5 million chips and a pair of kings while Relthor1301 bowed out in ninth. That set the stage for a trio of knockouts in a four-minute span on the next level.
Richie2412 got things going by open-shoving for 11 big blinds with J♠T♣ and departed in eighth when OMGRubCasco's J♣J♦ held up easily. Then MadMustach3 open-shoved from the small blind for 15 bigs on the following hand with A♥9♣ and smart747 called in the big blind with K♣T♦. The underdog took the pot with a pair of tens after the board came 8♦T♥9♦4♦J♠ and madMustach3 left in seventh. Finally SenorValmano raised on the button with Q♦Q♥ and called all-in for 12 bigs when OMGRunCasco jammed with A♥K♠ in the small blind. The board ran out 9♥6♦A♠K♣A♦ to give OMGRubCasco aces full of kings, and SenorValmano hit the rail in sixth.
Winning that last pot gave OMGRubCasco a fourth-place stack of 9.4 million, good for 47 big blinds. Then came the hand that started the Uruguayan's ascent to the top of the Sunday Million mountain.
It started with smart747 opening for 440,000 in the cutoff. shaundmaster re-raised to 1.32 million in the small blind, OMGRubCasco came along in the big blind, and smart747 called to bring the T♥J♥K♦ flop. OMGRubCasco check-called 2.3 million there after shaundmaster got out of the way, then smart747 and OMGRubCasco both checked the 8♦ turn, bringing the 8♣ on the river. OMGRubCasco led for 2.37 million this time and took down the 8.66-million-chip pot with A♣K♥ for a pair of kings after smart747 called and mucked.
Losing that pot was the beginning of the end for smart747. The next 30 minutes saw the Russian player slowly bleed chips away, partly through several losses to OMGRubCasco. Then, on the first hand back from the second break of the final table, smart747 moved in for about six big blinds with K♦Q♥ in the small blind after OMGRubCasco min-raised with K♠8♠ in the cutoff. Lucky Luc78 called in the big blind, as did OMGRubCasco, but folded to an OMGRubCasco bet on the turn of a board reading 3♥8♦3♣4♦. The river was the J♠, changing nothing, and smart747 left in fifth.
OMGRubCasco now had 24.8 million chips, giving him the edge with 82 big blinds against the other three players' combined 78 bigs. That lead expanded with wins in the next five pots in a row, capped by a hand that couldn't have gone any better. OMGRubCasco called for 690,000 in the big blind with A♠7♠ after Lucky Luc78 raised the button, then check-raised to 2.5 million with middle pair and the nut flush draw. Lucky Luc78 jammed for 6.1 million with K♠Q♠ and was left drawing dead after the A♦ turn gave OMGRubCasco aces and sevens. The 6♠ river made that the nut flush and Lucky Luc78 was gone in fourth.
The Uruguayan wrecking ball kept up the work, taking down eight of the next 11 pots, the last of which was a win with A♦9♦ against newguy89's A♥2♥ to eliminate him in third. That set OMGRubCasco up with better than a 5-to-1 lead as heads-up play began against shaundmaster.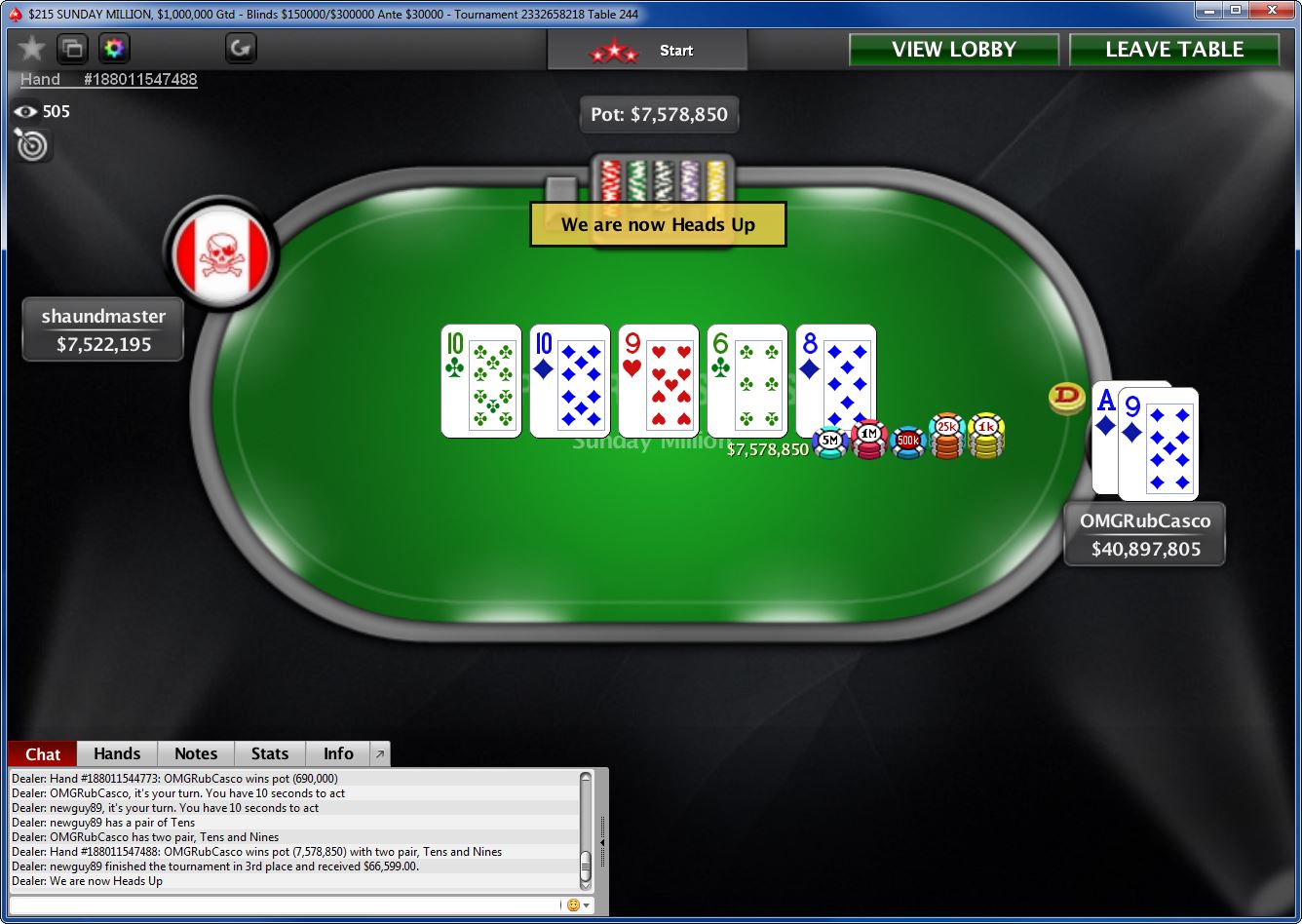 They exchanged a quick "gg" and played a few hands. "i'm in for 7.50," said shaundmaster. "congratz mate!" replied OMGRubCasco. And then shaundmaster went on a mini-run that looked like it could end up being the foundation for a full-on comeback. First came a pocket pair of aces, which made a set against OMGRubCasco's flush-drawing J♦5♦ to keep shaundmaster in the game. Minutes later both players had K-9 on a Q♥J♠2♥9♣5♥, but shaundmaster's was in hearts for a flush to give the Canadian 15.9 million and exactly half as many chips as OMGRubCasco.
The comeback stopped there, though. OMGRubCasco kept up the aggression and took down the larger share of the pots. Then when shaundmaster picked up A♠Q♠, OMGRubCasco was dealt A♦K♣ and the river of the 8♠J♥5♥2♦K♥ board punctuated the win with one final pair of kings.
OMGRubCasco caught lightning in a bottle at this final table and walked away with a six-figure score and a Sunday Million title to go along with a TCOOP win earned back in 2015. Meanwhile shaundmaster lived every poker player's dream and turned $7.50 into a new career-best cash of almost $100,000. Congratulations to them both on a very successful tournament!
6-24-18 Sunday Million ($215 NL Hold'em) results
Entrants: 4,842 (4,004 entries, 838 re-entries)
Total prize pool: $1,000,000
Places paid: 872
1. OMGRubCasco (Uruguay) $135,232.10
2. shaundmaster (Canada) $94,901.70
3. Ryan "newguy89" McEathron (Canada) $66,599
4. Lucky Luc78 (Germany) $46,737.20
5. smart747 (Russia) $32,798.70
6. SenorValmano (Germany) $23,017.20
7. MadMustach3 (Brazil) $16,152.80
8. Richie2412 (Netherlands) $11,335.60
9. Relthor1301 (Brazil) $7,955
---
Catch fire in next week's Sunday Million. Click here to open your PokerStars account today.
---