Sunday Million: Strong finish in second final table appearance propels soleeJ to $165K win
João "soleeJ" Ferreira earned the biggest single score of his career at PokerStars three months ago when he appeared at the Sunday Million final table, ran into an opponent's pocket jacks, and cashed out for more than $17,000 in seventh place.
If he felt a sense of déjà vu tonight, returning to the scene at the back of the chip counts, it must have dissipated early on. He scored his first knockout just a few minutes in and had built a big chip lead by the time the table was down to six players. Aside from one lost coin flip he was virtually unstoppable after that, eliminating the last three players in a row to top his previous appearance in the best way possible: with a Sunday Million title.
This week's tournament was the last before the highly anticipated 12th Anniversary Sunday Million, which will sport a $10 million guaranteed prize pool with $1 million guaranteed to the winner. The biggest field of the year showed up to contest the title, boosting the top prize over $165,000.
Aside from a brief stint as the chip leader with ten tables remaining, soleeJ's journey to get there was mostly unremarkable, that is until the final table bubble approached. Then he picked up a pair of aces on the bubble and coaxed past WCOOP champion WhoAreYoux1 into shoving from the small blind with pocket deuces, earning the 45-big-blind pot when the board failed to bail out WhoAreYoux1. Two subsequent losses to ORIENTALPASS dropped his stack to fewer than four big blinds, though, putting him at risk of missing the final altogether.
Just when things looked darkest, soleeJ found a light.
Already in for 200,000 chips in the big blind, he called all-in for 922,154 more with Q♠ 8♣ after romanpoell open-shoved in the small blind with 7♥ 2♣. romanpoell's Hammer made a jack-high straight on the T♥ A♦ J♦ 8♦ 9♠ board, but soleeJ's was queen-high and took the pot. On the next hand it was soleeJ's turn to open-shove with Q♣ 4♥ and WhoAreYoux1's to call with A♠ 7♥. An eight on the flop was all it took to end WhoAreYoux1's tournament in tenth, setting up our final table.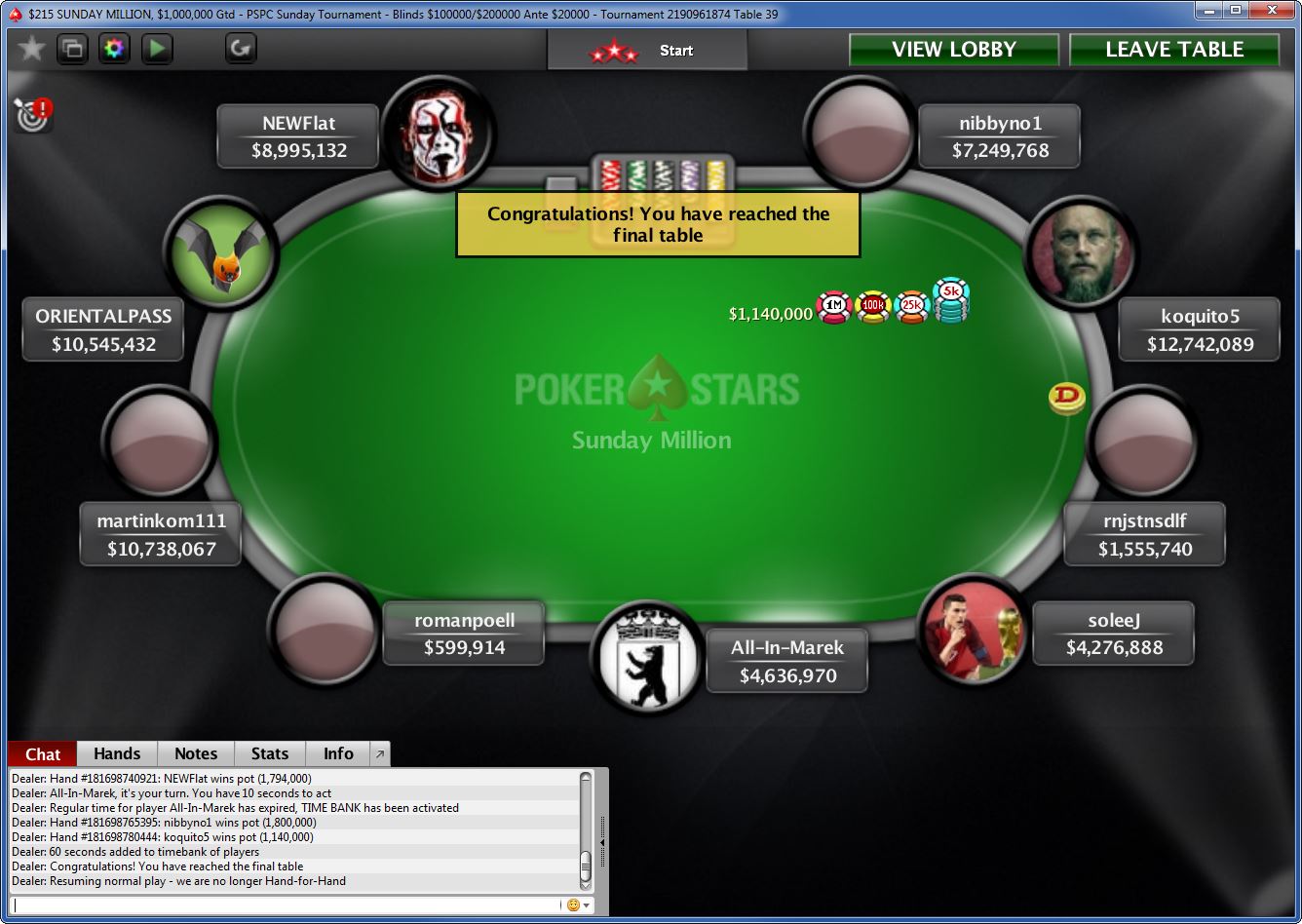 A desperate push on the bubble gave soleeJ a second chance at Sunday Million glory.
Seat 1: nibbyno1 (7,249,768 in chips)
Seat 2: koquito5 (12,742,089 in chips)
Seat 3: rnjstnsdlf (1,555,740 in chips)
Seat 4: João "soleeJ" Ferreira (4,276,888 in chips) second Sunday Million final in three months
Seat 5: All-In-Marek (4,636,970 in chips) past $44 Sunday Marathon runner-up
Seat 6: romanpoell (599,914 in chips)
Seat 7: martinkom111 (10,738,067 in chips)
Seat 8: ORIENTALPASS (10,545,432 in chips)
Seat 9: Denis "NEWFlat" Timofeev (8,995,132 in chips) past Super Tuesday champion & WCOOP finalist
Losing on the next-to-last hand of the bubble had left romanpoell with just a few big blinds. The Austrian called them off from the big blind early on and flopped two pair with 7♠ 4♦ to stay alive. Then he picked up A♣ T♥ and shoved from the small blind. martinkom111, who had lost the previous hand, made a pair of kings with K♠ J♠ on the river and knocked out romanpoell in ninth.
Two hands later soleeJ earned his first knockout of the final. Holding A♣ J♥, he was the lone caller when rnjstnsdlf open-shoved for four big blinds in middle position with 7♣ 6♣. soleeJ made aces and jacks on the flop and never looked back, eliminating rnjstnsdlf in eighth.
All-In-Marek looked sure to bust on the following hand after getting in with pocket nines against Denis "NEWFlat" Timofeev's pocket queens. But a nine on the flop gave All-In-Marek the 8.6-million-chip pot. That win only delayed the German's demise, though. Eventually All-In-Marek re-raised all-in for 5.9 million with K♠ Q♠ in the small blind against a small soleeJ button raise. soleeJ called with A♣ T♠, neither player connected with the board, and All-In-Marek bowed out in seventh.
With 71 big blinds and more than twice as many chips as anybody else, soleeJ spent the next ten minutes chipping up even further before losing the biggest pot of the tournament in a flip with pocket eights against nibbyno1's A♣ J♦. That allowed Denis "NEWFlat" Timofeev, who had won a flip of his own with 7♣ 7♥ against nibbyno1's A♥ K♣ minutes earlier and then took out ORIENTALPASS in sixth with pocket kings against J♠ T♣, to take over the lead.
NEWflat extended the lead by taking out short-stacked koquito5 - who called with Q♦ 8♣ in the big blind after NEWflat raised the button with K♦ 8♦, and then shoved after making a pair of eights on the flop - in fifth. That left him the leader by about six big blinds over nibbyno1, with martinkom111 and soleeJ hanging on some 20 big blinds back.
"The stage was set for any of the remaining players to make a run for the title. soleeJ seized the opportunity and ran with it."

soleeJ's final push for the title he'd missed out three months earlier started by stealing three of the next four pots after koquito5's elimination. That helped to lift soleeJ out of the basement before he called nibbyno1's small blind raise with Q♥ T♥ in the big blind. Both players checked the flop and then soleeJ called bets on the turn and river of the 6♦ 9♦ 4♣ T♦ 2♣ board, showing down a turned pair of tens. nibbyno1's flopped pair of sixes with Q♣ 6♠ was no good, and soleeJ's rise had begun.
That rise continued the next hand, this time at NEWflat's expense.
soleeJ re-raised to 2.6 million from the small blind with A♠ 5♥ before the flop, getting original raiser NEWflat to call and see the A♣ Q♦ 6♥ board. NEWflat check-called 2.6 million chips there and 3.8 million on the 5♣ flop. Both players checked the 7♥ river. NEWflat then mucked as soleeJ scooped the 20.9-million pot with aces and fives.
Five minutes later NEWflat jammed with A♣ J♣ on the button. soleeJ called with 6♦ 6♥ in the big blind, the pair held up, and NEWflat's journey ended in fourth. nibbyno1 opened the next hand all-in for 5.7 million chips with Q♦ J♣ on the button and soleeJ called with A♦ 8♥ in the small blind. The 7♥ 2♦ 7♣ 4♥ 6♠ board changed nothing and nibbyno1 left in third.
soleeJ had five of every six chips in play as heads-up play began. martinkom111 ate into that advantage early on, doubling to 16.8 million with pocket sevens against A♦ 6♦, but was unable to turn that into lasting progress. soleeJ raised on the button with T♦ 8♠, made a pair of tens on the T♠ A♠ 6♥ flop, and called three streets worth of semi-bluffs with a gutshot straight draw to win 18.3 million with aces and tens.
That was the beginning of the end for martinkom111. The end of the end came minutes later when the Czech player called all-in with A♥ T♣ in the big blind against a soleeJ button raise with J♦ 6♠. soleeJ caught a six on the flop and held on the rest of the way to bring his wild two-hour journey to a very satisfying conclusion.
Just three months after scoring a career-best cash in his first Sunday Million final table appearance, João "soleeJ" Ferreira managed to top it by a factor of ten with a victory in his second.
Congratulations to him on the big win!
1-28-18 Sunday Million ($215 NL Hold'em) results
Entrants: 6,134 (4,957 entries, 1,177 re-entries)
Total prize pool: $1,226,800
Places paid: 1,106
1. João "soleeJ" Ferreira (Mexico) $165,627.75
2. martinkom111 (Czech Republic) $116,228.74
3. nibbyno1 (United Kingdom) $81,565.76
4. Denis "NEWFlat" Timofeev (Russia) $57,240.27
5. koquito5 (Argentina) $40,169.48
6. ORIENTALPASS (Sweden) $28,189.65
7. All-In-Marek (Germany) $19,782.64
8. rnjstnsdlf (South Korea) $13,882.95
9. romanpoell (Austria) $9,742.63
---
There's $1,000,000 guaranteed to first place in next week's 12th Anniversary Sunday Million! Click here to open your PokerStars account today.
---