Sunday Million: TY4Stacks2 earns $147K, second title in dominant final table performance
The last time TY4Stacks2 made the final table of the Sunday Million, an early win boosted the Swede into contention. Then a heads-up deal ended with TY4Stacks2 earning the title.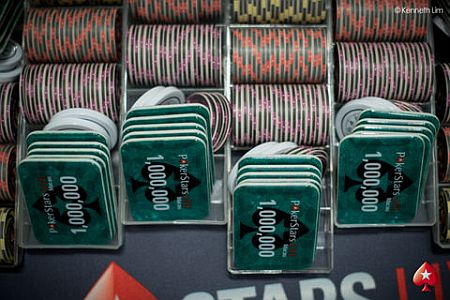 This week TY4Stacks2 returned after a seven-year wait for an even better run than last time. The Swede brought the chip lead to the final table and after an hour had helped shrink the field to three players. Following a deal TY4Stacks2 took out both opponents and booked a second Sunday Million title.
TY4Stacks2 spent the first six-plus hours of today's tournament with an average stack, then jumped toward the top of the leaderboard with 130 players left. Three hours later the chip lead was finally TY4Stacks2's. That advantage continued to grow throughout the bubble period until Marco "Salsicha" Aurélio spiked an ace on the river with A♠Q♦ to crack muralha001's K♣K♥ and take the field down to its last nine players.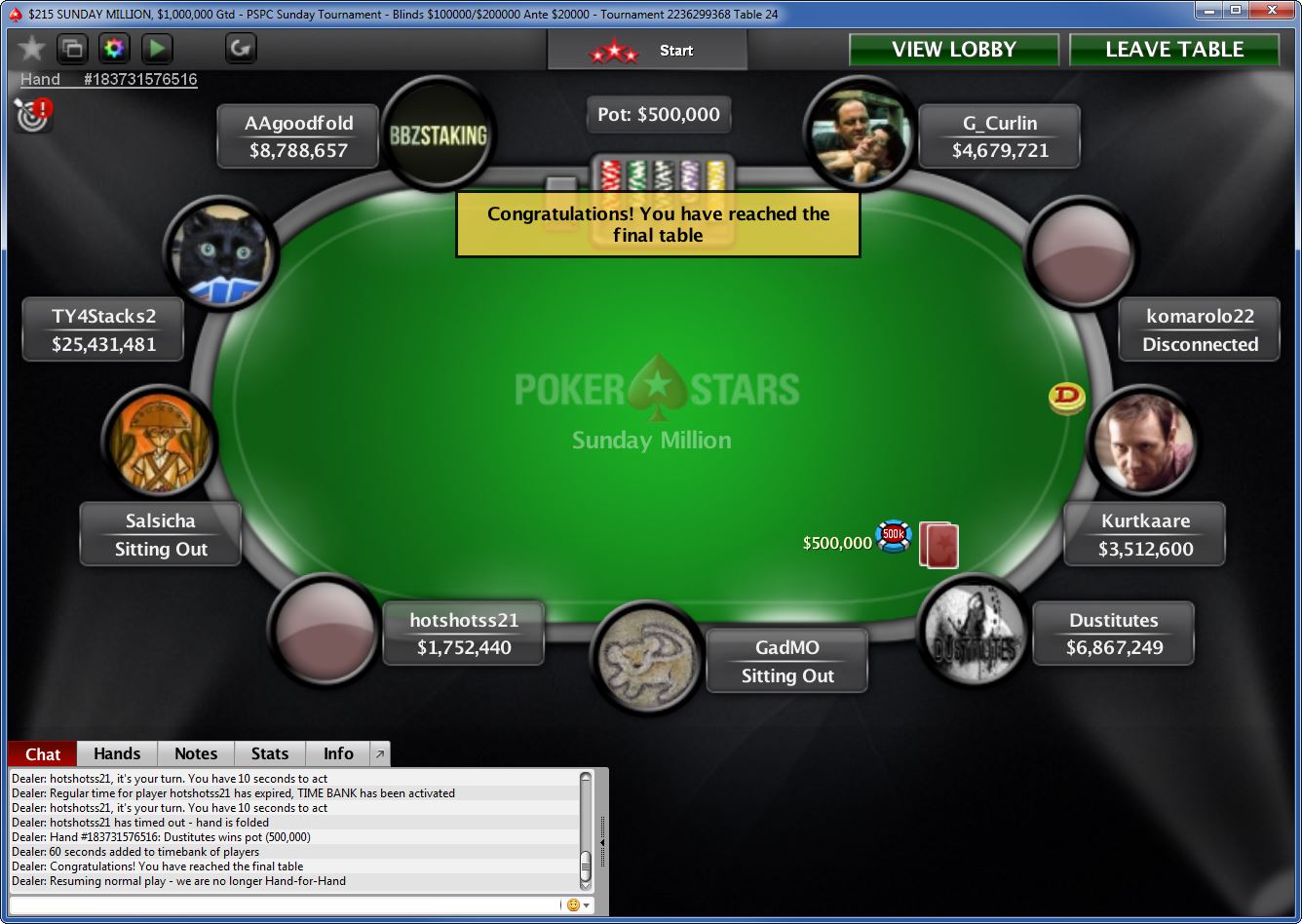 TY4Stacks2's second Sunday Million title run began with a big chip advantage.
Seat 1: G_Curlin (4,679,721 in chips)
Seat 2: Alex "komarolo22" Komaromi (2,922,589 in chips) $1.9 million in PokerStars cashes for the past Thursday Thrill winner & 5-29-16 Sunday Million finalist
Seat 3: Kurtkaare (3,512,600 in chips) $1.24 million in PokerStars cashes for the past SCOOP-Medium runner-up
Seat 4: Dustitutes (6,867,249 in chips) past Sunday Storm third-place finisher
Seat 5: GadMO (2,863,574 in chips) 4-27-2014 Sunday Million runner-up
Seat 6: hotshotss21 (1,752,440 in chips)
Seat 7: Marco "Salsicha" Aurélio (5,971,689 in chips) $2.2 million in PokerStars cashes for the past Super Tuesday finalist
Seat 8: TY4Stacks2 (25,431,481 in chips) 8-7-2011 Sunday Million winner
Seat 9: AAgoodfold (8,788,657 in chips) $1 million in PokerStars cashes, including a SCOOP-Medium win in 2017
TY4Stacks2's bid for a second Sunday Million title began with more than a third of the chips in play. That accounted for about 12 big blinds more than the bottom six players combined. It would take a little less than an hour to eliminate the first six players, even though the first 27 minutes saw little else than blind steals for the leader and double-ups for Kurtkaare and hotshotss21.
The deadlock finally broke when Dustitutes called with A♣A♠ in the big blind after Kurtkaare jammed in the small blind with J♣J♦. No jacks on the board meant a ninth-place finish for Kurtkaare.
Three minutes later Alex "komarolo22" Komaromi, short with just eight big blinds, moved over the top of TY4Stacks2's opening 530,000-chip raise with Q♣Q♠. TY4Stacks called the raise, showed A♠6♠, and made a spade flush on the 5♠K♥2♠4♠3♥ board, ending komarolo22's run in eighth.
Five minutes after a break TY4Stacks took out another short stack. This time the Swede won a flip for 11 big blinds with 2♣2♥ against Salsicha's A♥J♥, making queens full of deuces to eliminate the Brazilian in seventh. AAgoodfold min-raised to 600,000 on the next hand with J♣T♠ and then called when hotshotss21 moved in from the big blind for about 250,000 chips more. hotshotss21 had the advantage with A♦9♥ but the J♦ on the flop meant the end of the line in sixth.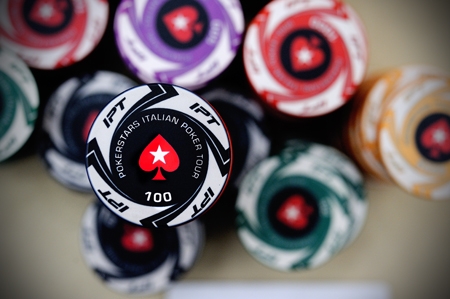 Finland's G_Curlin looked to be the next out but managed to double twice in two minutes. First to 12 big blinds after defending the big blind with K♣9♦ against AAgoodfold's Q♣5♣. Then again after making a ten-high straight with A♠9♦ to top TY4Stacks2's A♣K♦. That set the Finn up to score the next two knockouts and get into position for a deal.
G_Curlin raised to 645,000 chips on the button with K♦T♥ and called when GadMO jammed for 3.4 million in the big blind with A♣9♥. The turn of the Q♣8♦A♦J♥3♦ board gave G_Curlin a Broadway straight, and bounced GadMO in fifth. About ten minutes later AAgoodfold opened all-in for 5.7 million under the gun with A♥T♥. G_Curlin re-shoved to isolate on the button with A♠A♦. The board ran out Q♠7♠2♣2♦Q♥ and this slow-starting final table was suddenly down to its last three players.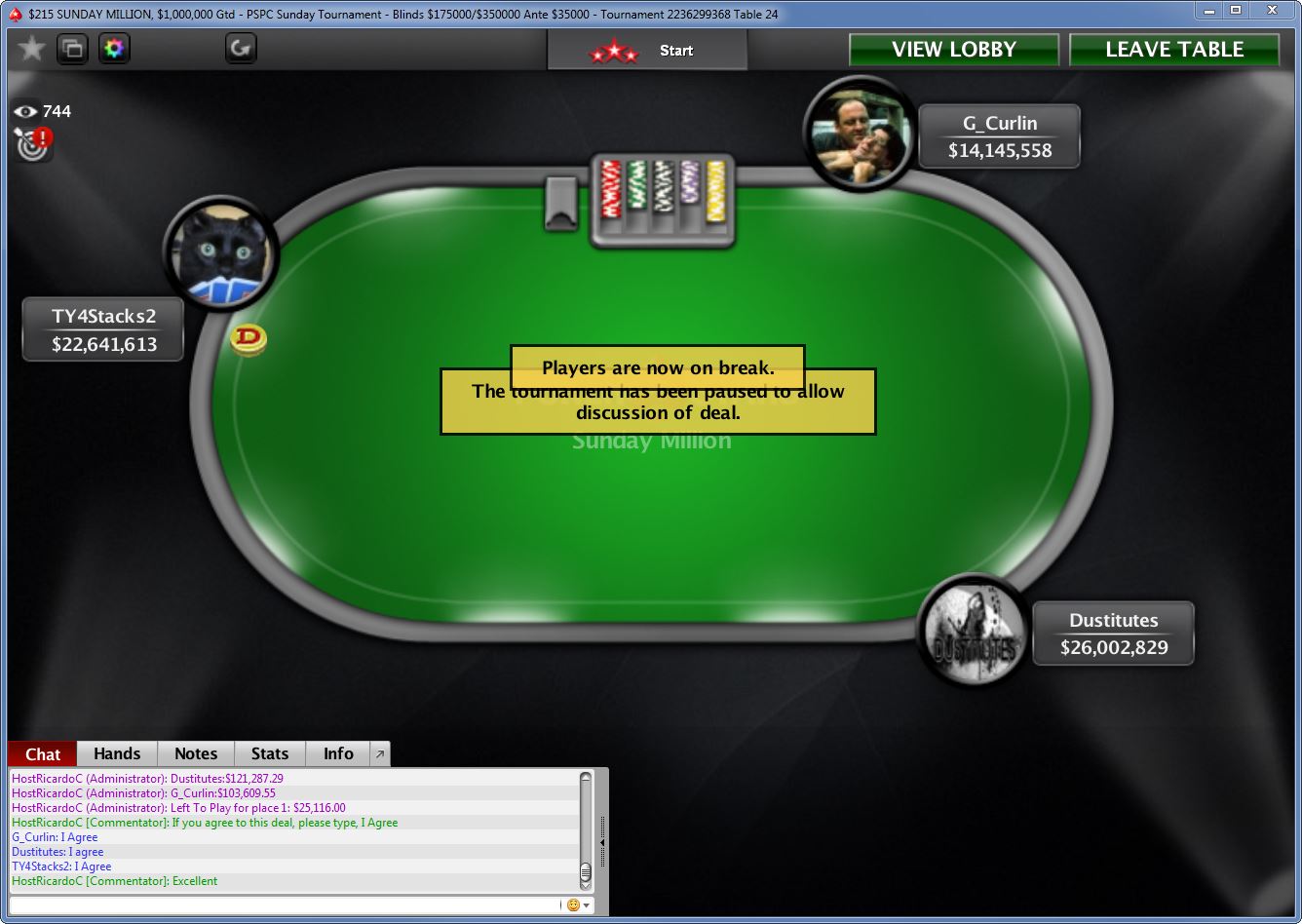 After just an hour of final table play, a three-way deal was struck.
The next ten minutes were spent hammering out a deal.
"I will settle for 122k since Ive won this before," TY4Stacks2 offered.
Dustitutes wasn't willing to give up anything over ICM but G_Curlin was, so the table got back up and running quickly with the deal in place and a little more than $25,000 left on the table.
With the deal in place, TY4Stacks2 elevated the pressure on the other two players. G_Curlin didn't pick up any pots but Dustitutes did, re-raising TY4Stacks2 frequently and getting the Swede to back off several sizable pots. That moved Dustitutes into a ten-big-blind chip lead.
G_Curlin's chance to get back in the game finally arrived when TY4Stacks2 open-shoved from the small blind with Q♥3♥ and G_Curlin called with A♣K♥. Then the board ran out Q♣6♥9♦T♥J♥. G_Curlin's Broadway straight lost to TY4Stacks2's queen-high flush, and G_Curlin left in third with a six-figure cash. Not bad for someone whose previous best cash was worth just over $14,000.
Knocking out G_Curlin gave TY4Stacks2 the momentum once again, not to mention a 20-big-blind chip lead as heads-up play with Dustitutes began. Both players retained their aggressive postures, which made for a short but exciting match.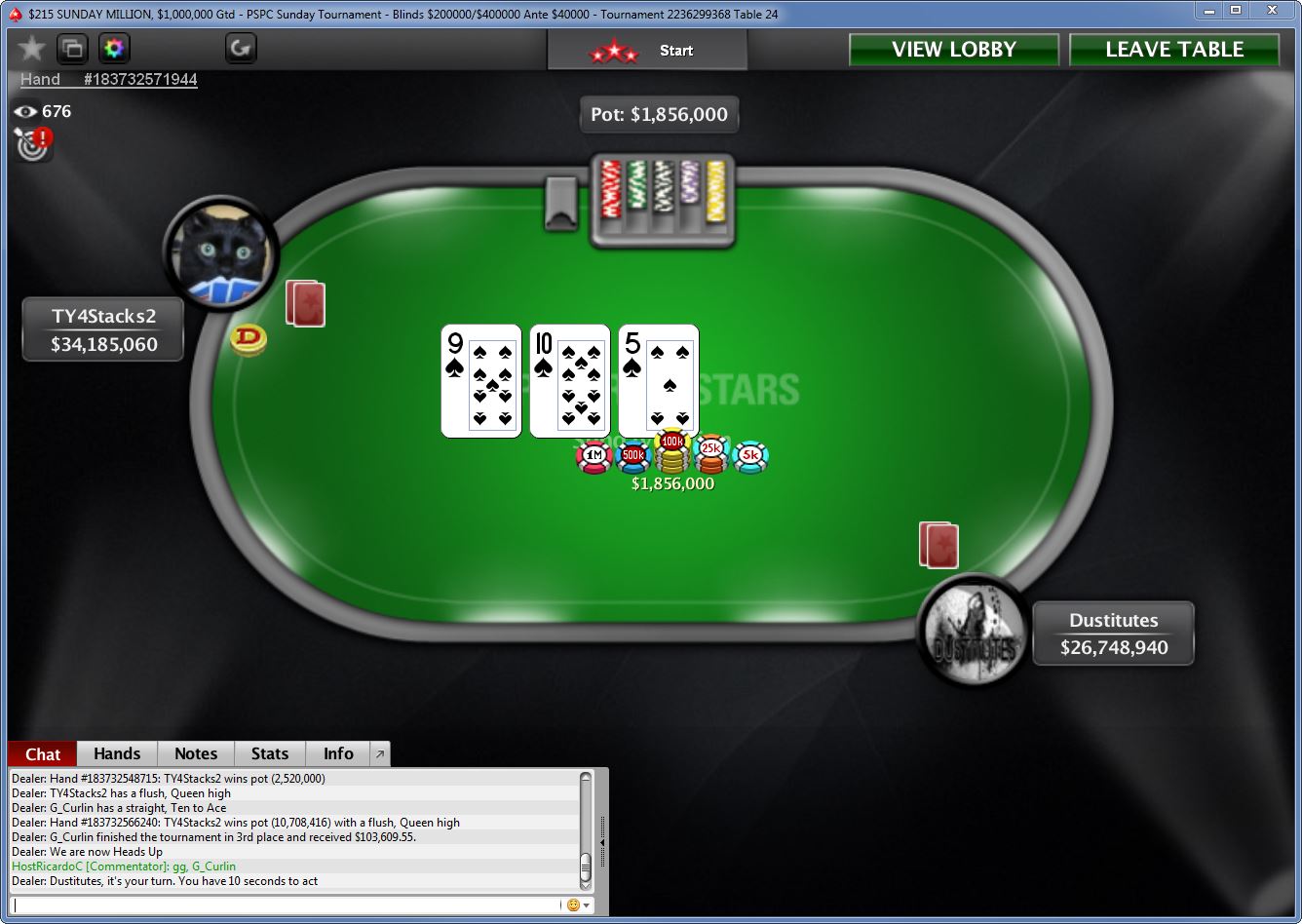 Two aggressive players face off for the Sunday Million title.
Dustitutes lost a key pot just a few minutes in after three-betting to 3.2 million chips following TY4Stacks2's 88,000-chip button opener. Dustitutes led for 2.6 million on the J♠3♠4♥ flop and TY4Stacks2 called, bringing the 6♠ on the turn. Dustitutes led again, this time for 5.1 million, but folded when TY4Stacks moved all-in, surrendering a 22-million-chip pot without a fight.
All those chips and few more came back to Dustitutes's stack with three straight wins. The last of which was earned by flopping top pair with Q♦6♦ and then backing into a six-high straight, the board running out 2♣Q♣5♥3♠4♣.
Another win in a three-bet pot minutes later, taken down uncontested with a bet on the river of the T♦4♦J♦A♣5♥ board, brought the two players' stacks back to where they had been at the start of heads-up play. Unfortunately for Dustitutes that was as close as things would get.
The final hand started innocently enough, with Dustitutes raising to 1.21 million and TY4Stacks2 calling to bring a 7♠3♥5♣ flop. TY4Stacks2, holding 9♦7♥ for a pair of sevens, check-called one million chips there, and then another 2.5 million after the K♥ turn, bringing the T♦ on the river.
TY4Stacks2 checked one more time and Dustitutes moved in for 11.3 million, a slight over-bet of the pot that put TY4Stacks2 to the test. The Swede went into the time bank to think it over and finally made the call with the unimproved pair of sevens. That was enough, though - Dustitutes showed Q♦J♥ for a pure bluff, giving TY4Stacks2 the pot and the tournament.
Congratulations to Dustitutes and G_Curlin for sharing in the three-way deal, and especially to TY4Stacks2 for a strong performance en route to locking up Sunday Million title number two!
3-11-18 Sunday Million ($215 NL Hold'em) results
Entrants: 6,279 (5,008 entries, 1,271 re-entries)
Prize pool: $1,255,800
Places paid: 1,106
1. TY4Stacks2 (Sweden) $147,116*
2. Dustitutes (United Kingdom) $121,287.29*
3. G_Curlin (Finland) $102,609.55*
4. AAgoodfold (United Kingdom) $58,593.36
5. GadMO (Costa Rica) $41,119.03
6. hotshotss21 (Canada) $28,856.02
7. Marco "Salsicha" Aurélio (Brazil) $20,250.27
8. Alex "komarolo22" Komaromi (Uruguay) $14,211.13
9. Kurtkaare (Norway) $9,972.93
* denotes result of a three-way deal leaving $25,116 for the winner
---
Get in on the action in next week's Sunday Million. Click here to open your PokerStars account today.
---