How to play Low Stakes WCOOP events and make Monday feel more like Friday
Today's four Low Stakes WCOOP events have buy-ins of $22 or less, and prizes to bring that weekend feeling back (at least in time for Tuesday morning).
If the days of the week have "a feeling", Monday doesn't score very highly.
But what if the Low Stakes events featured on the WCOOP schedule today, made Monday feel just a little bit more like Friday -- at least in time for Tuesday morning.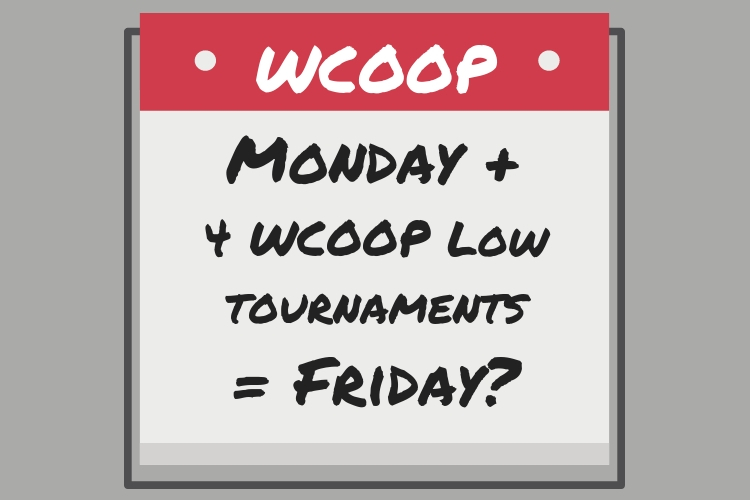 Monday is not known for being the best day of the week, but today's WCOOP tournaments could provide more of a weekend feel
Because there are four Low events on the schedule today, and each could easily provide the drama, and payoff that's needed.
Coming up on Monday
16:00 ET/ 9PM BST: WCOOP-34-L: $11 Stud Hi/Lo, $20K Gtd
18:00 ET/ 11PM BST: WCOOP-35-L: $22 NLHE [8-Max, Progressive KO], $200K Gtd
20:00 ET/ 01:00AM BST: WCOOP-36-L: $5.50 NLHE/PLO [6-Max], $25K Gtd
22:00 ET/ 03:00AM BST: WCOOP-37-L: $11 NLHE [Turbo], $50K Gtd
But the pick is the $22 WCOOP-35-L, a Progressive Knock out.
These are great events for winning money, even if you don't go very deep in the tournament.
Here's how they work:
50 per cent of the buy-in goes to the prize pool.
50 per cent of the buy-in funds each player's initial bounty.
Anytime you eliminate a player, you keep half of their bounty value. The other half is added to your own bounty value.
It means in some cases, you can win more from knocking people out, that you would going deep in the tournament.
Follow these examples to win big this WCOOP
You'll find the event listed in the PokerStars Tournament lobby. But you can also win your seat in the satellites now running.
That's what "stevekw" did last weekend. He qualified for a WCOOP event for 27 cents, and turned that into a fourth-place finish worth $1,324.43.
He wasn't the only one.
"JBJG44" qualified for the $55 8-Max NLHE Turbo on Saturday in a $8.10 Spin and Go. Then turned that into a WCOOP title and a first prize of $43,893.
Then on Sunday, "andreasspan" took second place in the $55 6-Max Pot-Limit Omaha event, winning $12,872.85. They qualified through an MTT satellite for just $2.20.
We don't suppose any of them are all that bothered by the Monday feeling we mentioned.
Check out the full schedule on the WCOOP 2018 homepage.