WCOOP 2018: All the news from Day 4
More than $15 million in prize money has now been awarded in the 2018 World Championship of Online Poker (WCOOP) and the series is not yet a week old. In the fourth instalment of our daily WCOOP round-up, we learn of another double champion, join 9,000 others watching a birthday boy on a final table, and hear about the biggest payout so far...
---
TODAY'S HEADLINES
• Russia's aDrENalin710 wins second title of series
• SkaiWalkurrr wins $367K in 8-Max High Roller
• 9,000 people watch birthday boy Jeff Gross on Super Tuesday final
• Two wins in a day for Chile; Ireland claims first title
• Prize pool total rises past $15 million
---
STRAIGHT BACK ATCHA NILSEF
Less than 24 hours after Germany's "nilsef" won his second title of this year's WCOOP, "aDrENalin710" matched the achievement. The Russian player, who previously won the PLO (medium buy-in) captured the Razz (high buy-in) tournament. To make it sweeter, "nilsef" was ninth.
With that victory "aDrENalin710" consolidates the lead at top of overall WCOOP Player of the Series leader board. It's already shaping up to be a titanic duel up top.
---
TODAY'S RESULTS
| Name | Entries | Prize pool | Places | Winner | Country | 1st place |
| --- | --- | --- | --- | --- | --- | --- |
| 11-L: $22 Razz | 2,040 | $40,800 | 304 | sqmpork | Sweden | $6,269.20* |
| 11-M: $215 Razz | 405 | $81,000 | 64 | SM4RTASS | Netherlands | $15,390.00 |
| 11-H: $2,100 Razz | 91 | $182,000 | 12 | aDrENalin710 | Russia | $49,595.00 |
| 12-L: $109 NLHE [8-Max] | 4,915 | $491,500 | 815 | ImRichAreU? | UK | $55,022.25* |
| 12-M: $1,050 NLHE [8-Max Super Tuesday] | 1,092 | $1,092,000 | 143 | DeosOner | Mexico | $173,957.93 |
| 12-H: $10,300 NLHE [8-Max High Roller] | 185 | $1,850,000 | 23 | SkaiWalkurrr | UK | $367,001.22 |
| 13-L: $11 FLO8 [8-Max] | 2,910 | $28,518 | 463 | oyarzun2010 | Chile | $4,144.14 |
| 13-M: $109 FLO8 [8-Max] | 553 | $55,300 | 79 | rtspurs | Ireland | $8,820.85* |
| 13-H: $,1050 FLO8 [8-Max] | 106 | $106,000 | 13 | jdaz111293 | Chile | $24,426.16 |
| 14-L: $11 NLHE [Progressive KO] | 8,548 | $83,770 | 1,403 | rpalma21 | Brazil | $7,868.07† |
| 14-M: $109 NLHE [Progressive KO] | 2,550 | $255,000 | 359 | Lefebvre1101 | Canada | $31,106.65† |
| 14-H: $1,050 NLHE [Progressive KO] | 372 | $372,000 | 47 | HessKopp | Germany | $66,281.66† |
| TOTAL | 23,767 | $4,637,888 | | | | $809,883.13 |
*after deal
†including bounties
---
BEHIND THE HEADLINES
Biggest win: "SkaiWalkurr", a former WCOOP champion from the UK, last night won the biggest prize of the series so far. His $367K score in NLHE High Roller was nearly double previous biggest single payout this year. "SkaiWalkurr" beat "T 54 T 97s" into second, with Luke "Bit2Easy" Reeves in third.
Birthday bustout: Team Pro Jeff Gross was watched by nearly 9,000 people on Twitch as he finished ninth in WCOOP-12-M (Super Tuesday). He lost a flip to Mikita "fish2013" Badziakouski. Gross took $14,337, while Badziakouski, who recently won the Super High Roller event at EPT Barcelona, finished third for $91,160.81.
---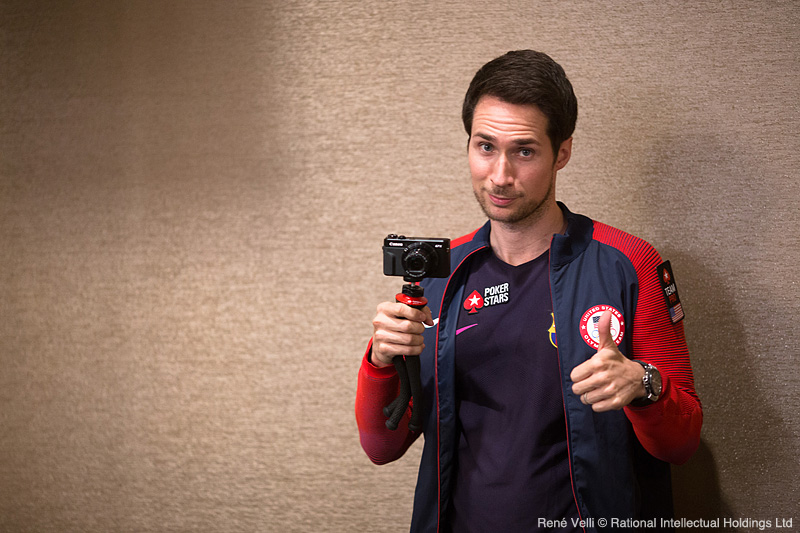 Jeff Gross: Man with a camera had birthday to remember
---
Keep on trying: Zachary "nofingclue11" Clarke is still looking for his first COOP title, despite having been to eight final tables. Last night, he fourth in WCOOP-12-H for $171,416.
Another near miss: Phil "MrSweets28" Galfond is on a heater in this tournament series, but still hasn't yet converted plenty of deep runs into victory. He took second in WCOOP-13-H Limit Hi/Lo last night.
Reliable performer puts Ireland on the board: "rtspurs" won Ireland's first title of the series. He's a former TCOOP champion, having won a PLO tournament in 2014.
Wake up!: Pity the work colleagues of Germany's HessKopp and the UK's Crokou, who were still heads up for the WCOOP-14-H NLHE PKO title at 9.30am and 8.30am in their respective countries. HessKopp eventually closed it out with quad nines as the clocks in Germany ticked to 9.31am. Quads against a full house tends to end tournaments, in our experience.
---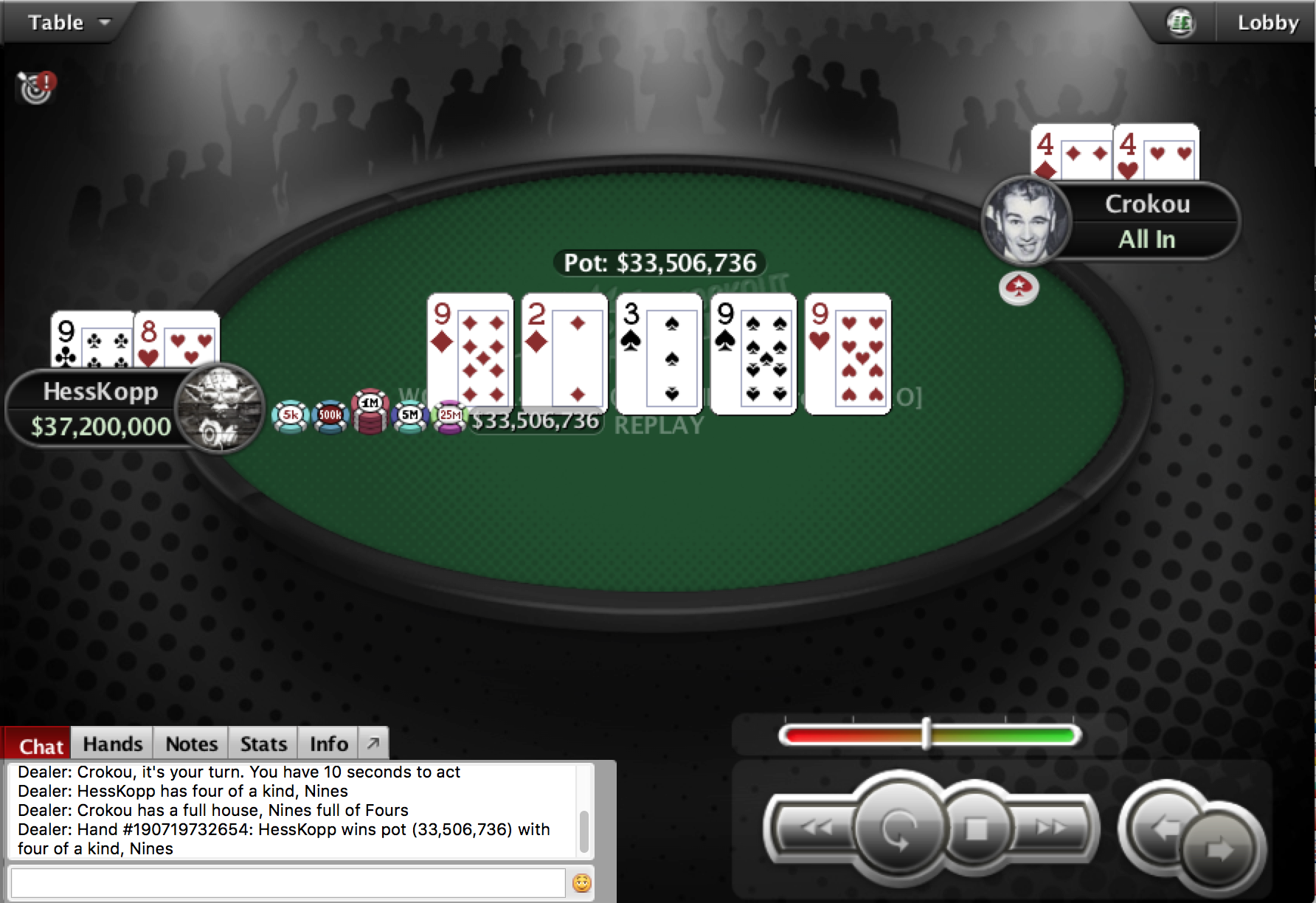 Quads vs boat to end WCOOP
---
STAT TRACKER
Events completed: 39
Entries so far: 189,685
Prize pool so far: $15,500,684
Players in the money: 29,825
Note: completed tourneys only
---
COUNTRY OF THE DAY
Who turned the internet on in Chile yesterday? There were two champions from Chile overnight, in low and high buy-in limit Omaha hi/lo tournaments. There have been no previous champions from the Latin American country this year.
---
NEVER PLAY POKER WITH A MAN NAMED DOC...
...and never play PLO with a man named Juhani, Johannes, Olavi, Mikael, Onni?
Finns are absolutely dominating the three PLO High Rollers that started yesterday. When tournaments paused at end of Day 1:
High ($25,000): 7 left, 3 Finns
Medium ($2,100): 23 left, 5 Finns
Low: ($215) 42 left, 7 Finns
(H/T to @pokerisivut)
---
TOP TWEETS
It's Jaime Staples versus electricity as the Team Online member arrives to his grinding station in Yorkshire and is immediately stumped. Can anyone help Jaime Staples use a plug socket?
Some help twitter.

Got to the UK and don't have plugs yet (tomorrow.) what is the plug on the left. It looks like an EU plug but that would be weird (it's an apartment rental) and I don't want to try it and die before someone helps me 😂😂😂 pic.twitter.com/1KlBh8jTTk

— Jaime Staples (@jaimestaples) September 5, 2018
Meanwhile, just which baseball team does Jason Somerville root for? @GaoZe73 wants to know:
Not sure which I've been enjoying more, #WCOOP play or @JasonSomerville's hats taking us on a trip around MLB. [How 'bout some @redsox love, unless you'll lose your Long Island cred?] pic.twitter.com/6kF1Vw2OiU

— 高澤 (@GaoZe73) September 6, 2018
---
TWITCH CATCH-UP
Let's not dwell on Jeff Gross's elimination. It was too gross even for us Gross fans. Instead, how about a lovely squeeze play from Jason Somerville with 9♣3♣ and some good chit-chat too.
"I almost never do this s***," Somerville says, with the "almost" doing a lot of work in that sentence. But does it work out for him? Watch the clip and find out.
---
GROSS GIVEAWAY
He's already made one final table, now you can win a piece of Jeff Gross's WCOOP action. All you have to do is follow him and retweet this tweet and you could pick up $100 instantly, plus 2 percent of his Main Event action. That could turn into something huge.
I'm giving away $100 & 2% of my $5,200 #WCOOP2018 Main Event on Sunday September 16th. Simply like, follow & retweet to enter! You can find me streaming September 4th - 17th on @TwitchPoker @PokerStars on https://t.co/AsCUWvgX2c
Learn poker the right way: https://t.co/8QdjhfRDan pic.twitter.com/bz3GJ6u93w

— Jeff Gross (@JeffGrossPoker) September 3, 2018
---
ONGOING TOURNAMENTS
These events started yesterday and will finish today:
WCOOP-15: NLHE Deep Stacks (Buy-ins $5.50, $55, $530)
WCOOP-16: PLO High Roller (Buy-ins $215, $2,100, $25,000)
Michael "SirWatts" Watson leads the "low: buy-in
Maksim "le kork" Kolosov leads "medium" buy-in; Emil "maroonlime" Patel second
WCOOP-17: NLHE Heads Up (Buy-ins $22, $215, $2,100)
Team Pro Fatima Moreira De Melo cashed in medium, losing in round of 32
---
LEADER BOARD UPDATES
It's hotting up in all the leader boards now, with aDrENalin710 moving a little further clear of Jussi "calvin7v" Nevanlinna and nilsef in the overall Player of the Series table. Here's the top five, but you can see the full leader board on the official WCOOP site.
Overall leader board
1 - aDrENalin710, Russia, 415 points
3 - Jussi "calvin7v" Nevanlinna, Finland, 330
2 - nilsef, Germany, 305
4 - Senkel92, Norway, 275
5 - theNERDguy, Brazil, 210
But honestly, who cares about all that when you could be challenging for the PokerStars Blog-sponsored alternative leader boards.
---
COMING UP:
It's a day for the purists at the WCOOP tables, with the first HORSE tournaments of the series alongside the old school five-card draw, Wild West style event. Here's where you can gamble the keys to your saloon bar and your plantation. And don't forget to say, "I see you...and I raise you." On the internet, no one can hear you string bet.
WCOOP-18: HORSE (Buy-ins $22, $215, $2,100)
WCOOP-19: NL Hold'em PKO (Buy-ins $109, $1,050, $10,300)
WCOOP-20: 5-Card Draw (Buy-ins $11, $109, $1,050)
WCOOP-21: NLHE 4-Max (Buy-ins $22, $215, $2,100)
---
PREVIOUS WCOOP ROUND-UPS