Moneymaker Tour: Stopping at the biggest casino in the U.S.
We heard it said that the WinStar World Casino and Resort, in Thackerville, Oklahoma (near Dallas) is the largest casino in the U.S. Ladies and gentlemen, we are here to tell you it's true, at least according to our feet. But it is worth the walk for the poker action. Despite a competing tournament series across the plain, they collected more than 400 entries from people who want to be the second WinStar community member with a Platinum Pass.
Second? Yeah, the first WinStar reg to bink a Pass is the woman known internally at PokerStars as "Dallas Alice". I asked the managers if they knew her - they looked at me like I'd asked them if they knew their boss. "She plays the biggest games here", said one. "Oh - here she comes...", said another. Sure enough, they called the $5-10 no-limit game down; I'm pretty sure there wasn't another Alice in the room waiting to play $5-10.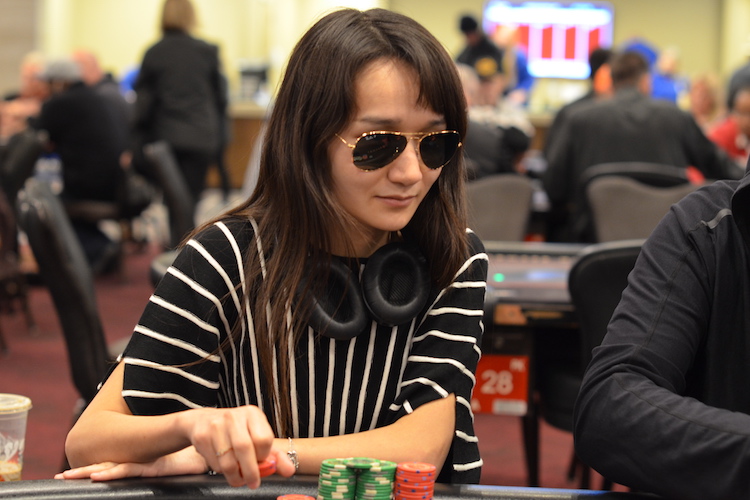 "Y'all wanna make it ten and a quarter?"
Across the room, the Day 1b field was whittling down to the final 22 who would advance to tomorrow's Day 2. Sadly, Mr. Moneymaker will not be in that field. He had QhTh and saw a flop of Jh-9h-unicorn_of_rainbows. Needless to say he shoveled his chips in and ran smack into Ah2h. None of his outs materialized and he was forced to find a cash game, which he did, pronto. Specifically a PLO game that was putting a dent in the room's black and purple chip supply. Sadly, we can't take pictures of that game; it was a game worthy of photography.
But nearby, the fortunate 22 were bagging up chips.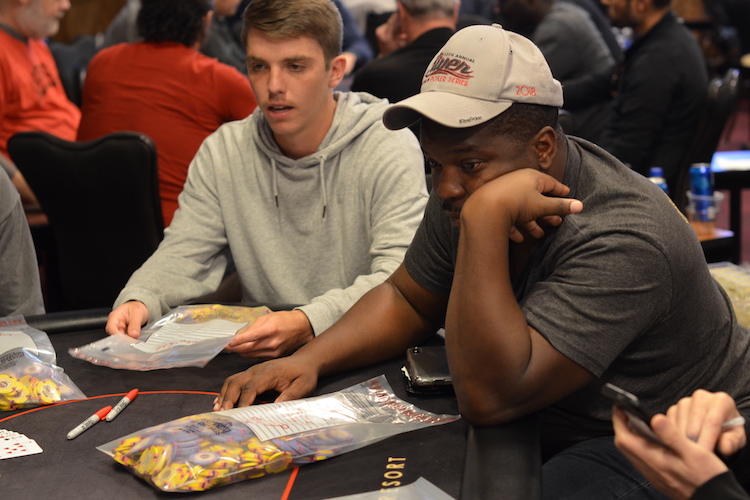 Why so somber? You're bagging a ton of chips.
We come back at 10:15am with 41 people (all of whom are in the cash). From there we play down to one person, who can coordinate with Dallas Alice to share an Uber to DFW in January. We don't know who the current chip leader is, but we bet this guy knows.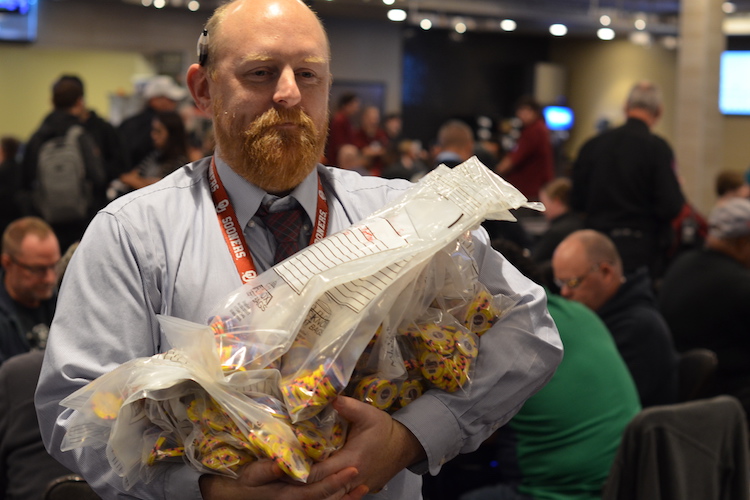 Based on his badge lanyard, the day didn't end well for him.