Everybody wants it, Franz Ditz gets it
Franz Ditz gets it. He really does. And now because he gets it, he's also got it. The way he got it was one of the strangest yet, which is why we still had cameras on it in the wee hours of the morning. The video will come in a minute, but first, let's talk about how Ditz gets it.
Word of the Platinum Pass--the special $30,000 package to the PokerStars Players No-Limit Hold'em Championship--has gotten around. Within a few days, PokerStars will have given out nearly 100 of the Passes as added value to players in various live and online events. Before it's all said and done, PokerStars will have given out 320 of them. That means $8 million of the PSPC prize pool is added value that PokerStars is putting into the tournament
"It's going to be massive. It's going to be probably the biggest $25K ever," said Ditz, an Austrian professional.
That's the word that's going around, and Ditz aimed to get to the tournament. Spoiler: Ditz won one after 2am this morning as the EPT Monte Carlo poker room was clearing out.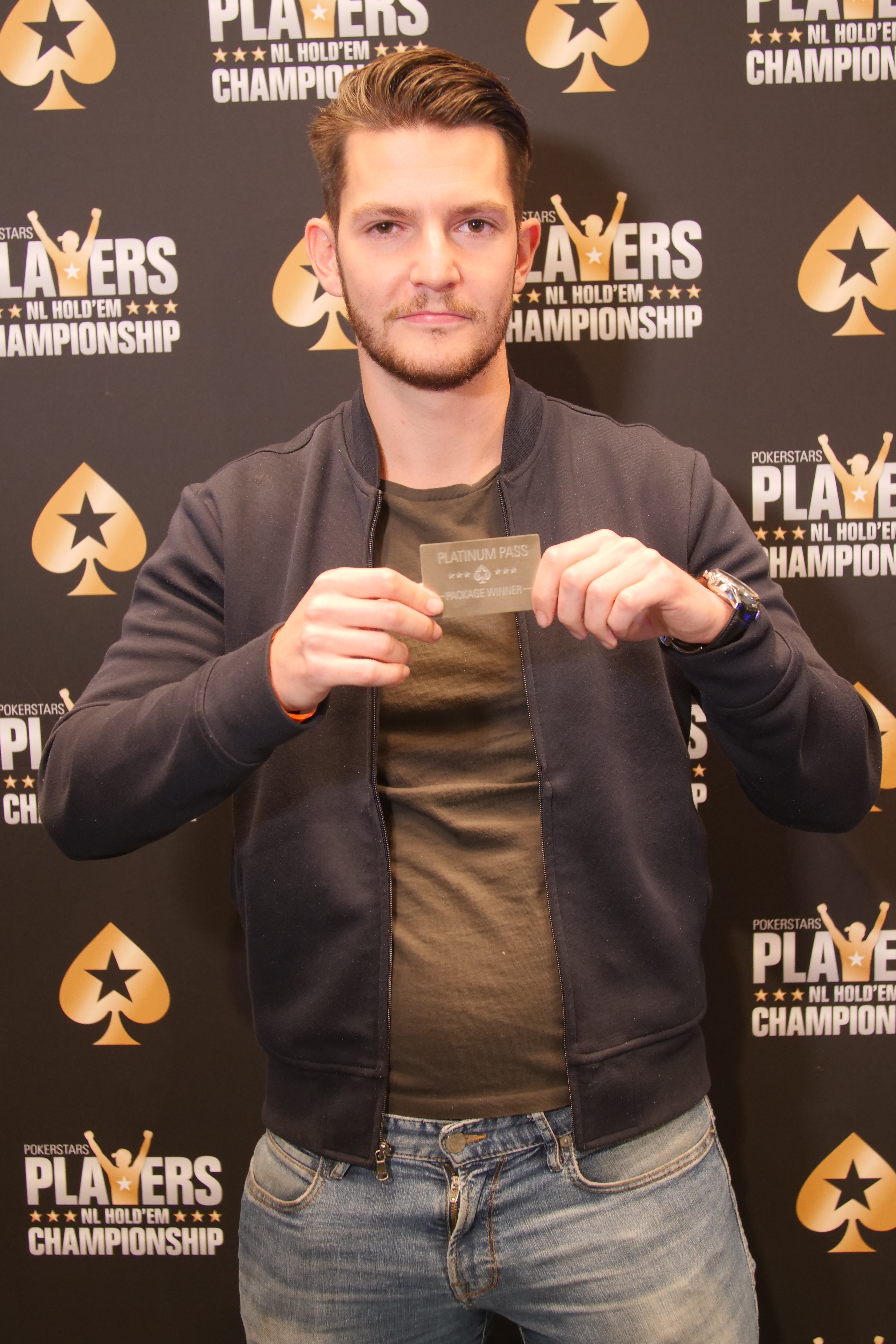 The funny thing was, the way this satellite came together was...well, let's just say it no one was 100% sure there would even be a satellite. In fact, five minutes before the start, only four people had registered for it. That raised a lot of questions which--if I have the time--I'll detail in a behind-the-scenes piece later.
Suffice it to say, the event ended up drawing 55 entries (including 12 re-entries). That was enough to pay for three $30,000 PSPC packages and €5,000. With the PokerStars-added Platinum Pass in there, that meant four people were going to the PSPC, including Mr. Ditz.
There was one quirk: because it was a satellite, it would have normally ended when they got to four players. But when they got there, the question was...wait, who gets the Platinum Pass?
The players were given the option to handle it however they wanted. They could flip for it. They could draw straws. They could play rock-paper-scissors. It was after 2am and everybody wanted some sleep.
Here's the thing...after first acting like having the Platinum Pass wasn't important, the four remaining players started to talk about the VIP treatment and personal host attention they would get as a Platinum Pass holder. It was then they decided to keep playing for the Pass.
"Now everybody wants it!" Jeff Hakim said.
And so it was that Nicolas Chouity busted and then so did Pablo Cabrera. Both had packages to the PSPC, but no Platinum Pass.
"Wave goodbye to it!" Hakim said to Cabrera as he departed.
By then it had gotten later. Hakim and Ditz were heads up. That's when Hakim had a remarkable suggestion.
I won't spoil it here. Just watch the video.

"My Main Event was not going so well," Ditz admitted afterward, saying he'd planned to leave for home immediately. But then he thought about the satellite.
"So, I said let's leave tomorrow and give this a try," he said. "This satellite is one of the better-value events here because a package was added by PokerStars. It worked out pretty well I guess."
I guess so. And that's how Franz Ditz became the newest Platinum Pass holder. Congrats, Franz, and thanks for sticking around.
---
Franz Ditz is one of more than 300 Platinum Pass winners who will be going to the PokerStars Players No-Limit Hold'em Championship. Want to see more? Meet them all on in our PSPC Platinum Pass Winners index.