Friendship goes double Platinum as Dumont drives to winner's circle
Nicolas Dumont is a working man, one on holiday here in Monte Carlo where he beat a host of seasoned pros for one of the most coveted trophies in poker and €712,000. A reporter's question forced him back to reality. When do you have to go back to work?
Dumont rolled his eyes to the ceiling, checking his mental calendar through the cobwebs of his week. He leveled his gaze and came to his answer.
"Yesterday," he said.
Despite his accomplishment, this world is not one where Dumont works. It's his playground away from his other life in the passenger seat of a car. He trains people to drive in his native France. The stress on four wheels is a harder beast to tame than the stress of playing for a poker title.
"Some students are not very okay with driving," he said.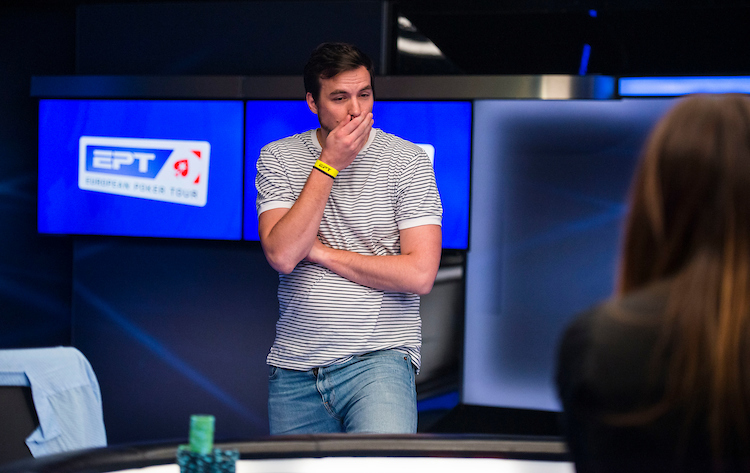 Dumont absorbing the stress of his final push to victory
Dumont said, nevertheless, he will be back in the training seat on Monday. But while he's there, he'll be relishing the idea that he'll be in Bahamas come January. That's because in addition to his EPT Monte Carlo win, he also won a Platinum Pass to the PokerStars Players No-Limit Hold'em Championship.
That's a special win for anyone who picks up one of the 320 Platinum Passes on offer this year. But this one has a special shine to it, because Dumont will be headed to the Bahamas with a friend. The one who staked him in this event, and one who won his own Platinum Pass in February.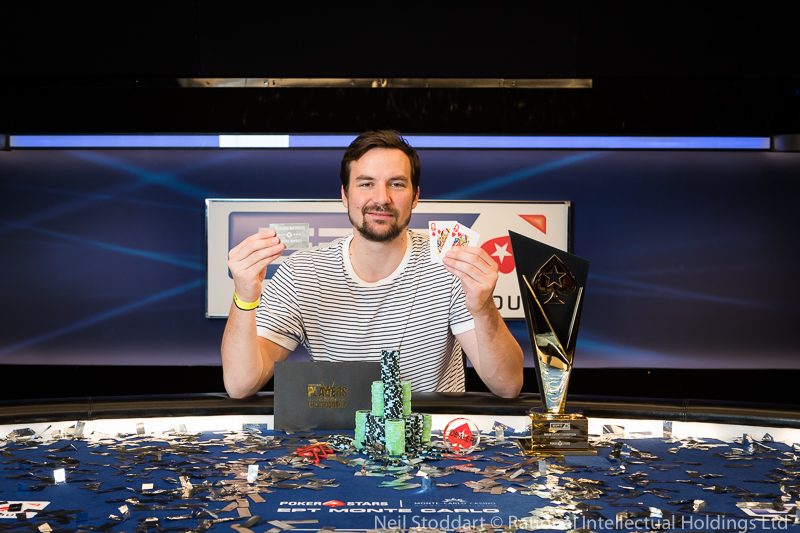 Double Platinum
Julien Perouse won the PokerStars Turbo Series Main Event. It guaranteed him a spot in the PSPC. Last week, Perouse traveled from Canada to Monte Carlo for some early tournaments, but he was forced to leave before the Main Event. While he was here, he got to see Dumont.
"He's one of my closest friends," Perouse said. "We met at the 2014 WSOP and haven't stopped talking since then."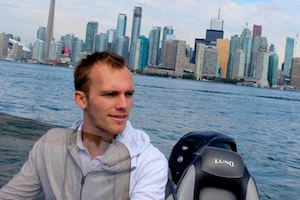 Julien Perouse

So, Perouse had an idea. While Dumont wasn't a player who usually played big money poker championships, there was definitely some talent that needed an outlet.

"I always knew he was a really good player, but he never accomplished something great," Perouse said.

Perouse mulled the situation, and came to a decision. He'd like to say it's because he's a really nice guy or savvy investor. But really...

"To be honest, it was mostly because I couldn't play the event myself," Perouse said. "It's like I was in!"

In a way he was. As the celebration played out on stage, Perouse appeared via Facetime, seemingly happier than anyone.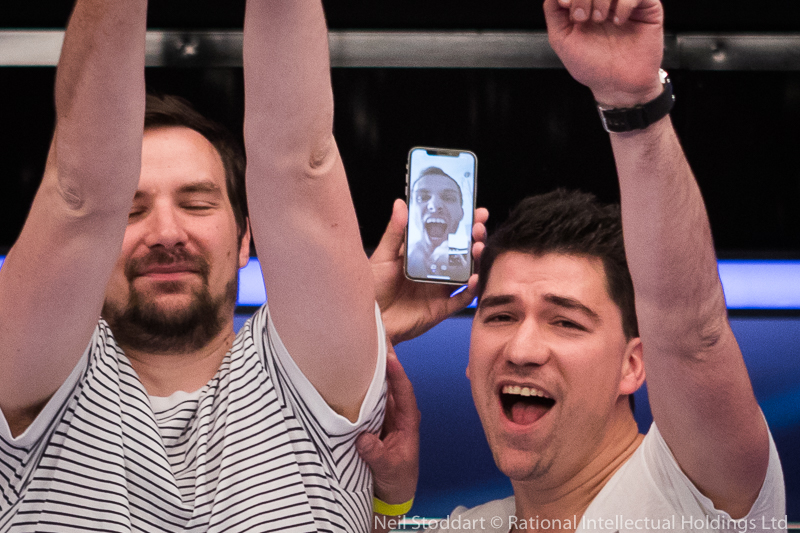 Perouse there in spirt...and in a phone
Bahamas buddies

Before it's all said and done, it's likely that we will meet more Platinum Pass winners who have good friends who also carry the shiny card. Nevertheless, this is the first time we're aware of that a Platinum Pass owner has staked a friend who went on to win their own Platinum Pass.
Now, Dumont is keen on planning for a trip with his friend of four years. First, Dumont will play the WSOP with Perouse, and then it's off to the Bahamas.
"It will be fantastic. I don't have words to say how I'm feeling. It's unreal," Perouse said. "I tried to play the best I can. I think I succeeded. I would like to show I'm a great player. I hope people see that."
For now, though, Dumont will be packing up and heading home. He's got a lesson to give on Monday. Some students need to get their drivers license, after all. If he's feeling generous, Dumont may let them hold his Platinum Pass as practice.
---
Nicolas Dumont is one of more than 300 Platinum Pass winners who will be going to the PokerStars Players No-Limit Hold'em Championship. Want to see more? Meet them all on in our PSPC Platinum Pass Winners index.