PokerStars Festival Marbella: Silviu Baltateanu bags the biggest stack on Day 1A
The PokerStars Festival Marbella Main Event kicked off today and despite this being the sixth year in a row that this tournament has taken place in the month of June, there were a few wrinkles for the 362 players (302 uniques and 60 re-entries) to deal with.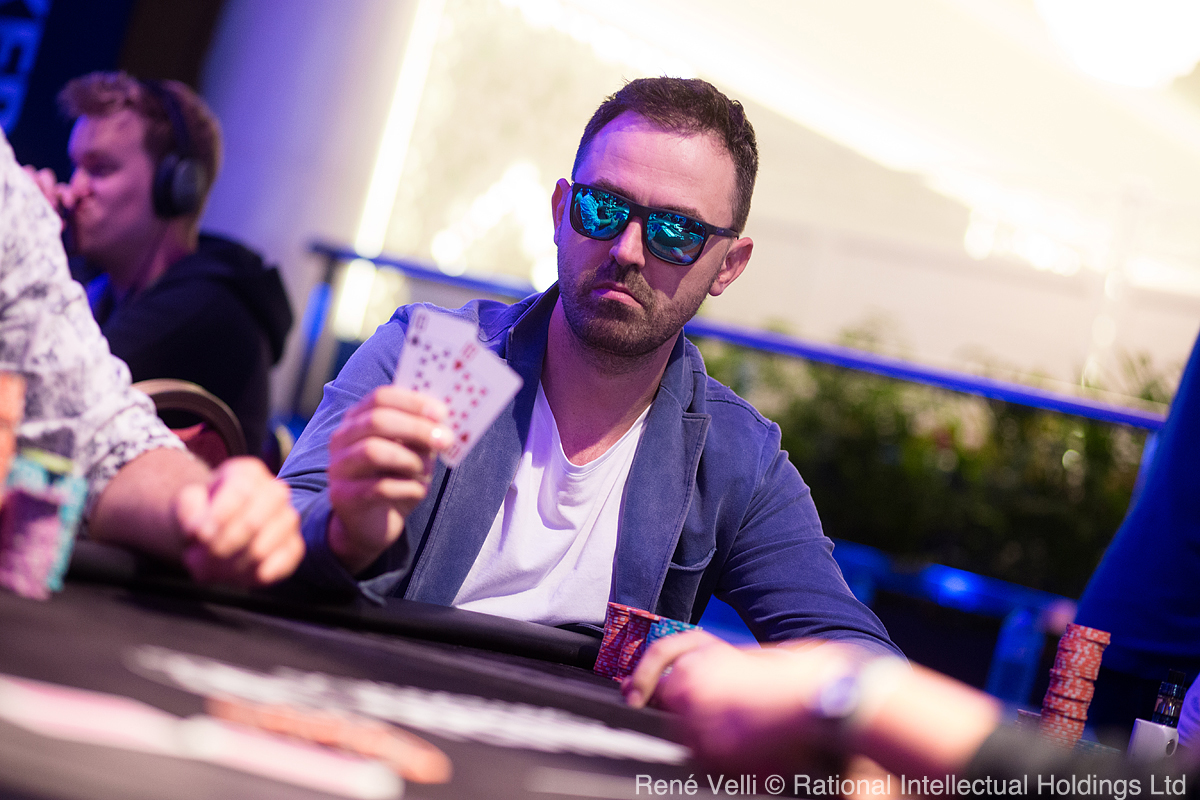 Silviu Baltateanu
First, was that this was an unlimited re-entry tournament. That made for a faster pace of play than usual and a spate of early bustouts. Orpen Kisacikoglu was among those who made an early visit to the cage for a rebuy. Next was that this tournament was using the increasingly popular big blind ante format. In a tournament that attracts a lot of recreational players, it's possible that for many this was their first experience of the format. Lastly, the Main Event is playing to 15% of the field on Day 1, meaning that everyone who returns for Day 2 is already in the money and when the bubble bursts the action on Day 1 stops.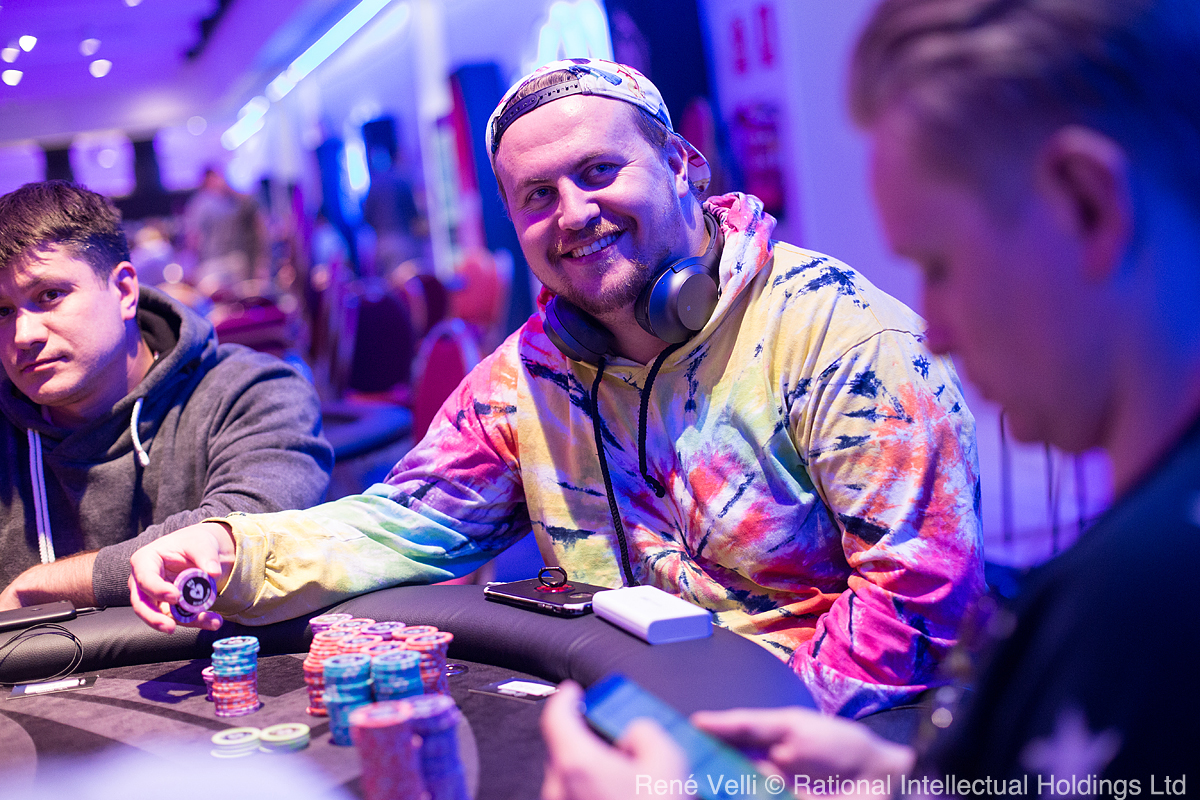 No one finished higher than Kyte
Today the bubble bursting also decided who finished the day as chip leader. With 56 players remaining and 54 getting paid, Jon Kyte eliminated two players in a pot worth 400,000 and he ended the day with 600,500 leaving him someway clear of the chasing pack. Scroll down to our live coverage archive for full details on the gory hand.
Edit: We owe Silviu Baltateanu an apology. We messed up. Last night when this was first published we wrote that Jon Kyte had finished Day 1A of the Main Event as the chip leader, only, he didn't. Despite Kyte finishing with a mammoth 600,500, Silviu Baltateanu bagged more. 631,500 to be exact. Sorry Silviu. You can find a complete list of the 54 Day 1A survivors here.
PSF_Marbella_Velli-183_Silviu Baltateanu
Other notables and big stacks to advance to Day 2 include Ole Rauff Hansen (447,500), Nicki Vestergaard (420,000), Steve Warburton (202,000) and Isidoro Barreña (132,500). Full chip counts of the survivors will be made available tomorrow, they'll all return on Friday for Day 2. We'll be back for Day 1B at noon, no doubt so will some of the notables who fell today - Jake Cody was among them - but for now it's good night (well morning) from Marbella. --NW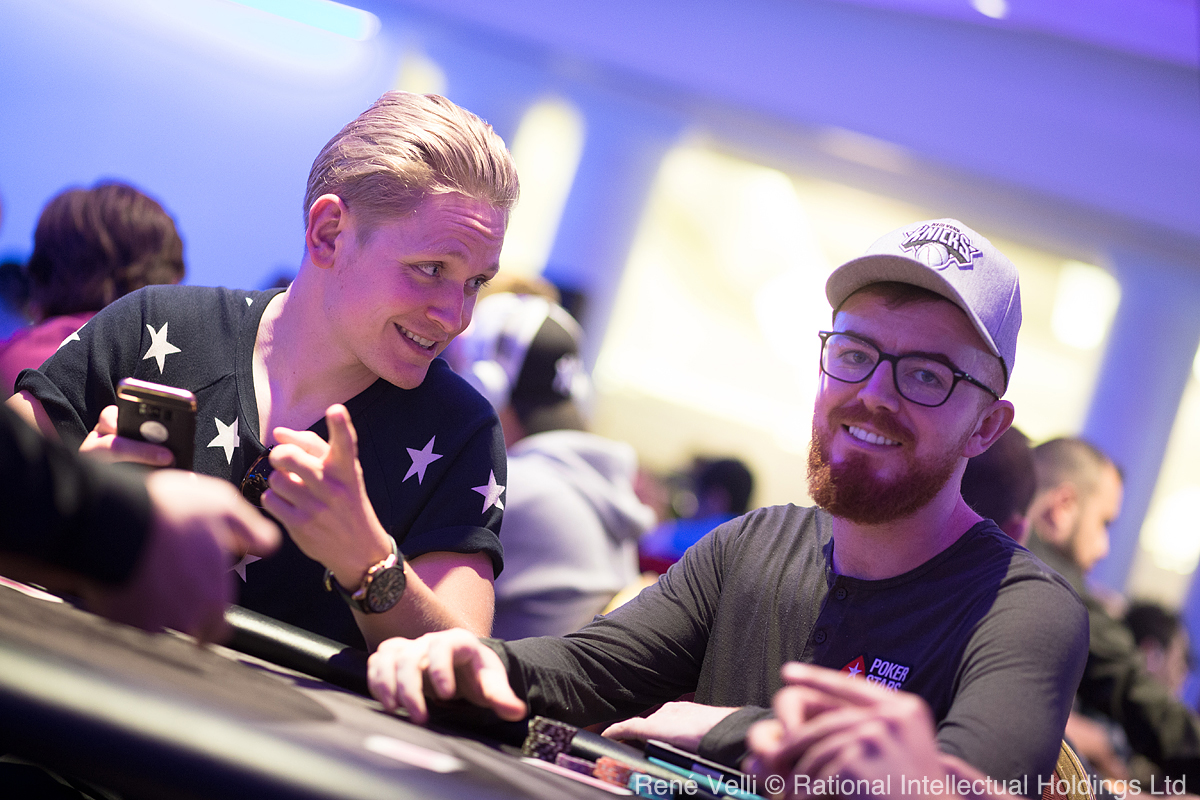 Steve Warburton and Jake Cody
---
LIVE COVERAGE ARCHIVE
• DAY 1A PLAYERS: 54 of 362 (302 unique entries and 60 re-entries)
• ALL POKERSTARS FESTIVAL MARBELLA INFO | TOURNAMENT SCHEDULE
• DOWNLOAD POKERSTARS
• Follow @PokerStarsBlog on Twitter
---
1:15am: What a hand to finish off the proceedings!
Level 16 - Blinds 2,500/5,000 (BB ante 5,000)
There has just been a three-way all-in situation over in the corner of the room. It all began with a min raise to 12,000 from Jon Kyte, followed by a flat call by Victor Manuel Parreño. Jose Luis Cordero was sat on the button and he took his time to decide what to do before moving all in for 163,000. Kyte thought for a minute or so and opted to call and Parreño snapped behind.
Kyte 9♠9♣
Parreño A♣A♦
Cordero A♠K♦
The dealer dealt Q♠2♣5♠ on the flop and the aces were still the huge favourite.
On to the turn and it came the 9♦. Cordero was now drawing dead and Parreño had only the case ace to hit for a redraw.
It sadly wasn't to be, with a 7♥ completing the board and just like that, we are down to 54 players. Commmisserations go out to Parreño and Cordero, who finish just outside of the money.
For Kyte, however, we think it's fair to say that he will probably remember this hand for some time. The pot was worth over 400,000 and it takes his total stack up to 600,500. He finishes the day as our new chip leader! --LY
1:10am: The bubble has burst
Level 16 - Blinds 2,500/5,000 (BB ante 5,000)
There's been a double elimination and the bubble has burst! Details on the way shortly. --NW
1am: Cook cooked
Level 16 - Blinds 2,500/5,000 (BB ante 5,000)
We're now one off the bubble and it's Grant Cook who has fallen just short of the money. He was all-in pre-flop and had picked up two callers. Given the value of the chips in the middle it seems Crook was down to dust and had committed his few remaining chips.
The 7♠A♥3♥ flop checked through, but Ole Rauff Hansen bet the 6♣ turn and that got rid of the third man. Cook turned over T♦9♦ and he needed help against Hansen's 8♠7♣. None arrived on the Q♠ river and he departed.
56 players remain, 54 will make the money (and Day 2). --NW
1am: Three to go
Level 16 - Blinds 2,500/5,000 (BB ante 5,000)
It has been bust outs galore in the last 20 minutes and the blogging team can barely type fast enough to keep up!
When one more player goes, we break a table for the final time tonight. Then two more after that and the clock will be paused, with all remaining players making it through to Day 2 and securing some cash to boot. --LY
12:55am: Cruas and Ducheine switch
Level 16 - Blinds 2,500/5,000 (BB ante 5,000)
With only 8 more to go until the money, David Cruas was nursing his last seven big blinds and he moved all in with 3♣3♦.
It was a crucial decision for Amand Ducheine who found K♥Q♥ in the big blind. A call and a loss would leave him in the same situation, with seven and a half big blinds behind. He decided to call though and it was Cruas who won the flip. "I understand why you thought about it, but I only had seven big blinds..." Cruas offered Ducheine as he scooped the 75,000 pot. --LY
12:50am: There's a new chip in town
Level 16 - Blinds 2,500/5,000 (BB ante 5,000)
At the start of the level tournament staff introduced a new chip, the 25K chip. It's turquoise green in colour and onle a select few big stacks have any in their stack. --NW
12:45am: Halvorsen departs
Level 16 - Blinds 2,500/5,000 (BB ante 5,000)
The cards were already on their backs by the time I picked up the action. I arrived to see Morten Eng Halvorsen all-in for just over 100,000 with A♥Q♦ and Hotein Cheung the covering stack with a fliptastic J♥J♣. A 8♠8♣5♣2♥6♠ run out kept the pocket pair in front and eliminated Halvorsen. After that hand Cheung is up to 275,000. --NW
12:35am: The bubble looms
Level 16 - Blinds 2,500/5,000 (BB ante 5,000)
There are 64 players remaining...and that means there are only 10 to go until we reach the top 15% of the field and the bubble bursts. Don't go anywhere just yet! --LY
12:10am: Break time
Level 15 - Blinds 2,000/4,000 (BB ante 4,000)
The 68 remaining players are now on a 20-minute break. Just 54 players will make the money, will it burst during the next level? Join us again in 20-minutes to find out. --NW
12am: Big stacks
Level 15 - Blinds 2,000/4,000 (BB ante 4,000)
Each player started this Main Event with a stack of 30,000 and there are now a number of players who've managed to 10x their investment (or are very close to doing so). The following four players are all near the top of the class:
Werner Lootsma, 320,000
Asgeir Lund - 305,000
Ole Rauff Hansen - 290,000
Per Jonatan Soderstrom - 285,000 --NW
11:55pm: Double elimiation by Kyte
Level 15 - Blinds 2,000/4,000 (BB ante 4,000)
Former chip leader Jon Kyte has just taken out two of his opponents in one fell swoop.
Kyte had the best of it preflop, which was when all the money went in. Holding K♠K♥ versus Pawel Stanislaw Jaroszs' T♣T♥ and Paulii Bergmann's A♦Q♦, he managed to hold the lead all the way. The pot takes him up to around 250,000, which is almost 100,000 over the average. Not bad at all. --LY
11:45pm: A golden 10 minutes for Hoihilder Heiene
Level 15 - Blinds 2,000/4,000 (BB ante 4,000)
The last few hands have seen Marius Hoihilder Heiene's chipstack rocket skywards. Not only did he find two monster hands in the last orbit, but he managed to get paid off both times too.
First he had K♥K♣ against Martin Ilavsky's A♣9♥ and he held, taking him up to 230,000.
Before we'd even had time to write that up, it became apparant that Hoihilder Heiene was all in again. This time with A♥A♣, on a nine high board against the K♦9♦ of Mohammed Mechiche Alami. The Moroccan needed something special to keep his place in today's flight and the board didn't oblige.
The pot added another 130,000 at least to Hoihilder Heiene's stack and edges him close to the 400,000 mark. --LY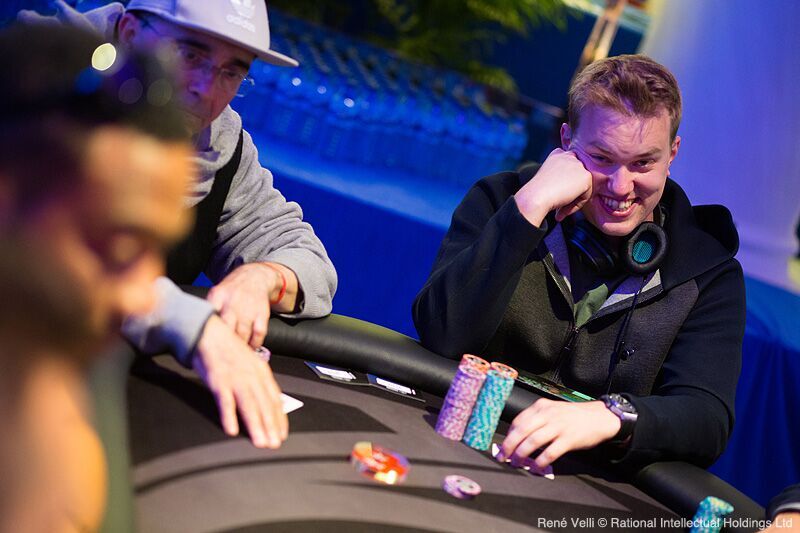 Marius Hoihilder Heiene
11:25pm: Shrinking
Level 14 - Blinds 1,500/3,000 (BB ante 3,000)
At the start of the day the field was spread over both sides of the tournament room, but now, with just 86 players remaining the tournament is eight-max and is condensed into one half of half of the room, with a Main Event satellite and cash games occupying the far side of the room.
Among the players to fall by the wayside during level 14 were: Simao Gomes, Bo Rundstrom, Mario Del Piero, Marcin Dziubdziela, Marcin Lesniewski, Niall Heneghan, Said Kambez Nadjem and Juan Fernandez Navarro. --NW
11:15pm: One double, one exit
Level 14 - Blinds 1,500/3,000 (BB ante 3,000)
First off, Peter Miskei doubled through Amand Ducheine. Miskei had three-bet jammed A♣2♠from the small blind and Ducheine called K♦Q♠. The board didn't improve beyond king high for the Dutchman and Miskei scooped the pot.
Next, it was short stack Lawrence Stoke's turn to get it in. Unfortunately the Brit wasn't able to spin up against Grant Cook's A♠Q♥ and he has to say goodbye, at least for today.
Meanwhile there have been a bunch of all-ins taking place elsewhere in the room, carving the field down to 90 players. --LY
11:05pm: Half and half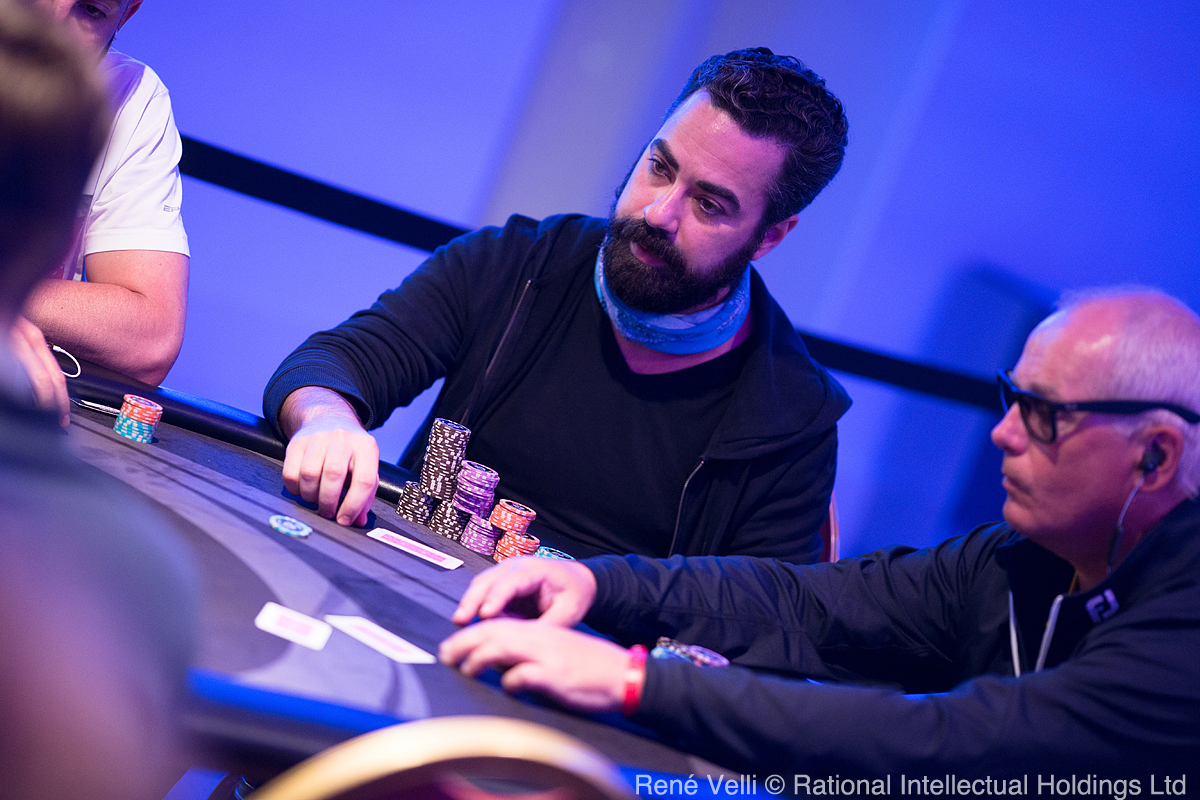 Orpen Kisacikoglu
Level 14 - Blinds 1,500/3,000 (BB ante 3,000)
We're midaway through level 14 and just 104 players are left with bums on seats and chips to play with. This means we've reached the point where more than 50% of the remaining players will make the money. When that will happen is an inexact science but the 'experts' had level 16 as the under/over line. Such are the vageries of the bubble that it could be much later than that. One thing we know for sure is that Orpen Kisacikoglu will not be sweating the bubble as he's no longer in his seat and is presumed out. He may well be back tomorrow for another bash at this tournament. --NW
10:50pm: Zur Linden and Berg get tangled up
Level 13 - Blinds 1,000/2,500 (BB ante 2,500)
Francisco Rodrigues kicked things off with a 5,500 open in middle position. Alexander Zur Linden pumped it up to 15,500 and the three-bet was called by Tobias Berg in the big blind and Rodrigues came along too.
Off they went to the flop and it came down A♣3♣2♠. Berg opted to lead for 27,500, which was enough to persuade Rodrigues to pass but not Zur Linden, who made the call.
The T♣ turn brought out three to a flush and Berg slowed down, in that he continued for a tiny 7,000. This was quickly called by Zur Linden, leaving only the river to come.
It was a J♥ and Berg didn't hesistate in counting out a third barrel. He made it 36,500 to get to showdown and it appeared to be a tough decision for Zur Linden. The German took a couple of minutes before putting his chips over the line but was left shaking his head when he saw the A♥K♥ in Berg's hand. --LY
10:45pm: The old limp, call, min-raise trick
Level 13 - Blinds 1,000/2,500 (BB ante 2,500)
The action folded to Jose Maria Nunez, who was on the button and he limped. Markus Holm, who was in the small blind and sitting behind a healthy stack, was having none of this limping business and he bumped the price of poker up to 8,000. The big blind folded but Nunez was not budging. He called and the flop fell 4♠9♥K♠.
After a couple of riffles of chips, Holm bet 7,000 only for Nunez to click raise to 14,000. Holm looked perplexed at the line Nunez had chosen, but he decided the flop was where the hand would end as he folded and the pot went to Nunez. That win boosts Nunez to 145,000 while Holm drops to 170,000. --NW
10:35pm: The field dwindles further
Level 13 - Blinds 1,000/2,500 (BB ante 2,500)
We have lost more than 10 players since the last break. It has been hard to keep up with so much going on in the cardroom.
Most recently we said goodbye to Ionut Flavius Voinea, who couldn't hold with A♥9♣ against Rafael Goncalves Andrez's K♠Q♣.
This took us down to 107 left, meaning just under half of the remaining field will not make it to the end of this flight, and will miss out on reaching the money. --LY
10:30pm: Huge double for Saint-Louis
Level 12 - Blinds 1,000/2,500 (BB ante 2,500)
Chipleads come and chipleads go. The good news for Sten Saint-Louis fans is that it's very much go at the moment for the Frenchman.
In a button versus big blind battle he was all-in pre-flop for 117,000 with pocket kings and looking to hold against Marius Hoihilder's A♥K♠. The 5♣2♦T♦8♠5♦ run out kept Saint-Louis in front and he's now up to 240,000. --NW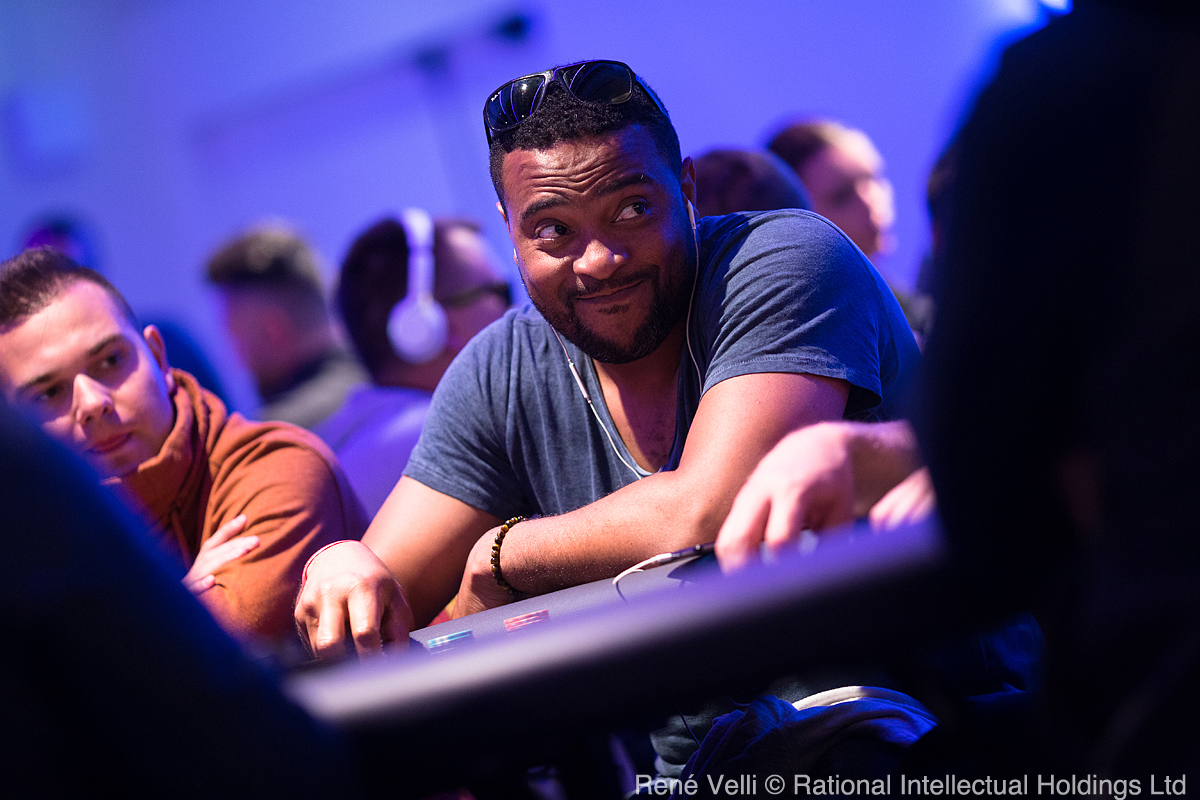 Sten Saint-Louis
10:20pm: Eng Halvorsen takes it down without showdown
Level 13 - Blinds 1,000/2,500 (BB ante 2,500)
Morten Eng Halvorsen and Adam Milewski were staring at a T♦2♥7♠5♥4♣ board on the river by the time the blogging team came to the table.
There was a hefty 80,000 or so in the pot and Eng Halvorsen had moved all in for his remaining 33,000 stack. There was some deliberation but in the end Milewski decided it was too much and mucked. Eng Halvorsen took down the pot and now has well over 100,000 to play with. --LY
10:10pm: Dinner concludes
Level 13 - Blinds 1,000/2,500 (BB ante 2,500)
You'll be pleased to know that everyone has now been fed and watered and we are back to the serious business of playing cards. --LY
10pm: Leaders of the pack
Level 12 - Blinds 1,000/2,000 (BB ante 2,000)
There are five players who have exceeded the 200,000 mark since the start of the day. Our top five chip stacks are:
Rafael Nikiel - 228,000
Duco ten Haven - 221,000
Jon Kyte - 220,000
Markus Holm - 219,000
Hotien Cheung - 201,000
Players will return from their dinner break shortly. With 118 left and play continuing until only 54 remain, it could all change at the top. --LY
9:05pm: Time to recharge those batteries
Level 12 - Blinds 1,000/2,000 (BB ante 2,000)
We're a dozen levels into the day and that means dinner. The players are now on a 60-minute dinner break. Play will restart at roughly 10.05pm local time. --NW
8:55pm: The changing fortunes of Kisacikoglu
Level 12 - Blinds 1,000/2,000 (BB ante 2,000)
It has been something of a rollercoaster of a day for Orpen Kisacikoglu. First he had an early bust out, followed by an immediate re-entry. Next he built a stack but more recently he has found himself with significantly less than average.
He did manage to secure a pot just now after three-bet jamming over one raise. At this stage of the tournament, it netted Kisacikoglu almost 10,000 chips and brings him just shy of the 60,000 mark. This illustrates how much of a difference even the relatively small pots make to the short and medium stacks at the moment. --LY
8:45pm: Barreña building
Level 12 - Blinds 1,000/2,000 (BB ante 2,000)
Back in 2015 Isidoro Barreña was the last player standing in this event, winning the title and €150,800. He's building a stack here on Day 1 of this year's event and looks to have about 130,000 in front of him. That's a decent lick above the currnet average of 80,500. --NW
8:30pm: Dropping like flies
Level 11 - Blinds 600/1,600 (BB ante 1,600)
Another table has been broken and the number of players left is now 144, as the end of Level 11 draws to a close. Next level, each orbit will cost 5,000 and as a result, we don't expect the number of casualties to slow down. --LY
8:20pm: High as a Kyte
Level 11 - Blinds 600/1,600 (BB ante 1,600)
With a tie-dye hoodie, backwards baseball cap and oversized headphones, Jon Kyte stands out from the crowd at a poker table. One more factor is making him stand out at this present time though and that's his chip stack. It's huge. The Norwegian has around 230,000 and that's likely good for the chip lead. It's the largest stack we've seen on our rounds. --NW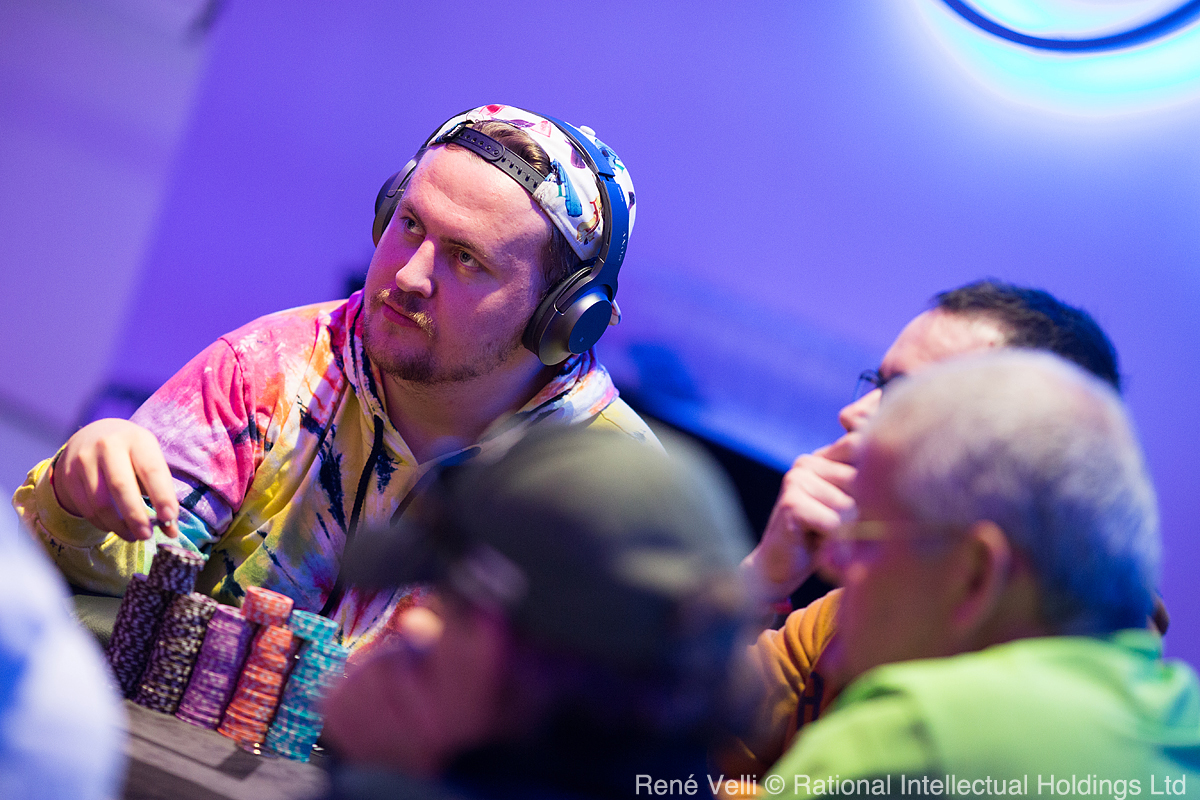 Jon Kyte
8:10pm: End of the road for Grafton
Level 11 - Blinds 600/1,600 (BB ante 1,600)
Sam Grafton has just been spotted heading out of the door. We wish we could give you more details than that, but sadly we can't. That'll be the end of his Day 1A campaign but he may choose to return tomorrow to fight another day. --LY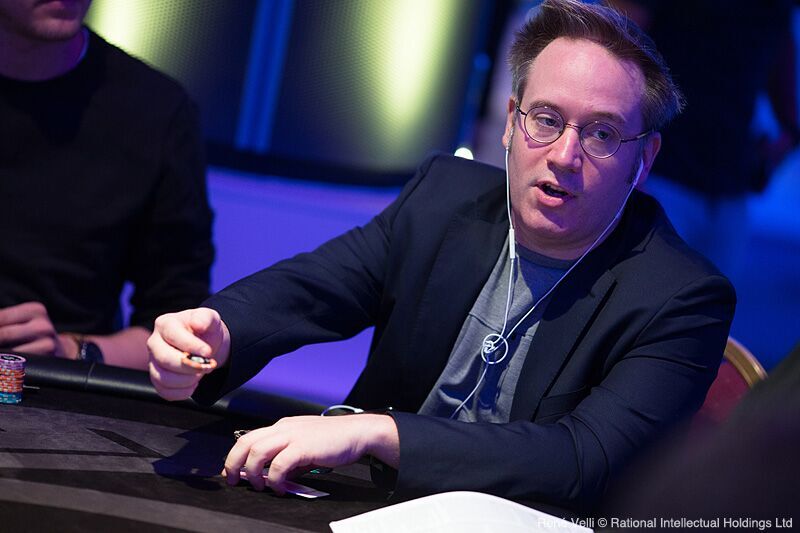 Sam Grafton
7:55pm: Biel Cepa down
Level 10 - Blinds 600/1,200 (BB ante 1,200)
Action was on the flop, with T♠3♥7♣ out and it looked as if Frederico Biel Cepa had check-jammed all in for 35,900.
Alexandre Letellier was the man with the decision to make and after counting out the price and following some deliberation, he ultimately made the call.
Letellier J♠J♣
Biel Cepa 9♠8♠
Letellier was a long way ahead, not only holding an over pair to the board but also blocking two of Biel Cepa's straight drawing outs.
Nothing untoward came on the 4♦9♣ turn and river and Letellier scoops, whilst Biel Cepa will have to return tomorrow, if he wants to take another shot at the tournament. --LY
7:45pm: 54 will make it to the money today
Level 10 - Blinds 600/1,200 (BB ante 1,200)
It's official. We now know that play will finish today, when there are 54 players remaining. Currently we have 178 left, so there is still plenty to look forward to before we wrap up for the night. --LY
7:40pm: Big names go busto
Level 10 - Blinds 600/1,200 (BB ante 1,200)
Whilst the Main Event is in level 10, across the other side of the room there are plenty of players trying to win their seat into tomorrow's Day 1B flight. The satellite costs €120 to play and it's possible that as players bust the Main Event they'll hop into the satellite. There might be some big names joining said satellite as Jonathan Schuman, Sander 'PokerStars Cup' van Wesemael, Philipp Salewski and Josh Hart have all busted out. Schuman and Hart are UKIPT champions, Salewski won the PokerStars Sunday Million Live in Rozvadov and Van Wesemael won back-to back-to back PokerStars Cup events in 2017, winning the €330 event here in Marbella, at PokerStars Festival Lille and the PokerStars Championship Barcelona. --NW

7:40pm: Numbers confirmed
Level 10 - Blinds 600/1,200 (BB ante 1,200)
It's been a busy day here at the Casino Marbella and since late-registration, closed tournament staff have been busy tallying up the total number of entries. They've worked their magic and we can confirm that the total number of entries for today was 362. Just over half of those entries remain as 182 players still have chips to play with. --NW
7:30pm: Curtains for Cody
Level 10 - Blinds 600/1,200 (BB ante 1,200)
Sorry Jake Cody, we bokked you. A short time ago we'd mentioned that the Team PokerStars Pro was running up a stack. That stack is now zero as he busted in a big pot against Markus Holm.
We didn't catch the hand live but Steve Warburton connected the dots for the PokerStars Blog. He told us that Cody opened A-2 suited and bet every street of an A-2-8-J-4 board. Holm called him every step of the way, including Cody's river shove, with A-J for a superior two-pair. Ouch!
Cody will likely be back again tomorrow for Day 1B, Holm meanwhile should have no such need to enter again, he's up to 197,000 which is more than three times the current average. --NW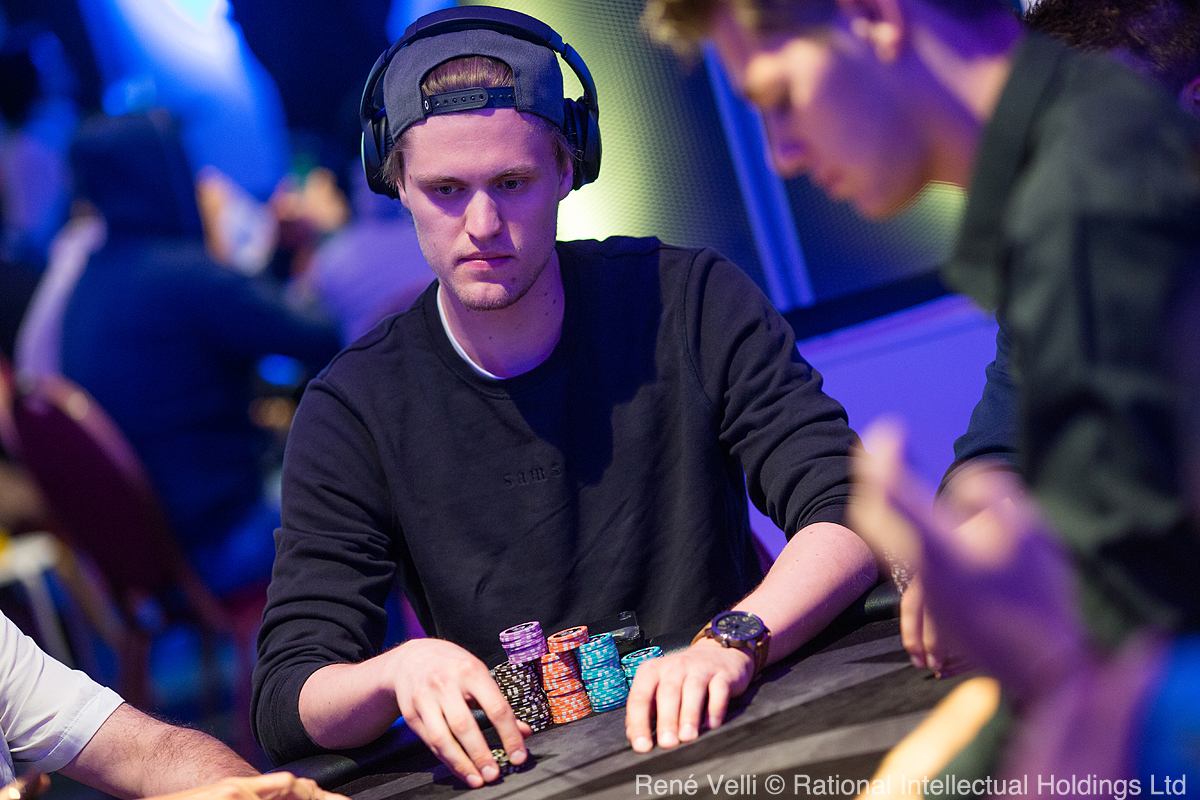 Holm sweet Holm! He's the chip leader.
7:20pm: Double for Toth
Level 10 - Blinds 600/1,200 (BB ante 1,200)
There was an open and a few calls, before Bela Toth squeezed 21,500 all-in. With everyone else opting to fold, action came back to Arthur Martirosyan, who decided that the price was too good to pass up.
Toth J♥J♦
Martirosyan A♥T♥
Toth had the best of it and the 6♣9♠Q♣K♥3♥ board held, giving him more than a double to around 53,000. --LY
7:10pm: Level 10 is underway
Level 10 - Blinds 600/1,200 (BB ante 1,200)
After a quiet 20 minutes in the card room, the familiar sound of chips being riffled has resumed, with players returning from their break. There will be three more levels, across two hours of play now, before a scheduled dinner break takes place after Level 12. --LY
6:50pm: Break time
Level 9 - Blinds 500/1,000 (BB ante 1000)
That's another two hours of play completed. The field has thinned to under 200 now, with 196 remaining of 362 starters.
Go grab yourself something to eat or drink and come back in 20 minutes, when we will bring you more live updates for the PokerStars Festival Marbella Main Event. --LY
6:35pm: One for you, one for me
Level 9 - Blinds 500/1,000 (BB ante 800)
Both Jake Cody and Steve Warburton are in for two bullets and the two friends are sat side by side at the same table, with Cody having position. The two players just won pots in consecutive hands, with Warburton's coming first.
There were four players still with cards as the dealer fanned a J♠A♥5♦ flop. The action checked to Warburton, he bet 3,200 and picked up two calls. On the T♠ turn he bet again, this time the price of poker was 9,500 and it was enough to win the pot and boost him to 75,000.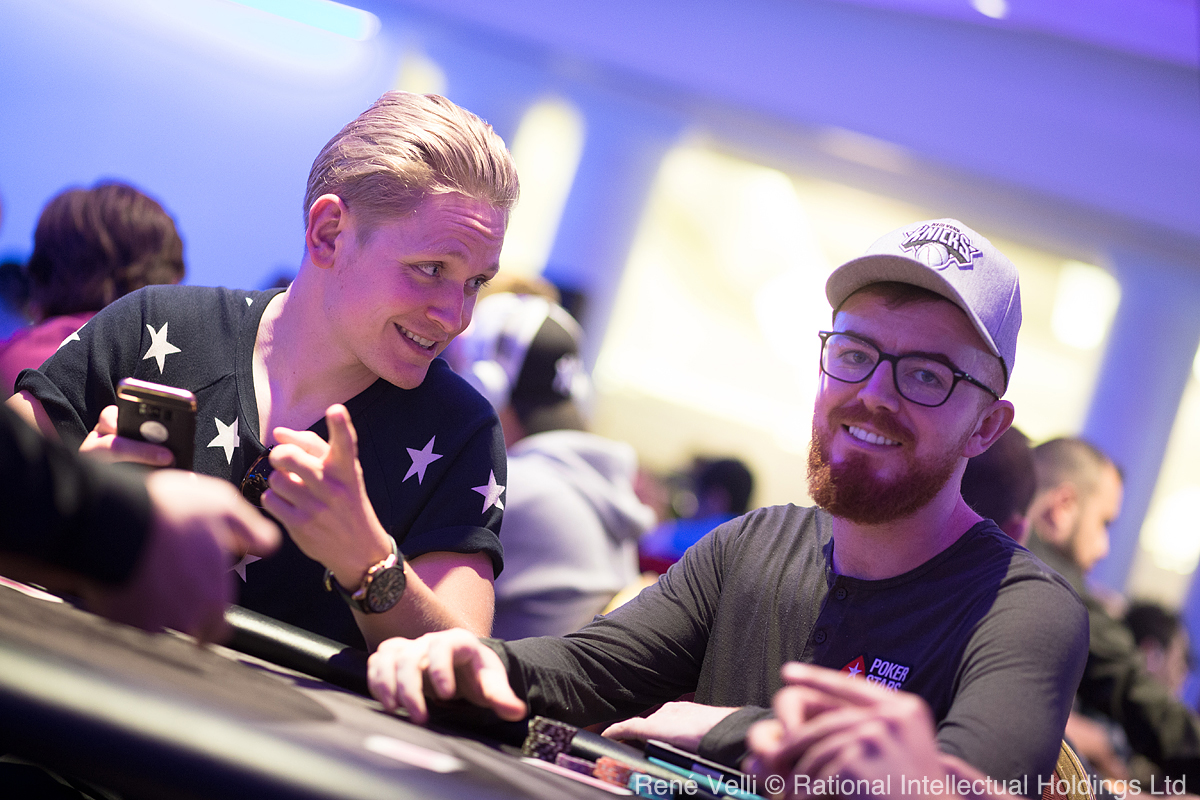 Look at the camera Jake!
On the next shuffle Cody raised to 2,300 from middle position off a stack of 27,000 and Paul van Oort called out of the big blind. The 3♣7♦6♦ flop checked through and the K♥ fell on the turn. Van Oort elected to lead on this card and he fired out a bet of 2,800. Call from Cody. On the 4♣ river Van Oort jammed for 12,300 and, after getting a count, Cody called. Van Oort showed T♥9♣ for a busted straight draw, Cody revealed K♠T♠ for top pair and eliminated Van Oort. --NW
6:20pm: A cold, cold deck
Level 9 - Blinds 500/1,000 (BB ante 1000)
We arrived at the table in time to see a flop already out and it read J♥J♦J♠.
Both Ion Tabacaru and Miguel Ripoll Sala liked what they saw enough to get it all in at this point and it wasn't suprising, seeing as one of them had a full house and the other had quads.
Ripoll Sala A♣J♣
Tabacaru A♥A♠
The dealer needn't have bothered putting out the T♠ turn and K♠ river, as sadly for Tabacaru, there was nothing that could save him.
It was a hefty pot too, with Ripoll Sala netting himself a stack of upwards of 80,000, which will probably only make the cooler feel worse for Tabacaru. --LY
6:15pm: Late-reg is closed
Level 9 - Blinds 500/1,000 (BB ante 1,000)
The start of level nine means that it's a freezeout from here on out on Day 1A. Anyone eliminated will be able to re-enter on Day 1B or 1C which take place tomorrow. It looks like we've had 359 entries today, but that's unconfirmed at the moment. --NW
6pm: Dropping fast
Level 8 - Blinds 400/800 (BB ante 800)
It's costing players 2,000 a round at the moment, so anyone with 25 big blinds or less is really going to feel the pinch. Whilst they play on, plenty of players have been eliminated. Amongst the vanquished are: Sergei Popov, Ove Stenberg, Zico Tjin Asjoe, Amanda Sidark, Piotr Franczak, Richard Milne and Ignacio Barcenas. --NW
5:50pm: Karlsen out
Level 8 - Blinds 400/800 (BB ante 800)
The room is certainly looking a lot less colourful now that we've said goodbye to Drea Karlsen. She had moved all in with Q♣Q♦ and found a caller in Molnar Istvan who had A♦Q♠ in the hole.
The 7♥6♠T♥ flop held for the Norwegian and the 3♥ turn pushed her further into the lead. Unfortunately for Karlsen, the river brought an A♠ and she will have to re-enter in order to stay in the competition.
The pot gives Istvan around 30,000 in total to play with now. --LY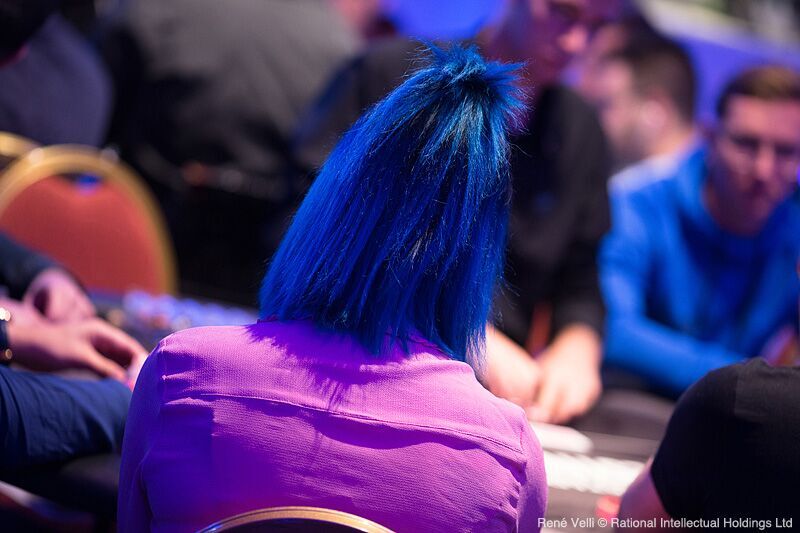 Drea Karlsen
5:40pm: The clock is ticking
Level 8 - Blinds 400/800 (BB ante 800)
Late-registration is still open, but only until the end of this level. If you want to play today, be quick! --NW
5:30pm: The tournament gets tougher
Level 8 - Blinds 400/800 (BB ante 800)
Two of the big names who're in the field and we've forgot to mention so far are Steve Warburton and Dioga Viega. The former has over $1.7M in lifetime tournament earnings, with a career best score of $1,071,853 coming at EPT Barcelona in 2015 where he finished second to John Juanda in the Main Event.
Viega might not be as well known, but the Portuguese player is a fearsome opponent. He has almost $900,000 in lifetime earnings, $555,000 of which came this April, also in Barcelona. --NW
5:10pm: Back to back all-ins
Level 7 - Blinds 300/600 (BB ante 600)
It's all been going on at Orpen Kisacikoglu's table and it's perhaps no surprise that the Turk has been at the centre of the action in the last couple of hands. Prepare yourself - this is going to be a long one.
As we came to the table, the 8♠3♦4♣ flop was already out. Kisacikoglu made a bet of 3,700, which was enough to fold out one of his opponents but it did not deter Francisco Echevarne Roman, who came along with him.
There was an 8♣ on the turn and it kicked off some frantic betting that began with a 2,600 barrel from Kisacikoglu, a raise to 6,700 by Echevarne Roman, a four-bet to 17,600 by Kisacikoglu, which was enough for Echevarne Roman to commit the rest.
Kisacikoglu 8♦4♦
Echevarne Roman A♣4♠
It was all over for the Spaniard, with no outs in the deck to help him and Kisacikoglu has more than double the average stack at the moment, with around 89,000 chips.
The very next hand was just as dramatic. Konstantin Solovev was down to his last 8,700 chips and, after he moved all-in, Kisacikoglu called behind. When the action came round to Grant Cook, he shipped around 33,000 over the top.
Whilst Kisacikoglu was thinking, Solovev turned over A♠6♠ apparantely not realising there was another player still to act. That information was enough to get Kisacikoglu to fold to the re-raise. As Cook revealed he had the best of it with K♣K♥, Solovev apologised to the table for his error.
The dealer brought out 3♣4♣K♠ and it looked like it was all over for Solovev with top set for Cook. The 2♠ brought a renewed hope though, with a flush draw for our all in player. The Q♥ didn't turn it around and we say farewell to Solovev.
And breathe. --LY
5pm: A shot in the arm for Dulowski
Level 7 - Blinds 300/600 (BB ante 600)
"What did you have during the break? Shots?" The question was aimed at Krzysztof Dulowski after the Polish player had taken down two big pots in row, to go from short stack to back in the game.
In the first pot Frederico Gomes opened to 2,300, he was flat called by Danny Covyn and Dulowski then shoved for 13,000. When it folded back to Gomes he re-raised all-in and Covyn, despite getting a count of Gomes's shove, which was 24,300, folded.
Dulowski: A♦K♣
Gomes: Q♥Q♣
This El Clasico went the way of the overcards as the 5♥6♦K♦2♠8♥ board favoured Dulowski and he doubled. Whilst he was still stacking chips the next hand was dealt and by the time the action reached him there had been a raise to 1,500 and a three-bet to 4,000 from Covyn. This didn't seem to bother Dulowski as he yet again moved all-in. This time it was 29,800 for anyone who wanted to look him up. No one did though and he took the spoils again. --NW
4:45pm: Back at it
Level 7 - Blinds 300/600 (BB ante 600)
Play is back underway here at Casino Marbella. 241 of 328 players remain, which makes the average stack 40,829. That's just over 68 big blinds. --NW
4:25pm: Six down, many more to go
Level 6 - Blinds 200/500 (BB ante 500)
That's the end of level six and the players are now on a 20-minute break. The total number of levels to be played today is unknown, that's because today we'll play until just 15% of the field remains. We expect that to be sometime around level 15-17. --NW
4:20pm: A couple more bust outs
Level 6 - Blinds 200/500 (BB ante 500)
It seems we have reached that point in the day, when the short stacks are looking for a spot to get the last of their chips in. This was the case for two hands that took place one right after the other across different tables.
Roger Gretsch failed to win a flip versus Kirill Panov in the first of them. In the second, Gabor Szabo got it in behind with Q♦T♥ against Valerii Dadonov's A♣K♠.
The run out was a cruel T♠8♥8♠Q♣A♥. By the turn, Szabo had two pair, queens and tens, only to find them counterfeit by Dadonov's two pair aces and eights on the river.
Gretsch and Szabo will need to re-enter to stay in the comp and they have until the start of Level 9 to do so. --LY
4:05pm: Gone...for now
Level 6 - Blinds 200/500 (BB ante 500)
Whilst some decent stacks are being built here on Day 1, what goes up, must also come down and a fair few players find themselves on the outside looking in or, more likely, outside enjoying the clement weather of Marbella. Among those to have busted are: Daniel Hernandez, Per Alfredsson, Dmitrii Nazarov, Mark Baxter, Pedro Lamarca, Sol Bartholomeus, Romain Feriolo, Narcis-Gabriel Nedelcu, Said Kambez Nadjem, Andrey Vlasenko and Danny Covyn.
This event allows re-entries so any of the above could be back again today. --NW
4pm: Cody takes his seat
Level 6 - Blinds 200/500 (BB ante 500)
Team PokerStars Pro Jake Cody has now joined the field. Interestingly, the seat draw has put him on the same table as Daniel Gomez. We will keep you posted with any notable action that takes place between the two players. --LY
3:55pm: 310 and rising
Level 6 - Blinds 200/500 (BB ante 500)
The number of entrants on Day 1A of the Main Event is still heading north, with the total now sitting at 310. That's already more than last year's Day 1A, which attracted 303 players. Late registration is open until the start of level nine so we're likely to see this number continue to grow. --NW

3:35pm: Grafton pulls some back
Level 5 - Blinds 200/400 (BB ante 400)
Sam Grafton just won a decent pot on a T♠A♥T♣3♥2♥ board. Following his checks all round on the flop, he check-raised turn and barrelled again on the river. It was enough to take the pot down without showdown. After sitting with less than starting stack for a little while now, those chips have brought him back to around 27,000. --LY
3:15pm: Silviu's stacking chips
Level 5 - Blinds 200/400 (BB ante 400)
Silviu Baltateanu is one of those players who has a noticeable table presence. It's not through a Chidwick or McDonald like posture and stare, but down to a routine and a jovial nature. The Romanian's also got gamble, that much is for sure.
He'd limped in from under-the-gun and Riccardo Bonelli, who was next to act, then shoved for 10,800. It folded back around to Baltateanu and he began to chat to Bonelli as he considered whether to call this 27 big blind shove. Eventually he slammed the calling chips over the line and it was time for a showdown.
Bonelli: A♦J♣
Baltateanu: 4♠4♣
The 2♦5♥7♠5♦6♠ run out kept the baby pair in front and Bonelli headed to the exit. Baltateanu has around 57,000 now. --NW
3:10pm: Three-way all-in
Level 5 - Blinds 200/400 (BB ante 400)
Three players got their chips in preflop just now. After Grant Cook opened and Mario Del Piero flatted, Arian Chiticaru took the opportunity to squeeze his last 6,100 chips all-in.
Cook thought about his options before moving all-in over the top for 19,000 and it was a quick call from Del Piero.
Cook Q♥Q♦
Del Piero T♥T♦
Chiticaru A♠J♦
Cook had the best of it and was looking to dodge an ace or a ten, as the trio headed into the flop. It came 3♦2♠5♣ and Chiticaru had picked up a gutshot, giving him seven outs in total for a triple.
The 8♠ turn and 6♥ river faded for him though and we say goodbye to the Romanian, at least for now. For Cook, having eliminated one opponent and securing a double against another pushes his stack up to around 45,000. --LY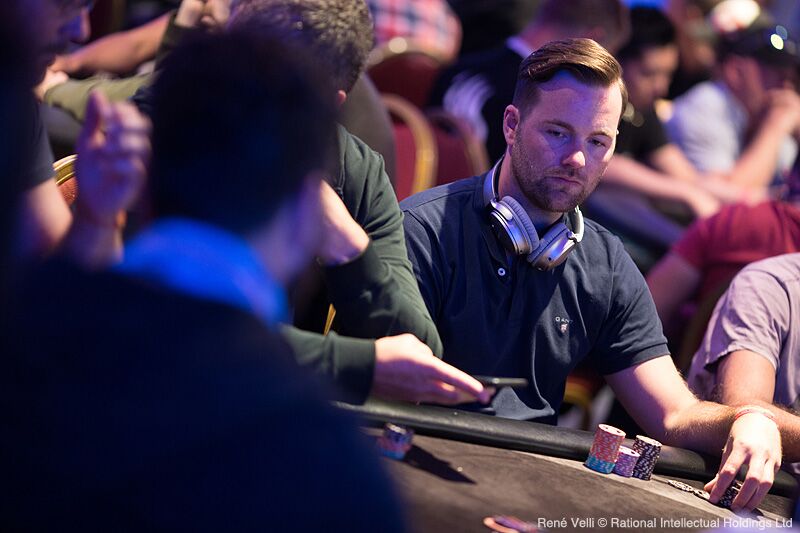 Grant Cook
3:05pm: Some ups and some downs
Level 4 - Blinds 100/300 (BB ante 300)
Taking a quick scan of the room, it has been mixed fortunes so far for some of our most well-known entrants. Jonathan Schulman and Sam Grafton have yet to increase their starting stack, sitting on 20,000 and 25,000 chips respectively. Meanwhile, local hero Isidoro Barreña has made a small profit, upping his stack to 34,000.
It has been a good start to the day for Marc Radgen though, the Brit has been accumulating chips nicely over the first two and a half hours of play today. He is sitting with over 45,000 in front. --LY
3pm: Haward's here
Level 4 - Blinds 100/300 (BB ante 300)
With apologies to Luke Haward it's hard to miss him at the poker table. Not only is he tall, like really tall, but he's usually wearing a distinctive suede cowboy hat on top of hair that extends down past his shoulders.
He's also chatty, not something associated with a lot of today's players, and true to form he was engaged in a conversation with Jonathan Schuman as I wandered past their table. The subject was the local cash games, something Schuman knows a thing or two about. --NW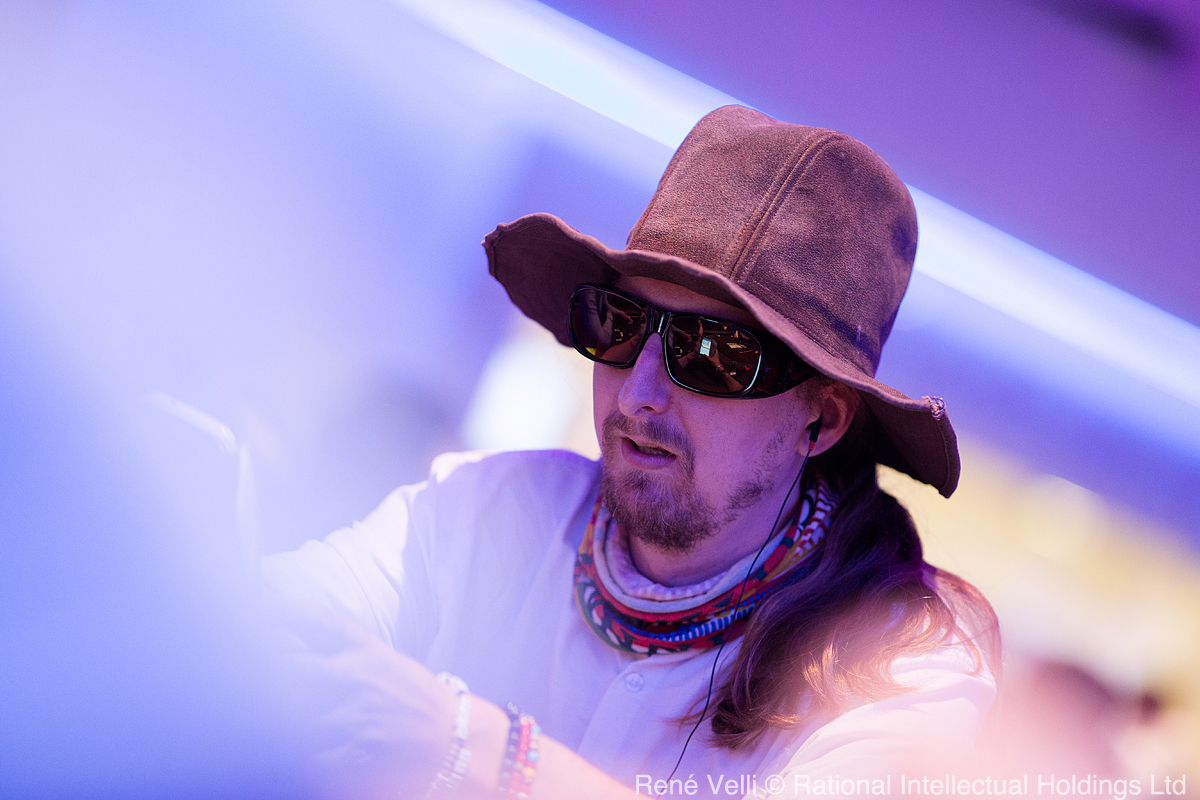 Luke Haward
2:45pm: If at first you don't succeed
Level 4 - Blinds 100/300 (BB ante 300)
As mentioned previously, the Main Event here in Marbella allows for unlimited re-entries. So far 22 players have been eliminated, some have chosen to re-enter with Orpen Kisacikoglu among that number.
His second bullet is going better than the first as he's ran his second starting stack of 30,000 up to nearly 50,000 and I happened to catch him in a hand just a short time ago. He raised to 800 from middle position and picked up calls from the button and both blinds. None of the quartet bet the 8♠9♣9♦ flop and the 3♠ rolled off on the turn. The action checked round to the button, who bet 1,200. Kisacikoglu was the only caller. The T♥ completed the board and this time both players checked. Kisacikoglu swiftly revealed a slow played pair of aces and it was enough to take the pot. --NW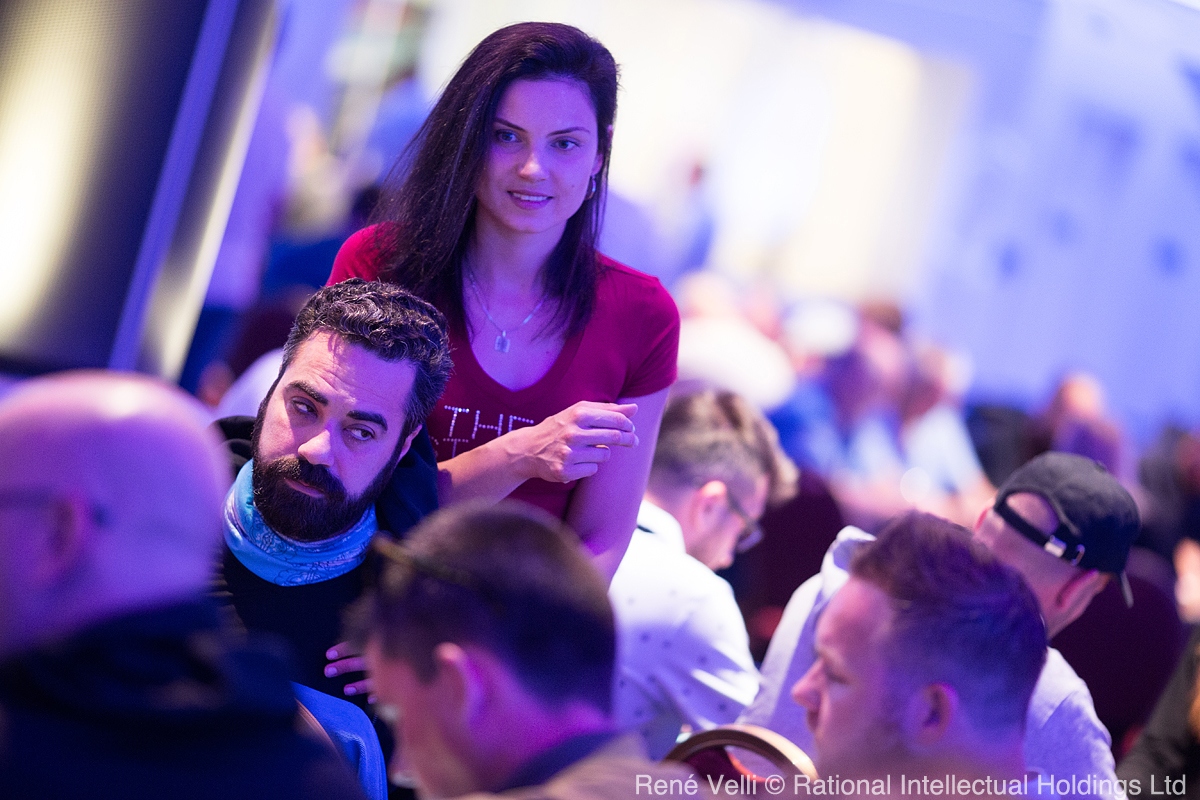 Orpen Kisacikoglu
2:30pm: And we are back
Level 4 - Blinds 100/300 (BB ante 300)
Players have returned to their seats following the break. We can now tell you that during the first two hours of play today 15 entrants busted. This leaves 250 remaining of the 265 starters as we head into Level 4. --LY
2:10pm: Time for a break
Level 3 - Blinds 100/200 (BB ante 200)
We're up to 265 runners now in the Main Event and they'll now have to face something foreign to most poker players, sunshine! Three levels have been completed and the players are now on a 20-minute break. --NW
1:55pm: A quiet level
Level 3 - Blinds 100/200 (BB ante 200)
Players appeared to be taking their time during the course of the last level. Most of the familiar names we mentioned earlier were still hovering around starting stack, as the blogging team did a few laps around the room just now. Perhaps the lure of the break had something to do with that? There are now less than 10 minutes left of this level, which will take us into the first break of the day. --LY
1:30pm: More notables
Level 2 - Blinds 100/100 (BB ante 100)
A further lap of the field has unearthed a few more names and notables in today's field. It's hardly surprising that there's a strong Spanish contingent in the field today. Pedro Lamarca, Emilio Navarro and Daniel Gomez are foremost among them. The latter final tabled the EPT Grand Final in 2012, winning €130,000.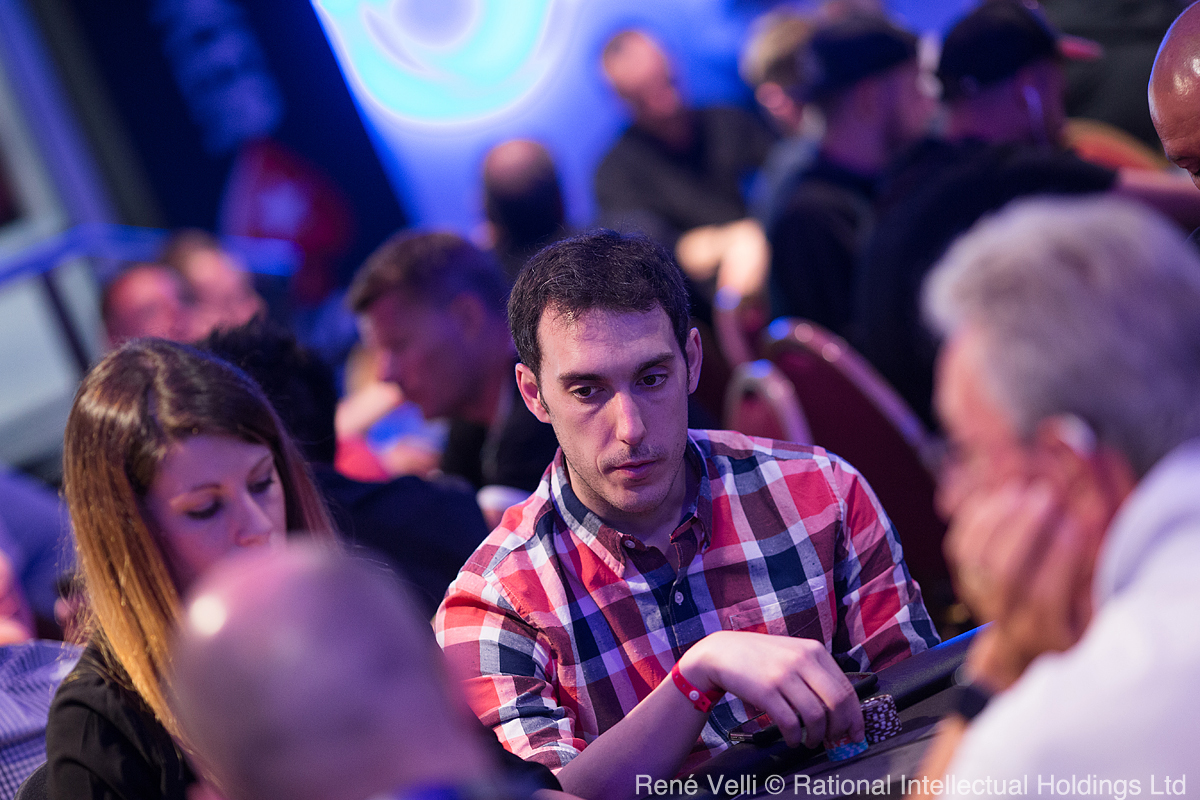 Daniel Gomez
There are a number of players from the UK in the field too, including Sam Grafton and Lawrence 'bigstealer' Bayley. Of course Grafton needs little introduction, he has over $1M in lifetime live cashes and won the PokerStars Festival Main Event in Bucharest in August 2017. He has some rich history in this tournament too with a sixth place finish in 2015 and a ninth place finish in 2014. As for Bayley, he's a former SuperNova Elite, who has begun venturing into the live arena with increased regularity over the past three and a half years. It's been a wise move, he's racked up over $220,000 of live cashes including a deep run at the PCA in 2016.
His good friend Marc Radgen is another notable we'll be keeping an eye on. --NW
1:15pm: Meanwhile, over at the cash desk...
Level 2 - Blinds 100/100 (BB ante 100)
We have just seen Orpen Kisacikoglu over at the cashier desk, no doubt registering a second bullet into this event. With a reputation for being very active, particularly in the early stages of a tournament, plus with unlimited re-entries on offer, we'll hazard a guess that the businessman is prepared to fire a few times at least into the main event. We'll keep you posted. -- LY
1pm: Former champs, high rollers and chip leaders
Level 2 - Blinds 100/100 (BB ante 100)
The tournament clock is showing that 215 players are currently in the Main Event. That's 24 or so tables of Main Event action to look at and we've picked out a few names and notables who're playing today.
Jonathan Schuman - the 49 year-old property developer took down the UKIPT6 Marbella Main Event in 2016, winning €96,159. Marbella is his home from home and this is familiar turf for the Englishman.
Isidoro Barreña - anything you can do I can do better! You see Schuman isn't the only Marbella champion in the field. Isidoro Barreña won the 2015 edition of this tournament, collecting €150,800.
Orpen Kisacikoglu - the High Roller is searching for his tenth cash of the year, but you're as likely to see him playing an €1,000 event as you are a €25,000 tournament. Case in point, Kisacikoglu picked up a cash in Barcelona in a €1,000 event just a few days ago. He'll be looking for another deep run here in Marbella.
Hugo 'nejro14' Benitez - he knows exactly what it takes to have a good Day 1 in this tournament and when we say good, we mean exceptional. He was the Day 1A chip leader last year in this tournament, but failed to convert that dominance to cash. However, should he repeat the trick this year then he'll be guaranteed a cash. That's because all Day 1 flights are playing to 15% of the field, everyone who returns for Day 2 is in the money. --NW
12:50pm: New for this event
Level 2 - Blinds 100/100 (BB ante 100)
As we entered Level 2, we saw the introduction of the big blind ante for the first time at this event. For those of you who are unfamiliar, the big blind ante is paid by the player in the big blind and is the same price as the blind itself. This will speed up the time it takes to play each hand, with dealers only having to take one ante per hand. -- LY
12:40pm: Flush no good?
Level 1 - Blinds 100/100
There was some serious early action taking place in the far corner of the room. When the blogging team arrived at the table, the board was already out and it read J♣8♥8♦7♦6♦.
Andreas Kaju had bet 7,500 only to face a re-raise all in. Kaju went deep into the tank before another player at the table called clock and the floor came over. Before the 60 seconds were up, Kaju sighed and folded face up, showing Q♦T♦. It is an early blow for his stack taking him down to around 20,000. It was possibly a great early fold that keeps him in the game but we'll never know for sure, as his opponent opted to send his cards into the muck. --LY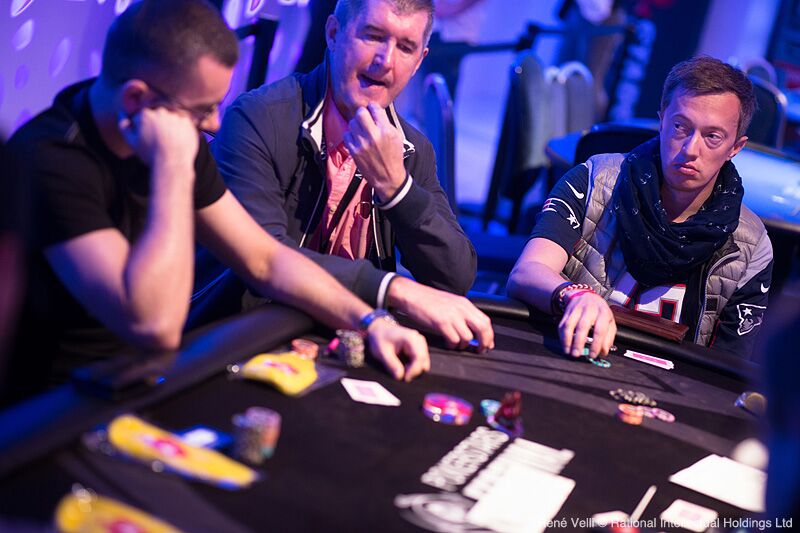 Andreas Kaju
12:30pm: Player down
Level 1 - Blinds: 100/100
Just 20 minutes into play we've had an elimination. No details on the hand I'm afraid, we didn't catch it live, but the Tournament Director confirmed that a player has been eliminated. This tournament features unlimited re-entries, so the vanquished player may well be back for another shot. --NW
12:10pm: And we're off!
Level 1 - 100/100
The cardroom has been filling up steadily over the last half an hour, with players taking their seats for the first flight of the PokerStars Festival Marbella Main Event. Though we have started a little bit late, we are pleased to let you know that play is now underway! -LY
11am: Welcome to marvellous Marbella for the PokerStars Festival
We're back once again at the Casino Marbella for the PokerStars Festival Marbella. We first visited this venue in June 2013 and a hiterhto unknown poker player by the name of Ludovic Geilich took down the UKIPT/Estrellas Poker Tour Main Event as it was then known. Rodrigo Espinosa, Isidoro Barrena, Jonathan Schuman and Ignacio De Maturana have followed him into the winners circle, whilst Jake Cody, Sam Grafton and Jose Lattore are a trio of top names to have made the final table here down the years.
Last year's Main Event attracted over 900 runners, we're expecting another busy week here in Marbella and we'll be awarding three $30,000 PSPC Platinum Passes between now and Sunday night. They'll go to the winners of the Main Event, Marbella Cup and the Marbella Cup Day 2 Flip-Out Challenge.
Jake Cody will be among those hoping to strike platinum, as will Fatima Moreira de Melo. Cards are in the air for Day 1A of the €1,100 Main Event at noon.
Key PokerStars Festival Marbella Main Event facts:
- 30,000 starting stack
- Blinds starting at 100/100 for 300 big blinds
- Levels are 40 minutes on Day 1. All Day 1 flights will play down to 15% of the field.
- From Day 2 onwards levels increase to 60 minutes.
- The big blind ante format will be used for this event.
- Day 1A is today, Day 1B takes place tomorrow and there's also a turbo Day 1C at 7pm tomorrow. There are unlimited re-entries on Day 1.
- The field will then combine for the first time on Friday and we'll play ten levels. On Saturday play will continue until the final table of eight is reached. Sunday is all about the final. Cue mad celebrations and swigging of sangria from the trophy (possibly).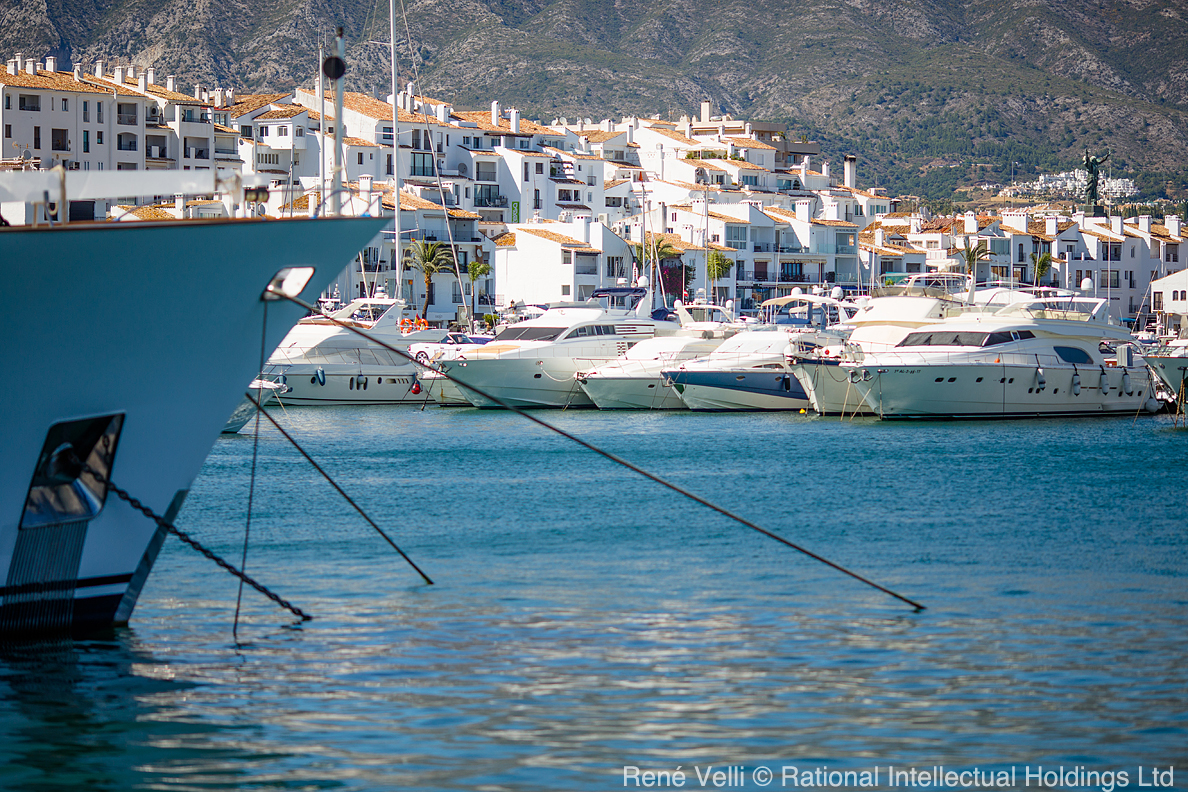 PokerStars Blog reporting team in Marbella: Nick Wright and Lisa Yiasemides. Photography by Rene Velli.
---
Opening a PokerStars account is easy. Click here to get an account in minutes.
---