APPT Manila Main Event Live Updates - Day 1a
• PLAYERS: 167 entries (604) • ALL APPT INFO | APPT MANILA SCHEDULE • DOWNLOAD POKERSTARS | Follow @PokerStarsBlog
00:30am Day 1a Wrap
That's Day 1a done and dusted. It was a record breaker participation wise. 604 entries (crushing the previous record of 594), 479 uniques players, 125 re-buys. At the close of play we had 167 live players. Of course, any bust-outs from today can re-buy tomorrow so I'm guessing we'll see a few familiar faces around. It looks like we'll easily crack 1000 players threshold, so here's hoping.
Our leaderboard reads as follows:
1 - Yuan Chao Li (China) 430, 000
2 - Mingyang Lui (China) 366, 400
3 - Boon Seng Ang (Singapore) 315, 700
4 - Jun Obara (Japan) 310, 700
5 - Ming Huang (China) 301,800
6 - En Cheng Hung (China) 284, 900
7 - I Cheng Lin (Taiwan) 284,500
8 - Eric Soh Tek Hwee (Singapore) 268, 900
9 - Ngoc Anh Cao (Vietnam) 248, 200
10 - Qiang Xu (China) 246, 500
We'll back at 6pm local time tomorrow for the Main Event Day 1b...see you then!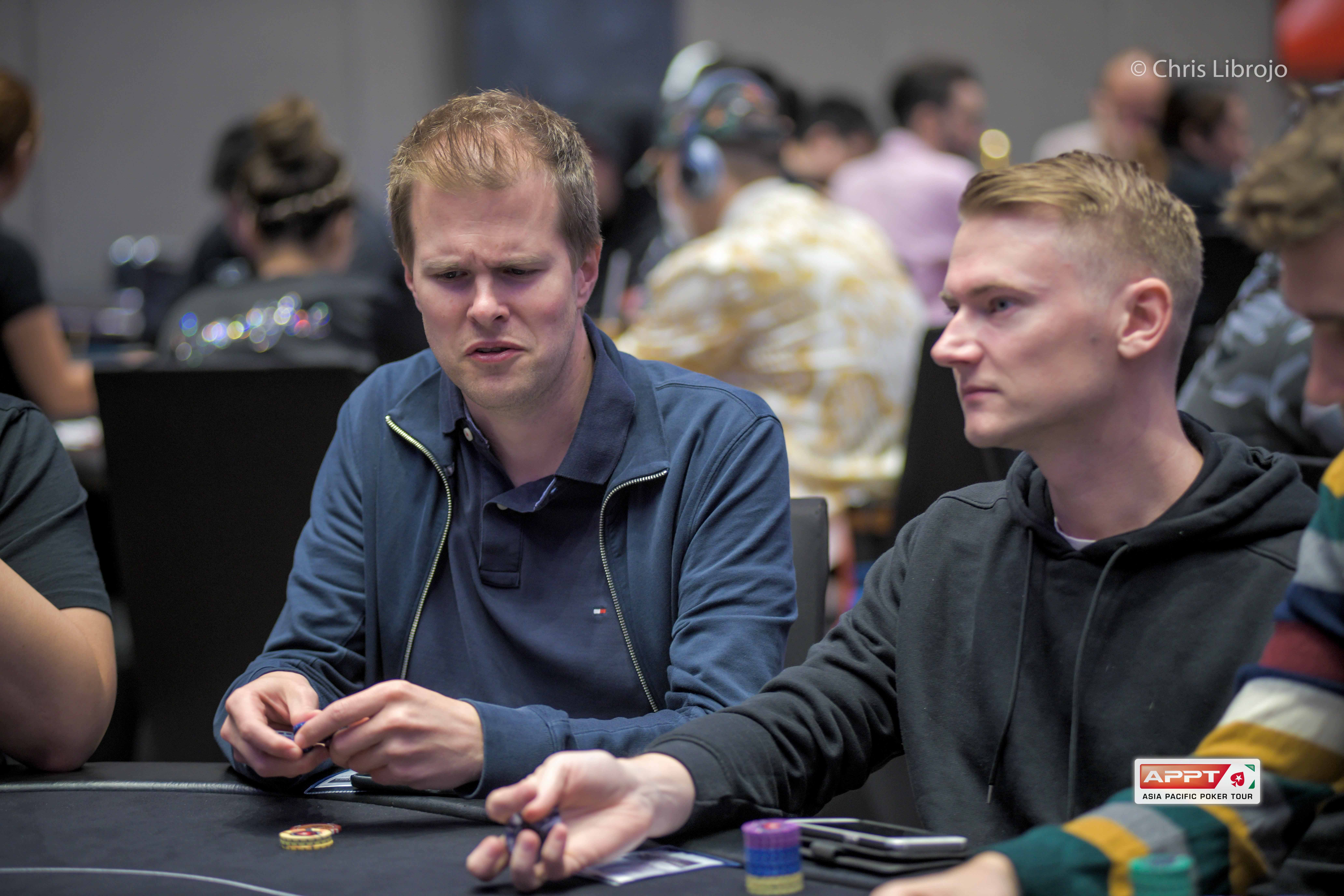 Martin Schamaun (Switzerland) survived the day...shoving with two hands to go and making it out alive.
11:50pm Five hands to go
Level 12: Blinds 1000/2000, ante 300
Five hands to go. Our chip leader is Yuan Chao Li (China) with around 400k in chips...of course, a lot can happen in five hands.
11:36pm Players busting at speed
Level 12: Blinds 1000/2000, ante 300
They're dropping like flies now. Shove central.
Eric Hwee (Singapore) won such a hand. He had a decent stack and had raised pre-flop only to see a push of 30k to follow. Hwee showed A♠ - K♦ and his opponent (whose name I couldn't get as he ran away after busting) revealed J♦ - J♥. The dealer laid out T♣ - K♣ - 6♣ - 6♦ - 2♥, the king giving Hwee a 70k pot and making his personal stack 240k.
11:15pm Last level begins...
Level 12: Blinds 1000/2000, ante 300
We're into the nitty-gritty of the first day. We've entered the last level and you can feel the play tighten. Kong Yue (China) bet 8.5k into a flop of K♣ - Q♠ - 6♦ from the button. From the small blind Sangte Lee (Korea) called. The turn was a A♣ and Lee checked it again, Yue betting 22.5k and after careful consideration, Lee folded. Yue has around 120k in chips now. Average stack is 88k.
10:56pm Vietnam represent
Level 11: Blinds 800/1600, ante 200
Ngoc Anh Cao (Vietnam) sits very still, hood on, cross-legged in his chair. With only himself and one opponent left in the hand, he made a strong 10k bet on the river of a board that read T♦ - 7♦ - 7♠ - 6♠ - 8♥. He adds that haul to his 200k stack.
10:30pm Aditya Sushant Busts
Level 10: Blinds 600/1200, ante 200
WSOP Bracelet Winner Aditya Sushant raised it to 3k pre-flop. Chun Kit Leung re-raised to 7.5k and Sushant shoved. Leung showed A♣ - K♥, Sushant sighed and turned over A♦ - Q♣. The dealer cycled out the cards quickly and Leung hit his king with Sushant missing entirely. Leung had him covered chip-wise, around 54k.
As we are typing this we can see Sushant sitting down in the Turbo Megastack... straight back on the horse.
10:04pm Henrik Tollefsen Busts
Level 10: Blinds 600/1200, ante 200
Henrik Tollefsen (Norway) shoved for 13.2k on the button and managed only one caller, Anthony Gabitan (Philippines). The Norwegian showed A♠ - Q♣, Gabitan turned over 8♥ - 8♣. The flop was horrendous for Tollefsen with 5♥ - 5♠ - 8♠, and turn made it even worse coming 8♦. Drawing dead. Gabitan a happy man.
BREAK
9:30pm Huge three-way pot goes down just before the break
Level 9: Blinds 500/1000, ante 100
Yuan Chao Li (China) took down a monster 124k pot seconds before the break. His pocket 3's tripped up on the flop and when the board paired and made his boat on the river he beat out the trip kings and a flush draw from the two players whose shoves he'd called. He already had a good stack, now it's formidable at 329.5k. Definitely one of the biggest in the tournament. I only caught the chaos at the end of the hand, and the break came immediately afterward. Great hand to win just before a break.
9:11pm Gerrits going strong
Level 9: Blinds 500/1000, ante 100

Last time I checked in on Martin Gerrits (Netherlands) he was battling away with an average stack. He has close to 150k now.
With a flop of 6♥ - T♠ - A♣ both Gerrits and his opponent Hermie Chua (Philippines) checked. The turn was dealt 8♦, Chua checked and Gerrits bet 2.5k. Chua made the call. The river came out a 4♣ and the same pattern occurred, Chua checking it, Gerrits betting, 3.5k this time. Chua took his time making this decision. Eventually calling. The Dutchman showing A♠ - K♥, and Chua not bothering to turn his hole cards over.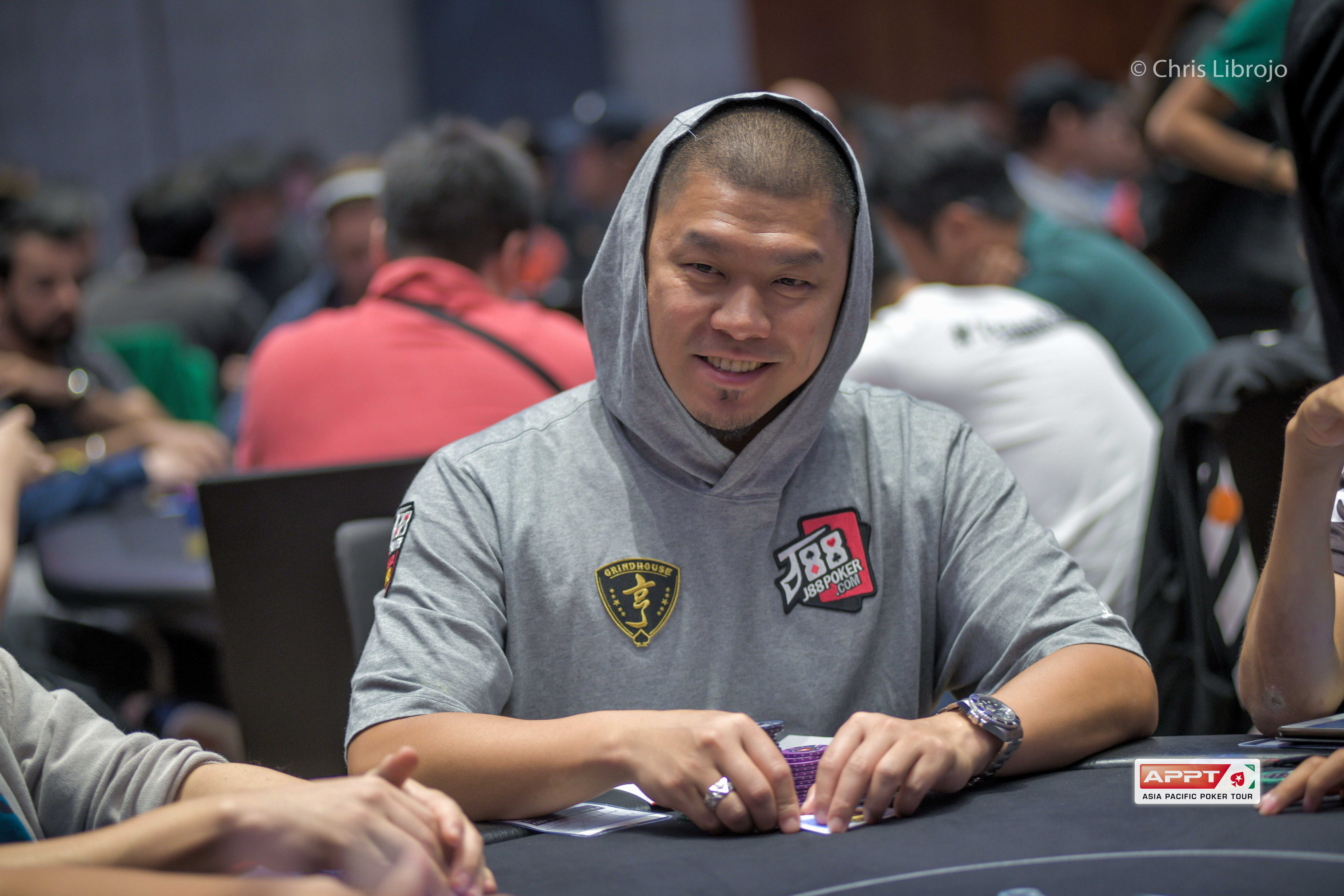 8:40pm Macau Millions winner hanging tough
Level 8: Blinds 400/800, ante 100

Chen-An Lin (Taiwan) won the 2018 Macau Millions and had very solid WSOP just a few months ago, cashing in the Main Event (and 7 other events). He's holding on, with a stack of around 50k, which is about average right now.
8:25pm Intensity
Level 8: Blinds 400/800, ante 100

With the re-buy hour coming to a close decision-making is becoming more vital (of course there is tomorrow to come). With a board of 8♥ - Q♥ - 3♠ - 2♦ - T♣ Chun Kit Leung (Hong Kong) bet 5.6k into a pot of a similar size. The only other active player, Henrik Tollefsen (Norway) went deep into the think tank for this one. He only had about 30k left. You could virtually see him working through the various scenarios as he stared ahead in silence...and after a good chunk of time, he made the call. Leung flipped over bullets, and it was enough, all the Norwegian could do was muck his cards and nod an acknowledgment of 'well played'.
8:04pm 500+ players today
Level 7: Blinds 300/600, ante 100

Looks like we're going easily break the one thousand player barrier for the Main Event. We over 550 runners today, and there's still another hour left to rebuy into the event. With another flight tomorrow, our measly '750 players overall tournament' estimate is going to get blown out of the water. Luckily we took the over...
In fact, we have just been informed last year's Main Event set the record for the largest international tournament with a buy-in of ₱30,000 or more in the history of the Philippines, attracting 594 entrants and generating a ₱28.8 million prize pool. My guess is that may tumble tonight.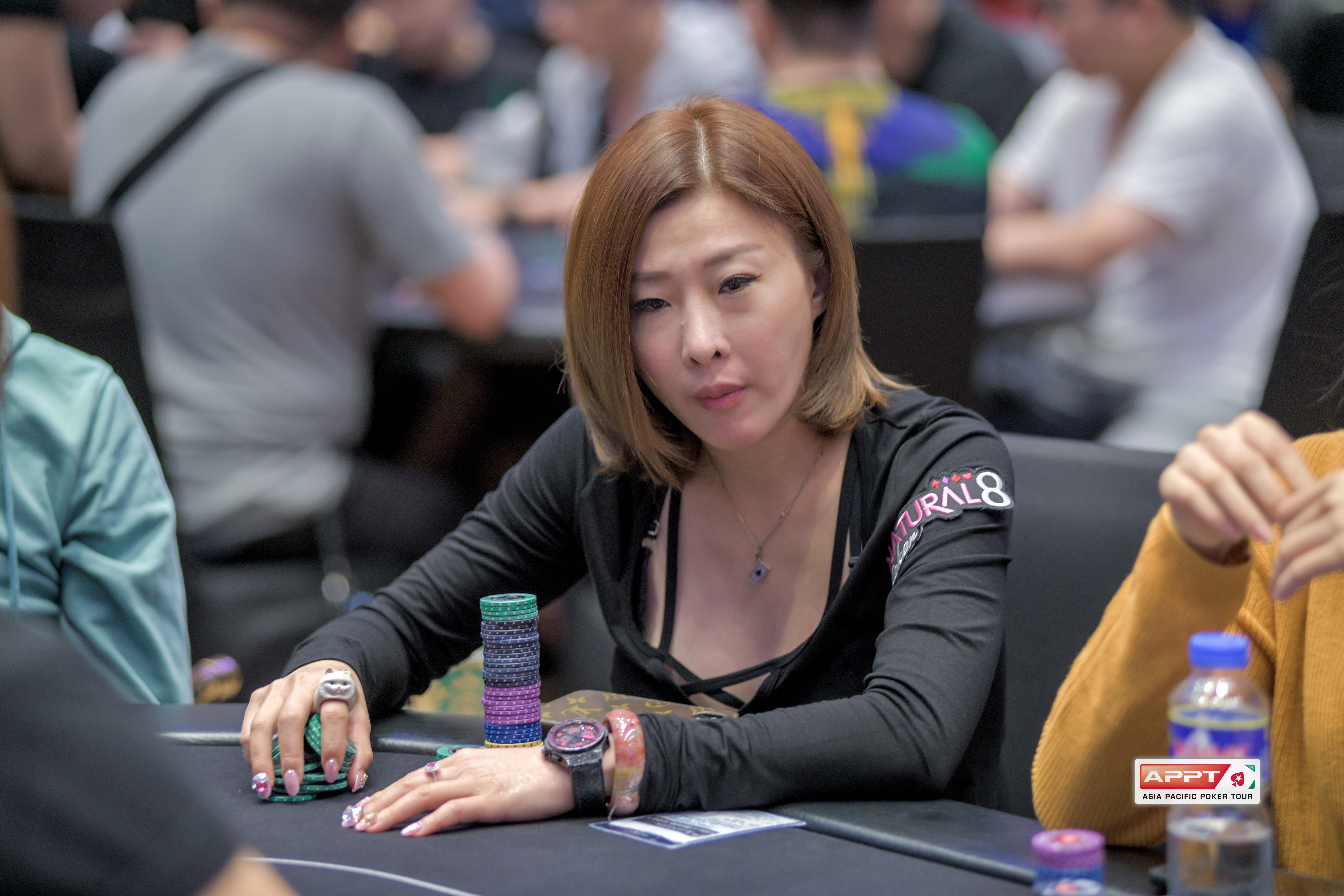 7:45pm Kitty Kuo almost busts
Level 7: Blinds 300/600, ante 100

The felt read 8♥ - 9♣ - A♣ - 9♦ and former Asia Player of the Year Kitty Kuo (Taiwan) in the big blind spot raised to 12k with folds all around the table until Quxiao Chen (Macau) in the small blind position shoved for over 30k. Ku called and showed A♦ - 5♦, Chen turned up trip 9's with Q♦ - 9♠. The river was no help for Kuo and Chen raked in 65k+ pot. Kuo had 300 left for her small blind the next hand...and nothing else.
7:15pm Jun Obara with a massive stack
Level 7: Blinds 300/600, ante 100

Jun Obara (Japan) is one of the chip leaders at the minute with around 200k in front of him. With the board reading 2♣ - J♠ - 8♣ - 6♦ - J♦ Obara bet 2.2k into the pot after being checked to. Folds all round, Obara protects his big blind, the rich get richer.
BREAK
6:50pm Gabitan takes it down
Level 6: Blinds 250/500, ante 75

I wandered past a board reading 3♥ - 6♥ - Q♥ - 2♦ . As I stopped to watch Anthony Gabitan (Philippines) shoved his 22.5k remaining stack and Dave Spade (Philippines) swiftly called. Gabitan showed A♥ - J♣ and Spade turned up 3♠ - 3♣. Gabitan praying for that river heart to show up, Spade rearranging his Celtics cap hoping otherwise. The river came down 5♥ like a dagger in the heart for Dave...Gabitan in opposite grinning from ear to ear. Sweet pot of near 50k. Spade still has chips and will fight on.
6:36pm Martijn Gerrits in the house
Level 6: Blinds 250/500, ante 75

Martins Gerrits (Netherlands) is having one hell of a year. He finished 15th in the WSOP Main Event in Vegas this year and also finished 3rd in the WSOP 10k Heads-Up Championship. He is hanging tough here in Manila, with about 30k in front of him as we enter Level 6.
6:01pm Ochir looking good
Level 5: Blinds 200/400, ante 50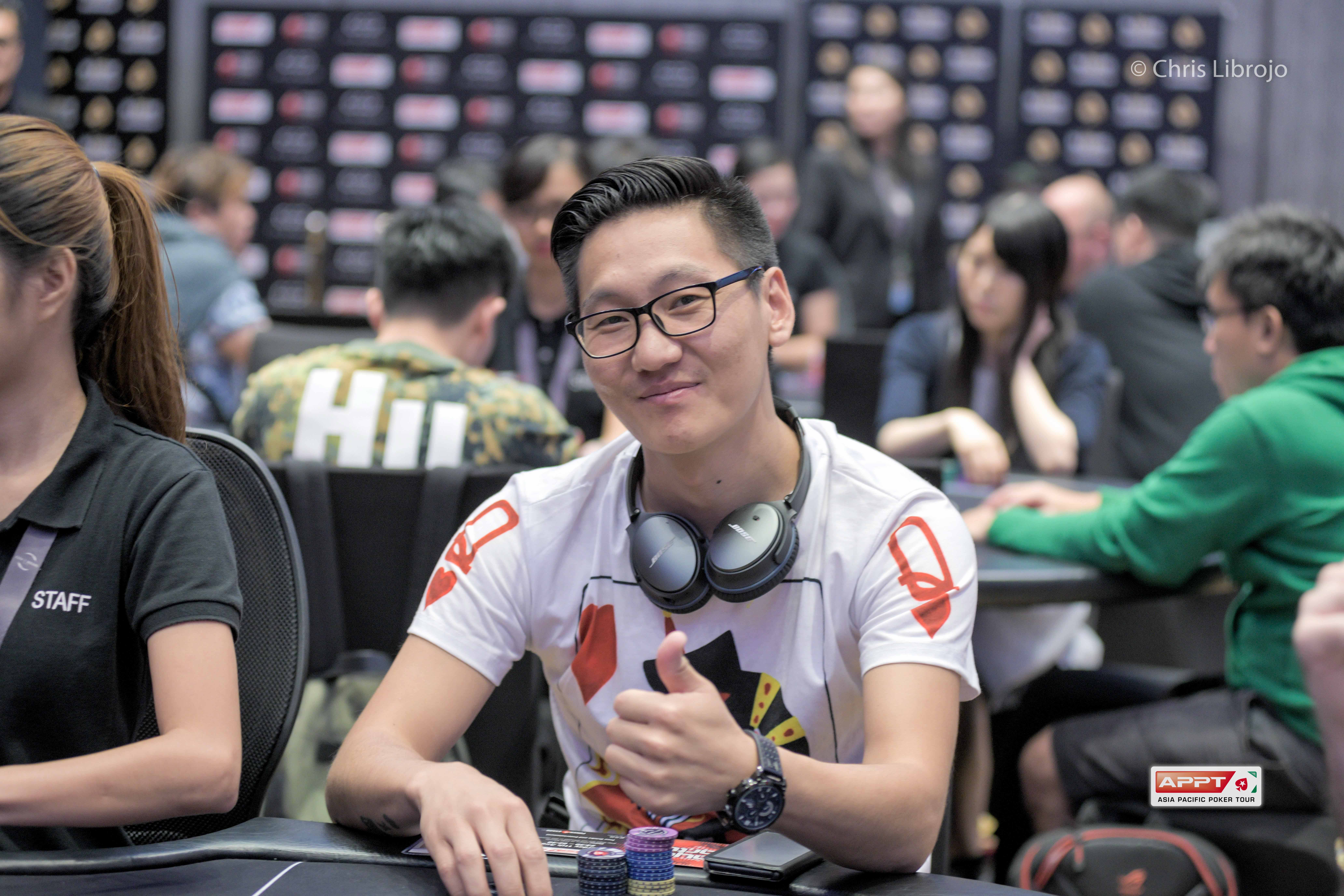 APPT Kickoff Winner Tsoloman-Erdene Ochir (Mongolia) has a sizable stack of about 110k. A nice hand went down at his table. He started the action raising to 1k under the gun but was immediately re-raised to 3.2k by En Hui Ching (Singapore), who in turn was re-raised by Sriharsha Doddapeneni (India), who made it 8k to go. Ching called, while Ochir got outta there. The flop came out 2♥ - K♥ - 3♥. Ching checked it, Doddapeneni pounced raising it to 6k. Ching called. The turn came 2♦ and this time Ching lead out pushing his small stack. Doddapeneni thought for about a minute then called. Ching flipped over 2♣ - 5♣, trip 2's, his opponent showed A♦ - K♦, and the river gave him no joy. Nice score for Ching, and Doddapeneni survived the call.
5:30pm Updates from around the room
Level 4: Blinds 150/300, ante 50
Some stacks counts for notable players: Aditya Sushant (India) - WSOP Bracelet Winner 45k, Kitty Kuo (Taiwan) - Former Asia Player of the Year 30k, Carson Wong (Hong Kong) - ACOP Spadie Winner 45k.
5:15pm Menzel Survives
Level 4: Blinds 150/300, ante 50
Max Menzel (Germany) survived his first push of the tournament. It's been a tough day for the man who final tabled in the Macau Millions earlier in the year. With the board reading T♥ - 3♣ - T♦ - 5♣ - J♥ Menzel made the move with leaving Calvin Tan (Singapore) thinking very hard about making the call. In the end, he mucked, Menzel smiling, pulling in around 25k for his efforts and giving him some chips to work with.
4:45pm Natalie Teh Siew Po starts strong after break

Level 4: Blinds 150/300, ante 50

Natalie Teh Siew Po (Malaysia) continued on strong immediately after the break. Pre-flop action landed on her as the big blind, an earlier raise and call of 700 left her with a decision. Defend or wilt. She played aggressive re-raising to 3700. Fortune favored the bold, folds all around. She has a nice stack now of around 100k.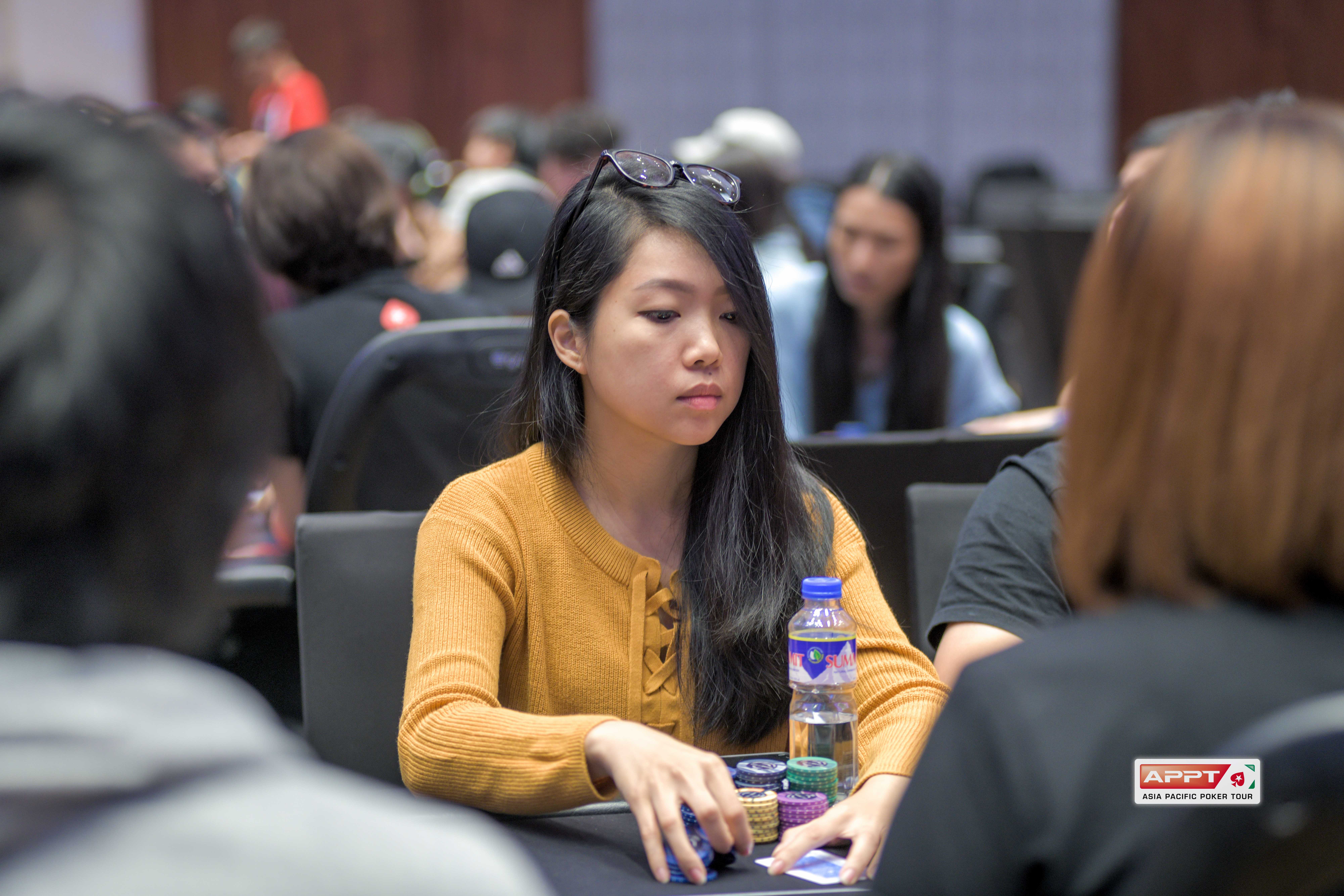 Natalie Teh Siew Po playing strongly today

BREAK
4:15pm Singh sitting pretty
Level 3: Blinds 100/200, ante 25
Amanpreet Singh (Singapore) has been playing nice poker through the first three levels. Quietly accumulating near 80k in chips. A strong position early on on considering the average stack is 32k.
3:55pm Big hand over in the corner
Level 3: Blinds 100/200, ante 25
Nestled in just behind the feature table Boon Seng Ang (Singapore) just pulled in a healthy pot. Tae Hoon Han (New Zealand) started the action two from the button raising pre-flop to 1400. When it came back around to Ang he called. A flop of 2♥ - 2♦ - 5♥ was dealt. Ang liked it and bet out 11k, Han called quickly. The turn came A♦ and both men checked it. The river popped out 9♦. Ang pushed, Han asked'How much?'. When Han made the call, around 20k, Ang flipped over 6♦ - 4♦, a flush, Tan, still alive after hand just put his headphones back on and dialed back in. Ang has around 59k in chips.
3:30pm Raining bullets
Level 2: Blinds 75/150
Haoxing Wang (China) running very hot early on, he's had bullets on three occasions already and pockets kings once to boot. Taking down pots at will. He has around 45,000 in chips.
Average stack is around 30k.
2:30pm Calm before the storm
Level 1: Blinds 50/100
Quite a easy start here folks. No mad plays to start the day.
We have some serious poker talent in the field - Day 1a field includes APPT Kickoff champion Tsolmon-Erdene Ochir, Canada's John Beveridge, the UK's James Mitchell, Manila Megastack 9 champion Ignatius Meng and Hong Kong's Carson Wong.

Updates as we go...
APPT Manila Main Event Day 1a Live Updates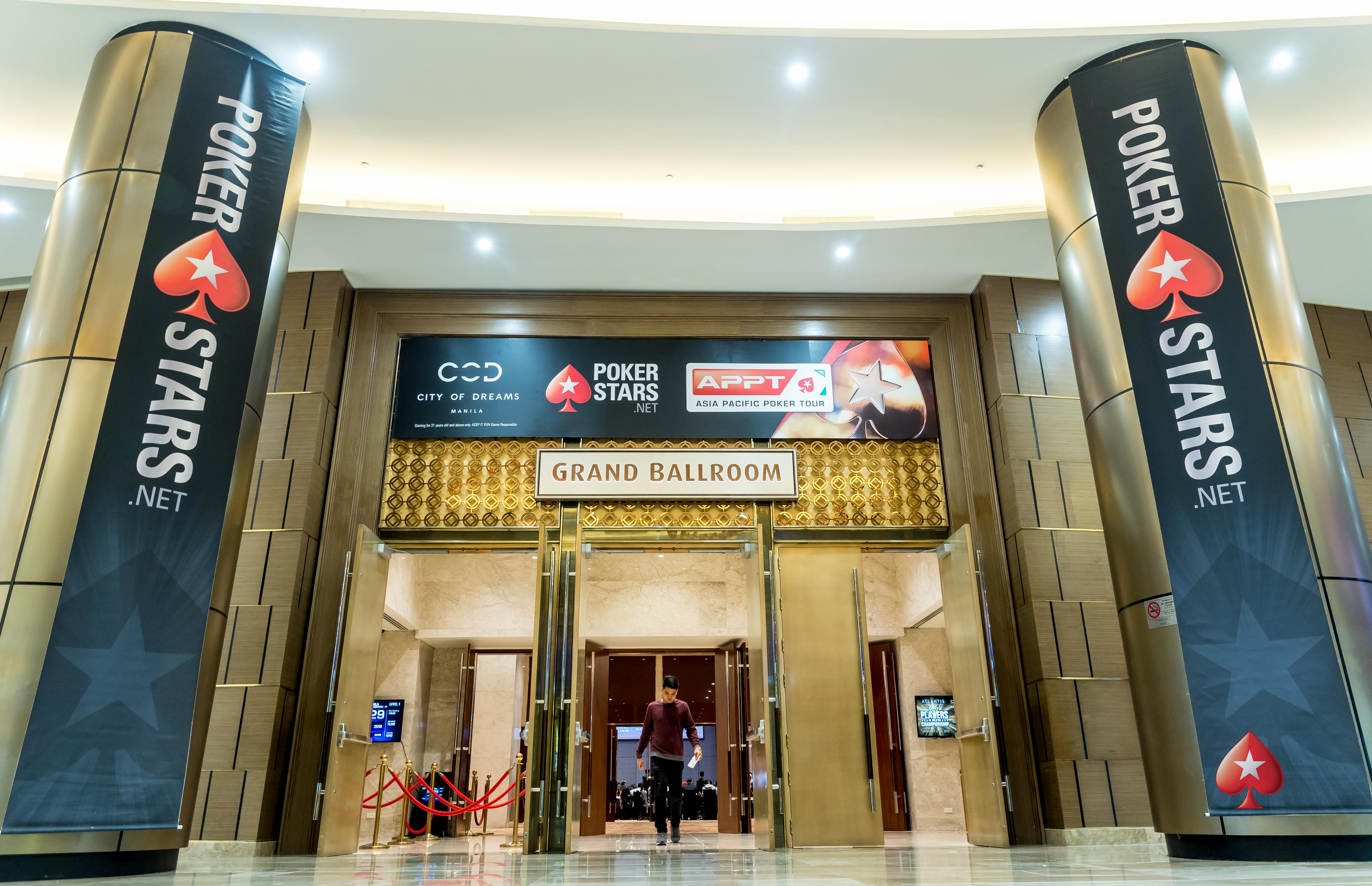 Greetings poker fans and welcome to the Asia Pacific Poker Tour Manila Main Event. Running from August 4-12, The nine-day APPT Manila series includes 22 Official Asia Player of the Year events and will feature the ₱55,000 buy-in Main Event, which comes with a ₱20 million prize pool guarantee. Overall, APPT Manila will offer more than ₱37 million in guaranteed prize money including added value via Platinum Passes.
Five coveted Platinum Passes, worth USD $30,000 each, to the PokerStars Players No Limit Hold'em Championship (PSPC) in the Bahamas in January 2019 will be awarded to the winners of the APPT Kickoff, APPT Main Event, APPT National, Megastack, and Saturday SuperStack events. Platinum Passes include the USD $25,000 event buy-in, accommodation at the Atlantis Resort and up to USD $2,000 in travel costs.
Last year's Main Event set the record for the largest international tournament with a buy-in of ₱30,000 or more in the history of the Philippines, attracting 594 entrants and generating a ₱28.8 million prize pool.
This year's APPT Manila will also include a ₱200,000 High Roller event, which will allow for unlimited re-entries and use the Big Blind Ante and 30-second Shot Clock formats that proved popular at PokerStars and Monte-Carlo® Casino European Poker Tour earlier this year.
PLATINUM PASS EVENTS
• APPT Kickoff (₱3,000,000 Guarantee): August 4-5 - ₱15,000
• APPT National (₱5,000,000 Guarantee): August 5-8 - ₱30,000
• Megastack (Shot Clock & Big Blind Ante): August 7-8 - ₱20,000
• APPT Main Event (₱20,000,000 Guarantee): August 9-12 - ₱55,000
• Saturday SuperStack (₱3,000,000 Guarantee): August 11-12 - ₱30,000
With two Platinum Passes already awarded with record numbers turning up for the ₱15,000 APPT Kickoff and the ₱30,000 APPT National, the Main Event is the fourth tournament this series (the third being the ₱20,000 Megastack, which is down to the final nine) offering players a chance to get their hands on one.
With a ₱20-million guarantee, in addition to the PSPC Platinum Pass worth an addition USD$ 30,000, another huge field is anticipated, with expectations close to 750 players. Day 1a starts at 2pm local time, with the plan to play twelve 45-minute levels, with play expected to conclude around 11.45pm.
Cards will be in the air shortly so watch this space as we bring you all the tournament thrills and spills.
PokerStars Blog reporting team on the ₱55,000 Main Event: JJ DeCeglie. Photography by Chris Librojo.