WSOP 2018: Zobian leads; Cada alive; France's fine day continues with Labat and Loosli
It is getting on for midnight in Las Vegas on Day 6 of the World Series of Poker (WSOP) Main Event. For those of us exiled to Nevada from Europe, we're keenly aware that all the excitable children of England and Croatia are waking up after their final sleep on World Cup semi-final eve. Today is the big day.
It can surely be no coincidence that all English and Croatian interest in the WSOP ended several hours ago, specifically with the elimination of Thomas Macdonald in 78th place. Expats are now free to tune in at 11am wherever they can find a TV and a bar. And that's everywhere.
CLICK FOR FULL DAY 7 COUNTS FROM WSOP MAIN EVENT
It's also worth mentioning that France's Antoine Labat has appeared at the top of the tournament leader board, on the day that his soccer team booked a place in the World Cup final by defeating Belgium. Fellow Frenchman Sylvain Loosli continues his attempts to revisit the Main Event final table for the second time in five years. The country's interests are significant, even after Benjamin Pollak's back-to-back chances perished in 42nd.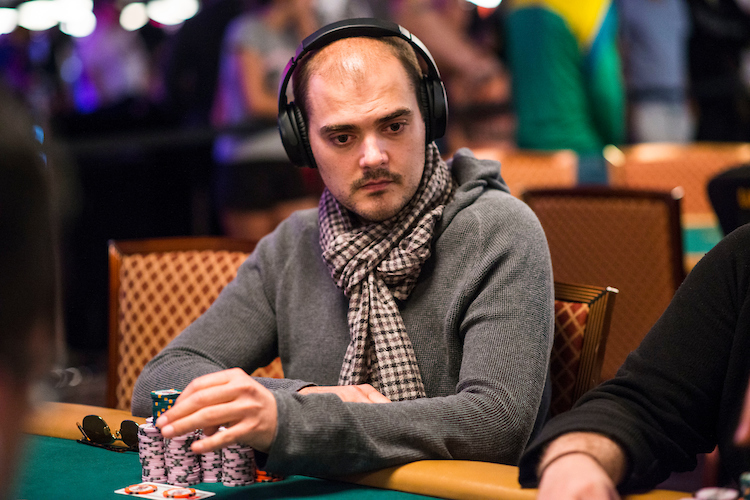 Antoine Labat moves to the summit
Bart Lybaert's Belgium were the team defeated by France today and his Main Event has taken a bit of a nosedive this afternoon as well. Lybaert is still in, but his 5.6 million is one sixth of the 30.1 million Labat is now working with.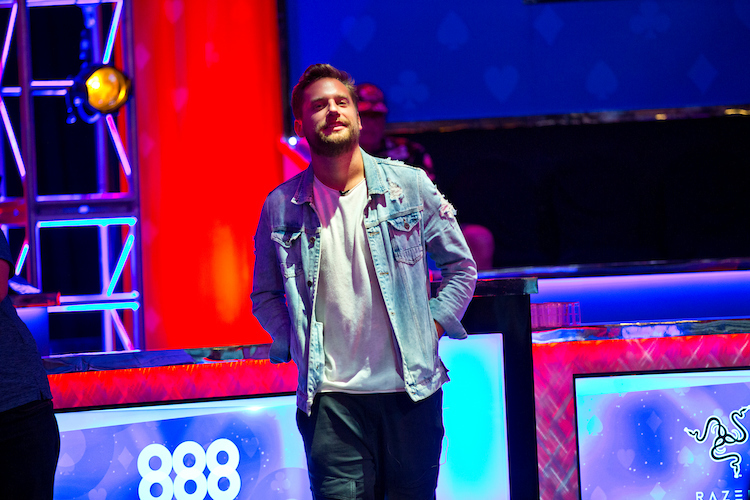 Bart Lybaert: Aiming for further progress than the semi-finals
For all the European heroics, however, it's an American named Aram Zobian who heads the counts of the final 26. Zobian slow-played his pocket queens to pick off Samuel Bernabeu in a 25 million chip pot and finished the day with 41.585 million, and a lead of more than 10 million from his closest challenger.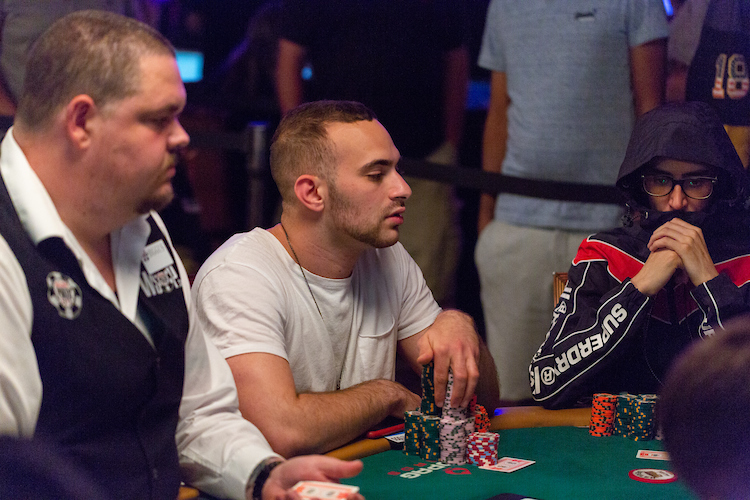 Aram Zobian: Tonight's leader
Zobian's hasty rise was in keeping with a day of destruction on which the returning field of 109 was trimmed to fit around three tables. They actually went one more than was required when Jorden Fox lost with jacks to Michael Dyer.
The reason for the particularly exaggerated rate of departure is the power outage last night which meant play had to stop early. But with 76 percent of a returning field eliminated, today was officially the biggest bloodbath in WSOP history.
Previous days of highest percentage casualties at WSOP
| Year | Day | Start | Finish | % bust |
| --- | --- | --- | --- | --- |
| 2018 | 6 | 109 | 27 | 76 |
| 2018 | 4 | 1,182 | 310 | 74 |
| 2017 | 4 | 1,084 | 297 | 73 |
| 2014 | 5 | 291 | 79 | 73 |
| 2013 | 5 | 239 | 68 | 72 |
| 2009 | 6 | 97 | 27 | 72 |
The field has taken on the distinct resemblance of, well, the distinct resemblance of a deep-stages Main Event field. That means one of two highly recognisable faces--chief among them the former champion Joe Cada--but a greater proportion of players much less known. For instance, we've seen plenty of Artem Metalidi, who is second in chips, on the European scene, but he's hardly a household name. Similarly, John Cynn finished 11th here two years ago, which is a starling achievement, but anyone outside the last nine, even by two places, doesn't quite carry the same cache.
CLICK FOR FULL DAY 7 COUNTS FROM WSOP MAIN EVENT
What the poker world crudely calls "notables" still involved are two-time bracelet winner Eric Froehlich, Day 4 and 5 chip leaders Barry Hutter and Michael Dyer, EPT Madrid champion Frederik Jensen, and high roller regular Ivan Luca. Plenty of others will be making a name for themselves purely based on this performance.
Over in two other quadrants of the Amazon Room, there is a more concentrated collection of well-known players. The $3,000 limit hold'em still features Team PokerStars Pro Barry Greenstein, as well as mixed games monster Benny Glaser, serial Main Event casher Ronnie Bardah and two-time bracelet winner Ben Yu. They are playing to a final table tonight, with $154,338 up top. Currently 14 are left.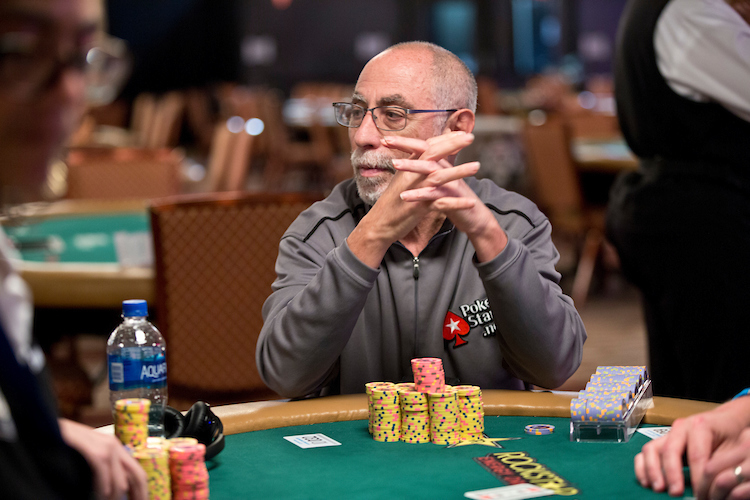 Barry Greenstein: Heading to the limit final?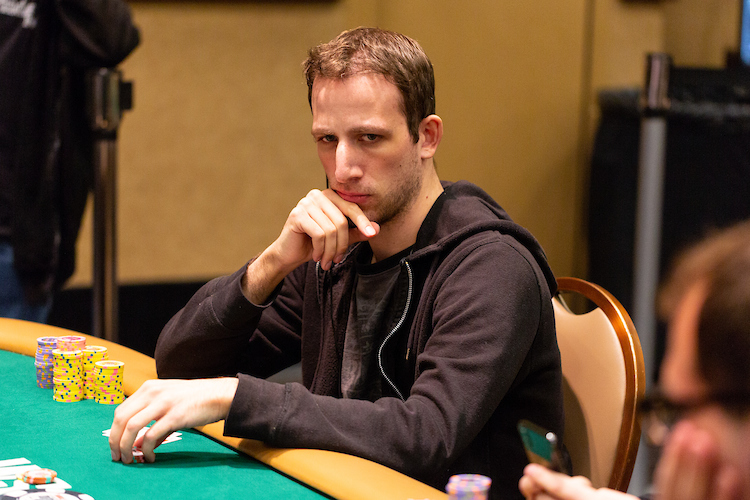 Benny Glaser: Anything except NLHE (and he's not bad at that either)
The $5,000 hold'em, with 30-minute levels, also attracted a high-quality field. Daryl Fish, Igor Yaroshevskiyy, Matt Glantz, Antoine Saout, Jack Salter, Davidi Kitai, Jan-Eric Schwippert, Chance Kornuth, Griffin Benger, Koray Aldemir, Anthony Zinno, Phil Hellmuth, Aliaksei Boika, Grayson Ramage, Cliff Josephy, Jeremy Ausmus and Liv Boeree still have chips there. They're in the money, and Jonathan Abdellatif leads the hunt for $485,082.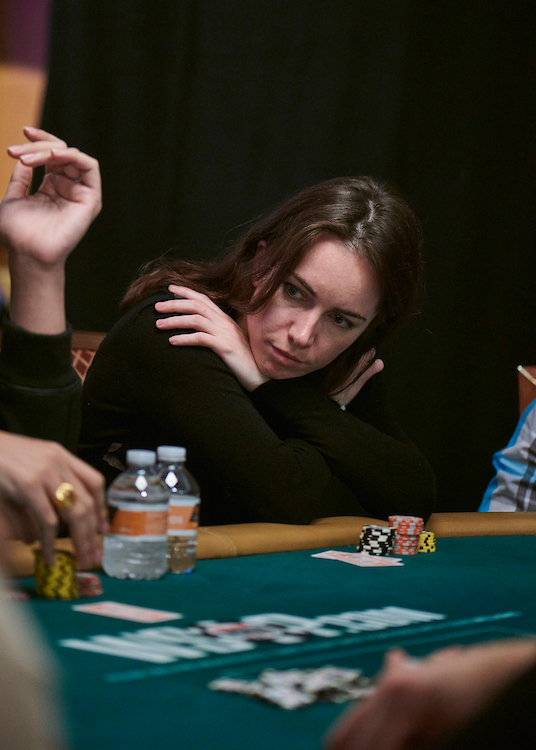 Liv Boeree: Last Team Pro in the Main Event on the spin up
The Little One for One Drop is also getting serious in the Brasilia Room. There were 4,732 entries into that one, each paying $1,111, but now only 130 players remain. There is $559,332 on the line for the winner.
But back to the Main Event, and you can see where it gets that name from. They are playing down to three tables tonight, the last 27, at which point everyone will get $282,630 at least. That's more than the winner of many WSOP tournaments, but it wouldn't even be enough to guarantee "notable" status for next year's return.
We'll be back with details of how the final 27 line up, and how the other days wrapped too, in a few hours. And then it'll be time for the football!
---
DAY 5 | DAY 4 | DAY 2AB | DAY 2C | TEAM PRO'S PROGRESS/RESULTS
Previous 2018 WSOP coverage:
Short stories of long nights at the poker table
The payout process
The regulars, the decorated and the knockers
From the archive: The Fukuburger flood of 2015
Then and now: Jake Cody
From the archive: K.L. Cleeton's inspiring run
Is Andreas Kniep this year's Ylon Schwartz?
Inside the ideas factory: Jason Somerville's Run It Up Studios
Stop, start, break, start, bubble for Matt Hopkins
Then and now: Barry Greenstein
A comprehensive guide to the WSOP bubble
The field converges for bubble day...perhaps
The rough and tumble of Day 2
From the archive: Blood, sweat and other bodily fluids
Untangling the cake riddle to discover the key to Liv Boeree's heart
Meet Muskan Sethi: India's presidential poker ambassador
A return of the masses for the long, slow dance
Then and Now: Daniel Negreanu
Records broken and Red Spades flying
"Thanks Daniel" -- A letter to Negreanu from Phil Galfond
A flippin' fantastic way to enter a poker tournament
Jeff Gross: A momentary pause in the perpetual motion
From the archive: Stages
Moneymaker surveys the world he created
Negreanu continues preparations for PokerStars Players Championship
Then and Now: Andre Akkari
An exceptional Day 1A
From the archive: Rio here, Rio there
Then and Now: Maria Konnikova
All systems go on 'cattywumpus' World Series
WSOP photos by PokerPhotoArchive.com.