WSOP 2018: Team Pros swept away in calamitous Day 4
Well, that was brutal.
PokerStars began Day 4 of the 2018 World Series of Poker (WSOP) Main Event with four representatives, all already in the money and looking to steam forward into the very deep stages. By the end, all were out. None were able to find a place among the 310 who return today to play Day 5.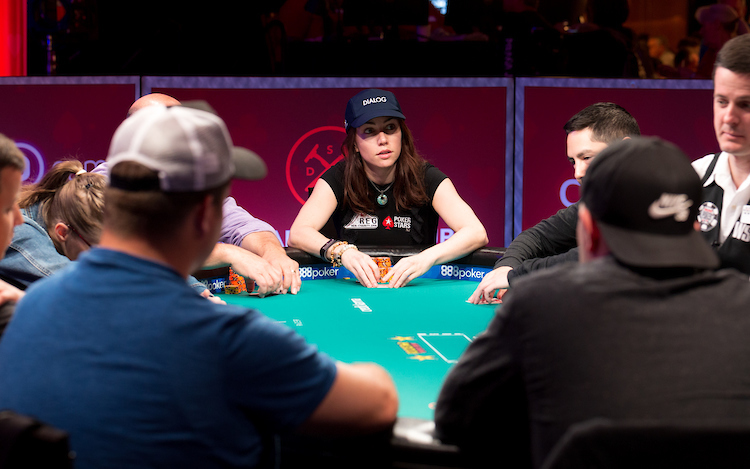 Liv Boeree: Lasted longest of Team Pro
Jake Cody got things started. After declaring last night that poker was coming home--a reference to the "football's coming home" song that is sweeping his native England--he was knocked out inside the first level. Cody's coming home.
Not long after, fellow overnight short-stack Maria Konnikova ended her latest chapter. Making the money at the WSOP Main Event will no doubt provide another thrilling instalment in her book, but it's a measure of how far she has progressed as a player in the past 18 months, that it was deflating to see her depart.
All of Barry Greenstein, Liv Boeree and Aditya Agarwal are experienced campaigners at this tournament, and all had the chip stacks this time to go deep again. But Agarwal would have despaired to see his table draw: he was alongside former double champion Johnny Chan, across from former November Niner Marc-Etienne McLaughlin and, most crucially, seated to the immediate right of Ludovic Geilich, the hyper-aggressive Scotsman.
I watched Agarwal play two hands. In the first, seven folds left Agarwal and Geilich in the blinds of 3,000/6,000. Agarwal completed, Geilich raised to 21,000 and Agarwal called.
Both players checked the 9♥T♠J♦ flop, leading to the K♠ turn. Agarwal bet 15,000 and Geilich called. The 5♠ completed the board and Agarwal bet 60,000. The next moment will be familiar to anyone who has watched Geilich terrorise poker tables across Europe and the United States over the past three or four years.
Geilich took a few breaths then pushed out 168,000. A silent and dejected Agarwal mucked.
A few hours later, I arrived at the table to see McLaughlin all-in pre-flop, having open shoved a short stack. Chan then three-bet and Agarwal four-bet from the button. (I didn't see the amounts.) There was nothing much that McLaughlin could do about this, but Chan then moved all-in for what looked like about 200,000. Agarwal called.
"You have aces again?" the table asked Chan. And he did. Agarwal's pocket jacks were therefore in grave danger, and McLaughlin's Q♦J♦ made things worse for Agarwal. Somehow McLaughlin survived this. I think he made a straight. But another huge chunk of Agarwal's chips went to Chan and he was out soon after.
Out 717th, pretty tough day #WSOP2018

— Aditya Agarwal (@AdiAgarwal_int) July 8, 2018
Nothing was going right for Greenstein either. I watched him play one hand. With blinds 4,000/8,000 Greenstein opened to 18,000 from UTG+1 and Andrew Michael, from Australia, was the only caller in the big blind.
The dealer gave them the 2♣7♣8♥ flop and Michael checked it to Greenstein. Greenstein bet 25,000. Michael called. They both checked the 9♥ turn and then Greenstein fired 60,000 after the 6♠ river. Michael called and Greenstein insta-mucked, leaving him a stack of around 175,000. So many paragraphs finish in this way, and here's another: He was out soon after.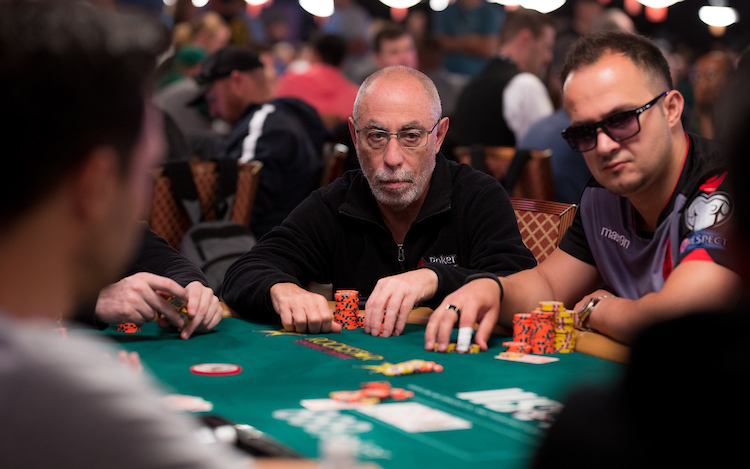 Barry Greenstein: He was out soon after
Boeree therefore became the last Team Pro standing, and she found herself on one of the ESPN feature tables for all of the day. That is until she found herself heading home in 379th place, one of the final departures on Day 4. It earned her $33,305.
Today they play another five levels, with Barry Hutter's 5.597 million stack leading the way. If things go according to established patterns, there will likely be fewer than 100 players left at the end of the day and someone sitting with a stack of more than 10 million. Things just got real.
| Year | Total | 5 start | 5 end | % | Lead | SS |
| --- | --- | --- | --- | --- | --- | --- |
| 2018 | 7,874 | 310 | | | | |
| 2017 | 7,221 | 297 | 85 | 29 | 9,990,000 | 200 |
| 2016 | 6,737 | 251 | 80 | 32 | 11,555,000 | 231 |
| 2015 | 6,420 | 237 | 69 | 29 | 7,105,000 | 237 |
| 2014 | 6,683 | 291 | 79 | 27 | 7,400,000 | 247 |
| 2013 | 6,352 | 239 | 68 | 28 | 7,050,000 | 235 |
| 2012 | 6,598 | 282 | 97 | 34 | 6,935,000 | 231 |
| Average | 6,841 | 266 | 80 | 30 | 8,339,167 | 230 |
| Average since 50K | | 274 | 83 | 30 | 10,772,500 | 215 |
Chart shows year-by-year total number of players since WSOP adopted three starting flights, players starting/finishing Day 5, percentage of survivors, chip-lead (gross) and chip lead (as rounded number of starting stacks)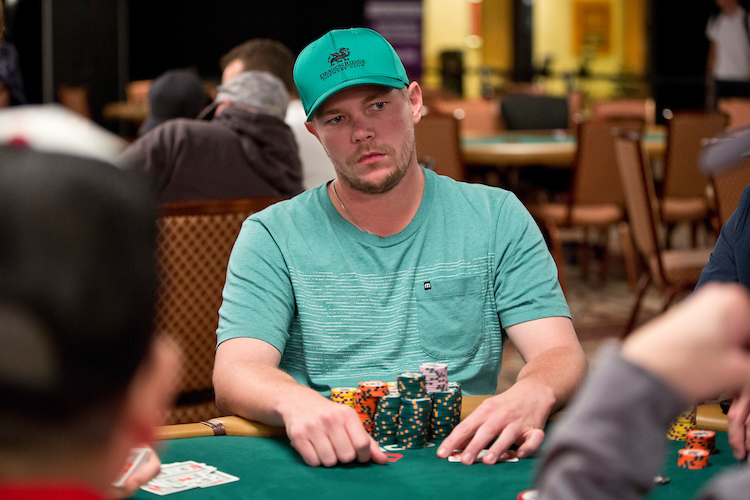 Barry Hutter: Leading the way
---
Previous 2018 WSOP coverage:
From the archive: K.L. Cleeton's inspiring run
Is Andreas Kniep this year's Ylon Schwartz?
Inside the ideas factory: Jason Somerville's Run It Up Studios
Stop, start, break, start, bubble for Matt Hopkins
Then and now: Barry Greenstein
A comprehensive guide to the WSOP bubble
The field converges for bubble day...perhaps
The rough and tumble of Day 2
From the archive: Blood, sweat and other bodily fluids
Untangling the cake riddle to discover the key to Liv Boeree's heart
Meet Muskan Sethi: India's presidential poker ambassador
A return of the masses for the long, slow dance
Then and Now: Daniel Negreanu
Records broken and Red Spades flying
"Thanks Daniel" -- A letter to Negreanu from Phil Galfond
A flippin' fantastic way to enter a poker tournament
Jeff Gross: A momentary pause in the perpetual motion
From the archive: Stages
Moneymaker surveys the world he created
Negreanu continues preparations for PokerStars Players Championship
Then and Now: Andre Akkari
An exceptional Day 1A
From the archive: Rio here, Rio there
Then and Now: Maria Konnikova
All systems go on 'cattywumpus' World Series
WSOP photos by PokerPhotoArchive.com.