Who's Who? The players behind some of the most familiar online poker screen-names
At any given time there are usually about 7,000 players playing on PokerStars, but we hear more about a handful of them than all of the rest combined. That's because, as in all disciplines with a high skill factor, the cream rises to the top.
But who are these people? Who are the real players behind the online screen-names who tend to dominate at the PokerStars tables?
In some cases, we just don't know. PokerStars permits players anonymity, and we are no wiser at PokerStars Blog as to many of the players' identities as you are. But we also have access to social media and other outlets, and we meet people at events, where we'll sometimes ask them their screen-names. Consequently, we've built up quite a knowledge base of players and their aliases. And it's time to share it.
Here's our list of PokerStars screen-names and the real people we know are behind them.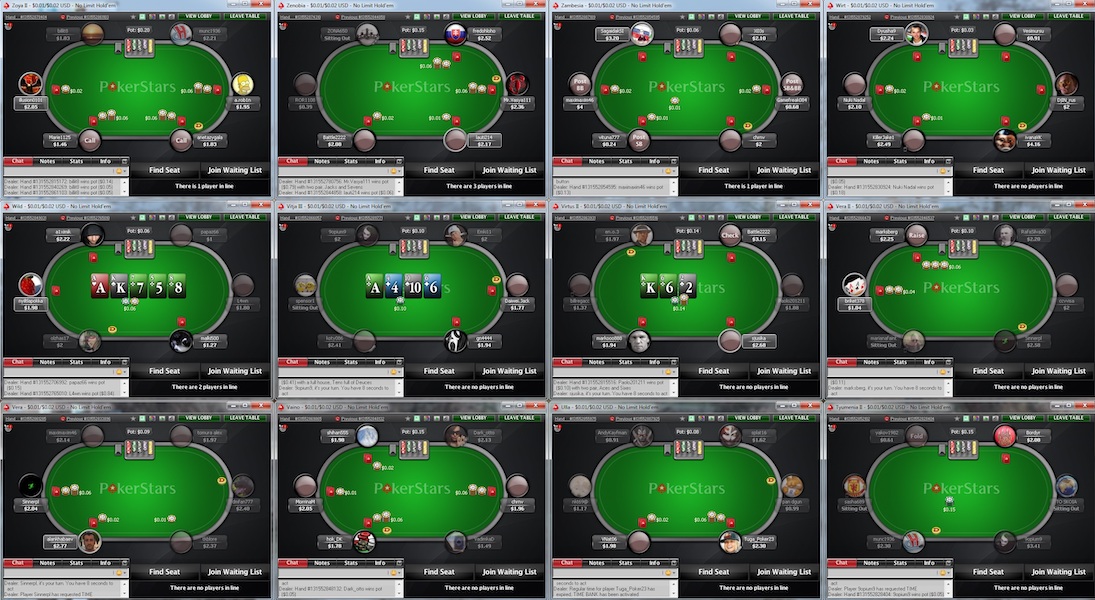 Who are all these players?
The list features only players whose screen-names are either common knowledge or who have volunteered the information online -- usually via a social media account, a results-tracking service (such as Pocket Fives), an interview or part of a coaching offer. The "Nationality" field shows the country in which they hold a passport, but the "Based" field shows the country in which their PokerStars account is currently registered, and from which they play online. (This is subject to change as players move around.)
This is far from exhaustive and it is likely to be updated as and when we learn more.
| Online name | Real name | Nationality | Based |
| --- | --- | --- | --- |
| 26071985 | Christoph Vogelsang | Germany | UK |
| €urop€an | Samuel Vousden | Finland | Finland |
| 1_conor_b_1 | Conor Beresford | UK | UK |
| 2pacnrw16 | Dietrich Fast | Germany | Austria |
| AaronBeen | Aaron Been | USA | Mexico |
| AceSpades11 | Mark Radoja | Canada | Canada |
| Adamyid | Adam Owen | UK | Mexico |
| aDrENalin710 | Denis Strebkov | Russia | Russia |
| AfRoBiZzLe! | Seun Oluwole | UK | UK |
| Aggro Santos | Scott Margereson | UK | Ireland |
| ale6ka | Aliaksei Boika | Belarus | Belarus |
| Amadi_17 | Adrian Mateos | Spain | UK |
| Andy McLEOD | James Obst | Australia | Costa Rica |
| apestyles | Jon Van Fleet | USA | Canada |
| Apotheosis92 | Christopher Kruk | Canada | Canada |
| baeks22 | Stefan Schillhabel | Germany | Austria |
| Belabacsi | Peter Traply | Hungary | Hungary |
| bencb789 | Benjamin Rolle | Germany | Austria |
| Ben86 | Ben Tollerene | USA | Canada |
| Big Huni | Chris Hunichen | USA | Costa Rica |
| bigfox86 | Alex Foxen | USA | Canada |
| BillLewinsky | Joris Ruijs | Netherlands | Netherlands |
| Bit2Easy | Luke Reeves | UK | UK |
| blanconegro | Connor Drinan | USA | Mexico |
| Bounatirou | Dominik Nitsche | Germany | UK |
| BowieEffect | Andy Wilson | UK | UK |
| BrynKenney | Bryn Kenney | USA | Canada |
| buck21 | Shaun Buchanan | Canada | Canada |
| C.Darwin2 | Simon Mattsson | Sweden | Sweden |
| caecilius | Nick Petrangelo | USA | Canada |
| cal42688 | Calvin Anderson | USA | |
| ClockWyze | Andrew Pantling | Canada | Canada |
| cocojamb0 | Ognjan Dimov | Bulgaria | Bulgaria |
| colisea | Dzmitry Urbanovich | Poland | Belarus |
| Corback_fr | Jonathan Therme | France | UK |
| CrabMaki | Dave Shallow | UK | UK |
| CrownUpGuy | Fedor Holz | Germany | Austria |
| Daghemuneguu | Maxime Chilaud | France | UK |
| Danny98765 | Dan Smith | USA | |
| dans170' | Danilo de Lima Demetrio | Brazil | Brazil |
| dariepoker | Vlad Darie | Romania | Romania |
| darrenelias | Darren Elias | Canada | Canada |
| daskalos20 | Andreas Christoforou | Cyprus | Cyprus |
| dpeters17 | David Peters | USA | Canada |
| easywithaces | Fintan Hand | Ireland | Ireland |
| eisenhower1 | Christian Jeppsson | Sweden | Sweden |
| Epiphany77 | Charlie Carrel | UK | UK |
| Exclusive | Noah Boeken | Netherlands | Netherlands |
| firaldo87 | Niall Farrell | UK | UK |
| fish2013 | Mikita Badziakouski | Belarus | Latvia |
| Flush_Entity | Griffin Benger | Canada | Canada |
| FrenchDawg | Marc-Andre Ladouceur | Canada | Canada |
| fviana | Fernando Viana | Brazil | Brazil |
| Gboro780 | Steve Gross | USA | |
| Girafganger7 | Bert Stevens | UK | UK |
| go0se.core! | Steffen Sontheimer | Germany | Austria |
| goleafsgoeh | Mike Leah | Canada | Canada |
| gordon0410 | Vicent Bosca | Spain | UK |
| Graftekkel | Jans Arends | Netherlands | Netherlands |
| Greenstone25 | Johannes Korsar | Sweden | Sweden |
| Grindation | Phil McAllister | UK | UK |
| Gunning4you | Scott Seiver | USA | Canada |
| HealTheWorld | Julian Thomas | Germany | Austria |
| heyalisson | Alisson Piekazewicz | Brazil | Brazil |
| Igorkarkarof | Simon Rønnow Pedersen | Denmark | Denmark |
| ImDaNuts | Christopher Oliver | USA | Costa Rica |
| Imluckbox | Michael Addamo | Australia | Thailand |
| INeedMassari | Joao Simao | Brazil | Brazil |
| ISILDRooN | Leo Nordin | Sweden | Sweden |
| Isildur1 | Viktor Blom | Sweden | Sweden |
| Jabracada | Tom Hall | UK | UK |
| jakoon1985 | Jason Koon | USA | Canada |
| jareth3542 | Jareth East | UK | UK |
| Jeans89 | Jens Kyllonen | Finland | Finland |
| joiso | Alexander Kostritsyn | Russia | Russia |
| josef_shvejk | Arsenii Karmatckii | Russia | UK |
| JWPRODIGY | Jordan Westmorland | USA | Thailand |
| kelvin_fp:ar | Kelvin Kerber | Brazil | Brazil |
| KKremate | Thiago Crema | Brazil | Brazil |
| Kovalski | Fabiano Kovalski | Brazil | Brazil |
| krakukra | Konstantin Maslak | Russia | Russia |
| krissyb24 | Kristen Bicknell | Canada | Canada |
| Kroko-dill | Andrey Zaichenko | Russia | Russia |
| KuuL | Dimitar Danchev | Bulgaria | Bulgaria |
| lasagnaaammm | Mustapha Kanit | Italy | UK |
| lb6121 | Luke Schwartz | UK | UK |
| lechuckpoker | Igor Kurganov | Russia | Russia |
| Lena900 | Niklas Astedt | Sweden | Sweden |
| limitless | Wiktor Malinowski | Poland | Poland |
| LLinusLLove | Linus Loeliger | Switzerland | Switzerland |
| Lrslzk | Sami Kelopuro | Finland | Finland |
| M.nosbocaJ | Martin Jacobson | Sweden | Sweden |
| Malaka$tyle | Juan Pardo | Spain | UK |
| markovitsus | Markku Koplimaa | Estonia | Estonia |
| MastaP89 | Pius Heinz | Germany | Austria |
| mczhang | Michael Zhang | UK | UK |
| mindgamer | Stefan Jedlicka | Austria | Austria |
| Moorman1 | Chris Moorman | UK | UK |
| Mr. Tim Caum | Steve O'Dwyer | Ireland | Ireland |
| mrAndreeew | Andreas Berggren | Sweden | Sweden |
| mrsweets28 | Phil Galfond | USA | Canada |
| munchenHB | Mike Telker | USA | Costa Rica |
| MUSTAFABET | Matthew Ashton | UK | UK |
| Mysters_Y | Tatiana Barausova | Russia | Russia |
| nastyminder | Dinesh Alt | Switzerland | Switzerland |
| Naza114 | Joao Vieira | Portugal | Netherlands |
| Negriin | Ivan Luca | Argentina | Argentina |
| niccc | Nicolas Chouity | Lebanon | Lebanon |
| NL_Profit | Anatoly Filatov | Russia | Russia |
| Odd_Oddsen | Ola Amundsgård | Finland | Finland |
| omaha4rollz | Laszlo Bujtas | Hungary | Hungary |
| OMGitshunt | Ihar Soika | Belarus | |
| OrpTheTurk | Orpen Kisacikoglu | UK | UK |
| Oxota | Daniel Dvoress | Canada | Canada |
| Pappe_Ruk | Joep van den Bijgaart | Netherlands | Netherlands |
| p0cket00 | Sebastian Sikorski | Canada | Canada |
| PaDiLhA SP | Pedro Padhila | Brazil | Brazil |
| Päffchen | Pascal Hartmann | Germany | Austria |
| Pass_72 | Pascal Lefrancois | Canada | Canada |
| Pessagno | Caio Pessagno | Brazil | Brazil |
| philivey2694 | Isaac Haxton | USA | Malta |
| pads1161 | Patrick Leonard | UK | UK |
| PokerKaiser | Nicolas Fierro | Chile | Chile |
| pokerkluka | Luuk Gieles | Netherlands | Netherlands |
| prebz | Preben Stokkan | Norway | Norway |
| probirs | Andras Nemeth | Hungary | Hungary |
| prot0 | Jordi Urlings | Netherlands | Malta |
| PROTENTIALmn | Ryan Laplante | USA | Canada |
| Proudflop | Jonathan Proudfoot | UK | UK |
| Pseudo Fruto | Luan Felipe | Portugal | Netherlands |
| raconteur | Richard Gryko | UK | UK |
| raidalot | Talal Shakerchi | UK | UK |
| robinho | Robin Ylitalo | Sweden | Sweden |
| ROFLshove | Kahle Burns | Australia | Mexico |
| RomeOpro | Roman Romanovsky | Russia | Russia |
| RunGodlike | Benny Glaser | UK | UK |
| RuiNF | Rui Ferreira | Portugal | Netherlands |
| samsquid | Sam Grafton | UK | UK |
| Sauce123 | Ben Sulsky | USA | Canada |
| Secret_M0d3 | Dario Sammartino | Italy | Austria |
| Senkel92 | Tobias Leknes | Norway | Norway |
| shaundeeb | Shaun Deeb | USA | Mexico |
| silentm0de | Pavel Plesuv | Moldolva | Moldova |
| Simon1471 | Simon Higgins | UK | UK |
| SirWatts | Mike Watson | Canada | Canada |
| SkaiWalkurrr | Rachid Ben Sheriff | UK | UK |
| SpaceyFCB | Kenny Hallaert | Belgium | UK |
| srxakgirona | Sergi Reixach | Spain | UK |
| ssicK_OnE | Claas Segebrecht | Germany | Austria |
| steakaddict. | Alexandru Papazian | Romania | Romania |
| stevie444 | Stephen Chidwick | UK | UK |
| Str8$$$Homey | Sam Greenwood | Canada | Canada |
| SvZff | Steven van Zadelhoff | Netherlands | Malta |
| Swaggersorus | Jack Sinclair | UK | UK |
| Tankanza | Gianluca Speranza | Italy | Austria |
| TheCleaner11 | Jorryt van Hoof | Netherlands | UK |
| theNERDguy | Yuri Martins | Brazil | Brazil |
| Ti0373 | Gleb Tremzin | Russia | Russia |
| Tim0thee | Timothy Adams | Canada | Canada |
| Tomatee | Francisco Benitez | Uruguay | Uruguay |
| tonkaaaa | Parker Talbot | Canada | Canada |
| Trueteller | Timofey Kuznetsov | Russia | Russia |
| Tulkaz | Jonas Klausen | Denmark | Denmark |
| veeea | Artem Vezhenkov | Russia | Russia |
| vovtroy | Vladimir Troyanovskiy | Russia | Russia |
| wizowizo | Ole Schemion | Germany | Austria |
| woodbine avenue | Dan Scott | Canada | Canada |
| WushuTM | Thomas Muehloecker | Austria | Austria |
| YRWTHMELTHR | Luc Greenwood | Canada | Canada |
| Zagazaur | Filipe Oliveira | Brazil | Brazil |
| ZeeJustin | Justin Bonomo | USA | Canada |