This weekend it was Jaime Staples' turn to put on the PokerStars VR headset and stream some virtual reality poker. Meanwhile, Fintan "easywithaces" Hand was busy taking down a big turbo.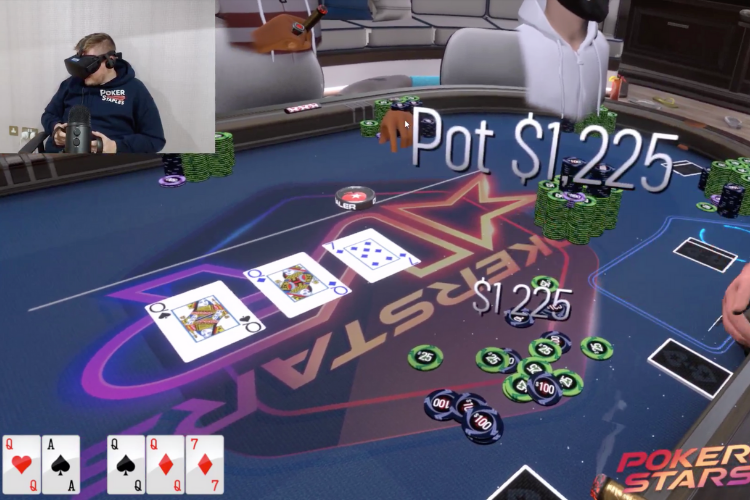 ---
You guys are really digging these VR streams, huh? We don't blame you. It's pretty darn cool.
Jaime Staples streamed PokerStars VR for two hours on Sunday, and the chat was loving it.
I had a lot of fun playing @PokerStars VR yesterday. Perhaps this is the future of how poker evolves with the times. As of now, it's a boatload of fun. Maybe there are some other #twitch streamers from different communities that would give it a go? Chat seemed to dig it: pic.twitter.com/5GADCCl4Tp

— Jaime Staples (@jaimestaples) November 18, 2018
More than a thousand of you tuned in to witness Jaime take down pots like this one:
Watch Clip: Trying out PokerStars VR from PokerStaples on www.twitch.tv
Click here to watch the entire stream.
---
One player who was sticking to the usual Stars streets on Sunday was Fintan Hand, aka "easywithaces". His week ended in style when he chopped the Hotter $22 for $8,098.28 three-handed, then went on to win it.
Congrats to @EasyWithAces on winning the Hotter $22. After battling through a field of 4,450 runners, a three-way deal saw the Irishman pick up $8,098.28 for the win.
Fintan and @spraggy are back on the grind today, watch live at https://t.co/ZHIi0h2h2L pic.twitter.com/JK404Q1Sah

— PokerStars Twitch (@PSTwitch) November 19, 2018
The boys will be trying to keep their winning ways going this week. Hit the links below to follow along.
Fintan Hand Twitch
Jaime Staples Twitch
PokerStars Twitch
---
Opening a PokerStars account is easy. Click here to get an account in minutes.
---