In 1982, wrestling fans in New York were captivated by a 126-pound titan, a young man who seemed to feel no pain as he gripped and tossed and destroyed his opponents all the way to a state title. That man made famous a name could have just as easily appeared on the bill of a WWE match as the NY State Championship.
His name was Ronnie LaBeef.
Yes, kids, TV used to look like this
Perhaps nowhere was LaBeef's dominance so pronounced as his championship match against a hopeless Chris Doherty. LaBeef wrestled like his life depended on it, displaying a kind of mental toughness and physical grit that would define him and the kids he would later go on to coach.
LaBeef was a champion.
You can watch his prowess below in the first video, and then his affable conversation skills in the next video, one where he somehow channels Tony Danza and Mark Wahlberg and describes how he pretty much knew he was going to win from jump.
When Chris Moneymaker walked into the Foxwoods poker room today to host the Moneymaker PSPC Tour, he was not the only well-known man in the room. LaBeef, a man with a similarly unlikely surname, had queued up to plunk down his $86 to play for a Platinum Pass, the brass ring that would give him a chance to be a champion again. If LaBeef were to pull it off, he would spend his early January playing in the $25,000 buy-in PokerStars Players No-Limit Hold'em Championship (PSPC). That's what the Moneymaker Tour is all about. Giving people a chance to play a big event for the same price it cost him to play the 2003 World Series of Poker Main Event. Most people will remember, Moneymaker won that one.
So, there, as the 1,300 entries started to pile up, LaBeef admitted a $25,000 tournament sounded about as familiar to him as a trip to Mars.
"If I went to a $25,000 tournament, I'd be crapping my pants. I swear to God. Honestly, I'm a JV player. Hundred-dollar tournaments are my style," LaBeef said.
This is a man who was likely never Junior Varsity in his life. He was a Varsity man, and today he was playing for a spot on the Varsity squad.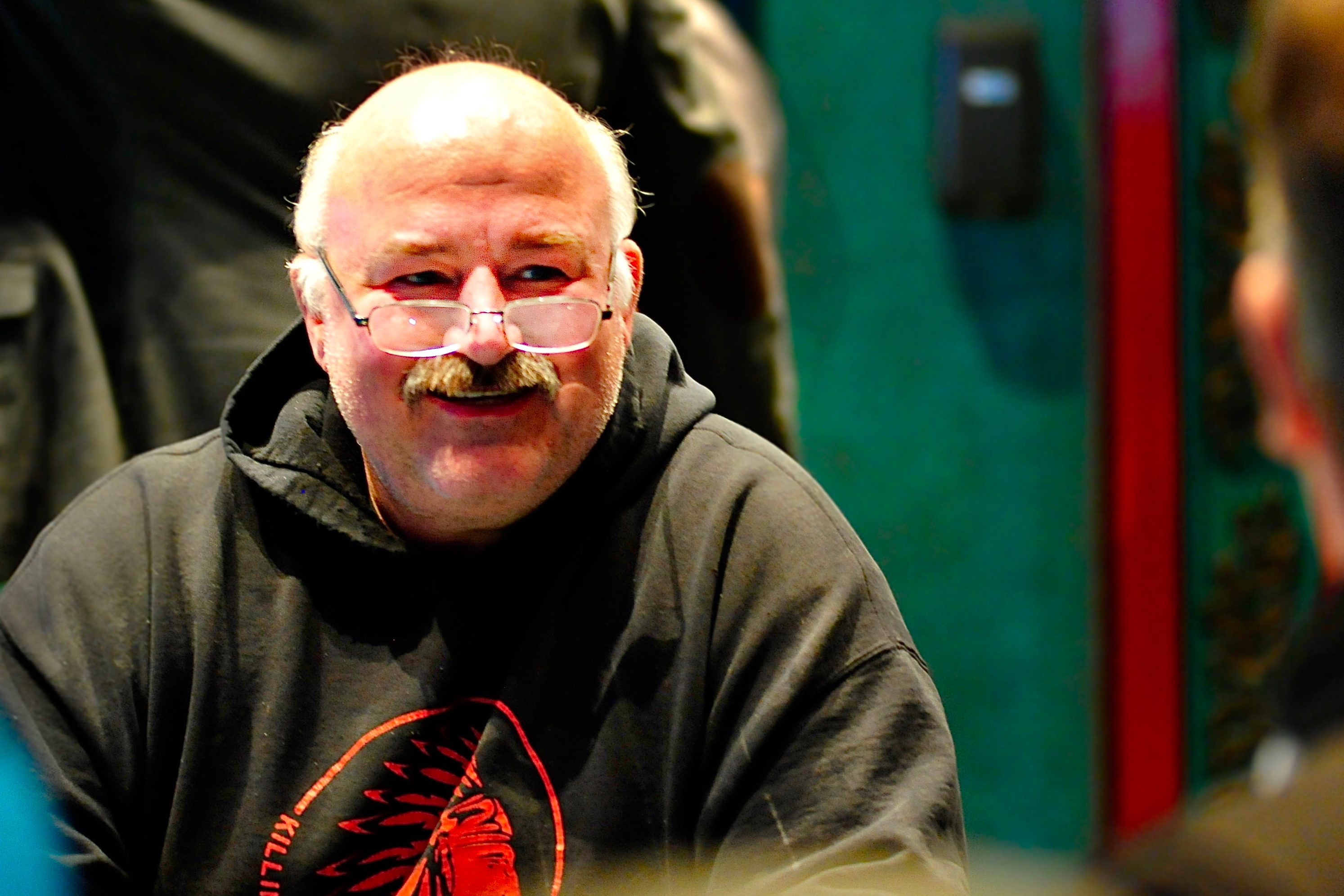 Ronnie LaBeef
To go back to LaBeef's childhood in the 70s, you'd have to find a card game. His dad was a gambler, one who let young Robbie watch his seven-card stud games. So, when he's asked how he can somehow remember the finer details of Moneymaker's win 15 years ago, LaBeef said it came from a lifetime of watching the cards come out.
"Nobody played this crazy fast-paced game" he recalled. "But I've always played cards. I played Pitch with my grandma. Then as you get older, you've got money. You start playing the $60 tournaments. Then all of a sudden you watch Moneymaker win it all. I'm going, okay, I'll move up to the $100 tournament now!"
Today, it didn't even cost LaBeef that much to enter. It was then he ruminated a little bit on his past and the the careers of all the kids he's coached since then.
"Cards and wrestling and sports in general, there's always a mental aspect to it. Here, a fat old guy who can't make it up the stairs can play this game. It's not that physical. There's a mental part. My youngest son, RJ, used to psych people out before a match, because he was always walking around, staring at the guy," LeBeef said.
As he gets farther into his life as a poker player and farther away from the wrestling circle, he's found himseld changing. To put a finer point on it…he's not scaring people anymore. And sometimes, he finds himself falling victim to the guys who can intimidate.
"Holy crap. I'm afraid of him and I don't know why," LaBeef said of an imaginary table bully. "I'm a nice guy."
Nevertheless, LaBeef is content in this spot, a happy, nice-guy poker player who knows himself and knows he just showed up for a chance to meet Moneymaker and test his mental game.
"Everybody looks for the psychological edge. Same thing in wrestling and football. That's the good thing about poker. I don't have to go home and miss a meal to make weight. I'm going to the buffet! I'm not going to worry about the weight," he said.
Champion vs. Champion
It's funny how fate works. By the time registration had closed, LaBeef was sitting face-to-face with Chris Moneymaker.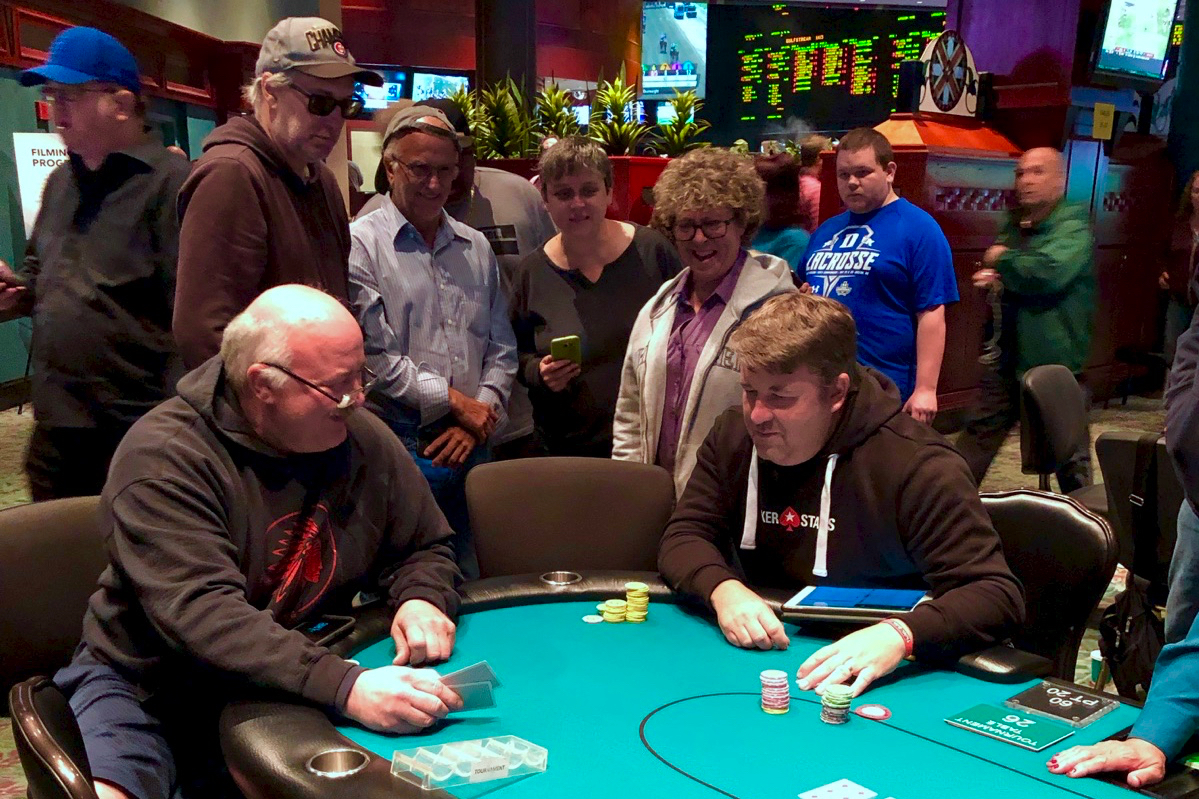 Ron LaBeef and Moneymaker facing off as fans look on
We are not lucky enough to have had this be the heads-up match. We're not even lucky enough to have had either of them win the Platinum Pass. But, this does end the way LaBeef might have predicted. Moneymaker took most of LaBeef's chips, and LaBeef seemingly couldn't have been happier that it happened.
Put another way…game knows game. And a champion knows a champion.
"Chris kind of epitomizes the small guy who hit it big, you know. In poker you gotta have a little skill, but if you have a little luck, you can run a long way," LaBeef said. "Chris showed that even a guy like Ron LaBeef can sit down and win a big tournament."
---
Want to find a way to play for a Platinum Pass in the USA. Check out our Moneymaker Tour web page.