Here's how Thiago Crema's dilemma shaped up: he was a popular guy with a couple of competing invitations. Someone had invited him to a wedding in Sao Paulo, Brazil. The Brazil Series of Poker had invited him to play for a PokerStars Players No-Limit Hold'em Championship Platinum Pass. He was in a bind. He couldn't miss the wedding, but he also couldn't pass up an opportunity to play a freeroll for the PSPC.
"Regardless of anything, I'd figure out how to play the PokerStars Players Championship because of the giant prize pool," Crema said. "It's an expensive tournament with a lot of online qualifiers. Everyone wants to play it."
So, he was going to play, regardless, but he didn't know what to do about this freeroll of Brazil's best players. As the BSOP waited and waited, Crema mulled the decision. Almost everyone had confirmed they would go to Brasilia and play for the PSPC seat. Could a poker player pass up the value of a free $25,000 seat in the PSPC and a trip to the Bahamas? No. No, he could not.
"I got the invitation from the BSOP team and I almost did not accept it, because I have a wedding to attend in Sao Paulo," he said. "I'm leaving early tomorrow. So I decided to make a quick trip to Brasilia to get the Platinum Pass, and it was perfect for me."
How perfect? Platinum perfect.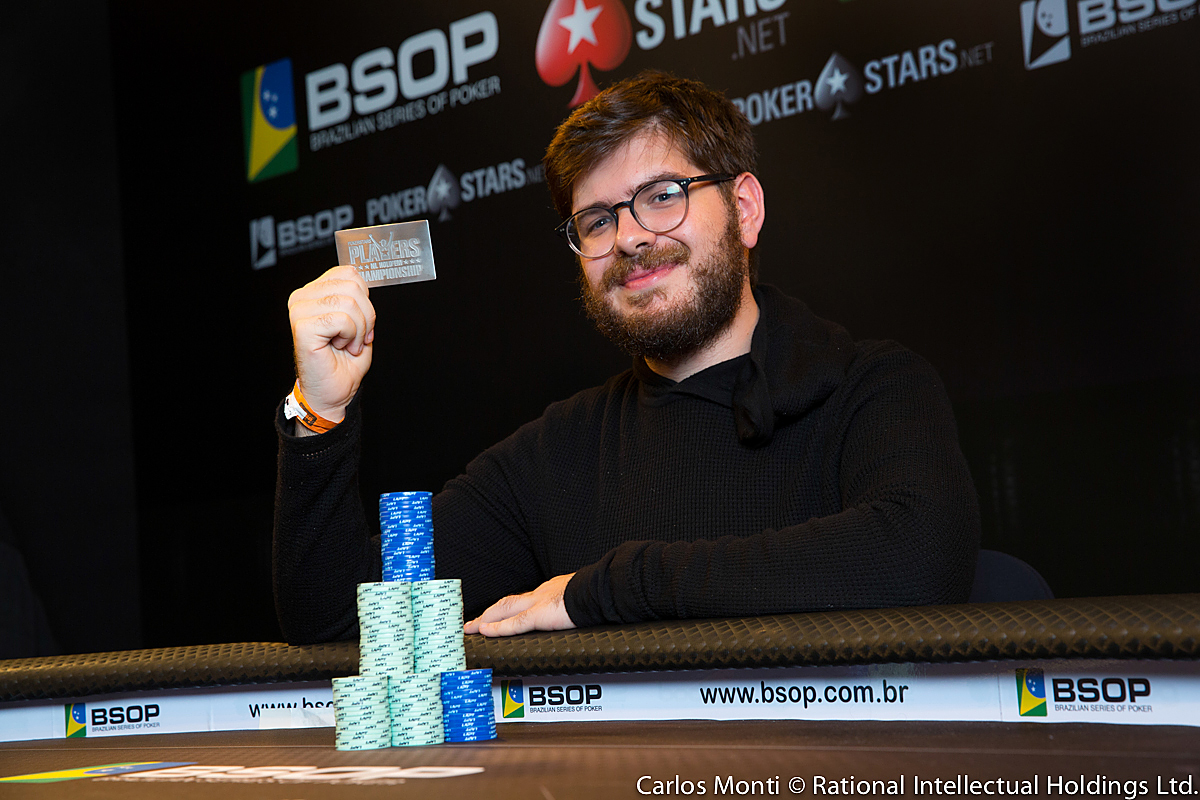 Thiago Crema
Crema is a professional admired by all his peers. Extremely technical and versatile, he is one of those all-around-good players. His reasoning is quick and precise, and at the table he rarely makes the wrong decision. If his opponents weren't envious enough already, they now have another reason to be so: Crema also has a Platinum Pass.
"The feeling is indescribable," Crema said shortly after eliminating Fabiano Kovalski in the heads-up of the "Top do Brasil" tournament at BSOP Brasilia.
The achievement came in an exclusive tournament restricted to 32 players who are among the best players in the country according to the Global Poker Index.
"It was a very difficult time. Several of the best players in the country were here, so it's a good feeling to win this tournament. It's a good feeling, because we often face each other at the tables. This was a very cool initiative by BSOP and PokerStars. It gives me a huge satisfaction to finish in front of very good players," he said.
With a SCOOP title, a WCOOP runner-up, and several regular PokerStars online tournament wins in his resumé, Crema will now return to the Bahamas to seek the greatest title of his career. And as he proved this weekend, playing against the best does not seem to be a problem.
---
Thiago Crema is one of more than 300 Platinum Pass winners who will be going to the PokerStars Players No-Limit Hold'em Championship. Want to see more? Meet them all on in our PSPC Platinum Pass Winners index.