There was controversy on Twitch on Monday night, surrounding Game 4 of the Poker in the Ears Freeroll League.
In an attempt to make the tournament exclusive to podcast listeners, James Hartigan and Joe Stapleton added an extra step to the registration process. Players who had not listened to all of Episode 133 failed to add two digits to the password, and were frozen out. The response to this strategy was…mixed!
Suffice to say, there was a reduced field in the freeroll.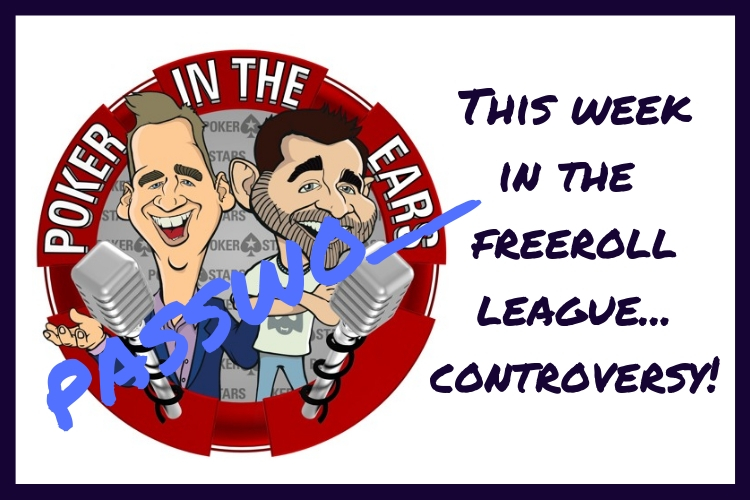 Felix 'xflixx' Schneiders built a big stack early on, and took a few bounties, before "running like Stapleton" and getting KO'd just after the first break. Meanwhile, James and Joe were eliminated during the first few levels, and were consigned to the Home Game Club, where they played badly in a series of side events.
We are now at the half-way point. Scroll down for the scores on the doors…
The player with most KOs in the League wins a PSPC Platinum Pass.
Players ranked 2nd-40th will win a $55 PCA 2019 satellite ticket.
Tie-breaker: players with the same score will be ranked based on the total money won during the 8-week series.
For more details, including how to register, please listen to the weekly Poker in the Ears podcast.
Last updated 30 October 2018
| Rank | Stars ID | # of KOs | Total amount won in KOs (USD) | Prize |
| --- | --- | --- | --- | --- |
| 1 | mindgames13 | 23 | $261.86 | 1x PSPC Platinum Pass |
| 2 | orlova1996 | 20 | $81.97 | 1x $55 PCA 2019 satellite ticket |
| 3 | novnick70 | 19 | $12.97 | 1x $55 PCA 2019 satellite ticket |
| 4 | rshrenk | 17 | $104.70 | 1x $55 PCA 2019 satellite ticket |
| 5 | JIaMaI0 | 16 | $55.36 | 1x $55 PCA 2019 satellite ticket |
| 6 | stars220419 | 16 | $22.84 | 1x $55 PCA 2019 satellite ticket |
| 7 | VTM1989 | 16 | $11.53 | 1x $55 PCA 2019 satellite ticket |
| 8 | exile1971 | 15 | $192.84 | 1x $55 PCA 2019 satellite ticket |
| 9 | uri73796 | 15 | $176.75 | 1x $55 PCA 2019 satellite ticket |
| 10 | 161denis797 | 15 | $23.83 | 1x $55 PCA 2019 satellite ticket |
| 11 | Nevermind224 | 15 | $15.04 | 1x $55 PCA 2019 satellite ticket |
| 12 | Canadian G | 14 | $36.03 | 1x $55 PCA 2019 satellite ticket |
| 13 | biron108 | 14 | $13.94 | 1x $55 PCA 2019 satellite ticket |
| 14 | c.renfor7 | 14 | $7.71 | 1x $55 PCA 2019 satellite ticket |
| 15 | ramen!77 | 13 | $75.49 | 1x $55 PCA 2019 satellite ticket |
| 16 | Amzo2018 | 13 | $71.52 | 1x $55 PCA 2019 satellite ticket |
| 17 | Krnmang | 13 | $65.35 | 1x $55 PCA 2019 satellite ticket |
| 18 | ICanDoIt88 | 13 | $28.16 | 1x $55 PCA 2019 satellite ticket |
| 19 | AresVaettur | 13 | $10.71 | 1x $55 PCA 2019 satellite ticket |
| 20 | didenkoartem | 13 | $6.40 | 1x $55 PCA 2019 satellite ticket |
| 21 | welderrr | 13 | $5.54 | 1x $55 PCA 2019 satellite ticket |
| 22 | wolf_poker83 | 13 | $4.99 | 1x $55 PCA 2019 satellite ticket |
| 23 | amarz002 | 12 | $11.39 | 1x $55 PCA 2019 satellite ticket |
| 24 | minidoig2016 | 12 | $9.32 | 1x $55 PCA 2019 satellite ticket |
| 25 | mennoo1996 | 12 | $9.05 | 1x $55 PCA 2019 satellite ticket |
| 26 | ufc_57 | 12 | $7.44 | 1x $55 PCA 2019 satellite ticket |
| 27 | flamehost | 12 | $5.32 | 1x $55 PCA 2019 satellite ticket |
| 28 | leote818 | 11 | $53.68 | 1x $55 PCA 2019 satellite ticket |
| 29 | griphon1 | 11 | $20.22 | 1x $55 PCA 2019 satellite ticket |
| 30 | sm4sher777 | 11 | $10.34 | 1x $55 PCA 2019 satellite ticket |
| 31 | DRAQULA37 | 11 | $9.39 | 1x $55 PCA 2019 satellite ticket |
| 32 | KizerUA | 11 | $8.61 | 1x $55 PCA 2019 satellite ticket |
| 33 | jasonast | 10 | $12.10 | 1x $55 PCA 2019 satellite ticket |
| 34 | juzepe73 | 10 | $10.81 | 1x $55 PCA 2019 satellite ticket |
| 35 | staycalmpad | 10 | $7.36 | 1x $55 PCA 2019 satellite ticket |
| 36 | fridolin001 | 10 | $4.37 | 1x $55 PCA 2019 satellite ticket |
| 37 | tomspillane | 9 | $75.18 | 1x $55 PCA 2019 satellite ticket |
| 38 | abo13 | 9 | $25.97 | 1x $55 PCA 2019 satellite ticket |
| 39 | toorr120 | 9 | $17.62 | 1x $55 PCA 2019 satellite ticket |
| 40 | 99jackjack99 | 9 | $13.75 | 1x $55 PCA 2019 satellite ticket |
| 41 | szlverstar24 | 9 | $11.11 | – |
| 42 | OptimusKlang | 9 | $10.56 | – |
| 43 | Ghost_Hi_pro | 9 | $9.69 | – |
| 44 | jamessatch | 9 | $9.35 | – |
| 45 | Ruffe86 | 9 | $9.23 | – |
| 46 | BlindPincher | 9 | $8.55 | – |
| 47 | polukopyrka | 9 | $8.17 | – |
| 48 | sanekhorror | 9 | $8.16 | – |
| 49 | Schmitzer1 | 9 | $8.00 | – |
| 50 | damon_kazalex | 9 | $7.96 | – |
| 51 | Maurits92 | 9 | $7.80 | – |
| 52 | bobsl66 | 9 | $7.34 | – |
| 53 | FCGS | 9 | $7.14 | – |
| 54 | BIGRICC93 | 9 | $6.86 | – |
| 55 | ST1.Torero | 9 | $5.45 | – |
| 56 | QQ Lili QQ | 9 | $5.09 | – |
| 57 | adamchyk82 | 9 | $4.23 | – |
| 58 | nuts12344 | 9 | $3.63 | – |
| 59 | dimassauk86 | 9 | $3.15 | – |
| 60 | Sen.honora | 8 | $41.57 | – |
| 61 | Hytta Poker | 8 | $27.55 | – |
| 62 | MaesterVeyer | 8 | $22.56 | – |
| 63 | karoldemarch | 8 | $16.75 | – |
| 64 | RymoeJoJo | 8 | $13.96 | – |
| 65 | alak10 | 8 | $12.59 | – |
| 66 | jakelane2008 | 8 | $11.74 | – |
| 67 | Chip&Chap86 | 8 | $9.47 | – |
| 68 | Kate4744 | 8 | $8.83 | – |
| 69 | failman199 | 8 | $8.81 | – |
| 70 | memberry | 8 | $7.32 | – |
| 71 | Elchorro2008 | 8 | $5.51 | – |
| 72 | elclav0x | 8 | $5.33 | – |
| 73 | yuyin23 | 8 | $4.16 | – |
| 74 | gilmore38 | 8 | $3.34 | – |
| 75 | Oleg zoll | 8 | $2.47 | – |
| 76 | Djon Kartvik | 8 | $1.96 | – |
| 77 | warsawaces | 8 | $1.65 | – |
| 78 | BogoSan13 | 7 | $161.35 | – |
| 79 | beardyalex | 7 | $22.46 | – |
| 80 | stashk | 7 | $19.23 | – |
| 81 | log dog &com | 7 | $12.95 | – |
| 82 | jeko212 | 7 | $10.82 | – |
| 83 | figorolo88 | 7 | $9.93 | – |
| 84 | raxxx9 | 7 | $9.50 | – |
| 85 | Ben_ammar_13 | 7 | $9.25 | – |
| 86 | Beakah | 7 | $9.10 | – |
| 87 | 5883661 | 7 | $8.54 | – |
| 88 | sanek2699 | 7 | $8.37 | – |
| 89 | format625 | 7 | $7.56 | – |
| 90 | Laska_vay | 7 | $7.54 | – |
| 91 | AAcoskeAA | 7 | $6.95 | – |
| 92 | bones550 | 7 | $6.37 | – |
| 93 | sig23gi | 7 | $5.24 | – |
| 94 | MPADAM | 7 | $5.12 | – |
| 95 | devinun | 7 | $4.82 | – |
| 96 | MrDaddyJokes | 7 | $4.02 | – |
| 97 | bwdas | 7 | $4.00 | – |
| 98 | dmb_London | 7 | $3.26 | – |
| 99 | alacug | 7 | $2.64 | – |
| 100 | Chert1979 | 7 | $2.50 | – |
| 101 | Atlet88288 | 7 | $2.24 | – |
| 102 | sikes_leone | 6 | $53.75 | – |
| 103 | JohnWillow | 6 | $29.01 | – |
| 104 | 07081996 | 6 | $19.76 | – |
| 105 | BaseDJaN | 6 | $15.06 | – |
| 106 | 197096 | 6 | $9.13 | – |
| 107 | rebelwrongus | 6 | $9.04 | – |
| 108 | mtt4B | 6 | $8.29 | – |
| 109 | StamppotAA | 6 | $7.57 | – |
| 110 | SirJeroenNL | 6 | $7.47 | – |
| 111 | tara p24 | 6 | $7.13 | – |
| 112 | Kamizu_Shan | 6 | $6.93 | – |
| 113 | masterok10 | 6 | $6.82 | – |
| 114 | MattJM68 | 6 | $6.36 | – |
| 115 | simAFCTU | 6 | $6.23 | – |
| 116 | WoLf_Totem36 | 6 | $5.59 | – |
| 117 | Calvinharris070 | 6 | $5.57 | – |
| 118 | Al.Mat101 | 6 | $5.57 | – |
| 119 | starpoker890 | 6 | $5.25 | – |
| 120 | MrShampoo97 | 6 | $5.18 | – |
| 121 | serjik-russi | 6 | $5.14 | – |
| 122 | aaldert-92 | 6 | $5.11 | – |
| 123 | jwes63 | 6 | $4.79 | – |
| 124 | s_kuznet | 6 | $4.60 | – |
| 125 | bpetrov78 | 6 | $4.53 | – |
| 126 | Ladyloulou01 | 6 | $4.49 | – |
| 127 | JackJoPoker | 6 | $4.44 | – |
| 128 | nurabsal | 6 | $4.19 | – |
| 129 | twoandabit | 6 | $3.63 | – |
| 130 | cerbitz | 6 | $3.35 | – |
| 131 | Millar95 | 6 | $3.32 | – |
| 132 | Glafef | 6 | $3.32 | – |
| 133 | BestHandHaz | 6 | $3.26 | – |
| 134 | DAGA1992AGAD | 6 | $3.24 | – |
| 135 | TPOJIb363 | 6 | $3.06 | – |
| 136 | JokerJames95 | 6 | $2.95 | – |
| 137 | Rider$Fan100 | 6 | $2.92 | – |
| 138 | Dionatangol | 6 | $2.84 | – |
| 139 | mitriy_77 | 6 | $2.66 | – |
| 140 | pucha 123 | 6 | $2.53 | – |
| 141 | RoboSquirrel | 6 | $2.32 | – |
| 142 | Lucky Geroi | 6 | $1.88 | – |
| 143 | Ellurian | 6 | $1.73 | – |
| 144 | wapinfa | 6 | $1.54 | – |
| 145 | Staratel-KVP | 6 | $1.32 | – |
| 146 | puBepfish | 6 | $1.32 | – |
| 147 | Barc116 | 5 | $26.38 | – |
| 148 | dennisMAAN | 5 | $18.09 | – |
| 149 | ccsandy | 5 | $18.05 | – |
| 150 | MaartenRR | 5 | $15.23 | – |
| 151 | ManniTheBoy | 5 | $14.26 | – |
| 152 | Malle0123 | 5 | $7.54 | – |
| 153 | NABSTER(RUS) | 5 | $6.88 | – |
| 154 | yakoff14 | 5 | $5.99 | – |
| 155 | Ldd2911 | 5 | $5.98 | – |
| 156 | jkoegl04 | 5 | $5.17 | – |
| 157 | Spraggy | 5 | $4.83 | – |
| 158 | GRIDIM1927 | 5 | $4.76 | – |
| 159 | Pepeneros | 5 | $4.39 | – |
| 160 | alexzender92 | 5 | $4.30 | – |
| 161 | kventin745 | 5 | $4.26 | – |
| 162 | amazonjb | 5 | $3.99 | – |
| 163 | RushFury | 5 | $3.94 | – |
| 164 | TR@MIK | 5 | $3.55 | – |
| 165 | Mishanya457 | 5 | $3.31 | – |
| 166 | biktirpoker | 5 | $3.26 | – |
| 167 | NAPASN1S | 5 | $3.12 | – |
| 168 | realstig991 | 5 | $3.09 | – |
| 169 | Caustic_Q | 5 | $2.83 | – |
| 170 | Markoski95 | 5 | $2.79 | – |
| 171 | BBQstars | 5 | $2.79 | – |
| 172 | jay-jay-rok | 5 | $2.66 | – |
| 173 | Tipo4ok13 | 5 | $2.47 | – |
| 174 | BlackLife198 | 5 | $2.40 | – |
| 175 | YUHENI89 | 5 | $2.17 | – |
| 176 | SC4RF4CE | 5 | $2.16 | – |
| 177 | cubw123 | 5 | $2.01 | – |
| 178 | sleepwalker_33 | 5 | $1.96 | – |
| 179 | Kyshman | 5 | $1.85 | – |
| 180 | Dgoni.D777 | 5 | $1.85 | – |
| 181 | Nhina | 5 | $1.73 | – |
| 182 | Sergant777111 | 5 | $1.68 | – |
| 183 | FatimaDeMelo | 5 | $1.59 | – |
| 184 | WildWeasley | 5 | $1.57 | – |
| 185 | Ornox | 5 | $1.55 | – |
| 186 | felix453 | 5 | $1.52 | – |
| 187 | MetalMan977 | 5 | $1.43 | – |
| 188 | vlad8422 | 5 | $1.42 | – |
| 189 | Kiskacsy88 | 5 | $1.31 | – |
| 190 | MOCA88 | 5 | $1.31 | – |
| 191 | BilNicholson | 5 | $1.21 | – |
| 192 | pashkeen | 5 | $1.21 | – |
| 193 | HGdiamante99 | 5 | $1.21 | – |
| 194 | Vanya4774 | 5 | $1.20 | – |
| 195 | densor111165 | 5 | $1.10 | – |
| 196 | Bad in River | 5 | $1.10 | – |
| 197 | OSA_Rodeo | 4 | $151.24 | – |
| 198 | CrazyJorzh | 4 | $31.06 | – |
| 199 | masany78 | 4 | $26.40 | – |
| 200 | ease707 | 4 | $20.57 | – |
| 201 | mueka2011 | 4 | $11.23 | – |
| 202 | IcePoker65 | 4 | $8.70 | – |
| 203 | sokola12 | 4 | $8.53 | – |
| 204 | SuperFly573 | 4 | $7.14 | – |
| 205 | Hellomotomex | 4 | $6.65 | – |
| 206 | xxxx791 | 4 | $4.95 | – |
| 207 | egerbeaver | 4 | $4.83 | – |
| 208 | sandy147 | 4 | $4.76 | – |
| 209 | Bambini7777 | 4 | $4.38 | – |
| 210 | drobik24 | 4 | $4.38 | – |
| 211 | RICHDUDEWASH | 4 | $4.28 | – |
| 212 | Feliciano16 | 4 | $4.03 | – |
| 213 | joeisi | 4 | $3.98 | – |
| 214 | merkstef | 4 | $3.61 | – |
| 215 | clubnick | 4 | $3.60 | – |
| 216 | superiorcom | 4 | $3.58 | – |
| 217 | vaddalive | 4 | $3.48 | – |
| 218 | wayneo75 | 4 | $3.29 | – |
| 219 | sashwerter | 4 | $3.25 | – |
| 220 | Cäse27 | 4 | $3.20 | – |
| 221 | paramonazartni | 4 | $3.19 | – |
| 222 | Molode4no | 4 | $3.19 | – |
| 223 | scottan86 | 4 | $3.18 | – |
| 224 | yacubbest | 4 | $3.08 | – |
| 225 | 061972523 | 4 | $3.01 | – |
| 226 | 777strash | 4 | $2.79 | – |
| 227 | martis629 | 4 | $2.78 | – |
| 228 | aseefo | 4 | $2.69 | – |
| 229 | zenik80 | 4 | $2.62 | – |
| 230 | yliawolf | 4 | $2.60 | – |
| 231 | CeeCee666 | 4 | $2.51 | – |
| 232 | ludilove | 4 | $2.46 | – |
| 233 | tinho19891 | 4 | $2.19 | – |
| 234 | Mr Kysuki | 4 | $2.04 | – |
| 235 | codwithchips | 4 | $2.03 | – |
| 236 | LFitzerald | 4 | $2.03 | – |
| 237 | GeniusMax69 | 4 | $1.99 | – |
| 238 | Roboman27 | 4 | $1.92 | – |
| 239 | nick_c44 | 4 | $1.62 | – |
| 240 | vcompy | 4 | $1.57 | – |
| 241 | Kordel | 4 | $1.57 | – |
| 242 | Tiduszwei | 4 | $1.56 | – |
| 243 | ryanfack | 4 | $1.55 | – |
| 244 | 19sani84 | 4 | $1.44 | – |
| 245 | ganjawars163 | 4 | $1.41 | – |
| 246 | serg19841024 | 4 | $1.41 | – |
| 247 | J.Hartigan | 4 | $1.32 | – |
| 248 | Tancev987 | 4 | $1.20 | – |
| 249 | serjocean69 | 4 | $1.19 | – |
| 250 | KATAJIA80 | 4 | $1.14 | – |
| 251 | -VizitvaOm- | 4 | $1.10 | – |
| 252 | alexsokol92 | 4 | $1.10 | – |
| 253 | koksh511 | 4 | $1.09 | – |
| 254 | avra117 | 4 | $1.04 | – |
| 255 | GuilleKar | 4 | $0.99 | – |
| 256 | FOXRAY84 | 4 | $0.98 | – |
| 257 | 1979502 | 4 | $0.98 | – |
| 258 | B0R1SBR1TV4 | 4 | $0.88 | – |
| 259 | semenoff83 | 4 | $0.88 | – |
| 260 | gara_horunov | 4 | $0.88 | – |
| 261 | Brucho87 | 4 | $0.88 | – |
| 262 | sorin_sory | 4 | $0.88 | – |
| 263 | Wélerson | 4 | $0.88 | – |
| 264 | Rus36 LiS | 4 | $0.88 | – |
| 265 | galusaa | 4 | $0.88 | – |
| 266 | raulik.2018 | 4 | $0.88 | – |
| 267 | 8.HEATER-T2 | 4 | $0.88 | – |
| 268 | delinta | 4 | $0.88 | – |
| 269 | Forfec | 4 | $0.88 | – |
| 270 | Mommasaid3 | 4 | $0.88 | – |
| 271 | ifishkill | 4 | $0.80 | – |
| 272 | ALLINMASSUCA | 4 | $0.77 | – |
| 273 | mouselton | 3 | $52.25 | – |
| 274 | El_Espanacas | 3 | $11.23 | – |
| 275 | hughdhat | 3 | $8.12 | – |
| 276 | xflixx | 3 | $7.48 | – |
| 277 | Fadyen | 3 | $7.17 | – |
| 278 | evilroyca | 3 | $5.56 | – |
| 279 | p1nk1e | 3 | $5.47 | – |
| 280 | p190001 | 3 | $4.56 | – |
| 281 | cheekygirl19 | 3 | $4.22 | – |
| 282 | Alexandort96 | 3 | $4.13 | – |
| 283 | k2esports | 3 | $3.77 | – |
| 284 | Xi Borg | 3 | $3.64 | – |
| 285 | 171717aa | 3 | $3.18 | – |
| 286 | Ruslan T-34 | 3 | $3.18 | – |
| 287 | Alpoker777 | 3 | $2.98 | – |
| 288 | PeterLuto | 3 | $2.95 | – |
| 289 | New7898 | 3 | $2.91 | – |
| 290 | He Man 1702 | 3 | $2.91 | – |
| 291 | aboska | 3 | $2.90 | – |
| 292 | degston | 3 | $2.82 | – |
| 293 | siebrone | 3 | $2.79 | – |
| 294 | Luckytsss | 3 | $2.79 | – |
| 295 | OeTen101 | 3 | $2.79 | – |
| 296 | BlackOps2640 | 3 | $2.60 | – |
| 297 | Arquerito | 3 | $2.51 | – |
| 298 | 123demon999 | 3 | $2.45 | – |
| 299 | pobolero | 3 | $2.40 | – |
| 300 | carrzer | 3 | $2.40 | – |
| 301 | joaomcneto | 3 | $2.40 | – |
| 302 | xXRFEzAKQJ10Xx | 3 | $2.40 | – |
| 303 | DevilLoko | 3 | $2.39 | – |
| 304 | el geeko88 | 3 | $2.39 | – |
| 305 | aleksei1500 | 3 | $2.39 | – |
| 306 | SVY10p | 3 | $2.38 | – |
| 307 | iGotUFish21 | 3 | $2.20 | – |
| 308 | Darmani904 | 3 | $2.16 | – |
| 309 | rubena19 | 3 | $2.10 | – |
| 310 | shakhru | 3 | $2.10 | – |
| 311 | Alikper | 3 | $1.95 | – |
| 312 | LUFCBas | 3 | $1.95 | – |
| 313 | 65 FORTUNA | 3 | $1.94 | – |
| 314 | Robrockets21 | 3 | $1.92 | – |
| 315 | Yulya30 | 3 | $1.82 | – |
| 316 | furious1997 | 3 | $1.81 | – |
| 317 | JarJarek | 3 | $1.81 | – |
| 318 | Lev1845 | 3 | $1.81 | – |
| 319 | smaragdos | 3 | $1.80 | – |
| 320 | TudorPithon | 3 | $1.68 | – |
| 321 | dod_scottish | 3 | $1.68 | – |
| 322 | alek.john | 3 | $1.67 | – |
| 323 | StCerevisiae | 3 | $1.65 | – |
| 324 | leka_1985310 | 3 | $1.62 | – |
| 325 | Korath_111 | 3 | $1.58 | – |
| 326 | kh100hchaea | 3 | $1.47 | – |
| 327 | jfofla | 3 | $1.36 | – |
| 328 | DayPink | 3 | $1.34 | – |
| 329 | DrWander | 3 | $1.25 | – |
| 330 | 98DILAGO89 | 3 | $1.24 | – |
| 331 | CorbanBoanerges | 3 | $1.24 | – |
| 332 | KaladinVale | 3 | $1.23 | – |
| 333 | jerrik982 | 3 | $1.20 | – |
| 334 | szmagnet | 3 | $1.15 | – |
| 335 | hooble1 | 3 | $1.10 | – |
| 336 | bigbossleroy | 3 | $1.09 | – |
| 337 | kavkazinfo | 3 | $1.04 | – |
| 338 | kaz-che 2010 | 3 | $1.04 | – |
| 339 | volodiabond | 3 | $1.03 | – |
| 340 | The3rdSlipper | 3 | $1.00 | – |
| 341 | levikpinsk | 3 | $0.98 | – |
| 342 | alexiz91 | 3 | $0.88 | – |
| 343 | Díh Bucker | 3 | $0.87 | – |
| 344 | Marquos449 | 3 | $0.87 | – |
| 345 | Kostik298 | 3 | $0.77 | – |
| 346 | Bukakist | 3 | $0.77 | – |
| 347 | Anikeychik | 3 | $0.77 | – |
| 348 | pdth.uf | 3 | $0.77 | – |
| 349 | recimo | 3 | $0.77 | – |
| 350 | artr1x | 3 | $0.77 | – |
| 351 | Pirat1449 | 3 | $0.77 | – |
| 352 | 2Highh2Foldd | 3 | $0.77 | – |
| 353 | tiger5976 | 3 | $0.77 | – |
| 354 | TOLIK156 | 3 | $0.77 | – |
| 355 | dominoyan | 3 | $0.76 | – |
| 356 | shuter88AA | 3 | $0.66 | – |
| 357 | Marcos Ga804 | 3 | $0.66 | – |
| 358 | Afimpa | 3 | $0.66 | – |
| 359 | TrohiTrofa | 3 | $0.66 | – |
| 360 | Edu Bueno 76 | 3 | $0.66 | – |
| 361 | Paqi 83 | 3 | $0.66 | – |
| 362 | MuraYulya | 3 | $0.66 | – |
| 363 | Sr.Inciarte | 3 | $0.66 | – |
| 364 | Boris Art | 3 | $0.66 | – |
| 365 | ProfetuN1 | 3 | $0.66 | – |
| 366 | bi-happi | 3 | $0.66 | – |
| 367 | Gangster0713 | 3 | $0.66 | – |
| 368 | Glo0myBear | 2 | $6.94 | – |
| 369 | iHellcat | 2 | $5.24 | – |
| 370 | SuperDoczent | 2 | $5.03 | – |
| 371 | Pulya1999 | 2 | $4.61 | – |
| 372 | Miinow | 2 | $4.28 | – |
| 373 | ccmrob12 | 2 | $4.28 | – |
| 374 | lordluggi | 2 | $4.28 | – |
| 375 | YardDogMacca | 2 | $4.28 | – |
| 376 | MrQ777847 | 2 | $4.20 | – |
| 377 | Alexs_Pelikh | 2 | $3.77 | – |
| 378 | Leviathan22O | 2 | $2.78 | – |
| 379 | Russkiy743 | 2 | $2.78 | – |
| 380 | IrinaValerev | 2 | $2.78 | – |
| 381 | DrumMule | 2 | $2.70 | – |
| 382 | PJCunning1 | 2 | $2.70 | – |
| 383 | rawi2342 | 2 | $2.54 | – |
| 384 | NcoreFerko | 2 | $2.39 | – |
| 385 | ivan2408 | 2 | $2.37 | – |
| 386 | montyuk1988 | 2 | $2.36 | – |
| 387 | alfiyka | 2 | $2.19 | – |
| 388 | josemleonr | 2 | $1.98 | – |
| 389 | Mr_Wallker | 2 | $1.98 | – |
| 390 | pokojug1 | 2 | $1.98 | – |
| 391 | quick91 | 2 | $1.98 | – |
| 392 | stuartbocash | 2 | $1.81 | – |
| 393 | uongy | 2 | $1.66 | – |
| 394 | NOEL*NOFOLD* | 2 | $1.62 | – |
| 395 | kasha1111 | 2 | $1.60 | – |
| 396 | aleks 201668 | 2 | $1.60 | – |
| 397 | shura1992132 | 2 | $1.60 | – |
| 398 | nIkA301225 | 2 | $1.60 | – |
| 399 | artemromme | 2 | $1.60 | – |
| 400 | Nomad_PS | 2 | $1.60 | – |
| 401 | AlyaYlyu | 2 | $1.60 | – |
| 402 | Runik_S | 2 | $1.60 | – |
| 403 | briliant599 | 2 | $1.60 | – |
| 404 | Copu meen | 2 | $1.60 | – |
| 405 | nik_runner | 2 | $1.60 | – |
| 406 | JediRayray2 | 2 | $1.60 | – |
| 407 | zrGrizz | 2 | $1.60 | – |
| 408 | GabrielaF100 | 2 | $1.60 | – |
| 409 | Analyze_Me | 2 | $1.60 | – |
| 410 | walera1000 | 2 | $1.60 | – |
| 411 | mrVentoStar | 2 | $1.60 | – |
| 412 | jonthebook | 2 | $1.59 | – |
| 413 | Sevorsez | 2 | $1.59 | – |
| 414 | serdgino | 2 | $1.59 | – |
| 415 | Onneznaika | 2 | $1.59 | – |
| 416 | olegbelykov | 2 | $1.59 | – |
| 417 | dulex | 2 | $1.59 | – |
| 418 | Romzes1970 | 2 | $1.59 | – |
| 419 | MaxGirl00 | 2 | $1.59 | – |
| 420 | jekan85 | 2 | $1.59 | – |
| 421 | Evgenij3174 | 2 | $1.59 | – |
| 422 | EsyaTara | 2 | $1.59 | – |
| 423 | dbhone | 2 | $1.58 | – |
| 424 | de Brasil | 2 | $1.53 | – |
| 425 | Arli15 | 2 | $1.41 | – |
| 426 | RStahl93 | 2 | $1.39 | – |
| 427 | Wannesvh | 2 | $1.39 | – |
| 428 | SirTom1248 | 2 | $1.39 | – |
| 429 | rudders | 2 | $1.39 | – |
| 430 | Stadtmusikant | 2 | $1.39 | – |
| 431 | MUcalls | 2 | $1.39 | – |
| 432 | TaxationIsTheft | 2 | $1.39 | – |
| 433 | Palsh | 2 | $1.36 | – |
| 434 | SaIcaron | 2 | $1.36 | – |
| 435 | Victor851985 | 2 | $1.36 | – |
| 436 | Zusel2000 | 2 | $1.35 | – |
| 437 | xWins983 | 2 | $1.20 | – |
| 438 | Barks99 | 2 | $1.18 | – |
| 439 | DEATH2619 | 2 | $1.12 | – |
| 440 | varvar2701 | 2 | $1.12 | – |
| 441 | kit055 | 2 | $1.12 | – |
| 442 | granef | 2 | $1.12 | – |
| 443 | SeagullsLad | 2 | $1.12 | – |
| 444 | Qbomb420 | 2 | $1.12 | – |
| 445 | Terror17990 | 2 | $1.12 | – |
| 446 | flowerx92x | 2 | $1.12 | – |
| 447 | Nefr00x | 2 | $1.12 | – |
| 448 | SickSwans88 | 2 | $1.12 | – |
| 449 | tenenson | 2 | $1.12 | – |
| 450 | P1N-TAC | 2 | $1.11 | – |
| 451 | mad8080 | 2 | $1.08 | – |
| 452 | Waltrad | 2 | $1.02 | – |
| 453 | kazanchik92 | 2 | $1.02 | – |
| 454 | now54 | 2 | $1.02 | – |
| 455 | leshka777777 | 2 | $1.02 | – |
| 456 | Darkdanger12345 | 2 | $1.02 | – |
| 457 | Andyboy1421 | 2 | $0.94 | – |
| 458 | ChicoPaw | 2 | $0.91 | – |
| 459 | killfish1990 | 2 | $0.84 | – |
| 460 | zvezda648 | 2 | $0.82 | – |
| 461 | jonny-server | 2 | $0.78 | – |
| 462 | LP Sti | 2 | $0.78 | – |
| 463 | Opcius | 2 | $0.78 | – |
| 464 | nino_ie | 2 | $0.78 | – |
| 465 | qvarku | 2 | $0.76 | – |
| 466 | 88pirate | 2 | $0.76 | – |
| 467 | jrobinson89 | 2 | $0.76 | – |
| 468 | IceGirl20020 | 2 | $0.65 | – |
| 469 | XUnluckyBoyX | 2 | $0.65 | – |
| 470 | G. Gasparato | 2 | $0.60 | – |
| 471 | hpion27 | 2 | $0.55 | – |
| 472 | bruicejuice | 2 | $0.55 | – |
| 473 | El_Diego_9 | 2 | $0.55 | – |
| 474 | kruuser | 2 | $0.55 | – |
| 475 | estrelladecielo | 2 | $0.55 | – |
| 476 | Dnepr_Arhiv | 2 | $0.55 | – |
| 477 | 77umka77 | 2 | $0.54 | – |
| 478 | EdVaRd BiL | 2 | $0.54 | – |
| 479 | 6ogbka | 2 | $0.54 | – |
| 480 | ChuckyLDO | 2 | $0.44 | – |
| 481 | galina_hit | 2 | $0.44 | – |
| 482 | tort333111 | 2 | $0.44 | – |
| 483 | Muxterem | 2 | $0.44 | – |
| 484 | RUINZINHO D+ | 2 | $0.44 | – |
| 485 | JohnnyBro74 | 2 | $0.44 | – |
| 486 | moypokerf | 2 | $0.44 | – |
| 487 | McSouTopGold | 2 | $0.44 | – |
| 488 | ivan-pavl | 2 | $0.44 | – |
| 489 | JAGADA101 | 2 | $0.44 | – |
| 490 | roadtoamerica | 2 | $0.44 | – |
| 491 | MOT#BY | 2 | $0.44 | – |
| 492 | Tverda4 | 2 | $0.44 | – |
| 493 | ned-reg1 | 2 | $0.44 | – |
| 494 | Iris1408 | 2 | $0.44 | – |
| 495 | quinnjonny | 2 | $0.44 | – |
| 496 | ghj[j;bq | 2 | $0.44 | – |
| 497 | RachSP | 2 | $0.44 | – |
| 498 | FishMontenegro | 2 | $0.44 | – |
| 499 | Pavel_CAD | 2 | $0.44 | – |
| 500 | lucashiagosf | 2 | $0.44 | – |
| 501 | PawelWS | 2 | $0.44 | – |
| 502 | canuckkirk | 2 | $0.44 | – |
| 503 | CombA 2018 | 2 | $0.44 | – |
| 504 | il_spectro | 2 | $0.44 | – |
| 505 | zed0589 | 2 | $0.44 | – |
| 506 | IzzaBeatzNsk | 2 | $0.44 | – |
| 507 | UglyBugHug | 2 | $0.44 | – |
| 508 | jenyas90 | 2 | $0.44 | – |
| 509 | AyB_Mad | 2 | $0.44 | – |
| 510 | SerjoRomanow | 2 | $0.44 | – |
| 511 | dacentikos | 2 | $0.44 | – |
| 512 | Bogdan5552 | 2 | $0.44 | – |
| 513 | Lellhovet | 2 | $0.44 | – |
| 514 | Jikoto | 2 | $0.44 | – |
| 515 | gastilomas | 2 | $0.44 | – |
| 516 | leks 59 | 2 | $0.44 | – |
| 517 | derverliebte | 1 | $4.74 | – |
| 518 | mati_allboys | 1 | $2.28 | – |
| 519 | flopatitus | 1 | $2.14 | – |
| 520 | ShelsFC | 1 | $2.14 | – |
| 521 | PROhunter0_0 | 1 | $2.14 | – |
| 522 | stank12345 | 1 | $2.14 | – |
| 523 | Tr4cid | 1 | $2.14 | – |
| 524 | JackWest8 | 1 | $2.14 | – |
| 525 | MichaelPC74 | 1 | $2.14 | – |
| 526 | BIGUNCLEDAVE | 1 | $2.14 | – |
| 527 | sygrob07 | 1 | $1.98 | – |
| 528 | DanCarrero | 1 | $1.59 | – |
| 529 | zez7777 | 1 | $1.39 | – |
| 530 | DARKIANAC | 1 | $1.39 | – |
| 531 | ManOjax | 1 | $1.25 | – |
| 532 | Onderdijk | 1 | $1.19 | – |
| 533 | virtuoz2702 | 1 | $1.19 | – |
| 534 | Abcd1982 | 1 | $1.19 | – |
| 535 | dgugashvili | 1 | $1.19 | – |
| 536 | KOJO1916 | 1 | $1.19 | – |
| 537 | $ev177 | 1 | $1.19 | – |
| 538 | imstalker | 1 | $1.19 | – |
| 539 | geten210 | 1 | $1.19 | – |
| 540 | JYCP841 | 1 | $1.19 | – |
| 541 | mecs0996 | 1 | $1.19 | – |
| 542 | stodolya1 | 1 | $1.19 | – |
| 543 | Brettigio | 1 | $1.19 | – |
| 544 | ShalhtarFan | 1 | $0.97 | – |
| 545 | jdm536 | 1 | $0.83 | – |
| 546 | Rinat_ronik | 1 | $0.83 | – |
| 547 | egawen | 1 | $0.83 | – |
| 548 | jonkirch1848 | 1 | $0.83 | – |
| 549 | Underworldo0 | 1 | $0.80 | – |
| 550 | M_Ziqui | 1 | $0.80 | – |
| 551 | s0per | 1 | $0.80 | – |
| 552 | Artemchilike | 1 | $0.80 | – |
| 553 | ailita36 | 1 | $0.80 | – |
| 554 | Risk2K122 | 1 | $0.80 | – |
| 555 | Zidanevd | 1 | $0.80 | – |
| 556 | Kerorin | 1 | $0.80 | – |
| 557 | vergilin | 1 | $0.80 | – |
| 558 | chrisnbc95 | 1 | $0.80 | – |
| 559 | Vodnik2017 | 1 | $0.80 | – |
| 560 | HenriqueB50 | 1 | $0.80 | – |
| 561 | pittibaerli | 1 | $0.80 | – |
| 562 | Moretz.exe | 1 | $0.80 | – |
| 563 | kostik0733 | 1 | $0.80 | – |
| 564 | baidarko | 1 | $0.80 | – |
| 565 | mamutan | 1 | $0.80 | – |
| 566 | Sakyrenok | 1 | $0.80 | – |
| 567 | Vinctorix | 1 | $0.80 | – |
| 568 | WillIron33 | 1 | $0.80 | – |
| 569 | Huttqu | 1 | $0.80 | – |
| 570 | bigmarianbv | 1 | $0.80 | – |
| 571 | SDF_1_99 | 1 | $0.80 | – |
| 572 | Pycu4-23 | 1 | $0.80 | – |
| 573 | imflat00 | 1 | $0.80 | – |
| 574 | k17w | 1 | $0.80 | – |
| 575 | basalai | 1 | $0.80 | – |
| 576 | DocNomis | 1 | $0.80 | – |
| 577 | andreistav | 1 | $0.80 | – |
| 578 | alopez351 | 1 | $0.80 | – |
| 579 | Pokerzonka | 1 | $0.80 | – |
| 580 | chernomorsk | 1 | $0.80 | – |
| 581 | gizmo0177 | 1 | $0.80 | – |
| 582 | Sh@rlatan87 | 1 | $0.80 | – |
| 583 | microcebus | 1 | $0.80 | – |
| 584 | rjybr | 1 | $0.80 | – |
| 585 | Pssique | 1 | $0.80 | – |
| 586 | PS-GLADIATOR-PS | 1 | $0.80 | – |
| 587 | marto241297 | 1 | $0.80 | – |
| 588 | Natali201115 | 1 | $0.80 | – |
| 589 | Suum suique | 1 | $0.80 | – |
| 590 | kalacatubeta | 1 | $0.80 | – |
| 591 | arkadi30 | 1 | $0.80 | – |
| 592 | totti348 | 1 | $0.80 | – |
| 593 | yaromi | 1 | $0.80 | – |
| 594 | Ariana_Boys | 1 | $0.80 | – |
| 595 | pokerrule19 | 1 | $0.80 | – |
| 596 | Denmark786 | 1 | $0.80 | – |
| 597 | DeLima naval | 1 | $0.80 | – |
| 598 | PYITE17 | 1 | $0.80 | – |
| 599 | SPRUT68 | 1 | $0.80 | – |
| 600 | ThePre-Nuts | 1 | $0.80 | – |
| 601 | Killer3537 | 1 | $0.80 | – |
| 602 | JoeP1111 | 1 | $0.80 | – |
| 603 | PEKYH444 | 1 | $0.80 | – |
| 604 | inkvizitor1979 | 1 | $0.80 | – |
| 605 | lucasjhf | 1 | $0.80 | – |
| 606 | awsomeday | 1 | $0.80 | – |
| 607 | minigore1 | 1 | $0.80 | – |
| 608 | ROman.ps77 | 1 | $0.80 | – |
| 609 | bukovsky87 | 1 | $0.80 | – |
| 610 | SaymonFake | 1 | $0.80 | – |
| 611 | REBEKC | 1 | $0.80 | – |
| 612 | August_Ru511 | 1 | $0.80 | – |
| 613 | honeycrush | 1 | $0.79 | – |
| 614 | culaces | 1 | $0.79 | – |
| 615 | saladir1337 | 1 | $0.79 | – |
| 616 | sascha13ld | 1 | $0.79 | – |
| 617 | K187N | 1 | $0.79 | – |
| 618 | hmagnani | 1 | $0.79 | – |
| 619 | sting77755 | 1 | $0.79 | – |
| 620 | mixamixa1989 | 1 | $0.79 | – |
| 621 | Einer200 | 1 | $0.79 | – |
| 622 | 73REX73 | 1 | $0.79 | – |
| 623 | YORUGUA1526 | 1 | $0.79 | – |
| 624 | TovSuhov59 | 1 | $0.79 | – |
| 625 | Xaerooo | 1 | $0.79 | – |
| 626 | dudupmp | 1 | $0.79 | – |
| 627 | joy7108 | 1 | $0.79 | – |
| 628 | Teun_v_Dijk | 1 | $0.79 | – |
| 629 | init2winit28 | 1 | $0.79 | – |
| 630 | motoconcho70 | 1 | $0.79 | – |
| 631 | UZB_AssAssiN | 1 | $0.79 | – |
| 632 | Tox1309 | 1 | $0.79 | – |
| 633 | Stepan Batov | 1 | $0.79 | – |
| 634 | Volk.Stolbcy | 1 | $0.73 | – |
| 635 | markoks996 | 1 | $0.65 | – |
| 636 | PS1812 | 1 | $0.56 | – |
| 637 | Phily21212 | 1 | $0.56 | – |
| 638 | Idracab2000 | 1 | $0.56 | – |
| 639 | TheNantucketMan | 1 | $0.56 | – |
| 640 | red13rum | 1 | $0.56 | – |
| 641 | GRR!NDKEk$ | 1 | $0.56 | – |
| 642 | pothead2012 | 1 | $0.56 | – |
| 643 | Brooska | 1 | $0.56 | – |
| 644 | cosaDoboj | 1 | $0.56 | – |
| 645 | menervous | 1 | $0.56 | – |
| 646 | SharKygin | 1 | $0.56 | – |
| 647 | Evil Dvil | 1 | $0.56 | – |
| 648 | paciência1 | 1 | $0.56 | – |
| 649 | CEP}I{bIK | 1 | $0.56 | – |
| 650 | Rio yeh? | 1 | $0.56 | – |
| 651 | PumaPerez | 1 | $0.56 | – |
| 652 | SIvanych | 1 | $0.56 | – |
| 653 | nir7777 | 1 | $0.56 | – |
| 654 | NonStooop | 1 | $0.56 | – |
| 655 | speed900 | 1 | $0.56 | – |
| 656 | S1THL0RD | 1 | $0.56 | – |
| 657 | dog325713 | 1 | $0.56 | – |
| 658 | JackRubio26 | 1 | $0.56 | – |
| 659 | gardius78 | 1 | $0.56 | – |
| 660 | blackcatyc | 1 | $0.56 | – |
| 661 | ghZTrikz | 1 | $0.56 | – |
| 662 | Zoss.Karl | 1 | $0.55 | – |
| 663 | dof_poker | 1 | $0.55 | – |
| 664 | Phili3boy | 1 | $0.55 | – |
| 665 | Vladimir7027 | 1 | $0.55 | – |
| 666 | SunyStar01 | 1 | $0.55 | – |
| 667 | DEVIL'z JOKE | 1 | $0.55 | – |
| 668 | VAZUZA72 | 1 | $0.55 | – |
| 669 | korallevich | 1 | $0.55 | – |
| 670 | NiK133 | 1 | $0.55 | – |
| 671 | Sprutto | 1 | $0.55 | – |
| 672 | sergun71 | 1 | $0.55 | – |
| 673 | nooberc | 1 | $0.44 | – |
| 674 | valmaniguale | 1 | $0.44 | – |
| 675 | kaba13rus | 1 | $0.44 | – |
| 676 | UTO4KA78rus | 1 | $0.43 | – |
| 677 | netinternetu | 1 | $0.43 | – |
| 678 | MetaDon7577 | 1 | $0.43 | – |
| 679 | PuzzBubb | 1 | $0.43 | – |
| 680 | divabrae | 1 | $0.42 | – |
| 681 | Irina 201666 | 1 | $0.40 | – |
| 682 | latana90 | 1 | $0.40 | – |
| 683 | kievbroSKRRRRRR | 1 | $0.33 | – |
| 684 | wifi6534556 | 1 | $0.33 | – |
| 685 | nastiusha95 | 1 | $0.33 | – |
| 686 | Teksfor | 1 | $0.33 | – |
| 687 | GABI0282 | 1 | $0.33 | – |
| 688 | vladimir7552 | 1 | $0.33 | – |
| 689 | www888259 | 1 | $0.33 | – |
| 690 | red 1065 | 1 | $0.32 | – |
| 691 | nanadin | 1 | $0.32 | – |
| 692 | SirJuly4th | 1 | $0.27 | – |
| 693 | Sany921 | 1 | $0.22 | – |
| 694 | pim maksim | 1 | $0.22 | – |
| 695 | Nelson1712 | 1 | $0.22 | – |
| 696 | KrustyClown1 | 1 | $0.22 | – |
| 697 | ElenaM1966 | 1 | $0.22 | – |
| 698 | OllinKoll | 1 | $0.22 | – |
| 699 | miha43kirov | 1 | $0.22 | – |
| 700 | sinuss75 | 1 | $0.22 | – |
| 701 | maneliim | 1 | $0.22 | – |
| 702 | FranKKKKRN | 1 | $0.22 | – |
| 703 | panidjar | 1 | $0.22 | – |
| 704 | Morimo1802 | 1 | $0.22 | – |
| 705 | DIGO530 | 1 | $0.22 | – |
| 706 | ACITP | 1 | $0.22 | – |
| 707 | ninix17 | 1 | $0.22 | – |
| 708 | poshlivi1972 | 1 | $0.22 | – |
| 709 | kopter_TRB | 1 | $0.22 | – |
| 710 | Filip Ivanovic | 1 | $0.22 | – |
| 711 | dzhelali | 1 | $0.22 | – |
| 712 | zahar199327 | 1 | $0.22 | – |
| 713 | pereyra18 | 1 | $0.22 | – |
| 714 | Mundobam0212 | 1 | $0.22 | – |
| 715 | viola1708 | 1 | $0.22 | – |
| 716 | ianfalcao | 1 | $0.22 | – |
| 717 | happy2105 | 1 | $0.22 | – |
| 718 | pinokiN0 | 1 | $0.22 | – |
| 719 | rafhin | 1 | $0.22 | – |
| 720 | HeavyM420 | 1 | $0.22 | – |
| 721 | newlander911 | 1 | $0.22 | – |
| 722 | isamdev | 1 | $0.22 | – |
| 723 | rellever | 1 | $0.22 | – |
| 724 | ruby1254 | 1 | $0.22 | – |
| 725 | Svat'80 | 1 | $0.22 | – |
| 726 | Gacenty | 1 | $0.22 | – |
| 727 | forrestgumpK | 1 | $0.22 | – |
| 728 | krmpx | 1 | $0.22 | – |
| 729 | Olsberg | 1 | $0.22 | – |
| 730 | Aivaronis | 1 | $0.22 | – |
| 731 | spinoza2 | 1 | $0.22 | – |
| 732 | Grizley4422 | 1 | $0.22 | – |
| 733 | YURA8998 | 1 | $0.22 | – |
| 734 | MaxNirvana86 | 1 | $0.22 | – |
| 735 | -MuHyC-1991 | 1 | $0.22 | – |
| 736 | Naler23 | 1 | $0.22 | – |
| 737 | Bohemond90 | 1 | $0.22 | – |
| 738 | Bakster81 | 1 | $0.22 | – |
| 739 | ValikDranik | 1 | $0.22 | – |
| 740 | leksapoker | 1 | $0.22 | – |
| 741 | Renake1980 | 1 | $0.22 | – |
| 742 | Ava77777 | 1 | $0.22 | – |
| 743 | LelikMimi | 1 | $0.22 | – |
| 744 | bokserd202 | 1 | $0.22 | – |
| 745 | leleoskt520 | 1 | $0.22 | – |
| 746 | Gabinho12345 | 1 | $0.22 | – |
| 747 | la cavalcade | 1 | $0.22 | – |
| 748 | DavidPeer | 1 | $0.22 | – |
| 749 | stojmas | 1 | $0.22 | – |
| 750 | -=bolatavo=- | 1 | $0.22 | – |
| 751 | Almaztil | 1 | $0.22 | – |
| 752 | allutta90 | 1 | $0.22 | – |
| 753 | rusy_1975 | 1 | $0.22 | – |
| 754 | shur_SHI | 1 | $0.22 | – |
| 755 | niki1168 | 1 | $0.22 | – |
| 756 | HungerGames8 | 1 | $0.22 | – |
| 757 | Mosel24 | 1 | $0.22 | – |
| 758 | viztig | 1 | $0.22 | – |
| 759 | valery1703 | 1 | $0.22 | – |
| 760 | £uropia | 1 | $0.22 | – |
| 761 | AAmauKK | 1 | $0.22 | – |
| 762 | A000083 | 1 | $0.22 | – |
| 763 | edmar jk | 1 | $0.22 | – |
| 764 | REZAKOV72 | 1 | $0.22 | – |
| 765 | AMTTT | 1 | $0.22 | – |
| 766 | zema2014 | 1 | $0.22 | – |
| 767 | cyberlj | 1 | $0.22 | – |
| 768 | Reslman | 1 | $0.22 | – |
| 769 | Feel's_Empty | 1 | $0.22 | – |
| 770 | MorDa_47 | 1 | $0.22 | – |
| 771 | TCosKane | 1 | $0.22 | – |
| 772 | aleshagorod | 1 | $0.22 | – |
| 773 | m@r1sa | 1 | $0.22 | – |
| 774 | wanderwas | 1 | $0.22 | – |
| 775 | j1r4y4_86 | 1 | $0.22 | – |
| 776 | Timmaywin | 1 | $0.22 | – |
| 777 | sona.and | 1 | $0.22 | – |
| 778 | ognjen1989do | 1 | $0.22 | – |
| 779 | stepaskin | 1 | $0.22 | – |
| 780 | Ssiderov13 | 1 | $0.22 | – |
| 781 | Lu15lvlu554 | 1 | $0.22 | – |
| 782 | igor8872 | 1 | $0.22 | – |
| 783 | honorary81 | 1 | $0.22 | – |
| 784 | GrOmOzek_AA | 1 | $0.22 | – |
| 785 | Timon208 | 1 | $0.22 | – |
| 786 | eXtAnD | 1 | $0.22 | – |
| 787 | Tight Tom | 1 | $0.22 | – |
| 788 | achiles143 | 1 | $0.22 | – |
| 789 | agucho24 | 1 | $0.11 | – |
| 790 | Comi0 | 1 | $0.11 | – |
| 791 | SauloCD | 1 | $0.11 | – |