Play has ended on Day 1A of the EPT Sochi Main Event, with Vitaly Gusak bagging up the lead tonight with 206,300.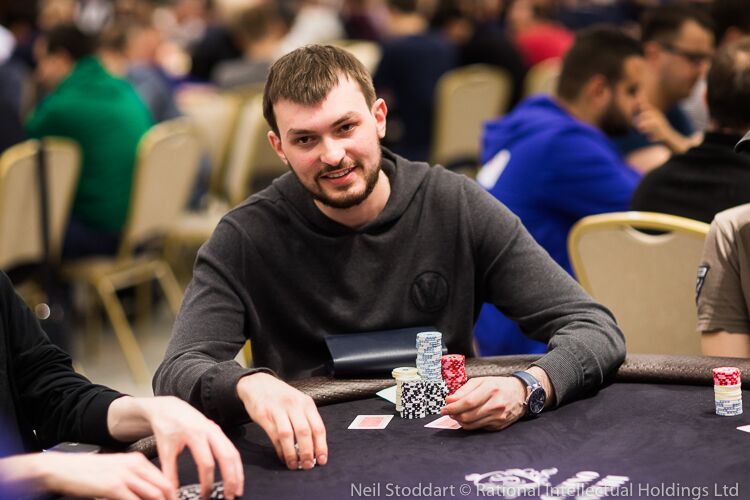 Vitaliy Gusak leads on Day 1A of the Main Event
It brings an end to the first day back for the EPT after a year-long hiatus.
Some 254 entries registered for the first flight, with players given the option of a single re-entry. Many took up that offer, including last year's winner Pavel Shirshikov.
Gusak leads after ten levels of play, with others still in contention.
Vitaliy Gusak – 206,300
Aleksandr Merzhvinskiy – 195,900
Roman Zhuravlev – 191,400
Ivan Safarov – 190,600
Andrei Krylou – 187,100
The full Day 1A Main Event chip counts from Sochi can be found here.
Day 1B begins at 12 noon local time tomorrow (9am UK, 4am ET) with another ten levels.
They'll also be an extra third flight, Day 1C, starting at 8pm and featuring a Turbo structure. It all adds up to a busy Saturday in Sochi.
Read up on all the stories from the day in our coverage archive below. In the meantime, join us for the start tomorrow. — SB
Live Coverage Archive
• CLICK TO REFRESH FOR LATEST UPDATES
• PLAYERS: 110 of 254 | SOCHI CHIP COUNTS | SOCHI PAYOUTS
• ALL SOCHI INFO | DOWNLOAD POKERSTARS
• Ten 60-minutes levels | Registration open all day
• Follow @PokerStarsBlog on Twitter
11:50pm: Evening out
Level 10 – Blinds 600/1,200 (ante 200)
So far it seems like we won't have a runaway chip leader to end the day. While we had a few sharp rises after dinner break, it looks like the stacks near the top of the leaderboard have been evening out towards the end of the day.
There are about seven players that have nearly 170,000 chips including Ivan Safarov, Sihao Zhang, Vladimir Reshetnikov, Aleksandr Merzhvinskiy, Artur Martirosyan and Antoliy Zlotnikov are all one big pot away from ending the night with the lead.
There are plenty of players over 100,000 and any double up from them could also result in a surprise leader. We're almost done for the night though so that window of opportunity is quickly closing. –AV
11:35pm: Zhang doubles through Shcherbinin
Level 10 – Blinds 600/1200 (ante 200)
We arrived at the table in time to see some serious preflop action. Sihao Zhang had made what was most likely a three-bet to 10,000 and Igor Shcherbinin had upped it to 20,000. Zhang was finished, five-betting all-in for approximately 73,000 and Shcherbinin couldn't call quick enough.
Shcherbinin Q♥Q♦
Zhang A♥10♥
Shcherbinin was ahead as the flop was dealt 10♣3♠6♣. Though Zhang had picked up a pair of tens, his outs had only increased to five, meaning Sherbinin was still a long way ahead. The A♦ river changed all that and the 9♥ couldn't bring it back for Shcherbinin, who had to hand over almost 73,000 and leaving him with 38,000 behind. Zhang meanwhile boosts up to about 165,000. –LY
11:20pm: Troyanovskiy takes a hit
Level 10 – Blinds 600/1,200 (ante 200)
Roman Gadzhiev raised to 2,700 from early position and Vladimir Troyanivskiy called from the hijack. It was a dance that would repeat itself all the way to the river.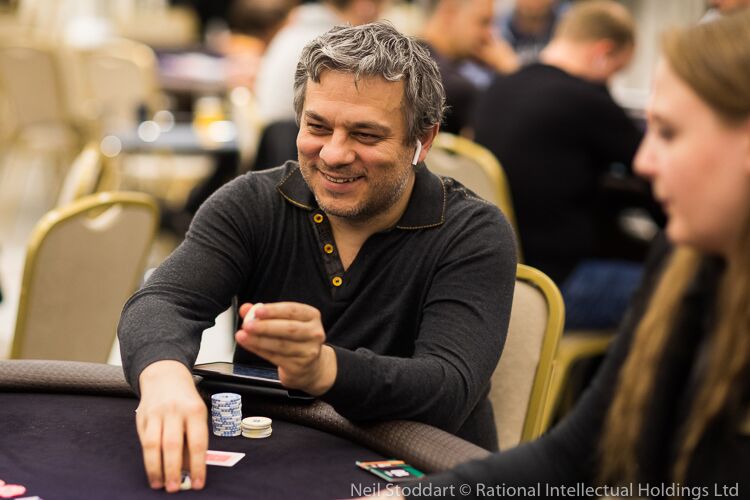 Vladimir Troyanovskiy
Gadzhiev bet 2,500 on the 9♣9♥7♠ and then bet 5,000 when the A♦ came on the turn. Troyanovskiy called both times and then called a final time when Gadzhiev bet 10,000 on the Q♦ river.
Gadzhiev turned over K♠9♠ after the call and Troyanovskiy slammed his cards into the muck. Troyanovskiy was left with 76,000 after the hand while Gadzhiev chipped up to about 106,000. –AV
11:05pm: Big lay down
Level 9 – Blinds 500/1000 (ante 100)
We were on the last hand of the penultimate level, when on the river Evgeniy Vorozhtsov faced a difficult decision.
We had arrived in time to see the action on the river and the board showed 2♥9♣6♠5♥5♠. There was about 32,000 in the pot and Aleksey Antonov had shoved all-in for 37,300. Vorozhtsov went deep into the tank before folding K♠K♣ face up.
Antonov showed A♣Q♣ for ace high and the slightly bigger than pot-sized jam had evidently worked, securing him the pot and increasing his stack to 70,000. Meanwhile Vorozhtsov still has what looked to be around 90,000 in front, which is still a very healthy stack at this point. –LY
11pm: Three-way thoughts
Level 9 – Blinds 500/1,000 (ante 100)
It was a tough spot for Sergey Kerzhakov. He'd four-bet from the small blind, but now he was faced with a six-bet jam for all his chips.
Yuriy Kovylyaev started things off with a raise to 2,500 from early position and then Artur Martirosyan three-bet to 7,000 from the button. Kerzhakov was on the small blind and re-raised to 15,500.
Kovylyaev then moved all-in for about 40,000 and Martirosyan rejammed for about 80,000. Calling would put Kerzhakov's tournament life at risk and he thought. He thought a bit longer and then decided to go with the fold.
Kovylyaev turned over A♠K♠ and Martirosyan tabled A♣A♥. The 10♥J♣7♠ flop gave Kovylyaev a sweat, but the 9♠ on the turn and 6♣ on the river didn't bring the help he needed. Kovylyaev hit the rail while Martirosyan chipped up to about 150,000. –AV
10:50pm: Classic cooler
Level 9 – Blinds 500/1000 (ante 100)
Mikhail Grabchenko must've been happy to see Q♠Q♦ when he looked down at his hole cards, right up until he was called by Grigoriy Rodin who had found K♦K♣ and it was Grabchenko's tournament life on the line to make matters even worse.
The 6♣4♦J♥3♠10♣ board didn't change anything and Grabchenko will need to re-enter to stay in with a chance of making it through to Day 2. –LY
10:35pm: Igor inching up
Level 9 – Blinds 500/1,000 (ante 100)
Igor Yaroshevskyy is fighting and pushing his stack closer to the six-figure mark. He recently took one off of Lucas Scafini to make it up to 96,000.
Action folded to Yaroshevskyy that hand and he raised to 2,200 from middle position. Scafini called from the cutoff and players went to a K♣7♦5♣ flop and Yaroshevskyy bet 1,000. Scafini called and an A♦ came on the turn. This time Yaroshevskyy bet 2,400 and Scafini called again.
The river brought a 5♠ and large bet from Yarsohevskyy. Yaroshevskyy threw out a handful of his biggest denomination chips for a bet worth 25,000. Scafini thought for a bit, but quickly folded, giving Yarohsevskyy the pot and nearly 100,000 chips. –AV
10:20pm: Safarov surges
Level 9 – Blinds 500/1,000 (ante 100)
Ivan Safarov was rounding off the top five chip counts before the break, but now he's surged to the top with 210,000.
Safarov won a large chunk of those chips after he picked up pocket kings and knocked out Dmitry Pantaleev. Safarov seemed determined to keep using his big stack as he took down another pot before he finished racking up Pantaleev's chips.
Safarov raised to from the cutoff the hand after the elimination and Vladimir Lappo called from the big blind. The flop came 3♥A♥K♠ and Safarov bet 2,200. Lappo raised to 5,200 and Safarov looked down his stack, waved his hands forward and moved all-in.
Lappo was more than covered, he was short-stacked with about 18,000 behind. Lappo decided to let it go and was left with his 18,000 while Safarov's lead grew to nearly 220,000. –AV
10:05pm: Off to the races for Mykhaylyuta and Ivlev
Level 9 – Blinds 500/1000 (ante 100)
It was a classic flip for Albert Mykhaylyuta 9♥9♣ and Andrey Ivlev A♣Q♠. Ivlev was our all-in player with 27,000 and he was looking to hit an ace or a queen to stay in the tournament.
3♦J♥7♣
The flop didn't help Ivlev and Mykhaylyuta pushed further into the lead.
The K♥ turn gave Ivlev four more tens to hit for broadway but sadly for him, the king paired with a K♠ on the river.
The chips go to Mykhaylyuta who has pushed up to 74,000. –LY
9:45pm: Break time
Players are taking a 15 minute break, the last of the day. When they return they'll play two more levels.
9:40pm: Late leaders
Level 8 – Blinds 400/800 (ante 100)
We're getting ready to take the last break of the day and a few players are going on break with significantly more chips than others.
Vitaly Pankov appears to be in the lead with 185,000. Coming up in second is Vladimir Reshetnikov with 160,000 and then we have a non-Russian rounding off the top three. Germany's Fedor Kruse has about 130,000 but there are a few players in hot pursuit.
Andrei Krylou has 125,000 and Ivan Safarov rounds off the top five with 120,000. –AV
9:20pm: Is it a cooler if one player hasn't looked at their cards?
Level 8 – Blinds 400/800 (ante 100)
Whilst watching the action on one table, the blogging team was called over to the adjacent table by Roman Zhuravlev, who had doubled in a very large pot.
The dealer was counting out the chips for his opponenet, Valentin Domashe, giving Zhuravlev the opportunity to recount the hand to us…
Preflop he had made a raise blind and found two callers, before Domasche squeeezed. Zhuravlev called the three-bet and still hadn't looked at his cards as the flop was dealt.
10♠5♦6♥
Domashe continued and for the first time, Zhuravlev peeked at his holding, to find he'd flopped top set with 10♣10♥. The pair got their chips in and Domasche turned over A♥A♣ to find his rockets had been out-flopped.
The 5♣ turn and 4♦ river, didn't see a redraw for Domasche and Zhuravlev doubles to almost 100,000. We have a feeling there may be more excitement coming from Zhuravlev's side of the room as the tournament progresses. –LY
9:15pm: Macesovic builds
Level 8 – Blinds 400/800 (ante 100)
There was a button/big blind war going on between Irena Macesovic and Maksim Reshetov when we joined the table. Reshetov had a bet of 6,000 in front and Macesovic was counting out chips to re-raise over the top. She made it 15,700 and Reshetov liked his hand enough to push all-in, with Macesovic making the call.
Reshetov A♦K♥
Makesovic K♣K♦
Reshetov was drawing to three aces as the community cards were dealt.
Q♠6♥5♠J♠2♣
The kings held and Macesovic soars up to about 115,000. With average stack currently at just under 50,000, the Lithuanian is in a very enviable position indeed. –LY
9:05pm: Four-way all-in
Level 8 – Blinds 400/800 (ante 100)
Yup, not one or two or three, but a four-way all-in just played out on the tournament floor. And while there were four players, there were really just three hands.
Both Alexey Groznov and Lev Moiseenko had queen-ten, although Groznov was suited and he had the largest of the four stacks. Karelin Vyacheslav had them both dominated with A♦10♠ and Mauricio Zeman had 9♥9♠.
Zeman did improve to a set on the 8♥J♠9♣ flop, but it also gave Groznov and Moiseenko a straight. The turn brought a 5♦ and then a 4♦ completed the board. Both Vyacheslav and Zeman were covered and they exited the tournament while the other two players split their chips.
The pot put Moiseenko up to 50,000 while Groznov chipped up to nearly 100,000. –AV
8:50pm: Mayo no more
Level 7 – Blinds 300/600 (ante 100)
Richard Mayo, who was playing his first live event here in Sochi after qualifying for just $5.50 online, made his final move with A♣K♣. There was already a hefty pot in the middle and an 8♥10♦J♥ flop on the table. Dmitry Panteleev was the other player in the hand and called the all-in with Q♥Q♠.
Panteleev was in the lead and a 6♥ kept him there. Mayo was hoping for an ace or a king on the river and the river did bring an ace, but it was the A♥. Panteleev hit a flush and Mayo hit the rail. Panteleev on the other hand chipped up to about 80,000. –AV
8:40pm: Kovalenko extracts value
Level 7 – Blinds 300/600 (ante 100)
Pavel Kovalenko and Yury Masliakou were looking at a 9♦K♦4♦J♦ board on the turn, when we arrived at the table and it looked like neither player put any chips in on the four flushing board.
The 3♥ river didn't change anything and following a check from Kovalenko, Masliakou thought for a bit before setting his opponent all in. It was a snap from Kovalenko who turned over A♦10♠ and the ace high flush. Masliakou showed K♥10♥, as another player at the table congratulated Kovalenko on his "nice play".
It worked out very well for the Russian, pushing him up to about 55,000 in front. –LY
8:25pm: Davydov dusted
Level 7 – Blinds 300/600 (ante 100)
While Vladimir Reshetnikov is dominating his table, a few other players are also making some moves. In a recent elimination, Reshetnikov raised to 1,500 from early position and Sihao Zhang called from the hijack.
Alexsandr Davydov was down to just 11,700 and moved it all-in from the button. Reshetnikov thought for a bit but folded. Zhang on the other hand called. Davydov turned over A♦J♦ and Zhang showed 7♥7♦ for a flip.
The 10♠8♠3♥2♣K♠ board missed both players and pocket sevens took it down. Davydov hit the rail and there are about 160 players remaining. –AV
8:10pm: Vyacheslav ousted by Shirshikov
Level 7 – Blinds 300/600 (ante 100)
Pavel Shirshikov opted to limp preflop and Spirin Vyacheslav, who was down to his last 1,500 chips, moved all in.
He found two further calls, one behind and one in the blinds, before our reigning champion decided to isolate, going all in over the top for 19,700 total. This was enough to get heads up with Vyacheslav and both players were getting about 5 to 1 on their money as they turned their cards over.
Shirshikov K♥5♥
Vyacheslav Q♥10♦
It was a 10♥J♣K♠ flop. Whilst Shirshikov hit top pair, Vyacheslav had picked up second pair and an open-ended straight draw.
There was a 5♦ on the turn and Shirshikov had improved to two pair. The 2♣ river bricked all of Vyacheslav's outs, giving Shirshikov the pot. It takes him up to 25,900, which is still below starting stack but a step in the right direction. –LY
8pm: Rising above the crowd
Level 7 – Blinds 300/600 (ante 100)
Our well-fed corps of players are back from dinner, some with far more chips than others. There are plenty of stacks small enough to fit in one hand scattered throughout the field, but there are a few that are starting to tower over the others.
One of those stacks belongs to Vladimir Reshetnikov, who appears to be in the lead with about 150,000 and doesn't mind throwing around big raises.
One of his most recent victories started out when Andrei Shatilov raised to 1,500 from the hijack. Reshetnikov called from the cutoff and the rest of the table got out of the way.
Shatilov then bet 1,500 and Reshetnikov threw in a raise to 10,000. It was a small portion of Reshetnikov's stack, but the bet was almost worth half of Shatilov's stack.
Shatilov folded and Reshetnikov took in the pot and chipped up to about 150,000. –AV
7:45pm: Dinner time
Players are back from the break for four more levels of play before bagging up.
6:35pm: Dinner time
Players are bout to go on a 60 minute dinner break. Play resumes at 7:40pm ocal time.
6:30pm: Krylou punished by river
Level 6 – Blinds 250/500 (ante 75)
Andrei Krylou was the all-in player on the 5♦7♣3♦ flop but though his tournament life was on the line, he had the best of it with A♠A♣ versus Ivan Safarov's 10♥10♦.
Only a ten or running diamonds could secure the hand for Safarov but the J♣ turn took his outs down a ten and a ten only.
Krylou groaned when he saw the 10♠ river but we may see him return to play again either today or on a subsequent flight. –LY
6:25pm: Troyanovskiy takes one out
Level 6 – Blinds 250/500 (ante 75)
Aleksandr Nikiforov was down to just 7,025 and moved it all-in for with A♣Q♦. Action folded to Vladimir Troyanovskiy and he called from the big blind with 5♥5♦.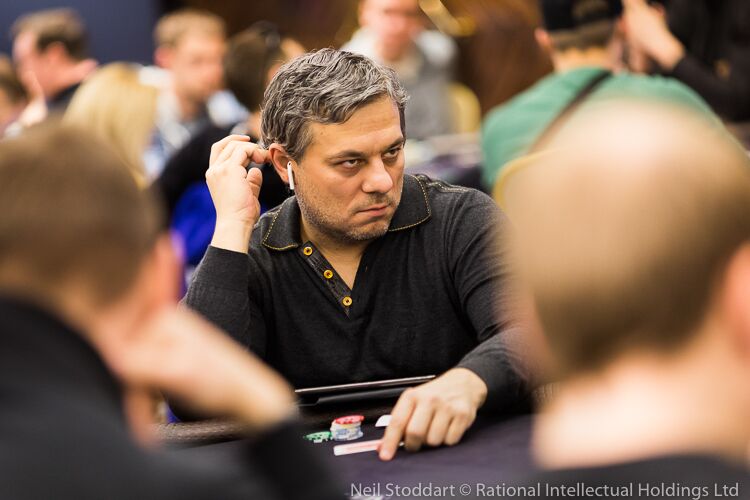 Vladimir Troyanovsky
Nikiforov was flipping for his tournament life, but the 5♠K♥4♣ gave Troyanovskiy a set and left Nikiforov drawing slim. Then a 4♠ came on the turn to fill Troyanovskiy up and a 4♦ completed the board.
Nikiforov hit the rail while Troyanovskiy, who finished 2nd in this event last year, is at nearly double the average stack with about 80,000. –AV
6:15pm: Ozhigin doubles
Level 6 – Blinds 250/500 (ante 75)
In order of position, Gennadiy Ozhigin, Oleg Eltsov and Ian Ezerskii had all paid 3,500 to see a flop.
It read K♠10♣2♠ and after a check from Ozhigin, Eltsov bet 4,700, which wasn't enough to deter either of his opponents and they continued three-handed to the turn.
The 5♠ made a possible flush and Ozhigin checked again, with Eltsov doing the same, leaving the action on Ezerskii. He asked to see Ozhigin's stack, which was 19,000, before betting 6,000 into the pot. What followed was a snap jam from Ozhigin, a snap fold from Eltsov and a snap call from Ezerskii.
Ozhigin K♣Q♠
Ezerskii K♥J♠
Both players had top pair and a flush draw but Ozhigin's was ahead on both counts and the 2♦ brick on the river changed nothing. Ozhigin has now more than doubled to 53,000. –LY
5:55pm: Little rise, little dip for Igor
Level 5 – Blinds 200/400 (ante 75)
Igor Yaroshevskyy is a man of action at the table. He's constantly in hands and if his chip stack was a graph it would be an thrilling roller coaster.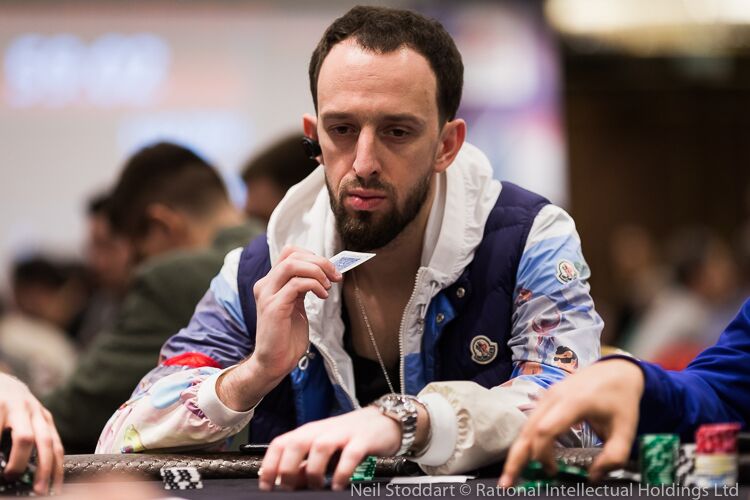 Up and down with Igor Yaroshevskyy
We can now add small rise and dip in the Yaroshevskyy-coaster graph. Yaroshevksyy recently took one off Dmitry Gromov.
Yaroshevksyy opened to 1,000 from the button that hand and Gromov three-bet to 3,000 from the big blind. Yaroshevksyy called and a 9♥9♦A♥ flop hit the board. Both players checked and a 7♣ came on the turn. Gromov checked and Yaroshevskyy bet 3,000.
Gromov open-mucked Q♥Q♣ and Yaroshevskyy showed him A♦Q♣ and took down the pot.
Then Yaroshevksyy lost a little. Andrey Chernokoz opened to 1,000 from under the gun that hand and Rafal Skrzyrekcalled from middle position. Yaroshevksyy called from the cutoff and and all three players went to the J♥K♥3♦. There was a round of checks and a 9♣ on the turn.
That's where things would end though. Chernokoz bet 2,500 and it was good enough to take down the pot. –AV
5:45pm: Makhmudov hits the rail
Level 5 – Blinds 200/400 (ante 75)
We arrived just in time to see the dealer using one of the red triangles… we had an all in situation. Though it is unclear whether the all in took place on the flop on the turn, Marat Makhmudov was the player who needed to hit.
Makhmudov A♠K♠
Kiryl Radzivonau 5♠5♥
The board: K♠10♣2♠5♠
Radzivonau had just over 90 per cent equity and needed to fade an ace or a king in order to win the chips. The 6♥ locked it up for him and he builds to 50,000 or so, which is well above average stack. –LY
5:30pm: All the draws get there
Level 5 – Blinds 200/400 (ante 75)
It was a very wet board with 10♦K♥J♥8♦ dealt by the turn. There were a couple of made straight combos out as well as two red flush draws. Vladimir Dobrovolski set 4,575 over the line and was called by Saar Wilf, who had position on him.
Saar Wilf
The Q♦ river brought out a backdoor flush and meant only an ace was needed to make broadway. Dobrovolski opted to slow down and checked. Wilf did the same, taking the two to showdown. Dobrovolski showed A♥6♥ and though he'd missed his heart draw, the river had obliged him with the straight instead. It was enough for the Russian to scoop the chips, with Wilf sending his cards into the muck. –LY
5:15pm: Pavel put to the test
Level 5 – Blinds 200/400 (ante 75)
Pavel Shirshikov already busted once today and now his stack has almost been halved again.
The most recent hit to stack started when Evgeniy Vorozhtsov raised to 800 from under the gun. Shirshikov was in middle position and he three-bet to 2,700. Action folded back around to Vorozhtsov and he called, bringing a 10♣K♠2♣ flop.
Vorozhtsov checked and Shirshikov made it 4,000 to go. Vorozhtsov called and then both players checked the 5♥ on the turn. A 6♦ completed the board and this time Vorozhtsov took over the initiative by with a bet to 16,000.
Shirshikov looked down at his stack and counted it out. He was a few 100 shy of 16,000 and the call would put his tournament life at risk. Shirshikov went for the fold instead and was left with less than 16,000. Vorozhtsov chipped up to around 45,000. –AV
5:05pm: Ezerkii making moves
Level 5 – Blinds 200/400 (ante 75)
Komil Ruzaev raised to 800 from under the gun and Gennadiy Ozhigin called from his immediate left. Action the folded around to Ian Ezerskii and he called as well.
A 2♠J♦J♠ flop hit the board and Ezerskii bet 2,900 when checked to. Ruzaev called, Ozhigin folded and a Q♥ came on the turn. Ruzaev checked again and this time Ezerskii upped the bet 6,500. Ruzaev thought, called and was then faced with a bigger decision after the 8♥ came on the river. Ezerskii moved all in and this time Ruzaev couldn't find a call.
Ruzaev folded and was left with 23,500 while Ezerskii chipped up toa bout 50,000. –AV
4:50pm: Martirosyan builds
Level 5 – Blinds 200/400 (ante 75)
There is something satisfying about players who have a name that sounds as if they were always destined to play poker. Michael Limp is one such person and he found himself tangled in a hand versus Artur Martirosyan just now.
There were four players still in on the 8♦2♣7♦ flop but a 1,800 continue from Martirosyan pushed out all but Limp.
It was a 5♥ on the turn and this time Martirosyan pumped it up to 6,000 and Limp didn't want to go anywhere just yet.
The 3♥ river didn't see another barrel. Instead Limp bet 6,000 and it was a quick call from Martirosyan who showed 8♠8♥ for top set. It was good, with Limp mucking and Martirosyan now has about 48,000 in front. –LY
4:20pm: Break time
Players are on another 15 minute break in the Main Event.
4:15pm: Kicker plays
Level 4 – Blinds 150/300 (ante 50)
It has been one of those periods with very little getting to showdown… perhaps players are waiting for the break, which will start imminently. So it was nice to see two players breaking the trend over in the middle of the room.
Nikita Staroverov squeezed in position to 2,800 preflop and despite a couple of other players putting chips in, it was only Ilya Ilin who was interesting in seeing a flop.
6♠5♦J♥
Ilin check-called Staroverov's slightly smaller continue of 2,200. No chips were put in on the 3♥ turn and the board paired with the 3♣ coming on the river.
Ilin elected to lead here with a bet of 5,000. Staroverov needed some time to think but found the right call, tabling A♥5♥ for two pair and his ace kicker playing against Ilin's 5♣7♣. –LY
4:10pm: Safarov picks some up
Level 4 – Blinds 150/300 (ante 50)
Anatoly Filatov raised to 700 from middle position and Leonardo Silveira called from the hijack. Ivan Safarov was on the button and went along for the ride as well.
All three players went to the 9♥10♥A♣ flop and Filatov continued for 1,100. Both of his opponents called and a 5♣ came on the turn. This time action checked to Safarov and he bet 3,000.
Filatov thought for a bit, but then opted for the fold. Silveira called and a K♦ completed the board. Silveira slowed to a check and this time Safarov checked behind. Silveira turned over Q♥9♣ for a pair of nines, but Safarov turned over the winning hand with A♥J♣. Safarov took down the pot and chipped up to 48,000 while Silveira was left with about starting stack and Filatov dipped to 24,000. — AV
4:05pm: Deuces do it
Level 4 – Blinds 150/300 (ante 50)
Leonid Bilokur had Richard Mayo dominated preflop, but then Mayo paired his deuce with a lowly five-deuce suited to take the lead.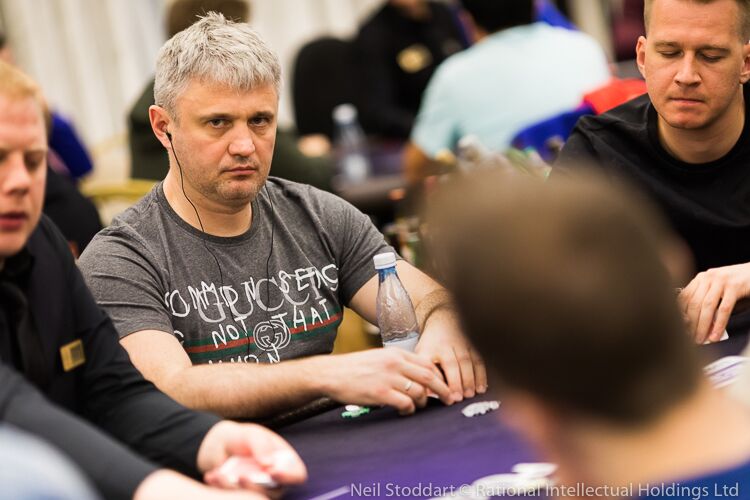 Alex Bilokur
Bilokur started the hand off with a raise to 700 from the cutoff and action folded to Mayo on the big blind. Mayo called and an A♦2♥Q♦ flop hit the board. Bilokur continued for 600 and Mayo called. The 10♦ came on the turn and this time Bilokur upped the bet to 1,600. Mayo called again and a 5♥ completed the board.
Bilokur slowed down to a check and Mayo checked behind. Bilokur turned over K♠5♠ for king high and Mayo tabled 5♦2♦ for a pair of deuces. Deuces were good and Mayo took down the pot. –AV
3:50pm: Kertechian busts Bilychenko
Level 4 – Blinds 150/300 (ante 50)
Haig Kertechian and Alexsey Bilychenko were head-to-head in a pot that had played out very fast up to this point. Kertechian had made it 1,800 preflop and subsequently barrelled 4,000 and 7,000 on the next two streets.
The board read K♠2♥A♥6♠ and this is where the action slowed down, with Bilychenko needing a little more time to think. The bet was enough to put him all in so understandably he took a minute or so to think, before ultimately making the call.
Kertechian A♣K♦
Bilychenko A♦9♦
He needed a nine on the river to save his tournament life but it wasn't to be and Kertechian took down the pot. –LY
3:30pm: Heating up
Level 4 – Blinds 150/300 (ante 50)
We've crossed the 200-player mark and some more big guns are joining the arsenal here at the EPT Sochi Main Event.
Local pro Anatoly Filatov has joined the fray. Filatov has nearly $1.8 million in live tournament earnings with his biggest chunk coming from an EPT. Filatov finished second in the EPT10 Vienna for $366,070 and now he's hoping to score a big EPT cash on home soil.
Another local legend and high roller, Leonid Bilokur has also taken a seat at the Main Event. Bilokur has nearly $3.5 million in live tournament earnings with a whopping $1.1 million coming from a PCA High Roller win back in 2012.
Ukranian pro Igor Yaroshevskyy is also fighting for the EPT Sochi title today. Yaroshevskyy cashed in PokerStars Championship Main Events in Panama, Monte Carlo and Barcelona last year and finished off the season with a High Roller cash in PSC Prague. Now Yaroshevskyy is hoping to follow things up with a strong finish here in Sochi. – AV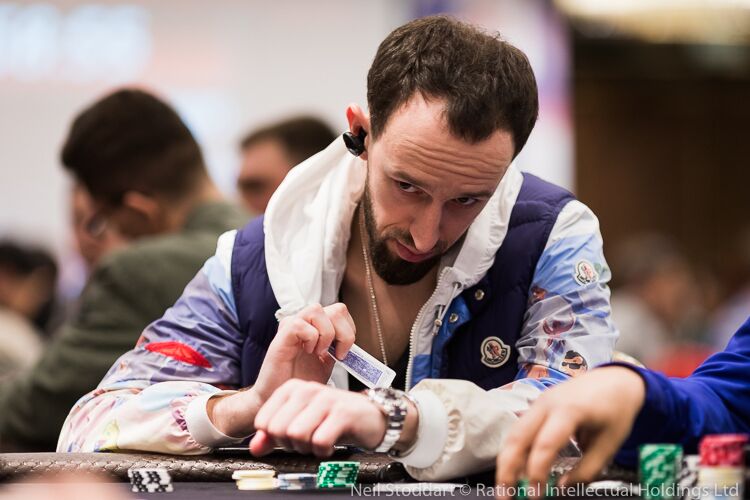 Igor Yaroshevskyy
3:05pm: Andersen out
Level 3 – Blinds 100/200 (ante 25)
Lasse Wedell Andersen was down to his last 4,375 chips and he opted to get them in over a raise from Igor Shcherbinin. When all other players had moved aside, Shcherbinin tossed a chip in to confirm his call and Andersen sighed when he saw what he was up against.
Shcherbinin A♦A♣
Andersen A♥Q♣
Though the 9♦2♦10♥ flop brought Andersen a backdoor straight draw, the faint glimmer of hope was shut down on the 9♣ turn, with the 8♥river making no difference.
"Nice hand" said the Dane as he got up to leave. We'll have to wait and see whether he returns for a second try. –LY
2:45pm: Second bullet for Shirshikov
Level 3 – Blinds 100/200 (ante 25)
Pavel Shirshikov has taken a seat for the second time today and things seem to be fairing better on his second attempt.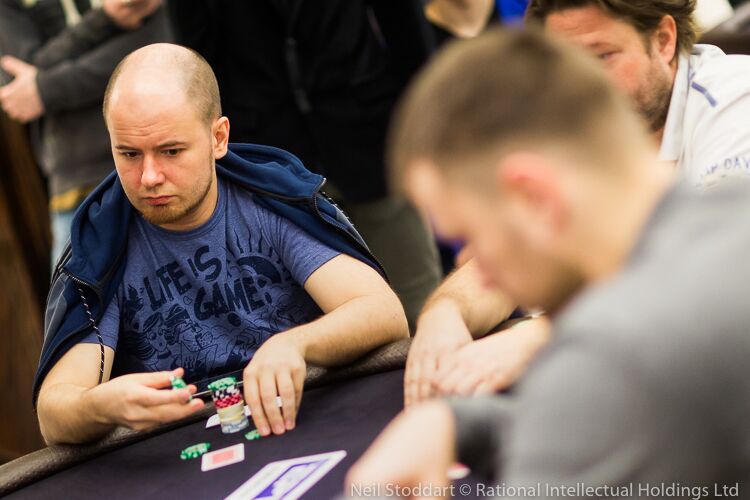 Pavel Shirshikov in the Main Event field today
Three players were looking at a K♥K♦6♦ flop.
Ivan Govorov bet 1,700 and this was enough to push Maksim Gorbunov out of the hand but not Shirshikov, who came along.
Govorov elected to check on the J♠ turn but called the substatial 4,550 bet from Shirshikov.
The 6♥ river saw another check from Govorov and our defending champ barrelled for a hefty 10,350, which was enough to secure him the pot. –LY
2:25pm: Local legends
Level 3 – Blinds 100/200 (ante 25)
Players keep on piling in and we're closing in on 200 entrants. Some of the recent additions include a few Russian powerhouses.
Aleksandr Merzhvinskiy, who won the PokerStars Festival Sochi Main Event last year for $134,163, has taken a seat in today's Main Event. While the Festival Main Event win was his first victory in Sochi, it wasn't Merzhvinskiy's biggest score. Just one month before winning that event, Merzhvinskiy won $400,000 for a third place finish at another tournament here in Sochi.
Then, to Merzhvinskiy's immediate left is another household name here in Sochi, Olga Iermolcheva. Iermolcheva won the Women's Event here at the PSC Sochi last year, but her biggest cash came in the LAPT. Iermolcheva finished second to Shakeeb Kazemipur in LAPT Panama back in 2015 and won $113,580.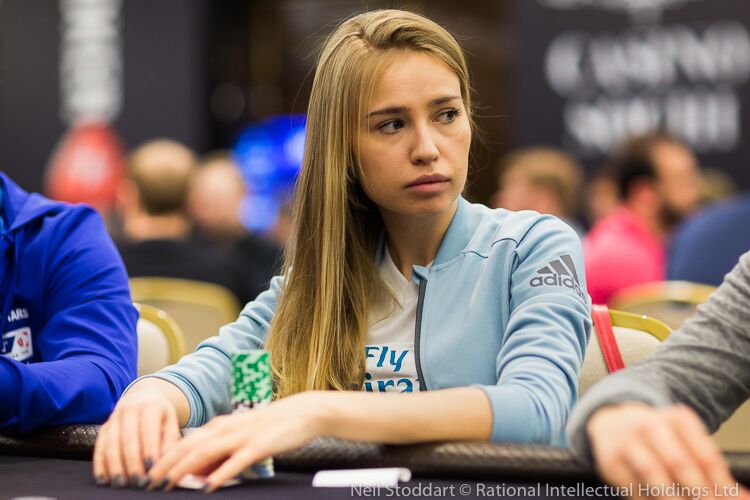 Olga Iermolcheva
Mikhail Semin is also in the field today. Semin is a former sports journalist who cashed for a total of 12 times in the 2017 World Series of Poker and made three WSOP final tables back in 2016. Now Semin is looking for a big score on home soil here in Sochi. –AV
2:05pm: Break time
Players are on the first break of the day in the Main Event. Play resumes in 15 minutes.
2pm: Pocket rockets for Vinogradov
Level 2 – Blinds 75/150
In the closing seconds of Level 2 there was a clash of the big pairs between Joanna Maes Bart and Vladislav Vinogradov.
The cards were already on their backs by the time we arrived at the table…
Vinogradov A♥A♣
Bart Q♦Q♠
The flop came 7♦J♦5♦, giving Bart the flush draw and Vinogradov a horrible sweat.
3♥6♠
The turns and river dodged diamonds though and Bart will have to decide whether to re-enter, whilst Vinogradov ascends to over 70,000 in play. –LY
1:55pm: Sultanov out
Level 2 – Blinds 75/150
Kazakhstani Alimbay Sultanov has just fallen at the hand of Vlada Stojanovic. Action was on the flop with 8♣Q♥8♠ and about 5,000 in the pot. Sultanov had check-raised 7,000 all in over Stanovic's 1,500 bet and it was a quick call from the Serbian.
Sultanov K♠Q♠
Stojanovic K♣K♦
Sultanov was drawing extremely thin and the A♦ turn 3♦ and river didn't change anything, giving Stovanovic the pot as Sultanov made his way towards the door. –LY
1:45pm: Shirshikov sacked
Level 2 – Blinds 75/150
It looks like Pavel Shirshikov won't have a repeat victory on his first bullet. Our former champ couldn't recover after doubling up Afanasenka Roman earlier in the day. Shirshikov's seat is now empty, but the PSC SOchi champ can still rebuy and take another shot.
We'll be here to tell you if he does. –AV
1:30pm: Beginning bluster, passive post
Level 2 – Blinds 75/150
There's been a few players getting rowdy preflop and then cooling off a bit after the community cards hit the deck.
In one, Khanovskiy Sergey raised to 500 from middle position and then Timonin Leonid called from the hijack. Groznov Alexey was on the button and threw in a three-bet to 1,500. Both players called and all three players saw an A♥8♦A♦ flop hit the board.
All three players then slowed to a check and then checked again when the J♥ came on the turn. A 10♠ completed the board and then another round of checks ended the hand. Sergey turned over K♥J♠ and the other two players mucked.
There was another big preflop pot hand brewing a few tables over. Joanna Maes Bart raised to 400 from middle position and got two callers. Then Mayo Richard three-bet to 1,800 from the button and all three of his opponents called. The flop came 9♣3♥8♦ and Richard bet 1,800 when checked to. There were two callers, one fold and a 6♦ on the turn. The remaining three players checked and an 8♥ completed the board.
Bart turned over A♥J♦ for ace-high, but Richard showed a slightly better ace-high with A♣Q♥ and took down the pot. -AV
1:10pm: The field grows
Level 2 – Blinds 75/150
To date we have 164 players registered to the EPT Sochi Main Event. Though we have lost three players so far, the event allows for a single re-entry per flight and with three Day 1s taking place before we head into Day 2. there are still plenty of opportunities for any early casualties to get back in the running. –LY
1pm: Returning champ takes a hit
Level 1 – Blinds 50/100
Defending Sochi champ Pavel Shirshikov just took a big hit after doubling up Afanasenka Roman.
Shirshikov started off the hand with a raise to 350 from middle position and action folded to Rama on the cutoff.
Rama made it 1,300 to go and Shirshikov put on his sunglasses and looked down at his stack. He thought and called, bringing a 7♦10♥8♠ flop. Shirshikov checked and Rama bet out 4,000. Shirshikov thought for a bit longer and then called again.
A Q♦ came on the turn and there was another check from Shirshikov. Rama then bet all he could.
Rama moved all-in for 16,400 and this time Shirshikov thought until someone called the clock. Shirshikov called as his final minute ticked down and showed J♦10♦ to Rama's A♣A♠.
Rama doubled to about 45,000 while Shirshikov was left with just under 6,000 after the hand. Can the champ come back? –AV
12:55pm: Level 1 drawing to a close
Level 1 – Blinds 50/100
In the post below we noted some players who had travelled the furthest to take part today. With just a few minutes of play left in Level 1, two of those (Saulo Galvão Sabioni and Keisuke Nikosaka) were involved in a pot together. They were joined by locals (by comparison at least) Andrei Krylou and Alexander Shelukhin and the quartet found time to play one last pot before the blinds increased.
It began with an open from under-the-gun by Galvão, who made it 300 to play. And with the other three joining him, they went to the flop.
It came Q♣3♥5♠ and the action was checked to Krylou on the button, who made a bet of 1,025. Only Nikosaka showed any interest, taking the pair heads up to the turn.
The 8♠ was a brick and that was reflected in the action, with a check apiece. The A♥ river saw Nikosaka take the initiative, betting 3,000 and Krylou liked his hand enough to call but not to show, mucking when he saw Nikosaka's A♦Q♠ for two pair. –LY
12:50pm: The Sochi signal heard around the world
Level 1 – Blinds 50/100
We've crossed the 150-player mark and as you might've guessed, the vast majority of the players are Russian.
Some of them aren't though. A few players seem to have come from the furthest possible place from Sochi that's not the middle of the ocean. LAPT regular and native Chilean, Mauricio Zeman is in the field today. Chile is approximately 8,700 miles from Sochi, putting Zeman at the top of our miles-count page for journey to Sochi. A few other players in the top five include a few Brazilians.
BSOP regulars Lucas Scafini, Saulo Galvão Sabioni and Guilherme Da Silva Dutra have all made the trek from Brazil to Sochi. The approximate distance between São Paulo and Sochi? 7,147 miles.
Rounding off the top five might is Keisuke Nikosaka, who travelled approximately 5,000 miles from Japan to be here to play some poker today. –AV
12:40pm: Macesovic in the running
Level 1 – Blinds 50/100
Irena Macesovic is in the room.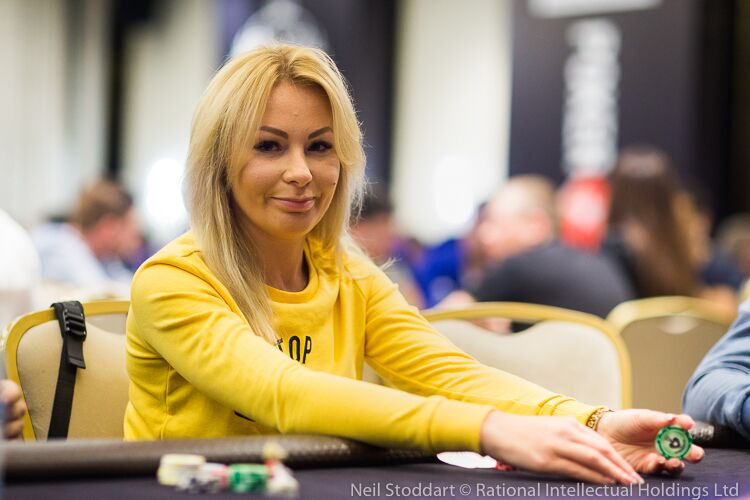 Irena Macesovic
The Lithuanian finished in ninth place at the PokerStars Festival London this year, narrowly missing out on the official final table. No doubt she hopes to replicate or improve on that result here at EPT Sochi.
She played an active game in London, so we expect to see her getting involved in plenty of pots here too. Watch this space. –LY
12:25pm: An early scoop for Valeev
Level 1 – Blinds 50/100
The Main Event has been underway for less than five minutes but we've already seen some action between Sergey Isaev, Aleksei Zotikov and Amir Valeev.
Preflop, Valeev squeezed to 1,625 from the button and was called by both opponents.
J♠K♦9♠
Isaev continued in position for 2,125 and was check-raised to 5,000 by Zotikov. Valeev peeled and Isaev joined him.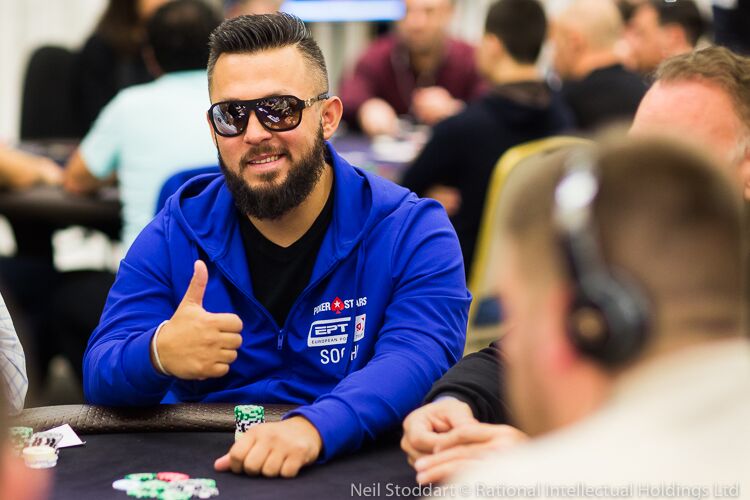 Sergey Isaev
With three players, the dealer laid a 6♥ turn. Zotikov slowed down and Valeev put 2,000 over the line, which was matched by Isaev and Zotikov.
The river card was the 5♥. Following a second check from Zotikov, Valeev bet 5,000 and was called by both players for a final time.
Valeev J♦J♥
Isaev A♣K♠
Zotikov A♠K♥
It was top pair, top kicker for Isaev and Zotikov, but a set of jacks for Valeev wins him a very nice scoop right out of the starting blocks. He almost doubled his 30,000 starting stack to over 57,000. -LY
12:15pm: Growing field and a former champ
Level 1 – Blinds 50/100
The tournament room at Sochi Casino is slowly filling up with new and old faces. Many of the new players are qualifiers, happily donning a bright blue EPT Sochi hoodie that every package winner receives.
Others have been here before though, and one even went all the way. The 2017 PokerStars Championship Sochi Main Event Champion, Pavel Shirshikov, is in the field defending his title today. Shirshikov defeated Vladimir Troyanovskiy in the inaugural PokerStars tournament here in Sochi last year for a grand total of $515,774. It was only his third live cash, his biggest before that was for just $1,874.
Shirshikov isn't the only poker veteran in the field today. Israel's Saar Wilf is in the field looking to score another EPT cash. Wilf has amassed more than $800,000 in live tournament earnings including a sixth place finish in EPT8 Barcelona for $200,000. –AV
12:00pm: Play starts in level 1
Level 1 – Blinds 50/100
Cards are in the air.
11:45pm: Good morning from Sochi
The European Poker Tour returns today. After a year walking in different shoes the familiar branding is back, this time in Sochi. It's the first time the EPT has been to Russia, although last year we were here for the Championship event, won by Pavel Shirshikov.
We're in Casino Sochi, built using gold and glitz, and which will host for the duration.
We start today at 12 noon (9am UK, 4am ET) with Day 1A. The plan is for ten 60 minute levels, which will be repeated tomorrow for Day 1B. Then late tomorrow a third Day 1C flight will turbo their way through 30 minute levels. Everything then calms down again when we get to Day 2.
They'll be plenty to go through before that, with live updates through to the Main Event final tale next Thursday.
That's the short version, the long version of the day will follow here with live updates through to the end of play tonight. — SB
---
You don't have to be a high roller to play an EPT event. In fact, nearly 400 players of all abilities qualified to play EPT Sochi via satellites on PokerStars. To join then at the next PokerStars event you'll need a PokerStars account. Sign up for PokerStars and begin your journey. Click here to get started.
---
PokerStars Blog reporting team in Sochi: Alex Villegas, Lisa Yiasemides and Stephen Bartley. Photography by Neil Stoddart. Follow the PokerStars Blog on Twitter: @PokerStarsBlog