• CLICK TO REFRESH FOR LATEST UPDATES
• PLAYERS: D1B 189 of 395 tbc | D1C 60 of 124 tbc | SOCHI PAYOUTS
• ALL SOCHI INFO | DOWNLOAD POKERSTARS
• Ten 60-minutes levels | Registration open all day
• Click for Coverage in Russian
• Follow @PokerStarsBlog on Twitter
1:50am: Day 1C is complete, Mnatsakanyan leads the turbo field
And that's it for Day 1C and all Day 1s for the EPT Sochi Main Event.
It was a fast day that started at night and drew 124 players, several multi-way all-ins and lots of alcohol. After 10 quick 30-minute levels, only about 60 remain. That's a Day 1 bustout rate of 1 player every 4.7 minutes, very impressive. All those chips had to go somewhere though, and a bunch of them went to Vanush Mnatsakanyan, who finished Day 1C in the lead with 199,000.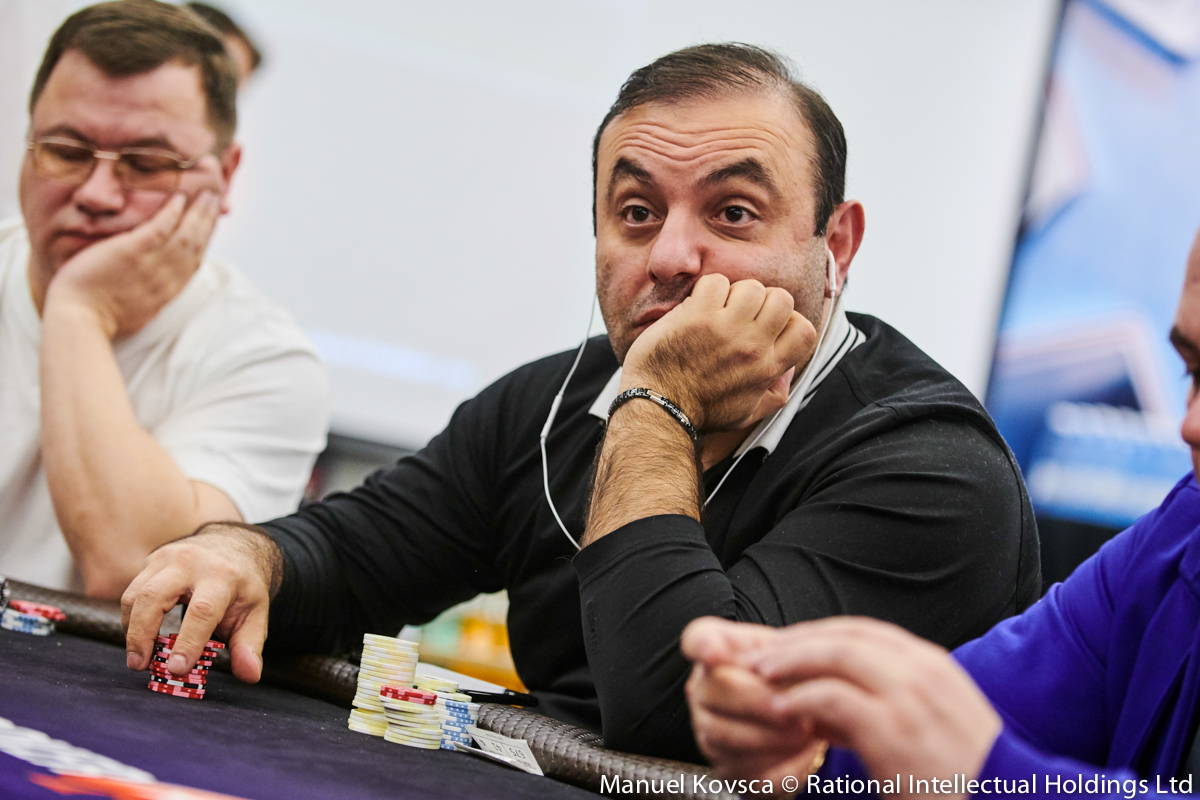 Vanush Mnatsakanyan
While Mnatsakanyan topped the Day 1C field, he finished 5th overall as there were a few players from other days that eclipsed his stack. Ezequiel Waigel is now officially the overall Day 1 leader and will come back for Day 2 with a pack-leading 266,400.
Waigel will have plenty of company though. More than 200 players survived Day 1 and everyone else can still buy-in until the start of Day 2. That starts tomorrow at 12pm local time, so be sure to join us for more action from the EPT Sochi Main Event. –AV
12:10am: Ezequiel Waigel wraps up Day 1B with chip lead
It's a short wrap up of Day 1B as the Turbo Day 1C plays on for a few more levels yet.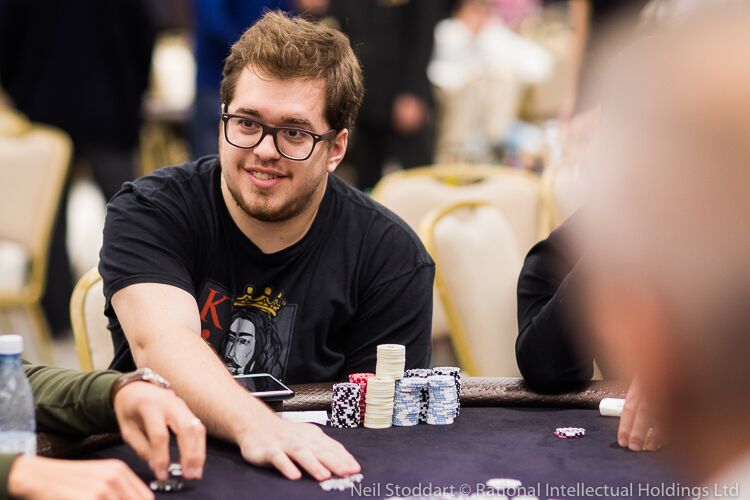 Ezequiel Waigel
Leading Day 1B is Ezequiel Waigel of Argentina, with 266,400. Others within reach of that include:
Artemii Chudnov – 219,000
Valentin Zolotilov – 204,600
Sergey Menshov – 195,800
Alexey Tyulenev – 194,300
The Day 1B survivors now leave here, returning tomorrow when the field is united under one roof for the first time. You can also check back HERE for Day 1B chip counts when we get them officially confirmed shortly.
For now, Day 1C plays on. – SB
11:55pm: Bochkin survives
Level 10 – Blinds 600/1200 (ante 200)
Nikita Bochkin was down to just under 15 big blinds, that was until he got a double versus Yurij Kanunnikov's intimidatingly large stack.
It was a blind v blind situation and Kanunnikov opened to 3,000. Bochkin took a quick look at his cards and decided the time was right to get it in.
Bochkin A♣2♦
Kanunnikov Q♦10♣
Bochkin was the slight favourite as the dealer laid out 6♣J♠3♣ on the flop.
Bochkin had pulled further ahead but it was short-lived as Kanunnikov his a 10♦ on the turn. With just three outs to save him, Bochkin was out of his seat but only for a second, as there was an A♠ on the river to keep him in the game.
Bochkin has edged closer to a Day 2 place. Meanwhile, Kanunnikov is still holding 190,000 with only around half an hour left on the clock. –LY
11:45pm: A second one past 200
Level 10 – Blinds 600/1,200 (ante 200)
There's another player that's crossed the 200,000 mark, and that's even after getting in a full house-over-full house situation.
It wasn't too dramatic though.
Sergey Menshov raised to 2,800 from the cutoff that hand, and Sarkis Karabadzhakyan called from the big blind. The flop came J♠J♦J♣ and Karabadzhakyan check-called a bet of 2,500. Menshov then bet another 2,500 when the 9♠ came on the turn. Karabadzhakyan called again and then both players checked on the river.
Karabadzhakyan turned over 3♠3♣ and Menshov laughed. First he turned over a 2♦ and then he tabled the 2♥ for the only worse possible full house. Despite losing that hand, Menshov is still near the top of the leaderboard with 215,000. –AV
11:40pm: Lodge sticking around
Level 10 – Blinds 600/1200 (ante 150)
Harry Lodge looks set to end the day firmly rooted in Day 1B after he increased his stack to around 60,000 against Aleksandr Mikhalev.
Lodge opened to 2,500 in middle position before Mikhalev raised to 6,000 in the cut off. Lodge called and they saw a flop.
J♦9♦Q♥
Lodge checked. Mikhalev made it 7,000, which Lodge called for the 10♣ turn.
This would prove to be a big card. Both checked it.
On the 8♦ river Lodge tidied up his stack and moved all-in for roughly 32,000.
Mikhalev recoiled and thought for a while. He had Lodge covered, with around 80,000 behind. But he couldn't call. He folded 10♥10♦ face up, throwing it towards the pot.
Lodge showed 10♣. But nothing else. Except a grin. – SB
11:30pm: Could you fold?
Level 9 – Blinds 500/1000 (ante 100)
We're heading into the last hour of play for our Main Event Day 1B players and the increasing blinds seem to be affecting the speed with which people are getting their chips into pots.
In the following hand though it really was a case of the hand playing itself as it's hard to imagine many, if any, players being able to fold in Shakhabiddin Muradov's spot.
With J♠4♠4♥9♠ already out, Muradov and Mehmet Serhat Kacar got it all-in for a 70,000 chip pot.
Muradov Q♠10♠
Kacar A♠K♠
Both players had turned the flush, with Kacar hitting the ace high one. Muradov held the queen high but also had an open-ended straight flush draw as back-up (admittedly one of those outs was taken by Kacar).
The 6♥ river bricked and Kacar wins the 70,000 pot, whilst Muradov is left with 35,500. –LY
11:20pm: A big boost and a moderate dip for Chudnov
Level 9 – Blinds 500/1,000 (ante 100)
Artemii Chudnov won a massive pot and knocked out an opponent, rocketing into the lead with nearly 270,000. But then he lost a chunk of that the following hand.
First, the elimination.
Petr Bartagov started that hand with a raise to 2,100 from under the gun and Chudnov three-bet to 6,100 from Bartagov's left. Action folded back around to Bartagov and he called.
Then things got crazier on the 6♠8♦Q♠ flop.
Chudnov bet 6,1000 when checked to and Bartagov raised to 18,000. Chudnov then thought for a bit and moved all-in. Bartagov only had about 50,000 behind and called all-in. Bartagov turned over A♠K♠ for ace-high while Chudnov had a set of queens with Q♣Q♥.
Bartagov was hoping for a third spade, but the 3♥ on the turn didn't help and then an 8♥ came on the river to fill Chudnov up. Bartagov hit the rail while Chudnov took a commanding lead with 270,000.
Andrey Kaigorotsev then raised to 2,500 from middle position the following hand and Chudnov called while he was still piling up his newly-won chips.
The flop came down 4♠5♠A♦ and Chudnov check-raised to 11,000 after Kaigorotsev bet 5,000. Kaigorotsev called, and then called again after Chudnov bet 27,000 on the 9♣ turn. This brought a 7♠ on the river and a check from Chudnov. Kaigorotsev then moved all-in for 43,000 and Chudnov thought until someone called the clock.
The minute started ticking down and Chudnov shook his head, he couldn't call. Chudnov folded, but is still in the lead with nearly 230,000 while Kaigorotsev is up to 130,000 after the hand. –AV
11:10pm: Shalamov still on first bullet
Level 9 – Blinds 500/1000 (ante 100)
Mikhail Shalamov must be the only player still laying his first entry. That's a slight exaggeration, but he's in the same seat he started in this morning and while others have come and gone, including new arrival Harry Lodge, he plays on.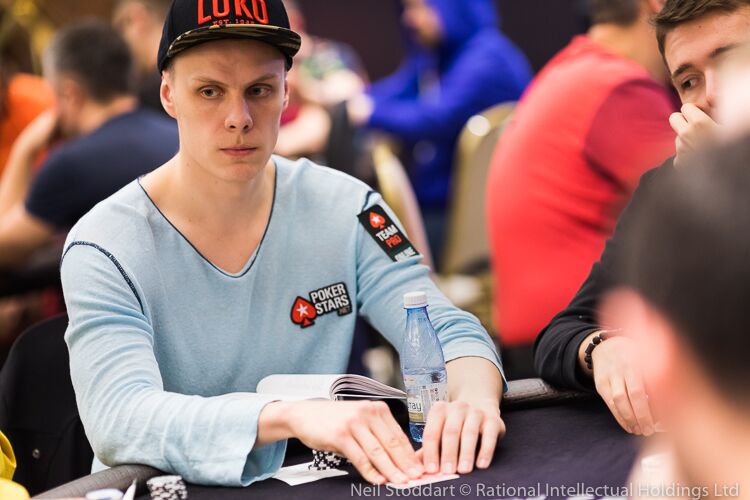 Still here: Mikhail Shalamov (pictured without the beer)
He saw a flop from the big blind against small blind Arseniy Karmatskiy.
8♦2♠9♦
Karmatskiy, drinking coffee, checked.
Shalamov, drinking beer, bet 2,000.
It was called for the Q♥ on the turn. Again, Karmatskiy checked, then called when Shalamov bet another 7,000.
On the J♠ river Karmatskiy checked again. Shalamov, sensing he was beaten, almost mucked his cards. But he tapped the table instead.
Good job too.
Karmatskiy K♥8♠
Shalamov K♣9♠
They laughed, but Shalamov picked up the chips. Up to around 60,000 now. – SB
11:05pm: Three's a charm
Level 9 – Blinds 500/1000 (ante 100)
There has been a spate of pocket aces in the main event since the last break, with the following hand being the third such occurrence.
Anatoliy Filatov was the beneficiary this time with A♣A♦ and Maksim Semisoshenko was the unfortunate casualty who ran into the aces with K♠Q♠.
Semisoshenko had open jammed 13,600 from middle position. Filatov, who was also in middle position, just flatted but it didn't entice anyone else to get involved.
3♠2♣J♣A♠
By the turn, Semisoshenko had already gotten out of his seat, despite picking up a gutshot and a spade draw. His intuition was right as the 2♥ river didn't save him and he makes his way towards the exit.
The pot takes Filatov up to 147,500. –LY
11pm: Semin fights on in Day 1B, fighting off Day 1C
Level 9 – Blinds 500/1000 (ante 100)
Mikhail Semin played yesterday, and plays today. So far his Day 1B is turning out better.
He just doubled up with a set of fours, taking his stack back up to 37,000. Still good. No need for that Day 1C insurance policy just yet. – SB
10:50pm: Zolotilov zooming up
Level 9 – Blinds 500/1,000 (ante 100)
Things can get a bit hectic in the main tournament area. Not only do we have a large Day 1B playing out, we have a fast-paced Day 1C going on right next to it. While all this action could be very conducive to chip-gathering, the more tranquil side room also seems like a good place to collect chips, especially for Valentin Zolotilov.
Perhaps adding to the calm collection is the player to Zolotilov's left, Maksim Paddubniak, who's standing up and doing some soothing Tai Chi in between hands. But Paddubniak is short-stacked and Zolotilov is the one that keeps on taking down pots.
He won one with a raise from the hijack, pushing everyone off preflop. Alexander Denison then raised to 2,000 from early position the following hand and Zolotilov three-bet to 4,800 from the cutoff. Denison called and a 5♣J♥5♥ flop hit the board. Zolotilov bet 5,7000 when checked to and Denison folded.
Zolotilov then started the action the a few hands later with a raise to 2,300 from middle position. Paddubniak took a break from his Tai Chi to call and Denison also called from the big blind. All three players checked the 8♥4♥7♠ flop and a Q♥ came on the turn. Denison bet 2,100 and only Zolotilov called. A K♦ completed the board and this time Denison check-called a bet of 3,000.
Zolotilov turned over A♥Q♦ for a pair of queens and Denison threw his hand into the muck. Zolotilov is now near the top of the counts with about 150,000 in a very peaceful room. –AV
10:45pm: Prohorskiy out to Chudnov
Level 9 – Blinds 500/1000 (ante 100)
Players were all in on the turn and the board read J♦4♠6♣5♦, as we joined the action.
Artemii Chudnov A♥A♦
Nikolay Prohorskiy 10♦9♦
Though Prohorskiy had picked up a flush draw on the turn, diamonds were his only outs and the 5♣ river dodged them all.
As we left to write what you are reading now, Chudnov was busy stacking his vast number of chips. Our best estimate is that he is sitting on around 150,000, which is right up there at the top of the chip counts. –LY
10:35pm: Pateychuk sends Sharaskin to the rail (or maybe to Day 1C)
Level 9 – Blinds 500/1000 (ante 100)
Andrey Pateychuk just increased his stack to 52,000 after he sent Igor Sharaskin to the rail. Or perhaps to Day 1C.
On a flop of [4]9♦10♣ Pateychuk checked from the small blind, then shoved when Sharaskin bet 2,200 from early position. The call was immediate.
Pateychuk: A♠10♥
Sharaskin: 8♣8♥
The turn 2♣ and river Q♠ put an end to Sharaskin's tournament for now. He took a sip of water while the massage therapist working his back – oblivious to his fate – kept on.
10:25pm: Double up for Areiza
Level 9 – Blinds 500/1000 (ante 100)
All the money went in pre and despite Carlos Mario Areiza holding a premium hand, he needed some serious help from the poker Gods to prevent Maksim Skripkin from getting a double up.
Skripkin A♠A♥
Areiza A♣K♣
The 6♣4♠5♥10♥10♦ runout was safe for Skripkin's rockets.
It was a cooler for Areiza but unfortunately for him there is no consolation prize in such a scenario, and he had to hand over the full 25,500 to Skripkin. This puts the Russian just shy of the 55,000 average. –LY
10:15pm: The short walk to Day 1C
The Day 1C field is steadily increasing in size. It's already into Level 4, but there are now 82 players registered.
There is a very good reason why things are getting bigger.
Day 1B players are entitled to a re-entry, and many have taken up the offer. But what to do if the second entry goes the same way as the first?
Easy. Head on over to Day 1C and have two more tries.
So, players are taking the short walk from one end of the tournament room (Day 1B) to the other (Day 1C).
And there are chips to be won – as Ramin Hajiyev would tell you. It's only level 4 in Day 1C but already he has a stack of around 100,000. – SB
9:55pm: Break starts. Break ends.
Day 1B players are now on their last 15 minute break of the day. Day 1C player are now into level 5.
9:50pm: Kakhmazov climbs
Level 8 – Blinds 400/800 (ante 100)
Nadar Kakhmazov made the final table at the PokerStars Championship Sochi Main Event last year and also won his first World Series of Poker bracelet a few months later. Now he's starting to climb to the upper echelons of the chip counts in Day 1B.
In one of his recent victories, Kakhmazov raised to 2,000 from the cutoff and Sarkis Karabadzhakyan called from the button. The blinds got out of the way and the flop came 7♣Q♥3♠. Kakhmazov bet 3,200 and Karabadzhakyan called, bringing a K♠ on the turn. Kakhmazov bet again, this time for 5,600. It was too much for Karabadzhakyan to proceed though and he let his hand go. Kakhmazov raked in the pot and his stack grew to 95,000.
Then Karabadzhakyan took down the following hand as well. Action folded to him in the hijack and he raised to 1,600. That was good enough. Everyone got out of the way and Kakhmazov chipped up a little more. –AV
9:40pm: De Boe chipping up
Level 8 – Blinds 400/800 (ante 100)
Despite losing a modest pot to Marina Khatskevich just now, Frank Gilbert De Boe has had quite a day and currently has around 140,000 or so in front.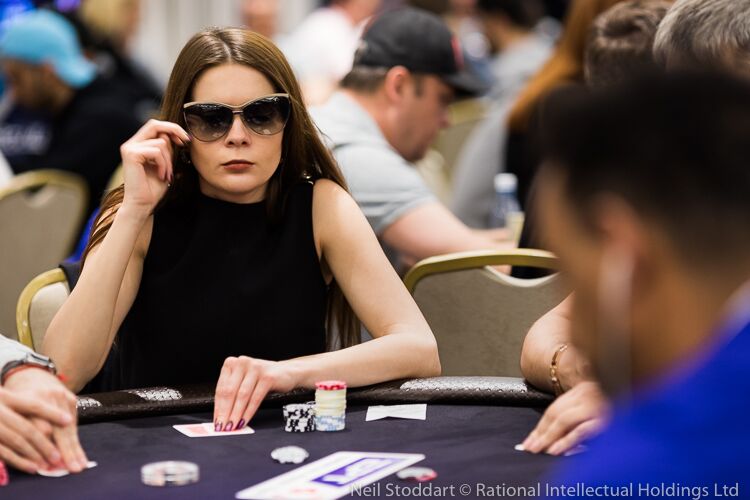 Marina Khatskevich (for the eagle eyed she has swapped her blue dress for a black dress)
Both players hit top pair on the flop but De Boe's Q♠J♦ was kickered by Khatskevich's K♣J♣. It has barely made a dent in what will be one of our biggest stacks of the day so far. –LY
9:30pm: Late shoves
Level 8 – Blinds 400/800 (ante 100)
It's getting late in the day and as players prepare to go on the final break, many more are risking going on a permanent one.
There's tons of short stacks in the field, some flipping, some in the lead, but most trying to score a good post-dinner double and get back in the game.
One of them is serial tournament qualifier, Massimo de Mario. De Mario, who's just 20 years old, has qualified to PokerStars events in Panama, Barcelona, The Bahamas, Barcelona, Marbella and now, Sochi. De Mario is down to about 15,000 and has made some shoves, but gotten no callers so far.
Aleksey Sakenov, who was down to just 13,600, managed to get his double up though. Sakenov and Josef Snejberg got into a preflop raising war that ended up with all of Sakenov's chips in the middle. Snejberg was in the lead with Q♣Q♥ to Sakenov's K♠10♥, but then 9♣K♦4♦J♥4♣ board paired Sakenov's king.
Sakenov doubled to about 35,000 while Snejberg was left with about 50,000 after the hand. Others haven't been as lucky and we're down to 223 players, with more dropping faster than before. –AV
9:20pm: Over in Day 1C
The Turbo Day 1C flight is up to 63 players. Among those playing at high speed are Vitaly Lunkin and Ramin Hajiyev.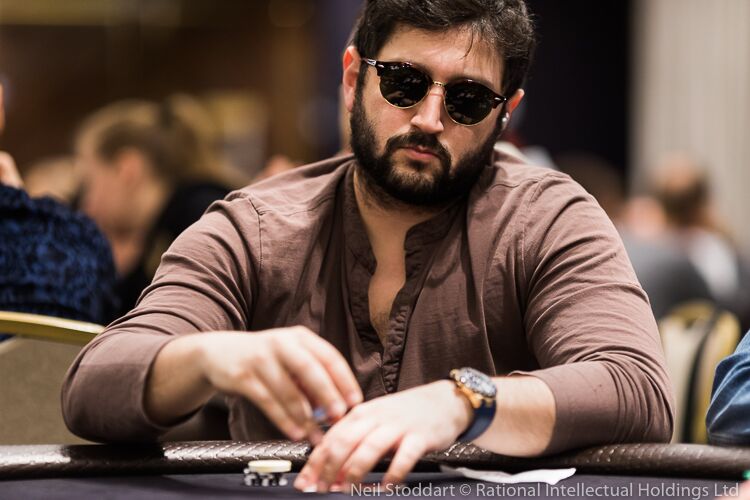 Ramin Hajiyev
It works in exactly the same way as the regular speed Main Event, with a single re-entry permitted. They're playing ten 30 minute levels, which means they're set to bag up at roughly 1:30am. – SB
9:10pm: A cooler and an outdraw
Level 8 – Blinds 400/800 (ante 100)
Dmitry Platov got his last 10,000 chips in from under-the-gun and he must have been pretty happy to see A♦K♥ in the hole. That was until Iliya Durasov moved all-in over the top and turned over K♣K♠.
Though he was dominating preflop, the 3♦5♠A♠ flop changed everything, leaving Durasov drawing to the case king. The 5♣ turn and 7♣ river didn't bring it out though and Durasov will have to console himself with the fact that he has almost 30,000 chips left to play with and is by no means out of the running. –LY
9pm: Waigel stands firm
Level 7 – Blinds 300/600 (ante 100)
In the closing seconds of Level 7, Ezequiel Waigel was playing out of position against Aleksey Kozlov on a dodgy looking board.
After continuing on a 9♣6♥8♠ flop, Ezekiel slowed down when the turn brought a 9♥.
Kozlov took the opportunity to put some pressure on Waigel and made it 6,000 for the Argentinian to continue. He wasn't going anywhere just yet, and the pair went to the river.
It was an 8♥, pairing the board again. This time when checked to, Kozlov upped the price to 10,000. This still wasn't enough to push Waigel off and he made the call, turning over A♥A♦. Kozlov showed Q♣10♠ for overs and a missed gutshot and Waigel scooped the lot. He must be one of the forerunners now as he closes in on 150,000 chips, or 250 big blinds in poker currency. –LY
8:50pm: DAY 1C now in action
As we detailed earlier, Day 1C began at 8pm local time, with ten 30 minute levels scheduled for what is the Turbo flight. So far there are 53 entries, which take the total number of entries for today alone well past the 440 mark. — SB
8:40pm: Rare sighting of the alter-ego (or is it the id?)
Level 7 – Blinds 250/500 (75 ante)
It might look like one player to a hand, but pschologically speaking that's not the case.
At least in one player's case. Maybe this sounds familiar.
First there's the part of your ego that is the confident poker player.
This is the part of you that would never consider you to be the sucker at the table. This is the part of you that knows the odds, doesn't make mistakes, and comes here only ever expecting to win.
Then there's that other side of you, the alter-ego, the id, that lives separately the first. This alter-ego rarely comes out of its cave. Except for moments of great tournament peril.
The board was already dealt Q♥4♦7♠9♠6♦.
This part of Anatoliy Voropaev was about to make an appearance.
Voropaev was about to face a showdown with Vadim Koliuzhnyi, turning over K♣Q♣ when the time came, to Koliuzhnyi's 7♣6♠.
He stood, he shoved, he paused, he did the working out in his head for a few seconds, then accepted he'd won.
You had to look carefully, but for a fraction of a second, between the shove and the pause, the alter-ego appeared. It screamed "Holy sh*t what the hell did you do!?" and then quickly disappearing again.
The dealer pushed the chips to Voropaev, who now showed none of this inner turmoil.
Although he did start talking to himself, telling his alter-ego to shut the hell up perhaps, and that he had everything under control.
For now, at least, and to the tune of 35,000. – SB
8:30pm: Time please
Level 7 – Blinds 300/600 (ante 100)
Though we missed the hand play out up until the river, we noticed something was going on over in the middle of the room as the dealer called for the floor.
J♥3♠10♣8♦K♦
Evidently Ilia Barkov was having a hard time deciding what to do after making a bet on the river only for Artem Morgunov to shove over the top. It only took a few seconds for Barkov to make his decision and it was to call.
Barkov J♦J♣
Morgunov A♥Q♣
It was a set vs broadway and Morgunov is sitting pretty on 58,500 chips. Meanwhile Barkov slumps to 14,000, which is less than 25 big blinds at this point. –LY
8:05pm: Mnatskanyan busts
Level 7 – Blinds 300/600 (ante 100)
As we head into the last third of play for Day 1B, we have lost a couple of players since the dinner break.
One of those was Lev Mnatskanyan. The Russian was facing a 10,000 bet from Aleksandr Andreev on a 10♥9♣3♥6♣10♠ board and Mnatskanyan elected to go all-in over the top. There was no slowroll from Andreev who had flopped top two pair and rivered the nuts for a full house with 10♣9♥. The pot chips Andreev up to roughly 85,000. –LY
7:45pm: Play continues
Players are back for four more levels of Day 1B. Don't forget that Day 1C, the Turbo flight, starts shortly with ten 30 minute levels.
6:30pm: Break in the action
Players will shortly be on a 60 minute dinner break.
6:25pm: Tough river decision for Smirnov
Level 6 – Blinds 250/500 (ante 75)
There was an 1,100 open and two calls before Aleksey Smirnov squeezed to 5,100 from the button. Only Arman Atshemyan fancied it and they went heads up to the flop.
A♠2♠2♦
Atshemyan checked and Smirnov continued for a much smaller sizing of 2,000. Atshemyan called and the 9♠ turn brought out a third spade. This time it went check-check.
Finally a 2♣ fell on the river, bringing with it a number of full house possibilities.
Atshemyan didn't defer for a third time and after having a look at Smirnov's remaining chips, he bet 13,000. This was troublesome for Smirnov as he had 13,625 left, meaning an incorrect call would leave him with barely more than a big blind. He took a few minutes to think but couldn't bring himself to call. "I folded a full house…the second nut full house" he told the blogging team. –LY
6:10pm: Small pots, big stack
Level 6 – Blinds 250/500 (ante 75)
We're nearing the dinner break and there are a few stacks growing along with some appetites. One of them belongs to Frank Gilbert De Boe, a Belgian player who recently cracked the 100,000 chip mark despite losing one small pot and chopping another.
In the small loss, Maksim Skripkin raised to 1,100 from the button and De Boe called from the small blind. Vadim Lipovka called from the big blind and all three players went to the 9♠4♠8♣ flop. They all checked and then they checked again after the 7♠ came on the turn. This brought an 8♦ on the river and another round of checks.
De Boe snap-mucked while Lipovka showed 6♠3♣ and Skripkin tabled A♥10♠ for ace-high and the pot.
De Boe was on the button the following hand and he raised to 1,500 after action folded to him. Arkadiy Stekolshchikov then re-raised to 4,800 from the big blind and De Boe responded by moving all-in. Stekolshchikov only had about 25,000 and was more than covered by De Boe.
Stekolshchikov thought for a bit and then plunked his remaining chips in the middle. Both players turned over ace-king offsuit and a rainbow 9♥3♠6♣ flop guaranteed a chop. The turn was a 9♠ and a Q♥ finished off the board. Players chopped the pot and De Boe still has one of the larger stacks in the tournament with nearly 110,000. –AV
6pm: Missing some details, but with an excuse
Level 6 – Blinds 250/500 (75 ante)
There was a big pot brewing on Gabi Livshitz's table. It got to a river card on a board of A♥5♣6♠10♦3♣ with plenty in the middle, and a showdown.
Vladimir Martinov, who seemed to be leading the betting, turned over A♣Q♥ while Livshitz beat that with A♠K♥.
But neither would win the pot.
It would be better to provide some detail at this point. But then came the distraction that ruined any chance of that.
As it played out, Maksim Paddubniak stood up from an adjacent table.
He then performed a series of what I suppose were stretches, but without any anti-gravitational rigour. It was as if he was grasping for something, while falling to earth, in slow motion.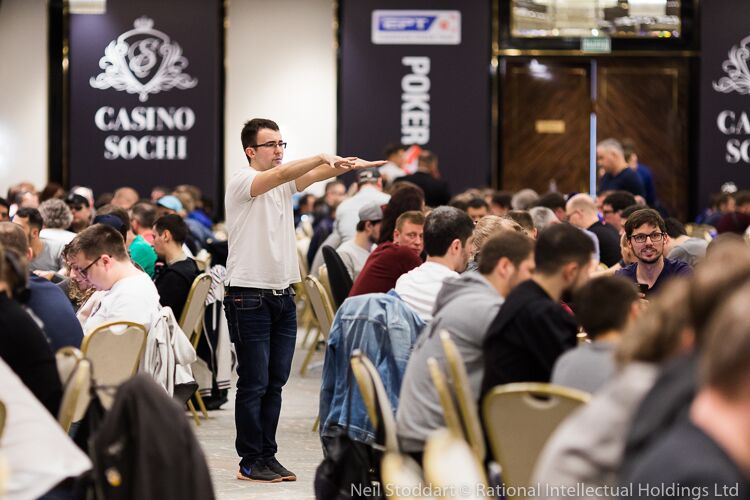 Mid performance
He raised his arms above his head, then, eyes closed, brought them down slowly. He looked hypnotised.
Then, routine done, and his shoulders remarkably unhunched, he returned to his seat.
Only then did Aleksandr Mikhalev show his 7♦4♦ for the straight.
"Thank you very much," he said.
God knows where it came from, but it was good for the pot. – SB
5:45pm: Chichba builds
Level 6 – Blinds 250/500 (ante 75)
Play was on the turn and three players had invested 15,000 into the pot at this point, with J♣6♣3♥5♠ dealt.
Said Chichba had checked and Alok Pradip Birewar made a bet of 6,500. Sergey Brykalin went into the tank before deciding the best thing to do was pass and action was back on Chichba. He jammed over the top to 26,150 and Birewar had two options: fold or call for his all-in. He chose the second option only to find he was drawing extremely thin.
Chichba 6♦6♠
Birewar 9♠9♣
Only a nine would do and it wasn't to be with a 4♠ falling on the river. It's a healthy 60,000 chips for Chichba and we say goodbye (at least for now) to Birewar. –LY
5:35pm: Zavoloka and Volkov clash
Level 5 – Blinds 200/400 (ante 75)
A♠K♠A♦6♣
There were two players in the hand with the turn card already out, Mikhail Zavoloka and Andrey Volkov. Zavoloka had bet 4,700 and Volkov wasn't dissuaded by the board or the bet, moving all-in for a total of 18,000. Zavoloka called it off straight away and it was no wonder, with both players hitting trip aces.
Zavoloka A♣Q♠
Volkov A♥7♥
Volkov was in some trouble. He was the player at risk and he could only win the pot with a seven, or chop it with a king or a six.
The dealer came to his aid, placing a K♣ on the river. Understandably Zavoloka looked disappointed with the result, as the dealer chopped the pot. –LY
5:25pm: Khatskevich back on the rise
Level 5 – Blinds 200/400 (ante 50)
Marina Khatskevich was down to just about 10,000 a few levels ago and was looking for a double up. She's done a bit more than that as she's now back up to about starting stack with 32,000.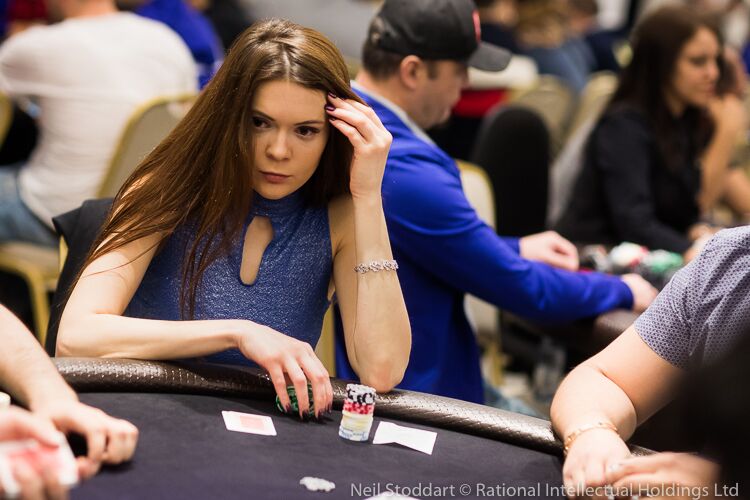 Marina Khatskevich
A small chunk of those chips came from a recent pot against Andrey Pateychuk and Sergey Chaban. Pateychuk raised to 1,100 from under the gun that hand and Khatskevich called from early position.
Action folded to Chaban on the big blind and he called as well. The flop came Q♣8♦4♦ and Khatskevich bet 1,700 when checked to. It was good enough to take down the pot and Khatskevich is now closing in on an average stack, which currently stands at 36,000. –AV
5:10pm: Little kicker loses it for Lodge
Level 5 – Blinds 200/400 (ante 50)
Aleksey Sakenov raised to 800 from early position and action folded all the way around to Harry Lodge on the big blind. Lodge called and then checked the 7♠4♦8♠ flop. Sakenov checked behind and 2♣ came on the turn. This time Lodge let out a bet worth 1,200 and Sakenov called.
A K♠ completed the board and Lodge upped the bet to 2,800. Sakenov called and both players turned over a pair of eights. Lodge turned over 8♦5♠, but Sakenov showed a slightly better kicker with 8♣6♣. Lodge was left with just 11,050 after the hand while Sakenov chipped up to 43,000. –AV
4:55pm: Double for Karamanov
Level 5 – Blinds 200/400 (ante 75)
The flop read 6♠7♦Q♦ and Karen Karamanov had moved all-in for 19,200. Maksim Reshetov had called but it was the former who was in for his tournament life.
Karamanov 6♥6♣
Reshetov K♦8♦
It was a set for Karamanov and a flush draw and a runner-runner straight draw for Reshetov with two cards to go.
It was an A♠ turn, meaning Reshetov was looking for a non-paired diamond only and the 4♠ river didn't help him. Karamanov doubles to 41,000 and Reshetov is down to about 5,000. –LY
4:30pm: Break time
It's break time in the Main Event. Play continues in 15 minutes.
4:25pm: Some for Shirshikov
Level 4 – Blinds 150/300 (ante 50)
Reigning PSC Sochi Main Event Champion, Pavel Shirshikov, doubled up a player early on yesterday and couldn't recover. Then he bought in again and didn't fare much better.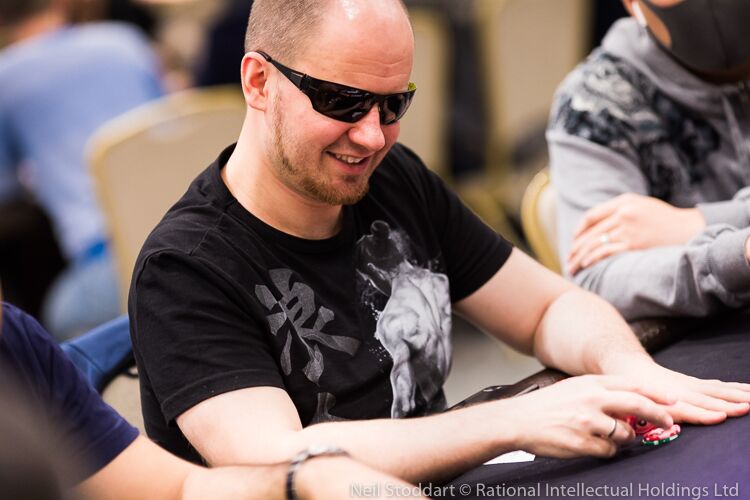 Pavel Shirshikov
Now he's taking another shot and seems to be stead at about starting stack after picking up a pot. Shirshikov started the hand off with a raise to 900 from under the gun and Mikhail Zamiga called from the button. Alimbay Sultanov did the same from the big blind and all three players went to the 4♠8♠10♥ flop. Action checked to Zamiga and he bet 1,500. Sultanov called, but then Shirshikov raised to 6,000.
Zamiga folded and Sultanov quickly followed suit. Shirshikov is now back over starting stack with about 32,000. –AV
4:20pm: Heard about the big weekend on PokerStars next month?
There's a big weekend coming up on PokerStars next month.
Mark the date: Sunday 22 April.
You might have noticed the slight overlay in the recent anniversary edition of the Sunday Million. And by slight we mean "very big"
More than $1 million to be clear.
So, we're running it again. We know, it's not strictly how anniversaries work, but let's put that aside for now.
It'll have the same $10 million guarantee.
And the first prize will be at least $1 million.
And all of that comes with the usual buy-in of $215.
There's more too.
All of which you can read on our special Sunday Million blog post HERE.
4:15pm: Three in a row with Olsson and Kiselev
Level 4 – Blinds 150/300 (ante 50)
Jakob Olsson and Daniil Kiselev were tussling quite a bit at their table and Olsson kept coming out on top.
In the first hand, Kiselev raised to 725 from middle position and Olsson three-bet to 1,400 from the button. Action folded back around to Kiselev and he called, bringing a 10♦3♦A♥ flop. Olsson continued for 2,550 and Kiselev let it go. Round one for Olsson.
Kiselev then raised to 750 from early position the following hand and Olsson threw in another three-bet to 1,600 from the cutoff.
Kiselev checked the J♠6♠6♦ flop and Olsson bet 2,600. Kiselev called and a 3♥ came on the turn. Both players checked that card and a K♥ completed the board. Kiselev put out another check and this time Olsson made it 6,000 to go. Kiselev called, but then mucked after Olsson showed A♦K♠ for a rivered pair of kings. Kiselev dropped to 17,000 while the pot Olsson up to 60,000. Round two: Olsson.
Then Olsson completed the hat trick.
Kiselev raised to 825 from under the gun and he got one caller, Olsson from the hijack. The flop came down 9♠2♦10♣ and Kiselev continued for 1,100. Olsson raised to 2,200 and it was good enough to take down the pot. That made it three in a row for Olsson.
Players then took a break the following hand, but we'll see if the battle continues. –AV
4:05pm: Barrat and Tippkotter are off to the races
Level 4 – Blinds 150/300 (ante 50)
The cards were on their backs as we came to the table and it was a classic flip scenario.
Dennis Tippkotter A♥K♠
Glen Barrat J♣J♠
The 4♥3♥2♠ looked good for Barrat's pocket jacks but the 5♣ turn changed all that and he needed an ace or a six to chop with a straight.
The 7♠ river was close but not close enough and Tippkotter was the bigger stack with 17,825 at the start of the hand. This pot puts him up to a little over 40,000 now, whilst Barrat heads towards the door. –LY
3:55pm: Dusting off an old favourite
Level 4 – Blinds 150/300 (25 ante)
It's time to bring back an old cliché. One we thought had been used up for good this time last year.
Who will be the next double EPT winner?
Okay, it's an old trope now, and in this new era of the EPT a fresh start is most welcome.
But still. It's possible.
So, having dusted off the record books, we can look at those in contention this week to match the record set by Victoria Coren.
Right now there are two:
Former EPT Kyiv Champion Max Lykov
Former EPT Sanremo Champion Andrey Pateychuk
Both have the capability, and both have home field advantage. There may even be more contenders before registration closes tomorrow.
There's life in the old trope yet. – SB
3:50pm: Khatskevich short and jamming
Level 4 – Blinds 150/300 (ante 50)
Marina Khatskevich was down to just 5,800 and moved it all-in on the turn of a J♦4♦8♣4♥ board. There was about 3,150 in the pot and Sascha Weers was the only other player in the hand. Weers thought for a bit, but decided it was best to let it go.
Khatskevich took down the pot and saw her short stack grow to almost 10,000. –AV
3:40pm: Isaev and Lykov
Level 4 – Blinds 150/300 (ante 50)
There were three players in a raised pot and a K♠Q♣7♦ flop on the board. Action checked to Maxim Lykov on the button and he bet 1,800. Sergey Isaev called from middle position and Leonid Novak folded from the hijack. A 6♦ came on the turn and Isaev check-called a bet of 3,500.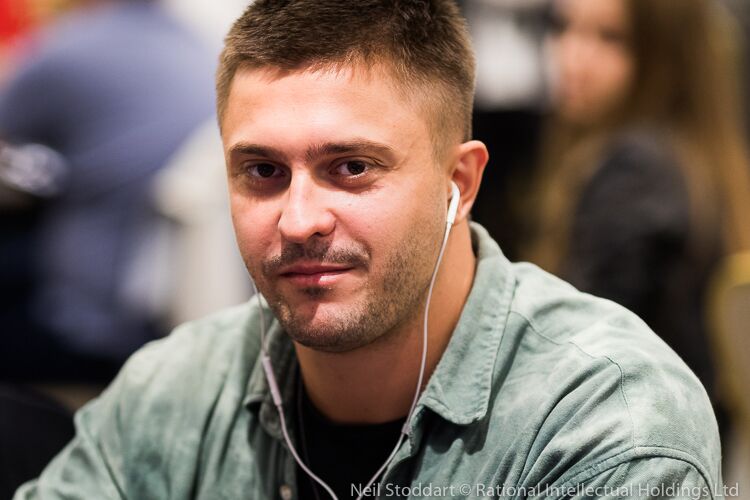 Former EPT champion Max Lykov
A 3♠ completed the board and this time Isaev led out with his own bet of 3,500. Lykov called and took down the pot with K♦J♣ after Isaev showed 10♥9♦. Despite the shift in chips, both players are about even with 35,000 apiece. –AV
3:35pm: Players just keep on arriving
Level 4 – Blinds 150/300 (ante 50)
The start of Level 4 has only just been announced and we are already up to 336 entries for Day 1B. The inaugural EPT Sochi continues to draw a crowd and with registration open until the end of Level 10 today, there are around eight and a half more hours for players to get themselves down to Casino Sochi and get stuck in to some poker. –LY
3:30pm: Former champ takes his seat
Level 3 – Blinds 75/150
There's a new arrival to the Main Event. Andrey Pateychuk arrived to some handshakes from staff and regulars as he collected his chips and seat assignment.
The former EPT Sanremo champion, wearing a CSKA Basketball Red Army cap, has taken his seat alongside Marina Khatskevich.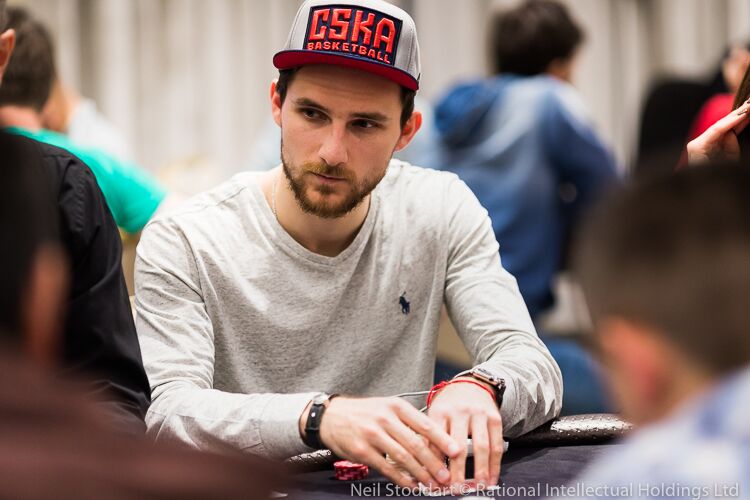 Former EPT winner Andrey Pateychuk
In an early show of force, Pateychuk called from the big blind in the first hand he played. Mikhail Pokhlebaev had opened, and the two of them checked the 9♥5♥9♠ flop. Pateychuk bet the 6♥ turn to win the hand.
He stacked his new chips, noticed the attention he was getting from the likes of us, and did his best to smile for the camera. – SB
3:20pm: Filling up with deuces
Level 3 – Blinds 75/150
Sometimes pocket deuces really pay off. This was one such occasion for Anton Kryzhanovskiy, who flopped a set, filled up on the river and got paid off along the way.
Action folded to Kathleen Stevenson in the hijack at the beginning of the hand and Anton Kryzhanovskiy called from the cutoff. Andrey Chernokoz called from the small blind and Denis Sapozhnikov did the same from the big blind.
There was a 6♦2♦Q♣ flop and Sapozhnikov bet 1,700 when checked to. Only Kryzhanovskiy called and a 5♣ came on the turn. Sapozhnikov checked this time and Kryzhanovskiy bet 9,500. Sapozhnikov called and another 5, the 5♠, came on the river.
Sapozhnikov checked again and this time Kryzhanovskiy upped the bet to 15,000. Sapozhnikov didn't look happy, he shook his head and looked down at his stack. He finally threw in chips for a call, but mucked when Kryzhanovskiy turned over 2♣2♠ for a deuces full of fives. Sapozhnikov was left with just 14,000 after the hand while Kryzhanovskiy chipped up to 85,000. –AV
3:05pm: Three-way all-in
Level 3 – Blinds 100/200 (ante 25)
There were lots of chips infront of three players and Harry Lodge was at the centre of the action. He didn't look altogether happy about his situation.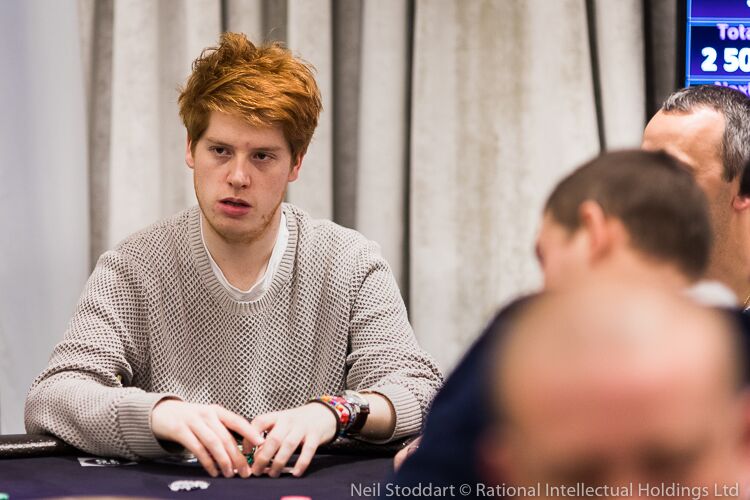 Harry Lodge
He had made what was most probably a three-bet to 2,500 preflop before Aleksey Savenkov jammed for 16,025. That wasn't the end of it though as Michael Zink isolated about 28,500 over the top. Lodge took his time and ultimately found a call and players turned their cards face up.
Savenkov 9♥9♦
Lodge A♥K♦
Zink A♣Q♦
8♣10♠7♠4♠9♣
The pocket nines held and Savenko nets himself a triple, putting him up to about 50,000. Meanwhile Lodge won the 24,000 side pot and Zink will have to decide whether to re-enter or call it a day. –LY
2:55pm: It's Groundhog Day. Again.
Level 3 – Blinds 75/150
Day 1B in any poker tournament is already like Groundhog Day. But never more so in Sochi.
Not only is the plan for today the same as it was yesterday – ten 60 minute levels, but players who busted yesterday can buy in again. They also have the option of a single re-entry.
So, it's the exact same structure, and in some cases the same exact players.
Unless it really is still is Day 1A, and this is the day I'm now forced to live repeatedly.
In which case, I'm going to make more of an effort to have breakfast tomorrow.
There is one crucial difference between today and yesterday.
While Day 1B plays on until midnight, there will also be a Day 1C starting at 8pm tonight. It's a Turbo, with 30 minute levels, and the single re-entry option.
It should make things crowded, and lively, as the day goes on. We'll feature action from both Day 1B and 1C on this page.
No doubt that will feature some of the same players too. And this madness will carry on.
Day 1B in any poker tournament is already like Groundhog Day. But never more so in Sochi. — SB
2:35pm: Lunkin arrives, Samsonov takes one
Level 3 – Blinds 75/150
Vitaly Lunkin is in the field everybody. Lunkin has amassed millions in live-tournament earnings and is closing in on the $7 million mark. He'll be hoping to finally cross it with a deep finish in this event.
So far he's still at about starting stack. Lunkin lost a recent hand after things got pretty heated preflop. Maxim Samsonov raised to 575 from early position that hand and Lunkin called from middle position. Andrei Chusovitin was on the button and three-bet to 2,050. Action folded back around to Samsonov and he decided to throw in another re-raise to 5,700.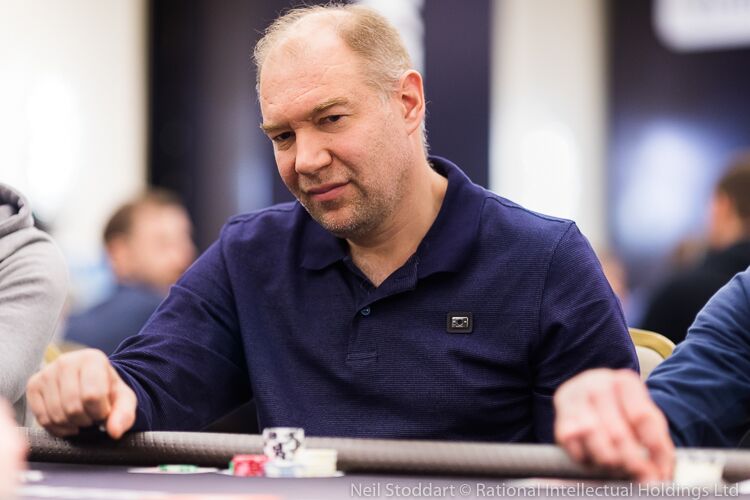 Vitaly Lunkin
Lunkin shook his head and flicked his cards into the muck. Chusovitin called and the flop came down Q♦10♠6♥. Both players slowed to a check this time and a 5♣ came on the turn. Samsonov then took another stab at it and bet 6,500.
Chusovitin looked down at his stack, he only had about 13,000 behind. The bet was too much for Chusovitin and he went for the fold. Chusovitin was left with about 13,000 while Samsonov chipped up to 37,500 and Lunkin is still at about starting stack. –AV
2:07pm: Break it up
Level 2 – Blinds 75/150
Two levels of play are done and we're on our first 15-minute break of the day. Go have a snack, a quick nap or watch an episode of your favorite show at two-times the speed and then come back for more EPT Sochi Main Event updates. –AV
2:05pm: Field size grows
Level 2 – Blinds 75/150
There are just a few more minutes left in Level 2 and there are now 296 players registered to Day 1B of the EPT Sochi Main Event.
Meanwhile, the imminent break hasn't slowed down Gurgen Mhitaryan and Giorgiy Shulyhiya, who have gotten mixed up in a pot.
J♠10♥Q♠5♦
There was 18,000 in the middle on the turn when Mhitaryan shoved all-in for 27,000 or so. Shulyhiya didn't like the price and opted to fold. –LY
2:00pm: Nigbolu climbs
Level 2 – Blinds 75/150
There was a pile of chips in the middle, 32,000 or so, and all the community cards were out when we arrived at the table…
4♦J♥4♥10♦2♣
Cenk Nigbolu took his time before he announced his all-in for 10,600 and now the action was firmly on Mikhail Kovalyuk, who had a tough decision to make. If he made the call and was wrong, he would be down to just 5,000 chips. After thinking for about a minute, he decided to pass and Nigbolu scooped the pot. The Turk has increased his chips by almost 50 percent from starting stack. Not bad at all, especially considering we haven't even made it to the first break yet. –LY
1:50pm: Shelukhin gets some straight off Marina
Level 2 – Blinds 75/150
Belarusan pro Marina Khatskevich just took a big hit after Alexander Shelukhin rivered a straight for a pot worth about 25,000.
Aleksey Romanov started the hand off with a call from under the gun and Mihail Pokhlebaev raised to 600 from the hijack. Shelukhin called from the cutoff and then Khatskevich three-bet to 1,850 from the big blind. Only Shelukhin called and the two players went to an 8♣Q♦6♥ flop.
Khatskevich bet 1,500, Shelukhin called and a Q♥ came on the turn. Khatskevich slowed to a check and Shelukhin took the initiative with a bet to 2,500. Khatskevich called and a J♠ completed the board.
Shelukhin bet 6,000 when checked to and this time Khatskevich thought for a bit before calling. She eventually did, but then mucked her hand when Shelukhin turned over 10♣9♦ for the rivered straight.
Khatskevich dipped to 19,675 after the hand while Shelukhin chipped up to about 50,000. –AV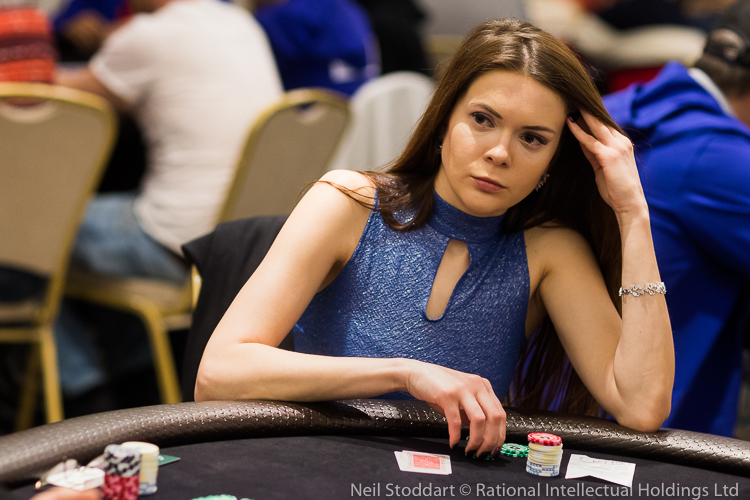 Marina Khatskevich
1:35pm: In an adjacent room…
Level 2 – Blinds 75/150
Though most players have taken a seat in the main poker room, there are six tables tucked quietly away in a smaller room in the Casino Sochi. The atmosphere is distinctly quieter here and whether that is purely down to the much smaller number of people in the room, or if it reflects the level of concentration amongst players, remains to be seen.
Players still seem to be warming up in here at the moment and we don't have a showdown to report at the moment, but we can tell you that Peter Miskei and Sergey Garkusha are both chipping away nicely after they each took down a hand on the turn which had seen multi-way action. –LY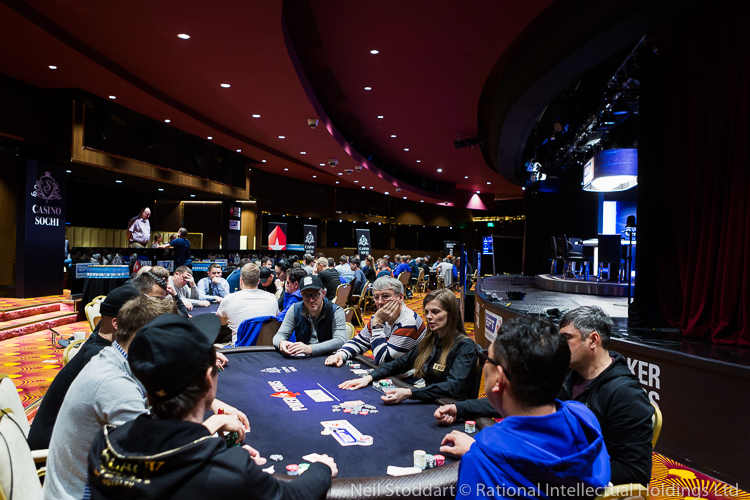 The quaint, quiet, almost peaceful adjacent room.
1:20pm: Feeling well with Wellenbach
Level 2 – Blinds 75/150
The tournament room is crowded and a constant ebb and flow of waiters and floor staff add to the tournament traffic. But there are small pockets of peace and tranquility sprinkled across the tournament floor.
One of them is the immediate area surrounding Scott Wellenbach. The Canadian player is a translator of the Buddhadharma who's been applying Buddhist principles to poker for years. And when Wellenbach wins, everybody wins. Back in August, Wellenbach cashed for $72,176 at the PokerStars Championship Barcelona Main Event and donated all of it to charity.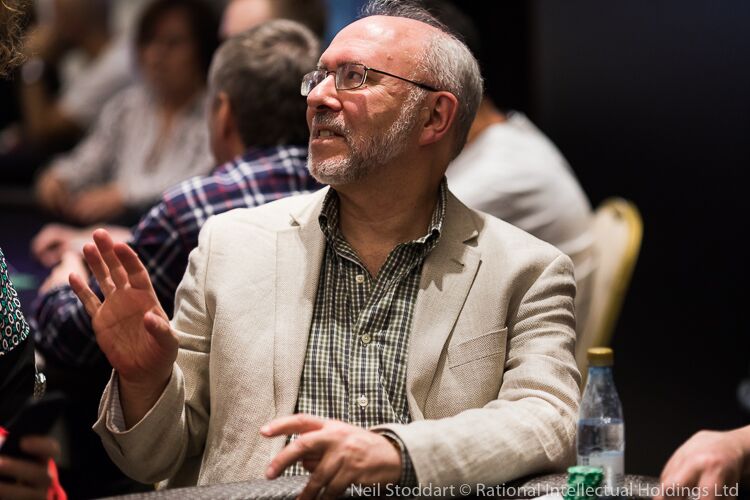 Scott Wellenbach
We'll see how much Wellenbach can win for the world here in Sochi. –AV
1:05pm: Nevenkin and Kozlov get tangled
Level 2 – Blinds 75/150
Q♦6♠4♠7♠
Play was on the turn and there were two players still in the hand, Konstantin Koslov and Sergey Nevenkin. Koslov was first to act and made it 1,400 to see a river, Nevenkin came along.
The river was an 8♣ and added to the potential flush on the turn, there was a one card straight added to the mix too. Once again Kozlov bet, this time 2,000 and it was a quick call from Nevenkin.
Kozlov A♣A♥
Nevenkin A♠8♠
Though Kozlov was the massive favourite preflop, Nevenkin's flush was good on the river and he takes down the pot. –LY
12:45pm: Lodge in the house
Level 1 – Blinds 50/100
British pro Harry Lodge has taken a seat at the EPT Sochi Main Event. Lodge recently final tabled the PokerStars Championship Prague Main Event and managed to finish 5th in that event, earning $230,977.
It's still too early to tell if he'll make a repeat run, but he did just lose two-and-a-half big blinds. Lodge raised to 250 from the button and got calls from Vasily Yarkov and Sergenii Bragodarnyi. Yarkov checked from the small blind when the flop came 4♣10♠3♦ and Bragodarnyi bet 400 from the big blind.
Lodge decided he'd take the 2.5BB hit and folded. Yarkov called and a Q♥ came on the turn. Both players checked and the Q♦ completed the board. Bragodarnyi bet 1,200 and Yarkov called again.
Bragodarnyi turned over 7♦6♣ for not much and Yarkov turned over 5♣5♥ to take down the pot. Yarkov chipped up to about 34,000 while Yarkov and Lodge dipped slightly below starting stack. –AV
12:30pm: Ace high is good
Level 1 – Blinds 50/100
Though we are only on Level 1, some players are keen to get started right away. As the blogging team arrived on the scene at one table, action was on the river and there was already a chunky 20,000 in the pot. To put it in perspective, that is 200 big blinds.
6♣2♣2♦4♠K♠
Though no more chips went in on the river, with both Scott Wellenbach and Vladislav Starovoyt opting to check, it would be a very nice start to the day for whoever took the pot.
Wellenbach showed A♠10♠ and it was good, with Starovoyt sending his cards into the muck. Ace high takes it and Wellenbach gets a nice early chip up, with around 38,000 in front. –LY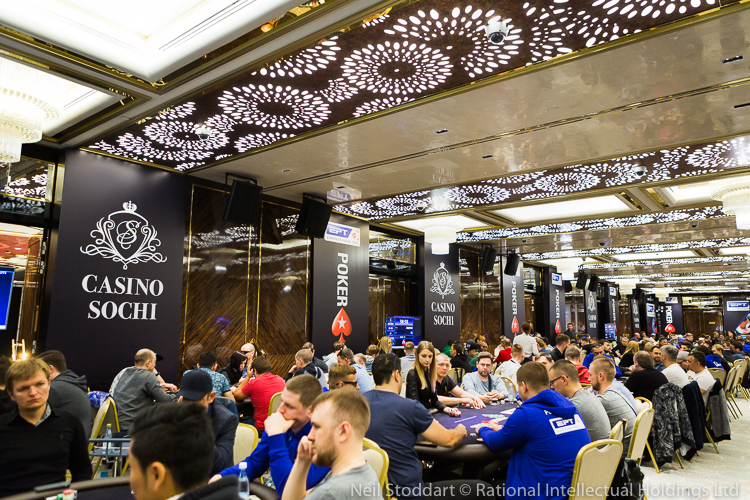 12:20am: Quick one out, more flood in
Level 1 – Blinds 50/100
It didn't take long for our first elimination. Russia's Yury Logish has already hit the rail and is the first casualty of Day 1B. But the field is currently growing far faster than it's shrinking. We've already had more than a dozen additions to the field since play started and are now up to 230 players. –AV
12:05am: Cards in the air
Level 1 – Blinds 50/100
Day 1B is no longer a prediction, it's now a reality. Cards are in the air and Day 1B has officially begun. There are currently 215 players in the field and late registration is open all day. Those unfortunate to bust are also lucky enough to have a shot at a re-entry. –AV
11:30am: Rolling in for Day 1B
The clouds are rolling over the mountains and players are starting to flow into the tournament room for another day of poker here in Sochi. Yesterday's Day 1A drew 254 players and after 10 levels of play, we were left with just 103 players. Vitaly Gusak managed to end that day with the most chips, bagging 206,300 to end the day.
But while Gusak finished the day with the biggest stack, several other players are hot on his tail. Three other players finished the day with more than 190,000 and another finished just shy of that number. Gusak will also face today's survivors. In addition to Day 1B, which will have 10 one-hour levels like yesterday, there will also be a Turbo Day 1C starting at 8pm local time today.
Things are gonna get busy here in Sochi this Saturday, so be sure to follow all the action right here at the PokerStars Blog. We'll also keep you updated on the cloud situation. –AV
Current cloud situation: cloudy
PokerStars Blog reporting team on the Main Event: Stephen Bartley, Lisa Yiasemides, and Alexander Villegas. Photography by Neil Stoddart.