Poker is always a game of numbers, but today at the PokerStars Players Championship (PSPC), at the Atlantis Resort in the Bahamas, those numbers were more significant than ever before.
The record-breaking attendance was confirmed late yesterday, but today was when we figured out the specifics. And they were majestic. When all the auditing was finally done, it was time to sit back gob-smacked and marvel at the sheer scale of this thing.
There were 1,039 entries, worth $25,000 apiece. That means a total prize pool of close to $26.5 million. The winner will take $4.1 million, plus another $1 million added by PokerStars. All six players at the final table will be millionaires.
---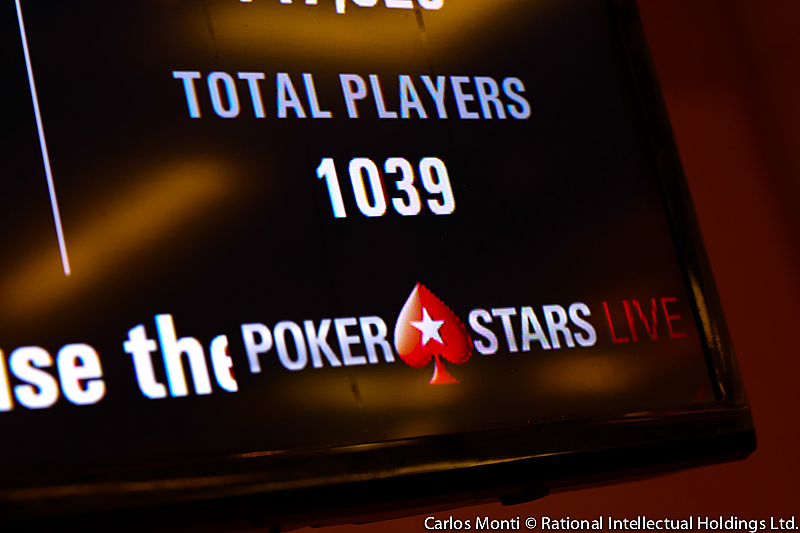 It's only a number. But it's a big number
---
Don't forget that more than 300 Platinum Pass winners also got into this event as a freeroll, with their $8 million-worth of entries put up by PokerStars. Click through to the payouts page to see the full glory of all this, and note that players finishing from 151st through 181st will get their money back. That's because the normal admin fee has been added back into the prize pool too.
This is bigger than anything PokerStars has ever hosted before. For real.
---
CHIP COUNTS, SEAT DRAWS AND EVERYTHING ELSE YOU NEED TO KNOW
---
By the end of another eight levels of play today, the field had been torn to ribbons. (This is a tournament like no other, but the brutal mechanics are the same.) Only around 220 bagged chips, and the lead changed hands numerous times. By the time the pass-the-parcel ended, the biggest stack belonged to Colombia's Farid Jattin, but all of Mustapha Kanit (888,000), Griffin Benger (885,000), Talal Shakerchi (691,000), Brandon Adams (731,000), Julien Martini (832,000) and Alexandre De Zutter (700,000) had been right up there at one point or another, and all are still hot on Jattin's heels.
---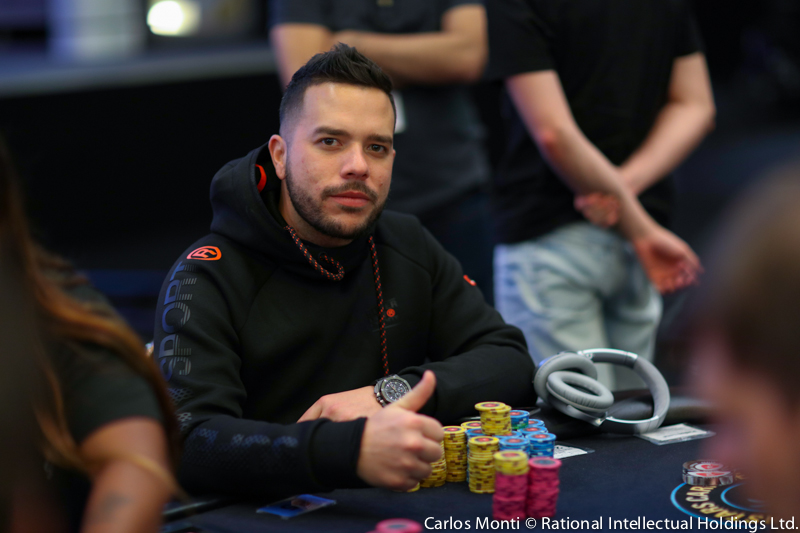 Farid Jattin: Everything's going great!
---
Jattin's day was remarkable because we saw nothing of how he got those chips. But we all know him pretty well: he has nearly $3 million in live earnings, and is a regular on the European Poker Tour (EPT) and Latin American Poker Tour (LAPT).
Kanit, meanwhile, danced through Day 1 with Paul Pierce on the feature table, and spent long periods of Day 2 crushing the secondary stage too. Musti gets it done, bro.
---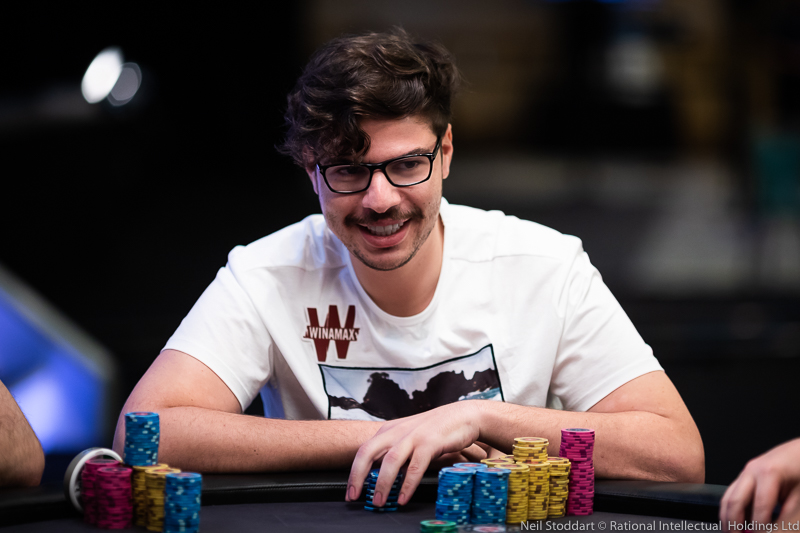 Mustapha Kanit: Great day
---
De Zutter is the highest-placed Platinum Pass holder. The man from the Netherlands picked up his precious shard of metal by winning the PSF Lille Main Event, in what was his first major tournament. He described winning that tournament as "the best day of my life". There's a very strong chance that today will enter the top five too, given that he started the day with 70,000 chips and has 10 times that now.
---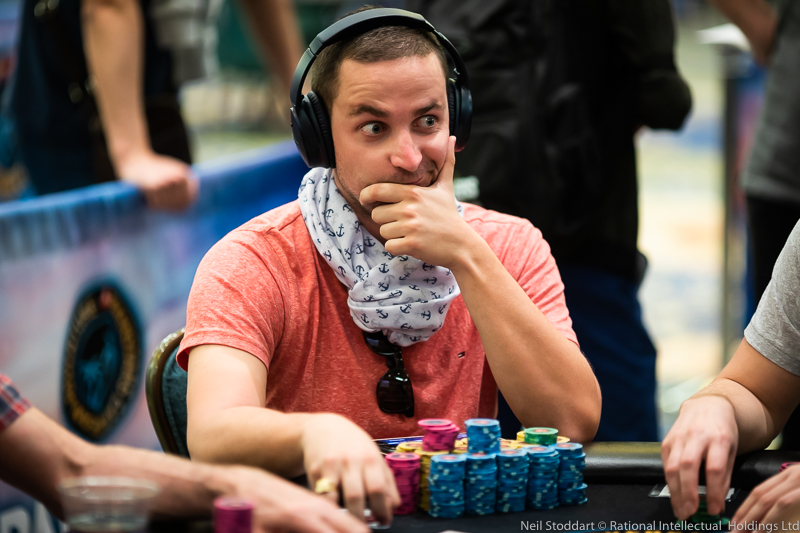 Platinum Pass winner Alexandre De Zutter: Top five day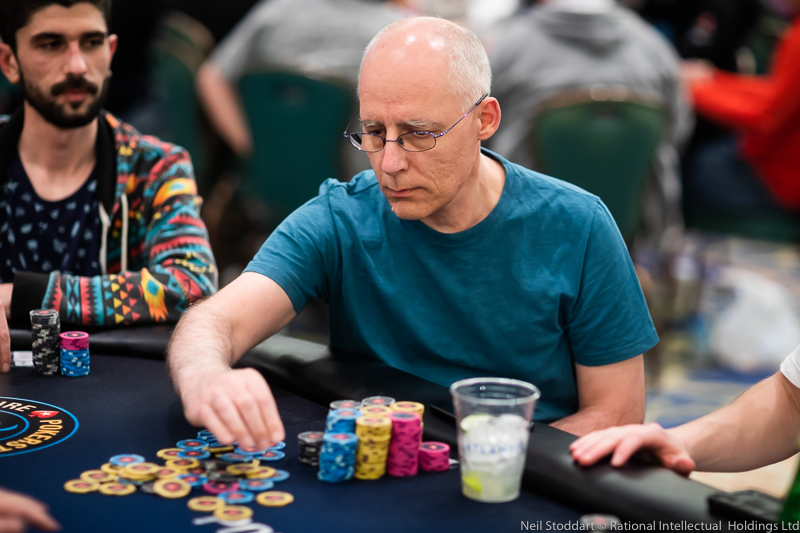 Shakerchi: Another dominant day
---
De Zutter ended Jason Somerville's challenge late in the day, but by that point hundreds of other dreams had also been crushed. They included great friends of the blog (and Platinum Pass holders) Kevin Mathers, Linda Johnson, Aleeyah Jadavji, Stephen Chidwick, Andrew Neeme, and Allan Kean. It was also all she wrote today for Team PokerStars' Lex Veldhuis, Mikhail Shalamov, Jake Cody, Fatima Moreira de Melo, Chris Moneymaker, Randy Lew, Fintan Hand, Jennifer Shahade and Kevin Martin.
---
Chris Moneymaker takes his frustration out on Spraggy
---
Better news for other halves, however, with Lew's wife Celina Lin bagging 12,000 and Hand's (all-but) wife Ben "Spraggy" Spragg finishing with 140,000.
It was, however, also the day we bade sad farewell to Travis Nesbitt, another one of our favourites. Have another quick look at a video we shot about him, and you'll find out why.
---
---
So tomorrow we will come back at noon and be ploughing straight into bubble time. Thanks to the generous money-back offer, the bubble isn't quite as harsh as perhaps it might be. But no one is going to want to finish in 182nd place in this one. Yet someone has to.
Take a look through all today's coverage below. It was a day of thrills and spills and hundreds of updates. Enjoy. And come back. Please!
---
Day 2 coverage archive:
• PLAYERS: 215 (of 1,039)
• WATCH THE POKERSTARS.TV LIVE STREAM | VIDEOS
• CHIPS | SEAT DRAW | PAYOUTS | STRUCTURE
• GET TO KNOW THE PLATINUM PASS WINNERS
• ALL PSPC REPORTS | ALL PSPC INFO
• FULL PCA TOURNAMENT SCHEDULE
• DOWNLOAD POKERSTARS | Follow @PokerStarsBlog on Twitter
• BRAZIL/PORTUGAL | FRANCE | GERMANY | ITALY | LATAM | RUSSIA | SPAIN
---
9:07pm: Three more hands
Level 16 – Blinds 3,000/6,000 (BB ante 6,000)
Our chip leader Alexandre De Zutter had the honor of drawing a card to figure out how many more hands we'll play here at the end of the night. That number is three. Chip counts and a full recap coming shortly. –JK
8:55pm: Grasu shoves, Muehloecker relents
Level 16 – Blinds 3,000/6,000 (BB ante 6,000)
It folded around to Alin Grasu in the small blind who took a look at his cards, then pushed all in for 96,000 total, putting Thomas Muehloecker to a decision in the big blind.
Muehloecker didn't have a lot of chips himself, and had to think a while before deciding what to do, Grasu looking at him mischevously as he did.
Finally Muehloecker folded, preserving his stack of 165,000, and Grasu showed his hand — 9♦8♦ — which explains the look. Grasu is on 110,000 with about 20 minutes left in the night. –MH
8:50pm: Greenwood gains through Brankin
Level 16 – Blinds 3,000/6,000 (BB ante 6,000)
One Platinum Pass winner we've yet to mention today is Peter Brankin, who booked his trip to the Bahamas when he took down the £150 PokerStars MegaStack back in March. That's mainly because he's been up on the feature table for most of the day though; we weren't ignoring you, Peter.
Unfortunately for Brankin, Luc Greenwood (one of the three Greenwood brothers still in) is now in possession of some his chips.
Greenwood opened to 15,000 from early position and Brankin flatted from the cutoff. Ana Marquez came along from the big blind to see the 7♠4♣3♥ flop, which she'd then check. Greenwood continued for 17,000 and Brankin called.
With action on Marquez, a dealer error meant the 9♦ turn card was already down before she'd acted. She ended up folding anyway, taking action over to Greenwood. He fired again, this time for 25,000, and Brankin didn't budge.
The 6♠ river completed the board, and put four to a straight out there. Greenwood slowed down and checked, and Brankin checked it back. Greenwood revealed T♥T♣ for an overpair to the board, and that was good when Brankin mucked.
Brankin's in the dangerzone with just 85,000 now, while Greenwood climbs to 355,000. –JS
8:45pm: Shoving stacks
Level 16 – Blinds 3,000/6,000 (BB ante 6,000)
They are still around 45-50 knockouts from the cash, but play has nonetheless slowed significantly here in the night's final level with a number of players on short stacks having turtled up in the hopes of advancing to Day 3.
Of course, some with those short stacks are pushing their chips in the middle in order to try to improve their status.
Ben Heath, for example, just open-pushed and got no business at one table, then Jimmy Guerrero did the same on the flop nearby and also got a fold from his lone opponent. Both players are on about 115,000 with a half-hour to go. –MH
8:42pm: A pair of pots with Tazelaar
Level 16 – Blinds 3,000/6,000 (BB ante 6,000)
Platinum Pass winner Justin Tazelaar tussled with Richard Seymour and Mark Radoja a few times.
The three players were faced with an 8♥5♥T♣ flop the first hand and there was about 38,000 in the pot. Seymour was on the button and bet 11,500 when checked to. Both players called and a 2♣ came on the turn.
Action checked to Seymour and he upped the bet to 31,000. Only Tazelaar called and the J♣ completed the board. Both players checked and Tazelaar turned over A♦Q♦ for ace high while Seymour showed 4♥4♠. Fours took it down and Tazelaar was down to 175,000.
Then he won a few the chips the following hand.
Tazelaar opened to 12,000 from under the gun and Seymour called from the cutoff. William Batista called from the small blind and Radoja went along from the big blind.
The flop came Q♣6♣5♦. Action checked to Tazelaar that time and he bet 25,000. Only Radoja called and then they both checked the 6♥ on the turn. The river brought the Q♥ and a bet of 45,000 from Radoja. Tazelaar called and showed K♠Q♠ for queens full of sixes while Radoja rolled over 9♦8♦.
Tazelaar is now up to 270,000. –AV
8:40pm: Brandon Adams skyrockets to near top of leaderboard
Level 16 – Blinds 3,500/6,000 (BB ante 6,000)
We're getting down to the final moments of the night, and the stacks are flying. Brandon Adams is faring better than most and sitting near 800,000 in chips as one of the top stacks in the room. –BW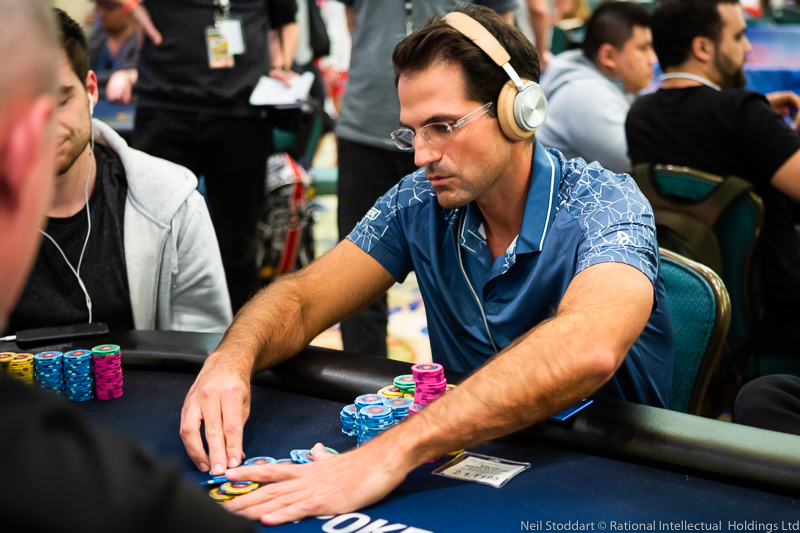 He ain't "Broke": Brandon Adams is stacking up
8:37pm: Gregg keeps shoving, but it's Viega who finds a double
Level 16 – Blinds 3,000/6,000 (BB ante 6,000)
Tony Gregg and Upeshka De Silva are both used to being deep in big events. It was only a few years ago that Gregg finished second to Mike Watson in the PCA Main right here in the conference room of Atlantis, for example.
And they're having fun, these two. Although right now it's Gregg enjoying himself more.
Picking up the action on a J♠T♠T♥3♥ board, Gregg had jammed into De Silva and he was taking his time to think it over. He'd eventually fold though, and two shared a few words.
The very next hand De Silva opened to 12,500 under the gun and it folded around to Gregg in the small blind. He shoved again, and this time De Silva didn't take long to give it up. The two flashed each other a quick smile.
Gregg took the next hand off, letting Diogo Viega be the one to shove. It was for 50,000, and his only caller was Mark Ioli with K♣J♠. That was behind Viega's A♣Q♠, and remained so after the A♥A♦4♣7♠7♥ board gave Viega a boat.
Ioli's down to 130,000 now, while Gregg has 170,000 and De Silva's on 355,000. –JS
8:35pm: Li lives on with double up
Level 16 – Blinds 3,000/6,000 (BB ante 6,000)
Derik Li just doubled up with jacks against the ace-queen of Luigi Knoppers on a board of 9♥7♦2♦T♦8♥.
Li, who won his Platinum Pass last year during NJSCOOP (he's effectively here for $10), now has 450,000. – SB
8:33pm: Jaime Staples meets his end
Level 16 – Blinds 3,000/6,000 (BB ante 6,000)
Jaime Staples, who has had a rough and tumble go of it on and off the felt here in the Bahamas, finally succumbed to one of those hand that just sucks to lose. He's busted in the last level of the night.–BW
8:30pm: Benger big-stacked
Level 16 – Blinds 3,000/6,000 (BB ante 6,000)
A short stack just doubled through Griffin Benger, but it was not much more than a flesh wound for the Canadian. He's up around 750,000 at present. –MH
8:25pm: Freitas doubles through Fernandez
Level 16 – Blinds 3,000/6,000 (BB ante 6,000)
Leo Fernandez drops to 105,000 after calling an all-in from Fabio Freitas.
Freitas showed A♥K♠ to Fernandez's Q♦T♦.
The board ran 7♣K♦3♥K♥T♣ to keep Freitas alive with 120,000. – SB
8:24pm: Last level of the night
Level 16 – Blinds 3,000/6,000 (BB ante 6,000)
We're moving on to our final level of Day 2. One more hour to go. –JK
8:20pm: More bustouts
Level 15 – Blinds 2,500/5,000 (BB ante 5,000)
Sad news to report for fans of Karol Wojciechowski, Connor Drinan, Mikhail Elantsev, Guillaume Diaz, Jesse Sylvia, Sharad Rao, and Pavel Plesuv — they've all found their way to the exits within this last level. –JK
8:19pm: Sitepu hits the rail
Level 15 – Blinds 2,500/5,000 (BB ante 5,000)
When Sandhy Sitepu of Indonesia — a Platinum Pass winner (Macau Poker Cup National HK$25K) — looked down at 7♣7♥ on the button, shoving his short stack seemed the right thing to do.
Alas for Sitepu, the Spaniard Omar Del Pino — also a Platinum Pass winner (PokerStars Festival Marbella Main Event) — woke up with 9♦9♥ in the blinds and called, and after a J♠T♦2♣3♥4♠ runout, Sitepu was out.
Del Pino, who won a big pot earlier to knock out Jesse Sylvia is now up to 725,000. –MH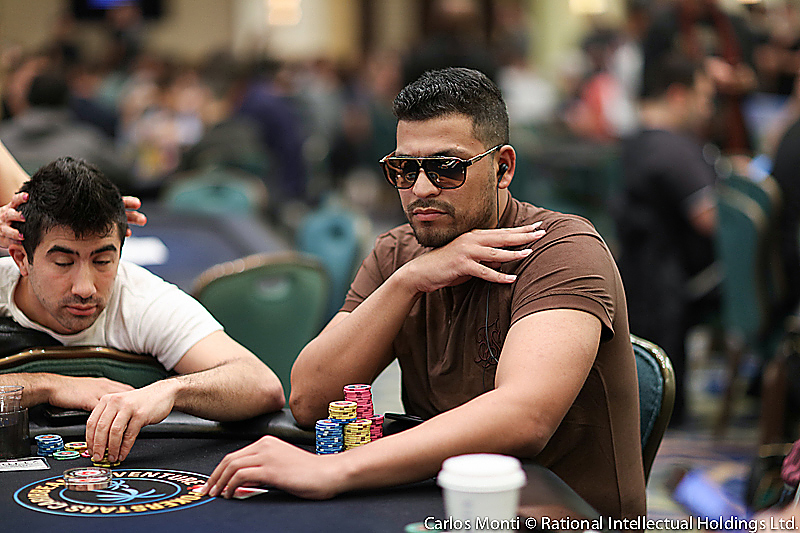 PSF Marbella champ and Platinum Pass winner Omar Del Pino
8:18pm: Winter is coming
Level 15 – Blinds 2,500/5,000 (BB ante 5,000)
A short and sweet post to tell you that Sean Winter has just doubled up.
His 5♦5♣ was up against Vladas Tamasauskas' J♦9♦ pre-flop, and although the two overs picked up more outs on the turn of the 8♥K♠A♥T♥ board, the K♦ river changed nothing.
Winter's up to 115,000 now. –JS
8:17pm: Wang doubles through Pember
Level 15 – Blinds 2,500/5,000 (BB ante 5,000)
A double up for Haoxiang Wang.
He moved all in with his last 85,000 with Q♠J♠. Marin Pember called him with A♦K♦.
The board came 2♠9♥5♥K♣T♣
Wang let out a whoop that was more astonishment than joy. Pember meanwhile rested his forehead on he cable. Somehow he managed a grin, but his stack had been cut to 46,000. Wang meanwhile is up to 165,000. – SB
8:16pm: Tatu scores a double
Level 15 – Blinds 2,500/5,000 (BB ante 5,000)
Vlad Tatu has been the bane of a lot of people's life today. Both Felix Schneiders and Hristivoje Pavlovic admitted they had been having a hellish time playing against the Romanian Platinum Pass holders, and Tatu has also been making it pretty tough for chip-counters owing to his unorthodox stacking technique.
But we finally got the chance to get an accurate count because Tatu was all-in, called and won. That meant the dealer had to get a perfect measure of Tatu's stack to get double it. It was 84,000 and his A♣J♠ won on the 3♥T♥A♠4♣T♣ board.
That means Tatu now has 190,000 as we head into the last level of the day. — HS
8:15pm: Set over set doubles Fernandez
Level 15 – Blinds 2,500/5,000 (BB ante 5,000)
"What do you think I have?" Team PokerStars Leo Fernandez asked Kristen Bicknell. She had just called his all-in and showed 3♠3♣ on a 6♦3♦4♣ flop.
"I don't know, flush draw?" Bicknell said.
It wasn't. Fernandez was too happy to see a set and not have it beat. He turned over 6♣6♠ for top set.
The turn brought a T♥ and then the 7♥ completed the board. Fernandez doubled to about 250,000 while Bicknell dipped to 370,000. –AV
8:08pm: Lin doubles Mock
Level 15 – Blinds 2,500/5,000 (BB ante 5,000)
Team PokerStars Pro Celina Lin was hoping to take out David Mock, but doubled him up instead.
Mock had moved all-in for 84,000 with K♦K♠ and Lin called with 9♠9♥. The flop was a treacherous-looking 8♠J♦8♦ for Mock, but ultimately safe. The turn brought the A♦ and then the Q♣ came on the river to seal the double up for Mock.
Lin dipped to 170,000 while the pot put Mock up to about the same amount. –AV
8:05pm: Berry crushed
Level 15 – Blinds 2,500/5,000 (BB ante 5,000)
Michel Dattani is in one of those purple patches, and has just ended William Berry's tournament. The was pair vs. pair, with Dattani's tens staying better than Berry's fives when they got it all-in pre-flop. Berry had 115,000 and they're all now in Dattani's stack. Thank-you berry much.
Dattani is cruising now with 510,000. — HS
8:04pm: Three-way all-in catapults Hanouadi past 500K
Level 15 – Blinds 2,500/5,000 (BB ante 5,000)
A dramatic triple-up for Cesar Del Pino Hanouadi has boosted his stack to more than 500,000.
On a flop of J♠9♠3♠ Jesse Sylvia moved all-in for 83,000 behind a bet of 10,500 from Jonathan Kamhazi.
Hanouadi was next to act and called, sending the action back to Kamhazi, who apologised for taking so long and asked for a minute.
He got it, but not much more. Hanouadi called the clock.
A floor person arrived and counted down the 30 seconds. With a second left on the count it looked like Kamhazi was about to fold, until at the last moment he announced all-in.
Hanouadi called in a flash.
Sylvia: A♥A♣
Hanouadi: A♠4♠ for a flush
Kamhazi: 9♥9♦ for a set
Hanouadi's flush was ahead of Kamhazi's set. He needed the board to pair. It didn't.
The turn came Q♠ and the river T♣.
Kamhazi looked devastated, reduced to around 40,000. Hanouadi meanwhile was standing, hardly able to believe it. When he'd finished stacking his new chips he had 530,000 of them. Sylvia, who'd started it all, was out. – SB
8:02pm: Platinum Pass winners on the short stacks
Level 15 – Blinds 2,500/5,000 (BB ante 5,000)
I've been keeping an eye on three Platinum Pass winners during this level, all of whom were hovering around the 120,000-130,000 chip mark, passing back and forth between their tables constantly. As a dutiful reporter does.
Alin Grasu (EPT Barcelona Crazy Pineapple Hand Challenge winner) has been nursing his stack of that depth for most of the late afternoon and early evening as he works to keep his run going.
Paul Macneil (casher in the Monthly Sunday All-In Shootout) has also been right around that same stack size for much of the day. Just now he had a look that appeared to suggest he had been dealt a hand he wanted to play, but a raise and reraise in front of him forced a pained fold and he keeps his seat.
Alas for Andrew Canfield (NJCOOP PSPC Entrants All-In Shootout winner), when I got back around to his table just now he had just busted, ending his run here in Level 15.
They are still 80-odd knockouts from the cash, so Grasu and Macneil have some work cut out for them if they hope to get a piece of the $26M-plus prize pool. –MH
8:01pm: Rubbish river for Rivera
Level 15 – Blinds 2,500/5,000 (BB ante 5,000)
Platinum Pass winner Marc Rivera's stack has just suffered a blow courtesy of a rather lousy runout and river card.
He'd opened to 11,000 in the cutoff, before Yiming Liu shoved for 72,000 on the button. Back to Rivera, he gave it some thought and counted his own stack before making the call.
Liu: A♣T♦
River: A♠T♣
It looked likely to be a chop, but as the headline of this post suggests, the Q♣4♠3♣5♣6♣ runout was not what Rivera wanted to see.
He dropped down to 352,000 after that one.
Liu was putting some of those new chips to work in the next hand, opening to 11,000 from the cutoff. Thiago Crema called on the button, and Dylan Linde came along from the big blind to see the 9♣9♠8♠ flop.
Both Linde and Liu checked, letting Crema in for a 13,500 bet. Linde then jammed for 83,000, and both players folded.
Crema has 125,000 after that, while Liu has 149,000. –JS
8pm: Christou keeps on keepin' on
Level 15 – Blinds 2,500/5,000 (BB ante 5,000)
That's a double for Platinum Pass winner Georgios Christou. He had 8♥7♥ and turned the nut straight with the same card that gave his opponent two pair with T♣9♦. The chips all went in there and the straight held to boost Christou's stack to about 130,000. –JK
7:56pm: Benger the other side of the camera
Level 15 – Blinds 2,500/5,000 (BB ante 5,000)
Griffin Benger had less than 100,000 of the day today, but now sits with 655,000. This time last year, he was working on the PokerStars.tv live stream, but my guess is that he's happier where he is right now, especially with that stack.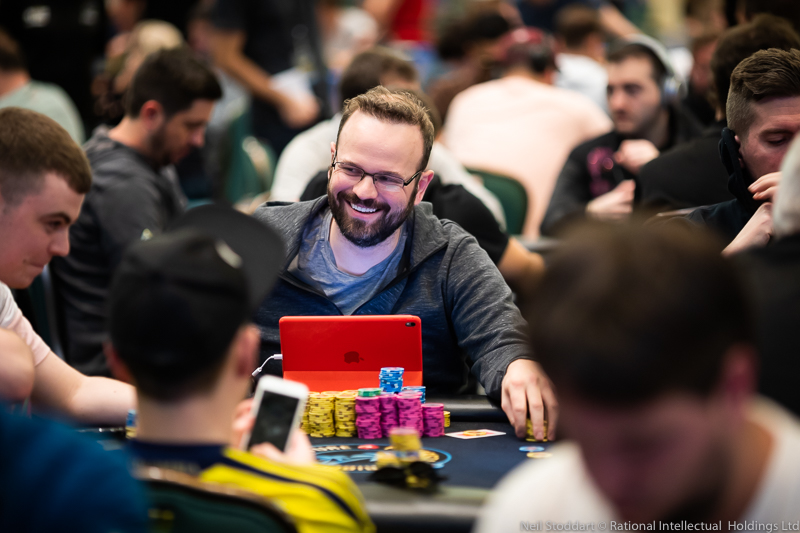 Griffin's bengin' out a solid day at the tables
Our Argentinian Platinum Pass holde Felipe Hernan Olivieri is also going great guns. He has 655,000. — HS
7:53pm: Could you have made this laydown? Thi Nguyen just did
Level 15 – Blinds 2,500/5,000 (BB ante 5,000)
News of an amazing fold filtered through to us via the TV team. It seems they might be right.
The details of what happened before the fold are vague, but don't take anything away from the fold by Thi Xua Nguyen.
Take a look at the board:
K♠9♠Q♦Q♥A♠
Nguyen was up against Athanasios Polychronopoulos. She had ace-queen, for queens over aces.
She folded.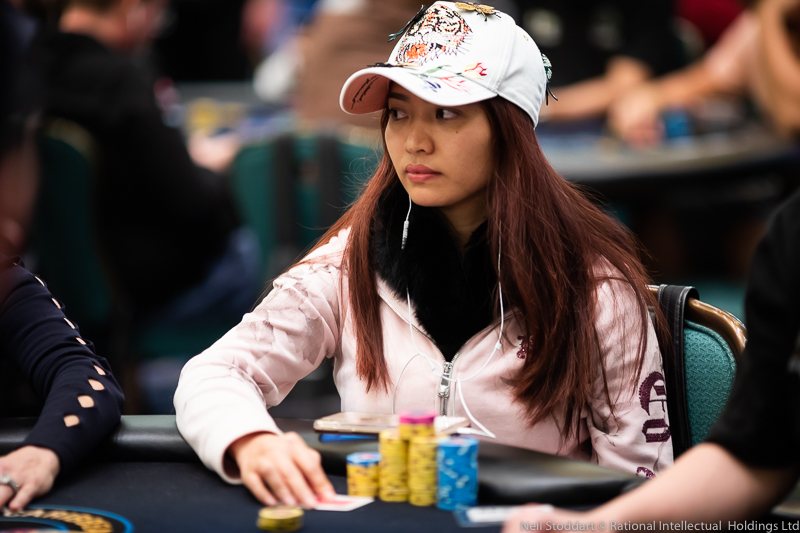 Thi Nguyen made the fold of the tournament
What did Polychronopoulos have? Aces, for aces over queens.
It was one of those laydowns that requires a re-examination of notes to make sure you haven't written something down wrong. We didn't. An amazing fold by Nguyen, who's still in the PSPC with 163,000. – SB
7:50pm: Charder jams on Seymour
Level 15 – Blinds 2,500/5,000 (BB ante 5,000)
There was already about 34,000 in the pot and a 3♣2♥8♥ flop on the board. Richard Seymour had bet 16,000 but then Christian Harder came in over the top and moved all-in for about 100,000.
Seymour started thinking and the TV cameras swarmed in. Seymour thought and thought some more, then he flashed a black eight and mucked his hand.
"Show," Seymour said, and Harder complied. He turned over 7♥3♥ for middle pair and a flush draw. Seymour seemed content with his fold and was left with 175,000 while Harder is up to 150,000 after the hand. –AV
7:43pm: Somerville sunk by De Zutter
Level 15 – Blinds 2,500/5,000 (BB ante 5,000)
Jason Somerville just busted his short stack to go out here in Level 15. He had come back from the break with less than 70,000, and after folding an orbit or so finally got into a spot where he had A♦8♦ and was all-in versus Platinum Pass winner Alexandre De Zutter who held A-7.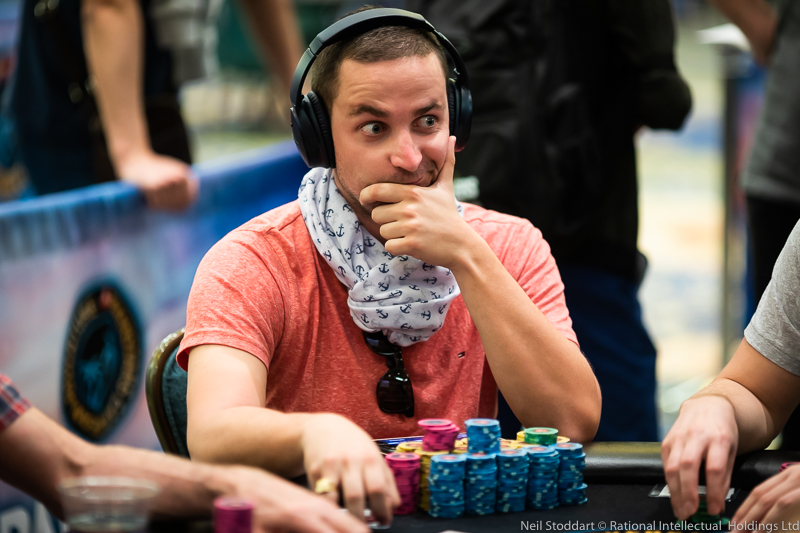 Platinum Pass winner Alexandre De Zutter is having a great day
It appeared they'd gotten it in on the flop, at which point things were looking especially sanguine for Somerville as the flop had come T♦9♦7♦ to give him the nut flush (and a straight flush draw to boot).
But the turn was a 10, then the river came… a 7! An unlikely backdoor full house for De Zutter, and Somerville is out.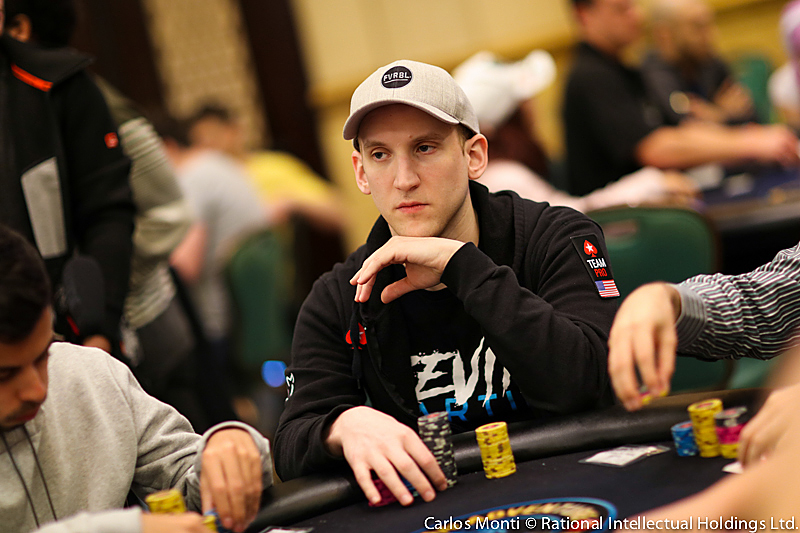 There's be no more running it up in the PSPC for Jason Somerville
De Zutter, who won his way into this event by winning the PokerStars Festival Lille Main Event, is now up to 520,000. –MH
7:42pm: Grrrr Gerrits
Level 15 – Blinds 2,500/5,000 (BB ante 5,000)
Another man down here in the Bahamas as Martijn Gerrits perishes at the hands of Portugal's Michel Dattani.
The hand began with a button open to 10,000 from William Berry, but then Gerrits three-bet pushed for 89,000. Dattani, with about 195,000 in his stack, went into the tank, but then put enough chips forward to call the shove.
It actually wasn't clear whether or not he had over-shoved — I think he may have moved in, but the dealer didn't put a triangle forward. It didn't matter either way because Berry passed.
Gerrits: Q♣K♠
Dattani: A♣T♥
The flop gave Gerrits hope when it came 2♦K♣7♣. The 8♣ turn was a blank. But the A♦ river ended Gerrits' tournament. — HS
7:41pm: Urbanovich can't defeat the guardian angel
Level 15 – Blinds 2,500/5,000 (BB ante 5,000)
Darren Millar, he of the guardian angel card capper, still has his wings. He just knocked out a short stacked Dzmitry Urbanovich and chipped up to 220,000. A less experienced player asked who Urbanovich was. When told the high roller's name, the man remarked, "I've heard of him. He'a good player?" –BW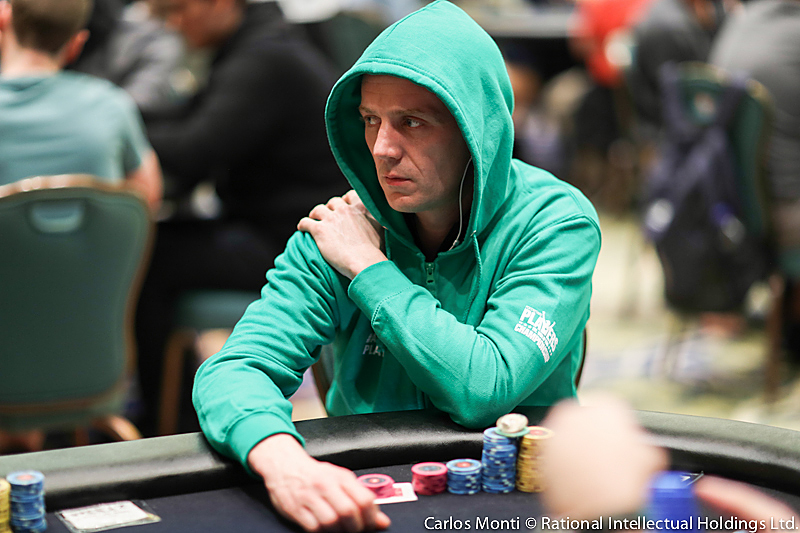 Darren Millar of Team Ireland
7:40pm: Straighty…flushy…
Level 15 – Blinds 2,500/5,000 (BB ante 5,000)
Could it be? Were our eyes deceiving us?
We arrived to see Canadian Platinum Pass winner Andrii Grynechko all-in for 52,500 with K♠Q♠ up against Dan Wilson's T♥9♥ on what proved to be the most action-inducing of all possible flops: 7♠T♠9♠.
Wilson had made top two, but would now need to fill up against Grynechko's made flush. Any ten or nine would do it.
But the J♠ on the turn sealed the deal, and gave Grynechko the double with a straight flush.
"You don't see those every day," said another player at the table. He's right, y'know.
Grynechko's on 125,000 now, while Wilson drops to 134,000. –JS
7:36pm: Ryan Olisair hits the half-million mark
Level 15 – Blinds 2,500/5,000 (BB ante 5,000)
The chips are flying, and we're introducing more people to our coverage. So, say hello to Napierville, Illinois's Ryan Olisair, who has chipped up today to the 500,000 mark.–BW
7:34pm: First Lady of Poker eliminated
Level 15 – Blinds 2,500/5,000 (BB ante 5,000)
Linda Johnson just got the last of her stack in the middle — about 110,000 — with A♦7♦ and was up against Yiannis Liperis's T♦T♣.
An ace did come on the flop, but so did a ten as the board read A♠T♥6♥, and by the 3♥ turn Johnson was already drawing dead to make the 7♣ river no matter. –MH
7:32pm: Oh no for Kojo
Level 15 – Blinds 2,500/5,000 (BB ante 5,000)
Another elimination, this time it's Kunimaro Kojo headed for the rail.
He moved in for about 88,000 with A♠K♥, and got a call from Joshua Reichard with Q♦Q♠ who had him covered.
The board came 9♦J♥3♦2♦5♣ to bust Kojo, and leave Reichard with 280,000. – SB
7:30pm: Cruel river sinks Capriles
Level 15 – Blinds 2,500/5,000 (BB ante 5,000)
Miguel Capriles stood with his arms outstretched, shaking his head with a grim grin. "You need to write that one," he said to me after sharing a handshake and hug with Athanasios Polychronopoulos.
It was a good-sport response to a bad-beat ending to his PSPC run.
Capriles had gotten all in with A♣K♦ and a short stack against the 5♦2♥ of Polychronopoulos, and when an ace appeared on the flop Capriles seemed in decent enough shape.
There was an ominous trey there, too, though, as the first three cards came A♦T♣3♥. The J♣ turn was inconsequential, but the 4♣ river was anything but as it gave Polychronopoulos a wheel and the hand. He has 420,000 now.
Good game, Capriles. –MH
7:25pm: The biggest Brazilian stack
Level 15 – Blinds 2,500/5,000 (BB ante 5,000)
This just in from our Brazilian colleague Sergio Prado: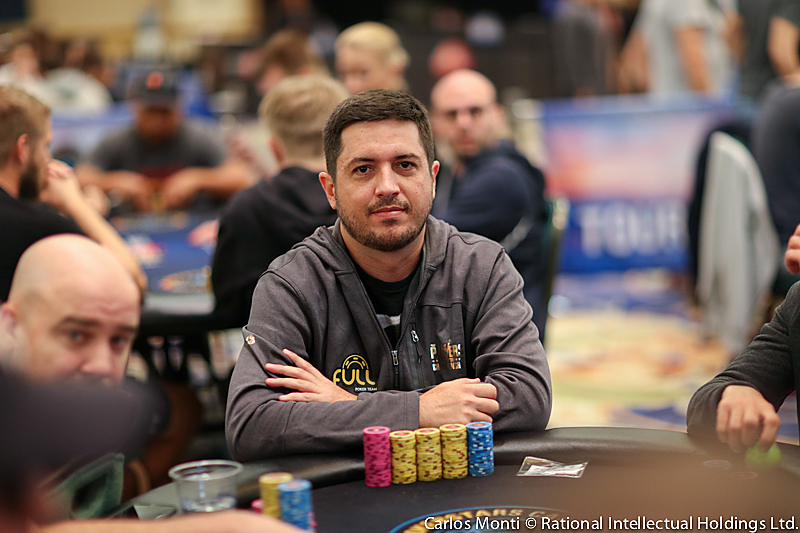 Brazil's biggest remaining stack belongs to Murilo Figueredo
Murilo Figueredo was the first Brazilian to win an LAPT, with his victory in Chile back in 2011. He also won a Platinum Pass last year in April, in an All-in Shootout on PokerStars. When he won, he was playing BSOP Brasilia, and just got aware of his prize a day later! At the moment he is the biggest stack among the Brazilians left in the field, with 470,000 chips. –JK
7:18pm: Like Tag Team, we're back again
Level 15 – Blinds 2,500/5,000 (BB ante 5,000)
We're back in action now. Two more levels and we'll call it a night. –JK
BREAK TIME
They're taking a 30-minute break.
6:50pm: Straight Wang
Level 14 – Blinds 2,000/4,000 (BB ante 4,000)
Haoxiang Wang was down to 50,000 but he now has 370,000 — and he is very happy to tell anyone who'll listen about it. In this particular instance, that person was me, and I heard a highly animated tale of Wang hitting three straights and extracting the maximum on all of them.
In the first, he had five-six suited in a three-way pot and flopped a straight draw in the big blind. The board was three-four-king and his opponent — "He plays very well," Wang said — had king-seven and couldn't get away when the turn was a deuce.
On the second of the crucial hands, Wang had 6♣7♠ in the big blind and the flop came Q♠8♠5♠. A few chips went in there, before Benjamin Pollak, Wang's only opponent, checked the ace on the turn over to our hero. Wang checked back. The off-suit four came on the river and Wang made a four-times-pot shove. Pollak paid him off.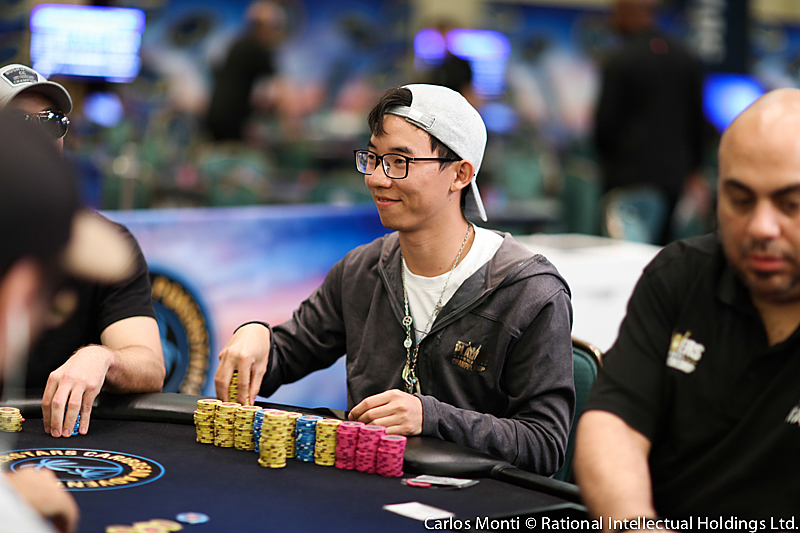 Haoxiang Wang, doin' his thang
On the last of the hands, Wang had K♦J♦ in the small blind and called one bet. The flop came T-2-5 with two diamonds and it went check, bet, call.
The turn was the Q♣, and it went check, bet, call. Then an off-suit nine completed the board. "I have nuts," Wang said, and this time it went check, bet, shove from our hero. Again he was paid.
All these details came from Wang himself, via some uncertain note-taking from yours truly, so forgive any slight inaccuracies. But the fact is our Platinum Pass holder from China has the bit between his teeth. Go Wang! — HS
6:51pm: Team Ireland going big with Sven McDermott
Level 14 – Blinds 2,000/4,000 (BB ante 4,000)
Several months back, Sven McDermott posted this to Twitter.
He was up for a Platinum Pass…and he won. Now, while he's managed to get it quietly, Team Ireland's Sven McDermott has managed to chip up to 500,000.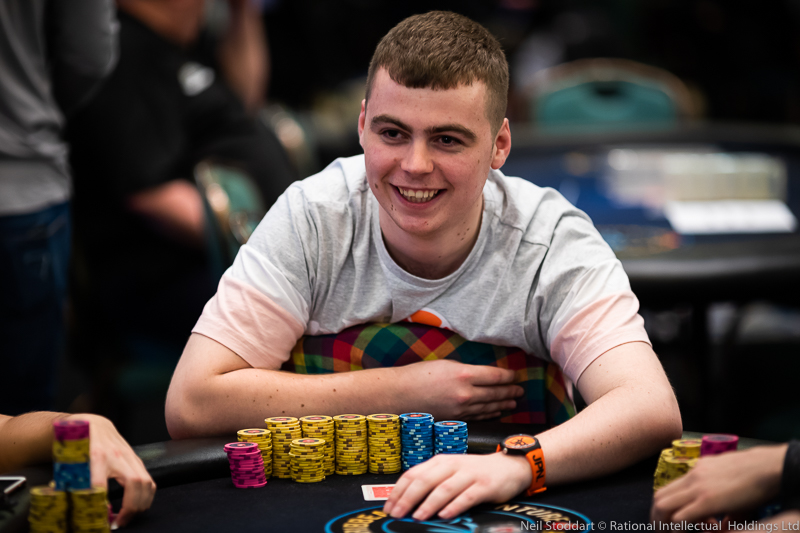 Sven McDermott: going big for Team Ireland
Team Ireland is barreling toward the money. That includes Darren Millar who started the day with half a starting stack and now is taking his guardian angel into the last two levels of the night.
–BW
6:48pm: Trofimov trounced
Level 14 – Blinds 2,000/4,000 (BB ante 4,000)
That's it for Dragos Trofimov. Joao Valli did the deed and gave us the deets.
Valli said he raised to 8,000 from the cutoff and Trofimov called from the big blind. The flop came J♠T♠8♠ and Trofimov check-called Valli's 11,000 bet and a K♥ came on the turn.
Both players checked and then the 7♠ completed the board. Valli checked, Trofimov jammed and Valli quickly called with the A♠. Trofimov was flushed out. –AV
6:46pm: Bicknell building
Level 14 – Blinds 2,000/4,000 (BB ante 4,000)
PokerStars Team Pro Leo Fernandez opened to 9,500 on the button, and Kristen Bicknell defended her big blind. Both of these two have deep pockets currently, so this pot had potential to be a big one.
The 4♦5♣T♦ flop didn't seem like it would bring too many fireworks though. Bicknell check-called an 8,000 c-bet, before both checked the J♠ turn.
The 6♠ completed the board, and Bicknell led out for what looked to be 27,000. We couldn't confirmed the exact amount as Fernandez folded instantly, showing 3♦5♦ for a flopped middle pair and flush draw that missed.
"Wow," said Bicknell, as she raked in the pot. She's up to 370,000 now, while Fernandez has 305,000. –JS
6:44pm: Heath hits to trouble Manole
Level 14 – Blinds 2,000/4,000 (BB ante 4,000)
Mihai Manole, the first Platinum Pass winner, just lost a significant chunk of his chips to Ben Heath. Heath doubled his 109,000 stack after his ace-queen spiked an ace to beat Manole's pocket kings. Manole is left with about 45,000 now. — HS
6:40pm: Quads keep Christou in contention
Level 14 – Blinds 2,000/4,000 (BB ante 4,000)
A stop at Georgios Christou's table reveals a significantly improved stack compared to what he's been working with all day. As it happens he made quads to get there. He jammed with 9-9, got a call from a player holding K-J, and caught one nine on the flop and the case nine on the turn. He's now on just over 100,000. — JK
6:38pm: No shaking Shakerchi
Level 14 – Blinds 2,000/4,000 (BB ante 4,000)
Talal Shakerchi continues to put on a clinic of big stack play. By that, we mean he's hardly ever been involved in any massive pots (at least not that we've seen recently) but has continued to chip up and up. He now has 710,000 and only Julien Martini, with 760,000, has more.
Mustapha Kanit has dropped a little, down to 595,000. Meanwhile Irish Platinum Pass winner Sven McDermott has 510,000 and is cruising. — HS
6:36pm: Keeping up with Kojo
Level 14 – Blinds 2,000/4,000 (BB ante 4,000)
Kunimaro Kojo found his way to the PSPC by finishing atop the Japan Poker Tour Leaderboard. Now he's deep in day 2 and hanging around.
He was down to 67,500 at one point and moved all-in after a button raise to 9,000. There was a fold though and Kojo took down that small pot.
Then he lost the next.
Nikita Lebedev raised to 9,000 from the button and Kojo called from the big blind. The flop came A♦9♥A♣ and Kojo bet 12,000. Lebedev called and then both players checked the 6♠ on the turn. The 8♣ landed on the river and Kojo slowed to a check. Lebedev came back with a bet of 40,000 and Kojo laid it down.
Kojo then jammed when he was on the button but got no callers. He did get some chips a bit later though.
Connor Drinan called from the hijack that hand and Kojo called from the cutoff. The blinds went along for the ride as well and a K♥3♦4♥ flop hit the board. Drinan bet 10,000 when checked to and only Kojo called. Both players then checked the 3♠ on the turn and the 8♣ completed the board.
Drinan threw out a single chip worth 5,000 and Kojo called. Drinan showed 8♦7♥ for a rivered pair of eights while Kojo showed K♣J♣ for a pair of kings. Kojo is still hanging in with about 100,000. — AV
6:35pm: Kaverman collects from Kramer
Level 14 – Blinds 2,000/4,000 (BB ante 4,000)
Byron Kaverman is one of those guys who you would have noted down as a sure-fire lock to play this event, Platinum Pass or no Platinum Pass. A staple of Super High Rollers, he's been quietly going about his business here today.
I say quietly, only because we haven't written about him yet. He might have made a royal flush and beat quads with it, but alas, we weren't around.
What we do know is that Kaverman just took down a pot against Kilian Kramer, who kicked it off by opening to 9,000 under the gun. Kaverman (hijack) was his only caller, and they went heads-up to the K♣7♣J♦ flop.
Kramer opted not to c-bet, instead checking it to Kaverman, who took the betting lead himself. He made it 12,000 to go, but Kramer didn't budge.
The 6♣ hit the turn and Kramer checked a second time. Kaverman took his time (as he's known to do) before continuing for 20,000. That was enough to get Kramer out.
Kaverman's up to 115,000 now, while Kramer's left with 98,000. –JS
6:33pm: Moneymaker, stack breaker
Level 14 – Blinds 2,000/4,000 (BB ante 4,000)
Ben Spragg and Cliff Ellefson are seated next to one another now and they just played a smallish pot together. I didn't catch the pre-flop action but Ellefson had position and folded when Spragg fired 22,000 into the pot of about 35,000 with the flop reading A♠T♣3♠.
---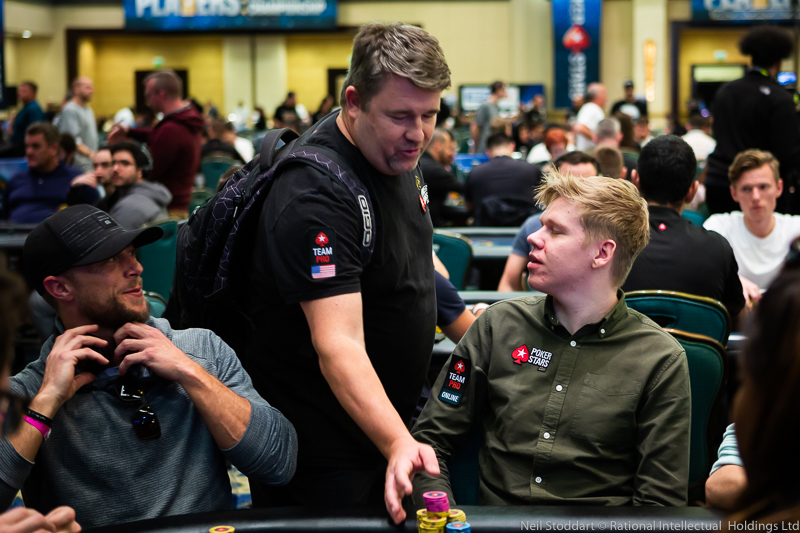 Chris Moneymaker talking to Ben Spragg
---
The fact that these were two Platinum Pass winners was enough reason for the TV crew to film the hand. Then Chris Moneymaker dropped in for a chat with the two of them — Spraggy a fellow Team Pro, and Ellefson the first Platinum Pass winner from the Moneymaker PSPC Tour — and more TV cameras and boom mics than you ever knew existed swarmed to the table.
Chris let them know that he was out. Then he asked Spraggy how much he had, and Spraggy replied, "More than you." So Chris reached across Spraggy and knocked his stack over into one big messy pile of 150,000 chips.
---
And Chris Moneymaker walking away after knocking over Ben Spragg's chips
---
"Is he allowed to do that?" an exasperated Spraggy asked of no one in particular. "Shouldn't he be penalized for that?"
"Don't worry," said Chris. "I'm removing myself from the tournament area." –JK
6:30pm: Denis 'aDrENalin710′ Strebkov eliminated
Level 14 – Blinds 2,000/4,000 (BB ante 4,000)
WCOOP superstar Denis 'aDrENalin710′ Strebkov has just left the building after losing KK vs AK all-in for a 200,000 pot. — BW
6:28pm: Nurzynski no more
Level 14 – Blinds 2,000/4,000 (BB ante 4,000)
Piotr Nurzynski, who won his Platinum Pass along with the EPT Barcelona title, is missing in action from this tournament. He is one of a rush of fallers, which also included Timothy Adams. Adams was spotted heading to the rail with the saunter of a man who isn't just dashing to the bathroom. — HS
6:26pm: Sivinov downs Dominguez
Level 14 – Blinds 2,000/4,000 (BB ante 4,000)
It has been a good day for Ivaylo Sivinov of Bulgaria. He started it with a big stack of 169,100, and right now he has around 420,000 after knocking out Jose Ruiz Dominguez of Mexico.
Dominguez had committed his last chips with 8♠8♣, and when Sivinov called and tabled A♦J♠, Dominguez was already up out of his seat in either a display of pessimism or an effort to work some sort of reverse jinx to ensure a safe runout.
There was no ace nor a jack among the community cards. But alas for Dominguez, the Q♠9♦Q♥9♣2♣ board put two pair on board and counterfeited his hand to send him railward. –MH
6:22pm: Wu drops some to Vogelsang
Level 14 – Blinds 2,000/4,000 (BB ante 4,000)
Lin Wu had about 300,000. And then Lin Wu had about 210,000 after he played a hand against Christoph Vogelsang as I was counting his chips.
They had about 25,000 in the pot and it was Vogelsang on the button versus Wu in the big blind.
The flop was out: 2♠6♦5♦. Wu checked it to Vogelsang, who be 14,000. Wu called.
Both players checked the 5♠ turn, and that led to the A♠ river. Wu checked again and Vogelsang bet 31,000. Wu then check-raised to 85,000 and Vogelsang let a brief flash of bewilderment flash across his face.
But Vogelsang called pretty quickly and forced Wu to show his K♥4♥. Vogelsang was surely never actually going to fold his 9♠4♠ — the baby flush — but congratulations to Wu for making him think about it.
Wu, remember, was the player who came back from the death at APPT Macau to beat Aditya Agarwal heads-up. At one point in that one, Wu was all-in and drawing only to a chop. But he hit that chopped pot (Agarwal was the first to notice that he hadn't won the tournament; even the announcer gave it to the Indian Team Pro) and then rose up and won.
Wu still has plenty in this one too, while Vogelsang boosts his stack to 330,000. — HS
6:18pm: Almost gametime and Evan Mathis is busy
Level 14 – Blinds 2,000/4,000 (BB ante 4,000)
Evan Mathis played for the University of Alabama played 47 consecutive games for the Crimson Tide. A lineman, he helped block for the the SEC's 2004 top rushing team. He went on to play for several NFL teams, including the Super Bowl winning Denver Broncos.
Now, his alma mater is about to play Clemson University for the NCAA national championship. And Mathis is going to be too busy to pay close attention. He's got 350,000 in chips with three hours left to play.
Roll Tide?–BW
6:15pm: Somerville update
Level 14 – Blinds 2,000/4,000 (BB ante 4,000)
Jason Somerville has been nursing a short stack for a while, and currently sits riffling the majority of his stack of just about 100,000 even.
That's below average, but still 25 big blinds at present, plenty with which to run it up, as some might say. –MH
6:12pm: Chen chopped
Level 14 – Blinds 2,000/4,000 (BB ante 4,000)
James Chen is out. The Platinum Pass holder from Taiwan–who also happens to be one of Asia's top players these days–got the last of it in (about 120,000) with ace-ten off-suit but ran into the J♠J♦ of David Latuaro to his left. A board of 5♠4♠8♥K♠9♦ later and Chen is out. — HS
6:10pm: Christou hanging on
Level 14 – Blinds 2,000/4,000 (BB ante 4,000)
It's been a rough day for Platinum Pass winner Georgios Christou. He entered Day 2 with 47,700 and when I dropped by his table a moment ago he was at 46,000 after jamming under the gun and getting through.
"I had K-T suited," he told me. "I needed to find something to make a move just to pick up the blinds to stay alive."
That's basically been his game plan all day and it's worked out enough for him to survive, if not to thrive. One time he got a call from an opponent who had A-T to his A-K, but the two men chopped the pot when the board gave them both two pair. Not the best of results, obviously, but he's still at the table and that's enough for now. –JK
6:06pm: This one won't be a Moneymaker
Level 14 – Blinds 2,000/4,000 (BB ante 4,000)
We're short on details but we can report that Team Pro Chris Moneymaker is out of the PSPC. So too is Jake Cody who joins him on the rail. — SB
6:04pm: Big one for Baumstein
Level 14 – Blinds 2,000/4,000 (BB ante 4,000)
It's a little difficult to get close enough to the secondary table to be as thorough and complete with my reporting as I'd like to, but I nonetheless feel compelled to let Scott Baumstein fans know of some good news that happened over there just now.
All in on the river with the board showing 8♥J♠6♦K♥5♦, Baumstein was able to elicit a call from an opponent holding pocket aces, and since Baumstein had J♦8♠ for two pair that meant he won the hand.
That pot enabled the New Yorker to double his stack up to around 200,000. –MH
6:02pm: End of the line for Kulcsar
Level 14 – Blinds 2,000/4,000 (BB ante 4,000)
If you've been tuning into the live stream this afternoon, you'll have seen Hungary's Gergely Kulcsar get involved in some pots. Kulcsar won his Platinum Pass by taking down the SCOOP Main Event (medium edition), so he clearly knows what he's doing.
Unfortunately, he'll now need something else to do for the rest of the night.
Picking up the action on a 9♥J♥A♠2♣5♥ board, Tomas Jozonis led for 14,000 before Kulcsar jammed for 60,500. Jozonis' eyebrows shot up in disbelief at this shove, which seemed to be the last thing he was expecting.
He took a while before making the call, and Kulcsar revealed A♣5♣ for two pair. Jozonis had Q♥2♥ for a flush though, and apologised (presumably in case Kulcsar felt he'd been slow-rolled).
With his girlfriend ready to meet him on the rail though, we're sure Kulcsar will be fine. They're in the Bahamas, after all.
Jozonis has 146,000 now. –JS
6pm: Diotte dumped, Wang flying
Level 14 – Blinds 2,000/4,000 (BB ante 4,000)
Anthony Diotte moved all-in two hands in a row, and the second time he was picked off and sent to the rail by Adrian Echave Samu.
Diotte only had about 50,000 even after his first shove, which went uncalled and earned him blinds and antes. But on the second time, his K♠J♥ couldn't beat Samu's 8♦8♠. Samu turned a third eight, which meant Diotte leapt from his chair and headed away.
Diotte had been playing into Haoxiang Wang all day today, and though Wang lost a massive pot during the last level to be left on fumes, he is now back to 225,000. He may or may not have taken some of those from Diotte.
All we know is that Wang is flying again now. — HS
5:57pm: A tale of three Platinum Pass seats
Level 13 – Blinds 1,500/3,000 (BB ante 3,000)
Even with our field shrinking dramatically today, this is still a big room to find one's way around. So if you're checking up on Spraggy in one corner of the room, you're necessarily missing Andrew Neeme and Mirko Raid in the other corner.
Why am I telling you all of this? It's to let you know that while I know that Spraggy is up to 147,000 after a c-bet on a ragged flop, all I know about Messrs. Neeme and Raid is that both of their seats are now unoccupied. –JK
5:55pm: Shaken and stirred
Level 14 – Blinds 2,000/4,000 (BB ante 4,000)
Julien Martini has emerged at the top of the overall chip counts. He has 730,000. — HS
---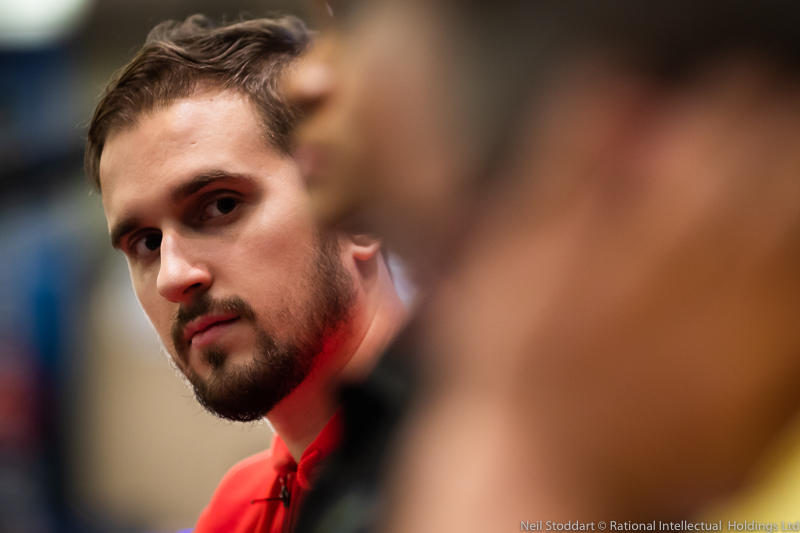 New chip leader: Julien Martini
---
5:53pm: Burkhart still building
Level 12 – Blinds 1,500/3,000 (BB ante 3,000)
Jacqueline Burkhart is now up to 305,000. The latest chunk of chips came after she eliminated Andrew Neeme.
Neeme was down to about 40,000 and moved it all-in. Action folded to Burkhart's small blind and she rejammed. The big blind got out of the way and players tabled their hands.
Neeme turned over A♠T♠ and Burkhart showed J♣J♦. The board ran 9♠7♣3♥Q♥5♦ and that was it for Neeme. Burkhart on the other hand kept gaining and has now surpassed 300,000. –AV
5:52pm: Robles ends his run
Level 13 – Blinds 1,500/3,000 (BB ante 3,000)
The field has lost another Platinum Pass winner, as Gonzalo Robles of Argentina went out in the last hand of unlucky (for him) Level 13.
After Damien Le Goff of France opened from the button to 8,000, Robles pushed for 73,000 from the small blind and when action returned to Le Goff he called in a flash.
Robles had A♦Q♥ but Le Goff had A♣K♦, and five cards later — 4♣2♥T♥8♠2♦ — Robles rolled on. Le Goff is on 235,000 now. –MH
5:50pm: PP No.86 vs PP No.1
Level 12 – Blinds 1,500/3,000 (BB ante 3,000)
Nikolay Ponomarev opened for 6,000 on the button. He's a Platinum Pass winner (No. 86) and would go up against the original Platinum Pass winner in this hand, Mihai Manole (No. 1), seated next to him.
He called in the small blind, as did the big blind.
The flop came 7♥J♦Q♣
It was checked around to Ponomarev who bet another 6,500. Only Manole called, for the turn card 9♠.
Both checked for the 7♦ river card. Then Manole bet 16,000, which Ponomarev called.
Manole: A♠T♥
Ponomarev: A♦Q♥
Ponomarev raked in the chips, up to 125,000. Manole drops to 85,000. – SB
5:46pm: Buffer down for the count
Level 13 – Blinds 1,500/3,000 (BB ante 3,000)
Bruce Buffer got everything going here yesterday with his memorable call to "shuffle up and deal," but alas for the UFC announcer his PSPC run has ended prematurely this afternoon. –MH
---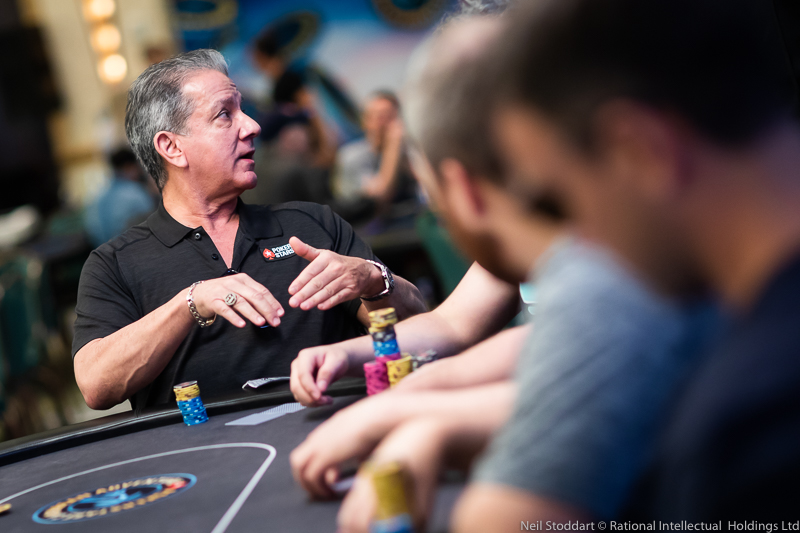 Bruce Buffer: Looking to the future, looking to the door
---
5:45pm: Deadman's dead but Sitepu's written in the stars
Level 12 – Blinds 1,500/3,000 (BB ante 3,000)
After Joep Raemaekers opened to 7,000 in the cutoff, Simon Deadman shoved from the small blind for 89,000. It folded back to Raemaekers who asked for a count, then called quickly.
Deadman showed Q♠T♠, and he would need some help against Raemaekers' A♥J♥. The board fell 5♣2♥A♣K♠K♦, and Deadman couldn't improve.
Raemaekers is up to 279,000 now.
Also on that table is Chris Moneymaker (currently playing 64,000) and Platinum Pass winner Sandhy Sitepu, who is peaking right now with 145,000.
At the Platinum Pass party the night before Day 1, Moneymaker said that this event could replicate his impact back in 2003 when he won the World Series of Poker Main Event.
Now, I'm not just saying this because he's one of the "Platinum Pass guys" I've been assigned to cover in this event, but Sitepu is the perfect guy to do it.
Moneymaker had the ideal name. People go to Vegas to make money, after all.
Then you've got Sandhy Sitepu.
People come to the Bahamas for the weather. And…y'know, the beaches. And the beaches are sandy.
It's written in the stars. –JS
5:42pm: Power of positive thinking still working for Travis Nesbitt
Level 13 – Blinds 1,500/3,000 (BB ante 3,000)
Canada's most positive-thinking poker player, Travis Nesbitt, just used his powers for (his) good. He just doubled his stack all-in pre-flop with A♥J♥. He and Moneymaker Tour winner Cliff Ellefson are sitting right next to each other. Ellefson, a West Coast grinder, has about an average stack with 175,000.
---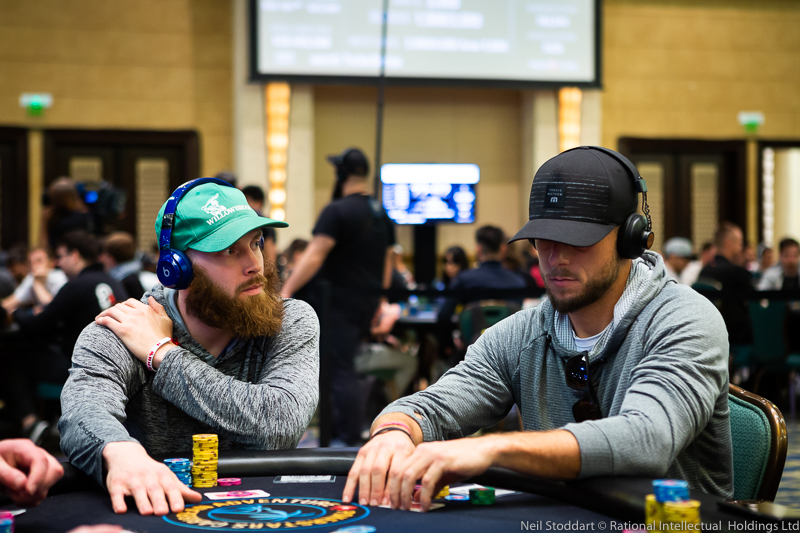 Travis Nesbitt (left) with Clifford Ellefson
---
Both won Platinum Passes this year. If Ellefson manages a top 70 finish, he will earn more here than his total live lifetime earnings ($46,552 per Hendon Mob).–BW
5:40pm: Alin survives all-in
Level 13 – Blinds 1,500/3,000 (BB ante 3,000)
The battle continues for the tenacious Alin Grasu. Just now he was vying for a pot against Pavel Veksler, one that saw Grasu ultimately putting all his chips at risk (potentially) before coming out on top.
After defending his big blind versus a Veksler open, Grasu checked the 8♠K♥2♣ flop, then when Veksler bet 6,500, Grasu check-raised to 16,000. Veksler called rather quickly, and called again after Grasu bet 22,000 following the 4♣ turn, though with slightly less haste.
The river was the J♠, and that's when Grasu pushed all in with his last 45,500. Veksler took a minute to think, but finally let his hand go, and Grasu grabbed the pot.
Grasu has about 115,000 now, Veksler 210,000. –MH
5:35pm: ALLinPav is all out
Level 13 – Blinds 1,500/3,000 (BB ante 3,000)
With Hristivoje Pavlovic and Felix Schneiders both in trouble, the decision to focus on their table was an easy one. A good one, too — I got all-in hands from both of them. Schneiders survived, but unfortunately Pavlovic couldn't duplicate that success.
Schneiders was the first to put his tournament on the line. He moved all-in for 28,500 in the big blind over the top of an early-position raise from Xixiang Luo, who called with K♥J♣. Schneiders turned over A♣Q♠ and both he and Pavlovic pulled out their phones to capture video of the moment. Neither player improved, giving Schneiders to win for 65,000.
The very next hand, Russell Crane opened for 7,000 in the hijack seat and Pavlovic jammed for 38,000 on the button. Crane thought for a moment and then called with 9♠9♥, which was racing with Pavlovic's A♦K♠. The phones came out to record once again, and Pavlovic got a sweat on the 7♦2♦5♦ flop. Alas, the J♠ turn and 8♥ river gave him no help and his tournament came to an end.
---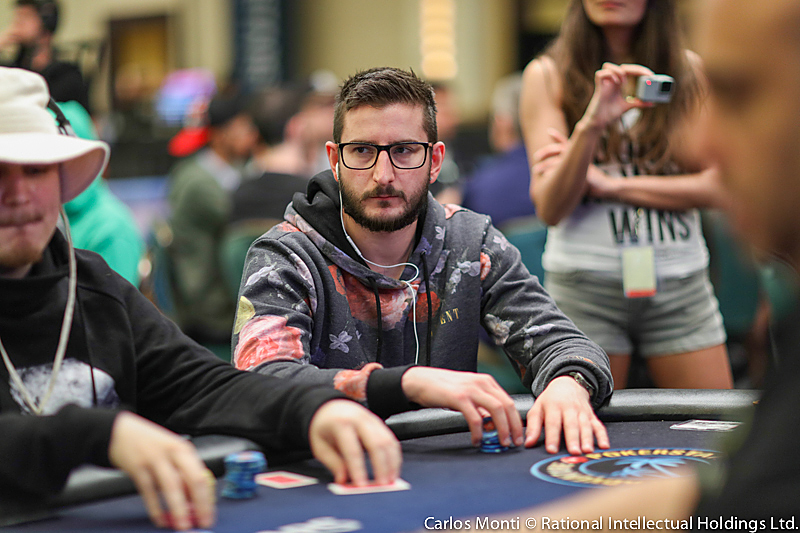 Hristivoje Pavlovic: No more for the PSPC
---
I asked him afterward how this experience compared to streaming. "Usually I don't like playing live because it's so slow," the man known on Twitch as "ALLinPav" told me. "But I really enjoyed this tournament. Still, I can't wait to get back home and stream online again." –JK
5:30pm: Shakerchi and Kanit battling for chip lead
Level 13 – Blinds 1,500/3,000 (BB ante 3,000)
Well-known high roller Tala Shakerchi (who led the field coming into Day 2) and Mustafa Kanit are lading the field now and trading the chip lead back and forth and hand to hand. Both are sitting in the 580,000 ballpark with the average stack at 173,000. –BW
5:25pm: Bicknell adds to stack, also a snack
Level 13 – Blinds 1,500/3,000 (BB ante 3,000)
Blair Hinkle opened for 8,000 from the button, and Dan O'Brien chose to call from the small blind. Action on Kristen Bicknell, she indicated first to O'Brien and then to Hinkle she wanted a look at each player's stack, then she three-bet to 31,000.
---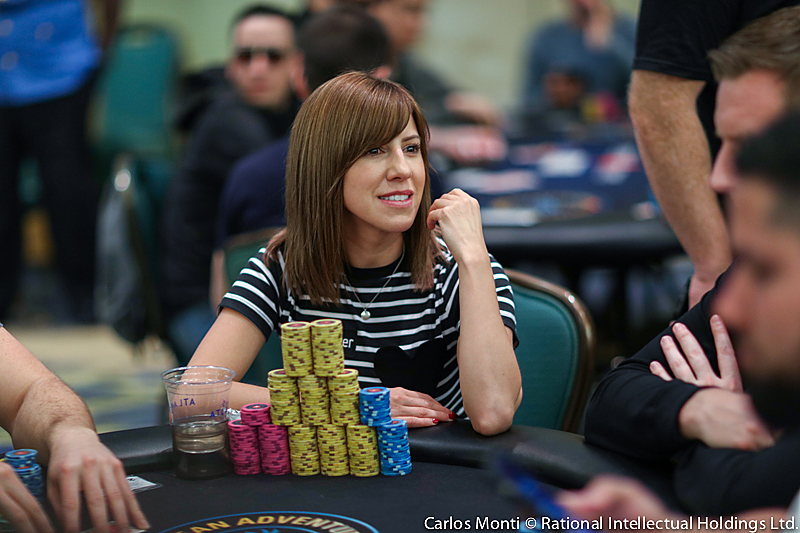 Kristen Bicknell: Hoovering up chips
---
Hinkle thought a while, then four-bet to 31,000, and O'Brien quickly folded. Bicknell took about a half-minute or more, then announced she was reraising all in and Hinkle instantly folded.
Just after he did, Andrii Grynechko leaned forward and tossed Bicknell what looked like a nutrition bar as a gift — a topic of conversation pre-hand it apepared — and she thanked him.
Bicknell is up a bunch more chips today and a snack, having built her stack up to 455,000 now. O'Brien and Hinkle are both looking healthy, too — O'Brien has 260,000 and Hinkle 255,000. –MH
5:20pm: Singing through the tank
Level 12 – Blinds 1,500/3,000 (BB ante 3,000)
"You didn't even ask how much I had," Upeshka Desilva told Jacqueline Burkhart. "You just moved all-in. Pretty strong."
If he was hoping to get a read or an answer, he got none. All that was going through Burkhart's mind was the "Happy Birthday" song.
There were no cards on the board, but there was a bunch of chips in the pot.
Joao Victor Valli started the hand off with a raise and Burkhart called. Dragos Trofimov called from the button and Desilva three-bet it up to 30,000. The rest of the table got out of the way and Burkhart moved all-in for about 220,000.
She didn't move for a few minutes after that while Desilva thought. Burkhart did sing "Happy Birthday" to calm her nerves though.
"I must've sang that song about 11 times," Burkhart said. She says she starts singing whatever song pops into her head and this time, it was "Happy Birthday."
Desilva eventually folded and turned over J♣J♥.
"Show one," Desilva said. "For the fans."
But Burkhart didn't show and silently chipped up to about 265,000. –AV
5:17pm: It's go time for ALLinPav and xflixx
Level 13 – Blinds 1,500/3,000 (BB ante 3,000)
We have two Twitch streamers in trouble right now — one a Platinum Pass winner and the other a Team Pro — and their nemesis is another Platinum Pass winner. Hristivoje "ALLinPav" Pavlovic and Felix "xflixx" Schneiders are on Table 2 sitting in the 6 and 7 seats, respectively, and directly to their left in the 8 is Vlad Tatu.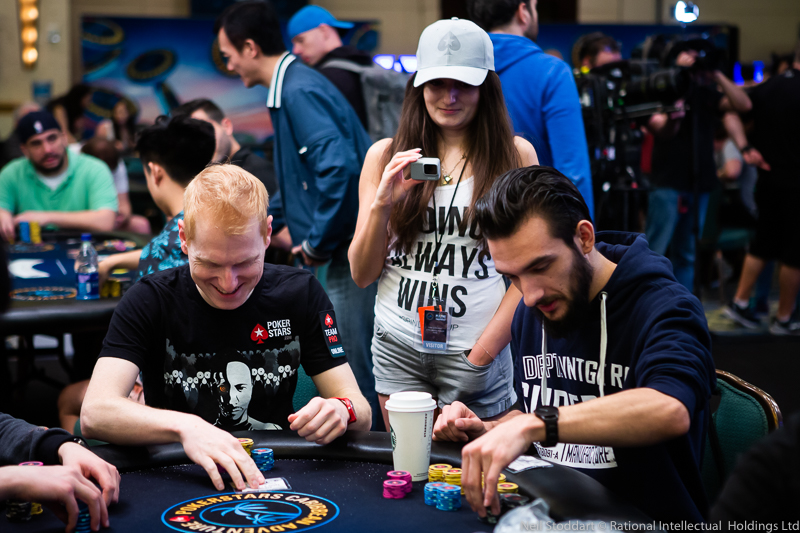 Felix Schneiders, left, and his nemesis Vlad Tatu
Schneiders told me on the break that Tatu has been calling essentially every raise they make — and he's been showing a range of bluffs so wide that there's no way to put him on a hand. That table dynamic has both of our streamers in trouble with about 38,000 chips apiece.
Speaking of streamers, Ben Spragg is hanging on with 75,000 over on the other side of the room. "Just grinding," he told me when I dropped by his table a few moments ago. Same old, same old. –JK
5:15pm: Adams doubles through Rettenmaier
Level 12 – Blinds 1,500/3,000 (BB ante 3,000)
Timothy Adams will be sticking around a while longer, having just doubled his short stack over on Jaime Staples' table.
Action had folded to Marvin Rettenmaier on the button, and he looked at the stacks of both the blinds. Adams was in the big, but neither he nor the small blind had much to work with. Rettenmaier slid out a bet of 50,000, enough to set both of them all-in.
Only Adams made the call, as he had found a pair: 3♠3♥. Rettenmaier had two overs with his J♣8♦, but couldn't hit on the T♣7♠7♣7♥K♦ runout.
Adams is up to around 80,000 now. –JS
5:10pm: Streamer updates
Level 13 – Blinds 1,500/3,000 (BB ante 3,000)
We know we have a lot of folks wanting to know how the streamers in the crowd are doing. Here are some rough counts from the stream.
Benjamin Spragg (Spraggy) ~75k
Felix Schneiders (xFlixx) ~38k
Hristivoje Pavlovic (AllinPav) ~38k
Jaime Staples (Pokerstaples) ~210k
Jason Somerville ~140k
Mikhail Shalamov (Innerpsy) ~165k
Patrick Tardif (Iregption) ~110k
Parker Talbot (Tonkaaaap) ~90k
5:05pm: Crema cuts down Kuether
Level 13 – Blinds 1,500/3,000 (BB ante 3,000)
Thiago Crema of Brazil has been accumulating all day, and just now picked up some more after being a bit fortunate in an all-in situation involving the American Joe Kuether.
After Crema opened for 7,000, Kuether pushed for about 45,000, and after a short tank Crema called with 7♣7♠.
---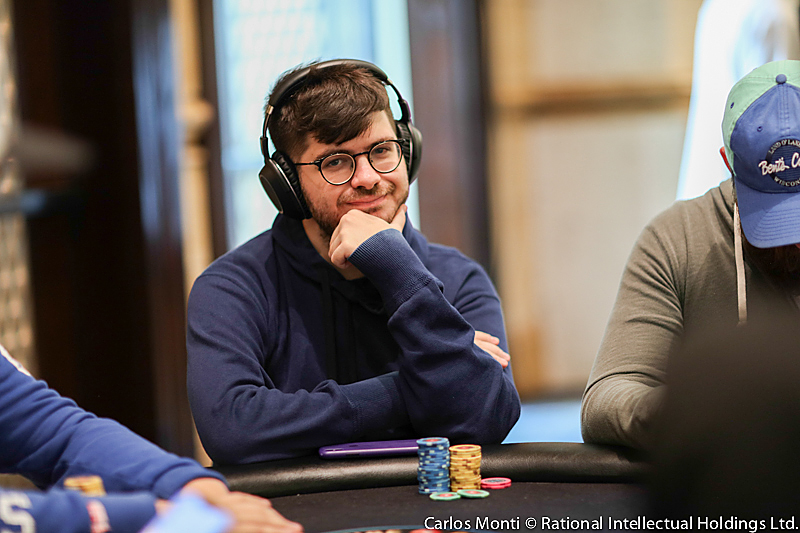 Thiago Crema: Like the cat who got the cream
---
That was behind Kuether's 9♠9♦, but the Q♠T♣7♦ flop gave Crema a set. The J♠ turn gave Kuether some straight outs, but the river was the 4♥ and Kuether is out.
Crema was up to 350,000 after that hand, but immediately lost a pot to Jake Cody to slip back to 310,000. –MH
5pm: Somerville sends Sklenicka to the rail
Level 12 – Blinds 1,500/3,000 (BB ante 3,000)
A good start to the level for Jason Somerville. Not so much Michael Sklenicka.
Somerville just sent Sklenicka to the rail. Somerville's queens survived the ace high board against Sklenicka's pocket jacks.
---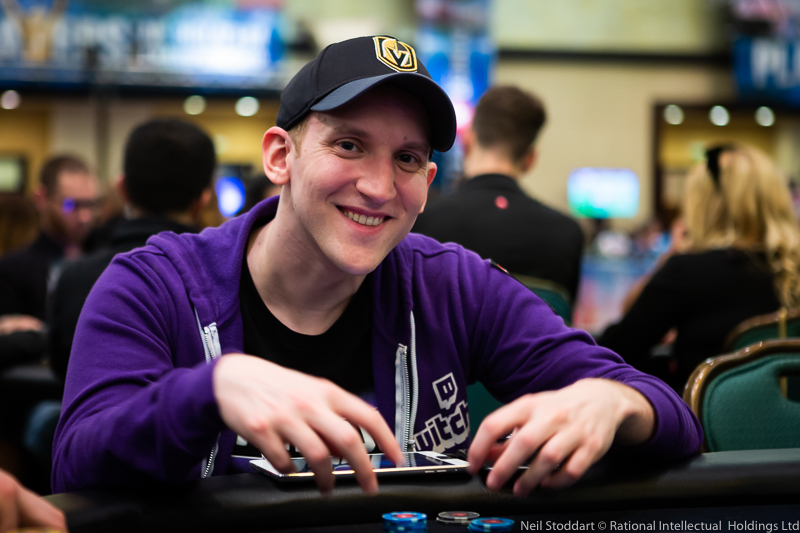 Jason Somerville: Pictured yesterday, but the sentiment remains the same
---
He's out. Somerville up to 120,000. – SB
4:55pm: Agarwal falls
Level 13 – Blinds 1,500/3,000 (BB ante 3,000)f
He was playing the first $25,000 buy-in tournament of his career, and was going very nicely on Day 1. But Team Pro India's leading light Aditya Agarwal is one of the first fallers of Level 13. Unlucky for some…HS
---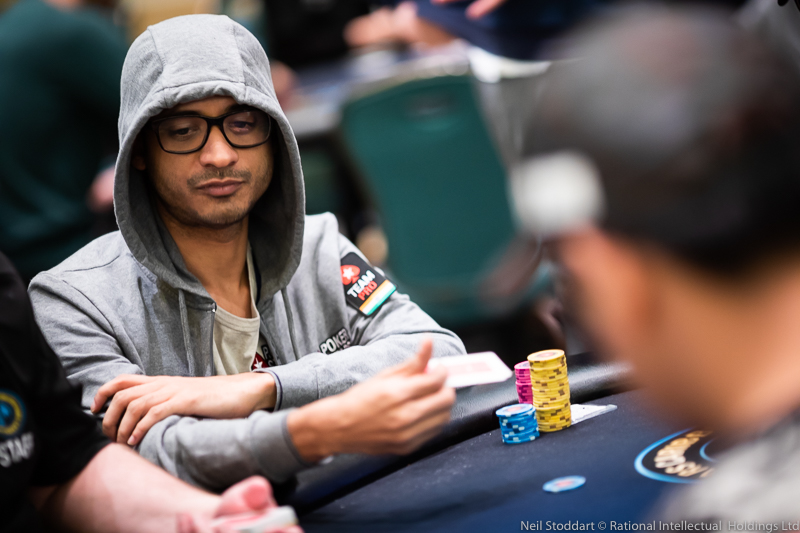 Aditya Agarwal: Out
---
4:25pm: Break it up
The 400-ish players still battling are all taking a pause to refresh. Back in 20. –MH
4:24pm: Check and… mate?
Level 12 – Blinds 1,000/2,000 (BB ante 2,000)
Warren Sheaves, winner of Jennifer Shahade's competition to create a game that fuses poker and chess, is putting all of his brain power to work today. He's worked his stack up close to 300,000, a big part of which came from a very favorable flop.
He told us the story after the fact, so we don't have all the names, but with a raise and two calls in front of him, he flatted from the button with 6♠7♠. The flop came two sevens (because it's always coming seven, or so we hear). The original raiser led out, the next guy moved in… and madness ensued. Sheaves got it in, and "then I exposed my hand too soon," he said. Word on the street is that move ended up getting a fold that cost him about 17,500. Nevertheless, Sheaves is cruising as we finish the fourth level of the day. –BW
Sheaves has heaps
---
4:23pm: Tazelaar takes out Jetten
Level 12 – Blinds 1,000/2,500 (BB ante 2,500)
Peter Jetten was down to 28,500 and moved all-in from middle position. He got one call and then Justin Tazelaar reshoved for about 140,000.
The rest of the table got out of the way and the two players tabled their cards. Jetten showed K♥Q♦ while Tazelaar tabled K♠K♣. The flop came 3♠T♣3♥8♠4♣ and that was it for Jetten. Tazelaar on the other hand chipped up to 200,000. –AV
4:20pm: Who's out?
Level 12 – Blinds 1,000/2,500 (BB ante 2,500)
I hate to be the one to tell you this, but Rob Hollink, Carlos Hey, Andrew Pantling, Brian Rast, Gaelle Baumann, Jeremy Ausmus, Chris Moorman, Eisuke Kobayashi, Daniel Dvoress, Dimitar Danchev, Terrence Chan, Josh Arieh, Oleksii Khoroshenin, Anthony Spinella, Jason Mercier, Pablo Melogno, Michael Gagliano, D.J. Alexander, Louis Salter, Dario Sammartino, Chris Hunichen, Romain Lewis, Erik Lemarquand, Ankush Mandavia, Joey Ingram, and Alex Foxen are all eliminated.
There's more, but I didn't want to overwhelm you.
The big board shows 408 players remaining with a little bit of time left in Level 12. –MH
4:18pm: Kossonogi's good day continues
Level 12 – Blinds 1,000/2,500 (BB ante 2,500)
Ori Kossonogi continues to put on a convincing display.
He just opened a pot from the button, making it 6,000. Martin Jacobson called from the small blind, as did Erik Von Buxhoeveden in the big blind. They saw a flop come 9♦T♦6♠, then all three checked to see the 6♥ turn.
Now Jacobson bet 12,000. That brought a fold form Buxhoeveden but Kossonogi called for the river card 8♦.
Another bet from Jacobson, 7,000 this time. Kossonogi thought for a moment, one ear bud in, the other dangling, then raised to 31,000.
Jacobson, with around 80,000 left, folded. Kossonogi continues to climb. He's up to 285,000. – SB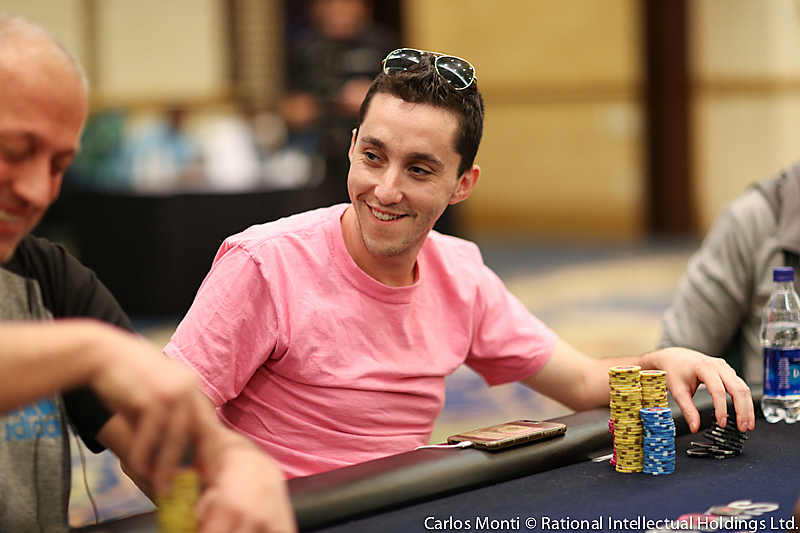 Ori Kossonogi keeps on keeping on
---
4:12pm: Platinum Pass update
Level 12 – Blinds 1,000/2,500 (BB ante 2,500)
Two of our Platinum Pass winners just tangled in a pot. And when I tell you that one of them was Stephen Chidwick, you'd probably guess he won it.
But no. Romania's Vlad Tatu–who won his pass in an online satellite–got the best of Chidwick this time. There was a T♦3♦7♥ flop out there when we arrived, and Tatu check-called a 5,000 bet. Both then checked the T♣ turn.
The 4♦ river landed and Tatu then led for 15,000. Chidwick called quickly, but mucked when Tatu showed T♥7♦ for a flopped two pair that filled up on the turn. Tatu was obviously happy with that result, and even the usually impassive Chidwick cracked a smile.
Chidwick's now on 97,000, while Tatu is cruising with 310,000.
Speaking of 300K+ stacks, another Platinum Pass winner is right up there with Tatu. He goes by the name of Marc Rivera and currently sits with 360,000.
Rivera has been playing poker for 12 years, and when he saw his friends and fellow Phillipines-natives Lester Edoc and Mike Takayama win Platinum Passes he knew he had to try and get one of his own. He did just that when he won the APPT Manila National Main Event.
Takayama's still in too. Here's an update of some Platinum Pass winners still in. –JS
Mike Takayama – 55,000
Martin Pember – 185,000
Chen An Lin – 60,000
Philip Elliot – 66,000
Sandhy Sitepu – 53,000
Natalie Teh – 50,000
4:06pm: Kosk heads out
Level 12 – Blinds 1,000/2,500 (BB ante 2,500)
Ermo Kosk has gone. The Estonian Platinum Pass holder was seen wandering from the tournament room slightly forlornly, but if there's one thing we've learnt about Kosk, it's that he'll be back. He's qualified online for 20 tournaments already, and there's no way this will be his last. He's now free to re-join his wife and children for some Atlantis-based fun. — HS
4pm: Welter cracks and whacks Matthews
Level 12 – Blinds 1,000/2,500 (BB ante 2,500)
Two Platinum Pass winners got two big pairs and fireworks ensued. One thrived, the other was left with just three chips and went out the following the hand.
There was an early raise to 5,000 and then Brandon Welter three-bet to 17,000. Jordan Matthews then moved all-in for about 75,000 and action folded back around to Welter.
Welter called and turned over Q♥Q♦ while Matthews turned over A♦A♠. The 4♥J♠5♣ didn't change anything, but then a Q♣ landed on the river to make Welter the huge favorite. Matthews was hoping for an ace on the river, but the K♥ came instead.
Matthews thought he was done, but a side-by-side count revealed he had 1,500 left. Those went in the following hand and Matthews couldn't survive. Welter on the other hand chipped up to 150,000. –AV
3:55pm: Meng doubles through Manole
Level 12 – Blinds 1,000/2,500 (BB ante 2,500)
After Platinum Pass winner Nikolay Ponomarev took chips form his with a pair of queens, it was time for Ignatius Meng to move all in.
He did so with 29,000 and it was Mihai Manole who called.
Manole: [adK♠
Meng: 7♣Q♥
At first sight it looked like Manole (who still wears his lucky Merry Christmas reindeer sweater) was good. But the board came all clubs, running 5♣2♣6♣K♣A♣.
A vital double up for Meng. Manole slips a bit to 155,000. – SB
3:52pm: Lin flying
Level 12 – Blinds 1,000/2,500 (BB ante 2,500)
If you ask me (nobody did, but whatever), our friends and colleagues at Bet Stars made a bit of a blunder when they were pricing up PokerStars ambassadors for this PSPC tournament. I don't mind so much about their prices, but they should never have relegated Celina Lin toward the bottom of the list. Lin has exceptional and proven live tournament skills, with nine outright wins. She is the only person to have won two Red Dragon titles.
Right now, Lin is again proving what we've known for quite a while: she's a top player. She has 260,000 chips right now, having just knocked out Australia's Nauvneel Shivm Kashyap.
Lin's hand played itself. You could do what she did if you were dealt A♠A♣ and watched a player, Kashyap, move all-in for 52,000 before you. (Kashyap's A♦8♣ was never beating Lin's hand, especially after a board of K♦T♥7♣4♣5♣.)
But you probably couldn't do all the other things Lin does at the poker table, which is why she remains one of Team Pro's most respected ambassadors–and a strong bet for yet another cash here this week. — HS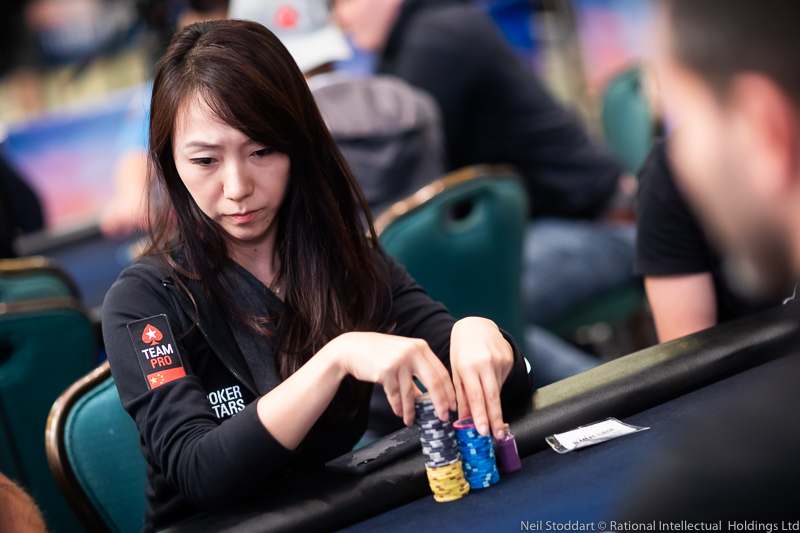 Celina Lin: In chip-gathering mode
---
3:48pm: Moneymaker dream still alive for Ellefson
Level 12 – Blinds 1,000/2,500 (BB ante 2,500)
Cliff Ellefson was the very first Moneymaker Tour winner to win a $86 Platinum Pass event. He did it at Stones in California. Today, as we get to the serious part of play, Ellefson is still alive with a little more than 100,000. That is slightly below average but still a very comfortable number of big blinds. –BW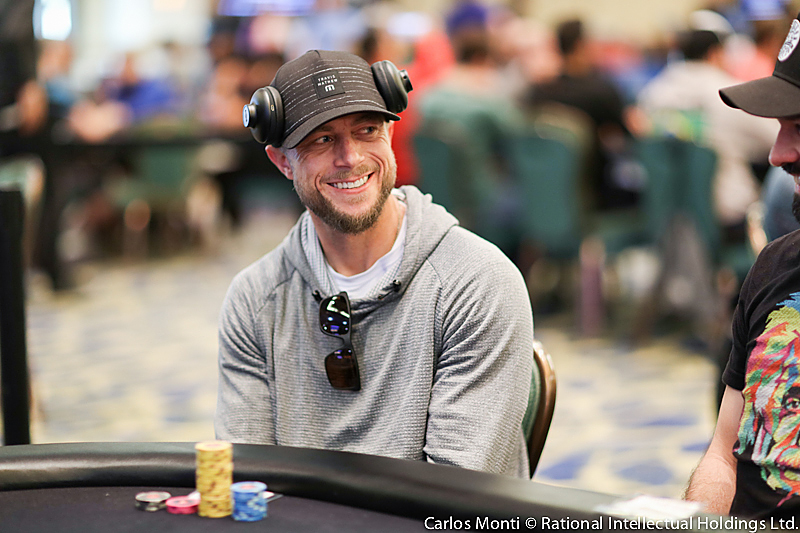 Cliff Ellefson: The dream is alive
---
3:36pm: We're going to need a bigger table
Level 12 – Blinds 1,000/2,500 (BB ante 2,500)
Checking in on Platinum Pass holder Vlad Tatu yesterday, it was obvious he was going to get himself noticed in this tournament. It wasn't because of his table manner — he is calm and quiet and obeys all the rules — it's because he likes to stack his chips in very small towers. In fact, "tower" overstates it. Rather he assembles them no more than four or five high.
At time of writing, approaching the mid-point of Day 2, those small piles are spreading fast. Tatu has around 295,000 chips, which is about three times the average. He just knocked out Hong Kong's Wei Tang to add another few. Tatu is going to need a bigger table. — HS
3:34pm: Spraggy slips a bit
Level 11 – Blinds 1,000/2,000 (BB ante 1,600)
There's not much room for error with the blinds on the rise. That explains the moves on both ends of the hand I just watched. Ben Spragg opened for 5,000 in the cutoff and was left with a decision when Maxwell Young raised to 16,500 on the button with roughly another 20,000 behind. Spraggy gave it some thought for a good 30 seconds — a call and loss would have knocked him down to around 25 big blinds — and in the end he reluctantly let his hand go. –JK
That Spragg swag
---
3:32pm: Nevanlinna where you'd expect him
Level 11 – Blinds 1,000/2,000 (BB ante 2,000)
Jussi Nevanlinna must count as one of the most accomplished Platinum Pass winners. He got his ticket here thanks to topping the WCOOP leaderboard last year. His username "Calvin7v" synonymous with the biggest online vents of the year.
So it's not all that surprising to find him doing well on Day 2, up to 145,000 after a hand against Chance Kornuth.
On a board of 6♥Q♠5♣Q♣A♣ Kornuth had checked to Nevanlinna, who bet 16,000. Kornuth took his time before calling, but he mucked when he saw Nevanlinna show A♥J♣. – SB
3:30pm: Hellmuth hits the rail
Level 11 – Blinds 1,000/2,000 (BB ante 2,000)
Phil Hellmuth arrived late yesterday, played a couple of levels, then bagged just under half the starting stack. He came a little late today before joining the fun at the feature table, and by Level 11 his PokerStars Players Championship run came to a swift end.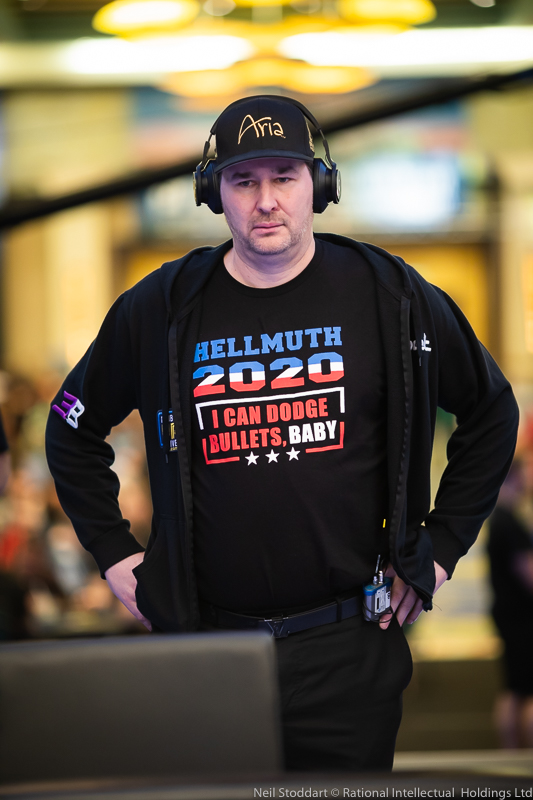 Phil Hellmuth's campaign continues, but his tournament ends
---
Hellmuth's saw him three-betting from the big blind with T♥T♣, watching original raiser Dzmitry Urbanovich fold and then small blind caller John Andress shove. Hellmuth called with the remaining chips he had back, putting just over 50,000 in the middle total, then saw Andress table A♦Q♥.
The flop came 2♥7♠Q♠ to hit Andress's hand, and after the 8♣ turn and K♦ river, Hellmuth hit the rail. Watch it unfold below. –MH
---
3:30pm: Plenty for Pember
Level 11 – Blinds 1,000/2,000 (BB ante 2,000)
"I won a hand!" Martin Pember joked with us at the beginning of the day, when his open got no action and he scooped the blinds and antes. Self-depreciating this Platinum Pass winner may be, but if he gets that excited about a raise-and-take-it, then he'll be ecstatic about this latest scoop.
We picked up the action on a 4♥8♥A♣ flop. There was already around 30,000 in the middle, suggesting a three-bet pot between Pember in the small blind and Eduardo Pires in the big.
Pember led out for 15,000 and Pires made the call, bringing the 3♣ turn. Pember then slowed down, but check-called 21,000.
The river was the Q♦ and Pember checked a final time. Pires loaded the gun and fired again for 25,000, and Pember didn't take long to make the call.
Pires revealed A♦K♥ for top pair top kicker. Unfortunately for him though, Pember had rivered two pair with A♠Q♠ and raked in the healthy pot. Chalk this one up as a blind vs blind cooler.
He's up to 190,000 now, while Pires dips to just 35,000. –JS
3:28pm: Guardian angel still at work
Level 11 – Blinds 1,000/2,000 (BB ante 2,000)
Darren Millar is sitting on the featured table today. In front of him, you will find a small angel figurine. It's his guardian angel, and it's special. Though he started his day short stacked, he's survived through the first three hours.
Nine years ago, Darren was playing in a local Irish tournament when he realized something was in his pocket: a small round transparent stone with a guardian angel inside, a gift to him from his wife's mother before she passed away. Darren went on to win that night so he brought the stone with him each of the next seven nights. Unbelievably, he won every single night.
"That's something that's near impossible, no matter how good you think you are," he said.
He needed luck to win his Platinum Pass in another Irish event this year. He got it, credited his guardian angel, and made it the first thing he packed for the Bahamas. –BW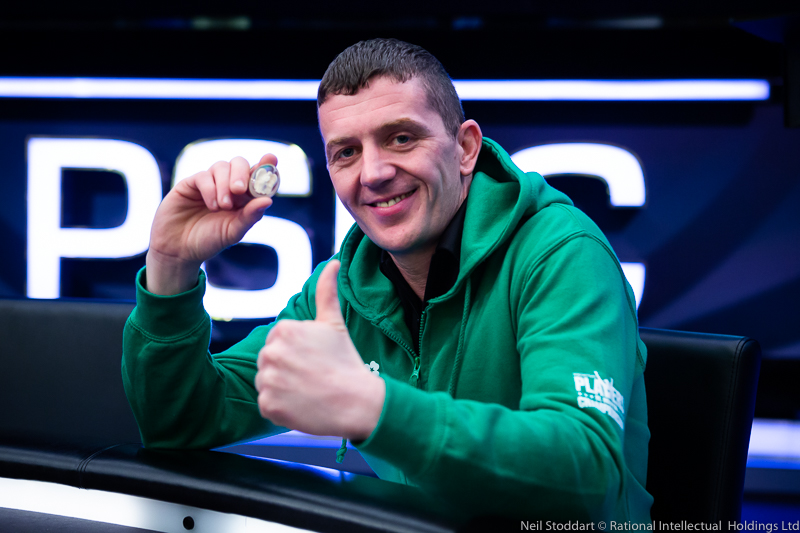 Darren Millar, with his guardian angel
---
3:25pm: The world plays poker
Level 11 – Blinds 1,000/2,000 (BB ante 2,000)
Who wants pie? Raise your hands.
It took a lot of counting, but if I'm not mistaken players from more than 60 different countries have come to the Bahamas play the PokerStars Players Championship. The United States sent the most, but the rest of the world is well represented (see below). –MH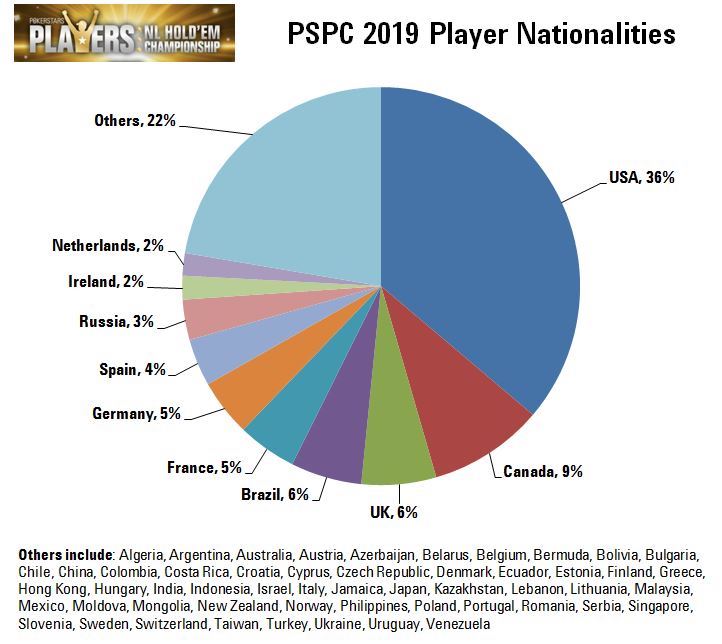 ---
3:22pm: Foxen outfoxed, RIP Syp
Level 11 – Blinds 1,000/2,000 (BB ante 1,600)
Alex Foxen's tournament has reached its end. He lost a big pot to be left with about 15,000 chips early on in this level. I watched as he folded for a full orbit, and by the time I returned to his table his seat had been filled by Christoph Vogelsang.
Also out is Mikolaj Syp. "Same as before," he told me the last time I checked on him, back in the middle of this level when he was still on 45,000 chips. "Nothing to write home about." There's plenty to write home about now after exceeding his own expectations. RIP Mikolaj. –JK
3:18pm: Burkhart back in it
Level 11 – Blinds 1,000/2,000 (BB ante 2,000)
Jacqueline Burkhart was down to below starting stack at the beginning of the level, but now she's back in the game with about 185,000.
Burkhart started chipping up and the scored a double up when she got ace queen on the button. The big blind had jack nine and the board brought all low cards. Burkhart's ace high took down the pot and now she's well above average. –AV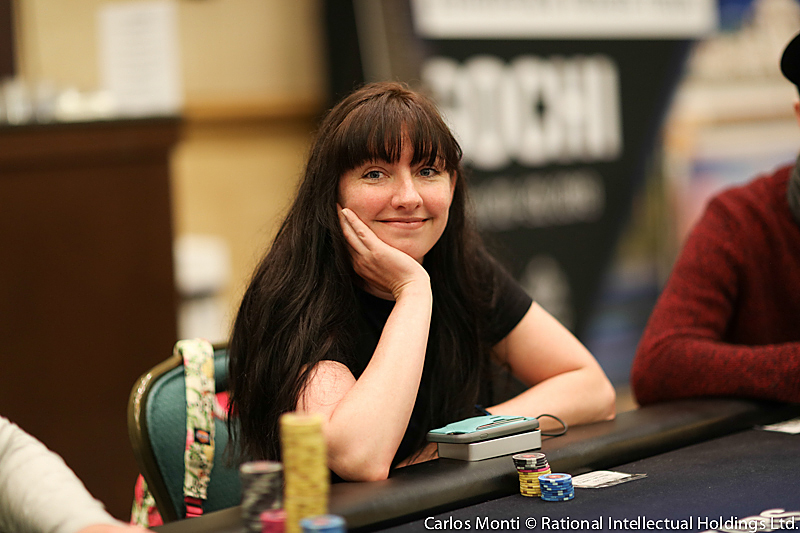 Burkhart: Back in the hunt
---
3:16pm: Jacks fail Tyson Apostol
Level 11 – Blinds 1,000/2,000 (BB ante 2,000)
Tyson Apostol is out. Details are vague except to say that his pocket jacks were undone by pocket tens. – SB
3:15pm: Nathan Manuel's long run comes to an end… sort of
Level 11 – Blinds 1,000/2,000 (BB ante 2,000)
He learned Japanese. He traveled the world. He did everything he could to win a Platinum Pass, finally doing so in October at Run It Up Reno. Now, that run has come to an end. His queens couldn't beat nines. But, don't count him out yet. He's already planning on winning a side event. –BW
3:14pm: Jacobson doubles through Cody
Level 11 – Blinds 1,000/2,000 (BB ante 1,600)
PokerStars Ambassador Jake Cody is running on fumes after running his T♥T♦ into 2014 WSOP Main Event winner Martin Jacobson's A♥A♦. Jacobson opened all-in on the button for his last 49,500 and Erik Von Buxhoeveden called in the small blind; Von Buxhoeveden then folded what he claimed to be J-J after Cody jammed in the big blind for another 30,000. The ace on the turn sealed the 150,000-chip win for Jacobson. –JK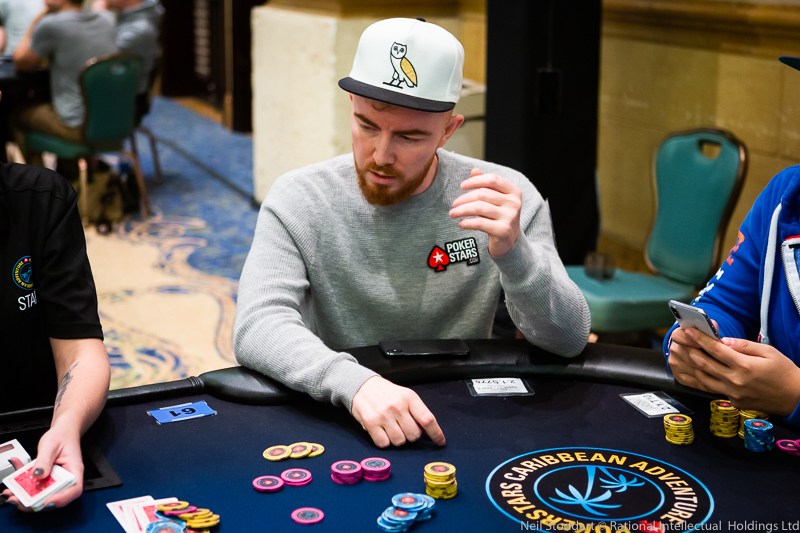 Jake Cody: At risk
---
3:12pm: Wang four bets. Folds.
Level 11 – Blinds 1,000/2,000 (BB ante 2,000)
The Haoxiang Wang roller-coaster is at a low ebb, with the fearless Chinese player currently sitting behind 95,000 chips. He was just involved in a pot that showed the potential to get ugly pre-flop, but eventually fizzled.
The hand began with an open to 4,500 from Sharad Rao and then a three-bet to 13,500 from Taylor Black. Wang, in the big blind, four-bet to 32,500.
Rao then took a moment before pushing all-in for around 110,000. Black quickly passed, but Wang asked for a count. Just as the dealer was getting towards a total, after plenty of cutting into towers and measuring, Wang tossed his cards away.
"One of us was winning the hand," Black said to Rao, suggesting perhaps that Wang was four-betting light. Black then turned to Wang and said: "What about if I move all-in?"
Wang indicated that four-bet folding was his intention for any stacks of more than 80,000, and so the plan was executed to perfection. — HS
3:10pm: Aleksander Rudnicki out of "everyone's biggest tournament"
Level 11 – Blinds 1,000/2,000 (BB ante 2,000)
Aleksander Rudnicki's short stack saga is at an end.
The Pole has been all in several times today. Most of those times went unanswered, but this time he was doing the calling.
He opened for 4,500 before Natasha Barbour moved all-in, covering Rudnicki. The clock was called before Rudnicki called. He turned over A♥Q♥. Barbour showed 8♦8♣.
Earlier on Barbour had been talking with John Esposito about home, kids, family (she managed to explain how her husband was playing also, without mentioning Jason Mercier's name). The subject turned to whether this was the biggest event either of them had played.
Esposito thought back and said he'd played a 50K. Barbour then said of this event: "I feel like it's everyone's biggest tournament." Which seemed poignant.
It certainly applied to Rudnicki.
The board came 6♦9♥3♣T♠6♣.
Rudnicki's PSPC was over. He nodded his best wishes, gathered his things, and left the tournament room. Barbour now up to 100,000. – SB
3:08pm: Martinsson doubles up
Level 11 – Blinds 1,000/2,000 (BB ante 1,600)
Platinum Pass winner Jim Martinsson of Sweden didn't look too happy on the last break. "I'm in a bad mood," he told me. "So many bad cards." Worse yet, live poker is so much slower than online poker that it took him 10 times as long to sit through his bad run of cards and chip down to just over 20,000.
"Think good thoughts," I told him. "Think about your grandchildren."
"Yes!" he said.
Must've worked. Things are looking up for Martinsson now, though. 2011 November Niner Badih Bouhnara opened for 5,000 in the lojack seat with A♣J♦ and eventually called after Martinsson jammed for his last 19,000 in the big blind. Martinsson's A♥Q♣ was the last thing Bouhnara wanted to see, and after the A♦7♣5♠T♠K♥ runout Martinsson took the 45,000-chip pot.
"Yes!" he said again. –JK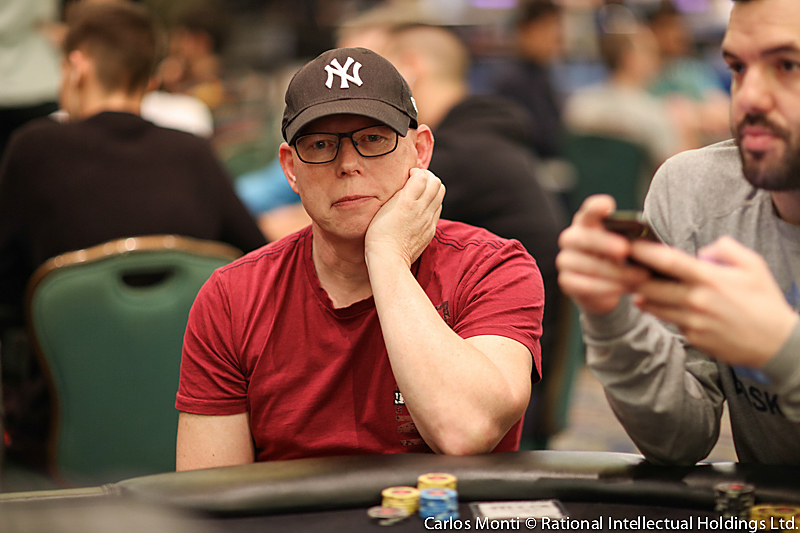 Jim Martinsson: Yes, and yes
---
3:06pm: Lin getting it done
Level 11 – Blinds 1,000/2,000 (BB ante 2,000)
There are so many Platinum Pass winners still out in the field, one or two were bound to slip through the cracks. So far today, Chen An Lin's been one of them.
His chip stack hasn't slipped though. He'd almost doubled his 57,000 start-of-day stack before this pot played out, steadily accumulating chips without much noise.
Lin — who won his Platinum Pass by taking down the Macau Millions Main Event — called a 4,500 raise from Sharad Rao out of the small blind, bringing a T♠T♦8♥ flop. Lin check-called a 3,500 c-bet, and then both checked the 9♠ turn.
When the Q♥ river landed Lin checked quickly, and we then waited around 90 seconds for Rao to announce a bet of 26,000. Lin insta-mucked, and is now playing 97,000. –JS
3:05pm: Too pretty not to bet
Level 11 – Blinds 1,000/2,000 (BB ante 2,000)
Sometimes flops are bland and dry, other times they're downright horrible. But sometimes they're too pretty not to bet.
Patrick Tardif started the hand off with a raise to 4,500 and the Platinum Pass winning Moldovan chemistry student, Dragos Trofimov, called from the big blind. The flop came down 9♣Q♠8♠ and Tardif bet 8,000.
"Why don't you min-bet?" Trofimov asked.
He looked down at his cards one more time and threw them in the muck.
"You see that board?" Tardif said. "What else am I supposed to do with it?"
Trofimov suggested a min-bet and a hope for a raise. The flop was too pretty for Tardif not to bet, though. –AV
3pm: Ori Kossonogi back up to 180,000
Level 11 – Blinds 1,000/2,000 (BB ante 2,000)
It was one of the quirks of the table draw yesterday that meant we didn't catch up with Ori Kossonogi yesterday (he moved before we could find him).
But the Israeli, who lives in San Diego, and who won a Moneymaker Tour event to earn his trip here, finished well yesterday. He bagged up more than 200,000 at the close.
Things got a little tougher for him in the first level of the day, but he's since recovered.
He's in good shape. Back up to 180,000. — SB
2:55pm: Biles busts
Level 11 – Blinds 1,000/2,000 (BB ante 2,000)
Oliver Biles has seen his PSPC run come to an abrupt end here in Level 11 after a couple of hard-luck hands.
The first one came with Biles to 4,500 from early position out of an 80K stack and getting two callers. By the river just one of his opponents remained with a board showing 9-9-7-9-7, putting a full house on the board. With 42,500 in the middle, Biles's opponent made a hefty bet of 45,000 and Biles called with his J-J, but his opponent had made quads with 7-7 and Biles was down to 10 big blinds.
Biles got those chips in the middle shortly thereafter with A-10, but had some hard luck again as he ran into pocket aces and he's out. –MH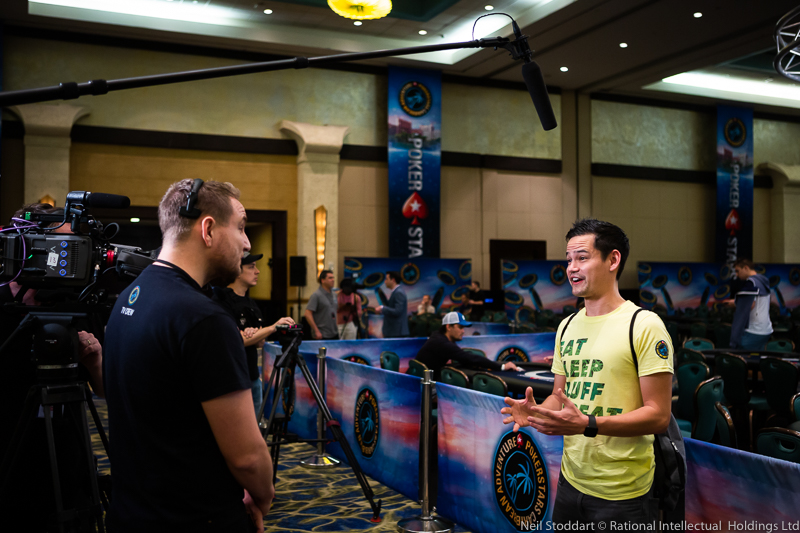 Oliver Biles (from yesterday)
---
2:50pm: Randy Lew gets the Lucy treatment again
Level 11 – Blinds 1,000/2,000 (BB ante 2,000)
Randy Lew tried all year to win a Platinum Pass, got close a few times, but ultimately had the ball snatched from in front of him in a Lucy vs Charlie Brown tale. So, it was cool when he won a random draw to get a Platinum Pass just before the event started. It's not so cool that he is now, alas, out, short of the money…short of the football. –BW
2:48pm: Mathis over Greenwood
Level 11 – Blinds 1,000/2,000 (BB ante 2,000)
You most often see Timothy Adams and Sam Greenwood sitting next to each other at the very start of a Super High Roller tournament. They play them all, but not only do they always show up, they specifically show up right at the start. Greenwood in particular is outspoken about the need to make sure the tournaments get going, and he'll happily put his money where his mouth is. He's often first to sit down, with Adams not far behind.
Today, however, they've found themselves as neighbours among a field that is still close to 600 strong. At least they'll know one another's games.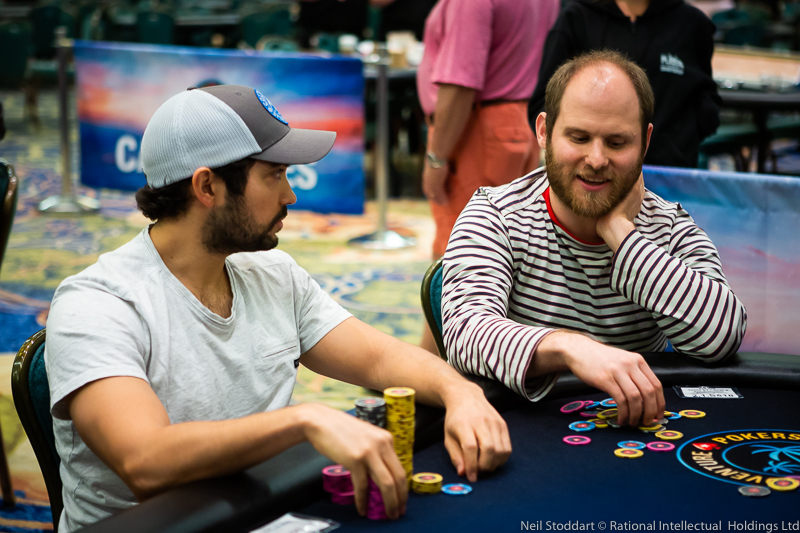 Adams and Greenwood: "Hello, neighbor!"
---
They maybe don't know so much about Evan Mathis's game, who sits two seats to Greenwood's left. Mathis's game is usually football: he's the former offensive guard for the Carolina Panthers, Miami Dolphins, Cincinnati Bengals, Philadelphia Eagles and Denver Broncos, and who is probably still better known for his stint on the offensive line at the University of Alabama.
His alma mater play tonight in the National Championship, against long-time rivals Clemson. Although we're assured the TVs in the tournament room will be tuned to the game, one suspects Mathis will struggle to focus on his poker with such a huge confrontation taking place.
In the meantime, he's doing just fine – and just won a pot from Greenwood. In it, Mathis opened to 4,500 under the gun and picked up Greenwood's call in the small blind, and then David Korn too, in the big. They then saw the flop of 8♥T♦2♠ and action checked to Mathis. He continued for 8,000 and only Greenwood called.
The turn was the 2♣ and that went check, check. Then the J♠ river hit the table and Greenwood led out for 8,000. Mathis called quickly. Greenwood showed 9♣9♠ but this one was heading to Mathis, who showed A♠T♥.
Mathis has 78,000 now, while Greenwood is left with 46,500. — HS
2:45pm: Shakerchi still supreme
Level 11 – Blinds 1,000/2,000 (BB ante 2,000)
The player who started at the top of the chip counts was Talal Shakerchi, by quite some margin. He still has heaps, and we'd bet on him still being chip leader.
The latest additions to his stack came from Patrik Antonius. We picked up the action on a K♣2♦3♥T♦ board, on which Antonius led for 8,000. Shakerchi called quickly, leading to a river: J♦.
With three diamonds now on board, Antonius took his time before firing again, this time for 19,000. Shakerchi again acted quickly, sliding out around 230,000. This was almost three times as much as Antonius had in total.
He sighed. He folded.
Shakerchi is now playing 500,000, while Antonius slips to 62,000. –JS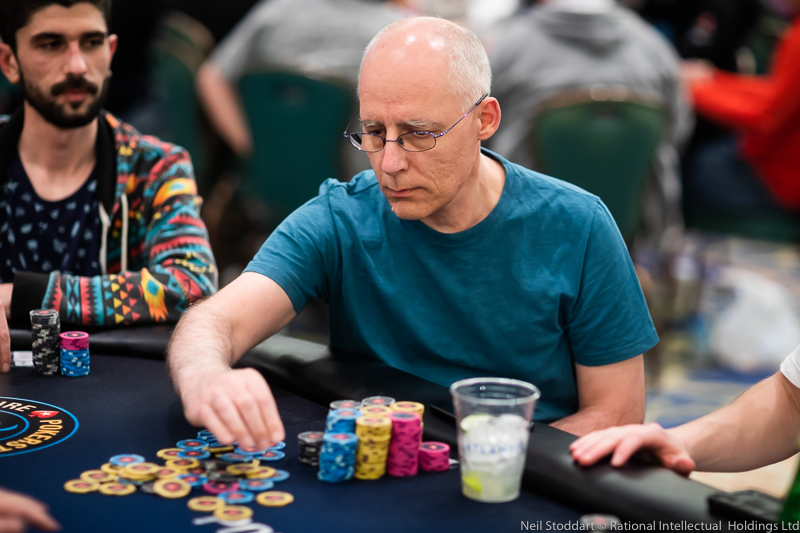 Shakerchi: Accumulating
---
2:35pm: Patience serves Linda Johnson to start the day
Level 11 – Blinds 1,000/2,000 (BB ante 2,000)
We checked in with Linda Johnson at the break. The Poker Hall of Famer up a little from where she began Day 2, having chipped up to about 70,000 at the break.
"Patience, today," she said, summing up the theme of her first two hours at the tables.
The First Lady of Poker has done just about everything a player can do in poker, including winning a WSOP bracelet, besides her many other accomplishments and contributions to the game. She hasn't, in fact, played at the PCA before, but she does have history with it.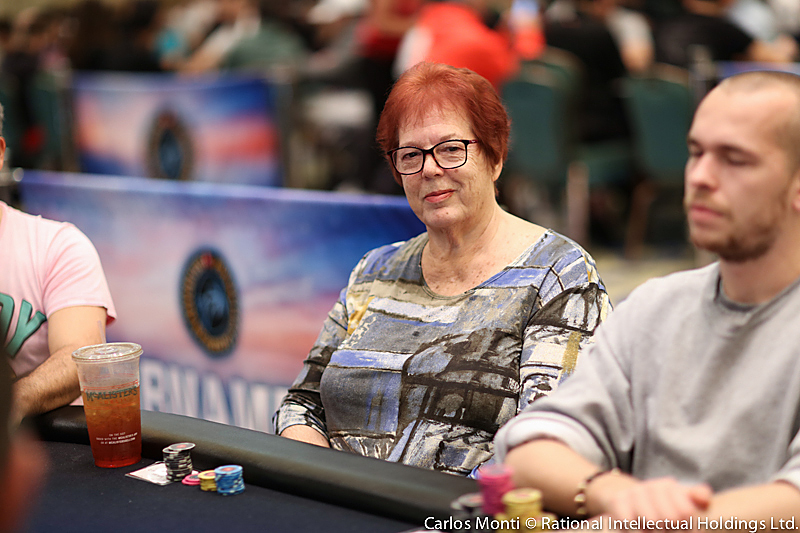 The First Lady of Poker, Linda Johnson
---
"I was commentating for WPT for the first few years," she reminded me, including "on the cruise." That would be the first ever PokerStars Caribbean Adventure back in 2004, the one that took place on the Royal Caribbean Voyager of the Seas cruise ship won by Gus Hansen. (Hansen played this event, too, incidentally, busting on Day 1.)
In all of her years playing, organizing, directing, and commentating tournaments, as Johnson ever seen one quite like this PokerStars Players Championship in terms of the field makeup and size?
"Not a big one, not like this," she said. She noted how the amount of socializing at the tables hasn't been quite as great as expected. "I play to have a good time these days," she said, adding how it's hard to engage too much with players who are on their phones. Still, overall, the tournament has been enjoyable to this point.
"They did a great job, it's fun," she added. "PokerStars deserves a lot of kudos for putting it together, that's for sure."
It's back to the action now for Johnson, who'll continue to be patient as she looks for spots to add some chips. –MH
2:30pm: Back at it
Level 11 – Blinds 1,000/2,000 (BB ante 2,000)
Players are back in their seats and cards are in the air once again. The big board says there are 590 of them still with a chance at the $5.1 million first prize. –MH
---
2:10pm: Break time
Players are off for their first 20-minute break of the day. –MH
2:08pm: Spraggy's ship still sailing
Level 10 – Blinds 800/1,600 (BB ante 1,600)
Ben Spragg's day is going pretty well. "Soft table," he joked with me before the break — never mind the presence of some truly heavy hitters at the table.
Coming back with 110,000 means Spraggy's above average headed into Level 11. –JK
2:06pm: Neeme newly stacked
Level 10 – Blinds 800/1,600 (BB ante 1,600)
I went looking for Andrew Neeme just before the break only to find that his table had been broken. Good news, though: he's still in the tournament and managed to double up along the way, getting his Q-Q past online legend Chris Moorman's 8-8. He dropped a few blinds from his peak of 100,400 but is still hovering right around the average stack as we prepare to begin the next level. –JK
2:04pm: Peters out, but Platinum Passes abound
Level 10 – Blinds 800/1,600 (BB ante 1,600)
For a while today, there were two Platinum Pass holders sat side-by-side on Table 37. One was David Peters, who needs no introduction, the other was Stian Ustad, who needs some. The Norwegian won his Platinum Pass in the second version of the Sunday Million Anniversary tournament on PokerStars, otherwise known as the Sunday Million Take 2.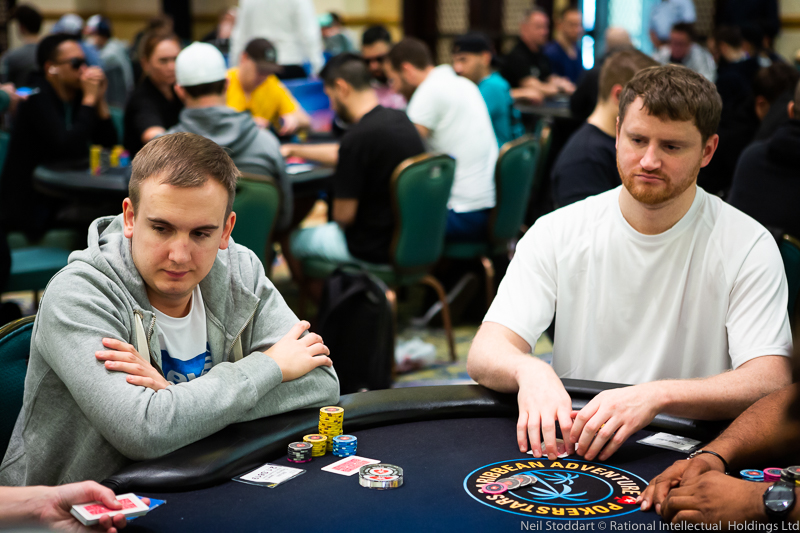 Stian Ustad and David Peters
---
Anyway, there is now only one Platinum Pass winner on that table here in the Bahamas. And the man to perish is Peters. Ustad filled in the details: Peters shoved with pocket fours and was picked off by Gustavo Kein's pocket jacks.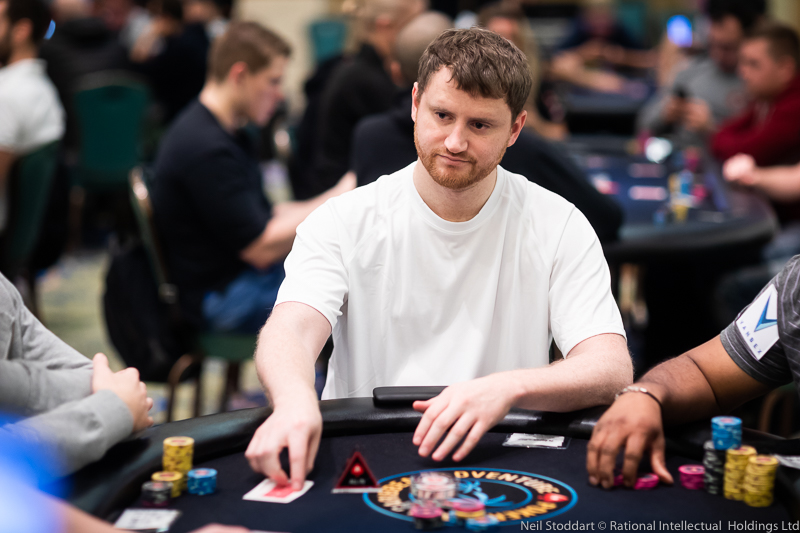 Peters pushes, gets pushed out
---
Actually, news reaches us that Kein is actually a Platinum Pass holder, too. So one down, one added. That's still two Platinum Pass holders on that table after all. — HS
2pm: Yuka yanks some off Spitale
Level 10 – Blinds 800/1,600 (BB ante 1,600)
Manila Super Series 8 Main Event Champion and Platinum Pass winner Yuka Asaka has been slowly on the rise and is now up to 135,000.
Asaka raised to 4,000 from middle position that hand and action folded to Franco Spitale on the cutoff. Spitale three-bet it up to 11,700 and action folded back around to Asaka. She thought for a bit and called, bringing an 8♥7♦6♠ flop.
Asaka checked and Spitale bet 10,000. Asaka thought again and she raised to 25,000. It was too much for Spitale and he folded. Asaka took down the pot and chipped up to 135,000. –AV
1:55pm: Every end has a start
Level 10 – Blinds 800/1,600 (BB ante 1,600)
This writer kicked off his Day 2 coverage telling you all about Platinum Pass winner Martin Pember (see 12:37pm). It seemed only right to finish these opening two levels with a Pember update too.
The good news is he's still in, and he's doing well. Pember has increased his 108K starting stack to 122,000, despite a tough table.
Other Platinum Pass winners still in include Fintan Gavin with 23,000, and Mike Takayama with 80,000. –JS
1:53pm: Monaghan's run comes to its end
Level 10 – Blinds 800/1,600 (BB ante 1,600)
Dwyer Monaghan, Platinum Pass holder from Ireland, is now on the rail. He came back with only about 10 big blinds and despite doing his best to get his motion in the upward direction, he perished towards the end of Level 9. — HS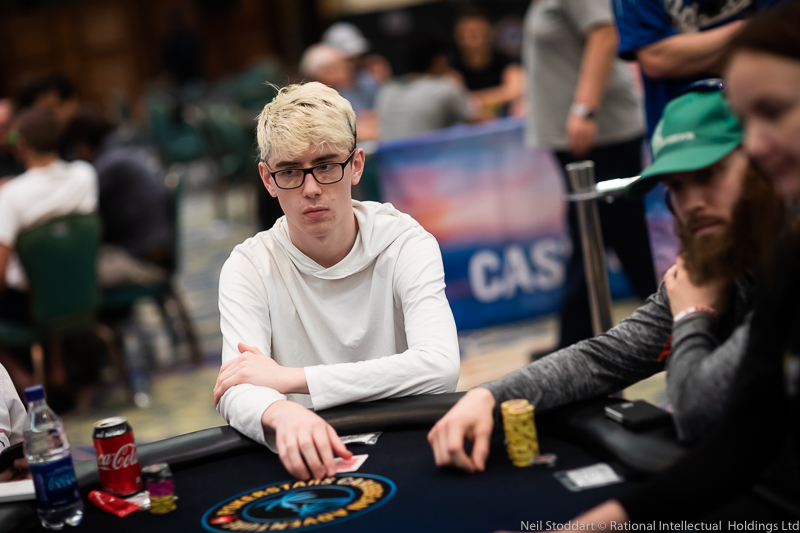 Dwyer Monaghan
---
1:51pm: Rudnicki doubles again
Level 10 – Blinds 800/1,600 (BB ante 1,600)
Aleksander Rudnicki is not going anywhere. He just scored a second double up, which put a smile on his face.
He shoved for 13,000 with A♦J♠ and got a call from Sirzat Hissou with Q♣8♥.
The board came 2♣5♠3♣6♥K♠ to miss both of them, but keep Rudnicki in the game. – SB
1:50pm: Team Ireland loses Irwin
Level 10 – Blinds 800/1,600 (BB ante 1,600)
Platinum Pass winner Alex Irwin came into the day with high hopes and a healthy 100K chip stack. Alas, things have not gone his way today and he's out before the first break.
When we arrived at his table Irwin was down to around 35,000. He shipped it all-in on the button, but got no action.
The next hand saw Mukul Pahuja double up through Pablo Melogno (A♦Q♣ vs 9♣9♦), which is relevant as Pahuja now had an almost identical chips stack to Irwin.
The two would tangle in the very next hand. With no action in front of him. Irwin moved all-in for 33,700 from the hijack, and when it folded to the big blind of Pahuja he snap-called with A♥K♥. Irwin tabled Q♦J♠, and would need help.
He found none on the 9♦A♣2♣9♣3♣ runout, and was left with just 300. It went all-in the next hand, and amazingly Irwin had found a premium hand to fight with. Sadly for the Irishman, Matt Moss woke up with A♦Q♦, and Irwin couldn't improve.
Moss has 100,000 now, while Pahuja's on 60,000. –JS
1:48pm: Wang is as Wang does
Level 10 – Blinds 800/1,600 (BB ante 1,600)
China's Haoziang Wang became a firm favourite in Barcelona last summer when he bludgeoned his way to the EPT Main Event final table. He played poker as it's meant to be played: with a devil-may-care approach to his chip stack and a beaming smile plastered across his face.
---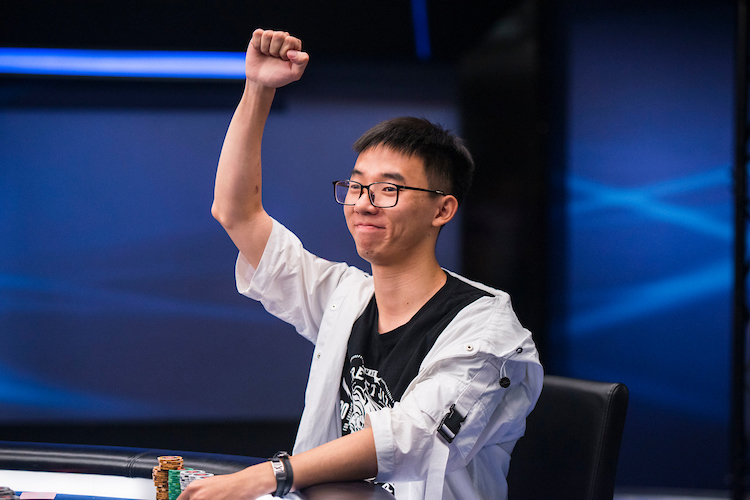 The main man: Haoxiang Wang
---
He finished as runner-up to Piotr Nurzynski, but ended up winning a Platinum Pass as well thanks to a last longer for PokerStars qualifiers. (Nurzynski earned a pass by winning the tournament, which meant the pass for the last longer slipped one place down to Wang.)
Wang is doing great here in the Bahamas and is sitting with 180,000. That's the most at his table–a table also featuring Benjamin Pollak (140,000), Cliff Josephy (101,000), Adam Levy (65,000) and fellow Platinum Pass holder Chen-An Lin. — HS
1:51pm: End of the line for Voncken
Level 10 – Blinds 800/1,600 (BB ante 1,600)
Platinum Pass winner Toin Voncken is out of the tournament. I caught up with him after he lost the last of his chips, which happened over the course of two hands.
In the first he had A-J in the big blind and shoved for 40,000 after the player in the small blind limped; unfortunately the small blind had A-A, cutting Voncken's stack down to about eight big blinds. On the next orbit he shoved with K-8 and got a call from A-Q; Voncken flopped a king, but the turn and river were both queens to end his run.
"I think I made a mistake yesterday playing too tight," Voncken told me. "I was too afraid to lose." Regardless, he said he thoroughly enjoyed his experience. He's planning to watch his nephew play a smaller event and spend the rest of his time in the Bahamas basking in the sun. Good plan. –JK
1:48pm: PSPC battle ends for Warris
Level 10 – Blinds 800/1,600 (BB ante 1,600)
"I wish I had walked away yesterday when I had 86,000," said Asif Warris with a wry grin. That had been the UK player's peak last night, but a tough final two levels saw him return today with just 31,000.
Warris — who earned a Platinum Pass by winning the 2018 Persistence Award — showed some persistence early on today, shoving multiple times and hanging on. Finally, though, he picked up ace-queen and pushed his last 16 BBs, but ran into Pascal Hartmann's ace-king and after a king flopped it was soon over for Warris. Hartmann is up around 225,000 now.
While sitting out the last couple of levels last night might have helped situate Warris better to start today, he knew full well that wouldn't have been the way to make a deep run. "I could have played super-tight," he said, "but that wouldn't have been good for me later on."
"It is what it is," said Warris, who explained how he had intended to come play the event, anyway, even before winning his entry. "I love it… I was lucky to get here."
Warris might've lost this battle, but with such perspective sounds like he's won a larger war. –MH
1:45pm: Fintan falls
Level 10 – Blinds 800/1,600 (BB ante 1,600)
We've reached the end of the line for Fintan "easywithaces" Hand.
The Team Pro was sitting in the big blind and saw a middle-position raise from Jonathan West pick up calls in the cutoff (Victor Ramdin) and button (David Peters). He looked down at 8♠8♦ and moved his last 12,300 chips into the middle, and only West called with A♠Q♠. Fintan was safe until the A♣ hit the river, giving West a pair of ace and striking our man in green from the field. –JK
1:37pm: Aleeyah's jacks can't beat Jack
Level 10 – Blinds 800/1,600 (BB ante 1,600)
Aleeyah Jadavji, Platinum Pass #MyPSPCNomination winner, was on the short side to start today, and after an early table break found herself at a table with yet another table of formidable foes, among them Sam Grafton and Jack Salter.
Salter would be the one against whom Jadavji would play her last hand, as it happened, one that began with the UK player opening and Jadavji in the blinds looking down at J♥J♦. She reraise-shoved her last 20 bigs and Salter called with A♦K♦.
"Ace in the window," said Jadavji with a smile, explaining what happened next. A straight draw materialized on the turn but didn't amount to anything on the river, and she's out, though the poker reporter takes away a great story to tell. –MH
1:34pm: Double up for Tyson Apostol
Level 10 – Blinds 800/1,600 (BB ante 1,600)
It's easy to blend in to a field of several hundred poker players. But Tyson Apostol is easy to pick out.
It's a combination of things I suppose.
It's not just the long blond hair.
It's not just the beard.
It's not just the aviator sunglasses.
It's not just the ex-pro cyclist physique.
It's not just the survivor attitude.
It's not just the rainbow hair band.
It's all of these things. All done at a speed just below necessary, and an attitude of complete calm.
So there were no theatrics when he just doubled up.
Evan Mathis had opened pre-flop, which Apostol called for a flop of J♥2♠8♦.
Mathis bet again. Apostol then moved in.
The total was 13,000. Mathis took his time before calling, turning over K♥A♥.
Apostol showed Q♠2♣
The deuce would be good enough.
The turn came T♣ and the river 6♥.
Apostol stacked up his new chips, unmoved. He's back up to 30,000. – SB
Tyson Apostol
---
1:35pm: Chidwick coughs up a few
Level 10 – Blinds 800/1,600 (BB ante 1,600)
Stephen Chidwick was just sipping from a large medicinal-looking bottle. Was this cough syrup? Or some magic potion the Super High Rollers had concocted?*
The boring truth is it was neither. Chidwick's quenching his thirst with kambucha, the latest trend in healthy drinks. Hey, if it makes me play like Chidwick does, then pour me a glass. But while it might prevent Chidwick from getting ill, he did just cough up a few chips to Max Greenwood.
Greenwood made it 3,500 to go and Chidwick flatted, bringing in Edward Holyoke from the small blind and Christopher Johnson from the big. The four went to a 5♥T♣6♦ flop which checked to Greenwood, and on which he made a c-bet worth 4,000.
Over to Chidwick–who won his Platinum Pass in an online satellite–forever displaying his perfect poker table posture. He eyed Greenwood before focusing back on the board, then dropped in two blue 5K chips for a raise to 10,000. That shook off the guys in the blinds.
Back to Greenwood, he took around ten seconds before announcing he was all-in. Chidwick folded instantly, and took another sip of kambucha.
He's down to 59,000 now, while Greenwood's on 67,000.
*Ingredients may include:
Tears (of losing a flip on a $300K bubble)
Sweat (waiting to find out if the solver agrees with your play)
Kombucha (because Stephen Chidwick drinks it). –JS
1:33pm: Canfield collects
Level 10 – Blinds 800/1,600 (BB ante 1,600)
Andrew Canfield, winner of a PlatinumPass in an all-in shootout during the NJCOOP series on PokerStarsNJ, just pushed his stack all in on a Q♣T♣5♥J♥ board and that was enough to get his neighbor to the left, Anderson Fernandes, to fold.
Canfield is back to about 48,000 now. –MH
---
PRIZE POOL INFORMATION!
The prize-pool information for this record-breaking PSPC Main Event is with us!
Total prize pool: $26,455,500
First place: $5.1m (including $1m added)
Places paid: 181
Click for full schedule
There will be six millionaires!
---
1:22pm: Kean knocks one out
Level 10 – Blinds 800/1,600 (BB ante 1,600)
Allan Kean took an early lead yesterday, but dipped towards the end. Now he's taken out another player and is up to 130,000.
Diego Sanchez raised from under the gun that hand and Kean three-bet to 10,000 from the cutoff. Action folded back to Sanchez and he moved all-in for 28,900. Kean called and showed Q♠Q♣ for a flip against Sanchez's A♥K♦.
The board ran 6♣8♥T♥3♠2♠ and Sanchez hit the rail. Kean on the other hand is now up to 130,000. –AV
1:17pm: The Platinum Pass Experience
Earlier this year, we met a Platinum Pass winner. He offered to cook us dinner. So we surprised him with a special guest.
1:13pm: Kevmath KO'd
Level 9 – Blinds 600/1,200 (BB ante 1,200)
That's it for the poker Twitter phenom, Kevin "Kevmath" Mathers. Kevmath came back to day 2 with 75,900 but couldn't make it through the first level of the day. He is now a sad panda:
–AV
Kevin Mathers in happier times
---
1:11pm: Segel straighted out
Level 9 – Blinds 600/1,200 (BB ante 1,200)
Nikhil Segel's PSPC run has come to an end. He lost a big pot against Team PokerStars Pro Aditya Agarwal and was left with just 19,000. Then Segel got it in with pocket eights and was flipping against Jackson Lanier's ace-jack.
The flop was a seemingly safe 10-high, but then a king came on the turn to give Lanier an inside straight draw. The river was a queen and Lanier hit his broadway straight.
Lanier took down the pot while Segel hit the rail. He did stop to get a picture with Christoph Vogelsang on his way out though. –AV
1:10pm: Syp exceeding expectations
Level 9 – Blinds 600/1,200 (BB ante 1,200)
Mikolaj Syp is still enjoying himself thoroughly. The self-proclaimed biggest underdog in sports, who won his Platinum Pass watching a live stream, came into today with 50,700 chips. He's dropped a bit since the start of the day but it's not affecting his experience in the least. "I'm very happy," he told me earlier. "I've exceeded even my own expectations." If we could all have that kind of attitude, life would be even more enjoyable than it already is. –JK
1pm: Jennifer Carter out. Heart belongs to Reilly
Level 9 – Blinds 600/1,200 (BB ante 1,200)
Jennifer Carter is out, but not without leaving an impression on the players at her table.
Earlier on she'd told them how she'd got here, winning a 21,000-runner freeroll in six hours (which impressed JC Alvarado).
Now though she was all-in for her last 20,000 with A♥2♦.
Tim Reilly was the caller with A♦K♠.
Carter asked for a deuce, but none came. The board ran 4♦7♣9♥6♠T♥.
Carter was out. But what happened next made for a nice moment.
As you might have read
, when she's not at home with her family, or playing online poker, Carter is an avid knitter. She even works in a yarn shop.
---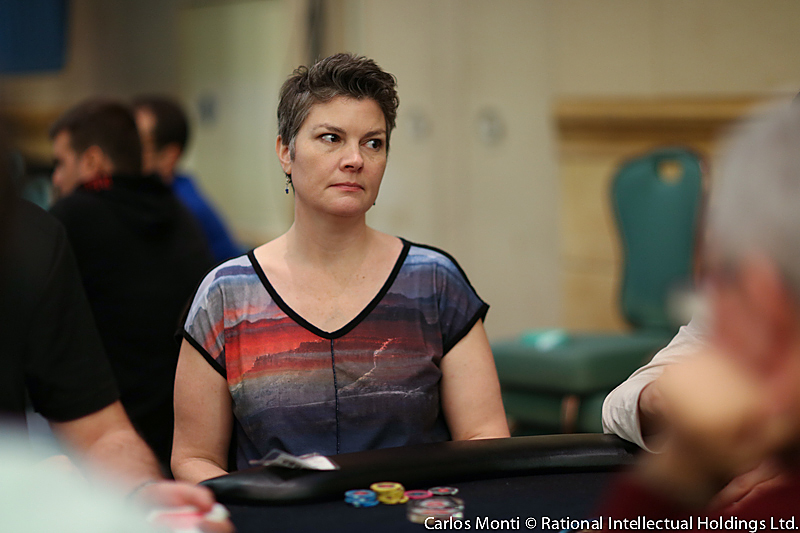 Jennifer Carter
---
So it was only fitting that she had beautifully knitted red heart to pass on to Reilly as a keepsake.
She left amid best wishes. Reilly seemed pleased with his new souvenir.
"I finally have a heart guys," he joked. – SB
12:55pm: 2018 PCA champ busted
Level 9 – Blinds 600/1,200 (BB ante 1,200)
Maria Lampropulos, the winner of last year's PCA Main Event, has just gone bust in the PSPC.
12:55pm: Ott sends Escorihuela out
Level 9 – Blinds 600/1,200 (BB ante 1,200)
Imar Vera Escorihuela, a Platinum Pass holder from Spain, has hit the rail at the hands of Daniel Ott. Ott was the runner up at the 2017 World Series Main Event but goes incognito these days — mainly because he's cut his trademark shaggy mane. Anyway, he still knows how to play ace-king, and that was how Escorihuela perished.
The hand began with Marc-Andre Ladouceur opening to 2,800 from under the gun and Escorihuela then moving all-in for 13,300. Ott, in the big blind, thought a moment but opted just to call. Ladouceur folded. So, yes, it didn't exactly need a genius-level player to know that calling was good here with A♦K♣, but you can only play the cards you're dealt.
Anyway, Escorihuela had 7♠7♣ and the board of 6♠J♥K♥K♠T♥ hit Ott hard. It also ended Escorihuela's PSPC. — HS
12:52pm: Spraggy stacking up
Level 9 – Blinds 600/1,200 (BB ante 1,200)
Ben Spragg's day is off to a pretty good start. He's nearly doubled his stack since we began play. I just showed up to see the pot being pushed his way after he moved all-in on the turn of a J♠4♠Q♣7♦ board, boosting him . And if you want to know how serious he is about making a run in this thing, consider this: there weren't even any camera crews around this time, just your friendly blogger.
Count Spraggy on 80,000 at the moment. –JK
12:51pm: Argwal takes big bite of Segel's stack
Level 9 – Blinds 600/1,200 (BB ante 1,200)
Nikhil Segel talked to us this morning about the whole PSPC experience, but also his seat draw.
Not only was he up against the likes of Marvin Rettenmaier and Matthew Affleck, he had his countryman Aditya Argwal in the seat immediately to his left.
Not that this phased Segel, who not only plays online against Argwal, but also had some momentum, after a good day yesterday.
He came back today with more than 90,000. But he just took a major hit in a hand against none other than Argwal.
We didn't see all the action, but on a board of 7♦2♦6♣4♦ Segel bet 23,000 in the cut off. Argwal tanked for a shirt while on the button before announcing all in.
A camera team was watching. They switched their attention back to Segel. He shifted in his seat a little and looked directly at Argwal, possibly recalling similar situations online.
Whatever he came up with prompted him to fold. It would have cost him everything he had left to call, so at least he's still in the tournament. But he drops to 19,000.
Argwal meanwhile is up to 120,000. – SB
12:50pm: Set over set sinks Shahade
Level 9 – Blinds 600/1,200 (BB ante 1,200)
Jennifer Shahade started today with a short stack, but when she got her last 11,000 or so all in on a 5-T-9 flop holding pocket fives, all indications were she'd found a nice spot to start Day 2 well.
But you've already read the headline…
Shahade still has a rooting interest, though, as Warren Sheaves, winner of her #MyChessPokerGame competition, is still in action. –MH
12:44pm: The end of Soyza
Level 9 – Blinds 600/1,200 (BB ante 1,200)
Platinum Pass winner Michael Soyza's PSPC has come to an end early here on Day 2.
First his stack took a big hit at the hands of Martin Jacobson. Soyza opened to 2,500 under the gun, and Jacobson in the cutoff was his only caller. The dealer spread a 4♥8♣K♣ flop, and Soyza decided to check it. Jacobson led for 3,000. Call.
They saw the 9♦ land on the turn, and Soyza continued checking to the former World Series of Poker Main Event champ. Jacobson now fired 20,000 — an overbet into the 13,400 pot. Soyza stuck around though, and the J♥ completed the board.
Soyza checked a final time and Jacobson moved all-in for 30,600. Soyza snapped it off, but when he caught a glimpse of Jacobson's 4♠4♣ for a flopped set, you could see the wind knocked out of him. He flashed king-jack-off before mucking his cards.
After that loss he was down to 32,000. During the time I've been writing this post, Soyza was eliminated. He'll no doubt be hanging around to rail his girlfriend and fellow Platinum Pass Natalie Teh though. –JS
12:44pm: Score two for Tom
Level 9 – Blinds 600/1,200 (BB ante 1,200)
Platinum Pass winner Tom Chiarella isn't messing around today. After coming in with about 35,000 chips today, there's not much room for error. He's walking the line pretty well right now, though.
I showed up to see him move all-in from the big blind over the top of a middle-position raise and a button call. Both opponents folded.
Ryan Hughes opened the next hand for 2,700 on the button and got calls from Chiarella in the small blind and Lance Garcia in the big. They all checked the Q♣5♥4♠ flop before Chiarella led for 5,000 on the J♦ turn. Both Garcia and Hughes called, only to fold when Chiarella shoved on the J♣ river.
Those two wins bump Chiarella's stack up to around 62,000. –JK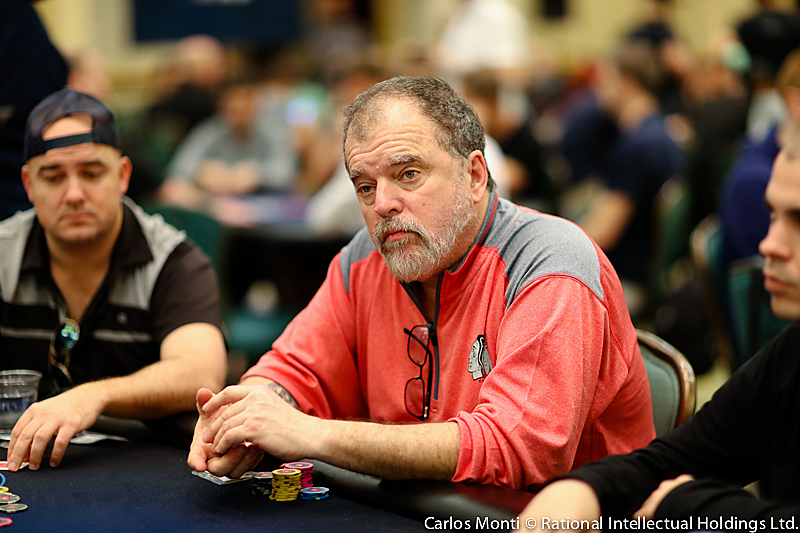 Tom Chiarella
---
12:41pm: Biles bumps off Moraes
Level 9 – Blinds 600/1,200 (BB ante 1,200)
Oliver Biles, the UK player who won his way into the mix via Jeff Gross and Andrew Neeme's Platinum Pass Adventure, just had another mini-adventure here at the start of Day 2 in a hand versus the formidable Brazilian Rafael Moraes. And like the earlier one, this adventure ended positively for Biles.
I arrived on the river, with the board showing Q♥7♦3♦K♠4♦ and both players striking serious poses as they sat side-by-side. At last Moraes set his remaining chips forward as an all-in push, and Biles immediately called and tabled the nuts — A♦T♦. Moraes showed Q♣Q♠ for a set of queens, and wished the table well before departing.
Biles nearly doubles his start-of-day stack with that one, and is now up to 96,000. –MH
12:37pm: Meet Martin
Level 9 – Blinds 600/1,200 (BB ante 1,200)
With the popularity of Super High Rollers showing no signs of slowing, and swelling prize pools and buy-ins ever-increasing, earnings in live poker are now hitting astonishing numbers. Justin Bonomo's 2018, for example, saw him win $25 million; that's NBA money right there.
Out of our Platinum Pass winners, you won't be surprised to learn that David Peters tops the pile when it comes to career winnings (according to Hendon Mob). A true beast, Peters has racked in $29,565,921 throughout his career.
On the other end of the spectrum is Martin Pember. He's a Local Authority Support Worker living in Leicester, UK, who only dabbles in low stakes online tournaments. His only live poker cash to date is a £30 tournament at his hometown casino, which he min-cashed for £60.
He's the lowest "earner" of our Pass winners. Now he's here playing in a $25,000 buy-in tournament.
"Hopefully I'm still in at the end of the day," Pember told me before play started on Day 2. "It's not going to be easy."
Indeed, Pember–who won his Platinum Pass in an all-in shootout–has been drawn onto the same felt as the likes of James Chen and Andrew Pantling.
Still, kicking off the day with 108,200, he's got plenty of chips to play with. When the cards got in the air, Pember opened to 3,600 from the hijack. Everyone else folded, and Pember added a few more to his stack.
He then turned around to share the good news with me.
"I won a hand!"
Keep it going Martin. –JS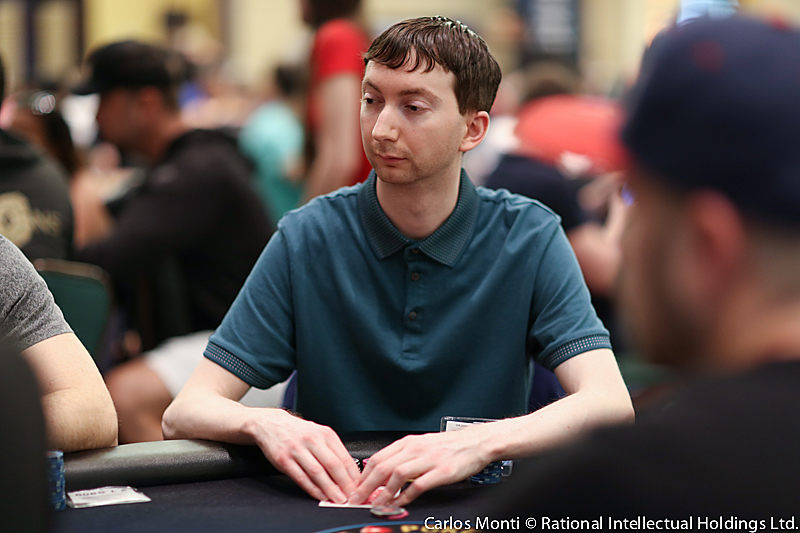 Martin Pember
---
12:37pm: Ochir takes an early hit
Level 9 – Blinds 600/1,200 (BB ante 1,200)
Tsolmon-Erdene Ochir, our only Mongolian Platinum Pass winner, took an early hit.
He started with raise from middle position and and Mario Hofler called from the big blind. The flop came down Q♥Q♦7♥ and Ochir bet 3,500 when checked to. Hofler raised to 10,000 and Ochir got serious.
He took off his headphones, took off the sunglasses attachment to his glasses and asked to look at Hofler's stack. He had about 60,000.
Ochir moved all-in and Hofler quickly called. Hofler turned over Q♠9♥ for trip queens while Ochir turned over A♠7♦ for a pair of sevens. The turn brought an 8♥ and then a 3♥ completed the board. Hofler doubled to about 120,000 while Ochir dipped to 36,000. –AV
12:32pm: Ha departs
Level 9 – Blinds 600/1,200 (BB ante 1,200)
Thai Ha clung on to a short stack yesterday to bag 16,000 at the end of the day. But his seat is now occupied by someone else and the easy inference from that is that Ha is out. So he couldn't quite turn his Platinum Pass into tangible cash, but let's just relive how he won that pass one more time. It was quite something this time last year.
---
---
Other early eliminations include Dominik Nitsche, Anthony Zinno and Imre Kivilo. — HS
12:30pm: Agent: Spraggy. Mission: Accomplished.
Level 9 – Blinds 600/1,200 (BB ante 1,200)
Ben Spragg is on a table with Josh Arieh, Parker Talbot, and Joey Ingram to start the day. Now wonder there's a camera crew camped out there.
When Ingram opened his button for 2,700, our man Spraggy made it 11,000 to go from the small blind.
"Show me if I fold?" asked Ingram. Spraggy merely raised his eyebrows. "Maybe?" asked Ingram.
"I just wanted to win one so I could have more than I started the day with," said Spraggy.
"Come on, you're folding, just toss your hand in the muck," Talbot added from across the table. Ingram did just that. Good job, Agent Spraggy. Mission accomplished. –JK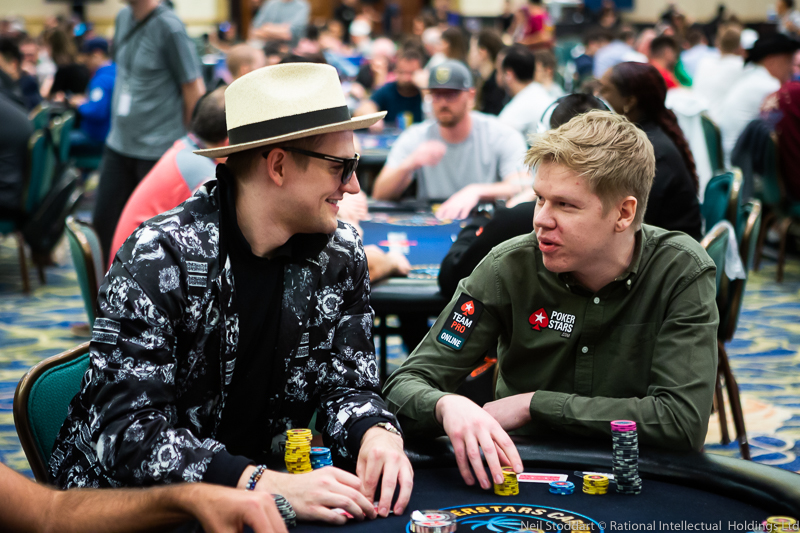 ---
12:25pm: Cochrane falls
Level 9 – Blinds 600/1,200 (BB ante 1,200)
The UK's Gavin Cochrane's Day 2 was a short one. He started the day with 21,100, and on one of the first hands of the day he got it all in on a 3♥Q♣6♣ flop holding Q♦T♣, but alas for him was up against the A♦Q♠ of Christopher Johnson of the United States.
The turn was the J♦ and river the 6♦, and Cochrane is out as the field dips to less than 750 players remaining. Johnson bumps up around 115,000 after that one. –MH
12:22pm: Diving through the closing door
Level 9 – Blinds 600/1,200 (BB ante 1,200)
There was a flurry of last-minute registrations as noon approached today. Tournament staff are still catching up, but we can confirm the following sneaked in as the portcullis was just about drawing down:
Gilbert Diaz
Virgil Dorel Marculescu
Joseph Cassidy
Rustam Hajiyev
Brandon Adams
Tan Minh Nguyen
Will Failla
Claas Segebrecht
Sampson Simmons
Harvey Barron
More information on field size, etc., will be with us shortly. — HS
12:21pm: Cooler much?
Level 9 – Blinds 600/1,200 (BB ante 1,200)
And this is how Kevin Martin hit the rail today. Getting ugly early. –BW
12:21pm: Fintan's ready to rumble
Level 9 – Blinds 600/1,200 (BB ante 1,200)
The other players at Table 37 had better be ready to play today. I ran into their tablemate Fintan Hand as we were getting ready to start Day 2. "You'd better be ready to write about a bunch of all-ins," he told me. "25 bigs."
"Hard to make a mistake, right?" I asked him.
"I'm sure I'll find a way," replied Fintan with his characteristic good humor. –JK
12:17pm: Lex Veldhuis makes ugly exit
Level 9 – Blinds 600/1,200 (BB ante 1,200)
Just minutes into the day, Lex Veldhuis had a good shot at a 160,000 pot, but his pocket aces couldn't beat queens, and he's gone less than 20 minutes into the day. –BW
12:17pm: Great Poker Brains return for Day 2
Level 9 – Blinds 600/1,200 (BB ante 1,200)
Among the many intellectually astute individuals who will be combating with one another today are two Great Poker Brains, that is to say, the two winners of Liv Boeree and Igor Kurganov's challenging series of puzzles who emerged from a large field of participants to win their way into this event — Natalie Teh and David Corkett.
Hailing from Malaysia, Teh returns to a stack of 107,100 today, while the UK-based Corkett returns to 52,900.
Speaking with Corkett before the start of play, he described his Day 1 as being a bit like a comfortable drive. "I was always between 55 and 65 until the end," he explained. "No big hands, really."
For those who followed Liv and Igor's challenge, participants had to solve a series of math and logic puzzles to earn their entries. Corkett tried a few different methods of winning a pass before breaking through to be one of the Great Poker Brains. The fact that he holds a math degree and works as an actuary didn't hurt. "Suits the skill set," he said with a grin, describing the competition.
The chip stack was pretty steady, really. I was always between 55 and 65 until the end, and then I dropped a little bit. No big hands, really.
Like a poker tournament, the puzzles Corkett solved were of varying degrees of difficulty. Having patience and being able to wait out a big field was also part of the challenge.
"There were a few difficult ones and a few straightforward ones," he explained. "I was talking to Igor yesterday, and he said only about 200 people tried all four. There were 2,500 people who tried the first round, so there was quite a lot of value in doing it."
Both Corkett and Teh received a big of coaching from Kurganov yesterday, he says, who like Boeree busted on Day 1. Their protégés will be carrying the brainy banner forward today, and we'll keep an eye on both to see how they do. –MH
12:13pm: Kosk back on familiar turf
Level 9 – Blinds 600/1,200 (BB ante 1,200)
Estonia is an absolutely beautiful country, but sometimes (particularly in the winter) you need to escape the cold. That's just one reason Ermo Kosk has made his way to the Bahamas this January. The other is that he won a Platinum Pass to the PSPC in an online satellite and made what has become a regular pilgrimage to Paradise Island.
This venue holds a fond place in Kosk's heart: nine years ago, on his first trip to the Atlantis, he got married here–on the beach, no less. These days he is a veteran of the place, and his wife and two children are with him again. They arrived on New Year's Eve and have been hitting the water parks ever since. (They slept through the New Year's festivities. It's a long flight from Europe.)
Kosk settled down to play yesterday and had what he described as a roller-coaster day. He was doing really well early on, he said, but made a couple of poor plays later owing to tiredness and bagged 63,500.
But this is far from his first rodeo: Kosk has played 20 EPT Main Events having won packages online ("I am always a qualifier," he said) and will today aim to push on towards the cash. We'll be watching — even if the family will be enjoying the sun. — HS
12:06pm: Day 2 underway
And we're off. This day is going to be crazy. The question: will we hit the money? Answer: Unlikely, but possible. In any case, by the end of the day, we're going to be close to it. Let's see what kind of history we can make today. –BW
11:15am: Still time to play the PSPC Mini
If you're not in the Bahamas to play the PSPC you can still have your own PSPC experience online in the Mini PSPC.
It's a $25 buy-in event and follows the same structure as the PSPC itself. It started yesterday (it plays over five days) with a field of 2,000 players.
But if you want in registration is open until 3pm ET today. Get registered in the PokerStars lobby.
11am: Welcome to Day 2
There was fanfare yesterday, along with excitement, anticipation and a ton of logistical acrobatics. But there was also a poker tournament, the reason we were all here, and thanks to 1,000 players, it lived up to the hype.
There were more than 300 Platinum Pass winners in the field, but it was the familiar name of Talal Shakerchi who finished with the most, some 425,300 in total.
Shakerchi leads the 756 players still in contention (from a field of 1,014), with registration open until the start of play today. There are eight more levels on the schedule, with play expected to finish at around 9.30pm ET.
You can follow what happens next in the all the usual ways.
The links at the top of this page take you to the live stream (operating on a 40 minute delay). While on this page you'll find live updates from the PSPC all the way through to the finish. That's stories of Platinum Pass winners mixed with the progress of a star-studded field.
Play starts at 12 noon.
---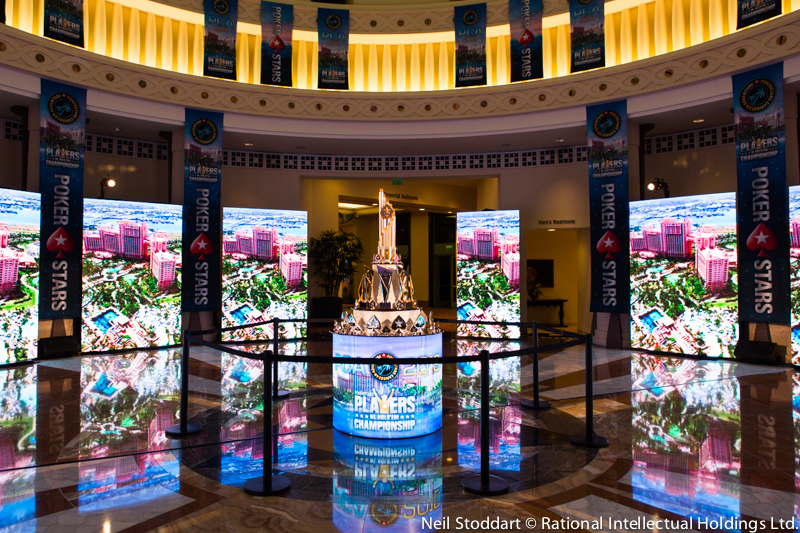 The PSPC trophy, displayed in the rotunda outside the tournament room here at Atlantis
---
---
Download the PokerStars LIVE! app with all tournament information. Available for IOS and Android.
PokerStars Blog reporting team at the PSPC: Stephen Bartley, Martin Harris, Jason Kirk, Jack Stanton, Howard Swains, Alex Villegas and Brad Willis. Photography by Carlos Monti and Neil Stoddart.