There's a cable car a short walk away from the Casino in Sochi. It runs from the Mzymta River, two miles up through the mountains, and into the clouds. You'll need a coat, maybe a head for heights, and a few Roubles for a ticket. But the view of the Caucasus, capped with snow, is exhilarating. Enough to forget any vertigo, the chill, or even the bad beat that meant you had the free time to take this joy ride.
That's one interpretation of Sochi, and there are others like it. All hint at the same thing. That Sochi is perfect for the revitalised European Poker Tour to start the 2018 season.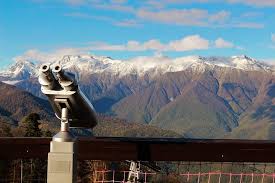 the view of the Caucuses high above Sochi, just one element of the festival that makes EPT Sochi unique
Not all poker tournaments are alike, but you can usually relate one to another. Sometimes it's the scenery, the tournament room, or just the hotel. EPT Sochi though, which takes place at the Sochi Casino and Resort between March 20 to 29, is different.
Click here to start your journey to EPT Sochi. PokerStars satellites start from as little as a few dollars.
Sure, there's a little of the old Snowfest to it, and the weather is more Prague than Barcelona. But Sochi is a long way from both. It's a chance for poker players to experience a country not featured on the Tour before, and all for the price of a cable car ticket into the clouds.
Not that joy-riding will be your first option. Because in crucial ways, EPT Sochi looks a lot like the EPT festivals that came before it.
How exactly?
Like the number of tournaments – 17 in Sochi, with prize pools of the size appreciated by the discriminating poker player, professional or part-time alike.
Then there are Platinum Passes. Four of them, each worth $30,000 and a trip to the PokerStars Players No-Limit Hold'em Championship next January. They'll will be awarded to the winners of the four headline events.
There's the Player Party, typically lavish, at the Royal Bar at Casino Sochi. They'll be music by Nu Virgos (VIA Gra) performing their greatest hits, and drinks, including good local vodka, all on us. We're even hosting karaoke if that's your thing.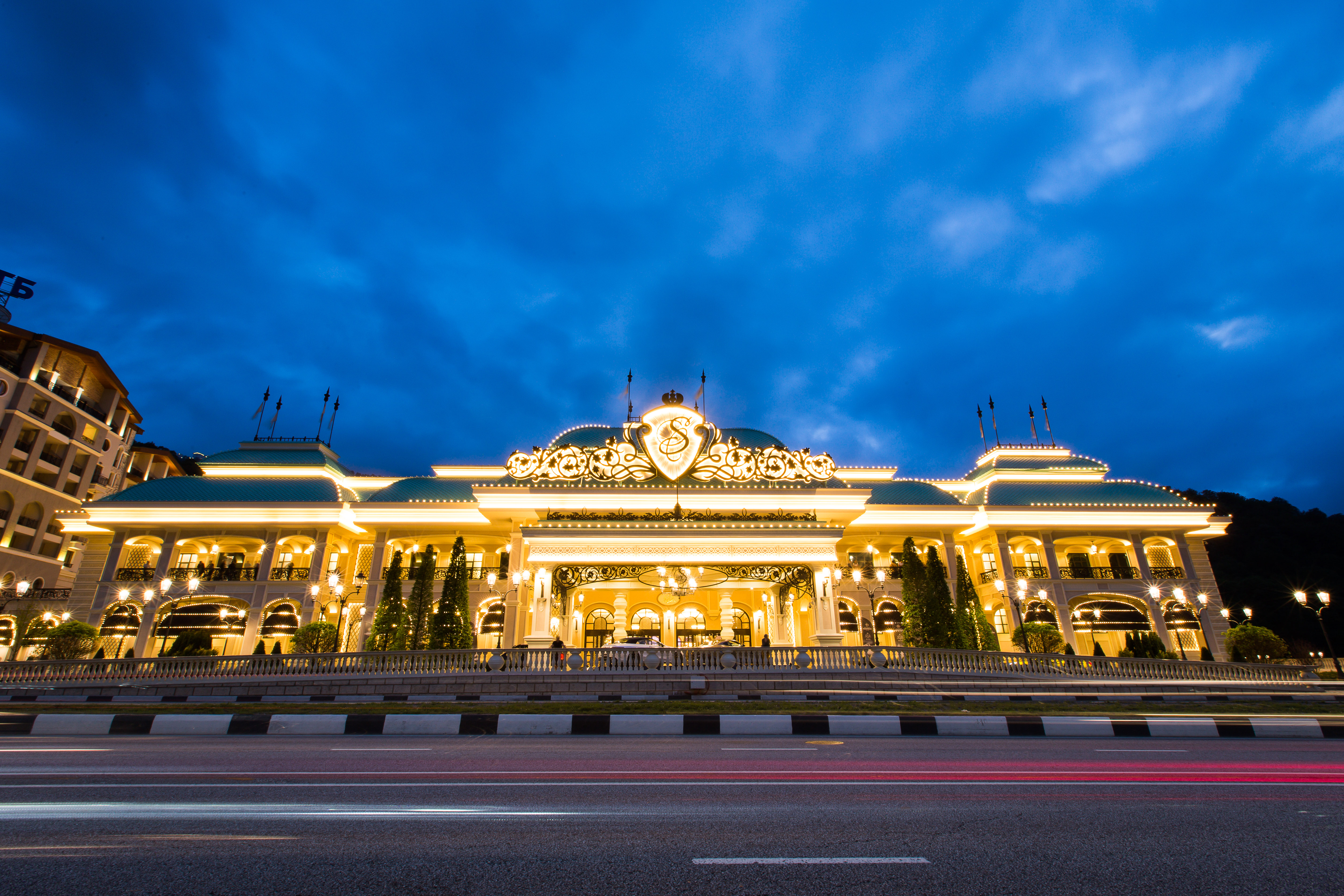 Casino Sochi hosts the European Poker Tour from 20 to 29 March. Among the 17 events four Platinum Passes will be awarded to the PokerStars Players No-Limit Hold'em Championship in the Bahamas next January.
And we'll make it easy for you to try those things you already enjoy, or always wanted to try. Things like skiing or snowboarding. Sochi's Winter Olympic legacy makes it a hub for winter sports. No need to haul big bags through the airport either. We'll provide all the equipment you need.
It all starts three weeks from now, with a schedule featuring headline events like this:
• March 20 to 23 EPT NL Hold'em National Event: Buy-in RUB 66,000/ $1,142 approx.
• March 23 to 29 EPT NL Hold'em Main Event: Buy-in RUB 192,000/ $3,322 approx. with a guaranteed RUB 150,000,000/ $2,600,000 (approx.) prize pool.
• March 27 to 29 EPT NL Hold'em High Roller (Single Re-Entry): Buy-in RUB 617,000/ $10,674 approx.
• March 27 to 29 EPT NL Hold'em Cup (Unlimited Re-Entries): Buy-in March 27-29 – RUB 19,000/ $329 approx.
And remember: the winner of each of these tournaments goes home with a Platinum Pass. That's a $30,000 bonus with the potential to win even more in the Bahamas next January.
If you want the experience of EPT poker, with what is arguably the poker world's most exclusive passport stamp, there's still time to qualify on PokerStars. Satellites are running now in the Tournament Lobby, including special edition $5.50 Spin & Go's, and $11 re-entry satellites.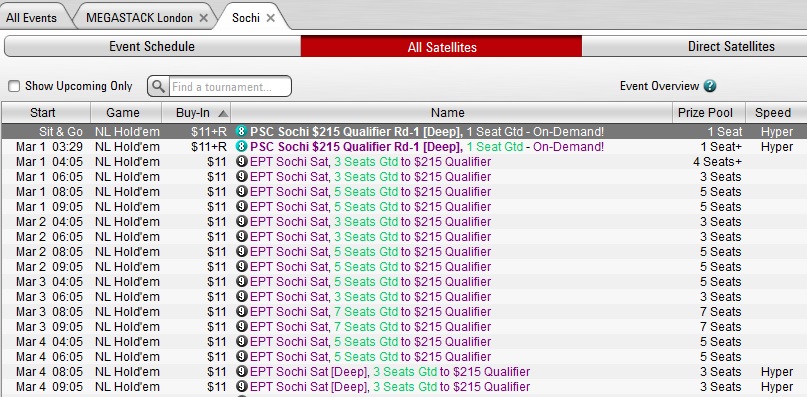 You'll find satellites to EPT Sochi in the PokerStars Tournament Lobby. As with as Spin & Go's you'll find satellites starting at $11 (or roughly the price of a cable car ride when you get to Sochi)
That's your place for all the satellites for the EPT, but for Sochi time is running out. Play starts in just three weeks. Get qualifying now.
For everything else about this season opening event, check out the PokerStars LIVE homepage. You'll also find details of how to get to Sochi (including visa information), where to stay, and everything else you can expect from the festival.