Can you spot a bluff? Turn your reading skills into a Platinum Pass.
It's week 4 of the Human Lie Detector, which asks you the question:
How good are you at spotting a bluff?
Because as you'll know if you've played each week up to now, it could earn you a Platinum Pass, and trip to the PokerStars Player's Championship in the Bahamas next January.
If you're coming to the Human Lie Detector new, you'll want a reminder of what it's all about.
Each week Daniel Negreanu (the Human Lie Detector) asks a fellow Team Pro three questions. One of those replies will be an outright lie. Daniel must work out which one.
Last week it was Fatima Moreira de Melo who was lying through her teeth. This week it's Jeff Gross trying not to shift the needle.
---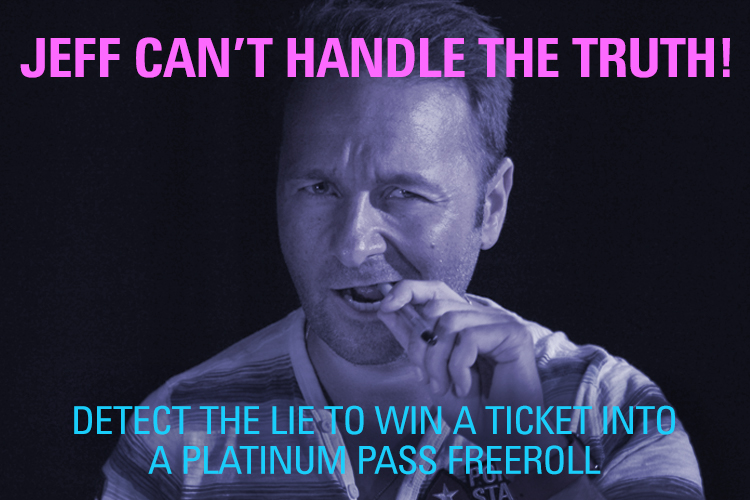 Jeff Gross faces the Human Lie Detector this week. Can you spot which of his answers is the lie?
---
But what's in it for you?
Well, if you can also spot the bluff, you could win yourself that Platinum Pass.
And even if you don't manage to win that, there are plenty of other prizes to win along the way.
Here's how to take part
First, watch the video in the tweet below.
Then, if you think you've spotted the bluff, tweet your answer (1, 2 or 3) with the hashtag #HumanLieDetector and [Stars ID].
If you answer correctly on Twitter, you will receive a freeroll ticket.
That freeroll takes place on Sunday 11 November. The winner will earn a Platinum Pass.
There are also $3,000 worth of runner-up prizes to be won.
And on top of that, every week we'll be awarding tournament tickets to random winning entries.
So you have more than one way to win.
And, if you play on Facebook, you could win all sorts of PokerStars merchandise.
So, start guessing. Watch this week's video, make your pick, and find out the correct answer when we post the video on Friday.
As always, there are some Terms & Conditions, which you can read here.
You can also check the list of winners each Friday, here.