* Unless you're in France, Spain and Portugal, in which case it might just be the cure for WCOOP envy…
You might notice it's harder to get in touch with your Spanish, French or Portuguese poker friends this month.
They won't pick up your phone calls. Emails will go unanswered. You'll be lucky if your instant messages get a curt one word reply. It will feel like a brush off.
But before you take offence, and wonder if it was something you said, put this in your diary.
Southern Europe Championship of Online Poker – October 28 to November 12
It's the newest 'COOP on the PokerStars calendar.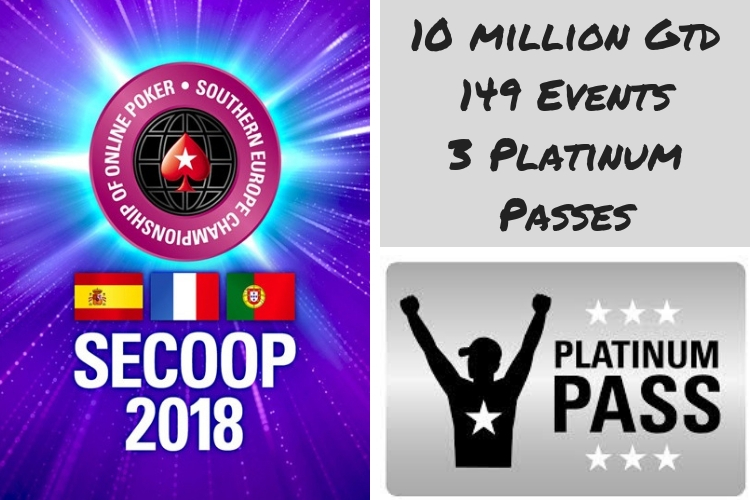 There's €10 million in guaranteed prize money over 149 events. There are also three Platinum Passes to be won. Buy-ins start from just €5.
Sounds great, doesn't it?
We're just sorry you can't play it.
What do you mean, we can't play it?
SECOOP is open only to players in Spain, Portugal and France. That leaves you with your face up against the glass looking in.
Because while it might not be as big as WCOOP (which southern European players are not able to play), the effect should be the same.
Which, like we said, make it the best online championship anywhere that you're not able to play.
It gets worse.
Here's what you're missing
The €250 Main Event on November 11 has a €1 million guaranteed prize pool.
Two Sunday Special tournaments on October 28 and November 4 have guarantees of €300,000 and €350,000, respectively.
They'll be daily leader boards which could earn you one of those three Platinum Passes (although that doesn't include Portuguese players unfortunately).
What else?
The SECOOP Challenge
Players get a SECOOP Challenge stamp for each day they play at least one SECOOP tournament. Collect four stamps and you'll get a ticket to a freeroll with a chance to win a Platinum Pass.
That freeroll takes place on November 18 at 20:00 and 20:15 CET.
A total of 16 Leader boards
The second way to win a Platinum Pass is in one of the daily leader boards.
There will be 16 of them during SECOOP. The 16 lucky table-toppers then face off in a freeroll. The winner gets one of those Platinum Passes.
There's more. Italy is in on it too
As well as SECOOP, there's also Italian Championship of Online Poker. You can't play this either.
Unless you're Italian that is.
If you are, ICOOP offers you 68 events, with a combined guarantee of €4 million between October 28 and November 12.
Why are we telling you this?
That's a good question. Because if you're based outside of Southern Europe, and you've read this far, you'll have had an exercise in self-flagellation.
If on the other hand you happen to be reading this from Spain, Portugal or France, your next steps are easy.
First take a look at the schedule. You'll find that on the SECOOP homepage.
You'll see there's a huge variety of events, each with different buy-ins. You'll also notice that you can qualify for each of them for a fraction of the cost. And registering for events as easy as clicking a button.
You'll also find leader board details, including your own position in those tables. Remember, that could take you a step nearer to a Platinum Pass worth $30,000.
It's not you, it's me
We expect contact between southern Europe and the rest of the poker world to resume sometime around November 13.
Try not to blame your Southern European friends for being so distant. It wasn't you, it was them.
And they had a very good reason.