"This is as full as I've seen this room in a long time."
Tim Fiorvanti had just walked into the Foxwoods tournament room in a St. John's basketball jersey, a full beard, and straight-up amazement at what he was witnessing. Years ago, the New Yorker was a regular here. A fierce mixed games player (and no slouch at Hold'em), Fiorvanti had seen Foxwoods at the peak of the boom both as a player and eventually a reporter for Bluff magazine. Now a writer for ESPN (covering poker occasionally and professional wrestling an extraordinary amount, he showed up at Foxwoods before 10am on a football Sunday to chase a dream, one he and almost every poker player in the United States has had for the past 15 years.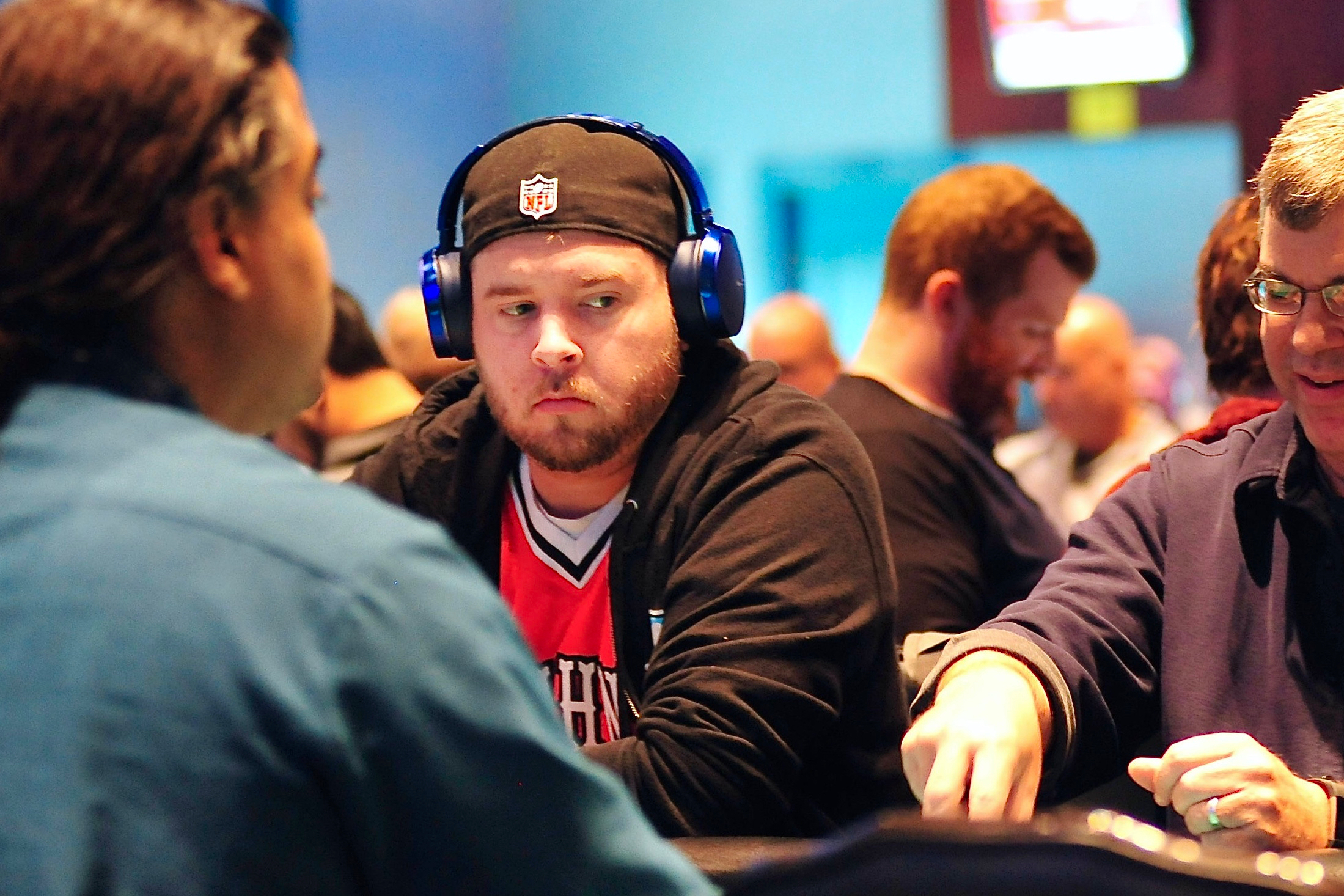 Tim Fiorvanti playing the Foxwoods Moneymaker PSPC Tour event
Did you hear that?
It was then–spring of 2003–that Chris Moneymaker served as a blasting cap on an explosion that turned a niche pastime into a worldwide multibillion-dollar phenomenon. And he did it just by being himself. That's a strange thing to say in modern poker, a world in which some of the best players in the world have done everything they can to remove their personality from their game, a strategic defense that may make them as profitable as they are completely boring to watch.
But that's what Moneymaker did. He was unapologetically American, unapologetically amateur, and unapologetically human.
Take note, science fiction lovers: when the future is full of robots with scarves over their carotids and preset times in the mental tank, human beings–just for their courage to be humans–will be an inspiration.
If you don't believe that, you should watch what's happening on the Moneymaker PSPC Tour.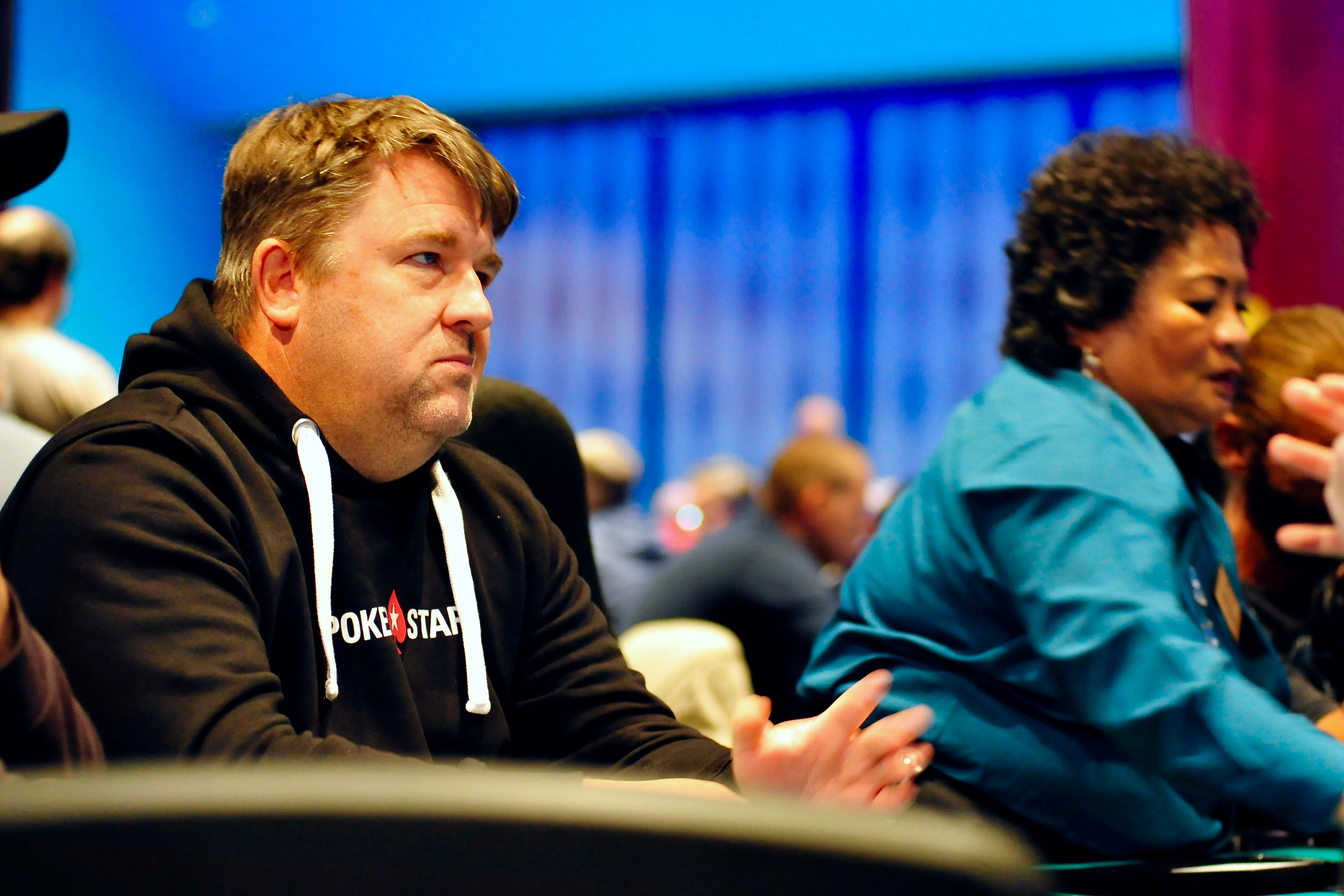 Chris Moneymaker listens as a player chats him up
Lasting insanity
Here's what you should know about Chris Moneymaker: he knows who he is. He knows why he's famous, and he knows it's not a reason to be anything more than he was when he won the world's most prestigious poker event in 2003. He is still the guy who will talk to you about football like he'd talk to anybody else on a Sunday. He's still the guy setting his fantasy line-ups before he registers for his own poker tourney. He's still the guy who is human enough to lose a phone and wallet on the same morning. (And yes, every one of these things has happened today.)
But he's also the guy who can't walk in the Foxwoods poker room (or walk out on a break) without people lining up to take pictures with him like he was Tom Brady and Rob Gronkowski in a PokerStars hoodie.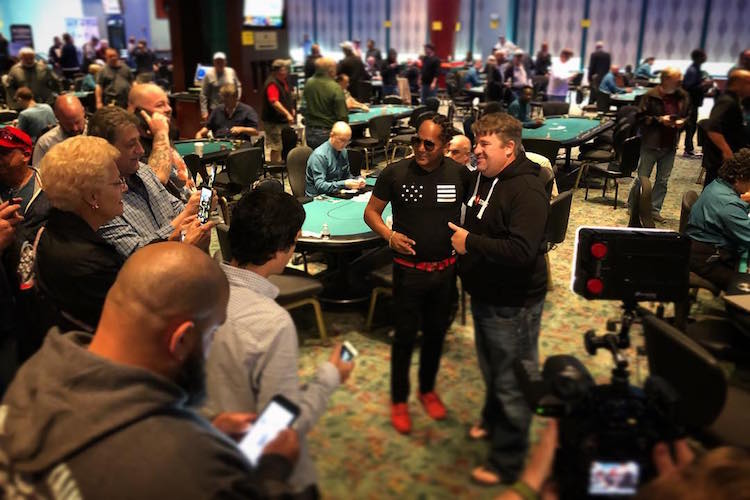 Lining up for Moneymaker
Michel Culla was waiting at the front of the room before 10am today. Moneymaker hadn't crossed the threshold before Culla had pulled out his book for an autograph.
It's been 30 years since Culla started playing poker…and exactly–not by coincidence–15 years since she started playing online.
"When he started online and won, I had just started online," Culla said. She was inspired. "Anybody could get there. And when do you get that chance to play with professionals and everything."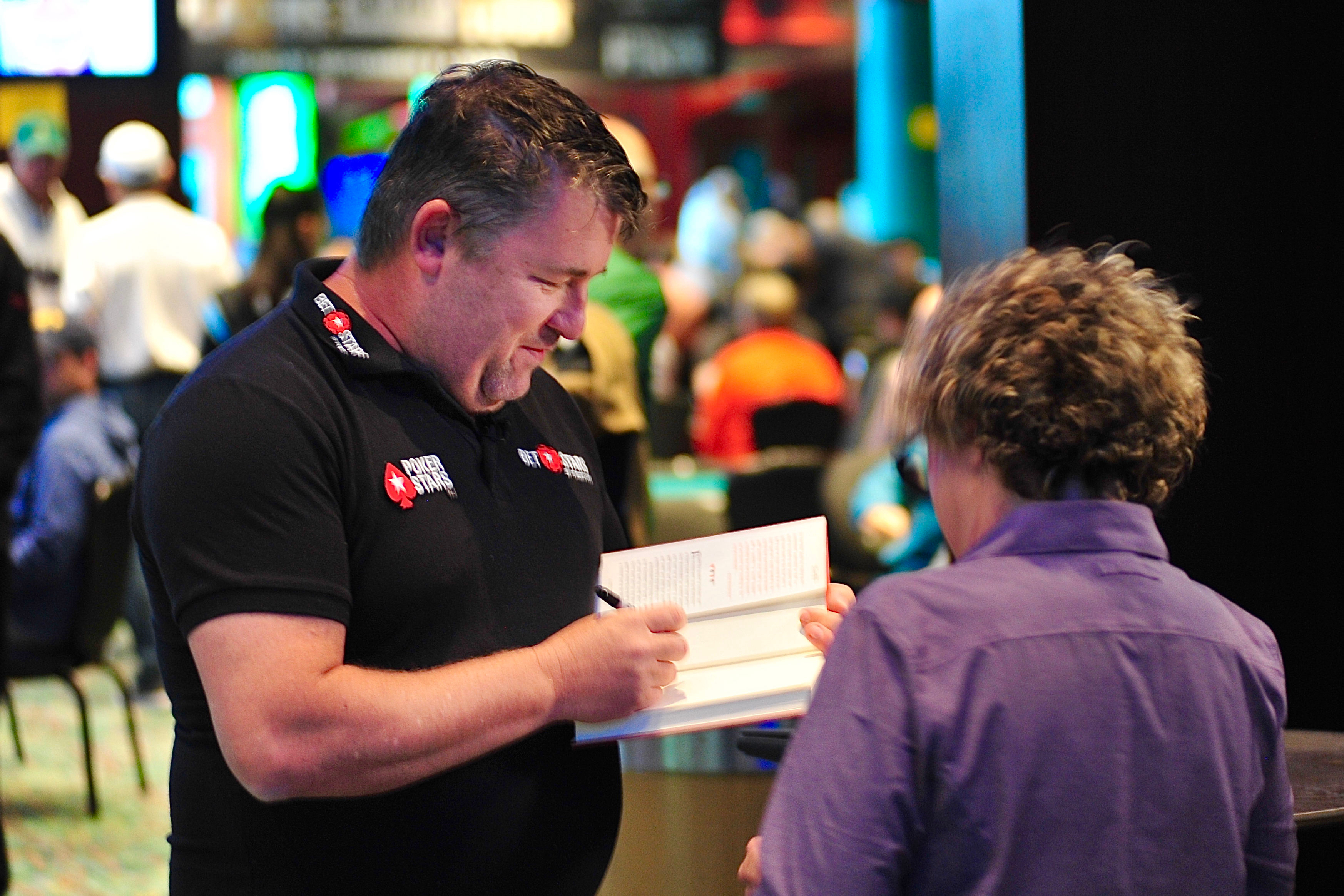 The first autograph of the day
Culla was slightly different than a lot of the people affected by the Moneymaker Boom. She had been playing cards since she was a teenager, but by 2003 was already an adult recreational player.
"I've been playing cards since I was 18, and when Foxwoods had opened, they just had table games. I used to play in the smoke-filled basement, seven-card stud. So, I've been playing 30 years," she said.
And so that's why today she is among hundreds and hundreds of people crowding into the Foxwoods poker room vying for an $86 chance to play the PokerStars Players No-Limit Hold'em Championship. People from all over the world are winning Platinum Passes ($25,000 entries and a paid trip to the Bahamas) in live and online events.
Here in America, there is no PokerStars online anymore outside of New Jersey. The fuse for the poker explosion was cut off six years ago. What's more, PokerStars' live events in North America have been few and far between. Beyond that, these days there simply just aren't as many PokerStars qualifiers to live events as there used to be. Nearly 14 years ago, we started writing about PokerStars' players, and at the peak, we could go to the WSOP and there would be 2,000 PokerStars qualifiers in the room…25% of the entire field. That just doesn't happen these days.
And yet, here we are. Registration on this $86 Moneymaker Tour event hasn't closed and there are nearly 1,100 entries. When Moneymaker took the mic to shuffle up and deal, all of the heads in the room turned–not because his southern accent stuck out in a room for of New Englanders but because he is Chris Moneymaker.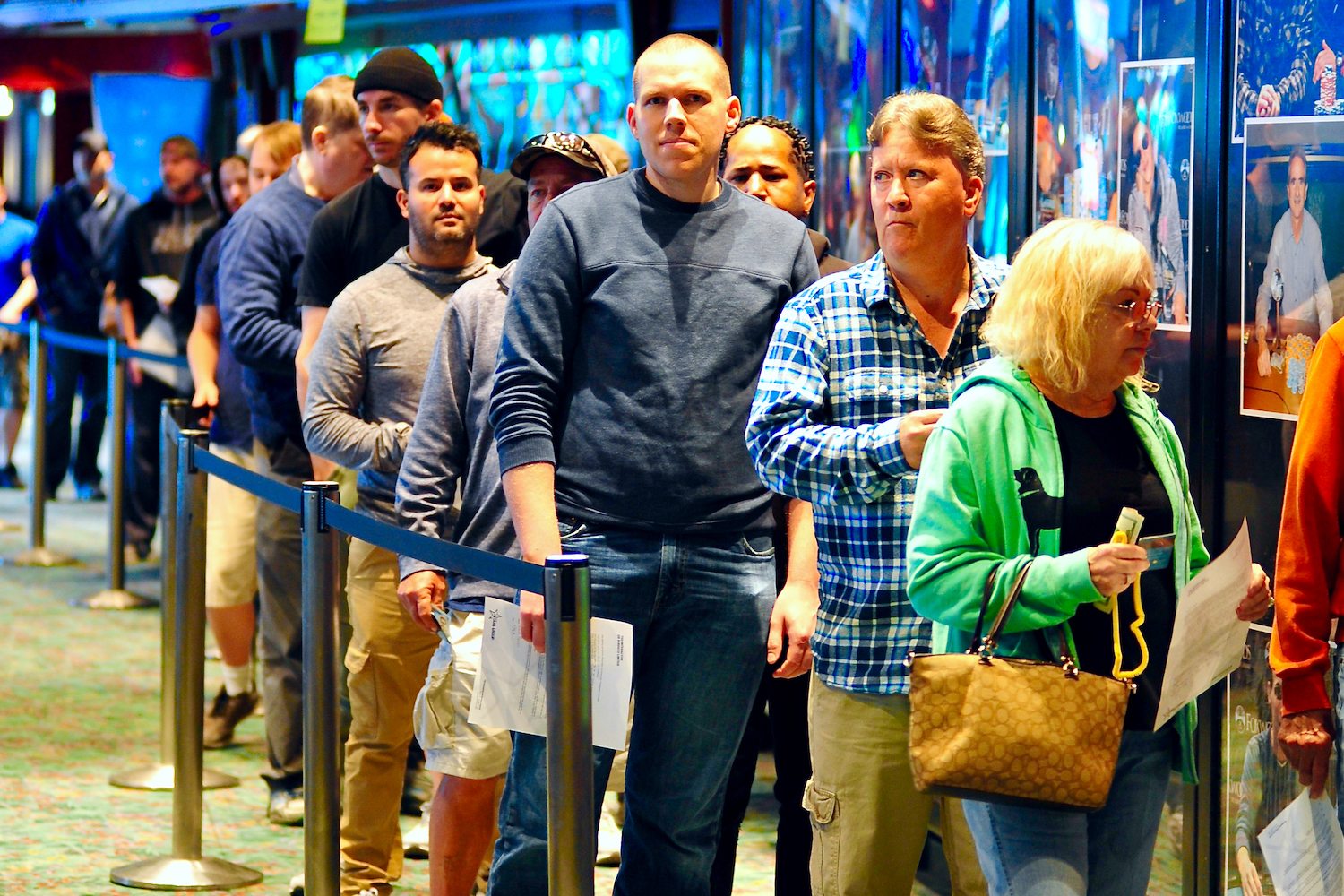 Lined up to register at Foxwoods
And among those craning to see him sits Michel Culla. Why? Because even as an adult with 30 years of playing under her belt, she knows she can still win. She can still make it to the PSPC. She can still play among the pros and be successful.
And how does she know that? Because she saw Chris Moneymaker do it.
"When he played against Sammy Farha, I was like insane!" she said. "I've watched that over and over. It was just like an inspiration. Anybody could win. Even against a pro."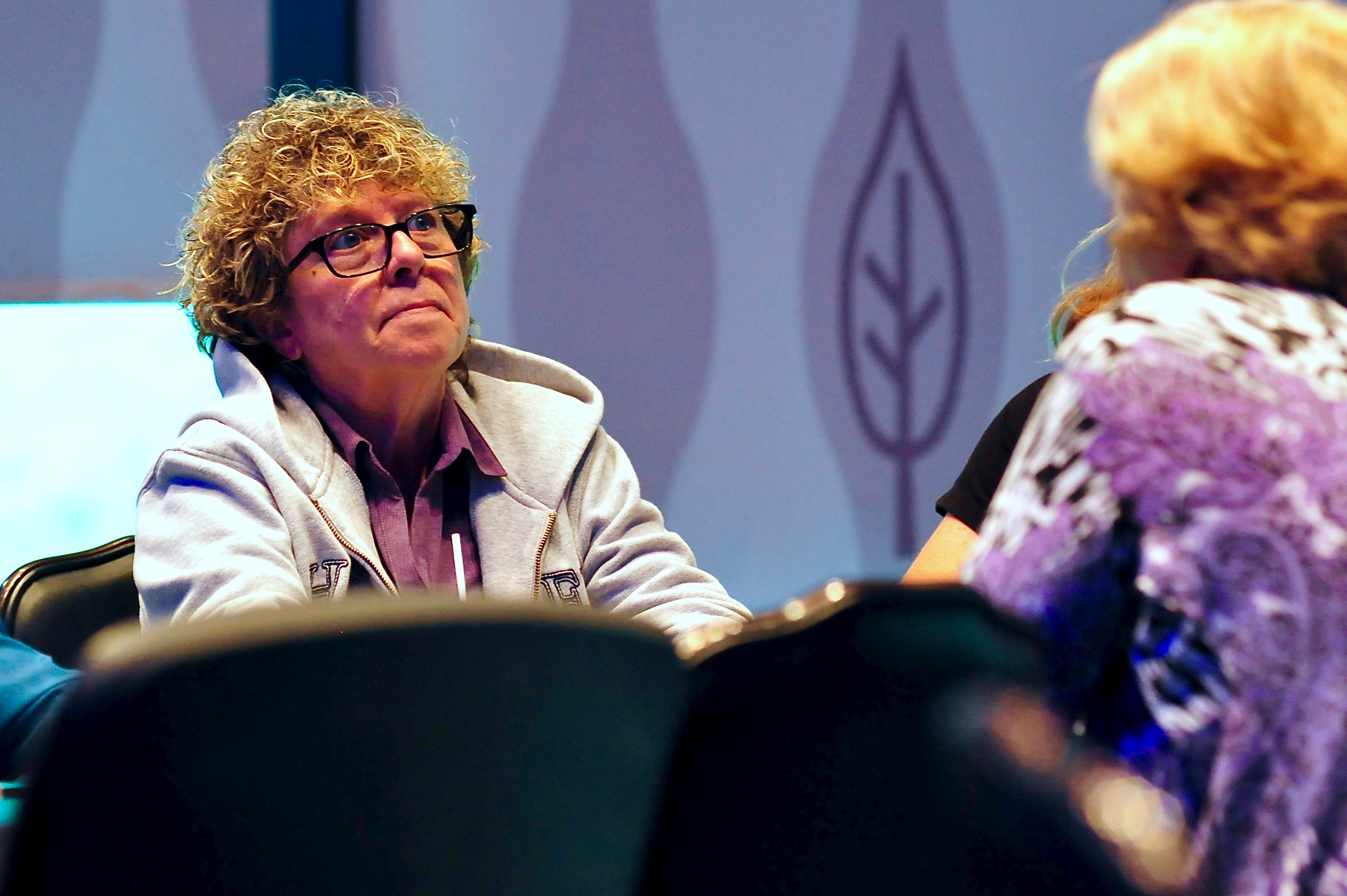 Michel Culla in the Moneymaker PSPC Tour Foxwoods event
---
Want to know more about the PSPC and how you can win a seat in the USA? Visit the Moneymaker Tour homepage.