San Diego. Man, if you've never been to San Diego, you need to get there. The weather is what you would probably have if you could choose your weather. Then you have the ocean to the west, the mountains to the east, and an amazing city in between.
Ori Kossonogi, a young Israeli man who lives there, will probably be enjoying the scent of the plumeria more than usual. He's driving home tonight with a Platinum Pass in the passenger seat of his car, after seeing off 750 entries worth of competition at the Gardens Casino in the Los Angeles suburb of Hawaiian Gardens.
As with all the Moneymaker Tour stops, there were quite a few interesting folks in the field. In the next day or so, we'll introduce you to a professional musician and actor, and a 70-year-old woman who barrel-races horses. They were just two of the people who lent their color and joy to today's proceedings. But first you need to hear about two other people.
Ori Kossonogi and Evan Rousselle were the last two standing after ten hours of play, and boy did they stand. Joe Stapleton, Chris Moneymaker and I stood alongside Gardens tournament director Cavin Quintanilla watching and enjoying the match. It was the kind of poker you hope for when you get down to the bitter end of an event. The veteran tournament guys nodded in approval – both men were playing accurately and without fear ("These guys know their ranges" muttered an impressed Chris).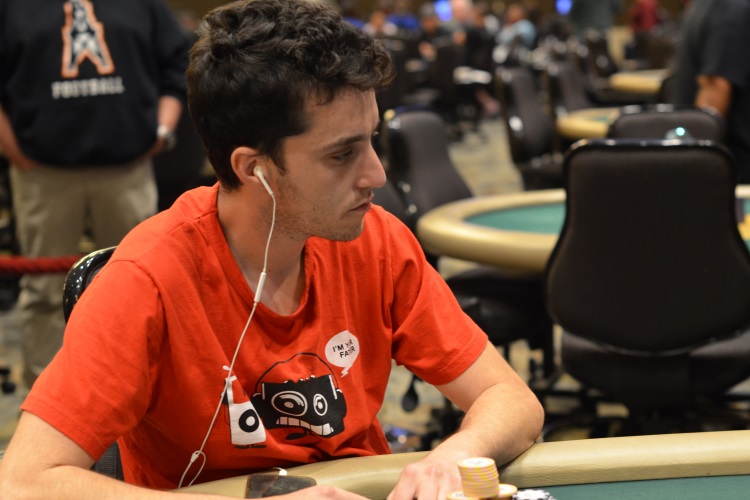 Ori Kossonogi, in the #3 seat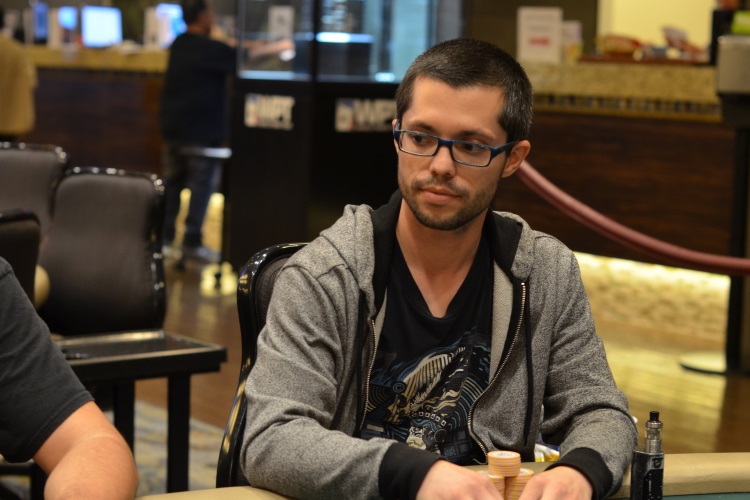 Evan Rousselle, in the #6 seat
Of course, there was a deck of cards involved so…
They got all in with Evan holding a small chip lead. Ori had ace-queen suited, Evan had pocket tens. With about 37 blinds between them, nobody was surprised when all the chips went in preflop. If the tens hold up, Evan is the champion – but there was an ace on the flop, and we kept playing.
There were a couple of hands like that, but then this:
Ori, holding a small-ish lead, min-raised. Evan announced "all-in" and Ori beat him into the pot with his chips, turning over pocket aces as he did. Evan sadly turned up his pocket sevens, with at least the consolation of knowing (as did the entire crowd) that shoving the sevens was absolutely correct. The board ran out J-J-3–6 ("Wow, that was almost a seven", said somebody).
What came on the river wasn't "almost" a seven. It was, to the pip, a seven.
But Ori crawled, clambered, and clawed his way back to a pretty healthy lead. Finally, he min-raised on the button and Evan called. The flop came Q-T-J, and a small bet went in. On a blank turn, Ori bet, Evan (holding a singleton king) shoved, and Ori snap-called with QT for two pair. The river was a seven (there's that seven again) and we were all done. Evan went back to Long Beach with over $10k (not a bad return on an $86 buy-in) and Ori – well, you know what goes with Ori now. Atlantis, $25k buy-in, travel expenses, and a truly unique poker and life experience.
Ori will probably be thinking about that seven on the river on his drive back to San Diego. How it could have been an ace or a nine and thrown things back into confusion. But he'll pinch himself and remember that that seven, unlike the previous one, was lucky for him. And boy do the breezes coming off La Jolla smell good at night.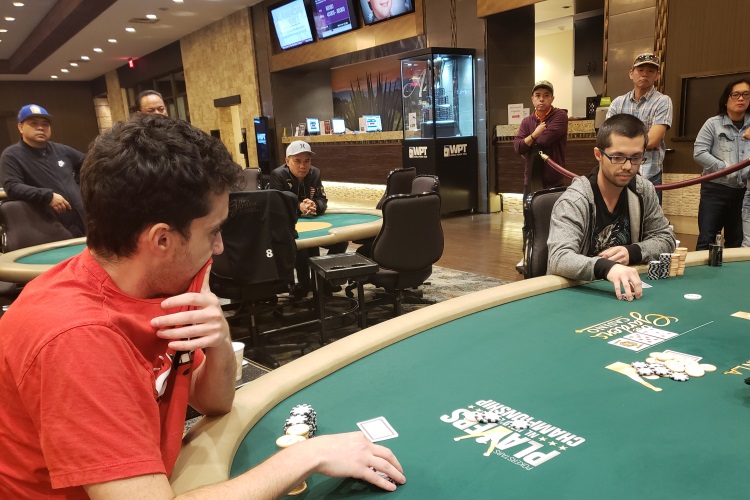 From 756, to the two of us.